Saas Fee, Switzerland Ski Race Camp
SAAS FEE camp is scheduled to take place ________?  Camp Price: $______? (call the camp office) and is open to kids and adults. Kids under age 15 must be accompanied by a parent, although the parent does not have to ski. They just need to be there for their child off the hill. At Saas Fee, we take advantage of the wide opening training runs of both intermediate and expert variety. You'll be training alongside the national teams from the best of Europe. Warm dry days and firm cold winter snow make for an outstanding training environment.
Nestled in the mountains of the Oberwallis region of Switzerland, Saas Fee is both a modern village and a reminder of the timelessness of the mountains.  Watch the video below, but keep in mind that we have since opened up the Saas Fee camp to kids since the production of this video (ignore the "adults only" parts).
RACE TRAINING
We focus on the fundamentals of modern race technique as well as teaching the fastest line through a slalom and GS course. On-hill video combined with proven race training progressions, allows us to maximize learning and skill acquisition. Your goals will be assessed and a safe and successful progression will be planned for you to achieve the best results. Every day we videotape your training runs in the gates. Then after skiing, you and your coach get together to watch the tape and figure out what you need to work on. Video analysis is one of the most powerful learning tools available to you and will help you achieve your goals faster. 
CAMP COST$
The camp tuition includes ground transportation to and from Saas-Fee from Geneva, lift tickets, coaching, video analysis, lodging and meals at the Sonnenhof. You will be responsible for airfare to and from Geneva (be sure to arrive no later than 2:00PM on scheduled arrival day), lunches on the hill and meals away from Saas Fee on our day off, and special afternoon activities. A $200 deposit is required when signing up. *price based on an exchange rate of 1.6 Swiss Francs per dollar or better.
ACCOMMODATIONS
Accommodations are at Peter Kirschmann's Sonnenhof Lodge, which is located a block from the funicular to whisk you from the valley floor to the glacier in just minutes. The Sonnenhof serves an excellent variety of classic European cuisine and three meals a day on most days.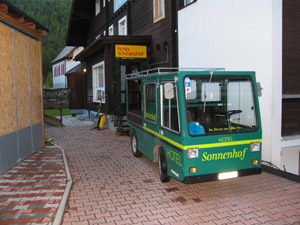 AFTERNOON ACTIVITIES
Possible afternoon activities include: rock climbing, hiking, biking, tennis, golf (Saas-Fee has an 18 hole par three), horseback riding, toboggan alpine slide, vita par fitness course, ski and boot fitting clinics, swimming or spa lounge including massage, relaxing, trail running and more. Rest day activities might include a trip to the famous village of Zermatt, spending the day relaxing at Leukerbad hot springs, wine tasting in the Sion Valley, or visiting medieval castles.
Testimonial From camper Janie Guiliani:
What an amazing experience! We were surrounded by the majestic beauty of the Swiss Alps and some of the best racers in the world. We were accorded the same hospitality as a World Cup team; assigned our own training space each day the same as any team, and shared our hotel with a member of the US Ski Team and the Swedish Women's Europa Cup team. All of this rubbed off (and John's coaching) because I improved by slalom handicap by over 10% and my GS by 5% this year! We didn't let up after skiing. Each afternoon we went mountain biking, climbing, or hiking. Between the terrain and the scenic beauty, the the afternoons were as rewarding as the morning training. I had a great time and will be going back! ~Janie

Add yourself to the MHSSC hot list!!
Give us your email address so we can send you late-breaking information about camp.