PARENTS PAGE
Parents! This page is for YOU!
SUPERVISION
Kids that come to our camp are well supervised.  MHSSC provides a 8:1 camper to coach ratio on the mountain when they are training (or often times fewer than 8 kids in a group). After kids get off the mountain, they are required to attend afternoon activities, which are supervised by coaches, counselors and/or CIT's (counselors in training).  Every evening there's an all-camp meeting, run by the counselors, where they discuss the events of the day and talk about the program for the following day. Kids of the same sex and same age range bunk together in one of the dorm-style bunk rooms. 
All of our bus drivers have CDL's (Commerical Drivers License) and have been background checked, plus they are randomly drug screened.
CAMP RULES: We rely on a set of important rules to keep kids out of trouble and having a quality experience at camp. These include the following:
1. No drugs or alcohol
2. No Tobacco use
3. No theft
4. No vandalism
5. No leaving the camp boundaries
6. Bed time is 9:45pm
INJURIES:
What if my child is injured at camp? More than anything, we try to keep your kids safe. Unfortunately, injuries sometimes happen in action sports. Parents or legal guardians will be contacted as soon as possible in the event of a medical emergency. If your child is injured on the slopes, the first response is from Timberline ski patrol. A camp representative will meet the injured camper in the ski patrol room to hear the patroller's injury assessment. If the injury is a minor one, MHSSC will transport the camper to a treatment center in a camp vehicle. If the injury on the slopes is very serious, the camper will be transported by ambulance or Life Flight. If a camper is unable to participate in camp activities following the injury, we will contact parents or guardians to arrange early transport home. Dr. Grise, our local physician, is 20 minutes from campus and is available for emergency visits Monday-Friday, 8am to 5pm. Otherwise, campers are transported to Mt. Hood Medical Center in Gresham, a 50-minute drive. 
When kids sign up for camp, they are required to fill out a medical information/insurance form. Copies of this form are also given to the ski patrol department at Timberline Lodge at the beginning of each session, so they have the necessary information for each of our campers that may be needed in a given situation.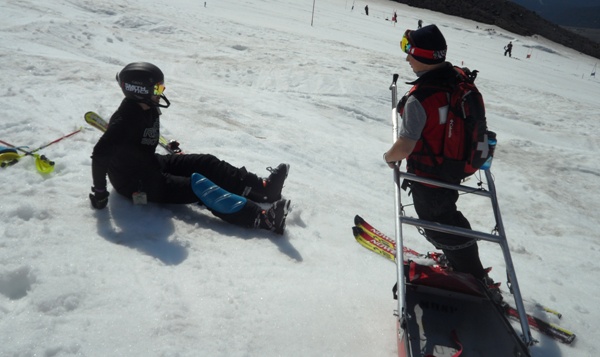 AIRPORT PICK-UPS AND DROP-OFFS
We get many parents that call us and say "I'm concerned about sending my kid across the country alone." Our camp has been picking up kids at the Portland International Airport (PDX) since 1979, and we haven't lost a kid yet!
Here's how it works: After you get off the plane, head to baggage claim to get your bags, skis, snowboard, etc. Then head down to baggage claim #2 and look for a table set up with our camp banner hanging from it. You'll likely find one of our camp counselors there and some other kids already waiting for others to arrive before heading to the mountain. Once we have a van load of kids ready, we'll take them to the lodge. Our counselors are pretty savvy when it comes to looking for lost campers. First of all, we look for kids with skis or snowboards. Having skis or snowboards with you in the middle of the summer makes you stand out! If it gets to the point where we can't find a particular individual, we'll first check for flight delays. Then we'll try paging them on the airport intercom system. If that fails, then we'll call the camp office and try to find out if there were any travel problems along the way, and figure out a plan based on what happened.
KIDS FLYING AS UNACCOMPANIED MINORS
Each airline has their own set of procedures and age requirements when dealing with unaccompanied minors. The basic procedure is that when you buy you plane ticket, you let the airline know that your child will be flying as an unaccompanied minor. And in doing so, the airline will assign one or more of their flight attendants to "chaperone" your child during the flight and help them transfer to other planes if necessary. The airline will likely require the name of the ski camp employee that will be meeting your child at the gate when they unload the airplane in Portland. We assign our various counseling staff to do the airport pickups, so a day or two before your child's flight, you would call the camp (503-337-2230) and ask us for the name of the camp counselor who will be doing that particular airport pick-up. On arrival day, our camp counselor would go thru security and wait at the gate for your child to leave the plane. At that point, the airline employee signs over your child to our camp counselor (who will have proper ID with them). We'll take your child to get his/her luggage & equipment and then load on one of the camp vans or buses for the 75-minute road trip to the camp lodge.
Add yourself to the MHSSC hot list!!
Give us your email address so we can send you late-breaking information about camp.