CAMP HISTORY
Who owns Mt Hood Summer Ski Camps? How did it get started?
In the fall of 1978, shortly after Timberline Lodge had installed the Palmer chairlift, Mike Annett brought a group of downhill ski racers from the east coast with him to Oregon to do a little downhill race training. He had 6 kids with him on that first trip. The following summer the camp was officially created and was known as Eastern Downhill Camps. The camp at that time provided downhill training on the Zig Zag Glacier. Slalom and Giant Slalom training were added in 1981. The camp headquarters in the early years was at Snowbunny Lodge, just 2 miles east of Government Camp. The Palmer chairlift was originally a fixed grip double-chairlift and later replaced with a high speed quad chairlift in 1996. The camp was re-named Mt Hood Summer Ski Camps in 1983. Camp headquarters was moved to Summit Ski Area lodge from 1992-1997. Mike Annett purchased some property 5 miles east of Government Camp to build a new camp lodge (Chinook Lodge). As time went on, we added a clay tennis court, a soccer field, volleyball court, trampolines, a challenge course, skateboard ramps, etc. A second lodge (Coho Lodge) was constructed and opened up on the property in 2008 providing another 50+ beds on campus. Over this time span, mogul training, snowboard freeride training, snowboard racing, freeski terrain park training, European camps, and a rockclimbing camp was added to our menu. Noted alumni with Olympic and/or World Championships Gold Medal credentials include Ted Ligety, Patrick Deneen, Daron Ralves, and Julia Mancuso. It's remained a family owned camp since day 1. Mike and his wife Lynne have run the show since the beginning. Their two daughters, Jennifer and Michelle, were both ski race coaches at camp for a period of time. Jennifer is now a doctor, married with 2 kids; Michelle, also married, is a school teacher.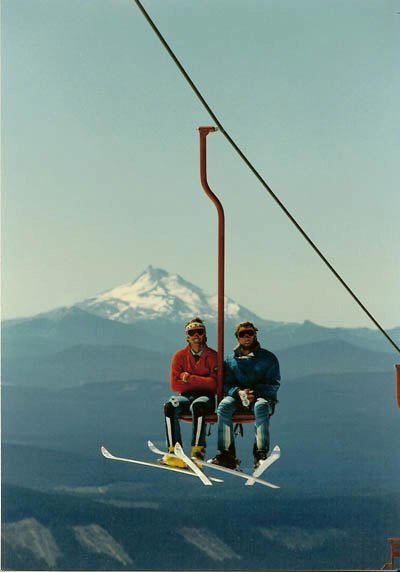 SUPERVISION
Kids that come to our camp are well supervised. MHSSC provides a 8:1 camper to coach ratio on the mountain when they are training (or often times fewer than 8 kids in a group). After kids get off the mountain, they are required to attend afternoon activities, which are supervised by coaches, counselors and/or CIT's (counselors in training). We have staff on duty in both lodges, outside at the trampoline and skate ramps, until the kids go to bed. Every evening there's an all-camp meeting, run by the counselors, where they discuss the events of the day and talk about the program for the following day. Kids of the same sex and same age range bunk together in one of our two lodges in the dorm-style bunk rooms. Each bunk room sleeps 6 to 12 kids, and each bunk room has it's own separate bathroom/shower.

MEALS
Breakfast and Dinner are served buffet style in our main lodge (Chinook Lodge) dining room. Kids make their own lunch in the morning to take on the hill each day. Breakfast choices include waffles, pancakes, scrambled eggs, cereal, bacon, canteloupe, tater tots, french toast. Lunch choices include sandwiches, sandwich meats (turkey, ham, salami, bologna) cheeses, fruit (apples/oranges) and a variety of cookies. Each Dinner is based on a theme: Sunday night is either Turkey night or Roast Beef. Monday night is Mexican. Tuesday is Pasta. Wednesday is our camp picnic (burgers, chicken, etc). Thursday is chicken night/leftovers. Friday is Oriental (Korean beef, egg rolls, fish). Saturday is pizza night. Our salad bar is available 7 nights a week too, as well as desserts! Vegetarians have plenty of non-meat choices.

CAMP RULES
We rely on a set of important rules to keep kids out of trouble and having a quality experience at camp. These include the following:
1. No drugs or alcohol
2. No Tobacco use
3. No theft
4. No vandalism
5. No leaving the camp boundaries
6. Bed time is 9:45pm
Campers and their parents are required to sign a "camper code of conduct" contract when they sign up for camp. It looks something like this:
CAMPER CODE OF CONDUCT
Each camper and parent must sign the Camper code of Conduct indicating that they have read and will follow the code. We also require that all campers observe all additional bed time and dormitory rules.
1. I UNDERSTAND THAT THIS IS A SKI / SNOWBOARD CAMP AND
WILL COME PREPARED TO SKI / RIDE EVERY DAY.
2. In a dormitory setting, I realize the importance of keeping my belongings to
myself and being neat.
3. I will not smoke, drink alcoholic beverages, or use illegal drugs.
4. I will observe all curfews and subsequent rules of Mt. Hood Summer Ski Camp, Inc.
5. I realize that infractions of any of these rules can mean immediate dismissal from camp with no refunds.
X______________________ ____________________
Camper's signature Date
X___________________________ _____________________
Parent or Guardian if under 18
INJURIES


What if my child is injured at camp?

More than anything, we try to keep your kids safe. Unfortunately, injuries sometimes happen in action sports. Parents or legal guardians will be contacted as soon as possible in the event of a medical emergency. If your child is injured on the slopes, the first response is from Timberline ski patrol. A camp representative will meet the injured camper in the ski patrol room to hear the patrollerís injury assessment. If the injury is a minor one, MHSSC will transport the camper to a treatment center in a camp vehicle. 4. If the injury on the slopes is very serious, the camper will be transported by ambulance or Life Flight. If a camper is unable to participate in camp activities following the injury, we will contact parents or guardians to arrange early transport home.

Dr. Grise, our local physician, is 15 minutes from campus and is available for emergency visits Monday-Friday, 8am to 5pm. Otherwise, campers are transported to Mt. Hood Medical Center in Gresham, a 45-minute drive.

When kids sign up for camp, they are required to fill out a medical information/insurance form. Copies of this form are also given to the ski patrol department at Timberline Lodge at the beginning of each session, so they have the necessary information for each of our campers that may be needed in a given situation.
AIRPORT PICK-UPS AND DROP-OFFS
We get many parents that call us and say "Iím concerned about sending my kid across the country alone."
Our camp has been picking up kids at the Portland International Airport (PDX) since 1979, and we haven't lost a kid yet!
Here's how it works: After you get off the plane, head to baggage claim to get your bags, skis, snowboard, etc. Then head down to baggage claim #2 and look for a table set up with our camp banner hanging from it. You'll likely find one of our camp counselors there and some other kids already waiting for others to arrive before heading to the mountain. Once we have a van load of kids ready, we'll take them to the lodge. Our counselors are pretty savvy when it comes to looking for lost campers. First of all, we look for kids with skis or snowboards. Having skis or snowboards with you in the middle of the summer makes you stand out! If it gets to the point where we can't find a particular individual, we'll first check for flight delays. Then we'll try paging them on the airport intercom system. If that fails, then we'll call the camp office and try to find out if there were any travel problems along the way, and figure out a plan based on what happened.
KIDS FLYING AS UNACCOMPANIED MINORS
Each airline has their own set of procedures and age requirements when dealing with unaccompanied minors. The basic procedure is that when you buy you plane ticket, you let the airline know that your child will be flying as an unaccompanied minor. And in doing so, the airline will assign one or more of their flight attendants to "chaperone" your child during the flight and help them transfer to other planes if necessary. The airline will likely require the name of the ski camp employee that will be meeting your child at the gate when they unload the airplane in Portland. We assign our various counseling staff to do the airport pickups, so a day or two before your child's flight, you would call the camp (503-337-2230) and ask us for the name of the camp counselor who will be doing that particular airport pick-up. On arrival day, our camp counselor would go thru security and wait at the gate for your child to leave the plane. At that point, the airline employee signs over your child to our camp counselor (who will have proper ID with them). We'll take your child to get his/her luggage & equipment and then load on one of the camp vans or buses for the 75-minute road trip to the camp lodge.

video clip about airport pickups