SNOWBOARD CAMP
World Class Mountain, Coaching, & Facilities

SNOWBOARD FREERIDE
MHSSC freeride snowboard camp is open to every skill level of snowboarder. Each day our snowboard coaches spend time freeriding on the groomed slopes as well as spending time working on jibbing and jumping skills in our private terrain park. During your session, our coaches will help you to improve your snowboarding by teaching you the solid fundamentals and correct technique so you can learn to ride with the skill and style you want. Your goals will be assessed and a safe and successful progression will be planned for you to achieve the best results. From straight airs to rail grinds, all riders will learn something new. All of our coaches have strong coaching and snowboarding backgrounds and are passionate about their sport. Coaches are here to teach you and enable you to achieve your goals, and we are always stoked to ride with motivated snowboarders like you.
Learn to Snowboard for beginners: The Learn to Snowboard program is offered in the summer during sessions 1 thru 6 only. We'll start off teaching you all the basics you'll need to get on your way to become a solid snowboarder. We work with our beginner snowboarders on the flatter groomed terrain offered on the Magic Mile chairlift (snow permitting) and lower Palmer. We recommend beginner snowboarders sign up for the early summer sessions when there is more snow left on the lower flatter part of the mountain.
| | |
| --- | --- |
| | In the early morning hours, when the snow is more firm, we teach our campers how to ride on hard snow, which is ideal training for all-around snowboard skill building. Training on firm snow teaches you proper stance, balance, and carving skills which all relate to what you do in the terrain park. As the snow softens, we head to the terrain park for the best freestyle training conditions. |


Every day we video your freeriding, park and pipe riding. Then you and your coaches get together and figure out what you need to work on. Video analysis is one of the most powerful learning tools available to you and will help you achieve your goals faster. At the end of the week, you can purchase a copy of your Video.
TERRAIN PARK
JUMPS, BOXES, & RAILS...WE HAVE IT ALL!
Can't do a 360? Having trouble landing that 720 mute grab? Our coaches can help! MHSSC operates it's own private park for snowboarders and freeskiers. The terrain park is shaped every day by our diggers to accommodate the campers' individual learning goals. There are features for every level to provide a steady progression through to the week's end. We have a progression of jumps from 5 foot mini's to floaty 50+ foot to suit all level of campers. We have lots of rails, boxes and jib features to pick from with a great progression for all levels. Our park on "Lower Cuervo" is the spot to be. In the early summer sessions, Timberline offers a public terrain park the full length of the Magic Mile chairlift as well as a public halfpipe. Whether it's your first time in the pipe or you're working on boosting 8 feet out, MHSSC can get you to the next level. Bring your helmet.
SNOWBOARD FREERIDE TRAINING
MHSSC offers -

Small groups/more personal attention
Private terrain park with features for every ability level
Public Terrain Park 1.5 miles in length (depending on snow)
Public halfpipe
Daily Video Analysis
On-campus skateboard halfpipe/rails
Top competitor demonstrators
Professional coaching staff
We emphasize the latest snowboard freeride techniques



SKATEBOARDING: After snowboarding you can improve your skateboarding on the MHSSC ramp and rails. We have a covered 3 foot skate ramp as well as a variety of rails to skate. We also take trips to public skateparks as one of our afternoon activity options.
WHY COME TO MT. HOOD FOR TRAINING?
Mt. Hood's Palmer Glacier is North America's only year round resort. In the early morning hours when the snow is more firm, we work on technique and skill building on the flatter groomed areas, then as the day warms up and the snow softens, we move our training to our private terrain park or public halfpipe. Daily video analysis, good weather, and off-snow trampoline training makes Mt Hood the perfect learning environment. One week at MHSSC can be equivalent to one season of training at your home hill.
WHO SHOULD COME TO CAMP
We accommodate every level of snowboarder from the brand new beginner to the experts. Campers must love snowboarding and bring a desire to improve. We are a camp for motivated snowboarders only. 80% of campers are between the ages of 10-18. We accept campers as young as 9 but they must be emotionally ready to spend a week or two away from home. Campers who are ages 7 or 8 can attend camp but are required to stay with their parents. Adult campers can improve at camp also. They stay at the Mt. Hood Inn, away from the kids.

For group or team camps, email mike@mthood.com or call us at 503-337-2230.
MT. HOOD
11,235 foot Mt. Hood is the only 12 month ski area in North America. With two express quad chairs and 2500' vertical, you have the opportunity to get in a lot of quality training in a short period of time. Mt. Hood weather is highly variable with mid-winter conditions likely at any time, so be prepared. Winter clothing, and rain gear should be brought as well as summer clothing. Layers work best at Mt. Hood. As it warms during the day, you'll take the layers off and stow them in your backpack. Sun protection is very important, Training at the 8,500 foot level is hazardous to the skin and eyes if not well protected. You must bring a good pair of sun glasses, dark lens goggles and #15 (or higher) sunscreen. We also recommend that you train wearing a helmet.
Snowboard camper, Conner Cassidy, submitted this video on youtube.com

WEEKLY SCHEDULE
SUNDAY - Arrival Day - Around noon - Afternoon activity at 3:30 - Orientation at 7:00 Pm - Meet coaches at 7:30 Pm
MONDAY - First day on snow, warm up runs, freeriding, terrain park - Afternoon activity with your coach
TUESDAY - freeriding & training in the park - Afternoon activity by choice
WEDNESDAY - freeriding & training in the park - Full camp picnic
THURSDAY - freeriding & training in the park - Afternoon activity by choice
FRIDAY - Final training day - Video in the afternoon - Campfire after dinner
SATURDAY - Departure day: vans leave at 8:00 Am - Hold-overs sleep in, do laundry, go to Portland - Early arrivals for next session come in around noon. Early arrivals for next session come in that day as well.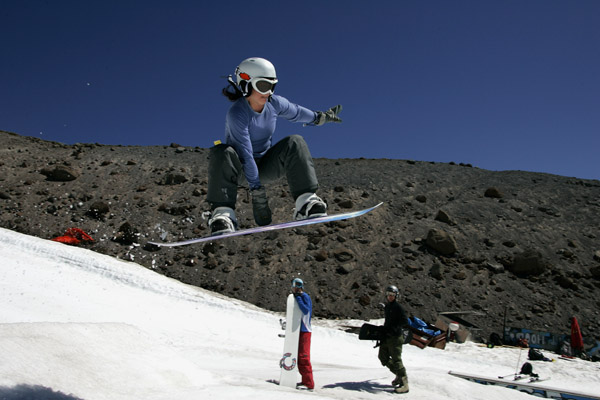 DAILY SCHEDULE
6:00

Wake up

6:15

Breakfast

6:35

Bus/vans leave for mountain

7:00

First chair loads

7:30

Free skiing and warm up runs

8:15

Meet your coach at top of MHSSC lanes
Gates and Drills

11:30

Lunch break at top of lanes

12:30

Training ends

1:15

Bus/vans leave mountain

2:00

2:15

Bus leaves mountain

3:30 - 4:00

Afternoon activities depart - MANDATORY

6:30

Dinner
Evening Activities

8:00

Camp meeting

9:15

Quiet time

9:45

Lights out

SNOWBOARD FREERIDE COACHES

Rick Millett
Rick, from North Augusta, Maine, teaches snowboarding at Timberline Lodge. He also spent time coaching at Breckenridge, CO, Big Sky Montana, and Northstar in Lake Tahoe. Rick enjoys racing street bikes, playing frisbee golf, and his favorite food is Mac & Cheese with Hot Dogs. Rick has been working at camp since 2006.
Michael Jennings
Michael studied Political Science/Economics at Columbia University. He's an AASI Level III and USASA Level II certified. He's been head coach/terrain park manager at Camelback. Michael's favorite food is authentic Mexican and his favorite website is Timberline Web Cam Page. Michael has been working at MHSSC since. 2011.


DIGGERS

They keep our terrain park in awesome condition!
Jeff DeForge
Jeff, our head digger, is from Adamant, Vermont. He was part of the park staff at Sugarbush. His favorite foods include pizza, ice cream and maple syrup. Jeff roots fore the Boston Bruins. He's been working at MHSSC since 2011.
Charlie Mayforth
Charlie is a snowboarder from Montpelier, Vermont. He's attending Savannah College of Art & Design. His favorite foods include waffles, turnips, ranch, but ketchup and mayo is good too. He roots for the Boston Celtics. He's been working at camp since 2011.
Jake Rose
Jake is a snowboarder from Wasilla, Alaska. He worked on the park staff at Mt Spokane. His favorite food is leftovers, and his favorite website is NOAA.gov. He lives in his van. Jake has been working at camp since 2012.
Thomas Graham III
Thomas is a snowboarder from Maggie Valley, NC. He attends Western Carolina University and has worked on the park staff at Cataloochee ski area. His favorite website is yobeat.com and favorite foods are pizza, pasta, and shrimp. He roots for the Pacers, Colts, and Braves. Thomas has been working at MHSSC since 2010.
Mark Stegall

1963-2011
Mark, originally from Dallas, Texas, is the Snowboard Program Director/Head Coach, Telluride Ski & Snowboard Club. He is the current and 5-time USASA Legends Overall National Champion and Slopestyle Champion. Mark is

a national level certified coach with USASA. He is a former Pro Jet Ski Racer, Motocross racer, expert surfer, wakeboarder, BMX racer, and he can ski too.

Mark has been with MHSSC since 1998.

Timberline 8-3-11 MHSSC Rick Millett Edit from Premonition Films on Vimeo.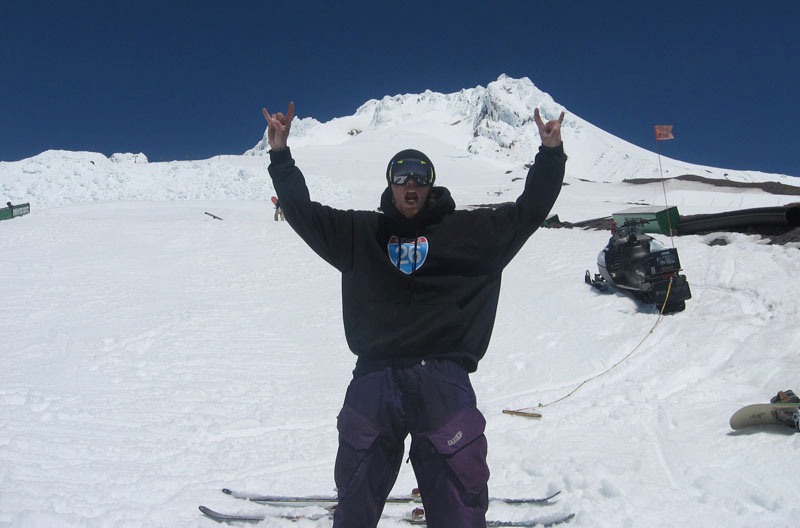 AFTERNOON ACTIVITIES
MHSSC's philosophy is to have fun in the afternoons doing things you may not have the opportunity to do at home. We aren't a hard core dryland camp, but instead offer some fun alternatives in the afternoons. Our choices include: whitewater rafting, rockclimbing, trampoline, soccer, cliff jumping, hiking, mountain biking, volleyball, windsurfing, paintball, softball, golf-cage, unicycle, challenge course and tennis (we have our own clay court). Where else can you snow ski and whitewater raft in the same day?!
Evening activities include video analysis with your coach, ski tuning, pool, ping-pong, foosball, skateboarding, basketball and volleyball.

| | |
| --- | --- |
| | |
LODGING and MEALS
Our camp fees include your stay at The LODGES at SALMON RIVER MEADOWS. Our main "Chinook" lodge has 6 sleeping rooms for counselors and kids, ski room, wax room, and game room (including a pool table, ping pong and foosball) in the basement, dining room and kitchen serving the best camp food in the area. Our newer "Coho" lodge has a meeting room, 7 sleeping rooms, a relaxing porch area and a basement rec area with video stations. Campers have the option of upgrading their housing to the Golden Poles Condos, located in the village of Government Camp. Meals are served buffet style with a wide variety of choices as well as our salad bar. Our 12 acre campus also has two trampolines, skate ramps, basketball hoops, volleyball and tennis court and the only soccer field on the mountain. Our location is at Wapinitia, 5 miles east of Government Camp on US Highway 26.
Click the box to download and watch a video clip of our Food & Lodging.

ARRIVALS
Sunday is the usual travel day coming to camp. Our camp counselors are at the Portland Airport from 10:30 AM to 2:00 PM to pick up campers. Best arrival time is around noon. You can come on Saturday, which is a "DAY EARLY" for an extra day of skiing and to become acclimated to the altitude for an additional fee. Saturday arrivals can be between 10:30 AM and 8:00 PM. Write "day early" on your application form at the bottom. **The "day early" arrival is only available for the Spring and Summer sessions. You cannot arrive a day early to any of our Fall or Winter camp sessions.

Adventure Travel Service is the official travel agent of Mt. Hood Summer Ski Camps. For help call 1-530-554-4129 Monday through Friday 9 AM - 5 PM Pacific time.

Do not purchase tickets until you have received your confirmation. If you must arrive or depart at a time different than everyone else, please contact the camp office at 1-503-337-2230 for instructions.

DEPARTURES
Saturday is the departure day. First vans leave camp at 8:00 AM. Schedule your flight home to depart Portland Airport between 10:30AM and 2:00PM. Special trips to the airport cost $120.

Click the button to watch a video clip about airport pickups.

IN-BETWEEN SESSIONS
For those campers staying more than one session, Saturdays include sleeping in, doing laundry and opportunities to see more of Oregon. We give the holdover campers various options such as going to Lloyd Center mall in Portland (ice skating/movies/shopping), bowling, indoor rockclimbing or sometimes we offer a trip to the Oregon coast. Saturday night dinners include Mike's famous hand thrown pizza pies. Sundays are free ski days while new campers are being picked up at the airport. An activity is planned for each Sunday afternoon.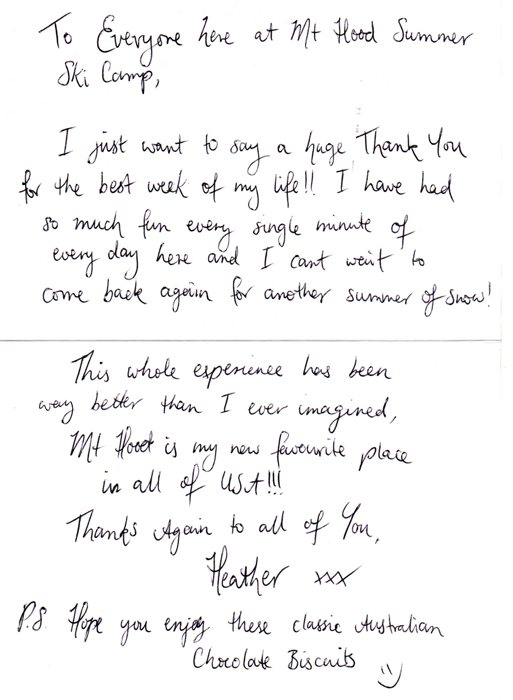 CAMP COST$:
Included in the camp price: ground transfers, lodging, meals, camp T-shirt, lift tickets coaching, and video analysis. All afternoon activities are free except white water rafting ($30) & paintball ($20).
Fill out the Camp Application and include a $50 deposit payment by check or credit card for each session made payable to MHSSC (non-refundable deposit). We accept Visa/Mastercard/Discover. Example, a $50 deposit is required if you are signing up for one session, $100 for two sessions, etc.
Add yourself to the MHSSC hot list!!
Give us your email address so we can send you late-breaking information about camp.


Mt. Hood Summer Ski Camps
P.O. Box 317
Government Camp, OR 97028
PHONE 503-337-2230
FAX: 1-888-580-4764

E-Mail Questions to Camp Office

Confirmation Forms Order a Video
Copyright © 1996-2013 Mt. Hood Summer Ski Camps

"Like us" on FACEBOOK to see fresh photos and updates.