SKI RACE CAMP
World Class Mountain, Coaching, & Facilities

SKI RACE CAMP
Our race camp is open to all age and ability levels from entry level (first time racers) to FIS & College racers as well as adult racers. We focus on the fundamentals of current race technique as well as teaching the fastest line through a slalom and GS course. MHSSC's success is based on over 25 years experience on the Palmer Glacier. We have access to ideal race training terrain, salted courses to keep the snow firm, and a large coaching staff to set a variety of drills, tactical and full length courses. On-hill video combined with proven race training progressions, allows MHSSC to maximize learning and skill acquisition. During your session, our coaches will help you to improve your ski racing skills by teaching you the fundamentals and correct technique required for success on a race course. Your goals will be assessed and a safe and successful progression will be planned for you to achieve the best results. All of our coaches have strong coaching and skiing backgrounds and are passionate about their sport. Our coaches are here to teach you and enable you to achieve your goals.
Whether you are fine tuning or just beginning to learn the skills of ski racing, you'll find a training group that fits your needs. Each day includes free skiing/drills, skiing/racing technique, course tactics (fastest line) and full length race course training.
*Oregon High School Dec. 21-23, 2013 ski race camp
| | |
| --- | --- |
| Every day we videotape your training runs in the gates. Then you and your coach get together to watch the tape and figure out what you need to work on. We have 4 TV/VCR units at the top of the Palmer chairlift in the lift terminal available for a quick morning video session with your coach. After lunch on the hill, a 2nd run is recorded of your training and you'll do a more thorough video review session with your coach back at the lodge on one of our dozen video viewing stations. Video analysis is one of the most powerful learning tools available to you and will help you achieve your goals faster. At the end of the week, you can purchase a DVD copy of your Video. | |
MHSSC offers -
Slalom training

Giant Slalom training
Courses reset and salted frequently
Daily Video Analysis
Top FIS racer demonstrators
Professional COACHING STAFF
We emphasize TECHNIQUE (how you ski)
as well as TACTICS (fastest line thru the course).
We offer training for every ability level from the first time racer to the top ranked FIS racer.

WHY COME TO MT. HOOD FOR TRAINING?
Mt. Hood's Palmer Glacier is North America's only year round resort. Consistent hard to grippy snow conditions, no pressure of upcoming races, outstanding coaches, daily video analysis and good weather makes Mt Hood the perfect learning environment. One week at MHSSC can be equivalent to one season of training at your home hill! Read camper testimonials here.




WHO SHOULD COME TO CAMP
USSA racers, high school racers, mighty-mites, college racers, Nastar racers, adult racers, and those who want to learn to race. Campers must love skiing and bring a desire to improve. 80% of the racers coming to camp are between the ages of 10-18. Campers as young as 9 are welcome to overnight camp but must be emotionally ready to spend a week or two away from home. Skiers that are ages 7 or 8 can attend camp but are required to stay with their parents.

For group or team camps, email mike@mthood.com or call us at 503-337-2230.


MT. HOOD
11,235 foot Mt. Hood is the only 12 month ski area in North America. Training takes place on the Palmer Snowfield as well as on the Magic Mile chairlift runs in the early summer. With two express quad chairs and 2500' vertical, you have the opportunity to get in a lot of quality training in a short period of time. Mt. Hood weather is highly variable with mid-winter conditions likely at any time, so be prepared. Winter clothing, rain gear, and racing equipment should be brought as well as summer clothing. Layers work best at Mt. Hood. As it warms during the day, you'll take the layers off and stow them in your backpack. Sun protection is very important, Skiing at the 8,500 foot level is hazardous to the skin and eyes if not well protected. You must bring a good pair of sun glasses, dark lens goggles and #15 (or higher) sunscreen. We also recommend that you train wearing a helmet.
WEEKLY SCHEDULE
SUNDAY

Arrival Day 3:30pm sunday afternoon is when camp starts
3:30 PM Activity
6:00 PM Dinner
7:00 PM Camp Orientation Meeting then meet your coach for the week. *If you are a "coaching only" camper, you should arrive at 7pm for the Orientation meeting.

MONDAY

Basic race technique, drills and skill building. Some slalom drill courses are set on day 1 - Afternoon activity with your coach

TUESDAY

Slalom training - Afternoon activity by choice

WEDNESDAY

Slalom training - Full camp picnic at Wildwood Park

THURSDAY

GS training - Afternoon activity by choice

FRIDAY

GS training - Campfire after dinner

SATURDAY

Departure day: vans leave around 8:00 AM depending on your flight time - Holdovers sleep in, do laundry, go to Portland - Early arrivals for next session come in that day as well.
DAILY SCHEDULE
6:00

Wake up

6:15

Breakfast

6:35

Bus/vans leave for mountain

7:00

First chair loads

7:30

Free skiing and warm up runs

8:15

Meet your coach at top of MHSSC lanes
Gates and Drills

11:30

Lunch break at top of lanes

12:30

Training ends

1:15

Bus/vans leave mountain

2:00

2:15

Bus leaves mountain

3:30 - 4:00

Afternoon activities depart - MANDATORY

6:30

Dinner
Evening Activities

8:00

Camp meeting

9:15

Quiet time

9:45

Lights out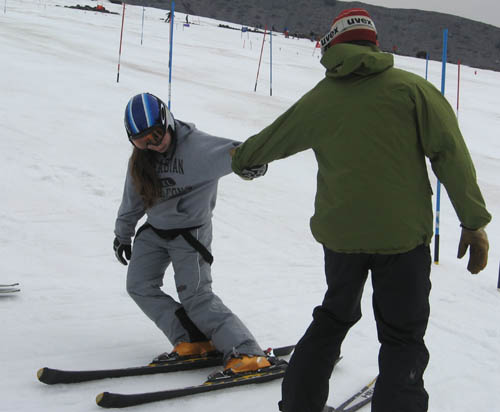 AFTERNOON ACTIVITIES
MHSSC's philosophy is to have fun in the afternoons doing things you may not have the opportunity to do at home. We aren't a hard core dryland camp, but instead offer some fun alternatives in the afternoons. Our choices include: whitewater rafting, rockclimbing, trampoline, soccer, cliff jumping, hiking, mountain biking, volleyball, windsurfing, paintball, softball, golf-cage, unicycle, challenge course and tennis (we have our own clay court). Where else can you snow ski and whitewater raft in the same day?!
Evening activities include video analysis with your coach, ski tuning, pool, ping-pong, foosball, skateboarding, basketball and volleyball.

| | |
| --- | --- |
| | |
LODGING and MEALS
Our camp fees include your stay at The LODGES at SALMON RIVER MEADOWS. Our main "Chinook" lodge has 6 sleeping rooms for counselors and kids, ski room, wax room, and game room (including a pool table, ping pong and foosball) in the basement, dining room and kitchen serving the best camp food in the area. Our newer "Coho" lodge has a meeting room, 7 sleeping rooms, a relaxing porch area and a basement rec area with video stations. Campers have the option of upgrading their housing to the Golden Poles Condos, located in the village of Government Camp. Meals are served buffet style with a wide variety of choices as well as our salad bar. Our 12 acre campus also has two trampolines, skate ramps, basketball hoops, volleyball and tennis court and the only soccer field on the mountain. Our location is at Wapinitia, 5 miles east of Government Camp on US Highway 26.
Click the box to watch a video clip of our Food & Lodging.

ARRIVALS
Sunday is the usual travel day coming to camp. Our camp counselors are at the Portland Airport from 10:30 AM to 2:00 PM to pick up campers. Best arrival time is around noon. You can come on Saturday, which is a "DAY EARLY" for an extra day of skiing and to become acclimated to the altitude for an additional fee. Saturday arrivals can be between 10:30 AM and 8:00 PM. Write "day early" on your application form at the bottom. **The "day early" arrival is only available for the Spring and Summer sessions. You cannot arrive a day early to any of our Fall or Winter camp sessions.

Adventure Travel Service is the official travel agent of Mt. Hood Summer Ski Camps. For help call 1-530-554-4129 Monday through Friday 9 AM - 5 PM Pacific time.

Do not purchase tickets until you have received your confirmation. If you must arrive or depart at a time different than everyone else, please contact the camp office at 1-503-337-2230 for instructions.

DEPARTURES
Saturday is the departure day. First vans leave camp at 8:00 AM. Schedule your flight home to depart Portland Airport between 10:30AM and 2:00PM. Special trips to the airport cost $120.

Click the button to watch a video clip about airport pickups.

IN-BETWEEN SESSIONS
For those campers staying more than one session, Saturdays include sleeping in, doing laundry and opportunities to see more of Oregon. We give the holdover campers various options such as going to Lloyd Center mall in Portland (ice skating/movies/shopping), bowling, indoor rockclimbing or sometimes we offer a trip to the Oregon coast. Saturday night dinners include Mike's famous hand thrown pizza pies. Sundays are free ski days while new campers are being picked up at the airport. An activity is planned for each Sunday afternoon.
CAMP COST$:
Included in the camp price: ground transfers, lodging, meals, camp T-shirt, lift tickets coaching, and video analysis. All afternoon activities are free except white water rafting ($30) & paintball ($20).
Fill out the Camp Application and include a $50 deposit payment by check or credit card for each session made payable to MHSSC (non-refundable deposit). We accept Visa/Mastercard/Discover. Example, a $50 deposit is required if you are signing up for one session, $100 for two sessions, etc.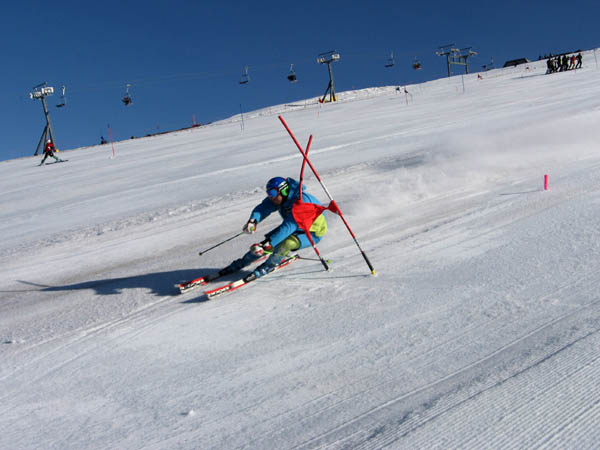 2010 video
2004 video

Add yourself to the MHSSC hot list!!
Give us your email address so we can send you late-breaking information about camp.

Mt. Hood Summer Ski Camps
P.O. Box 317
Government Camp, OR 97028
PHONE 503-337-2230
FAX: 1-888-580-4764

E-Mail Questions to Camp Office

Confirmation Forms Order a Video
Copyright © 1996-2013 All Rights Reserved, Mt. Hood Summer Ski Camps

"Like us" on FACEBOOK to see fresh photos and updates.