WHY COME HERE?
11,235 foot Mt. Hood is North America's only year round resort. There are other resorts out there that have late seasons, but they don't generally make it to July and August. This is THE place to come for on-snow training in the summer. Those American ski and snowboard athletes you watch in the X-games and Winter Olympics? Almost all of them have spent time developing their skills on the slopes of Mt Hood in the summer months. With two express quad chairs and 2500' vertical, you have the opportunity to get in a lot of quality training in a short period of time.
Some general guidelines: Mt. Hood weather is highly variable with mid-winter conditions can occur at any time of the summer, so be prepared. Winter clothing, rain gear, and racing equipment should be brought as well as summer clothing. Layers work best at Mt. Hood. As it warms during the day, you'll take the layers off and stow them in your backpack. Sun protection is very important, Skiing at the 8,500 foot level is hazardous to the skin and eyes if not well protected. You must bring a good pair of sun glasses, dark lens goggles and #15 (or higher) sunscreen. We also recommend that you train wearing a helmet. .
For our ski and snowboard racers there is consistent hard to grippy snow conditions, salted courses, no pressure of upcoming races, outstanding coaches, daily video analysis and good weather making Mt Hood the perfect learning environment. One week at MHSSC can be equivalent to one season of training at your home hill!
For our freeskiers, and freeride snowboard campers, we have our own private terrain park filled with boxes, rails, and jumps of every size and shape. Timberline also has a public terrain park available for our campers, who can then take "super-laps", going thru our park, then hitting Timberline's park in succession.
And finally, for our mogul campers, we have our own private mogul lane, located next to our race lanes on upper palmer. Our 1/2 mile long mogul lane is shaped by snowcat and finished by hand to make mogul terrain equal to 3 World Cup courses stacked on top of each other. Near the bottom of the mogul lane, is our table top mogul jumps to work on straight air and/or develop your jumping tricks.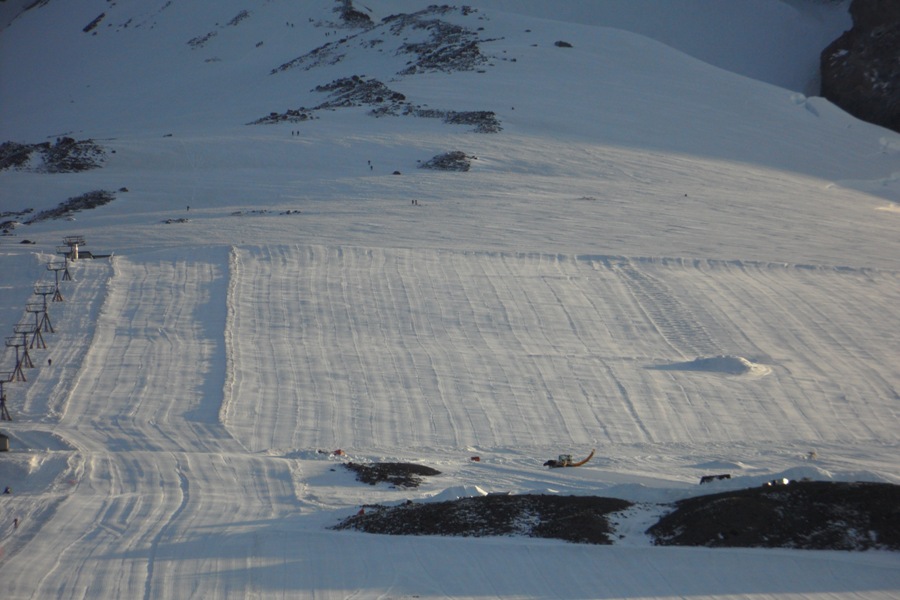 Add yourself to the MHSSC hot list!!
Give us your email address so we can send you late-breaking information about camp.