MARK STEGALL
1963-2011

Late March, 2011:
It is with great sadness to report that Mark Stegall, our long-time head snowboard coach, has passed away. Mark Stegall was more than a camp coach and park manager for MHSSC. He was an enthusiast of shredding, passing on his enthusiasm, passion, skills and love for the sport to all who approached. He gave his personal time to helping others achieve what they aspired for, and what they feared. Mark has managed MHSSC's park for quite some time now, and he worked his ass off at every corner of our camp. From building our skate ramps, all our park features, to driving one camper all the way to the coast to share some surfing knowledge for a day. He was a selfless man who gave his heart for our shredding youth.
~Jasper Newton
*My apologies for the muted audio in Mark's memorial video. Youtube muted the audio because of music copyright issues.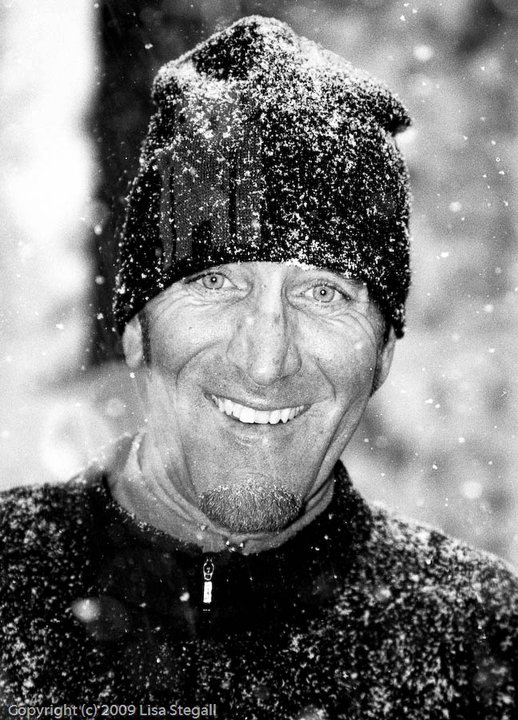 MARK STEGALL FACEBOOK

Thank you all for your very kind words about Mark. We always knew he was an amazing guy, but I know my parents will really appreciate hearing what you are sharing. It has not sunk in yet. I am heading to Tahoe tomorrow. Will share more info as I have it.
~Lisa Stegall
Too many memories... today I am thinking about the first ski trip he and i ever went on. Heck, for Texas kids, we'd hardly ever seen snow before. We woke up, got our skis, took a half day lesson and he was off. Every day, he was the first g...uy up and on the slopes and the very last person in from the day of skiing. He was a natural and grinning from ear to ear all day. On the way home from Red River, NM he said, " I'm going to live in the mountains when I grow up." By golly he did, and he never looked back. I'll have to search for a photo of him then. He must have been 14, with long curly hair and a face full of freckles still. Basically adorable and rebellious. He loved the freedom and he was graceful from the start. Makes me smile to think of...
~Susan Stegall Eve
BMX was his first love... later came skate boards, then jet skis, then skiing, then snowboarding, surfing, wake boarding... basically anything with a board. He used to spend his after school time at the local bike shop. Every bike place around knew him on a first name basis. The year he desperately wanted the Apple Crate bike, he begged and begged for it for Christmas. My funny Dad put an actual apple crate under the Christmas tree.. Mark saw it, thought there had been some sort of big mis-communication and burst into tears. Little did he know, but the real bike was just around the corner to save the day. He was on that bike constantly... jumping curbs, building ramps and flying off. I recall him riding down the street looking at my Mom and calling out, "Look Ma' no feet." The next pass, he'd call out, " Look Ma' no hands!" The next pass, he'd call out, "Look Ma', no brain!" then he'd crack up laughing....
~Susan Stegall Eve

Mark... You inspired me, coached me, and were a friend to me through it all. We will miss you down here, snowboarding has lost a loyal soldier, and we have all lost a great friend. I'll be shreddin turns for you today. RIP old buddy.
~Chris Hargrave

i remember my first week of coaching at camp and i was so nervous standing on the hill next to the other coaches. mark was standing next to me and he told me not to worry and that it was ok to be nervous, it meant that i cared...always remembered
~Colleen Pruss
Mark.... WE LOVE YOU!!! I'm thankful for all of the seasons we got to share. Definitely the nicest guy out there. Thank you. You're positive ..... EVERYTHING will inspire for generations to come.
~Derek Eudaly

Mark was an inspiration. One of the best coaches at camp. He was always excited to help other riders improve their skills. You could tell that he was doing what he loved, and enjoying every minute of it!
~Bill Whalley

Mark you will be missed by so many that you have effected throughout your years on and off the slopes. u are an inspiring guy. camp willl never be the same without you. may your spirit ride on.
~Alex Rapice
I spent much of my childhood traveling and shredding with mark. He was like a father to me in many ways. I may have turned out quite different if not for his influence in my life. His spirit will always be with me when i ride and he will never be forgotten in my life or in the sport of snowboarding. RIP Mark. You are greatly missed.
~Sara Stewart
RIP Mark, camp will never be the same without you buddy. you were a great guy to snowboard with and to learn from, and were an inspiration to many.
~Chris Fellner

To endless powder lines where ever you are, may the shred be with you old friend. you changed a lot of peoples lives and will be missed. LONG LIVE THE POWER STANCE
~Jonathan Winslow

I hope you got to hear about Ruby winning the state championships! your legacy lives on through the pretty turns of those you taught. I got a hand drag back three for you today buddy!
~James Brumfield

RIP mark, i'll be missing you and pulling those clean backside spins that i could not have learned without you at camp!
~Chris Ralph

The signature Stegall mute grab will always be in my bag of tricks thanks to you. You are loved and will be greatly missed.
~Nikki Anderson
RIP mark, you were an unreal guy to chill snowboard and skate with. never going forget the times at hood we had with you
~Daniel Mondou

Much love, the power stance will always be with me, and passed down to future shredding generations. Thank you for everything you did for me, you will be missed.
~Ryan Anderson

RIP was my favorite coach i ever had..
~Trevor Standen

Make the eternal glory turns, Mark
~Nathaniel Goodman

Mark you will be missed. Your commitment to the camp was second to none.
~Bill Toney
Mark has been my best friend for so long... after is career in Pro Jet Skiing, I told him about USASA & coaching-Bleeeedat- one of my best friends is gone???? OMG!!!! im fucking shattered rt now :( He did so much for me- feed me- gave me a job when everyone pushed me away- put a roof over my head- gave me a ride everyday- my early season riding patterner.
~Shawn Wayne Craddick
Mark, you had a major influence on hundreds and hundreds and hundreds of snowboarders. I will miss you friend...
~Robin Cressy

We will all be thinking of you with every perfect turn!
Jared McCrum

RIP Mark.... This powder day I will slash for you....
Luke Wendel

Mark you were always so funny and inviting, I loved talking with you at dinner every night at camp and you just loved what you did and the kids. You will be missed!
~Rachel Hausmann
So sad and hard to grasp that these people are gone. I believe I was there for Mark's first year at camp. I liked him immediately. Just felt from the start that he was a good and warm person. I'll remember him very fondly.
~Allison White
How sad!!!! He was so nice :("
~Ericka Santamaria
Sad story. This world lost an awesome person and a huge influence to A LOT of young boarders.
~Michael Bachkanji

this was the first BMW Mark had. Bought and completely rebuilt just after the 240Z.Also in photo is Lisa. :)
~Susan Stegall Eve
So sad. Mark was a great guy and a true friend. He will be sorely missed.
~Brian Robb


Hardest working guy at camp. Few other coaches or councilors would even think about giving up their weekends off to drive all the way to the coast for surf camp. I'll always remember him in his spot at the staff table in the Lodge, every morning sitting there on his Mac eating breakfast.
~Spencer Raymond
I'll never forget Stegall and his awesome truck. He was a man with admirably unique style and he followed his passions till the end. The epitome of a cool dude.
~Emily Longfield




I can't even believe this is true. I will never forget you Mark. You were an inspiration and such a good true person. You always supported me and helped me even when you didnt need to. Summer will never be the same. He always had this whistle, woop woop he would call out when he'd see me. Mark helped me in so many ways. He had such a good heart and opened it to so many people. Thank you for all you did for us, thank you for being you. You are loved and will be deeply missed.
~Megan Ginter


Mark was pro at life..... RIP buddy
~Jay Belanger

Despite the adversity I faced at camp, Mark always had a smile and a kind word for me. He advised me to love what I do and don't worry about anything else, and set the example every day. He made my experience much more enjoyable by being my pal, and I'll never forget that. Ride in Peace Mark!
~Elle Dorado

Mark taught me everything I know about boardercross. He was a great coach and will be greatly missed.
~Katie Talda

Mark was both a helluva guy and a helluva coach - he is and will be missed dearly. I could never thank him enough for the patience and unselfishness he continually demonstrated in coaching our daughter Katie...
~Tim Talda

Mark was one of the best coaches and best snowboarders I have ever known. he literally helped me from square one with turns to tuning. you will forever be missed.
~Maya Hoffman

Did not take much snow to fascinate and motivate Mark. Out of an inch, he could create loads of fun... even in flat ol' Dallas, Texas.
~Susan Stegall Eve

Mark and I started at mhssc the same week back in 1998 and he was my first roommate at camp sharing a condo with Mike and Lynne At golden poles before the lodge opened. He was one of the adults who showed a young kid that the snow industry could be a real career and no matter how old you are you can still be a kid at heart. Mark's influence changed the course of my life and I will always be thankful for that.
~Tim Feeney

Words can't express how much I'll miss this guy. He was one of the most genuine, passionate people I'd ever met, and I really enjoyed his daily stop in Govy after snowboarding at Hood over the past 10 years. I'd always look forward to hearing about his stories, advice, and goals. His commitment and drive to want to snowboard every day and help those wanting to learn is so admirable. Mt. Hood summers will not be the same without him. Cheers to Mark!
~Sally Butler

Summer loses another smiling face. Snowboarding loses a passionate supporter and fan. Mark Stegall, may you rip up heavens terrain park with some serious talent chasing you down. This last chair ride is for anyone hurting from this tragic loss. NEVER FORGET!
~Mike Estes Lori Scarbrough

I am at a loss for words. You are missed so much already.
~Angela Denise Dore
Mark Stegall was my first coach and influence into snowboarding. He was the best coach I could have asked for when I was a micro, I will always cherish the times I spent with him, and his style was always flawless. Stegall airs for days!
~Dash Kamp
Mark, great friend, coach and selfless man. I will never forget you my brother. Your memory will live on through the countless people you touched. The sky opened up and dumped on us today. Every turn was for you! With love.
~Darren Owen
Mark was one of the many coaches at MHSSC that taught me and all the athletes he worked with to push themselves. He inspired confidence in others, all while having fun. He will be remembered for all the people he helped along the way. RIP
~Scott Carlis

I miss you so much already. Who am I going to text when I pass by Boring, Oregon? Who is going to help me surf? Who is going to be there every time I drive by camp? Who is going to get all my jokes? Who is going to get There's sand everywhere? I miss you so much. This is Unreal.. From the moment I met you, we were friends. You r one of those soul friends. Rest in peace forever. You are such a good friend. I wish I could just hang out with you again :(
~Dana Bakkensen
Two feet of fresh this morning...Mark this day is for you. Your spirit lives on. Love,
~Alex Kollar
I could always count on Mark; when he said he would, he did and what he did counted for all of us. You will be sooooo missed. A life well lived leaves behind beautiful memories...rest well, Mark.
~Lynne Annett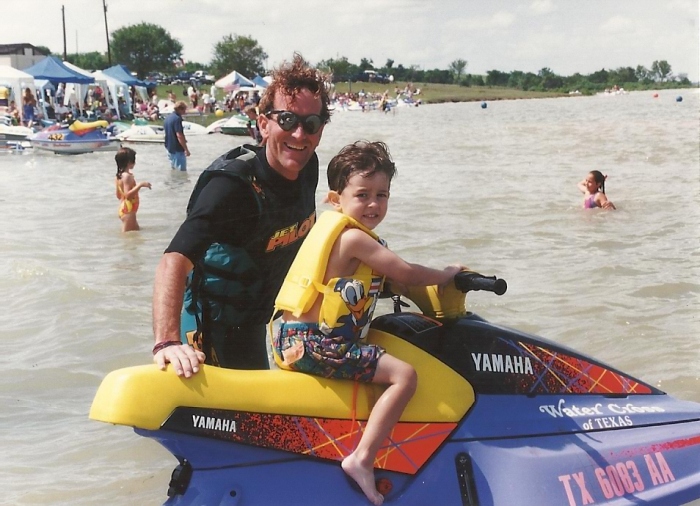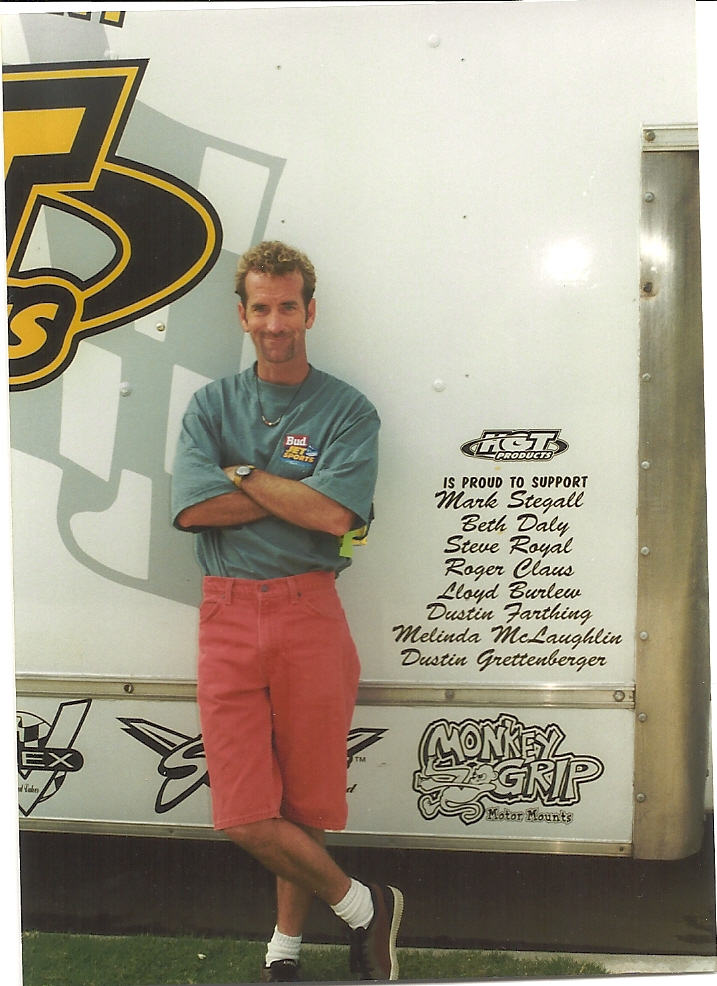 Mark was a great guy and staple at MHSSC. There will be a major void that will never be filled. I hope you're forever shredding, Mark.
~Polly Hopkins

Thanks Mark for all you did for snowboarding.
~Dave Sanborn
Mark will be missed greatly by all who knew him. He was always so kind, energetic, and passionate about what he did. He loved teaching young riders how improve their riding and he always so patient with them. I will always remember his huge smile, loving heart, and passion for the outdoors. With love,
~Arielle R.

Endless turns my friend. Some of my finest days of riding were with you. Love you bro'.
~Lyn Brede

He was an icon of MHSSC and he was such a wonderful person. He treated EVERYONE fairly and he was always a positive person regardless of what has happened to him. I hope he is shredding and showing his signature chill mentality up there...
~Ryohei
I have so many fond memories of Mark Stegall. He was always positive, smiling and laughing – I love that. We were neighbors when we both lived on Schweitzer Mt, ID. I bought a condo up there, and then Mark moved in next door shortly after. We had some great times kicking back at my pad, just watching the snow dump down, checking out snowboard vids & gearing up to catch first chair the next morning. He was so kind, handing out used gear to me when he could. I would try to hook him up with something in trade, whenever I could… :] We both worked at Ski School with "Mountain Riders", and he was so patient when my pathetic butt showed up late and partied out. He taught me so much about better turns and riding style. We both taught kids what we knew about hitting jumps and rails. I was so stoked when I saw him spin a sweet 540 off a jump, just a few years ago. I thought, "I want to rip like that, when I am his age…" I talked to him on the phone up at Mt. Hood just in May 2010. He could not ride that day, but it was awesome to hear his voice. Thank you Mark for being such a great friend, riding buddy and good neighbor – you had a huge positive influence on my life. -DK
1 more tribute 2 Mark "Steven Stegall"...because he would want us 2 laugh & smile & continue ripping every day...TRUE STORY: Mark told me that when he lived in Dallas, or some place down South, he used to race jet skis on a Pro circuit. I thought that was pretty sweet 2 start with. Then, he told me that he went 2 a race in like FL, and he got 2 race vs. Vanilla Ice! I guess that after V-Ice had his mad hit songs (or was that 1 hit... :), he tried his luck on the Pro Jet Ski circuit. I told Mark he was basically my new hero...not only did he meet THE VANILLA ICE...he smoked him in a jet ski race. We laughed 4 days about that 1...& I was like, "That is so rad"

~Dave Kirkland
Thanks, Mark, for living your life so fully. What an incredible person...an intregal part of the MHSSC family. Whenever I needed something...be it snowboarding advice or coaching tips, a lift, an extra hand, a good story...you could deliver 110%. Gonna miss hearing about your crazy winters and bumping into you at random mountains. MHSSC won't be the same without you, but it will always better because you were there. Your legacy and influence will definitely continue in my own riding and so many others. Thank you!!!!
~Anjuli Crocker

Mark Stegall. What a great friend. Great coach, snowboarder, and such a positive influence to so many. I had the privilege to work and ride with Mark for many years at Mt. Hood, and it was great times that I will always remember. It is so devastating to hear about our loss. Mark, we will always love you!
~Timothy Bigtim Douglass

When I moved to north Idaho 10 yrs. ago, I was pretty new to the whole snowboarding scene. I used to teach with Mark at Schweitzer and he used to bring me to the park. He always created this awesome learning environment, making everyone feeling comfy and stoked. He would try and teach me 360's over and over and over agin. Mark, I am STILL working on them 360's......xo.
~Kristy Overman

It took me years to finally meet Mark, although we ran in similar circles. The two of us had a great time (not) working for Mount Baker ski school and getting our asses handed to us in the banked slalom a couple years back. You will be missed.
~Rt Congdon

This is truly tragic... Mark was one of the friendliest faces on the mountain, helping countless riders (and wannabe riders like me) learn and love the best sport on earth. Hope he's shreddin' the gnar in heaven right now...
~Cara Rudio

I remember a time this past summer when Mark was teaching a boy with autism how to snowboard for the first time. Mark was so nice to him and took his time to enjoy being with him on and off the hill. He eventually got the boy to land his first 50-50 on a box, and the kid had the biggest smile on his face from what Mark helped him learn. This is a memory I will never forget. Mark, you were an amazing person and an inspiration to all, there is a void left in this world that cannot be filled, RIP.
~Chris Ralph

Mark you will be missed. Thank you for your positive influences in the snowboard industry. May your memory live forever.
~Randa Shahin

RIP Mark - The energy you gave people on and off the snow was absorbed by everyone around you... Forever remembered as one the the benchmarks of snowboarding, you'll me missed my friend.
~Alexander Markellos

Thanks Mark for all you did for snowboarding.
~Dave Sanborn

Two feet of fresh this morning...Mark this day is for you. Your spirit lives on.
Love, ~Alex Kollar

Mark buddy! I wish I would have told you this before you passed, but thanks so much for all you have done for me and my snowboarding. From being my coach when I was in High School to being a friend at all the races, thank you. Miss you!
~Pat Holland

I always said Mark was the best snowboard coach I knew, plus he taught me more on my skis than anyone else. He was a true pro.
~Terry McLeod

I remember one time when Mark spent like 2 hours trying to teach me how to land a jump on a snowboard (while I was supposed to be ski race training on the groomed lanes up top). Those who know me realize the significance of that statement: I SUCK on a snowboard. Yet he really, actually tried to teach me. Over and over. Patiently. I can say with certainty that there aren't many other people in the world who would do that. I can't imagine how many people learned to love snowboarding because of Mark's patience and dedication. Any other coach would have told me to quit kidding myself and go train with the rest of the spandex-clad racer punks. ;P Thanks, Mark!
~Cara Rudio

I will forever remember Mark's other-wordly commitment to serve others at camp. My fondest memories were the countless afternoons spent building boxes, NEVER-ending repairs on the halfpipe, and most of all riding down the access road in the bed of his old tacoma pickup. Mark, you made everyone around you happy to be alive. Wish you endless turns!
~Ian James
Mark was both a helluva guy and a helluva coach - he is and will be missed dearly. I could never thank him enough for the patience and unselfishness he continually demonstrated in coaching our daughter Katie...
~Tim Talda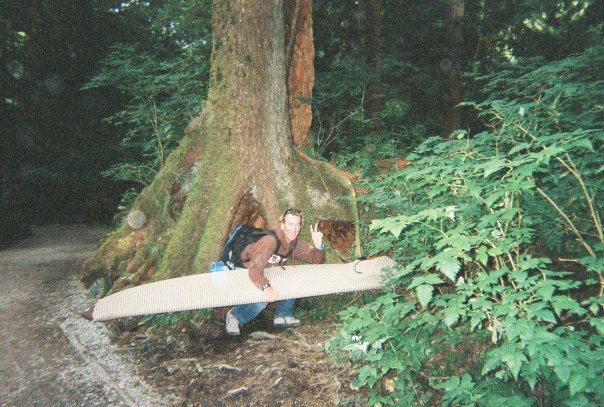 Mark and I had this joke where we would pretend to be tourists and take totally posed pictures flashing a peace sign. This is at shortsands on the oregon coast. I will miss his sense of humor. We always had such good times hanging out. I felt like I could talk to him about serious life stuff, but also crack up laughing over silly random stuff. It is awesome to see how many lives he has touched, because he made a lasting impact on mine, with his down to earth attitude and passion for board sports. This is really hard and I wish I could say goodbye to him one last time. I'm sending my love and good thoughts out to everyone who is missing him right now.
~Dana Bakkensen
I'm gonna miss you around the mhssc campus. You always had a super positive outlook about everything and this summer is gonna be weird without ya. Shred some sick lines in heaven for me.
~Alex Brewster
When I moved to north Idaho 10 yrs. ago, I was pretty new to the whole snowboarding scene. I used to teach with Mark at Schweitzer and he used to bring me to the park. He always created this awesome learning environment, making everyone feeling comfy and stoked. He would try and teach me 360's over and over and over agin. Mark, I am STILL working on them 360's......xo
~Kristy Overman

Mark, thank you for touching my life. I carry you with me. I'd say rest in peace, but i want you to be killin' it wherever you are!
~Molly McCarthy

RIP Mark - It was a great pleasure knowing & riding with you. My heart goes out to everyone you touched and influenced both in life and sports. You will be missed. xx
~Layla Maxime
Mark and my husband, Adam Neil, always switched it up in Boardercross. The best of comrades, as Adam said last week, "Boardercross will never be the same without Mark "chasing" me". And then a HUGE laugh as we can all see that Mark DID chase him, caught him and then finished him off!
~Linda Zippy Blalock-Neil
Mark was the best snowboarding coach Ive ever had, his way of teaching was remarkable, camp just wont be the same RIP going to miss ya bro
~Bobby Stevenson

I remember Mark being my coach 10 years ago the first time I went to camp. He was a great person on and off the slopes and I really learned a lot from Mark. Mark will be missed a ton and I am thankful for the enthusiasm he had for the industry and the many places he told me I have to ride before I pass on. Riding with Mark and chillin' in Govy gave me so much more respect for snowboarding and he helped me love the sport more than I already did. At least he died doing what he loved in life and we can be thankful for that.
~Dan Hayward

You brought about a worldwide smile to whoever was lucky enough to meet you Mark. I feel lucky to have had you in my life RIP
~Billy Mann

I taught snowboarding at Schweitzer with Mark. i ll never forget sitting on chair 1 in deep conversation about JRR Tolkien books. he loaned me the silmarillian and explained how middle earth came to be. he taught me so much on and off the snow. he was a great friend and will be missed.
~Anthony J Powell

Coach Stegall, thank you for inspiring me to do exactly what i love, for as long as i can do it. Although we have spoken very little compared to your relationship with others, you have impacted my life forever. You were the true image of someone who pursues exactly what he loves. Shred in peace man, i know you will be doing everything you love, as nothing would ever stop you from that. You will be missed, and you will never be forgotten.
~Nathan Dye

So many memories...So many years. While it is evident of the impact you left on the your snow family, I will never forget the countless hours spent In Oklahoma during your summers here wakeboarding after we both quit racing on the water. Your mellow and floaty style on the water was just one way you let the world know how you rolled. Thanks for all of the great memories, great friendships and positive vibes you shared with us summer after summer "back home".
~Gene Daniel
This is truly sad. I remember taking a run out on zig zag and seeing the snowboarders leaving with Rick. Mark had stayed behind with one of the campers in my room, who was scared and crying. I said hi to the both of them, offering any help, Mark had it under control. Back at camp that night I asked the camper who Mark was with earlier how his day was. He told me how awesome zig zag was, and how Mark taught him how to drop the cornice. I know when I saw the camper he was not having such a good day. Mark was able to turn his campers day from a not so good to an excellent one. This is just one example of one camper on one day, and I know there are so many others out there. Shred in Peace Mark.
~Matt Chirico
Mark helped us out in the summers at are dealership. He taught us watercraft, ATV & motorcycle safety. You will be so missed Mark!
~Danny Wilson w/Roadhouse Motorsports, Tulsa
Mark was man, camp wont be the same. We'll keep mhssc the best and friendliest park on the mountain for you boss. Rest in pow
~Kevin Malone

i am a cousin of marks and i would like to take the liberty to thank everybody for their comments - we grew up together in dallas - there are many memories - one of my favorite is playing sea hunt (a tv show at the time) in the pool of his home - mark was a great guy to hang out with - i always enjoyed his company from tot to adulthood - our family has lost a great man, friend, and spirit - rest my dear - until we meet again - my love always... cousin janet aka gator
~Janet Davis

I cannot tell you what these comments & stories mean to our family. Thank you, thank you, thank you. We are planning some type of memorial, details to come.
~Lisa Stegall
Last I saw Mark was at National's one year ago at Copper. He was in his element, in his happy place...coaching, riding and loving the sport of snowboarding. Bottom of the BX course mingling with the racers. He helped my boys greatly while in Telluride. I am so shocked & saddened. Much love and strength to you and your family.
~Jon Siegel

Mark, when i think of you I remember a very kind and good hearted person, that was never too cool to talk to you, like some others i have met around Govy. Also I will never forget how you took me to the Motocross trek and let me ride your dirt bike - that was awesome and i had so much fun! Thank you and I will miss you!
~Heidi Gamma

Mark, You wrote the book on how to be a good friend to everyone you encounterd on and off the mountain. I will never forget all the words of encouragement; the willingness to teach your love of snowboarding and life. You were a true master of the arts. You had class and style that nobody will ever come close to. We will always remember you on Schweitzer and you will never be forgotten.... Punx
~Erik Vogelsang

Mark was my snowboard coach in tahoe. He wasn't like any other coach. He made me feel like a winner even if I got last place in a race. He always wanted his team to have the fastest boards, so in between races he would tune all of our boards with his secret powder that he bought out of his own pocket just for us, and let me tell you the stuff wasn't cheap. He was always right there at the start gate cheering me on. Over all the voices I could always pick out his voice because he would cheer the loudest. Mark also took it upon himself to get me free gear from k2 because he knew my family couldn't afford it. He had the biggest heart of anyone I have ever met and was such an easy guy to get along with. He watched me grow up and always looked out for me even when I didn't know it. I spent more time riding on the mountain with him than I did my own dad as a kid. I'll always remember this one powder day. He and I alone hiked to this secret spot at northstar and had the most unreal powder runs. He would also take me, free of charge, on days when we didn't even have team to other mountains to get more training. The guy had an amazing heart and personality and I am lucky to say he was a role model in my life growing up. I think about you everyday mark, and I will always remember all that you taught me in life and in snowboarding. I miss you, shred in peace my friend.
~Sara Stewart
I couldn't believe the news when I heard of Mark's passing, I sat there completely shocked, unable to process the truth of the news that Mt. Hood had lost one of it's greatest members. Mark had always been such a positive influence for myself personally and I looked up to him immensely. I remember that upon arriving at Hood for my first season, I entered into this community as a faceless nameless lift attendant on midway Palmer, spending most of my days loading campers and countless coaches from the multitude of the summer camps, while I longed and hoped to one day play in "their" world. On one of my days off I met up with a friend, lets call him Dudaily, who promptly took me past the "private access" gate at midway Palmer. We rode purposefully past the cavalcade of campers, filmers, and sponsor banners and I asked D, "Aren't we going to ride the camp?" He replied, to the effect, " We're going someplace better than this circus" we rode below to the lowest vein of snow in the private canyon, where a small assortment of rails and exceptional jumps resided peaceably contrasted to its larger, noisier, neighbor. As we rode up to a small gathering of riders, D introduced me to a man sitting comfortably amongst some younger kids and coaches, enjoying the late summer sun and giving advice on the finer points of summer riding. His name was Mark, and he told me that it was cool to ride with the campers and use the terrain as long as I helped out with some of the digging and salting set-up and breakdown of the features. My heart soared and I played with wild enthusiasm in this wonderful little Shangri-La. Later on in the afternoon, Mark and I started making small talk, and he recognized me from my station on Palmer. We began talking bout snowboarding, its primacy in life, and how we ended up on Hood . After that day I began going to MHSSC on a daily basis. Later on in the season, right before the summer wrapped up, Mark asked me if I had any interest to stick around after closing one afternoon, that there was something "big" planned. I jumped at the invitation, and on an early evening in August I had one of the most pivotable moments in my life in the Mt. Hood community: participating in one of the infamous night jump sessions. That was six years ago, and over the course of those years I have had the wonderful opportunity to see Mark outside the contexts of the summer scene but intrinsically tied to the Mt. Hood community. On the best powder days or perfect bluebird days, I could practically count on seeing him partaking in the same joy that had drawn me, and countless others to this area. This area has lost one of its great stewards, and though he may be gone and will be missed, I have no doubt that Mark will remain revered for all of the people that have met him, identified with his passions, and known what joys come from living that life. ~Karleton Pfaff
Classic photo from Vail Pas circa 1993, the super bmw (the precursor to super truck is to the left, behind Mark).
I first met Mark at a jet ski race in Oklahoma in 1989, it was my first race and I had to do a teardown to prove my ski was stock, I had no clue what to do but Mark overheard me and offered to help, at the time he was an expert champion, so I was pretty amazed someone that good would want to help a novice at his first race, typical Mark. We ended up partnering up for the race season for the next few years, traveling to races. I was able to return the favor a few years later when I invited Mark to crash on my couch in Vail Co for the remainder of the 1992 ski season, which started him on the snowboard route that he so enjoyed. He was also my roommate at Schweitzer for a couple of years. One of those rare people with no pretense, he didn't care if you were a beginner or a pro, he just wanted to spread the stoke of whatever it was he was doing. He will definitely be missed!
~Shawn Taylor
Mark, so long ago you became my first real coach. Coach took on another persona of role model. Role model developed into friend. Even after I couldn't see you every day, each time I did it was like I saw you the day before. Everyone you influenced took something from your skills, and most of all, your personality. You taught me a lot about our sport, but immensely more about life. I will always be a better person due to your influence, and will do my best to keep passing it on. Thank you and you will always be in my mind and action. Goodbye Mark, and I hope to see you again. Lovingly,
~Cole Lindsay
The words were tough to hear on Sunday – a great friend of Schweitzer's passed away. Mark Stegall left a legacy here and in many other areas of the country. He was a great advocate of kids, snowboarding and all around fun on the mountain. He coached some of the best snowboarders to ever come out of Schweitzer. He was a coach in the true sense of the word – developing passion for the sport, teaching riding skills and guiding kids through attitude shifts. He cared, truly cared about all those things as well. It wasn't too long after he started working here – maybe 1999 when Mark came bounding in saying he had some ideas that he wanted to try. That was an understatement. He was a constant flow of ideas – always to benefit the kids. A snow skate park, improvements to the terrain park, improvements to Stomp Games – they always centered around building programs for kids to learn and develop a passion for the sport he loved so much. He spread his enthusiasm as a coach here for several years – we were so fortunate to have him around.
One can only hope that Mark realized the impact he had on the snowboard world while he was still living. Legacy builders are few and far between – hopefully we all learned something from Mark during the seasons he spent here. Mark you did make a difference in so many lives – thank you.
~MWQ

It's truly amazing how many people's lives you have touched. You have been such a wonderful friend to me and so genuine. I'll always cherish the times we had surfing in Encinitas and snowboarding at Schweitzer. You always had a way of giving me the perfect tips in a way that gave me confidence. I'll never forget the the day we went surfing, as I backed off the cresting wave, watching you fly under under me with amazing speed... or the day you helped me get over my fear of jumping in the park at Schweitzer. You were such an amazing rider, teacher and friend. Thanks for everything Mark.
~Jamie Dockins

Mark took me surfing to San Diego and it was one of the best time in my life. He never judged me or my skills. He was kind, funny, generous, patient and gave me the courage to become a photographer. I wanted to see you this summer at Mt Hood and show you my progress. I will never forget you.
~Delphine Ettinger

Dearest mark... He was obviously touched so many people! He let me come with him when he trained the 'kids' snowboarding at Northstar. I was 25 and far to old to be in the kids camp but he could see I loved it and learnt so much trying to keep up with him and the 'groms'! in the powder through the tree runs! - He also made time for me when I was sad and took me riding!! xxxxx He encouraged me to do my first ever ski-a-cross race, and made me feel like a champoin at the gates (like Sarah said with his magic wax!) I guess the rare and special great thing about Mark is he made us individually all feel special at some point- THANK YOU MARK xxxxxx
~Louise Ward

I worked with Mark in Ski School at Schweitzer. He took me on my first times to little and big blue, it was awesome. He also took me out in the back country, which I will never forget. Thank you Mark.
~Andrea Varela Moore
He even spent hours and hours trying to teach me to snowboard. Without yelling at me. I'm pretty sure he laughed, though.
~Lisa Stegall
One of the things I loved about Mark was how open and patient and without judgment he was. He just took people for how they were and it was okay. Pretty rare and oh so cool!!!!
~Susan Stegall Eve
I have been trying to cope with this loss the pass few days. I think today I was able to say goodbye to you Mark. Fresh line in G-8 of Highlands Bowl waist deep and over the windshield. Thinking of you knowing you are saying keep it smooth and charging. You gave me a new meaning of competing at Nationals. You always beat us up dude, we set our riding on you buddy. If we could only ride half as good as you, beat you out of the gate, make it to the second berm, might have a chance. Truly missed, seeing you sending 5's to the sky. We love you man.
~Mark Hogan
Wow, I just found out about Mark's passing and my heart goes out to his family and friends, and lets face it Mark is someone who had an extended family that included 100's of people in the snowboard world. I met Mark through USASA in New Mexico in 2002, when we were competing in BX. We share the same birth year, 1963, and a passion for snowboarding. Mark always had the fastest time trials in BX in Legends and some years the fastest of all the BX competitiors in USASA. In 2002 I was a newbie to USASA so when I was 3rd in the time trial Mark took me under wing. He was a mentor and a fellow coach and one of the people I most looked forward to seeing every year at nationals. In 2003 when we were racing BX at Copper on what was argueably the most aggressive course in USASA history, because it had been built for the Gravity Games, Mark and I were in the final heat of the day at about 6 pm, day 1 of competition. The altitude was kicking our asses and Scotty Palmer had given us the old guys speech about how we needed to go to work next week and to take it easy and not to get hurt. Nothing doing, we were balls to the wall all the way. I got the jump on Mark out of the gate (one of the few times) but he soon passed me on the third jump. I was on his tail through the course and at about the three quarters point he went airborne of this killer hip and yelled "oh shit". I was right on his tail and was really scared shitless for him and preceded to lose it myself going over the hip and then was fearing I would land on top of Mark who was laying in a heap. Somehow I managed to throw my body to the side to avoid him, bouncing off a berm He was clearly in a ton of pain and I stopped to ask how he was and all he could say was "go!" I hesitated and consequently got third place, with Mark limping in behind in fourth. Another year at the Northstar at Tahoe nationals after the first slope style run Mark was leading and I was in third. Mark razzed me about taking it easy and how I had thrown a 3 with a tail-grab at Angle Fire a few years earlier, so I'd better step it up and throw down off the big jump and beat him. I followed Mark's inspiration and threw down landing me in 2nd place and then late that night, really late, after a few Jägermeisters he disected my run and explained how the judging had been poor and in fact I should have won. I still have the old Burton Canyon I rode that day that got a big gouge in it from wacking the side of a rail on that run, the line Mark insisted I take. I also have a permanent bone bruise on my right hip from a flat down flat box Mark assured me would be a piece of cake at another nationals. Mark was the reason I finally broke down and got a cell phone. One year at nationals one of his athletes had been eliminated in BX but then later they were calling for him at the start for another round. Mark called him on the phone and then proceeded to hold the powers to be at bay until his athlete arrived. From then on I always carried a phone at nationals with my athletes names programmed in. I am just one of many people who learned a lot about life from Mark Stegall. Mark always made quality time with people. Many of my best nationals conversations on the slope were with him, and many of my best late night rounds at the bar were with him too. Rest in peace Mark. They are forecasting a foot a nasty eastern pow here in Massachusetts tonight and I be climbing to the top of my local cliff in the early am and making a few turns and thinking of him. He would have accepted no less from me.
~John Friends

i continue to have a hard time wrapping my head around the fact that my cousin will no longer be in my life - although our family is somewhat scattered - wonderful relationships are not always made by quantity of time but rather quality of time - as i can see from his peers - mark was the same class act and awesome guy to be around just as he was in our family - i will miss his spirit - his smile - but most of all his kindness and friendship - happy trails - love ya always...
~Janet Davis

Everyone who knew Mark was blessed to be around his aura. He always showed up with the same smile and one of a kind personality that made everyone hyped. Even if you didn't know him, a day riding with Mark was like riding with one of your best friends. I remember first coming to hood and watching Mark hit big line and thought to myself, "This guy's an animal!" Ever since I heard of Marks passing I haven't been able to find the right words to say. I was looking forward to coming to Hood this summer to get some turns in with him, my only regret is that we didn't get one more jump session together. Mark was my coach, my mentor, and my friend. I'll miss you Mark, but your memory will live on with every day that we are all on the snow. Shred in peace Mark!
~David Monhait
I started snowboarding at 30 years old. After my first season my friend Rob and I went to MHSSC camp. We had a blast and talk about that week all the time. Mark was our coach and fixed so many of my bad snowboarding habits in such a short amount of time. I have shared so many of the things he taught me with new snowboarders. And I can still see him demonstrating a good snowboarding stance. He even drove us 3 hours away to go surfing for the first time. I will never forget that trip... and I will never forget Mark. Here is a picture I took at the top of Mt. Hood. I'm not a spiritual person but I would like to think that Mark will always be at the top of some mountain.
~Brian Crall
As Brian Crall said in the comments below, we had a fantastic time up in Mount Hood that week. I'd been snowboarding for many years by then but Mark taught me some good habits in the snowboard park which really improved my stability and airtime. I'm conscious to this day of what he taught me everytime I'm making turns or lining up to a hit. A great bloke who loved the mountain.
~Rob Nicholson

Mark I just won nationals for you man!
~Kevin Kilo Keough

I remember the last nationals I competed in at copper. Mark was coaching me and Kelly Marren who's now a big shot competing in x games and dew tour halfpipe. The chair went right over the bx course and me and Kelly were probably 11 and 12 respectively. When we saw that course we were scared out of our minds! Mark assured us we were capeable and decided to help us have a one up on the competition. So in practice he taught us how to gap the roller set going into the first turn. Did I mention how young we were! I remember being terrified when he said that, but I trusted him when he said I could do something. He just told us to match his speed then yelled out when to Ollie we bothi got it first try. My dad has our runs from that day (mark included) on video. I'm trying to get him to transfer it from a tape for me. Anyways we were definatly the only girls in our group even attempting to gap that roller set and we couldn't have done it without marks faith in us. I will always remember that day as well many others with him and how he pushed me. Miss ya mark ♥.
~Sara Stewart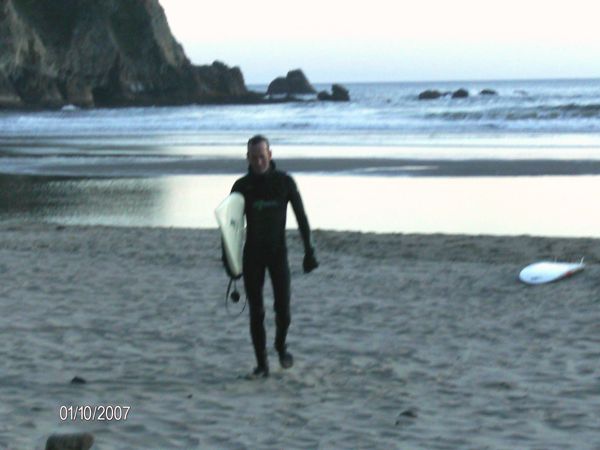 I was sorry to read about Mark's untimely death. I had meant to email him about my progress incorporating his riding tips. My GS times came down significantly this year and Mark's coaching played a big part.
One day in August of 2010 I was with a group of adult campers who were rained out on Mt. Hood. As we tossed around alternate activities Mark volunteered to take a group surfing for the day. He waited patiently for three of us to get ready, and then drove us for three hours to the Surf Shop, where we rented wetsuits and boards. We went to Short Sands, a favorite spot of his, and had to hike about a mile from the parking lot carrying boards and wetsuits. Mark laughed at us beginners lugging our longboards and said "wait till you see the 'potato chip' that I get to carry!" And pulled out a short, experts-only, boogie board. It was a sunny late afternoon, and the surf was perfect. Mark showed me how to tow the board past the first line of breakers, then to lay on the board and paddle out into the swells to the spot where the bigger waves would begin to break. Then how to balance sitting on the board and wait to choose the right wave. All afternoon we rode clean, curling 5 and 6 footers, Mark carving up and down each face as he rode just ahead of the jacking, making it look easy, me struggling out of a crouch only to lose my balance and fall in again and again. Matt Hill, a skier in our group, was showing some skills and getting awesome rides, seamlessly stepping off his board as it grounded at the very shoreline. The lowering sun backlit each wave and gave them a green glowing look from a dream. Mark rode past sunset until the first stars came out.
On the ride back, I rode shotgun as Mark drove through the dark Oregon farmlands and for three hours we talked about snowboarding, surfing, our lives, our adventures, and our regrets. Mark allowed that sometimes he wished that he had bought a house and raised a family . . . and I, who had done those things, admitted regretting that I hadn't dared to have a more adventurous life . . . but . . . for both of us, we concluded, nah. We had each done fine making the choices we had made. As Mark always said, the quote I will always remember: "It's all good, it's ALL good."
~Dan Tiede
I'm so glad i got to know Mark. He did alot for snowboarding in the inland northwest, and the USASA series here. I'm proud to say that i got to race aginst him. FAST he was ! My son was coached by him this last summer, and got to know him. Thank you Mark. Snowboarding has lost a REALLY GREAT ONE ! Keep making the big turns in the sky. We'll miss ya. D.
~Darrin Dillon

I feel like I've come to know Mark this past week through all of you. What a wonderful friend. If only we could all leave the legacy and life lessons that Mark has, the world would be a better place. The photos are incredible and watching Mark in action on YouTube is inspiring. Ride on, Mark. Prayers to all.
~Dorothy Tarbox

Mark was the first snowboard coach i ever had. He taught me my signature method and always taught me to never give up. My fondest moment with him apart from the countless hours of shredding is when for some strange reason he OK'd 4 of my friends to take an inflatable raft down the hill and off one of the kickers in the MHSSC park. As fun as it sounded it didn't end well BUT seconds after impact Mark was there to the rescue showing how much he cared for all his campers and friends. He's a great and an amazing coach and rider. When i think snowboarding i think Mark and i know many others feel the same way. R.I.P. man Nationals this year is for you!
~Kevin Kilo Keough
Mark was the first coach that ever got me to clear a 50 foot gap. He was the most inspiring, and spending my summers snowboarding with him at Mt Hood are the best memories of my life
~Helen Sheldon Beaumont
I entered my 1st rail jam in about 5 years (the last one being my 1st ever with Mark at Hood) in his honor... killed it. You're my inspiration, Mark!
~Lyndsay Strange
i dont think anyone has mentioned the snowskate park mark built and maintained at schweitzer. definitely a cool thing that got alot of people stoked on something they wouldn't have otherwise. looked up to him as a grom there and always made a point to at least say hi when i saw him at hood the last few summers. all around awesome guy, hands down.
~Andrew Harder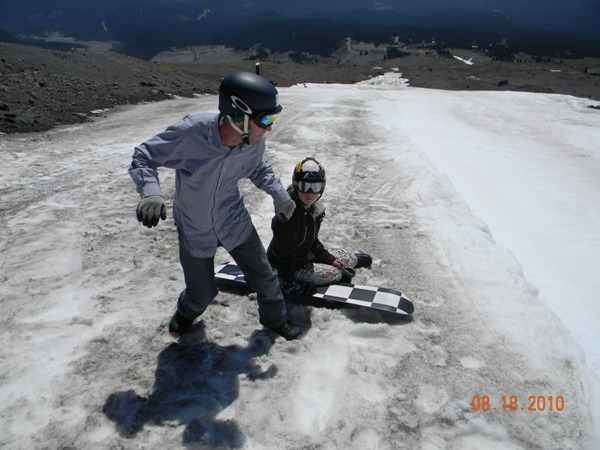 Mark had a a very positive influence on our three kids while coaching them at MHSSC the last few years. Mark and his sidekick Rick taught them most everything they know about snowboarding. As a dad who often tagged along on the hill and in the video sessions in the basement, I appreciated his patience with the kids and his attention to detail for all the riders - regardless of their skill level. Our son Jack was particularly upset to hear of Mark's passing. The attached photo from last August was at the end of the day when almost everyone had gone in - Mark took the time to come up to the halfpipe and give Morgan some pointers. Mark will be missed by many.
~Kurt Reid

Mark, I'll never be able to watch point break and not think of you! "you can't just call time out there and paddle back in...." Thanks for showing me how to get my first wave, and thanks for being you!
~Jordan Dykes
Thanks for everything Mark. I learned so much from just being around you. I learned how to coach Snowboarding. I learned how to get just as stoked for a kid landing his first 180 as for a pro pulling 900's. I saw you seamlessly go from teaching one kid grabs to teaching me rodeos while I wondered how you did it. You helped me get 3rd in my first usasa national bx, waxing my board even though I was competing against your rider. I can't promise I'll win but I will be racing for you this Wednesday at the usasa national bx. Thank you for making the world a better place.
~Steven Knabe
I have so many great memories of our boardercross days in the 90s. So many pow days at Schweitzer also! You were alway a positive influence on the sport, and just a down to earth cool guy. My thoughts are with your family. You will always be remembered!!~Jeff Yates
Just got back tonight from a visit to Nationals - it was amazing! Everyone was pumped to be there, so kind about Mark and I feel so lucky to have had the opportunity to meet some of the people he cared so much about. We were psyched that M Fitzsimmons won the BX Legend mens event. I will be cheering from a distance for so many other new friends to kick b**t for the rest of Nationals!
~Susan Stegall Eve
I was a camper, June of 2008, the only snowboarder that session that wasn't in the park, and spent a day or two with Luke. Mark took a day off from the park kids and rode with just me and worked on my riding. The help and inspiration I got from him pushed me to keep practicing as much as I could during the short season we have in North Dakota. A half year later I decided to go on hiatus from college and work at a ski resort. Since January 2009 I have gotten my Level 1 Snowboard certification from AASI, and started working for my Level 2 certification. Having taught for 3 seasons now I can surely say I've borrowed a lot of my tricks from how Mark taught me that day. I am sad to hear that Mark has passed but his teaching is living on in me and in every single student I've ever taught. Through these 3 seasons I've worked several other jobs at the resort and settled on becoming a full time groomer so I can actually afford to teach as many people as possible; teaching during the days and grooming in the evenings. This quote makes me think of Mark and I hope others will agree: "Many people attach snowboards to their feet, few attach them to their souls."
~Alyssa Biel

Mark,
You will be sorely missed. One of my 1st July 4 experiences at camp was with Mark. We were tasked to help with un-official firework display at camp. As the campers were trying to show off their rockets to traveling motorists he was able to get the whole thing back under control. Your passion and hard work will be remembered.
~Nick
I will miss Mark, Ive only had to a chance to spend a week with him, but it was by far one of the best, and funnest weeks of my life. I remember him coaching me on a much more fluent frontside 3 then what i was throwing, His Power Stance still lives under my feet to this very day. He will be remembered in my turns. Thanks For everything Mark we love ya man. Btw his cab 3 is still stuck in my head to this very day, ive never seen such a perfect cab 3 then he showed off to me on a day of coaching me.
~Gason Roberts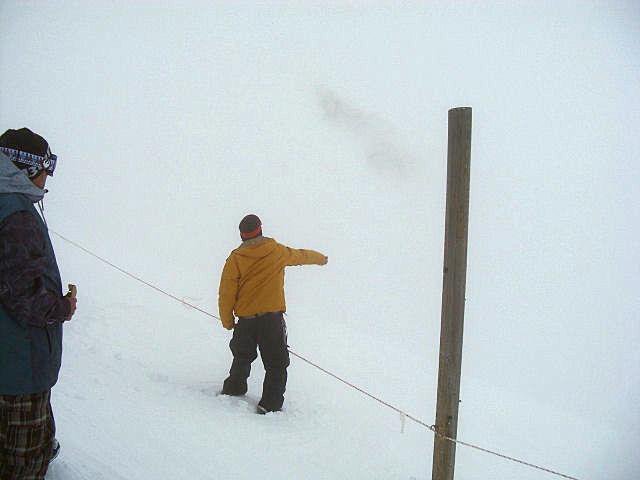 Pat Holland
:
Attention Sandpoint Friends!
Farewell to our Friend. Sunday April 10 at 3pm at the top of the Schweitzer Quad to celebrate - honor Mark Stegall.. Marks family thought that Mark would want some of his ashes released on Schweitzer, a place where he loved so much. This will be gathering for Mark's friends to get together to share stories and pay tribute to a great friend. Please join us if you can. If your not riding that day, walkers will be allowed up the Quad to be present. Please meet with Pat Holland at the clocktower in the village at 2:45 and we will head up from there. We hope to see many old friends gather to celebrate a truly loving man.
*photo courtesy of Nancy Kuster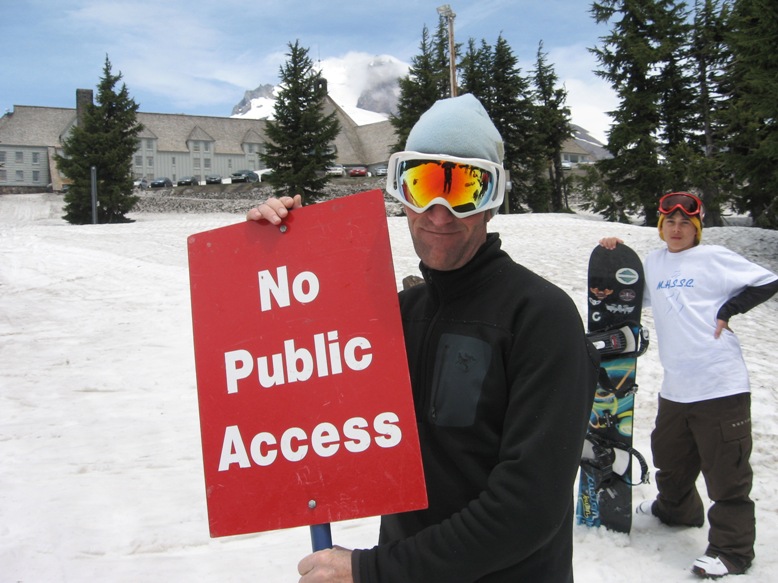 From Sister Lisa Stegall...
Origin of the nickname "wandering bear" (or, Mark was a true free spirit)
When Mark was in Indian Guides, his "Indian" name was wandering bear. Perhaps it should have been wandering bare, because from about 2 ½ to 4, he would manage to slip out of the house or the back yard, shed his clothes, and take off running for parts unknown. Mom would get a phone call from some neighbor blocks away about a naked little boy in their backyard and she'd know he'd given her the slip again. He met a lot of neighbors that way, though. So did my parents. Much to their chagrin.
The origin of determination
Mark could be stubborn (or determined, depending on how you look at it). He was, as we all were, a bit of a picky eater as a child. He had a clash of wills one night with Dad over whether he would or would not eat something. He was told he could not get up and leave the table until he had eaten a bite of the meat he was served. He sat….and sat….and sat…..and sat….and sat, with the bite of food in his mouth, unchewed, until he finally fell asleep at the table. Score: Mark 1, Dad 0.
The day we realized he was destined to go fast in life
I was 9, Susan was 6 and Mark was 3. We made a trip, with a visiting aunt & uncle, to 6 Flags over Texas, a big amusement park outside Dallas. 6 Flags had a new, super cool roller coaster called the Runaway Mine Train, the main attraction of which was the appearance you were plunging into a mine shaft at the end of the ride. You had to be "so tall" to ride the ride. Susan and I were; Mark was not. My dad gently pointed out that Mark could ride the merry-goround, which was next to the Mine Train. Mark wasn't having it. Feet planted firmly apart (the beginning of the power stance perhaps?), arms crossed tightly against his little chest, huge tears rolling out of his eyes and the biggest, fattest lower lip stuck out in a pout, he declared … loudly, "I….DON'T…WANT … TO … RIDE…THE…DAMN…MERRY-GO-ROUND."
100+ Reasons Mark never ate Thin Mint Cookies
One year, mother was the mom who volunteered to be in charge of Girl Scout cookie sales. For those that don't know, they back a truck up at your house and unload cases and cases and cases of cookies for all the girls to pick up and sell. Our living room was, in fact, filled to the brim with cookies. Mark and some of his buddies were curious…..did all those boxes that looked alike really have similar cookies in them? They, being highly in favor of using a scientific method to test their hypothesis, opened over 100 boxes of Thin Mints and ate a cookie out of each box. My parents had to buy all the open boxes of Thin Mints. You know how they tell you that you can freeze the cookies? Well, yeah, you can. But after 100+ boxes, you really don't want to. To this day, none of us have much appetite for Thin Mints.
Goodnight lawnmower and other adventures of disassembling things
Mark was fascinated by the lawnmower, right up until the age he was actually old enough to operate it and mow the lawn. Then he developed a serious allergy to it. But, when he was little (around 3-5), he had to go out in the garage and tell it good night every night. When he was about 6, his curiosity got the best of him and he took it apart, unaided. He did, however, put it back together in running order. Successful in that, there's no telling how many household objects he subsequently disassembled and reassembled over the years, just to see how they worked.
The bike and freedom
Having two wheels meant freedom for Mark. Even from a young age, he would take off on his bike and wind up miles and miles from home. Our dad was in real estate and knew "everyone," so he had hundreds of "eyes" reporting back to him on Mark sightings all around town. That kid probably logged more miles on his bike than mom did in her car and he knew every short cut and route anywhere.
More about "the" bike
One year at Christmas, Mark had his heart set on the ultimate, coolest bike on the planet, the Schwinn "Apple Crate." Second to none, the candy red frame was way better than the "Orange Crate" or the "Lemon Peel." Banana seat and gear shift on the frame (gears?!?!?!?!?). What more could any pre-teen boy want? Highly coveted and fairly expensive. Come Christmas morning, Mark rushed to the tree to find a wooden apple crate that dad had convinced the grocer to give him. Silence. Long silence. Uncomfortably long silence. Dad finally said, well, why don't you look out the back door? There sat the shiny red object of desire. He rode it, but I don't think he ever quite forgave anyone for the joke.
The "Christmas Story" warning about the BB Gun comes true
In the movie the Christmas Story, Ralphie's mom keeps warning him he'll put someone's eye out if he gets a BB gun. Of course, Mark wanted a BB gun one year for Christmas. It lasted one day…..a small hole in a dining room window and a BB embedded in the arm of the older kid from next door ended fun time with the BB gun.
Learning to swim
When Mark was 6, we moved to a new house with a pool. Mark did not yet swim. My parents were really worried about him being around the pool. He was cautious around it for a little while, showing no interest in getting in until one day he just decided it was the day he would learn to swim and in he jumped. And then he swam. Figured it out pretty much on his own and from then on, you couldn't get him out of the pool.
Learning dachshunds don't swim so well
An aunt and uncle also had a pool and a dachshund named Fanny, who did not swim and did not like anyone else to be in the pool. When you were in the pool, she ran laps around the edge, barking…nonstop. Mark didn't like that, so he would splash water at her. In hindsight, that probably made her bark more, but at 8 or 9, that didn't occur to him. When he got tired of that, he hopped out of the pool, grabbed the barking Fanny, and tossed her in. He quickly realized she didn't swim and rescued her. She sorta left him alone in the pool after that, though.
Dad's usual response to the question "oh, you must be Mark's dad?"
Given Mark's ability to roam far and wide and his inquisitive nature and ability to get into all kinds of things, dad's usual stock response to the question, "Oh, are you Mark's dad?" was, "depends, what's he done now?" After hearing some of this, can you blame him?
GI Joe, Snoopy, Slot Cars
Those were Mark's favorite childhood toys. I'm sure he was frustrated that we made his GI Joe date our Barbie because Ken's head fell off the day after we got him. He needed GI Joe to be climbing things, jumping off of stuff and pretending to blow stuff up, not be hanging around Barbie's dream house waiting for her to be ready for a date. His favorite stuffed animal was a Snoopy dog that he dragged around everywhere. Mom still has poor ole raggedly Snoopy. Like the Velveteen Rabbit, he was well loved and real. And, Mark was just the right age to spend hours and hours collecting Hot Wheels cars and racing slot cars at a shop near the house.
Bimmer and Kiri
Bimmer and Kiri were Mark's two pets, both of whom actually lived with my parents when Mark's nomadic lifestyle made it impossible for him to keep them. Bimmer was, of course, named for Mark's beloved 2002 tii BMW. He was, as Mark explained to my dad (who did not want a cat in the house), the "pick" of the litter. Turns out he was the only cat in the litter. He was a beautiful and tough alley cat. He adapted to life with my parents quickly – dad made him scrambled eggs – but he, like Kiri, Mark's beloved American Spitz (a complete ball of white fluff) that came after Bim, always knew the sound of Mark's car (and later the Supertruck) when it pulled into the driveway. Kiri would hear Mark's truck from down the block and be anxiously waiting for him at the door. Kiri means mountain in Japanese, but I think Mark also thought it was an Eskimo word for snow.
Dear teacher, I do not want to meet with you about Mark
Being a free spirit and all, Mark sometimes had the occasional teacher who desired a conference with our parents. Mark was smart, probably too smart for his own good, and was often bored in school. On one occasion, he apparently did not necessarily think a parent-teacher conference was in his best interest, so he handwrote, complete with misspellings and in his childish scrawl, a note from my mom, declining such a meeting. (I know dad saved the note, so I'll have to make a copy to send you).
Hooked from the first trip
Susan and Mark made a school-sponsored bus trip to Angel Fire, NM in high school. Mark was probably 14. Long wavy hair and a face full of freckles. As Texas kids, neither of them had seen much in the way of snow before. As Susan described it, Mark was the first kid up and out the door in the morning, the last kid in at the end of the day and even then, she has a picture of him climbing up the bunny slope, skis in hand after the lift closed for one more run down. He told her on the bus home that he was going to live in the mountains when he grew up. I'll say he lived there. Well. His first ski trip with me was when he was just out of high school and I was in law school. I had a friend in school who was Swiss and an excellent skier, who came along and took Mark all over the mountain at Steamboat Springs. Mark soaked it up like a sponge.
But I don't want THAT car, I want a sports car
For my 16th birthday, I got a shiny yellow, brand new Ford Maverick. Oh, so stylish. That car made it through my 2 years of high school, all 4 years of my college and then Susan's driving it without a scratch or dent on it. Mark then inherited it. It was not, shall we say, the car of his dreams. He had his heart set on a sports car. The Maverick was wrecked in short order. While never proven, given Mark's skill behind the wheel, I've always suspected the car was wrecked on purpose. And, it accomplished what he wanted: next up was a used Fiat Spyder. He honed his mechanical skills on that car – as we came to understand that FIAT stood for "fix it again Tony." Mark poured time and money into the Fiat and then a Datsun 240Z and oh, how he loved them both. He finally ended up with a BMW 2002 tii (also referred to as the pocket rocket) and, through learning to work on it, became a certified BMW technician for awhile.
Dock fishing
My aunt and uncle had a lake house in Oklahoma, where we spent many summer days water skiing and hanging out. One day, when Mark was little, he decided to fish from the ramp leading down to the boathouse. He dropped his line through an open knothole in the wood and proceeded to catch a fairly good size fish, which he could not, no matter how hard he tried, fit through that knothole to be reeled in. Catch and release that day. Lesson learned. Not sure how keen he was on fishing after that.
Mark-a-razzi
Mark's first job in the mountains was as a Sharpshooter photographer at Beaver Creek. New to the job and at the start of a new season, he was standing down at the base of the mountain in his "official" jacket when a woman approached him and asked if he was a photographer. Why yes, he was.
The conversation went like this:
Her: Can you come to my room and take some pictures.

Him: Uh, okay…[long pause – not sure where this is going] Where are you staying?

Her: The Hyatt.
Him: Uh, okay….what room?
Her: The penthouse.
Him: Uh, okay….what's your name?
Her: Kathie Lee.
Him: What's your last name?
Her: Gifford.
Him: [Clueless]…Okay, what time?
He gets to the room. Hmmm, husband seems vaguely familiar, Mark thought. He ended up shooting their Christmas card pictures, said they were very friendly and gracious, spent well over $1000 on photos, always said hello when they saw him around the mountain and sent him business.
Are you going to be a mummy for Halloween?
As you know, Mark was tough. One year, he was dirt biking while visiting my parents in Oklahoma and landed a jump wrong, shattering the facemask on his helmet and breaking damn near every bone in his face (yes, that's how he lost that front tooth). He drove himself to the hospital to get patched up, but had my parents come pick him up. At the time, they were also keeping my nephews, who were fairly young, while their parents were on a trip. Tyler, seeing Mark with bandages all around his head, famously asked him if he was going to be a mummy for Halloween.
Origin of the "turbo" button
My sister Susan had the scoop on this one. Mark's 1995 Toyota Tacoma, more aptly described as the "Supertruck" had a special one-of-a-kind turbo button. One day, years ago, when her kids were young, they were asking Mark if his truck could go as fast as their dad's car. Mark allowed that the truck was fast, but probably not as fast as their dad's car. Robert, the older one, about 5, thought that he could help Mark out and returned from his room with the turbo button sticker, which he proudly presented to Mark. Mark put it on the truck and the boys loved pushing the turbo button and making vrrrrooommmm noises when they did. The turbo button is still there and saw him through most of those 413,660 miles he put on the truck.
Kid magnet
Mark was like a kid magnet when he would show up at my sister's house, jet skis in tow. Within 15 minutes of his truck pulling up, every little boy in the neighborhood would be down there ringing the doorbell, want to know if Mark could come out and play. And he would, happily letting them climb on the jet ski and pretend to drive it. Sometimes he took them out to the lake.
Boy Scout training is lifelong
Mark loved going to Philmont Scout Camp outside Raton, New Mexico and he learned a lot about survival and safety. Years later, he was jet-skiing on a lake and ran across a couple of idiots out on their jet skis, with no idea what they were doing. One ran into the other, seriously injuring a woman, who was bleeding profusely. Mark stopped and came to the rescue, applying a tourniquet and getting her stabilized before the emergency crew was onsite. They told him he, frankly, saved her by his quick actions. I asked Mark how in the world he knew how to do that and, very matter of factly, he told me he learned as a Scout. Duh.
PS, what we did with some ashes
I think I told Nancy this already (and if so, sorry that I'm repeating myself), but we spread some of Mark's ashes at the BX finish line and under the podium @ Nationals this week. Felt those were two places he also should be – he dearly loved crossing that finish line and standing up on the podium, usually in 1st place. I figured your group would understand and appreciate that!
Okay, I'm done for now.
XOXOXO!
Lisa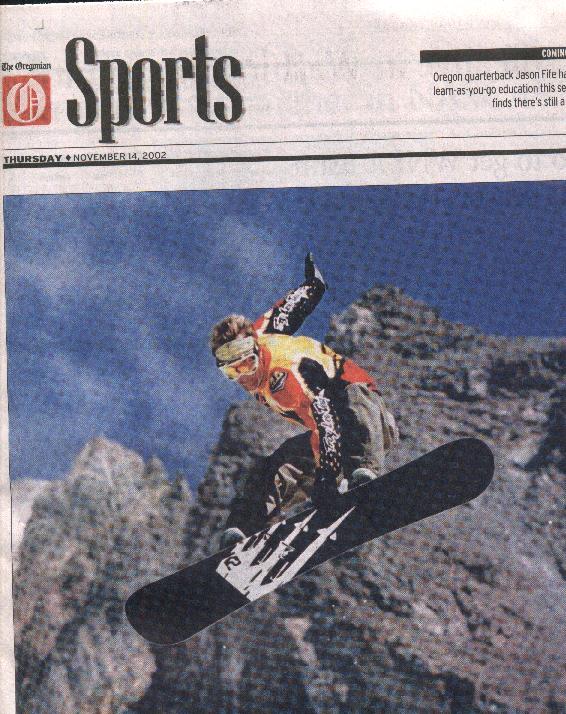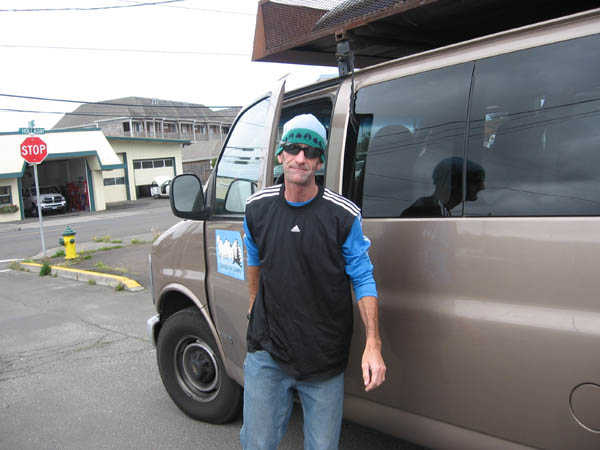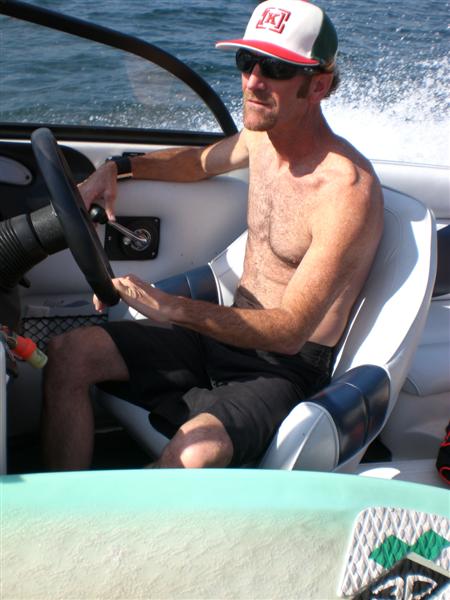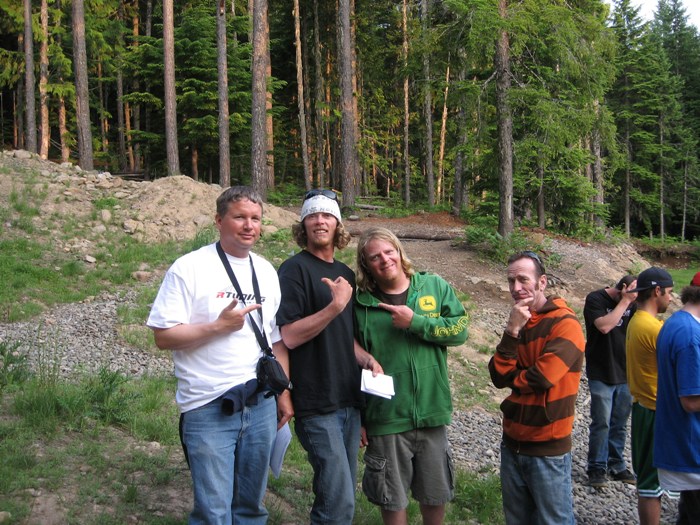 I will always remember this "Mark Stegall" moment. This took place on one of those bad weather/lifts are on "stand-by" days at Timberline in the summer. 95% of the MHSSC campers and staff were inside the Wy'East day lodge relaxing, socializing and drinking cocoa, while we waited for Timberline to make their decision on whether or not they could open the lifts that day. I had decided to walk out the back door to check out the weather, and I see Mark giving a clinic to his group of snowboard campers. He found some plywood and a plastic mat, had his campers grab their boards, and he was working with his group on stance and how to stomp the landing. etc. This was just one small example of Mark's willingness to go the extra mile with his kids.
~Robin Cressy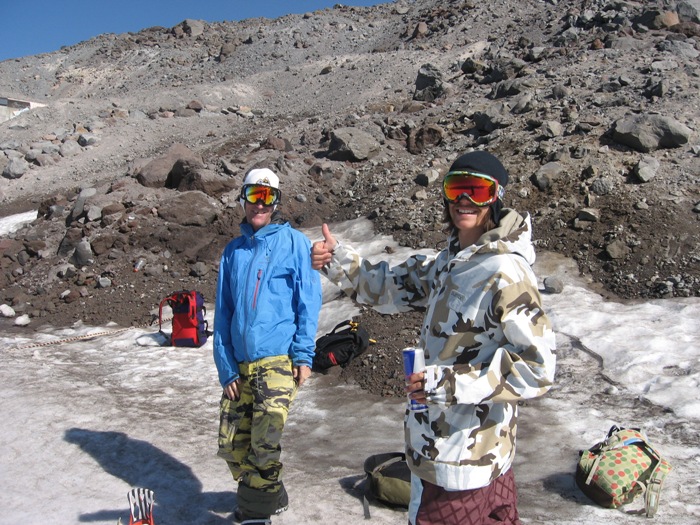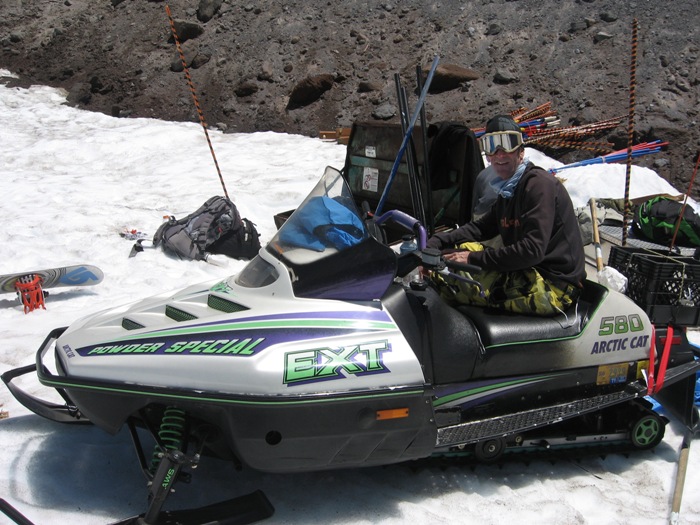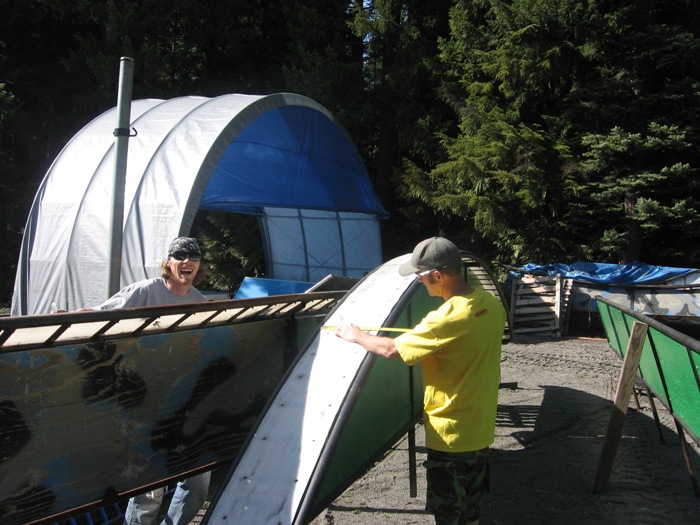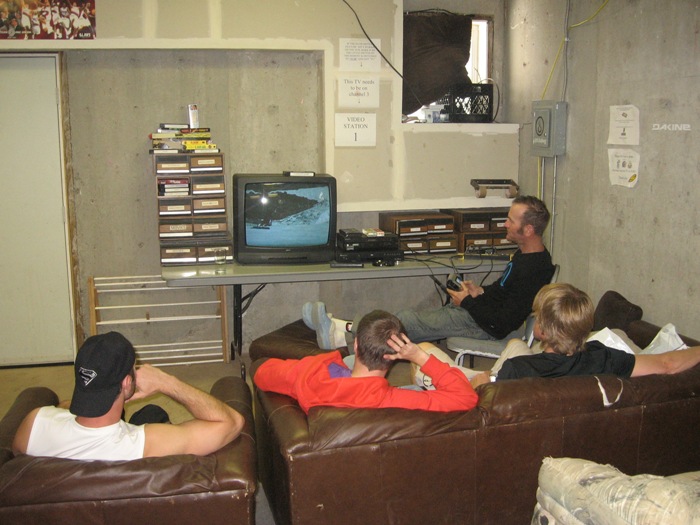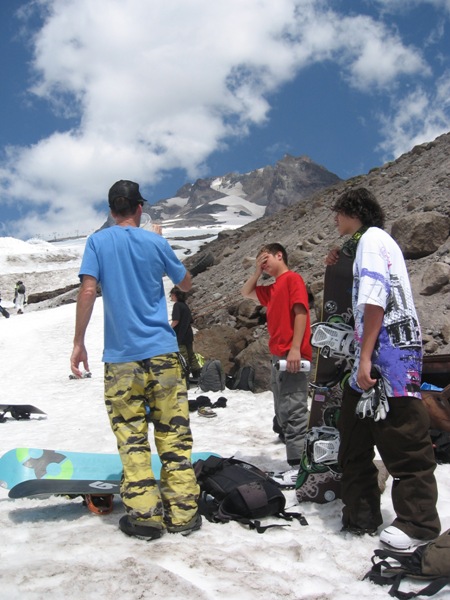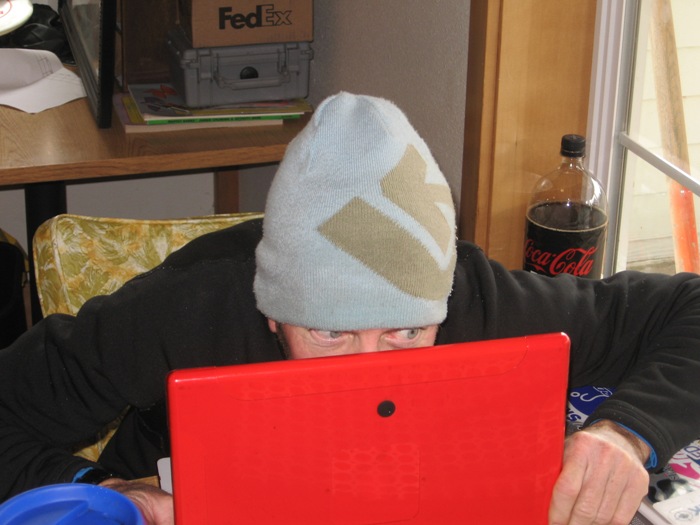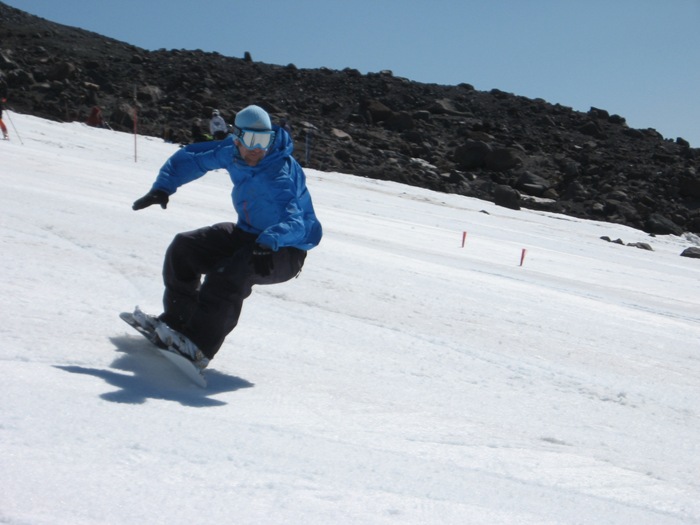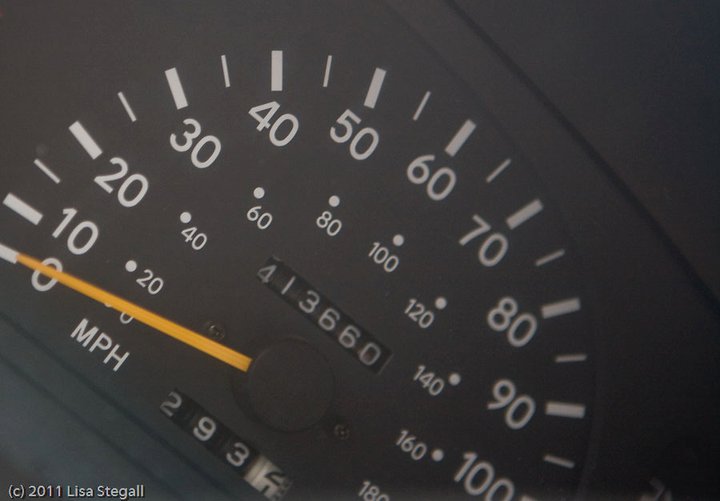 For those that knew the "super truck"....the final odometer reading.
~Lisa Stegall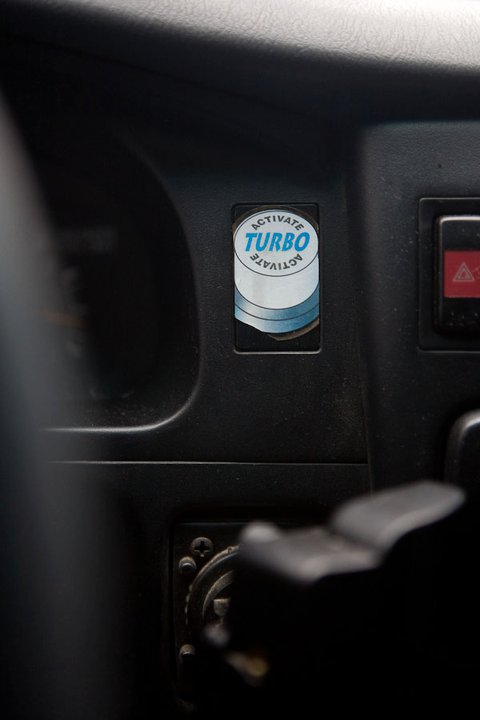 OMG, Lisa, thanks so much for taking this photo. I vividly recall the day Robert gave the turbo button sticker to Mark. Robert was only about 5 or 6 at the time. He asked Mark if the truck could drive fast, "like his Dad drove." Mark told Robert that the truck could go pretty fast, but maybe not as fast as his dad's car. Robert went up to his room and promptly returned with the Turbo button sticker, which he presented to Mark, all grins. Mark was visibly thrilled, and the next thing we knew, Supertruck had a turbo button. The boys loved to push that silly thing when they were in the truck and make vrooming noises. Many smiles from that one sticker!
~Susan Stegall Eve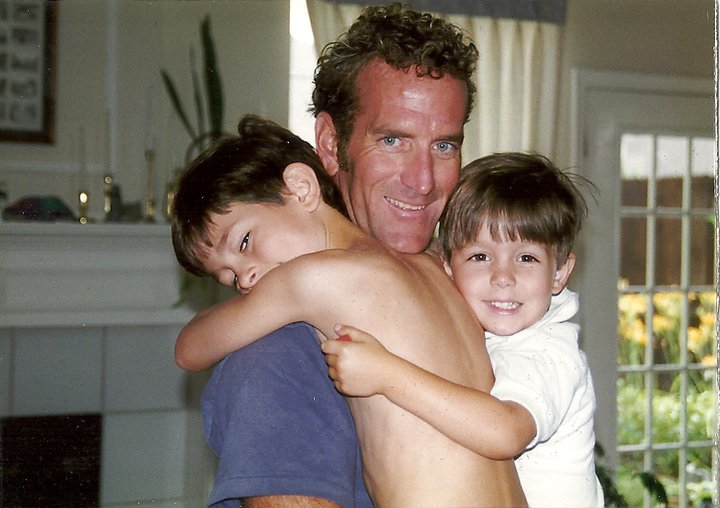 If you have a memory or photo to share, please send it here.
Add yourself to the MHSSC hot list!!
Give us your email address so we can send you late-breaking information about camp.