2004
January 11, 2004 update
HAPPY NEW YEAR!! Here's your MHSSC January 11 update: Lots of snow in Oregon this past week. Even Portland got into the act with 5-6 inches of snow plus a pretty thick layer of freezing rain on top of that. Schools were closed for 4 days.....the Portland airport closed for 2 1/2 days, the Columbia Gorge highway closed for 2 days.......
John Rust
said the snow was 1/2 way up the volleyball net at the camp lodge. staff updates: Former MHSSC snowboard coach,
Eric Baldwin
, and wife Betsy are expecting their first child.....baby is due July 1. Congrats Eric!
Andrej Jerman
tore his ACL in the Beaver Creek world cup Super-G race a few weeks ago.......so his season is over. He said he skied too straight into a gate, hit a bad hole in the course, felt some pain in his knee, but was able to ski to the finish.............but had no idea the extent of the injury. He expects to be skiing again by June. I saw
Mark Archer
yesterday. Only you old schoolers will probably remember him. He was the SCOTT/SWANS rep back in the day. He owns a snowboard/skate shop in Sandy, Oregon.......his business is also an internet shopping site:
www.skatensnow.com
That's all for now...........
Robin
February 4, 2004 update
Hi all! another camp update.......Lots of snow on Mt Hood these days. Timberline has 181 inches at the base.....Last year at this time they had about 60 inches on the ground. http://www.timberlinelodge.com/conditions/conditions.asp
Johnny Orlando (staffer from the Summit Lodge era) has contributed some of his MHSSC camp memories for your reading pleasure.
(T-bear = Trumbull Barrett)
Can we begin a "Best Camper Disciplinary Punishment Story" feature... I know T-bear and I had some creative ones, such as one chilly night in the condos when our campers wouldn't go to sleep and subsequently thought sneeking out would be a good idea T-bear and I busted them but had to figure out what would be a fair and effective disciplinary measure. Since they seemed to have so much energy we decided that we would line them up at gunpoint (squirt-gun point that is) and march them through Govvy in only their boxers (which they had to wear at half-mast) while they belted out marching tunes, show tunes, and anything else that would be suitably humiliating. It was probably past midnight so as they jogged down through town we followed in a van with the headlights on our troops so that the delighted and inebriated onlookers could get a good view. We got all the way down to Charlie's (coincidental of course) and back to the condos. They slept well that night but enjoyed the whole process far too much...
Current staffer
Elliot Halverson
recently had a kidney transplant. He plans on working at camp this summer. Send him some positive vibes for a full recovery:
elliot_nhskier@hotmail.com
In Elliot's words:
I had bad renal function but not to the point of needing a transplant until last fall when i caught a viris that put me in the hospital for just about all of oct. so this viris killed my kidney function and so at that point i had to go on dialisis. Luckly i had a freind who wanted to donate so it was just a matter of making sure everything matched and then it took a while to get a date, but one day they called me up and were like hows next week sound so it all went down on the 21 of jan. the surgery itself went good but afterwards one of my lungs wasnt working so good so i had to stay in icu for a while witch wasnt to fun but i got out a few days ago and am doing better but i do think its going to be some time
before im back in my prime Right now there are some side effects from all the drugs that they are still
trying to work out. skiing wise i have to take it easy and not do sketchy tricks and stuff cause the new kidney is in my lower stomach and is not to protected, but im looking for some sort of protection devise anyway other than a few side effects and a lot of pills and stuff i am at home and walking around some,and im kinda intrested in coming out for a week in april to do some snowshoeing depending on how recovery is going

That's about it from here in Oregon..........If any of you want to share your favorite camp memories, send them my way and I'll put them out on the next camp e-mail update........
Robin Cressy
master of the universe
I'm trying to track down some former staffers........do you know where any of these people are?
| | |
| --- | --- |
| first name | last name |
| Bob | Geyer |
| Brian | Flanagan |
| Carl | Matzky |
| Chip | Simpkins |
| Craig | Moore |
| Cynthia | Ruskensas |
| Dave | Lawson |
| Decoa | Tucker |
| Eric | Steiner |
| Greg | Jerum |
| Jason | Ditmer |
| Jesse | Miner |
| Kristen | Daly |
| Mike | Meagher |
| Mike | Attolico |
| Nancy | Lopez |
| Tom | Davenport |
| Vern | Hadley |
| Y'Vette | Luglan |
March 13, 2004 update
Hi kids! I haven't sent out a camp update in a long time, so I'll try and come up with something to write about because I know all of you are at home checking e-mail everyday with that small glimmer of hope of reading about camp stuff.......right? Not much to report really...........MHSSC spring ski/snowboard camps are starting up next week (March 7-13)........there are 6 sessions for spring camps. I think the average size of camp each week for spring camps is 2-3 campers........if that. So these guys will be getting private lessons. Sometimes they end up going to Mt Hood Meadows and/or Mt Bachelor for a day or two.........a little variety! In the meantime, John Rust is up there working in the office and helping out Mike with lodge guests 5-6 days a week. I've been going up 1-2 times a week to help with sign-ups (typing stuff into the computer!) Sign-ups started slow in January/February, but are starting to pick up the last couple of weeks. Mike hired a cleaning lady (Anita) to help clean the lodge from time to time. I think Mike bought another small bus for camp..........and old Blue bus still sits on Mike's home property in Odell, OR. Anyone have any creative ideas on what should become of the blue bus? Sell it on Ebay? Make it into a museum? Keep in mind it has no windshield and it spent 24 hours fully submerged in the Deschutes river last summer......but apparently it still runs! Please submit your blue bus ideas......or perhaps come up with a blue bus poem that I could share with the masses. Still about 3 feet of snow at the camp lodge.......lots of snow on Palmer. Anyone seen the movie "what the bleep do we know?"..............I was an "extra"........actually saw myself 3 times in the movie.......all 3 of my scenes were brief appearances, but I was well compensated for my work ($55 a day plus free donuts/coffee) It's a different sort of movie about quantum physics........stars Marlee Matlin......some animation thrown in there too......some humor.......narration......Not sure if it's playing in too many markets out there. Let me know if you see it advertised in your neck of the woods. www.whatthebleep.com thats about it.........no juicy gossip to report.
April 16, 2004 update
Good evening, Here's another MHSSC update. Today was the last on-hill day for the spring camps version of MHSSC. We had 5 snowboarders coached by Brandon Rothauge for spring session #6. They did a couple days at Timberline, a couple days at Mt Hood Meadows and a road trip to Mt. Bachelor yesterday. Mike let me out of the camp office to join the group at Bachelor yesterday (see attached pic).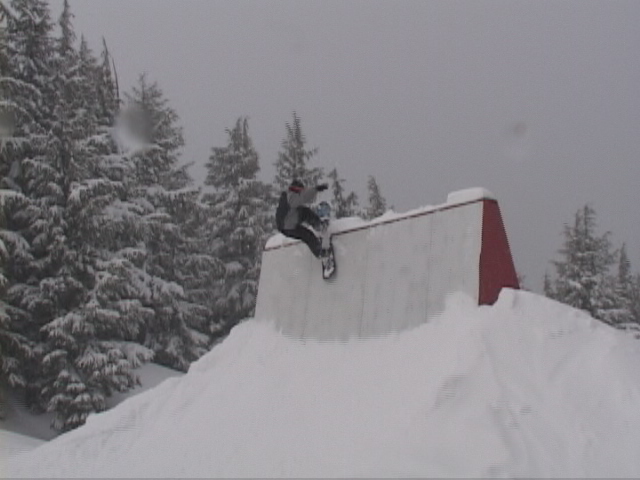 We had about 8 inches of fresh powder.........well worth the drive. Spring camps totals: Six sessions were scheduled, 8 campers total. 1 adult skier camper had a private lesson, coached by Timberline ski instructor Pedro. Last week we had 2 brothers do moguls/terrain park skiing with coach Paul (Timberline guy)........and then the 5 snowboarders from this week. John Rust took them rockclimbing at an indoor gym in Hood River. So as you can imagine, spring camps are a work in progress. Up until a few days ago, it's been warm and dry in Oregon for the last month or so, so the snowpack is back to just above normal levels for this time of year........but if you read Mike's latest camp e-mail update, you know that wet weather has returned with snow falling at the higher elevations. Staff updates: For you old timers (late 80's), Jennifer Otten is headed to kazakhstan as part of the Peace Corps. She's heading out in June and coming back in August 2006. She'll will be teaching English to 7th-11th grade in a high school. anyway, that's all I can think of. The Portland Trail Blazers missed the playoffs for the first time in 22 years, so I have nothing to live for........good-bye cruel world. Robin
April 30, 2004 update
Hi kids, 30 days till MHSSC 1st session. I think about a dozen or so campers have signed up so far for week #1.
Mike
&
Lynne
are headed to Hawaii May 4-14, so if you need to talk to
Mike
before he leaves, do so now or forever hold your peace. (or wait until May 15)..........The TV weatherman just informed me that Portland just experienced the driest March/April in recorded history. What does that mean to the Palmer snowfield? It means summer ski camp is cancelled......take up bowling. Mt Hood Summer Bowling Camp. (MHSBC) Actually the snowfield is hanging in there. It was a pretty wet above average snowfall winter, so we should be in good shape. Ever seen the TV show "SWITCHED"?.........I haven't either.........it's either on ABC network, or ABC-family cable channel.......anyway, its a reality TV show where they take somebody young (age 15-20 or so) and trade them places with another individual in a completely different environment.........for a 3-4 day period. And of course, cameras are there to capture everything. Anyway, "SWITCHED" has contacted MHSSC about taking 3-4 of our snowboard campers from this summer and "switching" them with 3-4 other people for 3-4 days. So........
Mike
and
John Rust
are considering ways to pull this off.........first of all we need to find 3-4 snowboarders willing to do it and they need to be older teens all from the same session.........any of you camper-staffers interested? SWITCHED sent us a VHS copy of one of their shows.......good stuff. It would make you famous beyond belief......and bring some free publicity to MHSSC. I vote for
Lenny
the cook........he'd make for good television.
Staff updates that I'm aware of:
Jared McCrum
suffered a significant knee injury.......in his words:
"I ended up overshooting a 60 foot jump by 40 feet
and landed flat. They said at the crown of the jump I was still going up. I
dropped about 30 feet straight down to flat. I tore my ACL, Medial Meniscus, Lateral Meniscus, and a small fracture of my fibula. Surgery is friday " I hate needles."
Brandy Powell
got her LEVEL 2 snowboard instruction! woo hoo........
Britta Sorensen
is training for her first marathon.......in her words:
I will be running the San Diego Rock 'n Roll Marathon on June 6th. I am training with a group called Teams in Training which runs for the Leukemia and Lymphoma Society.
Birthdays for May: HAPPY BIRTHDAY TO THE FOLLOWING people:
Rogan
: May 1 (he's old)
Liz Chouinard
May 2
Ridgely Reece
May 5
Amy Birtwistle
May 17
Mike Langdon
May 21
Elliot Halverson
and
Brandy Powell
, May 23
ok, so everybody please send these people gifts............ok? If you haven't sent me your birth day date yet, you can by clicking here:
http://www.BirthdayAlarm.com/dob/6561296a5227229b408
ok, that's all.............sincerely yours, love always, may the force be with you, regards, to whom it may concern: Robin
May 4, 2004 email from Ray Dicius
Hey Robin: Here's a story that many staffers may have encountered themselves years ago with Mike.
So, the ski season ends and no more races. End of April for many ski coaches signifies the chance to sign up for the government ski team (aka as unemployment benefits) not a care in the world other than the bone spurs on your heels. May rolls around, and in your active rest period (aka as sofa surfing; for some - a singles event, for other lucky ones - a doubles event) anyway, you realize that a) you have not heard anything back from Mike even after leaving numerous messages over the winter, b) no one answers the MHSSC party line, c) you hear rumor amongst other staff peers that Mike and Lynne are off on some exotic (think Hawaii) wind-swimming vacation, e) your hoping to get word that 1) you will be coaching for MHSSC over the summer, 2) you will get paid, 3) you will get a condo and not have to sleep in Snow Bunny Lodge ever again, 4) there will be new cereal choices for breakfast because you haven't been able to eat french toast or scrambled eggs since every other morning at MHSSC was a french toast/scrambled egg rotation (other than savory Sunday mornings where you can cook your own blueberry pancakes under Lynne's watchful eye), and most importantly 5) there will not be a new padlock on the cookie room door for the coaches to pig out in if they have a fast (fast - because the brakes on the Blue van were suspect or even non-existant) staff van driver who can get them down the access road before the busses expunge campers in various states of sun burn, sleep deprivation, and lack of exercise since the last video game played at home.
Anyway, the month of May may bring flowers, but what it often found was a MHSSC brochure lost amongst the unsorted winter mail pile with...sure enough...a picture of your very self and a bio (that would make your mother proud) as this summer's MHSSC coaching staff member. What a relief! You actually now have some verification that you will be gainfully employed (even better since back then it may be un-reportable cash) for the summer, fed, clothed (ok - maybe one MHSSC t-shirt in that summer's color) a warm place to sleep (remember how cool you wanted it to be in the heat of the July Government Camp summer nights) ...where was I....oh yeah...a chance to find your old Hawaiian shirt to wear on Friday's for the MHSSC Marshmellow Coaching Day (think Stay-Puff Man without ever getting up off the chair made of salt bags).
Then, one day the phone rings. It's loquacious Mike calling. In that five minute call, you learn that 1) there was a reason for your picture in the brochure even though your bio was for a previous ski team 2) you may be in a condo for the summer with the only evening camper responsibility being to make sure the recycled beer cans are sorted properly by the cash value redeeming and returning older campers 3) yes, Janice is coming back and she is bringing Darby the dog with her again 4) no, MHSSC will not be supplying new Helly Hanson color coordinated top of the line rain gear that you've been dreaming about so you can show-up Vance in his seam sealed suit - so bring your own gore-tex underwear kinda deal 5) Joe Reis just celebrated his birthday, again 6) you will get the standard pay increase which you agree to even though you have absolutely no idea what that amount is 7) and...oh by the way... the Korean Team is coming back and can you take the Korean chaperones bowling again? But this time, skip the strip joint since they don't really serve kiimchi there anyway. 8) and lastly, don't bother bringing your valid driver's license even though you will be driving a rented upholstered yellow school bus and the State of Oregon doesn't really require any special training or permit for that privilege.
June is now just around the corner. Thoughts of July 4th foot deep powder turns on Palmer (did happen) dance like rain drops bouncing off your van windshield even though the whole place is on wind and rain hold but we gotta get all the campers out after breakfast so that the Snow Bunny Lodge toilets can be unplugged again by Bob the cook. Ah... the moist mornings, reading a book on the third floor couch of Timberline Lodge (yep, right next to the quilt and wood worked furniture) while listening to tapes (before CD's, just after 8 tracks - to date some old coaching farts) of Dire Straits Live Aid and Bruce Springsteen telling us where he was born. Wondering, when will Mike drive up so that even his glasses can get steamed up and really see that no lift attendant even wants to venture out (even if George, who drove a cat up to the top of Palmer at 4 in the morning is saying that he can see sunlight somewhere near Bend or was it Walla Walla, Washington?) to dry out in Khaneeta, or to sneak in one more time for free ice skating at Clackamas mall, or actually go water skiing and be wet yet again. Yep, those were the days and Mike was there with us in the trenches. Even if he was off shopping with that lovely Lynne.
I must stop reminisceing otherwise it will be June soon and the actual arrival in Government Camp will yet affirm that...nope, Charlie's still has not been re-modeled or re-decorated, Bill and Mary are still at Cascade Lodge, and I am a coach of MHSSC "the oldest and best Mt. Hood ski camp there is and ever was!"
Your old friend who still needs to sell a perfectly good pair of gore-tex underwear,
Ray Dicius
MHSSC '84, '85, '86, and '87
One week before Session 1, 2004 update
Hi kids,
Just one short week before summer camp 2004 session 1 commences. This is year #26 of Mt Hood Summer Ski Camps existence. Technically it started under a different name. The original name was "Eastern Downhill Camps." They switched to "MHSSC" in 1984...........anyone care? .......didn't think so. A few early-bird out-of-towner staffers have been showing up and doing some work at the camp lodge. Elliot has been here a couple weeks. If you didn't know, Elliot had a kidney transplant this winter and seems to be doing great. He has a somewhat restrictive diet right now........he can't eat the yummy, hard-to-resist, famous, delicious Mt Hood Summer Ski Camps cookies. But since he is a camp cook, he gets to make the cookies and look at them all day long.........so in honor of Elliots cookie dilemma, I'm initiating a "eat no cookies for the summer" campaign. Do you have the willpower to go cookieless for 3 months? For myself, I'm already putting in a disclaimer that I'm eating cookies on my birthday, but no other day. Are you up to the challenge? Let me know if I can put your name on the "2004 no cookie list". Terry McLeod was here a week or so ago working on the new extreme afternoon activities facilities. What's new this year? Terry and Co. built a Log Walk.......it's about 25 feet off the ground.........a giant log suspended between two other trees. Campers put on a harness, step up the tree ladder onto the log walk......no handrails or anything....if they fall, the rope catches them..........it's set-up like rockclimbing with the coach below lowering them by rope. The other new activity is the trapeze..........campers climb up the tree ladder, out onto a narrow plank suspended between 2 trees....they have to then stand up (no hand rails again)....then jump out and grab onto this trapeze handle........like in the circus.......then they swing around and eventually drop......via rope like the rockclimbing thing again..........Last week Feeney showed up for the first official guinea pig test for both events.......he's still alive to talk about it........looks damn scary to me. No way am I getting on that thing! All this stuff is up above the soccer field, near the top of the zipline. Mike got back from Hawaii a week ago.........he's tan and happy..........and won't have another day off for 15 weeks plus...........Rust gets back from vacation May 26 for those needing to speak with him. The official 2004 camp t-shirts arrived this week..........yes the t-shirts are available 1st session! That hasn't happened in years.......I think there are 2 color schemes........I saw the blue version........has the MHSSC logo on the front.......and a purpley picture of Mt Hood on the back........I'd give the new t-shirt a score of "8". Brandon and Brandy are also kickin around working here and there getting stuff ready. Brandy seems to be making a marvelous comeback from her snowboard head into the rocks crash......she has a cool looking broken finger with metal rods coming out of her finger in several places. To invert or not to invert?.........that is the question. Timberline, and all the snowboard and freestyle camps.........and the insurance companies.... are in debate of whether or not inverted flips are allowed in the camp environment. What do YOU think? And what exactly constitutes being "inverted"?..........was Jon Mosely inverted during his "dinner roll" at the last olympics? National Alpine ski camp is copying MHSSC once again......they finally broke down and added freestyle skiing to their race training program.......only 10 or so years behind us..........I wonder if they'll add snowboarding pretty soon? You can see pictures of our own Tim Feeney "inverted" on their camp website.........they had to use Brian Robb stock footage photos from other camps for their freestyle program since this was year #1 for them......... Rumor has it that Izi Jerman is making a MHSSC comeback after a 2 year hiatus. He'll be coaching session 5.......so all you Izi fans, be sure to visit him that week........I think Rogan is coming back too after a summer of laying on the beach in 2003. He'll be joining Izi for the largest session in camp history coming up......more than 160 campers have already signed up for session 5. I fear session 5. thats all folks............
Session 1, 2004 update
Good evening! We are now officially in operation up at ol' MHSSC. We have a whopping 11 campers this week..........9 racers, and 2 snowboarders. We've been blessed with excellent weather, no lift lines, and an hour later wake up schedule. The chairlifts run an hour later than normal this time of year so we get to take advantage of extra time in the morning.......normal hours begin next week. Tomorrow is the last ski day of session 1, but here are a few highlights that have occurred so far: Camp has been invaded by big black flying ants! run for your life! thousands of them.........and they are creepy......and they like to land on you. Today I made the mistake of leaving my car window open after skiing today, so a few of those creepy bugs invaded my car. And they somehow have the skill of making their way to my leg while I'm driving...........icky! Anyway............Counselor/former cook Heidi Holland celebrated her 19th birthday yesterday. Happy b-day Heidi! The new extreme afternoon activities have been tested with real live campers........on monday afternoon, Terry, John Rust, and Bill Whalley put the campers thru the zip line, trapeze leap of faith and log walk.........I witnessed some brave campers......nobody got hurt........success! Yesterday was the camp picnic at the Marina in Hood River..........I didn't go.......actually about a 1/2 dozen of us staffers stayed behind........we were left standing in the lodge parking lot hoping somebody would give us a ride. The one van that went was filled to capacity. Gas in Oregon is $17.59 per gallon and trips to Hood River get expensive..........ok, it's not really $17.59, but Oregon currently has the 2nd most expensive gas in the nation. I expect a lot more car pooling this summer.......Snowboard race coach Nick Colavito is in the process of building a mountain bike trail out back of the lodge. Last night, Nick made me a map of the new trail, so I thought I'd try it out on foot..........Bill and Feeney were to start 10 minutes behind me on bikes and meet me somewhere near the end of the trail...........The trail was in descent shape and Nick's map was pretty detailed as I found most of the landmarks he mentioned.....but then there was this creek. I crossed it and thought i was on the right track...........but NO!!!!!!!! I got myself lost in the woods with no sign of mankind. I couldn't even hear the cars on the highway anymore.........no mans land.. and it was getting dark......ok, I was only lost for an hour, but it seemed more dramatic at the time. I eventually found my way back to the highway. We have a camper/staff that is staying for 12 sessions! I think that about doubles the old record. For you old timers who have no idea what a "camper/staff" is.......Mike has a scholarship type of program where former campers can sign up for a week of camp, then they work the 2nd week.........they don't get paid, but they get free camp that 2nd week.........so we now have a guy camper for 6 weeks, followed by 6 weeks of work.........My job will be to remind him on a daily basis how burned out he will become.........Chipmunks have taken over the basement....run for your lives!.........I think they are hiding from the flying ants outside...uh what else..............Brandon reformatted the dining room computer hard drive last night........yes the computer that everyone loves to hate. It's unofficially the slowest computer in the history of the world as is the internet connection. Early reviews is that its working much better...........not breaking any speed records, but it seems to be operating better............actually scratch that...........when I left the lodge this afternoon, I noticed a handwritten note on the computer that read "don't touch"...........We bantered around the idea of opening an internet cafe in Govy. What do you think? Terry McLeod won "employee of the month" for May, 2004. Congrats Terry! Terry earned that honor by doing death defying work building the trapeze........suspended high off the ground and working while it was raining........he risked life and limb in sketchy conditions a few weeks ago to get it ready in time for session 1. so that's what happened so far...............oh yeah...........Brian Robb hit another deer with his car yesterday. He said it was his 4th road kill deer...........$3 grand plus damage to his subaru. bummer! Deer are taking over the forest..........run for your lives! the end...........

Session 1b, 2004 update
ok, more stuff happened session 1 at camp that I forgot about........or I had selective memory as Bill Whalley reminded me with his comment about our game of "H-O-R-S-E": What's the matter??? Too ashamed to let everyone know you lost your first game of horse, and that you are over the hill, and can no longer play b-ball???? bill
yes, it's true, I no longer have basketball skill enough to trash talk or beat anyone........I'm 0 and 1 in games of HORSE so far.......In fact, the game wasn't even close..........Bill only had "H-O" when I was eliminated. One of his shots was a layup with his hand hitting the backboard.......I think my vertical leap is roughly 3 inches these days. sucks to get old.......rematch Bill? Add two more names to the "in honor of Elliot Halverson don't eat cookies all summer" list........Mike Langdon and Chris Hargrave have joined the quest...........do YOU have what it takes to go cookie free all summer? We are still accepting applications.........A correction from the last update: Brian Robb hit his "5th" deer in his car last week......and the damage was over $4,500 to his car. former MHSSC snowboard race coach Eric Baldwin and his lovely wife are only 4 weeks from being parents! congrats Eric! and former race coach Tom Wirth is attempting to qualify for the IronMAN in Hawaii..........he's running in a marathon in two weeks to try to qualify for Ironman. Elliot has so much stuff with him at camp that he decided to make a "free stuff" box to reduce his load. I scored a red hooded sweatshirt. I think Joe Mass scored a jacket. Darren set up the new trampoline harness system on our main trampoline. It looks pretty sweet. today was to be the golden rose celebrity ski race at Timberline...........Chris was to be the race announcer, Brian Robb, the photographer, and I was gonna do the video.........but horizontal rain and thick fog cancelled the event. oh well. I think the only actual celebrity that shows up these days is former olympic downhill champion Bill Johnson. former staffer Ridgely Reece is gonna make a guest appearance at Mt Hood this summer. welcome back Ridgely! Session 2 starts tomorrow...........40 or so campers.............7 coaches. Rain is in the forecast this week. so tune in next week, same bat time, same bat channel for the next camp e-mail update. You know you live for these updates........
Session 2, 2004 update
Here's your ski camp update for session 2, 2004:Where to begin......hmmmmmmmm.......Jamie the counselor was awoken by her alarm clock at some god awful hour early in the morning on monday, while she was sleeping in one of the girls dorm rooms at the lodge. She reacted to her loud alarm beeping by sitting up very quickly on her bed, and she proceeded to catch her hair in the springs in the bunk above her head......so there she was, alarm going off, her hair stuck to the bed, and unable to move......the girls in her room woke up and started complaining about the noise.........anyway, a girl camper finally came to Jamie's aid and freed her hair from the springs above. the weather?Mixed bag. We had everything this week: snow, sun, rain, snow mixed with rain, high winds, fog, 2 days of training on the magic mile. On thursday it was raining on the magic mile and sunny on upper palmer at the same time. Still no significant lift lines, but we are seeing the signs that it's gonna get busy on the glacier real soon. We only had 40 or so campers.......105 come session 3. Add Brandy Powell to the "eat no MHSSC delicious cookies all summer" list. The list has grown to 5 people, and so far nobody on the list has caved in and eaten a cookie (to my knowledge anyway).....Feel free to join the list. There are no enrollment fees or annual dues.......speaking of cookies, there was a cookie challenge between Joe Maas the cook, and Sage the cook............Joe bet Sage $50 that he couldn't eat 50 of the MHSSC delicious chocolate chip cookies in under 2 hours. The big event was friday, but the opinions on whether or not Sage could do it varied all week long leading up to the contest. Most believed that they themselves could consume 50 cookies no problem............Here's how it played out: The clock started, Sage started eating cookies at a rate of one cookie every 35 seconds or so, in front of an audience that was as big as 15 people. Sage was kicking ass and making believers of most audience members. At the 35 minute mark, Sage was half way thru.........25 cookies down, 25 to go. Sticking to his game plan, Sage stopped eating, started reading his book, then tried for a power nap, all while still sitting or laying on chairs at the coaches table. In close proximity was a barf bucket and a bottle of Mylanta and a bottle of TUMS. John Rust had no idea what was going on when he saw the tray of cookies sitting there on the table, he grabbed one and almost took a bite before he was stopped and informed of the big bet..........John's comment: "what a waste of cookie dough"..........anyway............after about a 40 minute break Sage started in on cookie #26........he took 2 bites and tossed it back onto the tray and did some more reading, and lying down. By then the audience had thinned down to just me and Joe. Minutes later Sage started eating cookies again......but only 2 or 3 cookies....... Sage then grabbed the bottle of Mylanta (digestive aid stuff) and poured a portion to consume........Joe said "NO WAY, YOU CAN'T TAKE THAT........THAT'S BREAKING THE RULES".....so after some argument back and forth, Joe allowed Sage to have two doses of Mylanta.........Then Sage tried for a 3rd dose, and Joe grabbed the bottle away from him............so Sage grabbed his bottle of TUMS and more controversy insued............Sage finally stopped his theatrics, stood up, took out his wallet and paid Joe the $50. The contest was over and the remaining 22 and a half cookies were immediately consumed by the dozen of so campers that were in the room at the time. Sage later told me that he knew he couldn't win after eating cookie #10.....and that his Mylanta consumption was just a ploy to try and get the whole bet voided, so he wouldn't have to cough up the $50. He also said it was a mistake to eat chocolate chip cookies ( as opposed to the other options) because the chocolate was sticking to his mouth and he consumed too much water washing it down. so that was the story of the week...........could you eat 50 cookies? I made some side bets with Jamie and Brandy........and won $6. woo hoo! The freestyle skier groups decided to build a little kicker jump on upper palmer just above lane 1 race lane because the weather was so sucky down on the terrain park on the magic mile.............anyway, they were technically out of bounds and I heard there were a few inverted aerials happening..........they were starting to gain an audience and eventually the angry ski patroller came out of the shack and ended the show.......oh well. Hiro captured some of it on video, but I haven't looked at the footage yet. Ex-staff updates: Britta Sorensen, the former counselor, finished her first marathon last week in just over 4 hours! way to go Britta! She raised over $2800 for the Leukemia and Lymphoma Society. that's all folks.........
Session 3, 2004 update
Here's what happened session 3................Eric Baldwin had a baby! Way to go ERIC!

Happy father's day to all you dads out there. My Grandad took his trip to heaven this week. He was 99 years old. Only about 45 days short of the century mark. He was the awesome grandparent.
Here's what happened at MHSSC last week: We had 105 campers. The moguls were finally built on Thursday to the delight of Darren Owen and the two mogulers in his group that had been drilled to death on the flats for 3 days. We also opened the MHSSC private terrain park. Same location as last year despite the desire of High Cascade snowboard camp to take over our real estate. The snowboard staffers have added several new features, pink rails, and more jumps to the mix. They also have a snowboard contest on Friday to conclude the session. Chipmunks bit thru some of the wires at Timberline messing up the magic mile chairlift on Thursday. They took some of the kids up to Palmer via snowcat, other's walked up to Palmer, and some ended up riding the chair once they finally did get it running. WIND was the theme of the week. It was windy 4 of the 5 days. We added a new snowboard videographer to the staff this week. His name is Jeff Moore, from Alta, Utah. He does video production in the wintertime at Alta. 12-week Dave, has 9 weeks left. (12-week Dave is the camper staff signed up for 12 weeks of camp). I'm documenting his burn-out week by week. So far, he's showing no signs of burnout. The chipmunks that are roaming the lodge basement are smarter than I anticipated. Emily helped me set rat traps to end the chipmunk rule............we put peanut butter on little pieces of bread for bait........at 5:30am on Wednesday morning, the chipmunks made their move toward the food source at the big trap. I watched the whole thing from about 10 feet away. I braced myself for what I expected a violent end to this particular chipmunk, but instead the chipmunk sat next to the trap, reached over and nibbled lightly on his newly found snack..........he continued munching away for about a minute......until the food was gone............trap still set......chipmunk's stomach full. Chipmunk wins round 1. Stay tuned for future chipmunk reports. Nick Colavito, our snowboard race coach, suffered an arm injury on Thursday. In a freak accident on the skateboard halfpipe, one of the campers was to drop in from the platform, when he bailed, Nick tried to catch him, and the kids' helmet rammed into Nick's arm, severing (sp?) or partially tearing one of the major muscles in his upper arm. He finds out on monday if surgery is needed which might end his summer. bummer! Add two more people to the "eat no cookies at camp" list.......New to the list are race coaches Barrett Stein and Joakim Nord (we also have spelled his name "Juke" and "Jocke".........by the end of the summer, we'll figure it out)..........So the no cookie list as of today includes: Elliot, myself, Chris, Mike Langdon, Brandy, Barrett and Joakim. Barrett wanted me to start a new list called the "eat no lunch meat" list..........founding member is Barrett......and it's probably safe to put Brandon (vegetarian) on the list. Mike Annett is leading us in our weekly jog/run at the camp picnic every wednesday. There is now a sign-up sheet: "run with the camp director".......last week we had 4-5 people join Mike on the forest trail at wildwood park. ex-staffer Scott Bell is moving to Park city and is looking for a good roommate........in his words: In September I am moving to Park City for the winter to work and ski and see what it is like living in the mountains. I have a great place to live, but am looking for a roommate. If you could do me a favor in the next group email could you just tell people I am moving there and am looking for a roommate. We had 4 brand new race coaches on the hill this week..........Dave Kerwynn, Chrissy Haas, Greg Hardy, Paul Planz. I think we add more new faces this coming week. Tom Sell and Vance, where are you? This is the first year in camp history we won't see Vance or Tom.........kinda weird not having them around. HUGE session coming up.....I think around 170 campers. Sessions 4 and 5 are insanely huge. so stay tuned for future updates.........same bat time, same bat channel.

Session 4, 2004 update
Hey, we had 170 or so campers last week. 20 coaches. Despite the huge numbers, things ran relatively smooth. Two race coaches went down with illness. Scotty Veenis filled in all week as substitute coach for Dave Kerwynn's group, and Scotty and Jamie Hinderliter filled in for an ill Greg Hardy the last two days of the session. And the 3rd counselor thrown into coaching duty was Heidi Holland, as she coached a low intermediate skier all week. The theme for the week was WARM WEATHER.........I don't think it ever got below freezing up at Timberline all week. We used a ton of salt and the public lane became a slush mogul field by 10am everyday. The last run down at the end of the day was sloshing thru big mounds of slushy muck. I'm hearing some predictions from a few people that Timberline will close early because of a lack of snow...........I've seen at least 3 years with less snow for this time of year including last summer.........so I'm not jumping on the "close early" bandwagon predictions. We are still skiing all the way to the parking lot. Florjan is off to New Zealand to coach the rest of the summer (winter down there)....Jon O'Brien is up at t-line this week coaching some of his top kids from his program in Utah......some of those kids are wicked good. Also had a Ryohei (Yohay) sighting in the mogul lane.. Yohay is living in Portland and making Sushi at a portland restaurant. New afternoon activities were added to the mix this past week: We have a new golf cage up at the soccer field. I haven't seen it yet, but it got good reviews. Also new is Kite Boarding. I haven't seen that one either, so I can't say much about it. We had a worried mother this past week. Her son came to camp, never called home the first 3 days of camp.........the mom called the camp phone number on Wednesday while everybody was away at the picnic (nobody answered the phone), so the mother panicked and called the cops to find her son. So cops from Sandy, OR (30 miles away), came to the lodge at 11pm Wednesday night to inform us that they had a worried mom on their hands. So they woke the kid up and made him call home..............At the picnic we had the first ever "Tamppuke-o Challenge". What is the tampuke-o challenge? Each of the 6 camper participants were to try and drink a gallon of juice..........first one to consume his gallon of juice wins a new skateboard. It was a barf-a-rama, crowd pleasing, gross-out event of the week. I happen to have the video camera there, so I captured some of the highlights........one kid puked 12 times. It took about 25 minutes for the winner to finish off his juice..........the two remaining contestants gave each other a big hug and the crowd went wild. A new Yurt was built on the lodge campus.........It houses the terrain park digger crew at this time............not sure if it's just a temporary fixture, or just there for the summer months. Two people from the "no cookie" list have failed and have been removed from membership...........Mike Langdon grabbed a couple of chocolate chip cookies and said "I'm eating a cookie.......who cares"........The other cookie failure was Elliot Halverson.......booooooooo. Former MHSSC race coach Chris Cota who hasn't worked at camp in about 8 years told me to add him to the no cookie list...........And Will Wasson, former mogul coach told me a story about having a cheese and lettuce sandwich at camp........and he bit into a moth that was hiding in the lettuce! gross! Izi comes to camp this week in his glorious comeback..........he wants on the no cookie list. It's almost time to vote for employee of the month for JUNE, 2004. If you are a current staffer, you can vote for who you think deserves to win, via on-line voting (reply to this e-mail).........or just tell me your vote sometime this week. Shameless self promotion: it's my birthday on friday (July 2).........The plan is to meet up and go bowling in Gresham friday night. 8:30pm, Eastmont Lanes in Gresham: 2000 E Powell Blvd, Gresham, OR 97030 503-665-9000. After bowling, perhaps the dog track.....gambling on dogs that run fast. From Mt Hood, as you drive into Gresham, go left at the "Y"......Powell Blvd........If you went past Fred Meyer, you went too far on Hwy 26..........Once you are on Powell, it's only about 1/3 mile on the right side of the street........it's easy to miss.......small sign. Same place as last year..........high score wins something............that's about it...........don't forget to vote for employee of the month.........and join us for bowling on friday.
Session 5, 2004 update
Hi kids, two huge sessions down, the rest of the summer will be Gravy...............the snow is melting fast, but we can still ski all the way to the parking lot. Lift lines were big this week. Just finished session 5 with 170 or so campers. Seemed to have more than our share of injuries on the hill this past week.........two brothers went home injured........what are the odds of that? MHSSC Employee of the month for June 2004 went to office boy Tim Feeney...........Feeney gathered a huge portion of the votes..........congrats TIM!!!! keep up the good work. There was a 3 way tie for 2nd place in the voting: Jamie Hinderliter, Brandon Sequoia, and Bill Whalley tied for the silver medal. A name from the past surfaced on Palmer this week: Ara Papazian was training with the Tichy ski camp. He was a camp counselor about 12 years ago.........maybe longer ago........it's all a blur to me. He's now married, is a lawyer, and still competes in triathathons (sp?)...........He's famous for hitting a deer in the mhssc coaches van and taking out the headlight! We went bowling last night to celebrate my 39th birthday.....yes, I'm THAT old............about 15-18 staffers showed up for the 2nd annual bowling birthday bash. High score went to Hiro.......130.......2nd place Feeney with 114, I took the bronze scoring 113. As you can see from these scores, we don't possess significant bowling skilz. Low score? fifty something. The big softball game at the camp picnic was dominated by the counselors/campers team...........the coaches team had the traditional 9 players, while the counselor/camper team had 19 ball players............so no matter where the coaches hit the ball in the field, there was a player there to catch it.............I think the final score was 7 to 2 in favor of the counselors/campers team.............Izi made his triumphant return to MHSSC after a two year layoff. And Rogan returned after being away for one summer. welcome back.......Our snowboard alpine race coach, Nick Colavito, had successful surgery on his arm and is already back on the snow working with one good arm. Will Wasson says hi from South America where he is scouting out new routes for his Snofari vacation ski trips that he hosts. Scotty Veenis and James (terrain park digger) challenged the mighty Deschutes River down the famous Oak Springs rapid on an inner tube. Both survived and did it multiple times. A mouse ran the slalom course yesterday on lane 6. A small mouse decided to move into my camping chair that I had folded up and stored inside a bag and left at the top of Palmer overnight...........I go to unfold my chair in the morning half way down lanes 5-6, and sitting there in my chair, was this mouse. At first he just hung out on the chair and underneath the chair...it pooped.......then it went running across the snow, right to a blue slalom pole, and then it ran UP the slalom pole..........true story! I captured it all on video. Maybe I'll send the footage to America's funniest home videos. After it came back down the blue slalom pole, it ran to the red pole........and ran up the red pole where Hiro caught it in his hands and he carried it back to my chair.........we put it in the cup holder on the chair, and it hung out for about an hour. It ran away when we weren't looking...........but returned at the end of the day........it ran around, across my leg.....and eventually made it's way to a GS gate in lane 5. It dug itself into a hole next to a GS gate base in the snow and was still there after pulling the gate out at the end of the day. Maybe next week, the mouse will make its way to the Super-G course...............Tonight is blues fest at portland's waterfront park............here's the schedule if you can make it down there. Look for me. There will only be 5,000 or so people, so I'll be easy to find.
Session 6, 2004 update
Hiya, 6 sessions down, 8 to go. I've only witnessed small signs of burnout amongst the current staff (self included). 12-week camper-staff Dave is holding up strong. He just ended his 6 weeks of being a "camper"......now he puts in 6 weeks of the staff part of his journey. Friday was likely the last day we could still ski all the way to the parking lot......unless the groomers feel like pushing a ton of snow near the bottom of the canyon (unlikely). Chipmunk update.............Brandy invested in one of those "catch - and - release" traps for the chipmunks that are roaming the lodge. It's very effective. We caught 4 chipmunks in 4 days. I've been releasing the chipmunks at the old Wapanitia building about 250 yards away from the lodge basement trap area...........so there's the possibility that we keep catching the same set of chipmunks over and over again. Mike suggested that I spray paint the chipmunks that we catch in the trap so we know if they are repeat offenders. Is paint toxic? Robin Cressy (yeah me) saved MHSSC breakfast on monday morning. Two breakfast cooks (identities not revealed) had issues with their alarm clocks and were not there to cook breakfast............I got to the lodge at 5:30am and noticed the kitchen was deserted and all the lights were off.......that was a solid clue. I trotted over to Mike and Lynne's trailer to wake him up and tell him the situation........he calmly said "turn everything on........I'll be there in a minute"............so we put our aprons on and went to work.........the sleepy cooks eventually showed up to finish the job. Wednesday was dominated by high winds up on Palmer. Definitely one of the windiest (windyest?) days I've seen in recent memory where they were actually running the lifts...........anyway, most of the kids bailed after a run or two and eventually timberline decided to shut the lifts around 10:30am........so they took the kids to the movies and then to the picnic on the way back. Another mouse found it's way into my chair bag (read last weeks' update about mouse #1)..........anyway, this mouse was a little smaller, and we named her "Lynne Annett".......Lynne enjoyed running on the palmer snowfield like mouse #1 (named "Mike), but didn't attempt to climb any slalom gates. I'm sending in the mouse #1 slalom video footage to the animal planet TV show.........they pay $100 for any clips they use on the air. plus you get a free "animal planet t-shirt"..........Some ex-staffer updates: Mike Byrne's daughter Sierra (former camper) got married a couple weekends ago. Congrats to the Byrne family! Will Wasson is still down in Argentina......he says there's not much snow down there........and he might take a guest appearance at Mt Hood sometime in August. Former MHSSC cook, Andrew Lynn says hi: I wanna chime in and say HI to everyone from NYC. I am working as the youth media ed. Coordinator at Manhattan Public Access. Camille Frederick (the voice of timberline) is getting married (again) in September. Forgot to mention last camp update that Scotty Carlis made a MHSSC comeback.........he was guest counselor for session 5. He's living in Portland these days. I beat 4 suckers in a game of "H-O-R-S-E" on thursday.........$1 to get in, winner takes all. easy money! like taking candy from a baby. Terry McLeod & Co. took me thru the MHSSC ropes challenge course on Thursday afternoon. No campers signed up for the activity, so Terry used the afternoon to train counselors Tory, Fritz, and Shawna on operating the 3 event challenge course. I was one of the guinea pigs. I have to admit that I was slightly scared...........the log walk was the sketchiest event......Shawna braved the log walk too.........but she didn't yell obscenities when she jumped off the log like I did. And we did 2 mock rescues on the zip-line.........Fritz saved me from sure death......and I don't recommend hanging in that harness for long periods of time. ok, I just realized that most of what I have written this week is about me..............me me me me. Me me me! It's all about me. ME! Illness has hit camp. Staffers are puking, coughing, sore throats etc.........some people are blaming food poisoning..........who knows. ok, that's all folks.....
Session 8, 2004 update
Good Evening, This is my 3rd attempt today to write this weeks' camp update. I was done writing the first draft earlier today, when I blew the circuit in my place and everything shut off…….right before I was to hit the "send" button. It was 101 degrees in portland today….I had 6 VCR's running, 3 TV's, the computer/monitor, air conditioner…….then I decided that wasn't enough and I tried to heat up some leftovers in the microwave oven…….pop goes the circuit! 2nd attempt at this e-mail update and my computer froze about 4 paragraphs in……….so this time, I'm writing it in Microsoft Word, saving as I go, then cutting and pasting it to the e-mail………so I hope you appreciate the sweat and tears I put into this update. I am actually sweating……..not lieing about the 101 temp. Yesterday was 103 temp…………Palmer snowfield has melted……camp is over for 2004. The end. Ok, not really…….looks like enough snow to get us to Sept. 4, the last day of camp. This just in from former staffer Pierce Louis: MHSSC is in Outside magazine as the top 63 skill camps in the world. Way to go!!!!! Highlight event of the week: Cook staffer, Hannah Tsai, took a softball to the face at the picnic on Wednesday. Hannah was playing 2nd base, some coach (unknown) hit a line-drive toward Hannah……..she missed the ball with her glove, and it struck her just below her eye on her cheek bone. Luckily the x-rays came up negative, but her eye was swollen shut the next morning. She resembled Rocky from "rocky 1"…….the scene in the 14th round, when rocky says to his manager "I can't see out of my eye……..cut me Mick…….cut me"……anyway, Hannah's eye looked much better a few hours later and she is on the road to full beauty status. It was a big masters adult week on the glacier this week. The yearly masters race is taking place this weekend with a GS and slalom race. Lots of the camps had adults on hand. Mike Syrovatka (a.k.a. "Dr. Love") coached most of our adult female campers this week. I wonder if Mike is related to the original Dr. Love (Wayne Amsbury) who worked at camp during the end of the snow bunny era. Joe Reis and wife Anne made their yearly 1-week appearance this week…….Joe was one of the early coaches back in the original camp years……..even before I worked. Then he took about a dozen years off before making his comeback. He said this year was the first time he was here and didn't see Vance. Vance, where are you? Tom Sell? Dr. Love?
Here are some Emily Questions to ponder: If you didn't know, "Emily Questions" are random thought provoking questions, sometimes pretty gross in nature, for you to answer for yourself, or feel free to reply to this message with YOUR answers:
1. If you could be the opposite sex for 6 months, would you do it?
Would you sacrifice your life to undo the 9-11 tragedy?

If you had 10 minutes to live, would you have sex if there was a HOT willing partner that you've never met before?

Would you rather win the Tour de. France or Wimbledon?

Would you prefer to have an ACL injury or Dislocated shoulder?

If a camper was apparently drowning at Oak Springs (biggest rapids on the Deschutes river), would you jump in and try to save him? (no life jacket for you)

Would you live in a tree fort for 6 months for $17,342.19 by yourself (no human contact)

Would you go to jail for 2 years to protect your parents who actually were the ones that committed the crime?

Would you take a shit on National TV for $4,000?

Would you rather run the marathon (26 miles) or swim 8 miles?

Would you name your first born child "Mayo" for $23,411.00?

Would you chop one of your toes off (your pick of toe) to save the life of your pet cat or dog?
Snowboard race coach Nick Colavito turned 40 yesterday……..happy birthday Nick! Nick and Bill Whalley have been taking campers to the coast each of the last 2 weekends to learn how to surf. From what I've heard, it's been a great time. It's almost time to vote for July employee of the month……..give me your vote by replying to this e-mail or tell me in person sometime this week………Barrett left this past week, and he already voted for EOM. There you go Barrett……….I mentioned you in the camp e-mail update……..congratulations on getting mentioned! Shaquille O'neal has been traded to the Miami Heat………make a note of it. The summer olympics happen next month……steroids anyone? Ok, I'm out of material as you can see………..I really mentioned very little about actual camp events, but I managed to fill up lots of space……….my goal has been accomplished …… I forgot to mention in the 7th session update that we had a 22 year old camper that got drunk a lot and missed 2 days of skiing because nobody could wake him up……..he absolutely refused to wake up. The chipmunk population in the basement has been reduced………the Brandy trap and release set up has caught a total of 6 chipmunks……….most I think are too scared to come back……….although I have no guarantee that I haven't caught the same one 6 times. The best bait seems to be banana………they didn't seem to go for the cheese…….so much for that stereotype. Ok,……..I need to end this.
Session 9, 2004 update
Hi y'all, JAMIE HINDERLIGHTER is the recipient of the Employee of the month for July 2004! Congrats Jamie, YOU ROCK! You win a new car. (see Mike about the car thing) There was a two-way tie for employee of the month runner-up. Cleaning lady Anita and Cook/coach Sage Dunham shared the silver medal. You guys rock too……….but you win nothing. Craig Bowden received one vote (he hasn't worked in 2004 yet, but is working these next 3 weeks)………and one person voted for "the entire kitchen staff". Tim Feeney, office boy, has told me he is burned out working in the camp office (stage 2: acceptance……stage 1 is denial) He said, and I quote: "people weren't made to sit in little cubicles staring at computer screens all day long" Short lift lines this week for the most part. We only had about 80 campers…….only 60 or so this coming session. Shawna Riley knitted me a thong……….I'd be willing to wear it at the next camp orientation meeting for $10,000. So start collecting funds. It's pretty skimpy and has the letter "R" knitted in the front part. Emily Longfield wanted me to mention that she was skiing well on Friday. Emily also renewed a past afternoon activity called "mystery activity"…………a few kids signed up……..the mystery activity was rollerblading followed by getting ice cream in Govy. About 10 years ago, Mike Annett had his own "mystery activity"……Mike's magical mystery tour……We took the blue bus full of kids to the Bagbee hot springs in the middle of nowhere………..I remember a very long bus ride and arriving there at 6:30pm (dinner time)………there were naked people there………and I think we ran out of gas on the way home. One thing I forgot to mention in the last camp e-mail update: a camper woke up at 4am scared for his life thinking Mt Hood was about to erupt……….he awoke counselor/video guy Jeff Moore with his fear……Jeff helped calm the kid and had the kid call his parents (keep in mind the 4am thing)……anyway, the mountain did not erupt and we are all still alive. That's all I got this week…………5 more weeks to go………..

Session 10, 2004 update
Hey, Stuff at camp happened this past week that is worthy of writing about. The scary moment of the week could have turned out much worse than it had.
John Rust
and Co. had a group of kids rockclimbing down at Frenchies dome on Tuesday afternoon…….there were some rockclimbers climbing just to the right of where MHSSC had ropes set up. These guys apparently didn't have all their ducks in a row…….one guy took a 60 foot drop to the ground, nearly landing on mhssc counselor
Jamie Hinderliter
. I don't know any details of HOW it happened, but the guy landed on his tailbone, bounced off the ground, and landed on the next shelf down, was unconscious for about 30 seconds. Don't want to speculate on his injuries, but some had mentioned that it was likely he shattered his pelvis. Anyway, only a few of the campers actually saw him fall. The counselors immediately took the MHSSC kids back to the van and let the adults there deal with getting this guy some medical attention. The counselors had a meeting with all the kids later that night to explain the differences in how MHSSC follows safety procedures and how these guys made some mistakes and perhaps lacked the proper safety equipment. On a more positive note, some MHSSC birthdays are coming up this week: Former staffer
Jen Otten
turns 33 on August 10. Former snowboard coach
Eric Baldwin
turns 31 on August 11. Former staffer
JongYun Kim
's birthday on Thursday August 12th. JongYun will be 28 years old. Current staffer
Shawna Riley
's birthday on Friday August 13th. Shawna will be 30 years old. She can't wait to turn 30! Friday the 13
th
……….that can't be good. Party on Friday? Happy birthday everyone! I hope nobody minds that I mentioned the age of everyone………I got some grief last time when I mentioned
Nick Colavito
's age a couple updates ago………guess I don't learn from my mistakes eh? Sorry Nick! A fund is being collected to purchase spinning hubs for one of the camp vans. Speaking of camp vehicles………on Wednesday, Counselor
Heidi Holland
was driving a bus full of campers from Govy back to the lodge………apparently they were being a bit rude to the driver, and they started chanting "we want Michelle"………so Heidi pulled the bus over, got out, took the keys and jumped on another van, leaving the kids stranded with no driver. Heidi let them sit there a few minutes before re-appearing……..the kids apologized and they went on their way. Friday was all about the rain. Definitely the worst weather day of summer 2004. Lifts were open, so everybody who made it up there got a good soaking. My streak of shooting at least some video on the mountain came to an abrupt end. I think the last time the weather shut video down was in 2002. I had an umbrella, but the fog was thick as ever to go with the rain. We quit around 10am, and the kids went to the movies. Next weekend is "the bite of Oregon" (formerly "the bite of Portland")………Food and music at Portland's waterfront park. $5 to get in……….details:
www.biteoforegon.com
Always a good event. Snowboard coach
Mike Langdon
posed as former kid actor "Anthony Michael Hall" and signed MHSSC posters for kids Friday afternoon. He was famous for his movie roles in "16 candles", "breakfast club" and "weird science"……..did you get an autographed poster? 4 more weeks left. Some rocks are starting to show at the top and bottom of our race lanes…….
Session 11, 2004 update
The question of the week: what is your favorite summer olympic event? I enjoy the field and track plus men's basketball. Swim racing just doesn't do it for me. But that's just me. How many swim events are there in the olympics anyway? Ok, on to the camp update for session 11, 2004. Both presidential candidates were in Portland on Friday. Neither Bush nor Kerry visited the Palmer snowfield, so they obviously don't care about us. Kerry actually spent today (Saturday) in the columbia gorge hoping to do some windsurfing, but the winds were dead……..he might come back if the winds are good on Monday or Tuesday. Question #2 of the week: Are you voting for Bush or Kerry? (if you vote by replying to this e-mail, keep in mind, the vote won't actually count)…….speaking of voting……..Sage Dunham turns 18 tomorrow……..he can vote……..he can go see adult movies, he can be tried as an adult, he can buy cigarettes…..welcome to adulthood. Have fun. Two names from MHSSC past appeared this week. Mike King, staffer 9 years ago, showed up with his girlfriend for a short visit. He was camping out west and made a pit stop in govy. He's into snowboarding now……..can't stand putting on ski boots. And making his MHSSC coaching comeback this past week was none other than John Mulligan. Mulligan was a camper back when I started working in 1986…….he's legend around here. These days he's back working as the ski technician for Kristina Koznick…….. and for you gossipers……he's no longer engaged to Picabo Street…..yet they remain friends. Craig Bowden is back coaching for 3 weeks……….he's planning on buying the blue bus from Mike for $1, driving it to "burning man" in Northern California in late August………http://www.burningman.com/ for details. I saw Heidi Gamma do a helicopter off a tiny jump while holding a gate wrench in her left hand…….and she rotated the opposite direction of her more comfortable direction. Impressive stuff! Bill Whalley was at level "15" burnout (on a scale from 1 to 10) last week, but he said he made a comeback and it's back down to level 2.5 this week. He and Nick Colavito have been leading the stayover MHSSC campers to the oregon coast for "surf camp"…..kids that stay more than one session, can pay a fee, camp out, get surfing gear, lessons, food, and have a great time at the coast on the weekend…….11 campers are there right now. Shawna turned 30 yesterday…….it's just a number. 30 aint shit! Mike King is 30…….Zvi was combo counselor/cook this week……..at 5:43am on Monday morning as he put the strawberries out for breakfast, he said to me "I like the strawberries when they are just unfrozen"………."and you can put THAT in your next newsletter"………..so there you have it. Camp is winding down……staff is slowly getting smaller. 3 more weeks. Some rocks near the mid-way loading station on Palmer……..As of Friday, lane 5 was still full length…….lane 6 has rocks near the top. ……We ran dual GS on Friday…..I challenged Mike Annett to a race, but he declined. Chelsea Stamer sent the MHSSC staff a care package full of food goodies and pens……..there are never pens around when you need one, so Chelsea saved the day. Thanks Chelsea! I encourage more of you to follow Chelsea's example……That's all for this week……..
Session 12, 2004 update
Hey hey hey, Here's your session 12 MHSSC update………….welcome 3 new people to the infamous MHSSC staff e-mail newsletter list: Eva Gonzales (race coach from Mt Baker, originally from Spain), Mateja Gombac (college racer for Boise State, originally from Slovenija), and former mhssc coach Matt Brown (he worked at camp in the late 80's, resides in Sun Valley these days). I know this is an update from what happened this past week, but this is an official reminder that it's Tim Feeney's birthday on Monday. I don't know his age………twenty something? He's had some epic birthday bashes at Charlies bar and grill in the past, so there's potential for a school night event like no other come Monday night. Terry goes to bed at 9:55pm, so you better start early Tim, so Terry can be part of the festivities………I can last till 10:18pm or so. Happy birthday Tim. Speaking of birthday's, Sage celebrated his 18th birthday last Sunday, by slicing his finger open while cutting potatoes in the kitchen. He has several stitches to close the wound……..18? one for each year? Sage also had some alarm clock issues this week……..but he more than covered his butt by having breakfast ready at the usual time. 12-week Dave had his final ski day yesterday…….he was promoted to counselor his last week…….and actually was on the payroll. (I think)…..could you handle 12 weeks of ski race training on the palmer snowfield? If he was burned out, he hid it quite well. Speaking of a long summer at camp……..trivia question………can you name 7 mhssc staffers from 2004 that worked all 14 sessions? Since we just finished week 12, you'll have to be able to see into the future. (clue Lynne Annett did not work session 1). We had a double bus breakdown on the way back from white water rafting on Thursday……I heard the short bus overheated………..so they piled everybody into the big bus……..and 20 miles later it overheated. We sent two rescue vans……..not sure when the kids got back for dinner……..9ish? Photographer Brian Robb drove one of the vehicles in the Presidential candidate John Kerry's trip from Portland to Hood River. Kerry was to do some windsurfing last Sunday in the Gorge, but the winds didn't cooperate………Kerry instead, signed autographs. Emily had an excellent slalom run on Friday……..thought it was worth mentioning. Video boy Jeff Moore was almost crashed into twice this week. He's good at keeping the crashing person in the frame while he's being mowed down by a sideways skier……..If you remember the session 1 camp update, I mentioned that the ABC family cable channel TV show "switched" was gonna do a show with mhssc this summer………well we sorta dropped the ball, and they instead did their show with Windell's ski and snowboard camp……..it airs on the ABC family cable channel on August 23, 3pm I think. Check your TV guide……..It's a show where they take one kid from one walk of life and "switch" them with another person for a few days……..so they did the switch with a Windell's snowboard camper. I'll set my VCR to capture the action…….speaking of national TV, did you happen to see MSNBC's story on the U.S. ski team training on Palmer?….it was part of their olympic footage yesterday. They were saying the skiers were preparing for the winter games in 2006 by training in august. OMIGOD, team USA mens basketball just lost again………..they must go 3-0 from here on out to win the gold. There was a Pete Deisroth sighting on the hill this week. Pete is coaching his Rowmark ski academy kids. Lori, where are you? The snow is holding up pretty good this August……definitely more snow this year than last year……..although there is a mudflow river thing going down the middle of the mogul lane right now. Darren hopes they can cut a new set of moguls on another chunk of the snowfield………the racers are moving the lanes 2-3 these last 2 weeks. No lift lines lately which is nice……kids are getting in tons of training runs. Wet weather is in the forecast, so it could be a cooler week coming up. It's raining right now in portland as I type this up. First rainfall in awhile. Apparently Robin Cressy (me) has been awarded the mhssc employee of the month for August. They said there was a secret vote behind my back even though there is still a week and a half to go in this month. I'm guessing about 3 people voted……. So I guess I'll have to do my best to live up to the award these next 9 days…….If you didn't get to vote and you feel cheated out of your MHSSC rights, you can file a formal protest to the camp director for a recall election. …
For those of you who know
Minna Karhu
, she wanted to say hi to everyone at Mt Hood.........here's what she's up to: (in her words):
I am spending my second year working and living the "real" life... I am
ready to quit! Skiing was much more fun!! No kidding... life is good. I live with the same boy that visited Mt Hood one Summer, Timi is his name. We just had Summer Holiday and spent a week in US east coast... swimming, shopping, surfing and playing at Six Flags amusement park. I missed US, so we did a trip to NYC and surrounding areas. Other part of the four week holiday we spent boating and hanging in our Summer house. Best parts of a real job are pay days and holidays... ok, also weekends!!
Now I am back at work. Our management fired our managing director, who really was a good guy. After him 12 others quit... so you can imagine that it was a really nice come back from the holiday... I already almost
quit this job last April, but they spoke me to stay and I did. Now I really envy my desision and I am in a process of finding a new job... so therefore I find it really hard to motivate myself every morning...
I still do some mogulcoaching here in Southern Finland. We have freestyle world-championships in Finland next winter, so I go and work a bit there that I can meet the old friends... (the oldest ones have quit though... but some are left). As you might know I have a dog and I do dog agility with him. We started competing this Summer and I must say we are quite fast... sometimes too fast, so mistakes happen but one day we will be world-champions!! (kidding) It is a fun hobby to do with your
dog... Then I go to aerobics and gym, sometimes I bike to work and back (2hours) and sometimes I run... So those are the things I do on my freetime. And in winter time I try to ski as much as possible... I still love skiing!!
That's what is happening in my life!
…that's about it from Annett world. 2 weeks to go………thanks for reading.
Session 13, 2004 update
Hello!!!!!!!!! It rained……….then it rained………and rained…………….and rained some more. Friday was nice…..sort of. One of the wettest sessions in camp history (I think Joe Reis and Vance experienced some crazy extended wet weather before my time)…….probably the wettest session since mhssc went to the 5 day sessions several years ago. The chairlifts were open only 2 of the 5 days last week. It was foggy and windy too. Nice combo, eh? So Mike got permission from Timberline to drive the campers to the top of the magic mile in the vans for slalom training for the racers and jumping/rails for the snowboarders and freestyle skiers in the mile canyon. Not a lot of snow down there this time of year, but enough to make it happen. The chairlifts ran Monday and Friday……No skiing Tuesday……..and we did the Van shuttle mile canyon training thing Wednesday and Thursday. The kids hung in there and made a good week out of a somewhat miserable situation. The staffers went the extra mile in making it happen and came up with some creative entertaining afternoon indoor activities all week long. Kids got the opportunity to rockclimb at Smith Rocks, go to a huge sports center in Beaverton, aquatic center, indoor paintball, bowling (high score of the day went to snowboard coach Mike Langdon….144)… …..Wednesday's picnic was moved to Thursday…..we made it an all camp raft trip on the Deschutes River then had our picnic in Maupin at the city park. We were short on raft guides, so Mike Annett, our fearless leader, stepped up and guided a raft. He said it was his first time white water rafting in about 7 years. Tim Feeney came out of the office to float the entire river on an inner-tube. Speaking of Tim, he celebrated his 26th birthday on Monday at Charlies. Terry McLeod took a week off from coaching to build 3 new features on the ropes/challenge course……..We'll have to use the masters (adults) as guinea pigs on the new stuff as all the kids have gone home now. Yes, session 13 was the last kids session………next week we have about 25 adults signed up. Masters session is always a good way to end the summer. They drink beer at video analysis and put ice on their knees every afternoon…….and afternoon activities usually includes a wine tasting tour and golf. Hood to coast was yesterday………..Hood to coast is a running relay race that starts in the Timberline parking lot and finishes at Seaside at the Oregon coast (196 miles)……..teams of 12 take turns running 4-6 mile legs, 3 legs per person……….anyway, the event is a bit of a pain in the ass for us ski camp locals because it causes annoying traffic and everybody is driving about 2 miles per hour. Cops were all over timberline road for the event and wasted no time in pulling over two of our camp vans……one for no signals on the luggage trailer (just a warning), and an un-named counselor got an expensive ticket for doing a U-turn on timberline road. That's all I can think of………..an eventful challenging week in the rain……….. One more week to go. The end……….
Session 14, 2004 update
Happy Labor Day! Summer MHSSC is officially over. Woo Hoo! Or boo hoo. A combination of both perhaps? I'm sad to see it end…….although I look forward to sleeping in and not putting my ski boots on for awhile. ****I had an error in the session 13 update………Mike Langdon bowled a "141", not "144"…..and 2nd place went to Chris Hargrave (score of 122?)" Here's what happened this past week………Masters adult camp. We had 20 or so adult racers, 2 mogulers and 3 snowboarders…….coaches: Rust, Terry, Craig Daniels, Darren and Chris……….plus 2 other snowboarders who rode with coach Brandy. And technically Mike Langdon made a guest appearance on the hill on Saturday……..2 videographers (myself and Jeff Moore)……..2 counselors (Bill and Fritzy) 3 cooks (Sage, Joe, and Nolan)…….plus special guest camper staff wannabe Shawna Riley……as she volunteered to do lots of dishes. I probably forgot somebody (don't hold it against me please) The adult campers had this huge cooler on the front porch of the lodge all week full of beer……not sure who kept it well stocked, but there were lots of beer and wine on campus all week. The bad weather returned this session shutting down the chairlifts on Wednesday and Thursday…….We drove the hardcore campers up to the top of the magic mile in the camp vans on Wednesday for training in the horizontal fog, rain, wind……..Racers had a 30 gate slalom in the mile canyon while the snowboarders and mogulers built a jump down lower in the canyon. Bill and Fritzy drove van shuttles so the racers didn't have to hike each run (although 2 hardcore adults hiked all day and made more runs than everybody else) ………Thursday, we had the same shitty weather, but add new snow to the mix. Mike tried to drive his 4-wheel truck up to the top of the mile to see if we could do another day of hiking in the mile canyon, but the new snow made it impossible………so instead we opted for a day off of snow…..Bill and Darren took a vanload of adults to the oregon coast for surf camp. I heard it was a great trip……nice weather…..and they got back to govy around 1am. Another group headed to Hood River for golf with Terry, caving with John Rust @ mt adams……..Friday the nice weather returned and we were blessed with a few inches of new snow on the ground………it turned to glue around 11am, but it was fun while it lasted. Because of the crapola weather for 2 days, Mike offered an extra ski day (Saturday)to the menu for these guys…….About 18 of the 25 adults stuck around and got an extra day of gate training and the 2 snowboarders got another day in the terrain park…….Terry and Bill ran the challenge course for the adults on Tuesday……..it's quite entertaining to see some of these guys as old as 64 go screaming down the zip-line and jumping off the leap of faith trapeze event. Bill Whalley got launched off the ground a few times while belaying some of the larger contestants in the leap of faith and log walk. We had one stranded female in the zipline, so Terry had to do a real live rescue…….speaking of Terry, I downloaded the magic mile chairlift with him on Friday and he urinated off the chair…….keep in mind we didn't have the safety bar down. There was a pancake food fight on Thursday morning with the leftover breakfast. Not sure who won although the final pancake was coated in whip cream. Beer pong was one of the events at the picnic on Wednesday……..2nd annual. Did a final summer run with Mike Annett and Shawna (and Fritzy's dog Sara) at the picnic……Non camp news: Craig Bowden is down at burning man right now……he didn't have enough time to get the blue bus ready for burning man 2004, but hopes to bring it out of retirement for burning man 2005.
Employee of the month for September goes to ____________? So far 9 of the 13 staffers that worked in September have already voted…….still need to hear from John Rust, Craig Daniels, Darren Owen, and Mike Annett………So if you are one of those people, please cast your vote (via reply to this e-mail) in the next 72 hours…..cut off date to vote will be Wednesday. Without giving away too much information that could influence those finals votes, there are 3 staffers with at least 2 votes…….so every vote is important.
Some random stats of summer 2004:

Days missed skiing due to shit weather: 2 (out of 71 possible)
# of salt bags MHSSC used on Palmer: approximately 1775 (71,000 pounds) (please pass the pepper)
# of video tapes used: 253
# of campers: 967 (3rd most ever I think)
# of chipmunks caught in Brandy's catch-and-release trap in the lodge basement: 9 (2 of which we painted their tails pink)
# of times the breakfast cooks overslept: 3
# of weeks 12-week Dave was at camp: 12
# of staffers that worked all 14 sessions: 6 (plus 2 or 3 others that worked 13 and a half sessions)
that's all I got for ya………another great summer!
September 23, 2004 update
Hi All! So much to write, so little time.........actually just the opposite. Lots of time, and nothing to write about. I haven't set my alarm clock since camp ended 2 1/2 weeks ago. Sleep is a good thing. But sleep is overrated. I'm over it. This is my first camp e-mail update since I did the reformat of the hard drive of my once dying computer. Just for the record, my computer hard drive did not officially CRASH, but it got to the point where just moving the mouse in a funny direction was enough to cause the computer to freeze up and in need of a re-boot. I was able to save all my folders/documents to zip disks before the reboot, so all wasn't lost........except my entire e-mail address book. In rebuilding my e-mail address book, I noticed that I had nuked a few of you off my old MHSSC e-mail list at some point in the past year or so. Probably because your particular e-mail address stopped working and I kept getting reject messages back from your account. So if this is the first MHSSC e-mail you've received from me in a long time.......welcome back. I now have one giant MHSSC staff e-mail list now......151 names on it! To some internet providers, sending an e-mail to 151 people might classify my e-mails to you guys as "SPAM", and some programs may nuke my e-mails or put them in the dreaded "bulk folder" in yahoo or hotmail……….so if you have spam blocker or something similar, you've been warned……….spam is good and you should accept it with open arms. MHSSC e-mail spam is good anyway. When's the last time you actually ate "SPAM"? I personally haven't eaten spam since the 1970's. Look I wrote a whole paragraph about nothing and I haven't mentioned one thing about MHSSC yet. Keep reading…….MHSSC lodge quickly became a ghost town shortly after the last ski day for the masters. There was no last party or long good-byes…….most everybody just jumped in their cars or on a plane and away they went……..myself included. The lodge was left in shambles! Stuff was everywhere. Mike & Lynne took off the east coast and went to the U.S. open tennis tournament , Rust took a rockclimbing vacation, and I took off for the oregon coast meeting Craig Bowden and Darren along the journey…….Craig and I went to a bar in Seaside, OR, where it was Kareoke (sp?) night. It was a most pitiful scene where 2 locals took turns sharing the mic singing horribly……..Craig said " this is the most depressing thing I have ever seen"......at one point,I noticed that Craig had fallen asleep………2 nights later, I met up with Darren Owen…….again we went to a bar in Newport, Oregon…….the bar sign read "live music"…….so we went in…….more Kareoke……..It was like groundhog day…….same scene, different bar. But they did have a pool table and we played doubles with the locals. We also checked out the famous "oregon coast aquarium"……Keiko the whale (star of "free willy" movies) once lived there as the main attraction, but they moved Keiko back to the open seas of Iceland where he was born. Keiko has since died……anyway, there was a cool shark aquarium to replace keiko……..and a live bat display too. To be honest, the Aquarium cost too much and it's overrated…….so if you wanna go see live animals, you should go spend your hard earned dollars at the Oregon zoo in portland. Anyway, a week and a half after camp ended, Rust and I went back to the lodge to clean up the mess and prepare for fall camp session 1, while Mike put the office back together in the lodge and paid bills and answered a weeks worth of phone messages and e-mails. There were 3 campers for session 1 fall. 2 racers and 1 freestyle skier. Craig Daniels coached the 2 racers, and Hargrave took on the freestyle skier. Fall camps a mini 3-days on snow camps…….they ski Friday thru Sunday (only 3 days the lifts run this time of year)……anyway, bad weather closed the lifts the first 2 days. But they arranged for a snowcat to do all the hauling those first 2 days……..I wasn't there, but I heard they had some wet weather, some new powder snow, some fog, and some sun…….the weather was better Sunday and the lifts opened up (an hour late after chipping ice off the chair) and I heard the 3 campers had a good time and got stuff accomplished. And I heard Pierce Louis made a guest appearance on the palmer glacier on Sunday. He told me he votes for Mike Annett as employee of the month for September. Pierce said the Mike not only cooked the food for fall camp, but he was also there to hand out the lift tickets on Sunday……..what other cook in MHSSC history has cooked breakfast and managed to make it to timberline lodge in time to hand out lift tickets (Pierce insisted that I mention this)……….If you read my last camp e-mail update, you know several people already cast their votes for the month of September, but of course there is still more of September left……and not everybody has voted yet……I'll wait until september is over before counting all the votes and revealing the winner. I still haven't received a vote from the following people who worked at least part of september (Mike Annett, John Rust, Craig Daniels.....did I forget anyone?)……vote NOW, or forever hold your peace. Everything you say, can and will be used against you in a court of law. Do you understand your rights? …….Next topic……Please share your favorite 2004 MHSSC memories with everyone………reply back to this message and tell me your favorite MHSSC memories from this past summer. I'll pass them on in the next e-mail update. Enjoy the fall season