2015
Session 1, 2015 update
Mt Hood Summer Ski Camps.....Summer #37......The big question of the year:: "is there enough snow to make it to the end?" Only time will tell.
Before I dive into session 1, let me backtrack a few weeks. Golden Poles Condos caught on fire on April 20. I got a text message from Rick Millett that the building was on fire and I thought he was joking....Unfortunately, he wasn't. As far as I know, they still haven't determined the cause of the fire. 30 condo owners must now decide on what happens next......For now, it's a pile of rubble with a fence around the outside to keep people out. Robert Johnson was interviewed here, and longtime mhssc adult camper Violet Anderson was interviewed here.
Session 1 stuff: We had 6 and 1/5 campers this week. The 1/5 was an adult from Bend, Oregon who only ended up skiing one day out of 5 (he hurt his wrist and left early). Same guy brought 2 pet wolves with him as you can see in photos below. The girl wolf licked Mike Syrovatka on the hand. Anyway, this same guy said he was a camper back in 1984 and his coach was Vance Lemley. The toaster in the dining room caught on fire........nobody got hurt, except a piece of bread. A new toaster was purchased the next day. We had 4 sunny days and one semi-fog/overcast day this week. There was a medium sized avalanche on Tuesday, which you can watch below. We had the picnic at the Marina in Hood River. On the drive back, bugs galore were smashing themselves into the van windshield at an alarming rate. Tuesday's afternoon activity was a drive on Lolo Pass road. They got a little lost and ended up circling Frenchie's dome and back to Lolo Pass road and then a visit to Little Zig Zag Falls. Mike Jennings took his one snowboard adult camper up on a hike to hogsback and illumination rock on Thursday (see pics). One of the adult campers brought his trombone and played it on occasion. Counselors Leo Povolotskiy and Becky Aurora Thompson took a camper to Bagbee hotsprings for Friday afternoon activity. I think this was the first time an official camp activity has gone there since about 1993 when a bus load full of kids signed up for "Mike's magical mystery tour" activity. I found the catch-and-release chipmunk tramp outside the lodge a few days ago........inside was the remains of a chipmunk.......so very sad. Somebody apparently dropped the ball on the "release" part of the procedure several months ago. Former staffer Connor Krell, made a guest appearance during Memorial Day weekend. Mike Syrovatka ripped up the brush course on Thursday (see pic). Perhaps we could talk him into racing in the summer fun nationals in July? Taber Engelken and Reid Lambres made deep fried stuffing as part of Thursday leftover night. I heard it tasted good.....maybe not good for you though. For the 2nd time in camp history, there are 15 summer sessions this year, instead of the normal 14. John Rust climbed mt hood on Saturday morning. Former staffer Pete Deisroth swung thru Govy this weekend for a brief visit. There was discussion of having an afternoon activity called "instagram 101". Highway 26 between silent rocks and ski bowl is in phase 2 of a major road widening project. They close the highway 2 or 3 evenings per week for blasting. This could affect our afternoon activities that are on the west side. The hill was somewhat busy on Memorial Day, and again on Friday. Some teams were here on Friday, training for the Golden Rose races which took place this weekend on Palmer. Pretty much a ghost town on the hill the other 3 days.
See more session 1 pics here.
avalanche!!!!

Posted by Robin Cressy on Thursday, May 28, 2015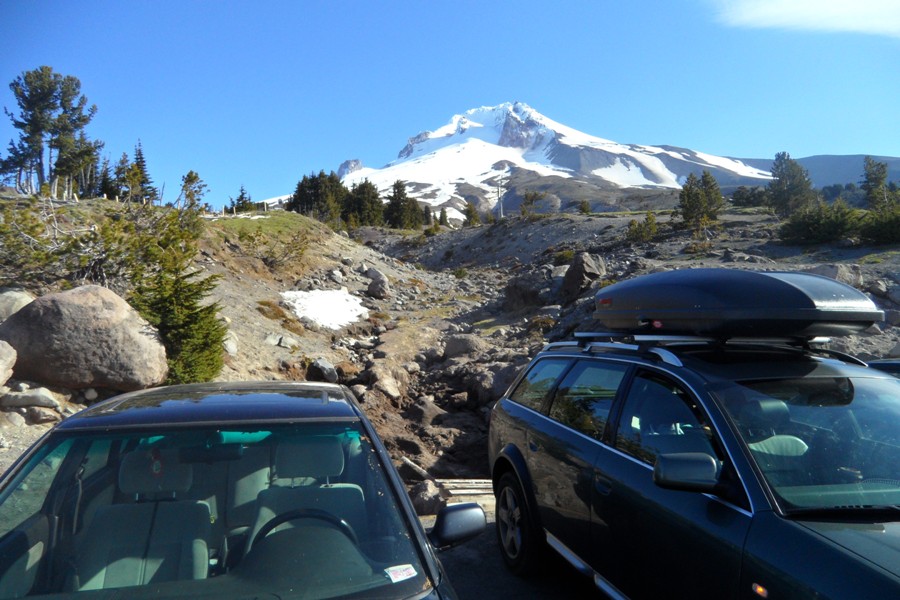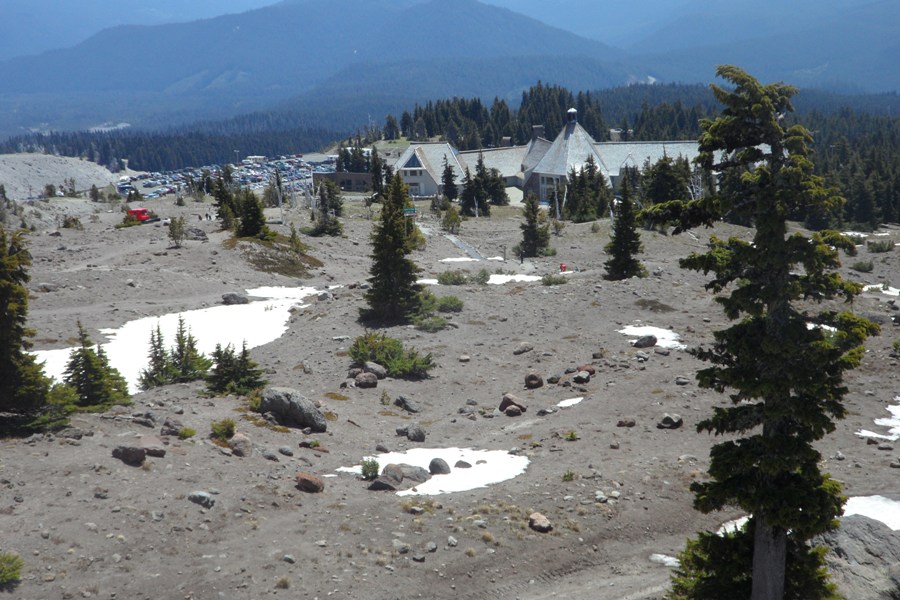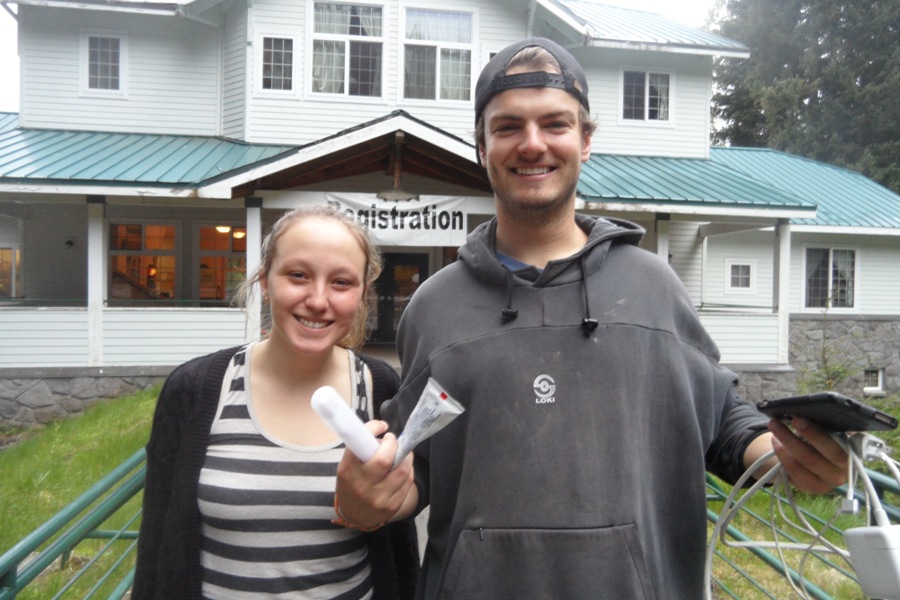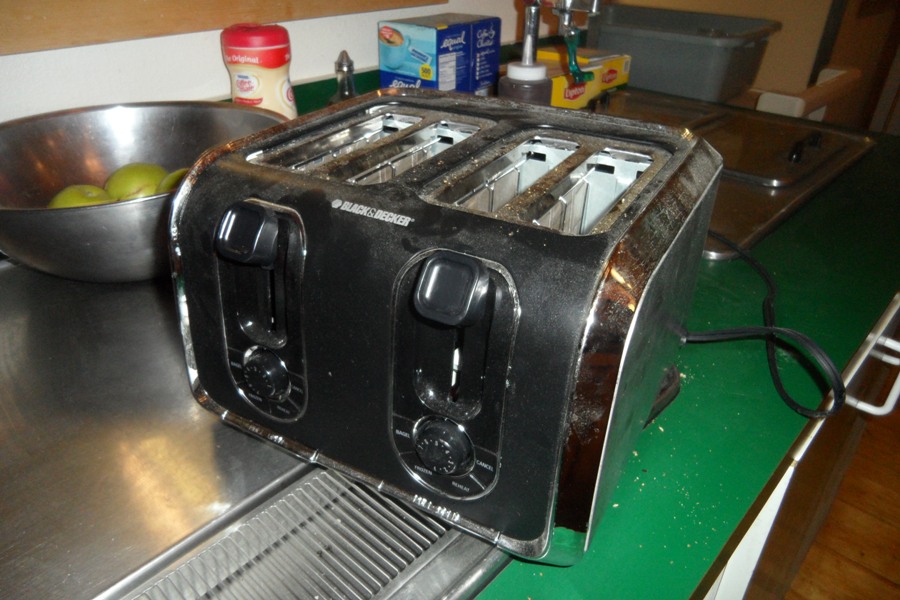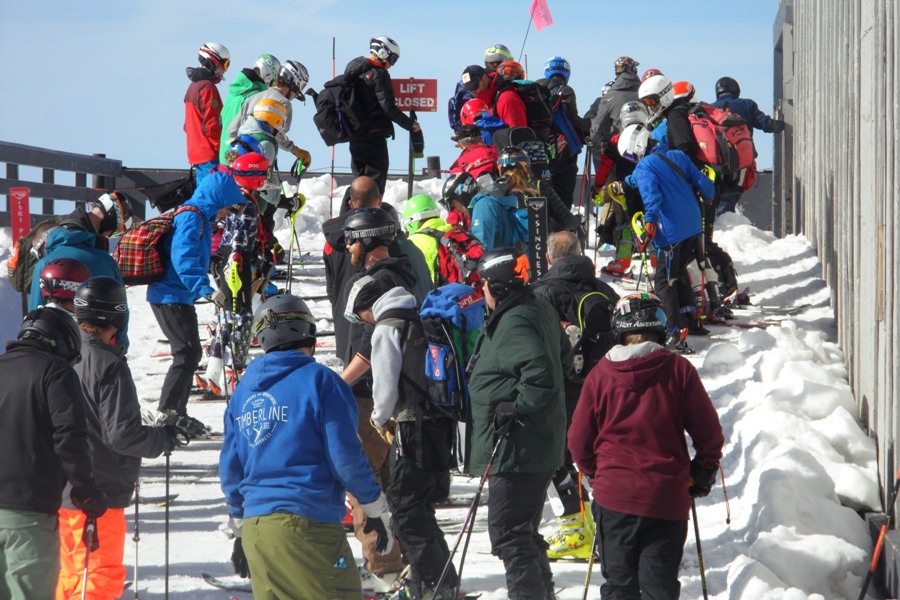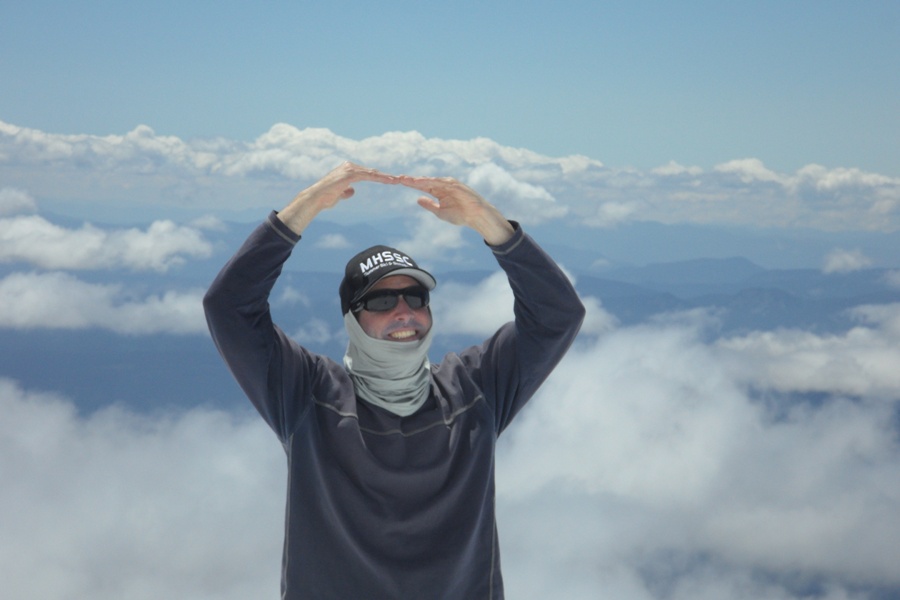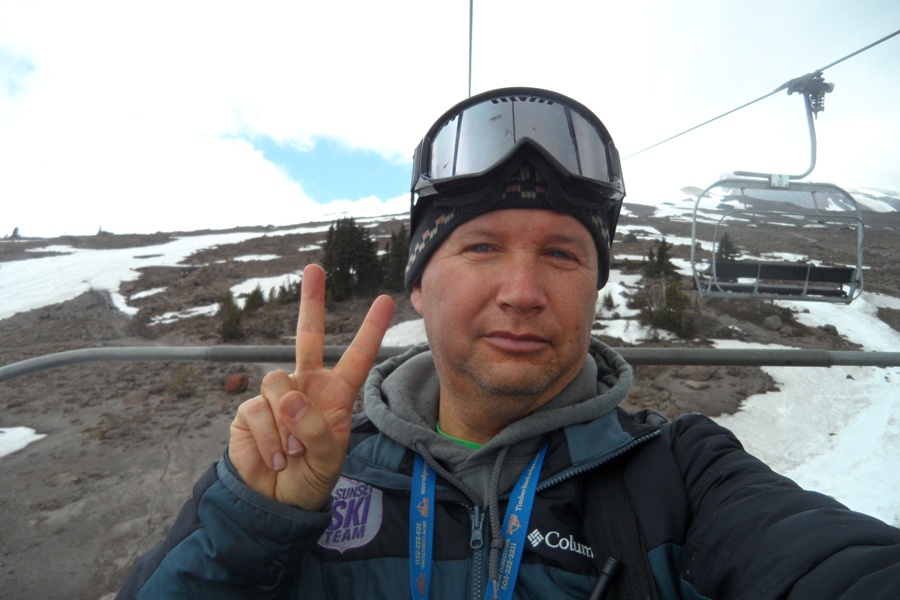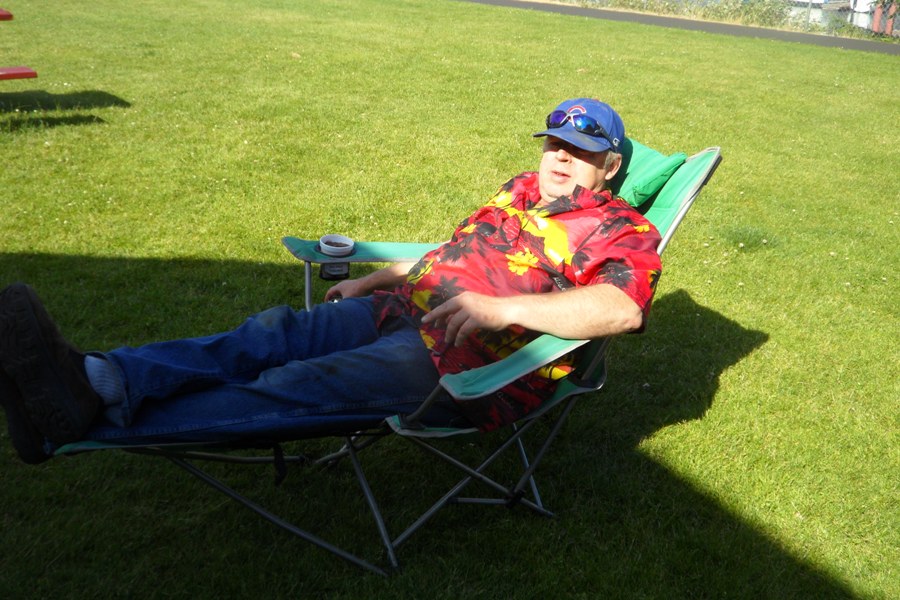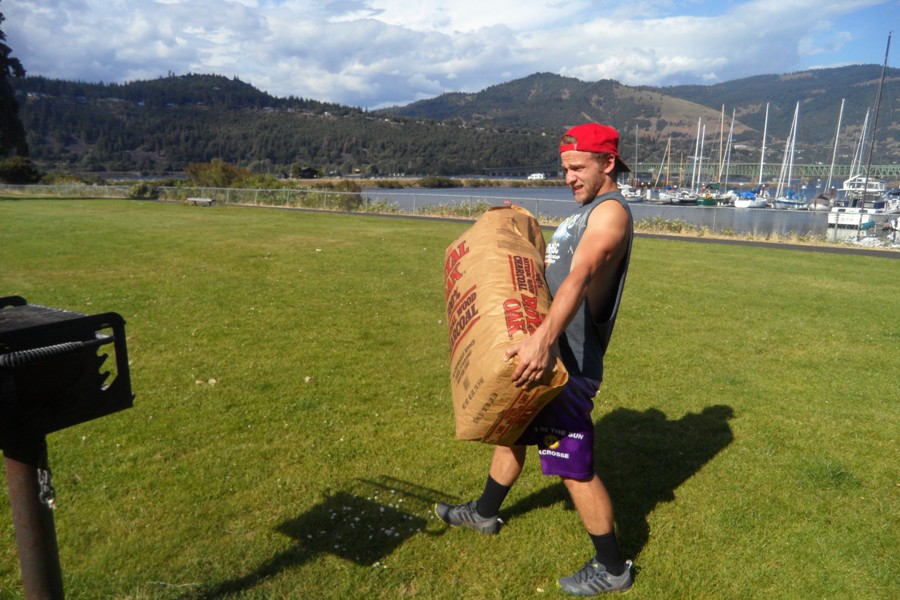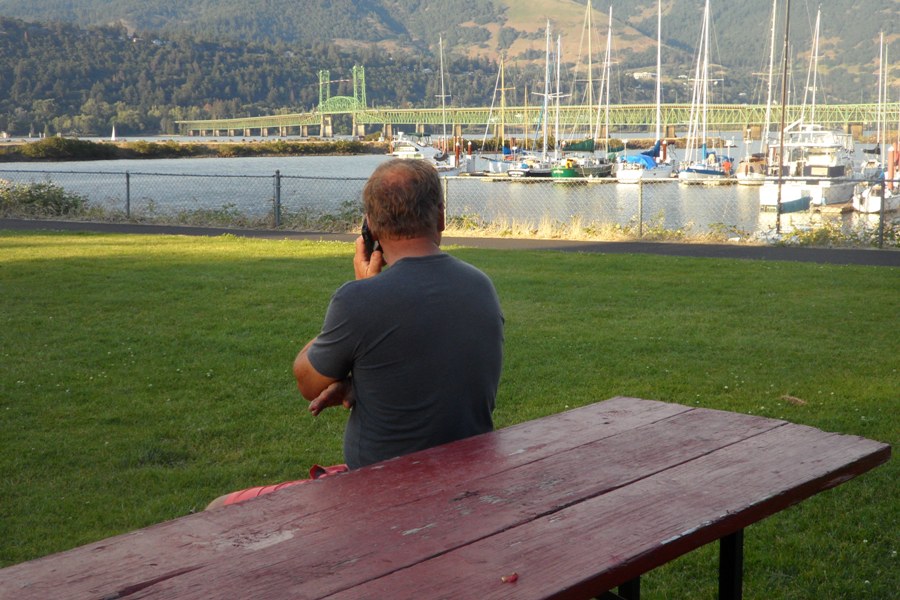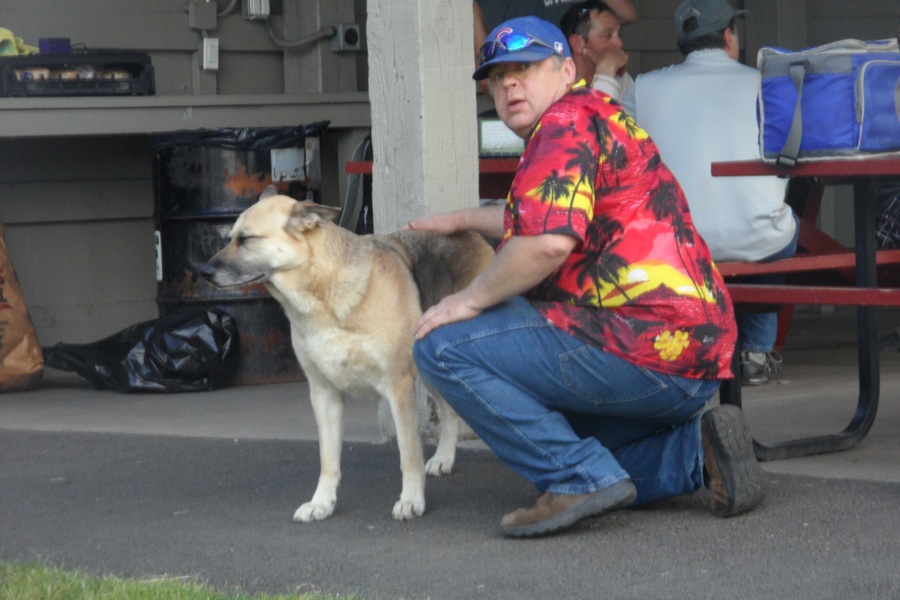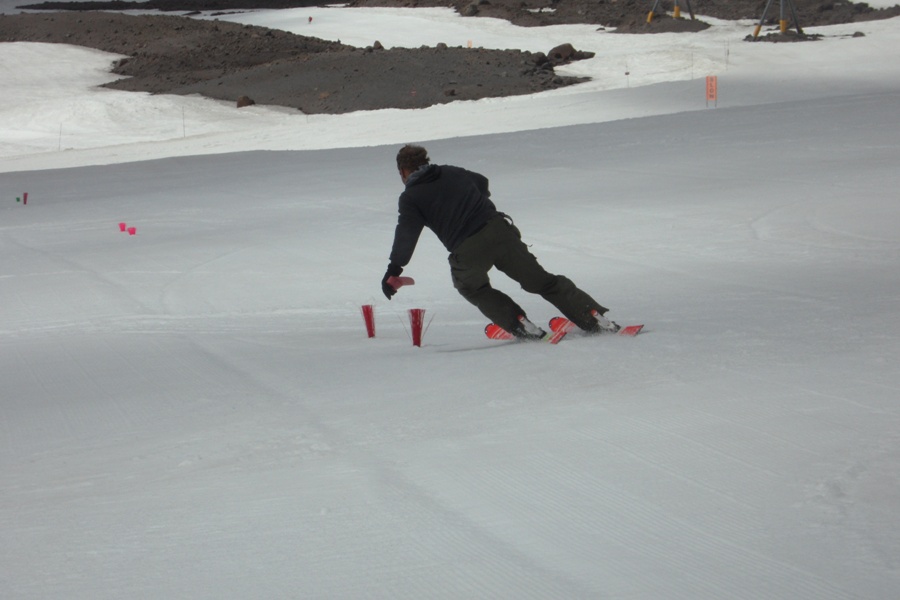 Session 2, 2015 update
Rain/Wind/Fog closed the lifts on Monday and Tuesday. Not the best way to start a session, but mother nature is in control, and there's no snow on the lower mountain to hike to. Kids went to Kahneeta water park on Monday with Mike Syrovatka and Nolan Willard. They said the spiral water slide was fun. Tuesday's rain day activity was a trip to Bullwinkles family fun center. Wednesday, we sat at the bottom of Palmer for about 45 minutes while they de-iced the chair. Former staffer Jaime DuPratt was there with lots of snacks in her backpack (see pic). Picnic was once again at the Marina in Hood River. A campers' soccer ball went over the fence, deep into the blackberry sticker bushes. Bill Toney and Becky Aurora Thompson were unsuccessful in locating or recoverying the ball. 4 Staffers joined me for a picnic run alongside the beautiful Columbia River. All the campers went on the rafting trip on Thursday afternoon. The new office trailer is larger than normal. Mike Syrovatka was singing this on Friday on the hill.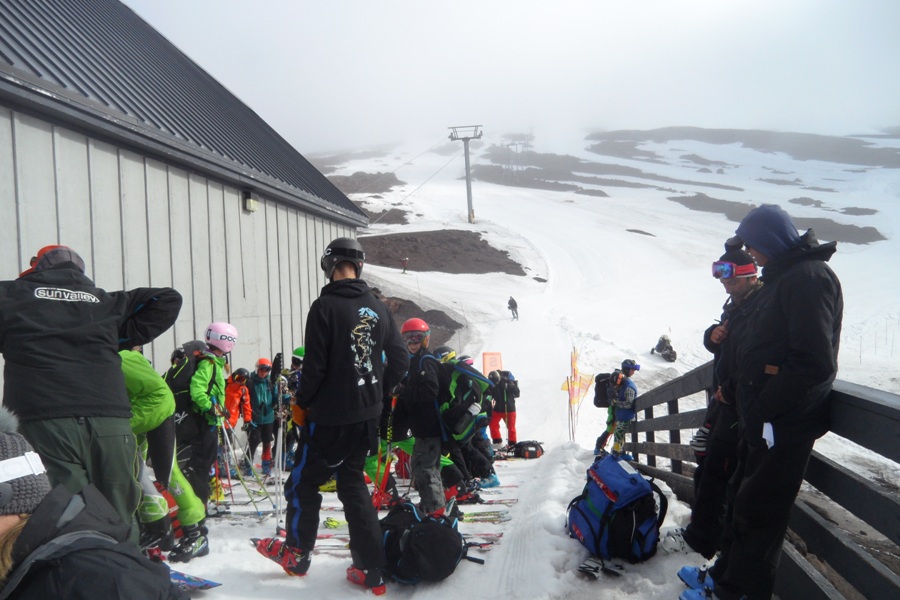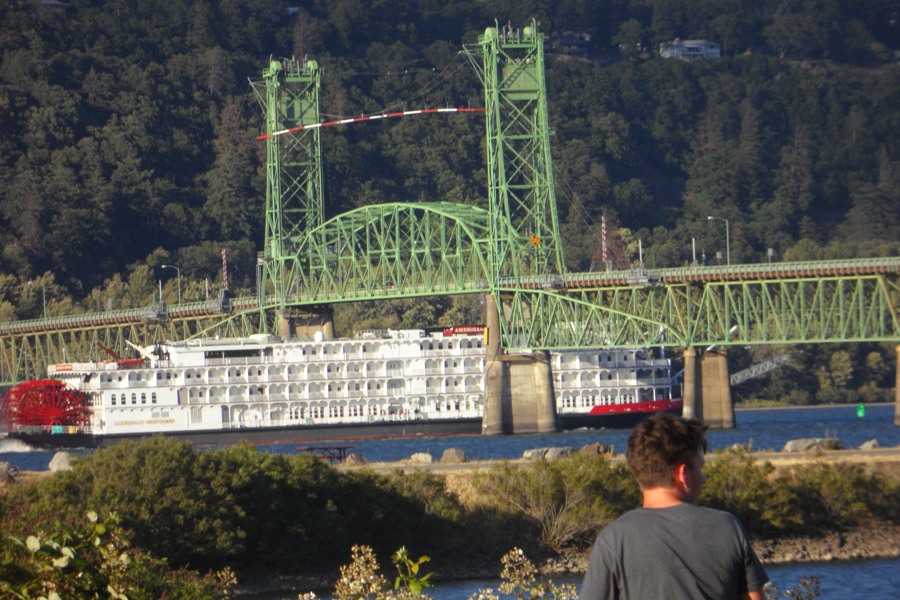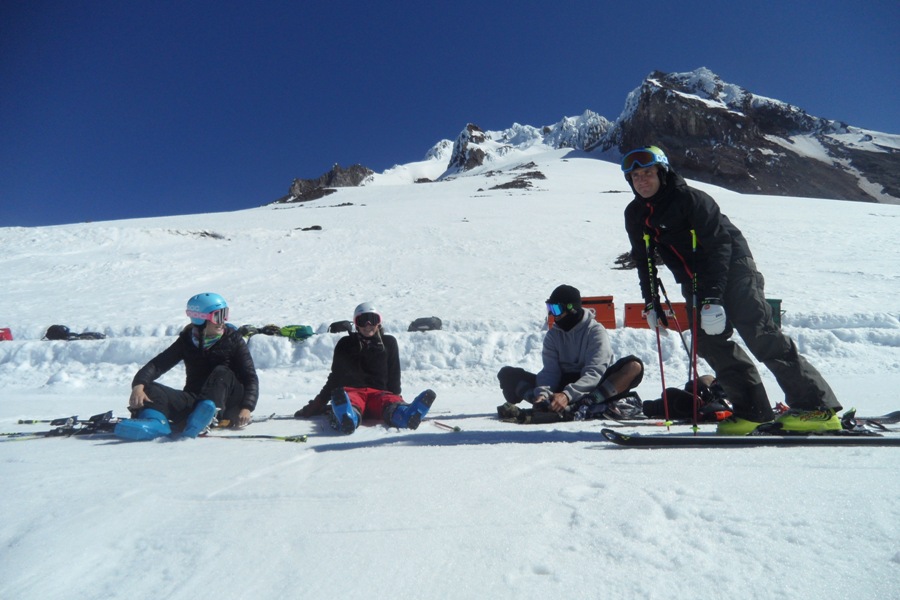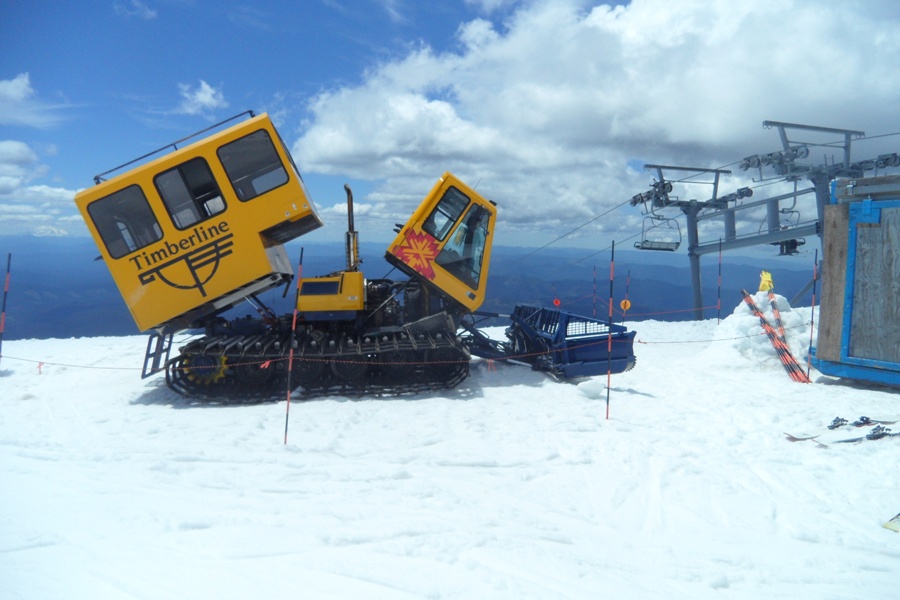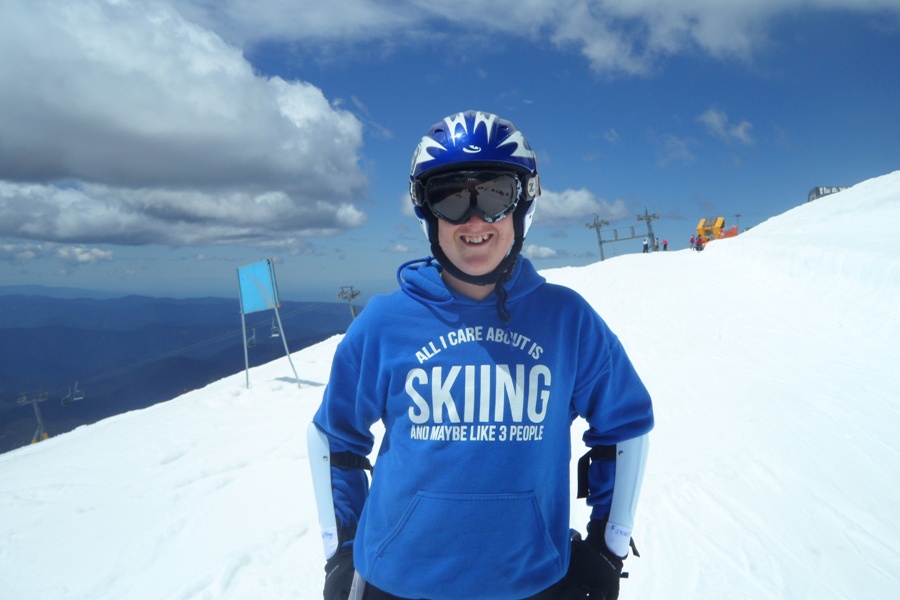 more session 2 photos here.
Session 3, 2015 update
Sorry for the delay on sending out session 3........This week (and perhaps future weeks) we have a guest writer for the staff update. Here's how things went down during session 3, as presented by Nicole Cordingley:
We had a very Monday Monday this week. After a hot day on Palmer the mile broke down, leaving everyone to either shuttle down in vans or walk down to the parking lot. Children were lost, tears and sweat were both shed. We took the kids to Timothy lake instead of field sports. We then celebrated the 268th consecutive Mexican Monday.
On Tuesday Prescott McLaughlin scarred a group of little girls by napping shirtless in the lodge.  Mike Foley had a camper sledded down with a knee injury.  The picnic was in hood river for the last week, we will move to wildwood next week. Robin Cressy befriended a spider on the hill.    The mile was a little late to open on Thursday because a cat carrying lifties up fell into an undersnow river (?). Winds were unreasonably high on Thursday and Friday.  Mike syro and Mike Bansmer were stuck on Palmer for a good 15 minutes when the lift broke down at the end of the day on Friday.  Prescott celebrated his 23rd  birthday on Thursday with an early bedtime and Reid Lambres celebrated his 21st on Friday with a tequila shot at Charlie's. 
Robin add-ons: There are some rocks sticking out at the top of lane 9 now.....There were at least 3 bunnies running around near the lodge and they are getting less fearful of the humans! (see pics). Mike Syrovatka showed off fhis nipple (see pic). Leo Povolotskiy's jacket blew down the hill on Friday. And 10 year old Korean camper, Ashton's backpack blew down the hill twice! Darren Owen downloaded the magic mile for the first time since 2005 (the last significant low snow year at Hood). Brian Robb made a guest appearance at the Hood River picnic. Someone planted pretty flowers in some middle-of-the-road potholes on a govy side street. (see pic).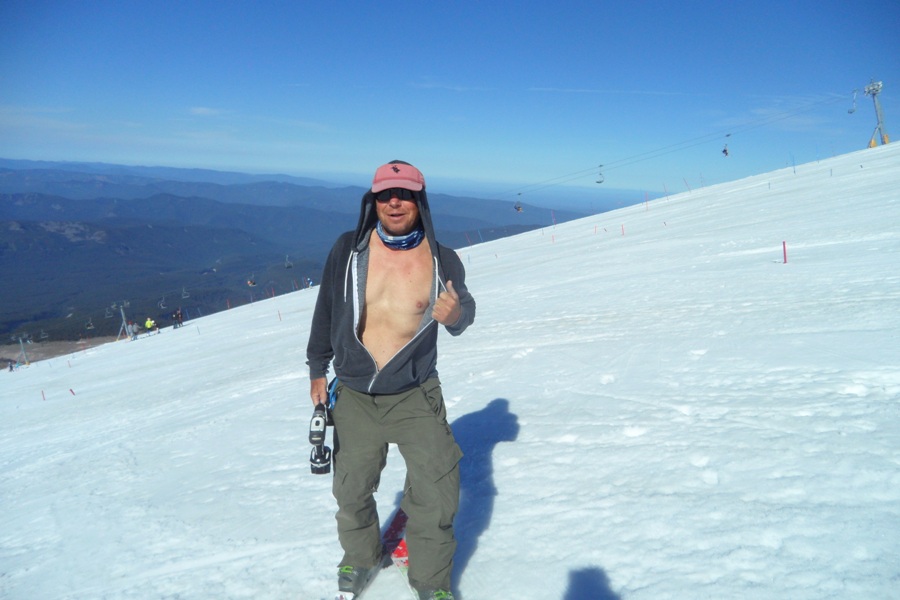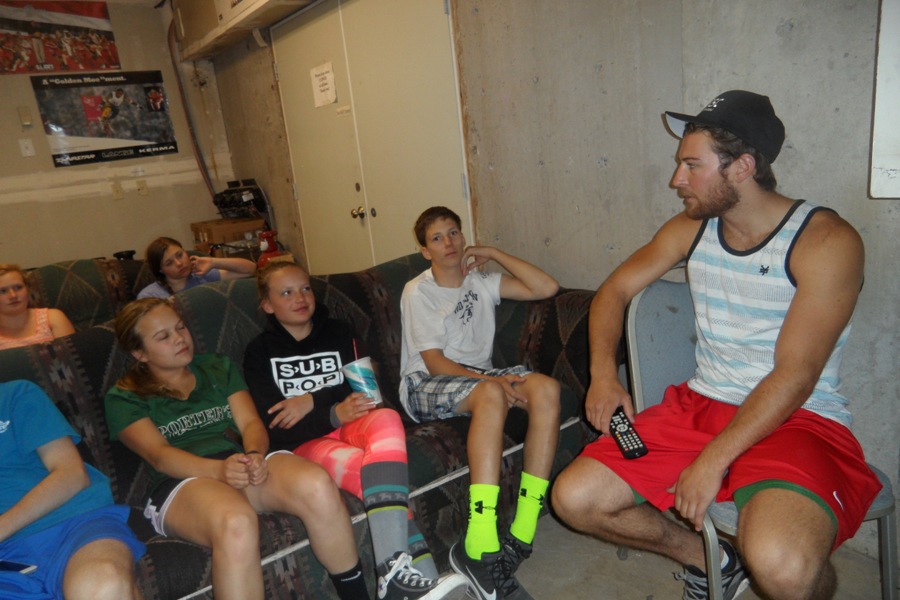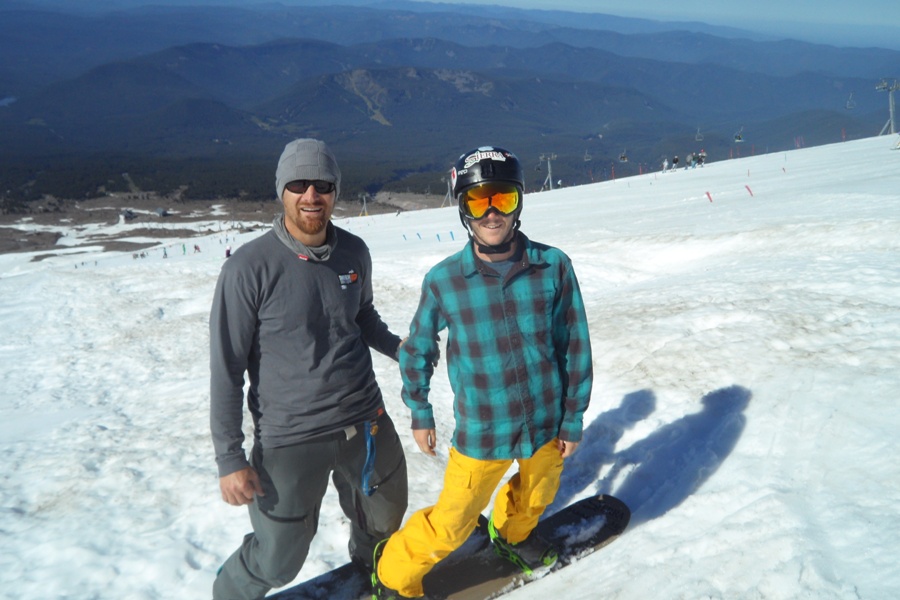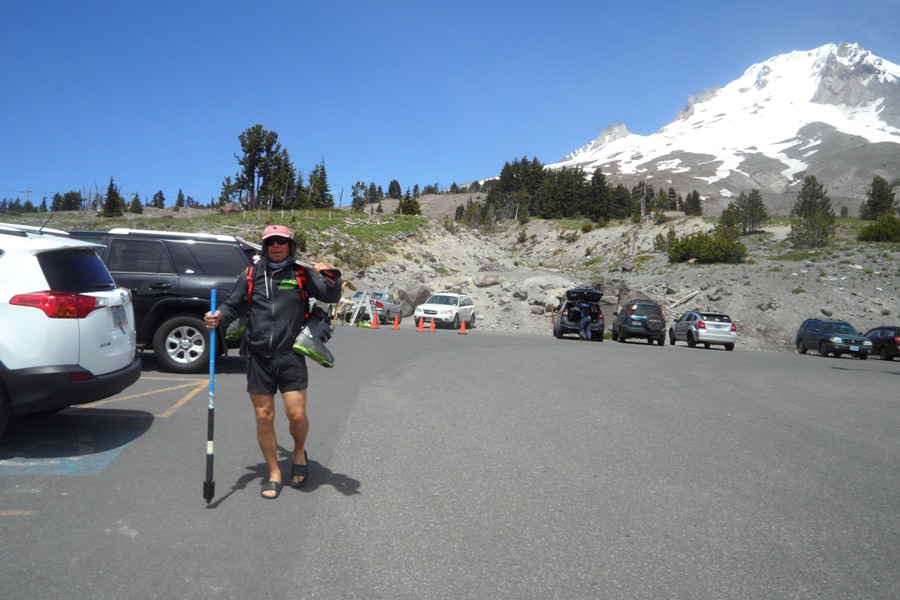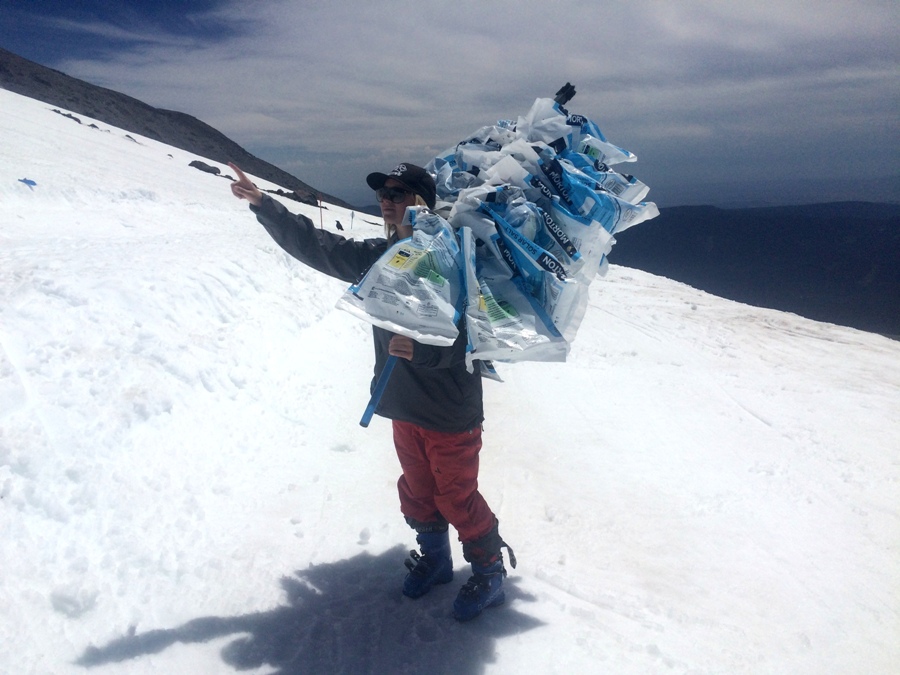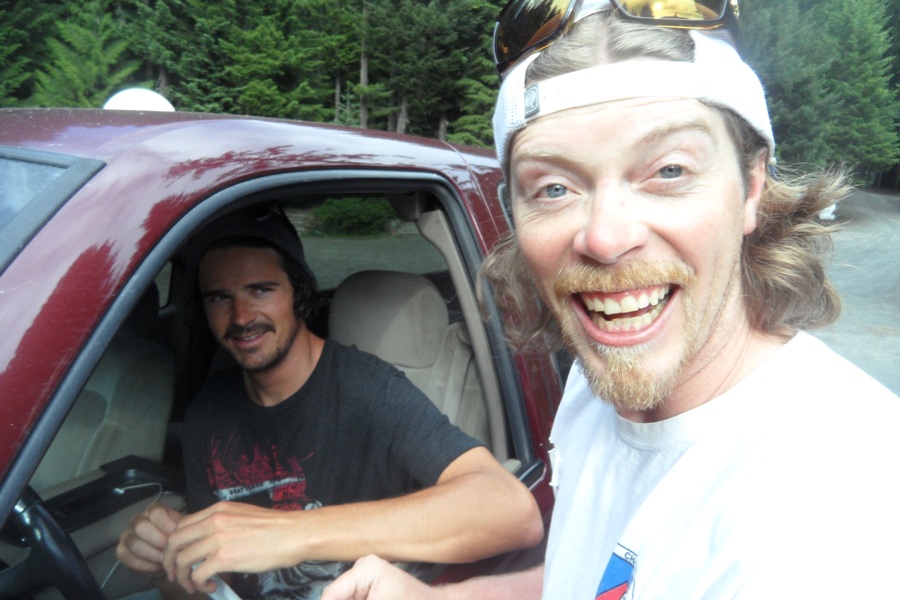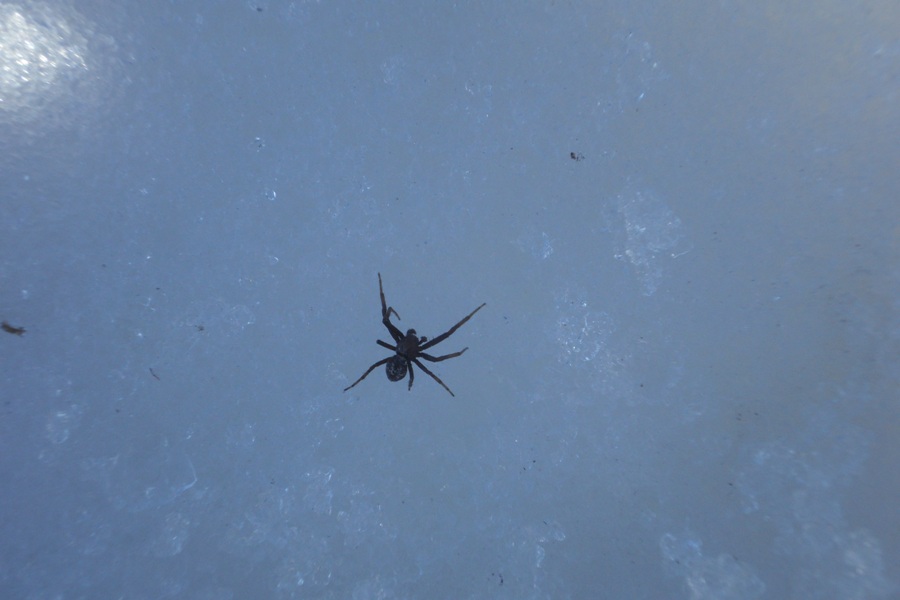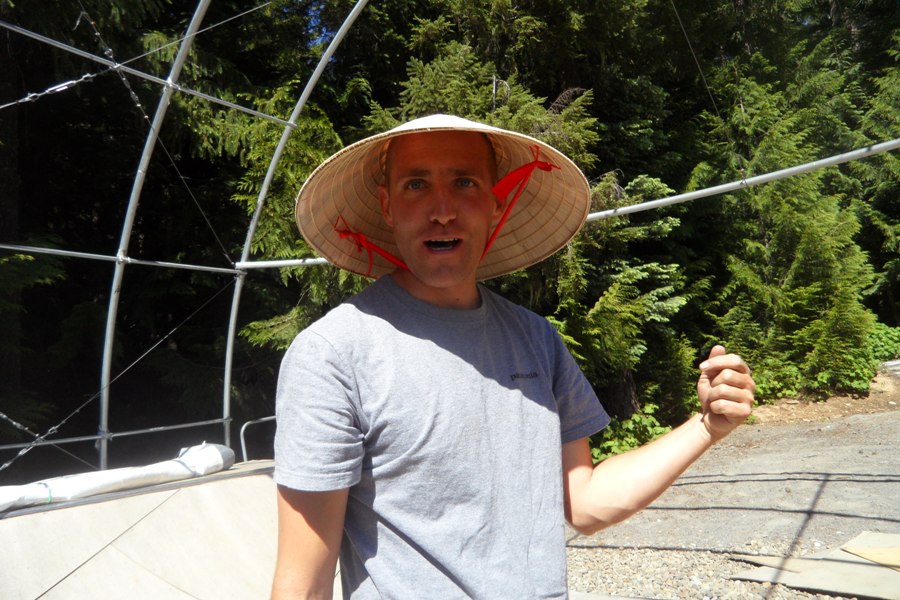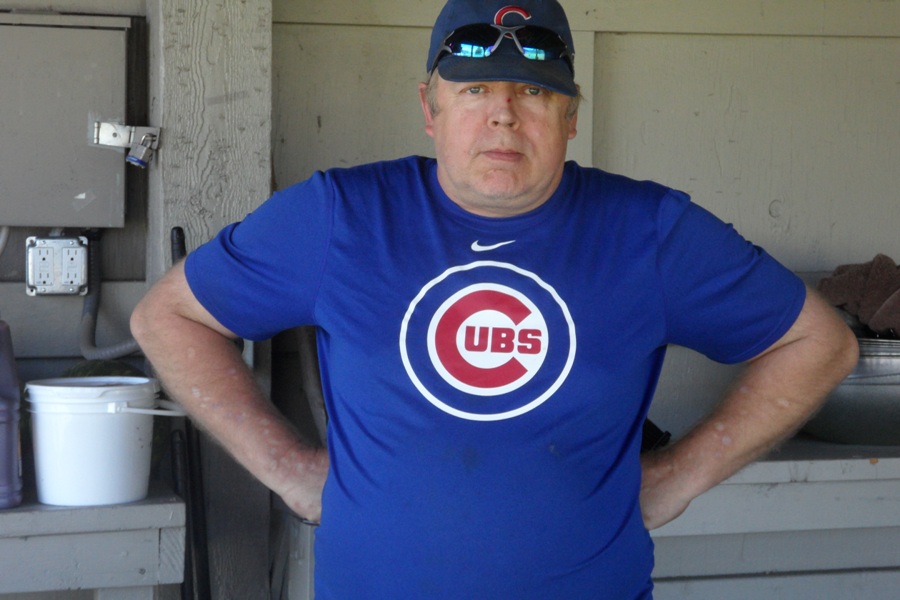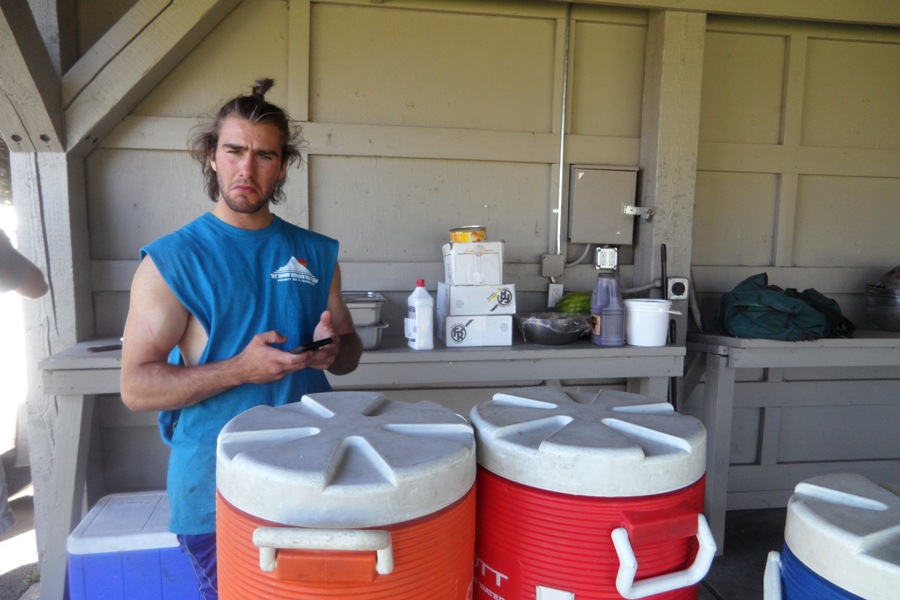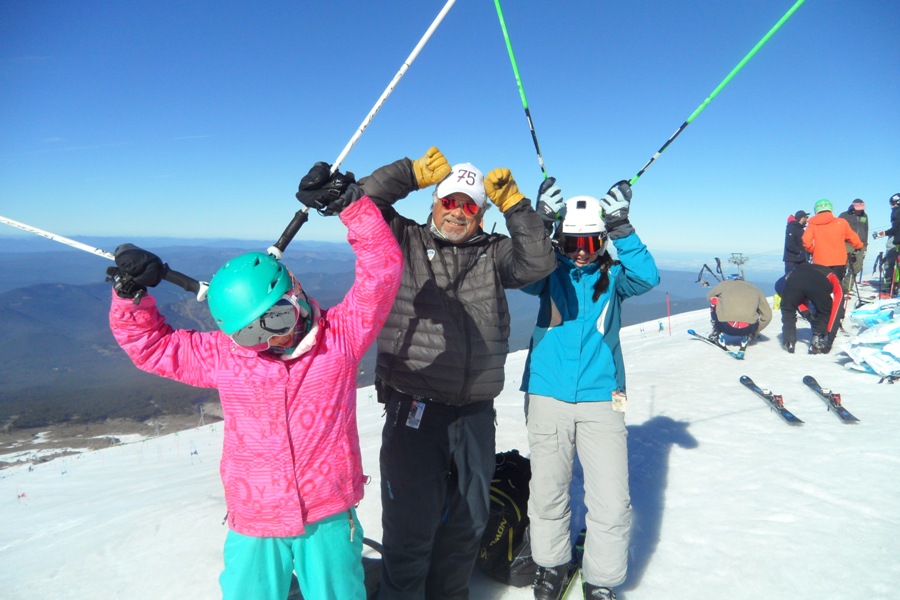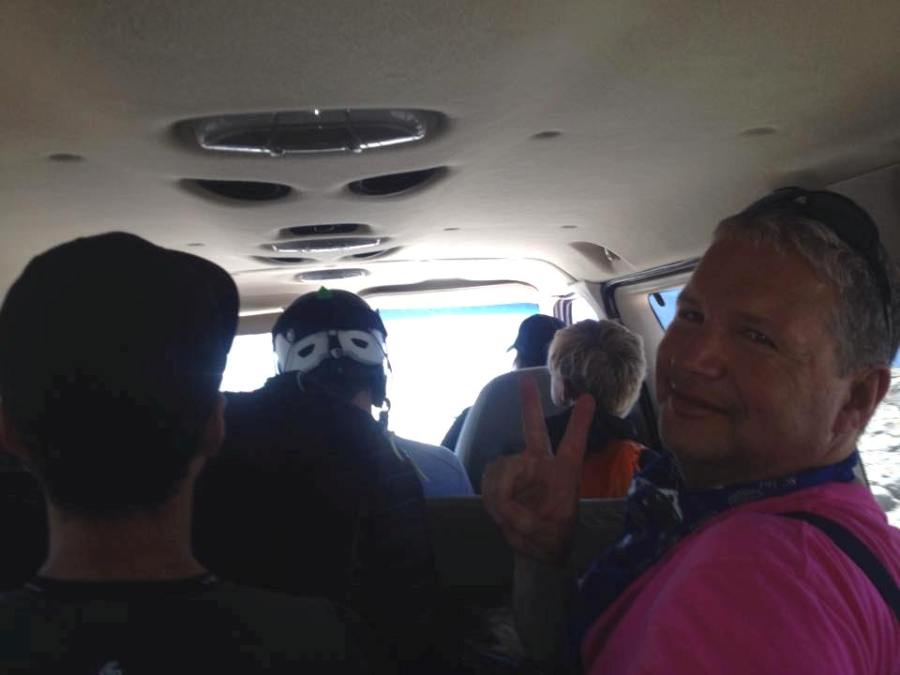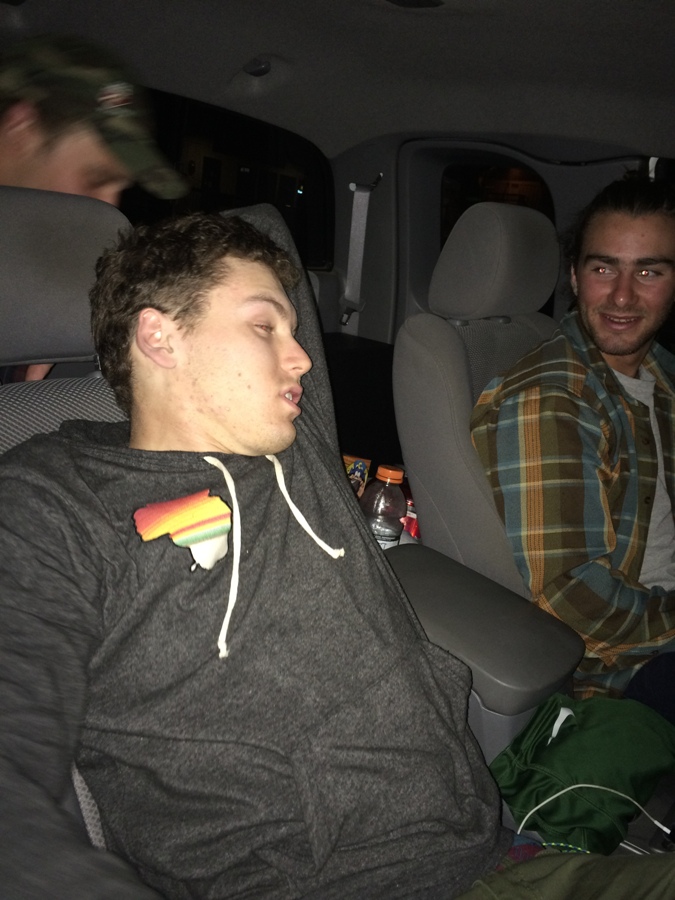 more session 3 photos here.
Session 4, 2015 update
Here are a few nuggets from session 4: We have new waffle makers in the kitchen! A handful of staffers watched game 6 of the NBA finals at the Ratskeller on Tuesday. New alpine coach, Simon Marsh, intended to ride is bicycle to the picnic on Wednesday, but he missed the turnoff and ended up riding all the way to Sandy, OR!! He turned around and rode back to Welches when Mike Foley saw him and picked him up and brought him back to Govy. He said he was trying to get mentally prepared to have to ride back up highway 26 back to Govy before he got picked up. A bunny rabbit ran across Courtney Troxell's feet up at Coho. Our picnic trailrun was altered a bit when part of the trail was closed due to "storm damage" and "yellow jacket nest ahead" warning signs. The groomers stopped pushing snow onto the bottom of Palmer loading ramp, so we now have to walk up the ramp each morning in our ski boots. Snow is still excellent on upper Palmer though. Jackie Reis, came out of MHSSC retirement to coach for a few weeks. Rick Millett was riding big long wheelies at the camp picnic. (see pic) I chucked some old camp computers, TV's, monitors, etc. as part of our electronics upgrade at camp. We still have a couple VCR's hooked up in the basement though for watching movies/Olympic videos. Courtney Troxell and Nicole Cordingley helped long-time adult camper, Violet Anderson, dig thru the fire rubble at Golden Poles condos for some of Violet's family heirlooms. And speaking of Nicole, TODAY is her 21st birthday. See you at Charlie's tonight. (*it's a school night)......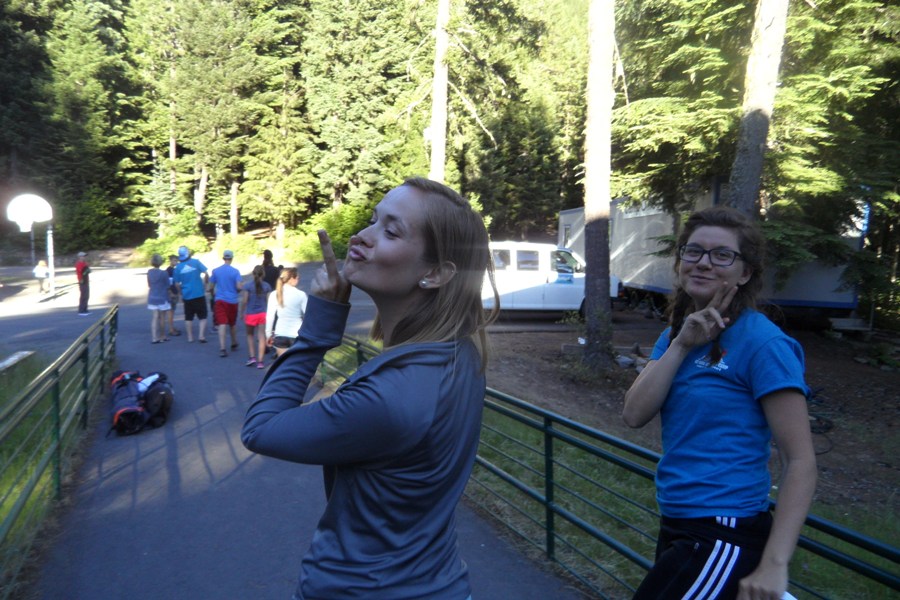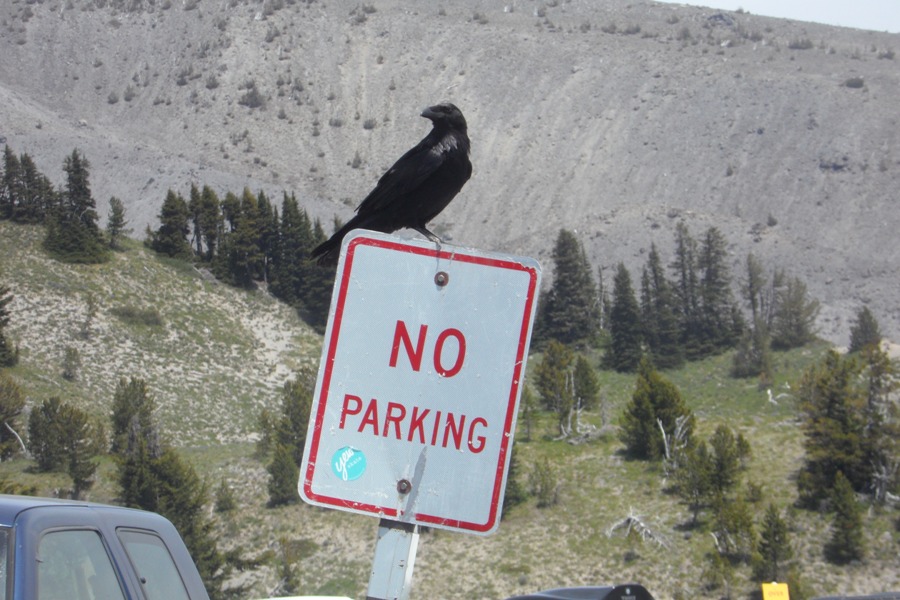 That's near the top of lane 9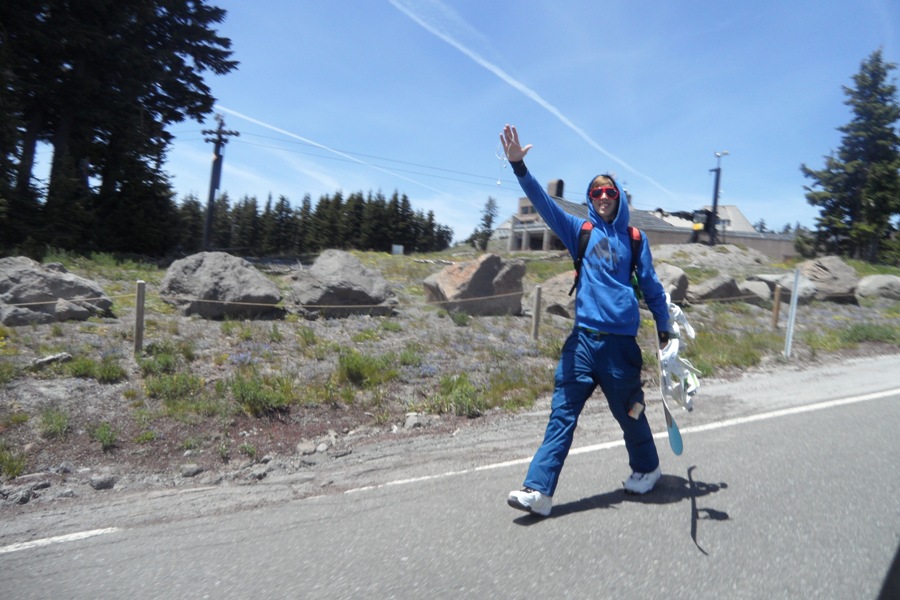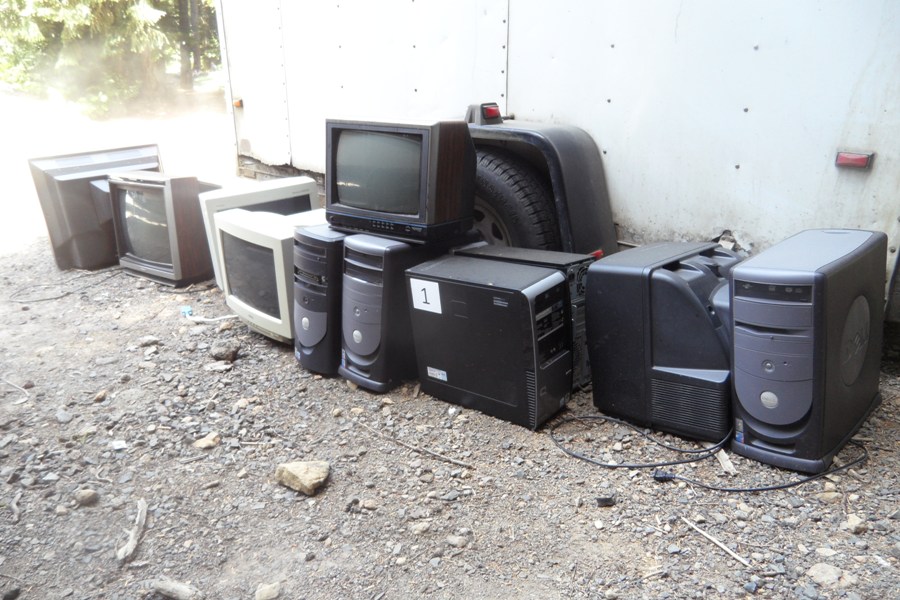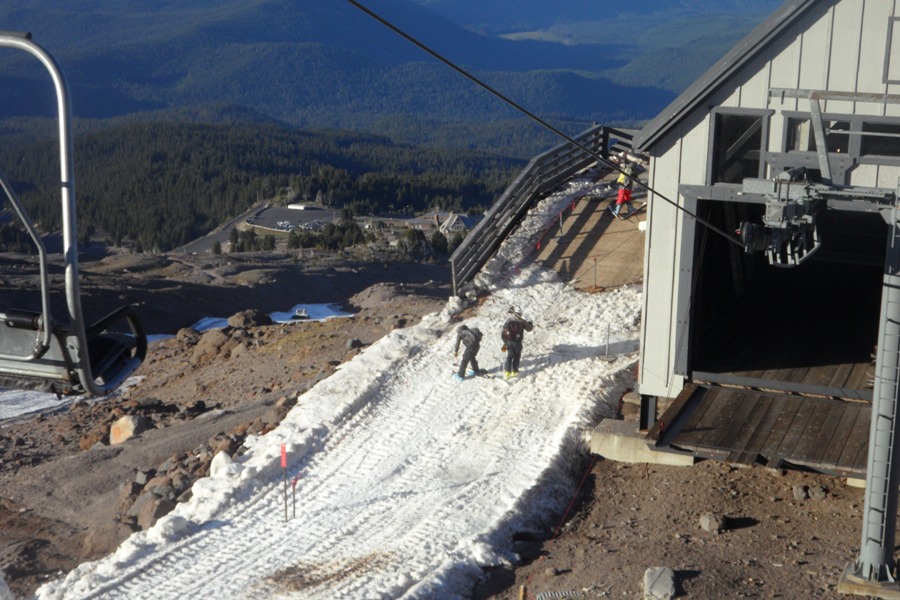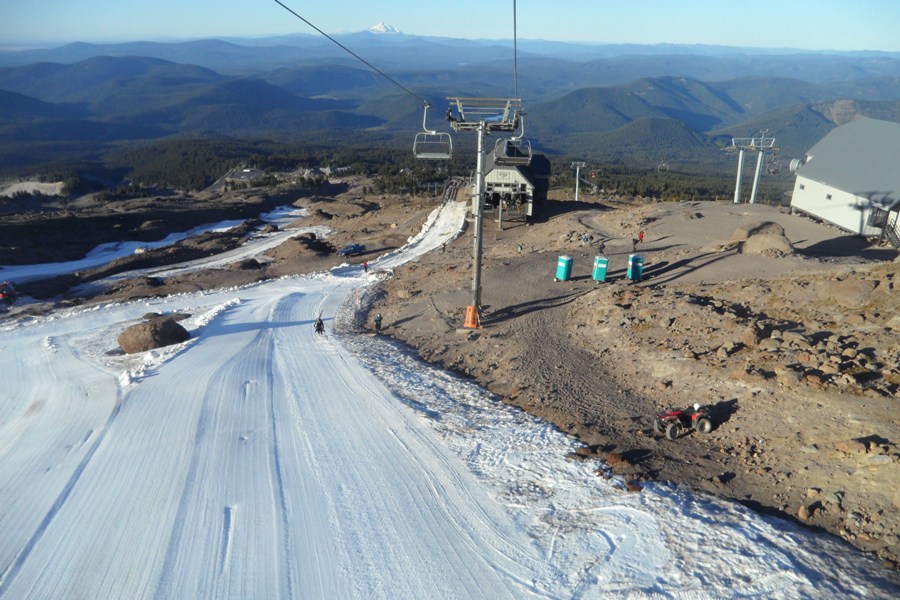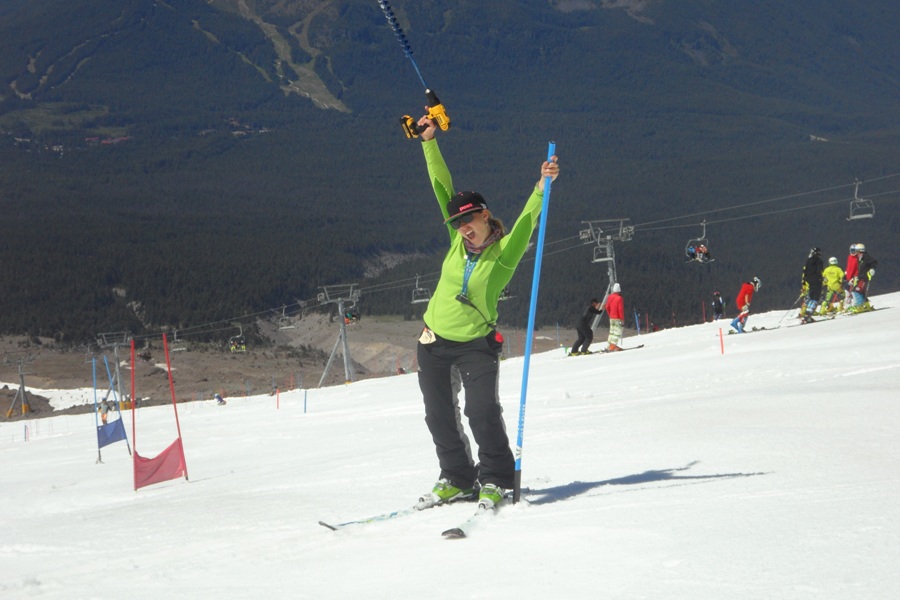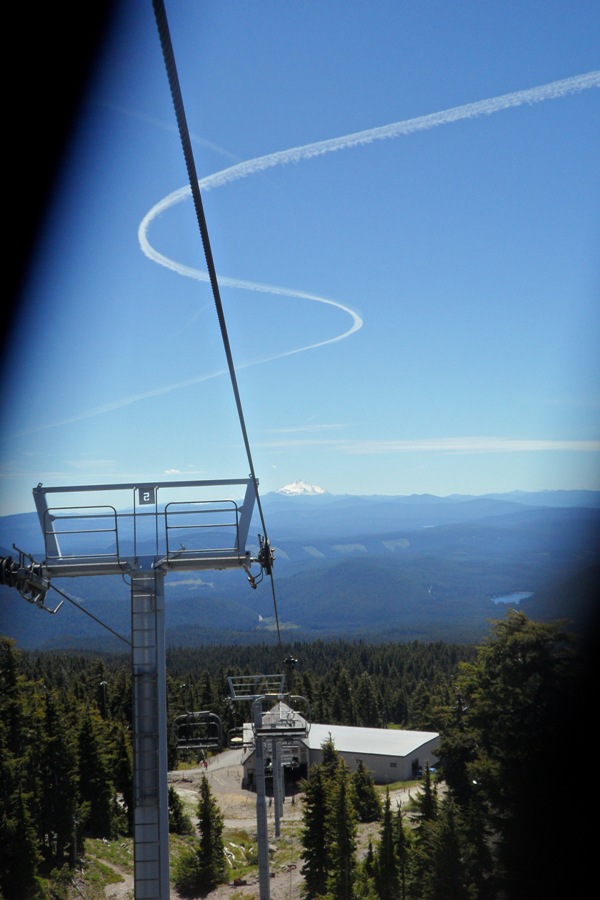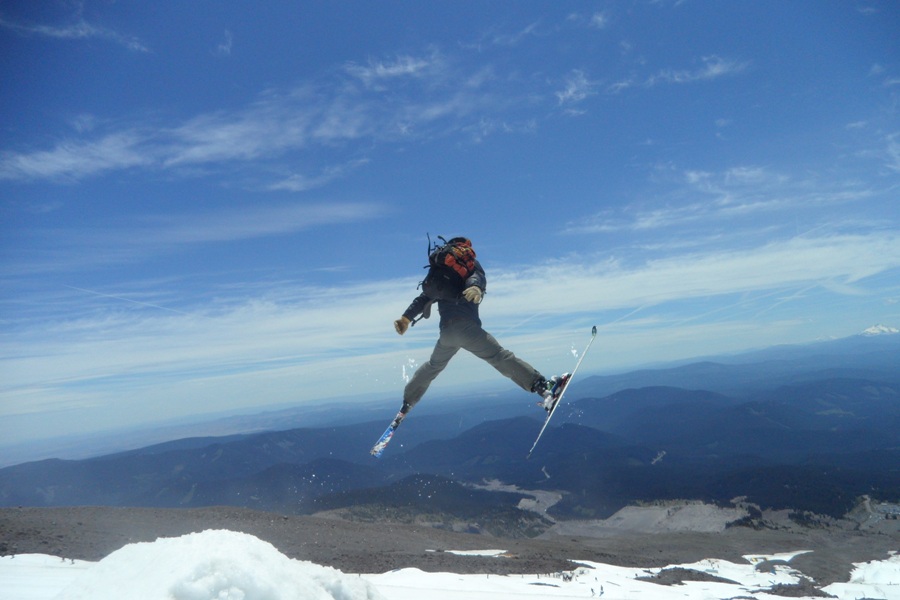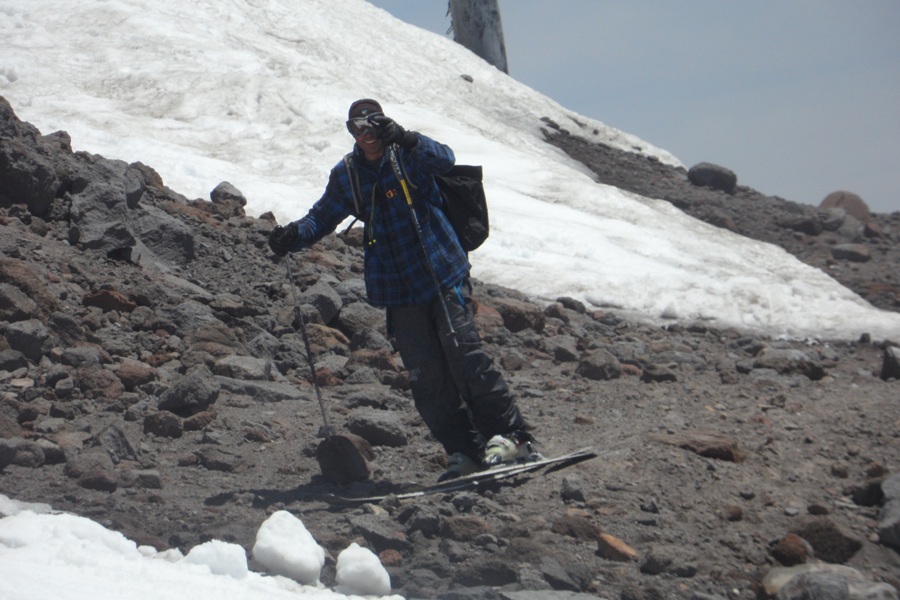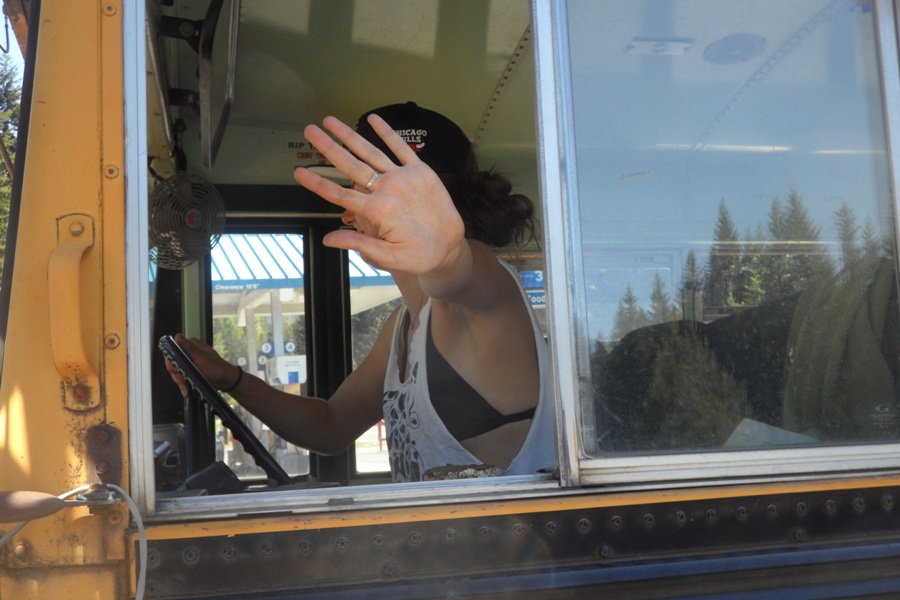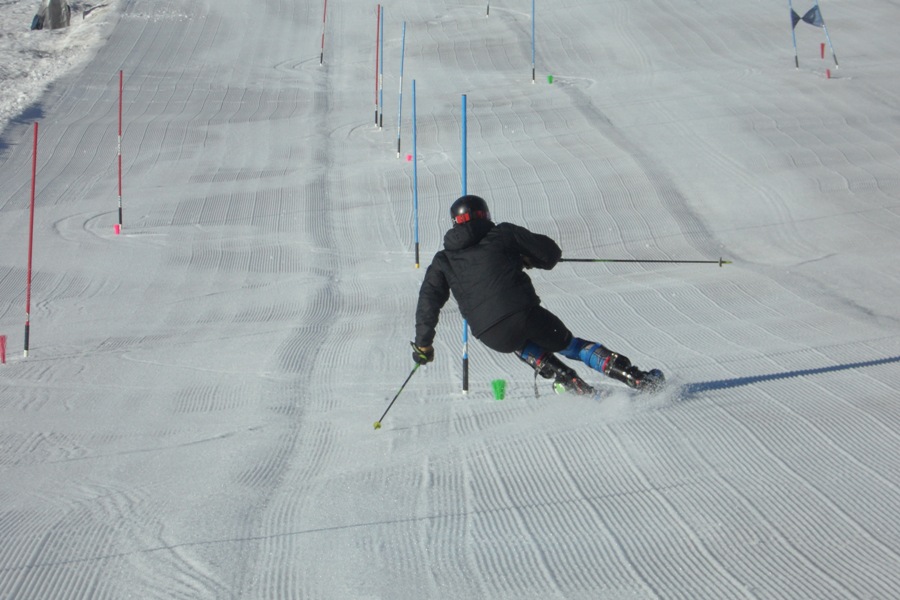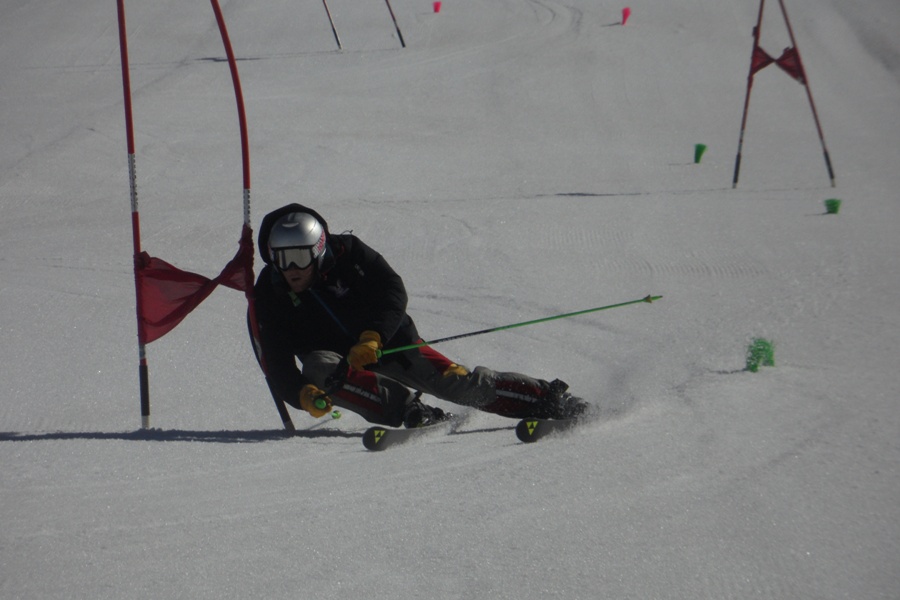 Golden Poles fire debris archeological dig.......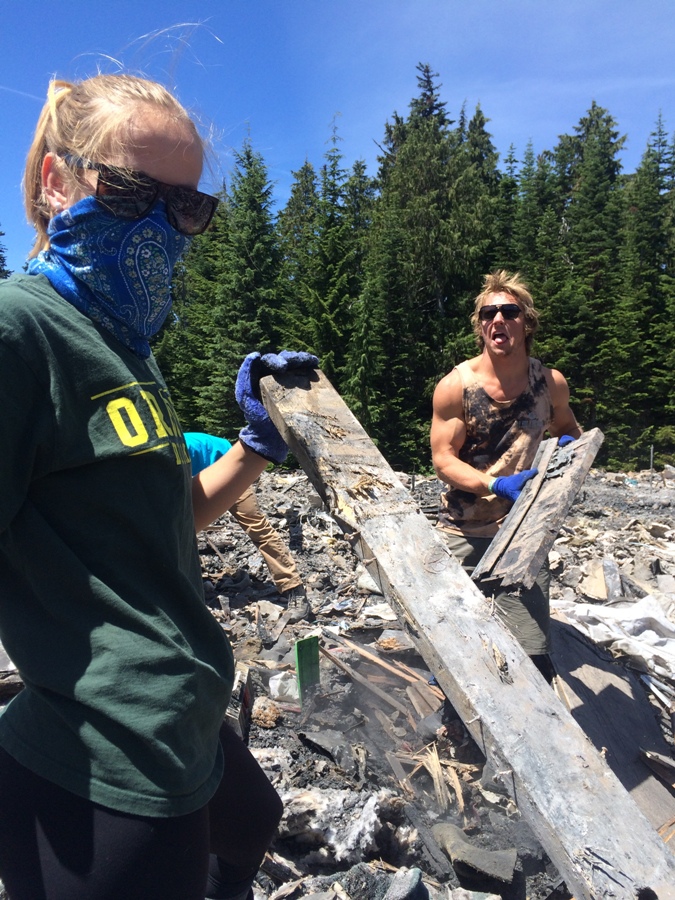 More session 4 photos here
Session 5, 2015 update
Here's what happened this past week: Reid Lambres and Patrick Foster climbed to the summit of Mt Hood. Video here. Mike Annett went on the hill on Friday for the first time this summer. He paid a visit to the mhssc terrain park too. Rick Millett gave him a snowmobile ride back to upper palmer, so he didn't have to hike out. With the limited hill space available for all the booked ski camps, Timberline closed the public lane until 10am, so one camp could train there early in the morning. Lift lines were pretty long this week. Also heard the download magic mile lines were long too at certain times of the day, but I've only stood in one significant line so far. Ted Ligety smiled at Courtney Troxell. Makai Bradley got up at 5:30am to try to use the lodge Wifi before all the kiddies woke up and turned on their iphones. A camper called home and threatened to hurt himself if his parents didn't let him come home (he eventually did go home early). Nicole Cordingley celebrated her 21st birthday last Sunday at Charlie's. She forgot her birthday card at Charlie's that night......went to bed.......then realized she forgot it and she got dressed, went back to Charlie's to get it! Sasha Karapetrova hiked to the terrain park. Lily Wolfe, Courtney Troxell, and Leo Povolotsky hiked to Palmer midway on Friday. For the first time ever, I ran from Govy to camp on Monday. About a half mile before finishing, I spotted a dollar bill, a credit card, and a bi-mart membership card on the shoulder of highway 26. The next day, I went back to that area and found this woman's drivers license, more credit cards, $14 more dollars, costco card, and a bunch of coffee place punch cards. After doing some googling and facebook searching, I found her and tried to contact her to no avail. Finally turned her wallet contents over to the clackamas country sheriff at the camp picnic and they delivered her stuff to her in person at her Eugene, Oregon home. We have since connected on facebook. She said her wallet was stolen from a hotel. Nicole Cordingley was pushed down the glacier by Mike Bansmer on Friday (see pics). Her tumble down the hill looked something like this. Nicole took Bansmer's skis and put them in the mogul lane about 100 yards down from the top. Karl Robicsek celebrated his 22nd birthday on Thursday. Mark Syrovatka helped organize the Ted Ligety autograph session on Wednesday in Govy. Also there were former staffers Scotty Veenis and Kyle Darling.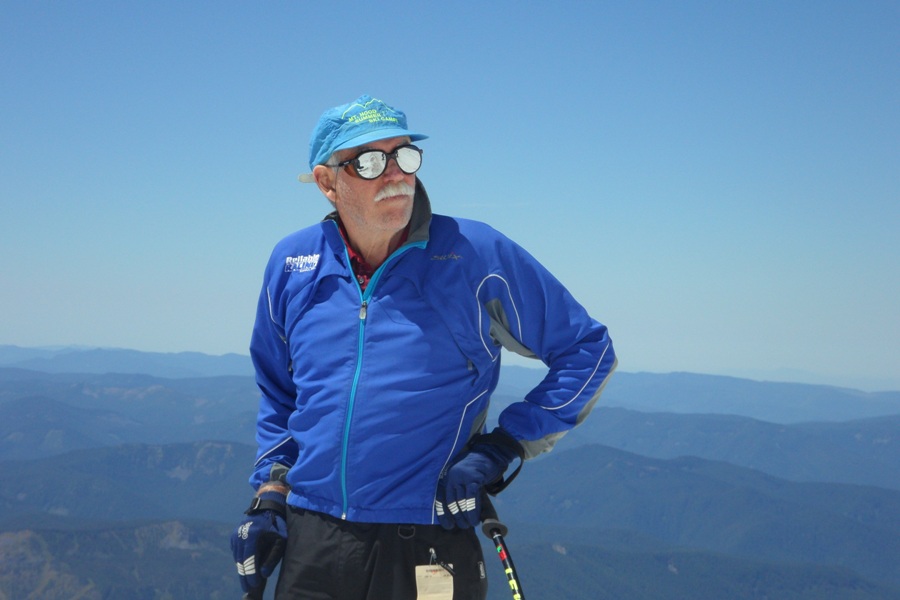 time lapse of mogul coach, Darren Owen, building a jump.......*video went until his cell phone battery died

Posted by Mt. Hood Summer Ski Camps on Saturday, June 27, 2015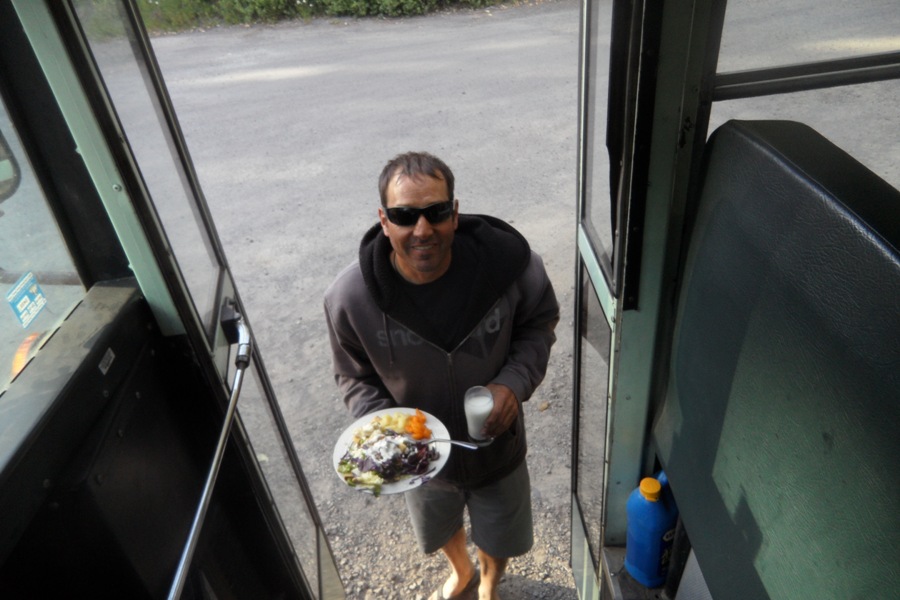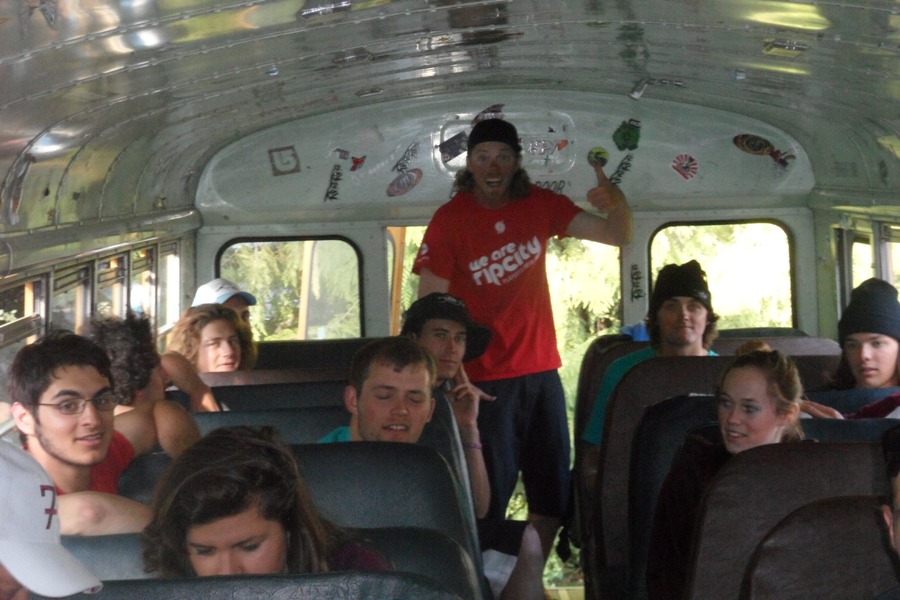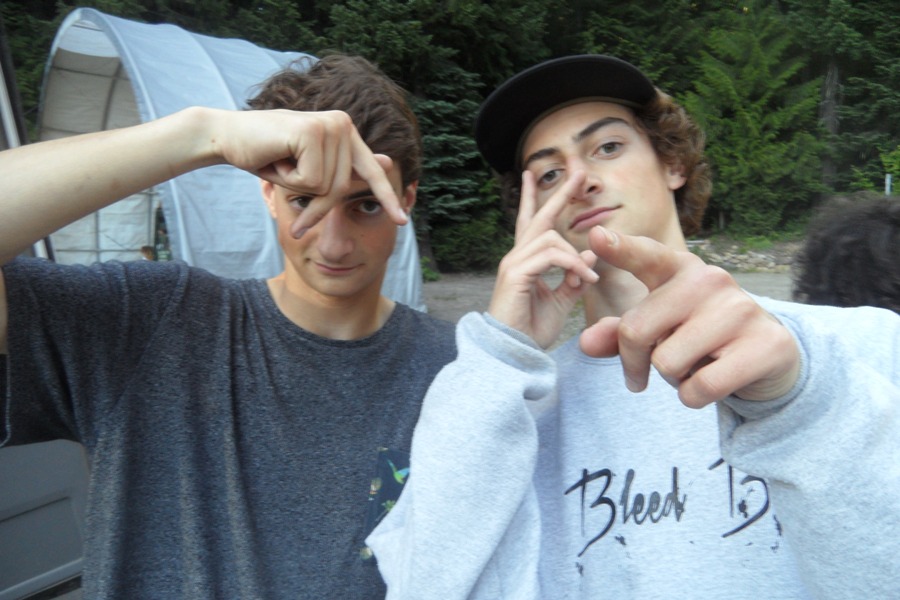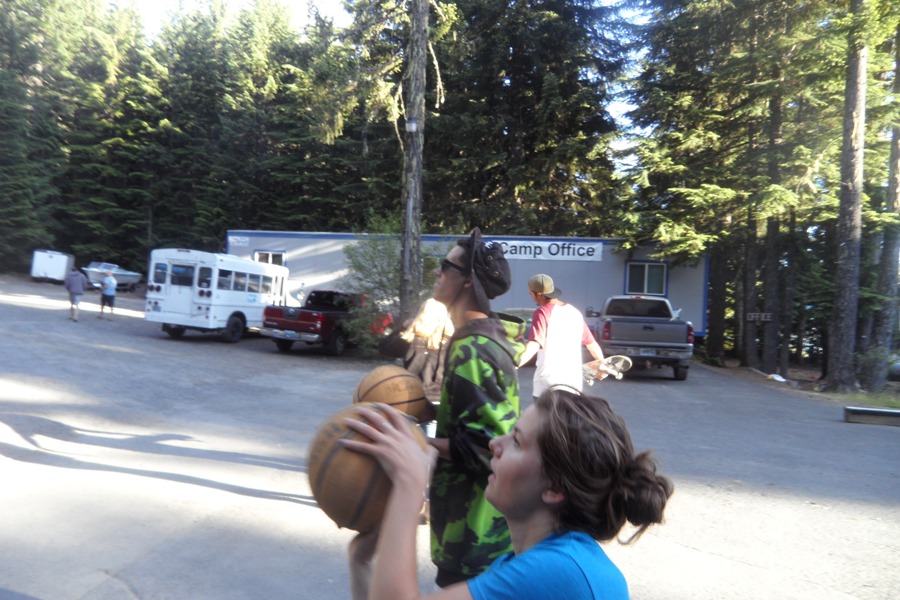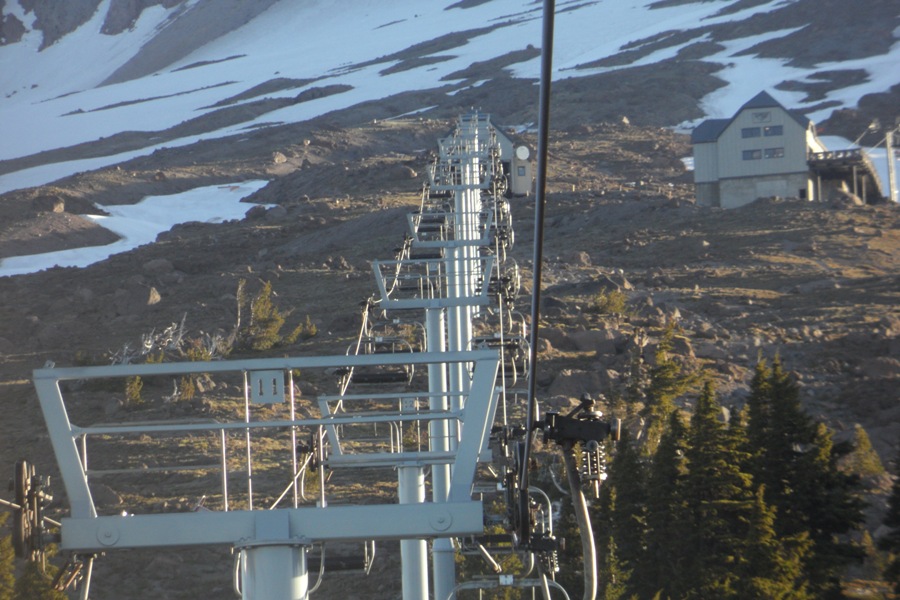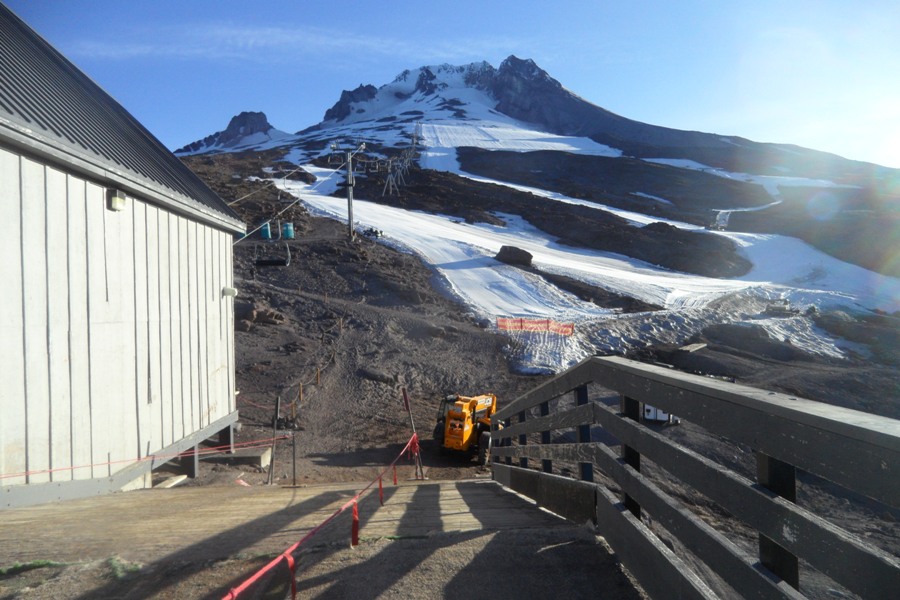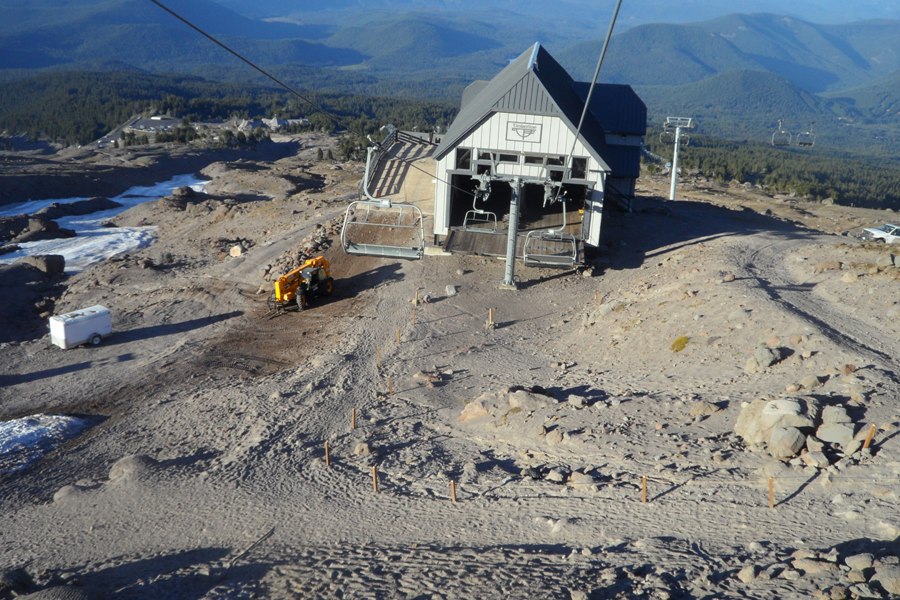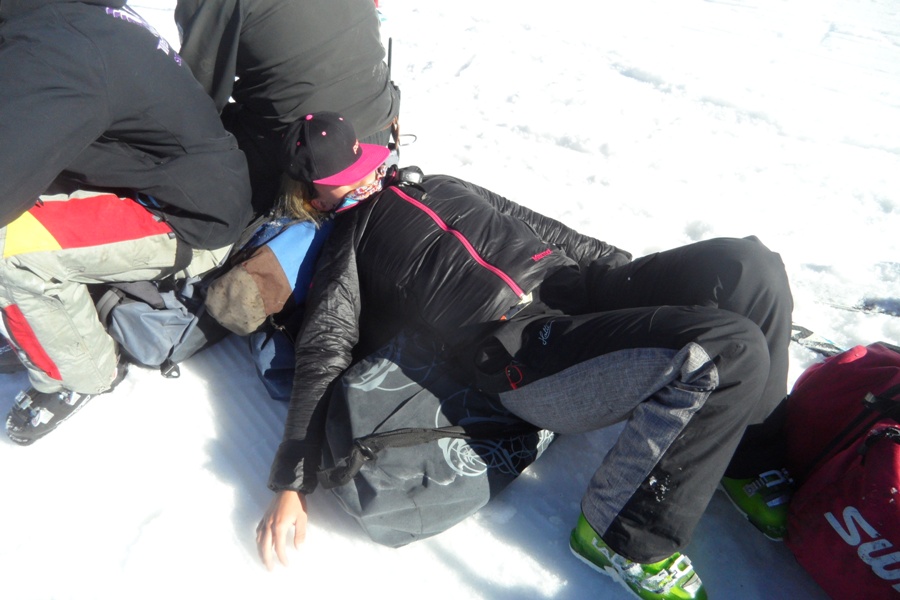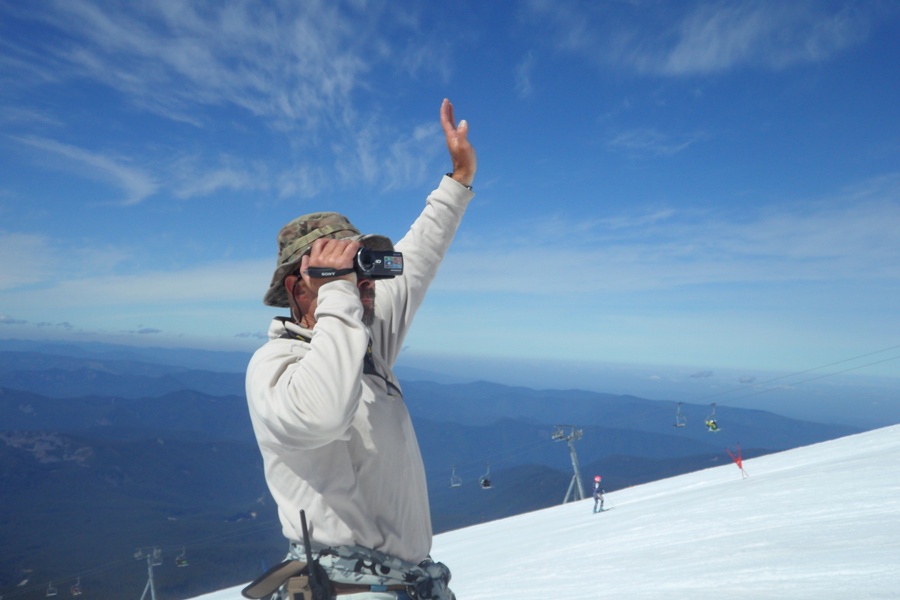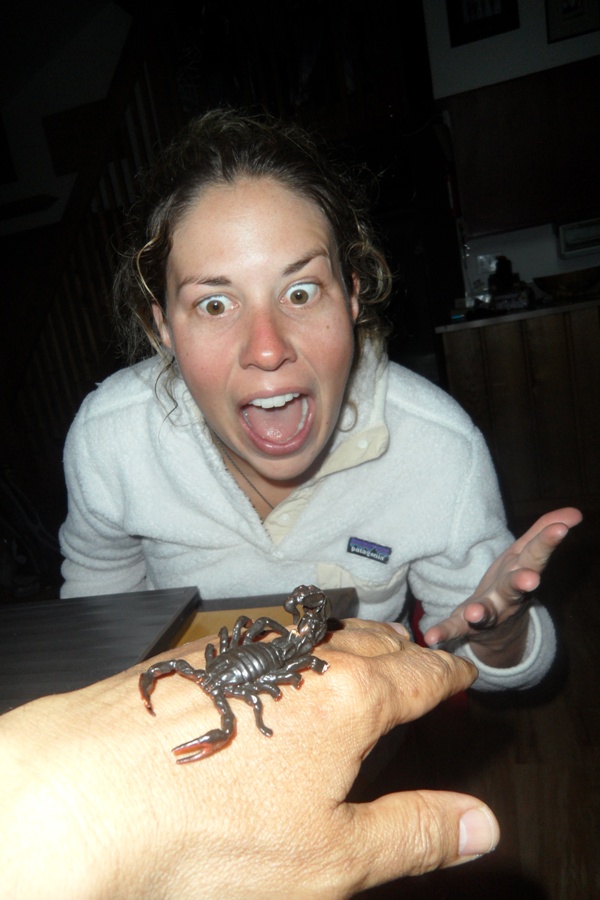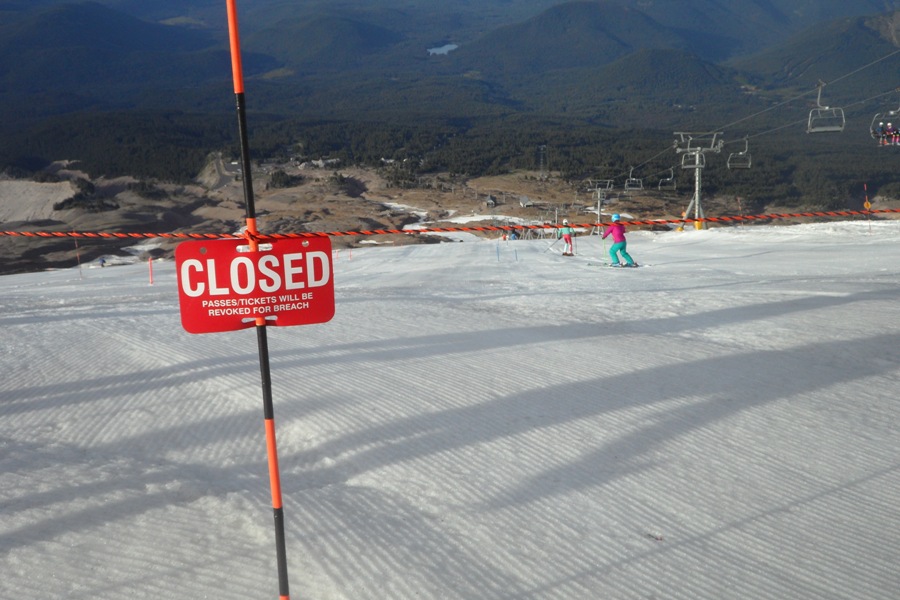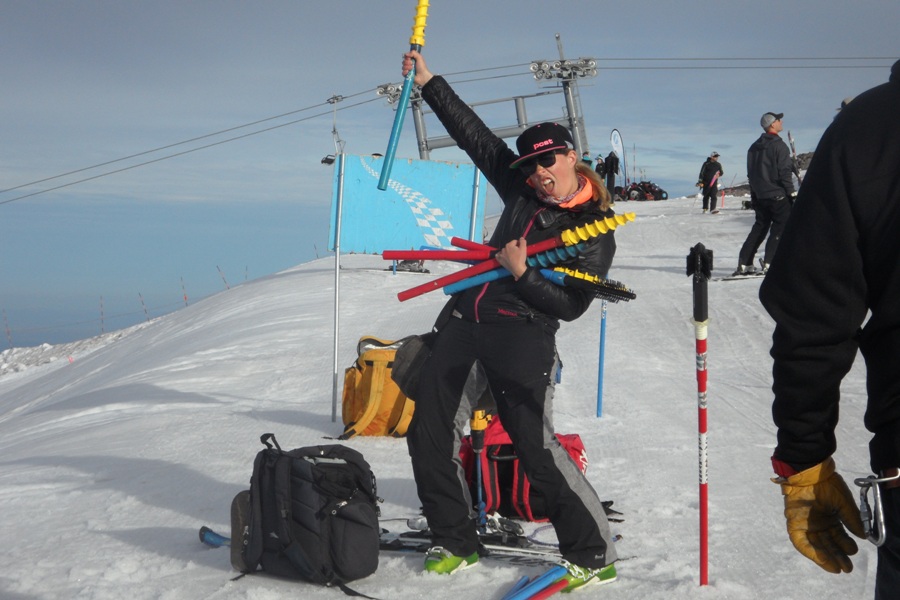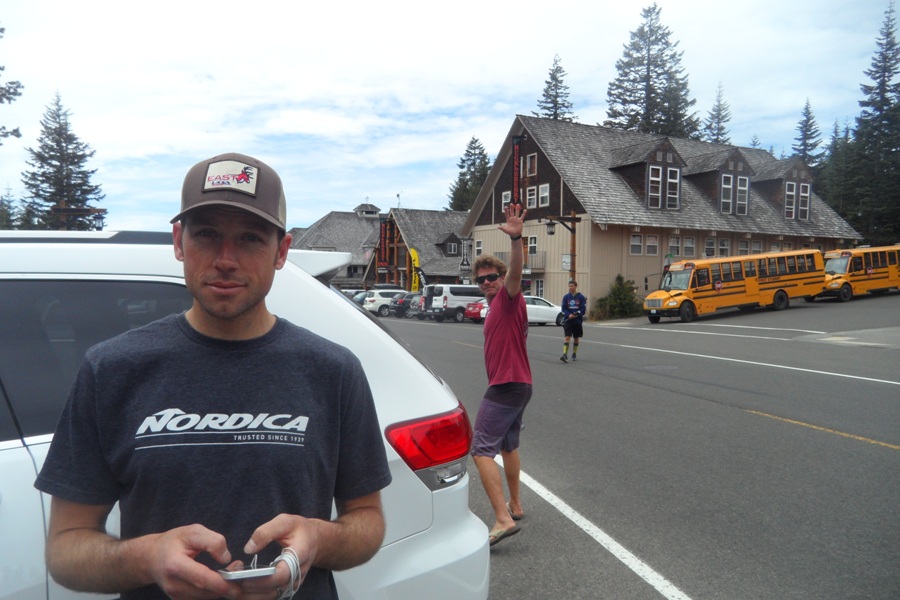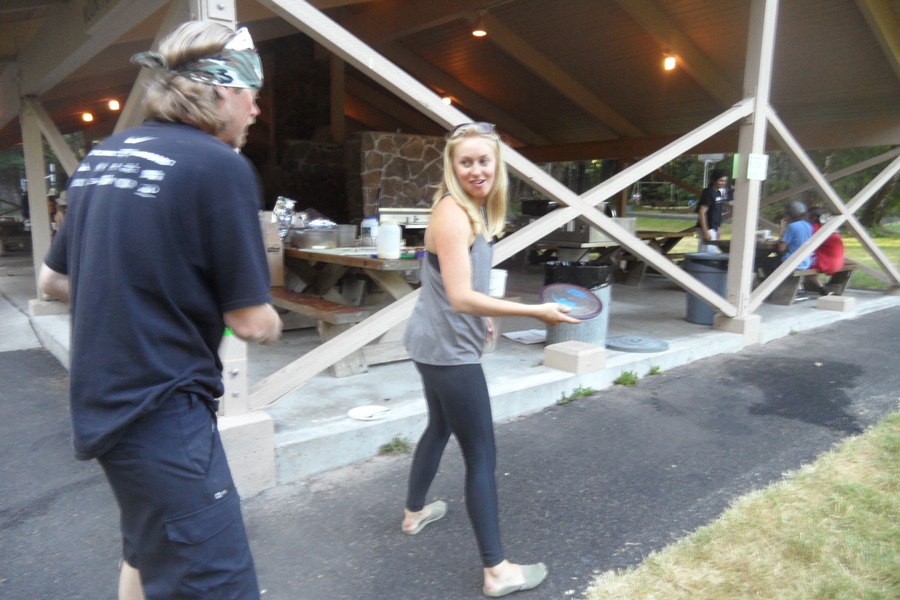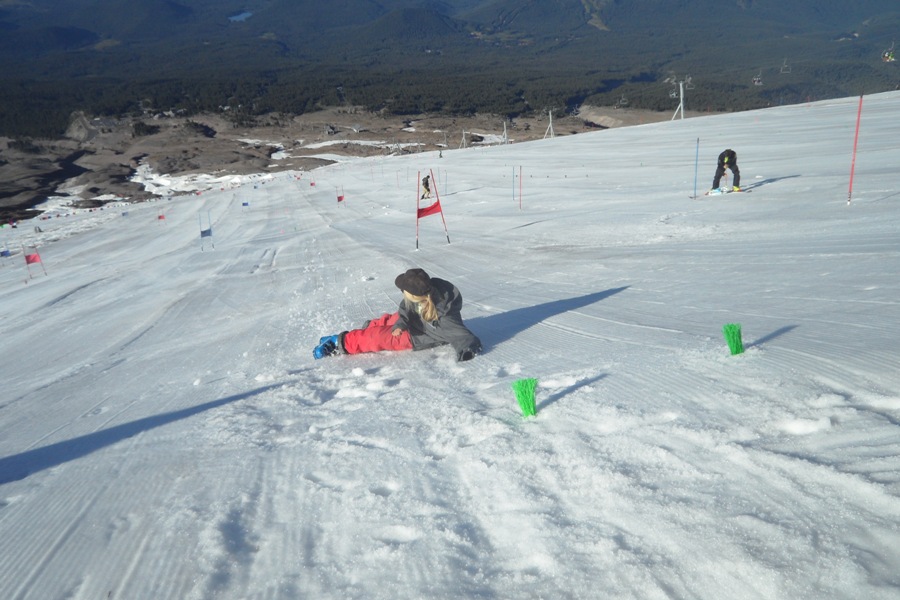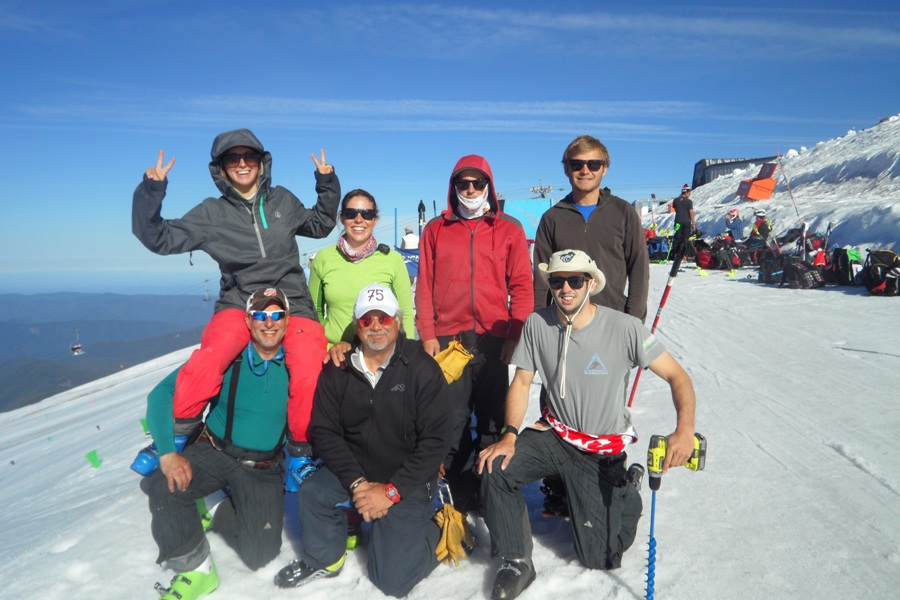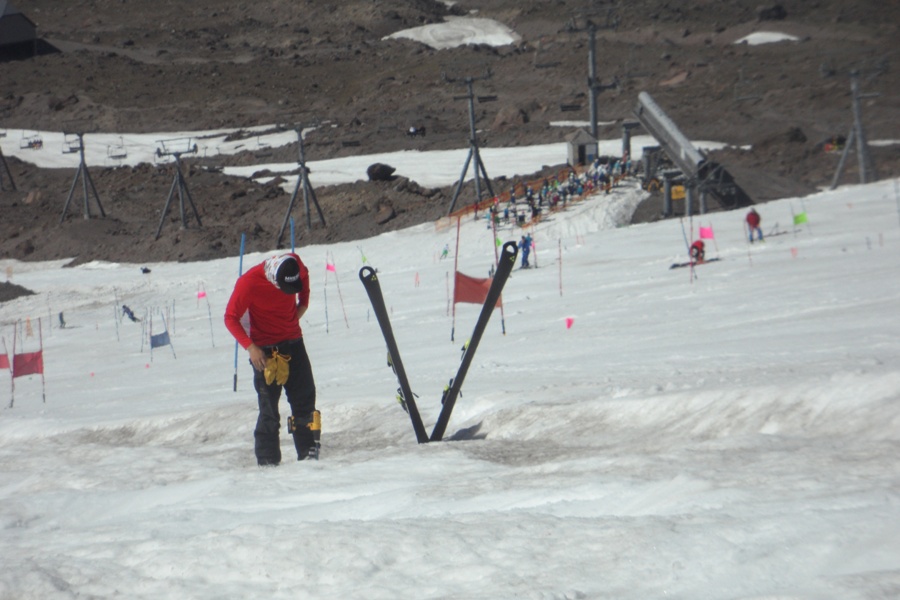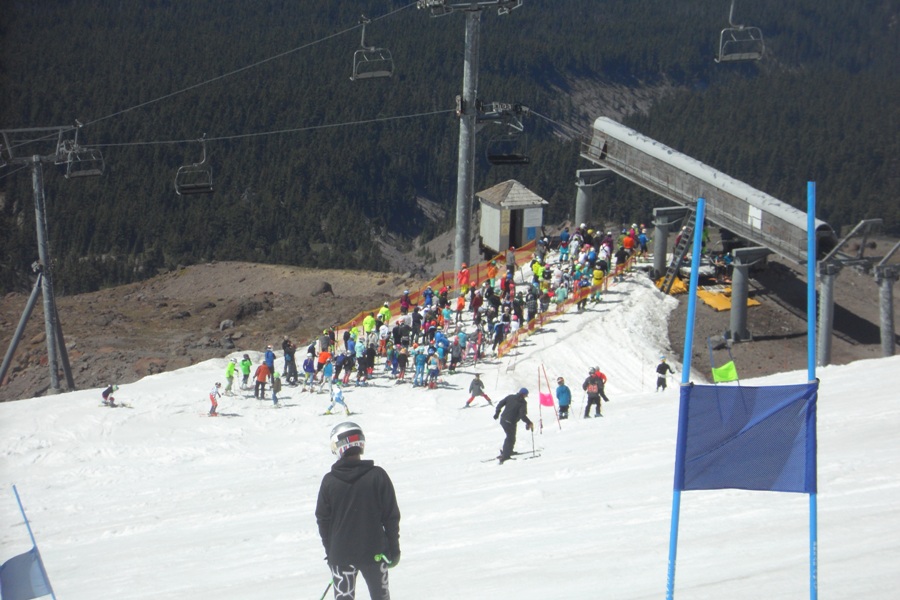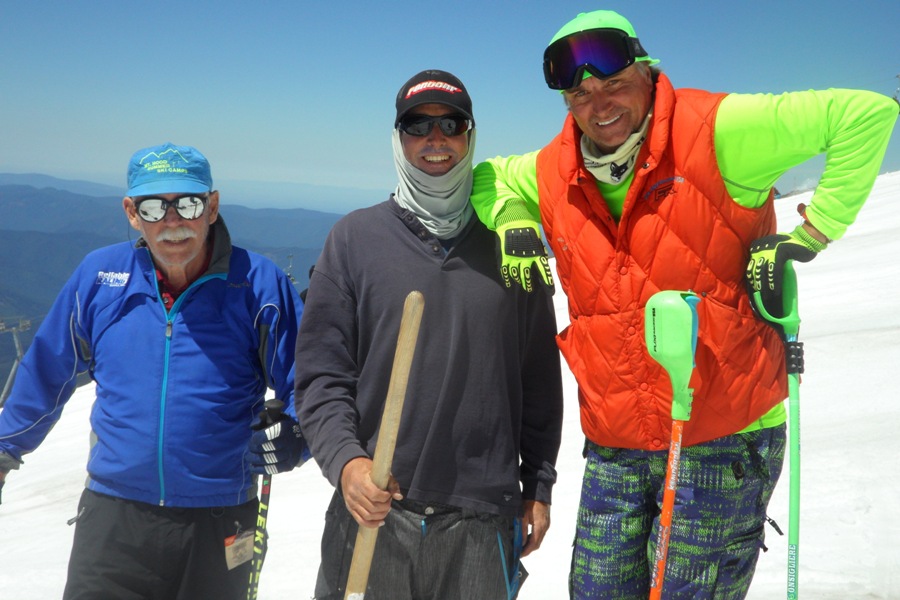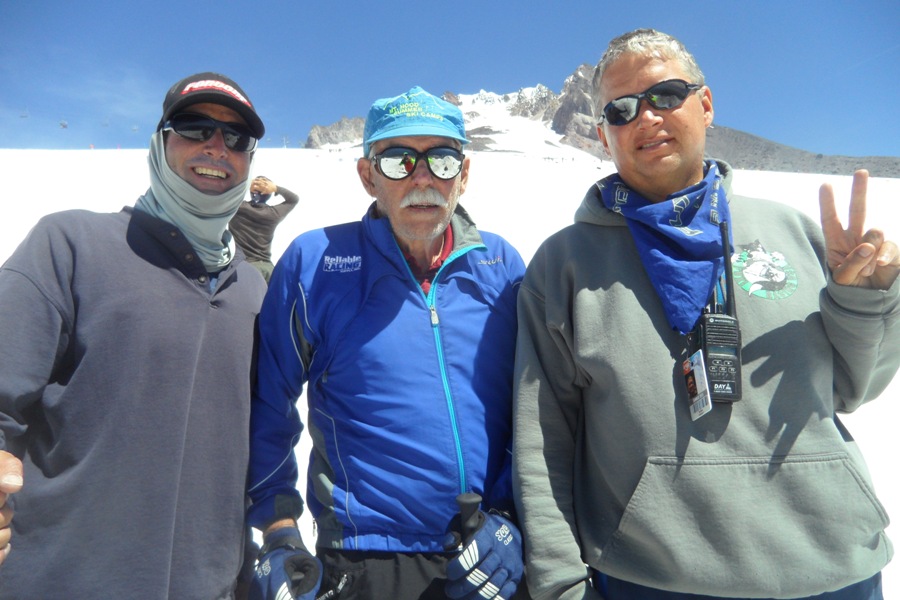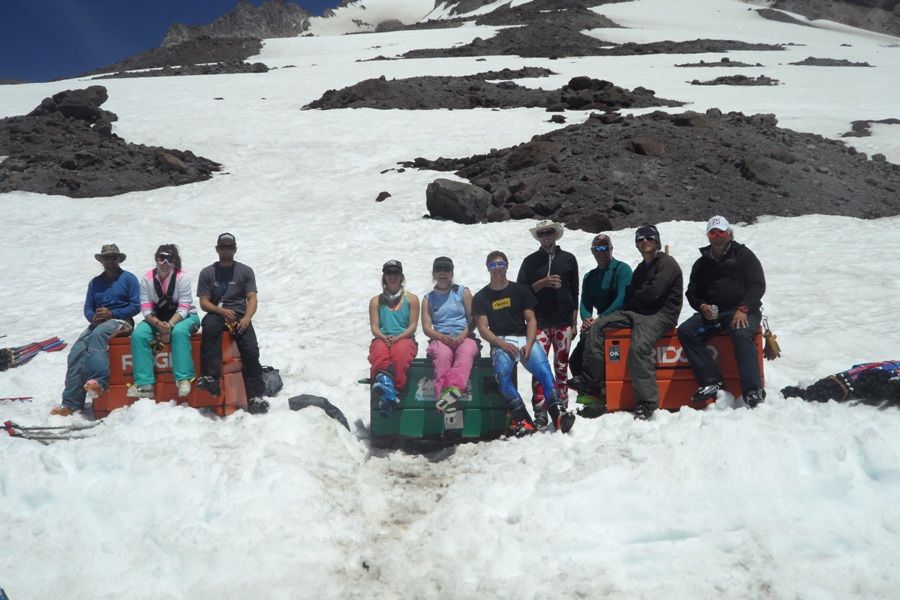 More session 5 photos here
Session 6, 2015 update
Here's what happened this past week: Bode Miller was on the hill on Tuesday.....briefly. He went up super early (6am load) and trained 6 or 7 GS runs on lane 1 and then got off the hill before I could grab my camera. I was told that it was his first time training on Hood since 2000. Sasha Karapetrova used her expert bus driving skilz to avoid hitting a deer on the way back from afternoon activities on Monday. One of the Stratton Mogul girl campers was crying tears of joy after completing her first back flip. I celebrated my 50th birthday on Thursday. Some of the coaches had planned to decorate Parham after I went to bed on Wednesday night with balloons, streamers, etc......but I wasn't quite asleep when this was all going down. In fact, as they were bringing in balloons from Willy Johnson's car in the darkness of night, I got up and peaked out my window and saw dark images going back and forth from the cars and heard people whispering......and this made me think that our cars were getting broke into. So I quietly got fully dressed to go out and investigate. I open my bedroom door and I see Terry McLeod standing there blowing up balloons in the hallway. He says to me in his dry humor voice: "you didn't see any of this.....go back to bed....act surprised tomorrow morning" ....Anyway, it was an excellent birthday day that included a hike to the top of Tom, Dick and Harry mountain, dinner at the mt hood brew pub, and some beer at Charlie's. Furthest traveled award to attend the party went to Spencer Raymond (Portland) and John & Lisa Rust (Hood River). Courtney Troxell got a nice note from one of her campers (see below). Hearing rumors pretty much daily about when Palmer will close for the summer. Whatevs......
Oh, and I almost forgot......it was F*&$ing hot this week. Insane hot. It's been insane hot for the last 2 weeks. send help.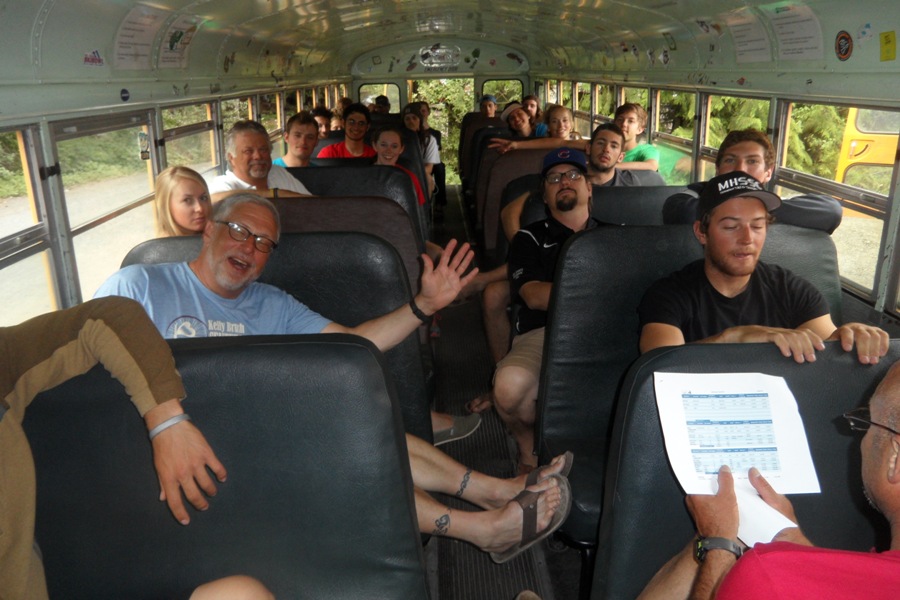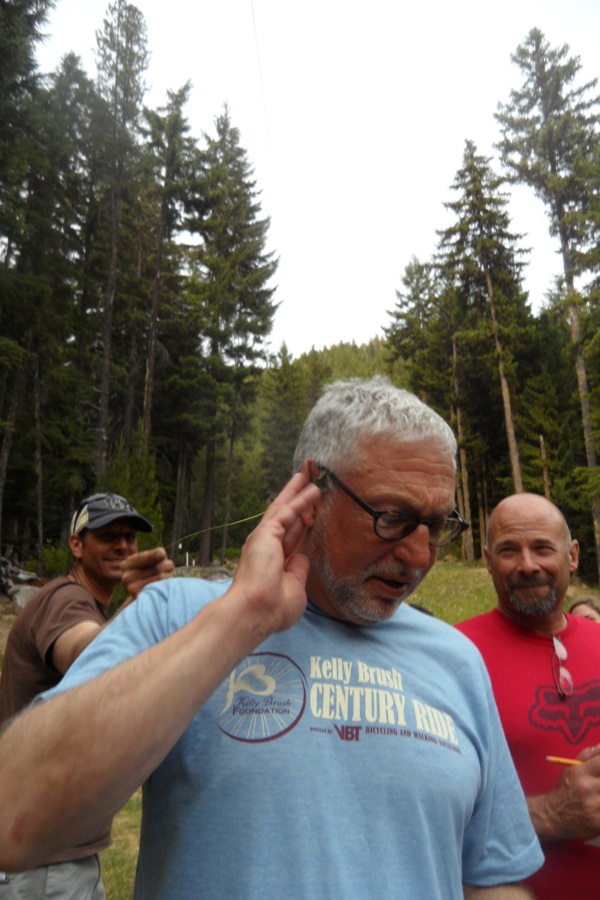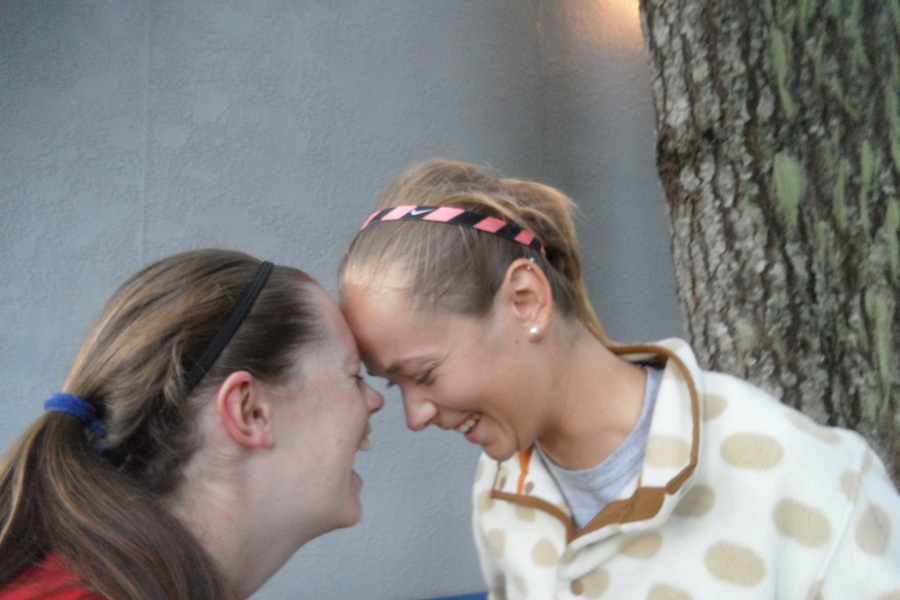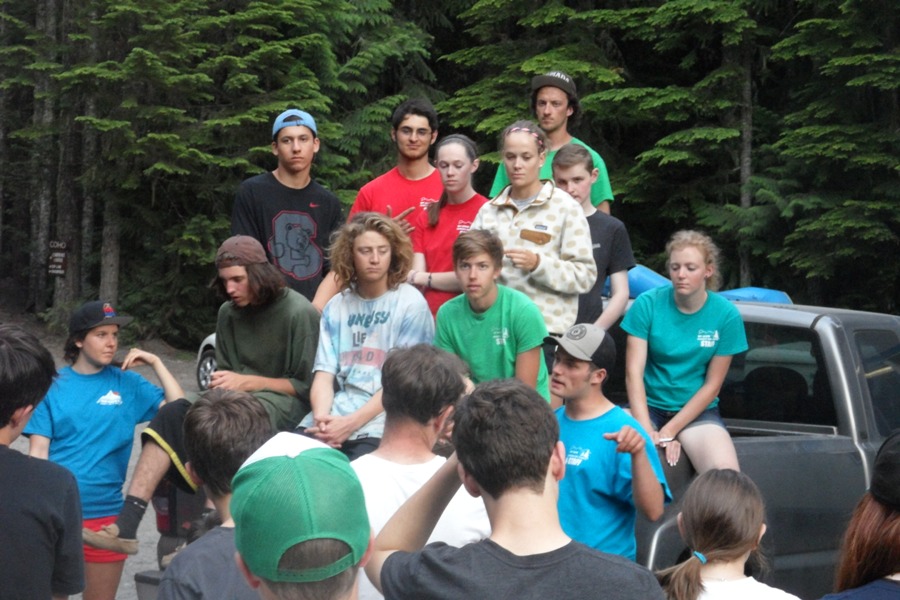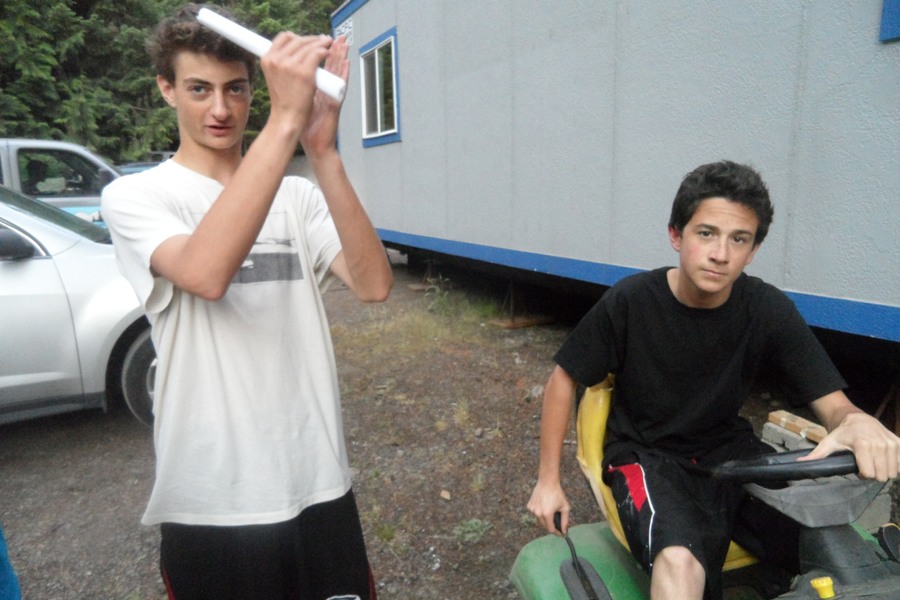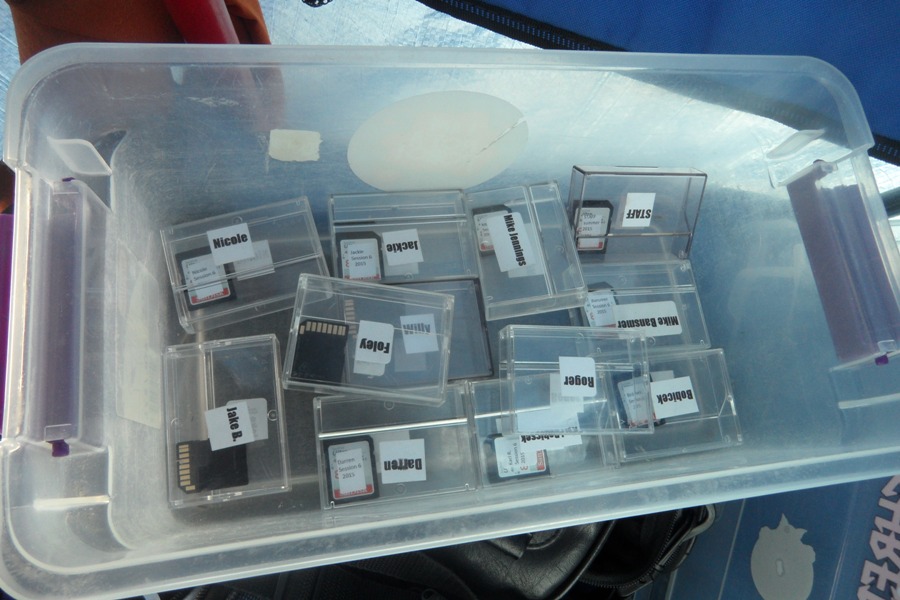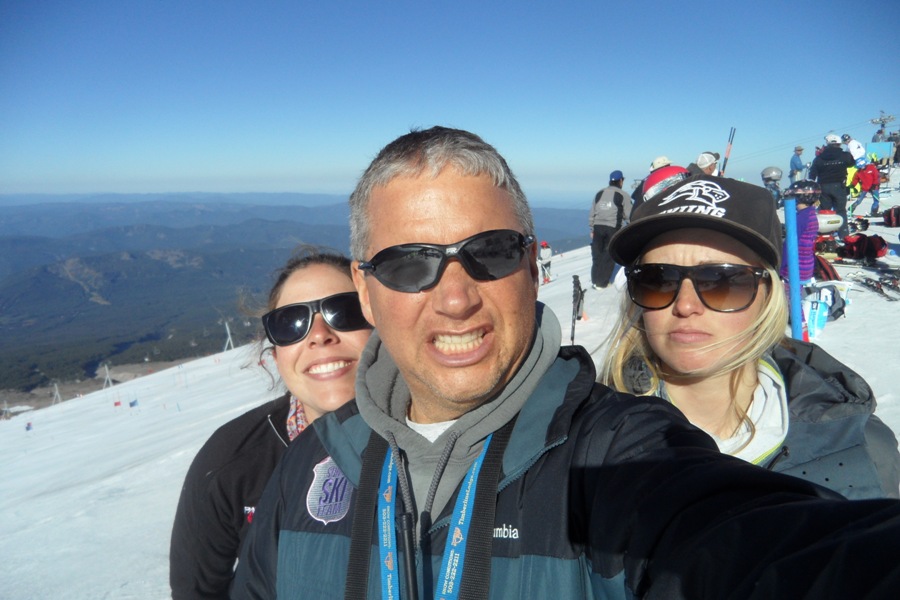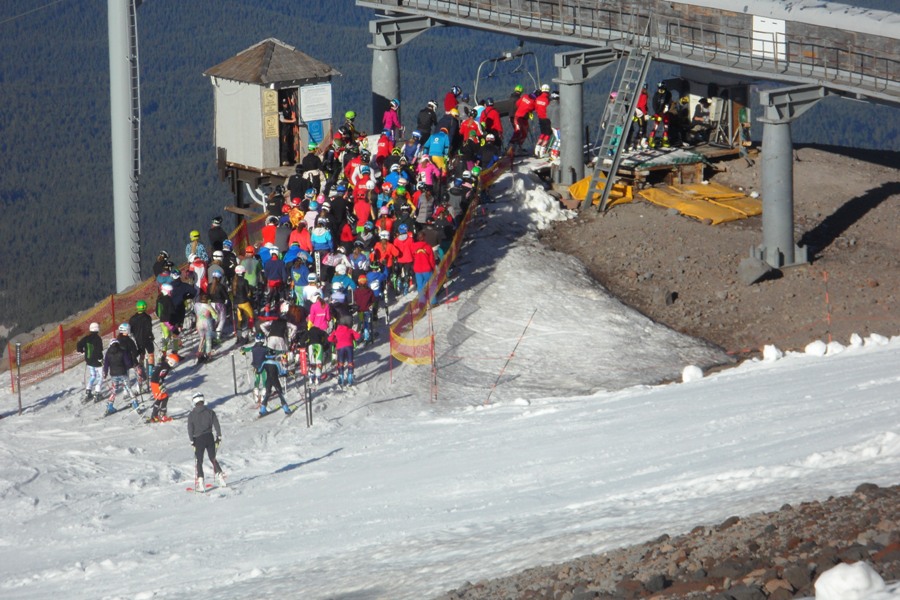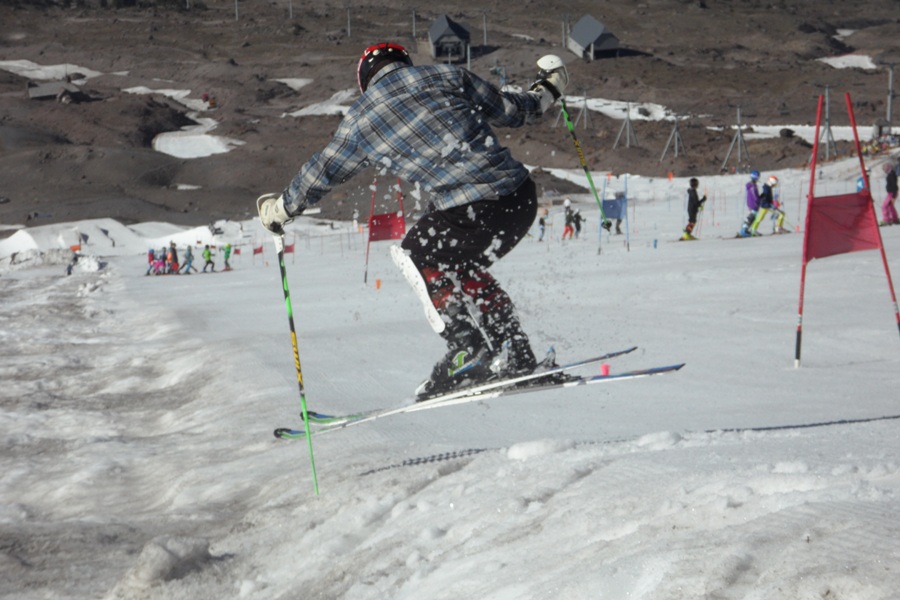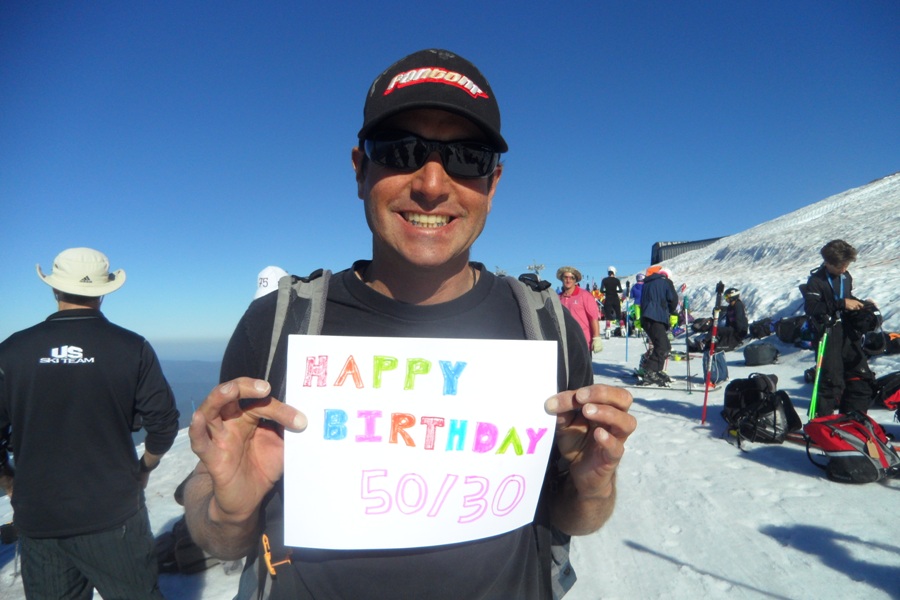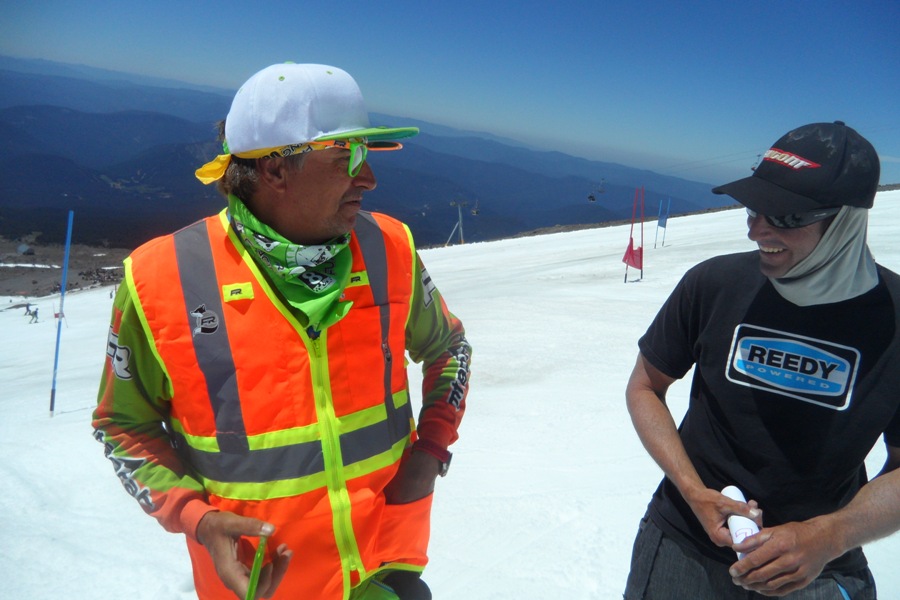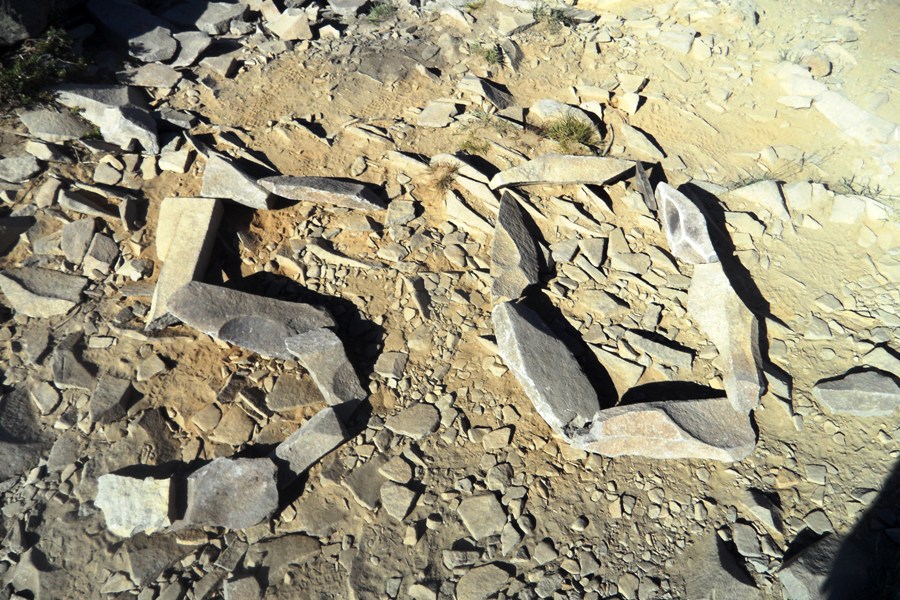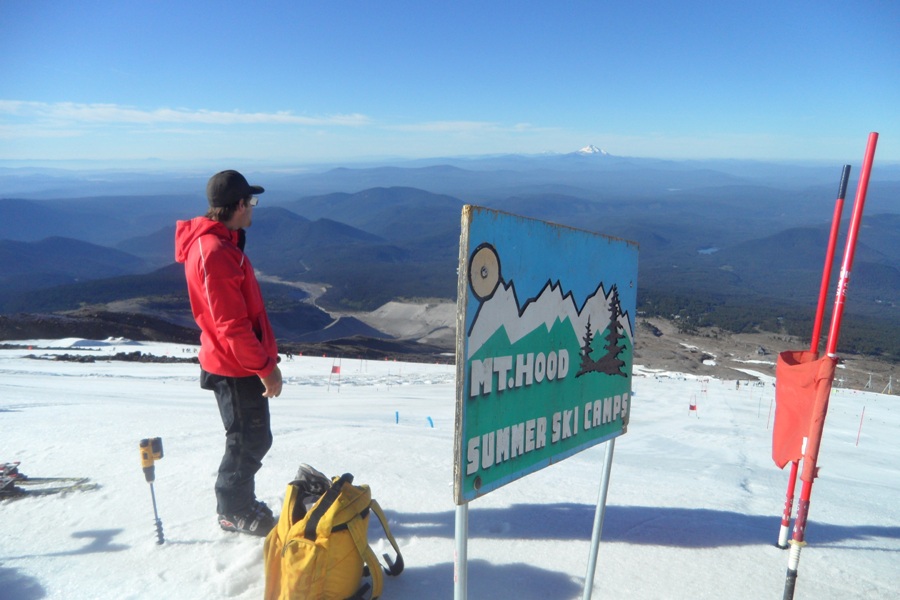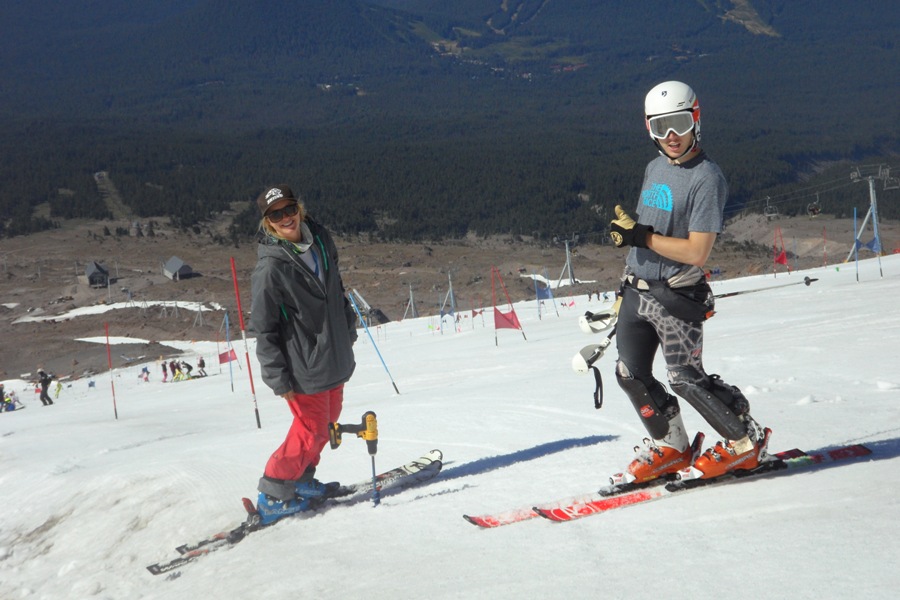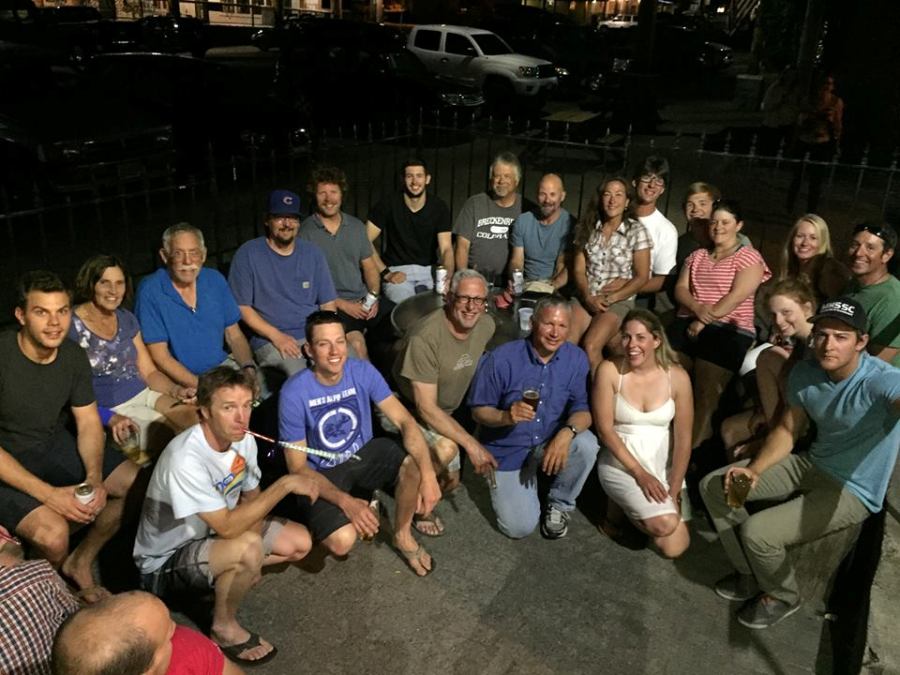 More session 6 photos here
Session 7, 2015 update
Here's what happened this past session.......It rained on Thursday......Hallelujah! It started raining near the end of the ski day, as many were either downloading the magic mile or walking to their cars in the parking lot. Was told later that the threat of lightning caused Timberline to evacuate the general public (foot passengers) that rode the magic mile. Early in the week, Nolan Willard was going around telling lots of people that Timberline was going to close for the year on "Sunday". That would be today. Uh.......false. I think he was just going for shock value reactions. Truth be told, no closing date has been determined as of yet, although some people believe it has. July 23. July 28. July 31.......those dates are all trending in rumorville. Mark Archer wanted to bet me some beers on the closing date to be July 15. As you can see in the first photo, we are now walking onto the lift at midway palmer. The groomers stopped pushing snow on the ramp and they just let it go. Still decent snowpack on the snowfield itself.....just thin around the edges. And we can still ski down lower palmer within 100 yards of the loading ramp. From what I could tell, High Cascade and Windells camps have had to shut down their surface tows in their respective parks. Mike Annett was on the hill on Friday. He even helped shovel snow on the mogul jumps. A bear was skiing on Wednesday (see pic). I think his name was Ted. Minature golf was one of the afternoon activities offered on Thursday. Lift lines were INSANE on thursday and friday. Former staffers Jay Hey and Kevin McDevitt were on the hill this past week. I big dead tree fell over onto the right lane of highway 26 near Rhododendron on the way to the picnic. The camp bus, driven by BeckyAurora Thompson had driven past this about-to-fall tree by about 10 seconds. I, on the other hand, had only a few seconds to react to miss the tree, by swerving to the left lane. My heart was pounding out of my chest. Hug your children......Possible rain this coming week. When "they" say 20 to 30% chance of rain at mt hood, it usually turns out to be 100%....Makai Bradley coached racers at Timberline ski camp by day, mhssc counselor by night this past week. Bill Toney drove to the airport 3 times in one day.......or did that happen the session before? Anyway, it's a pretty impressive feat.
Session 8 has been declared "NICE CAMP!" Other's call it "nice week". Both of those are valid. Be super nice to each other this coming week! We moved up "nice week" this year because we felt like it! yay!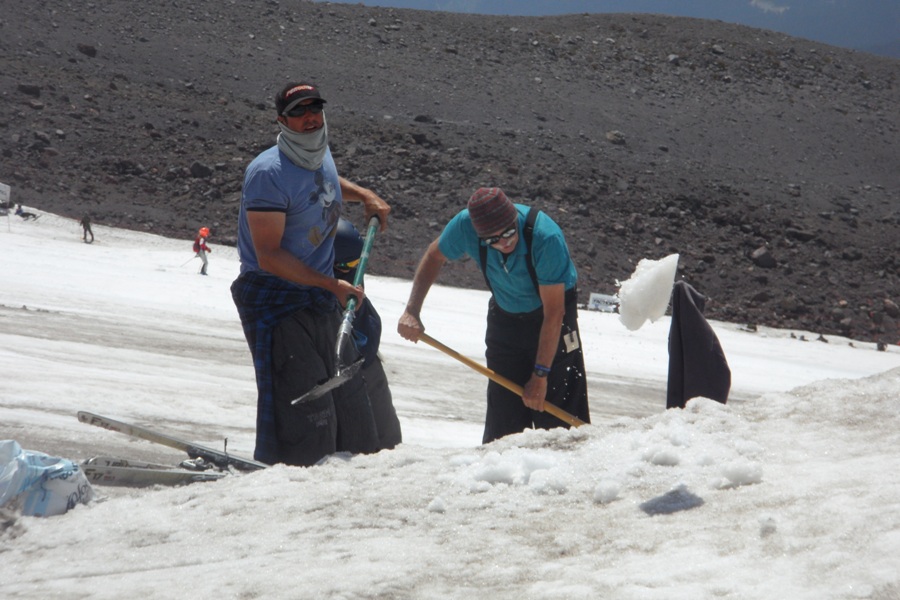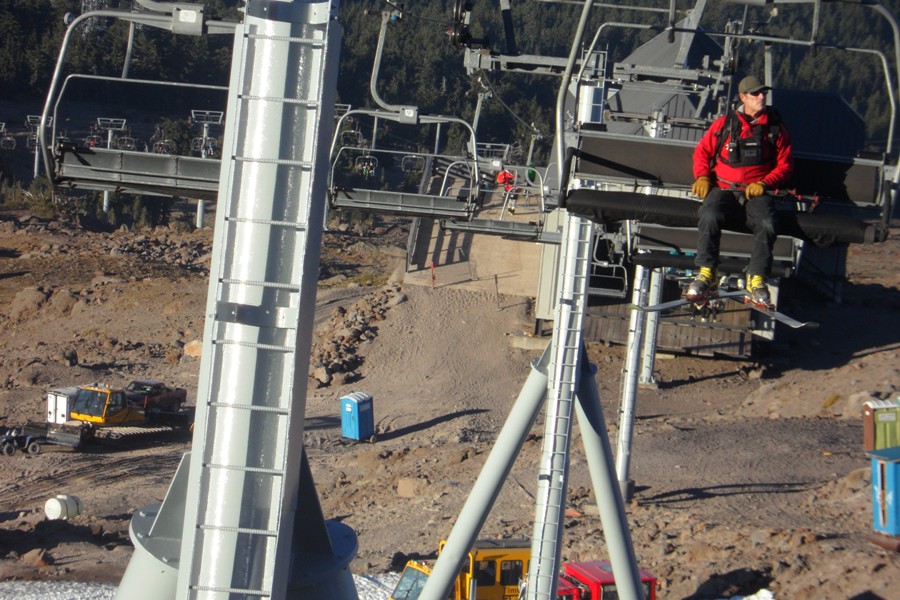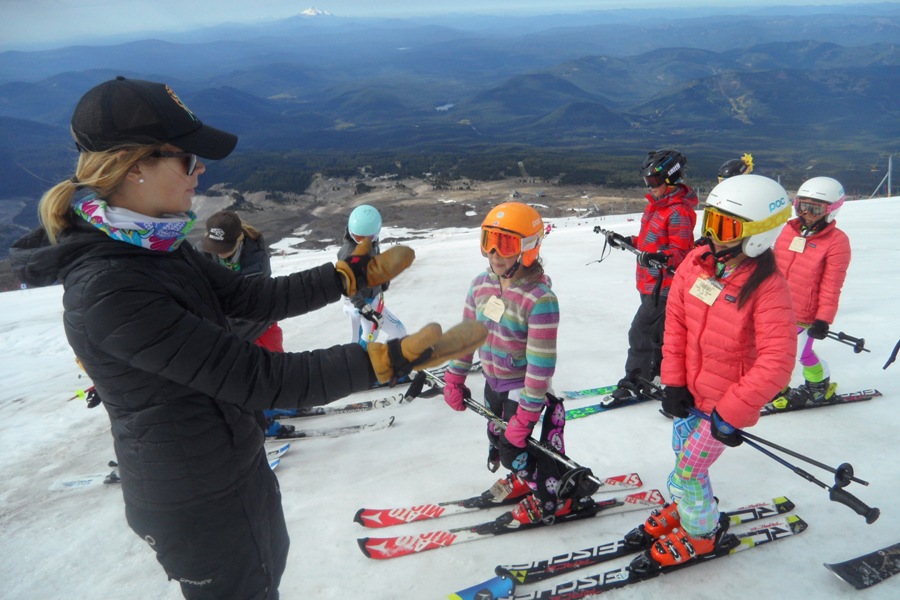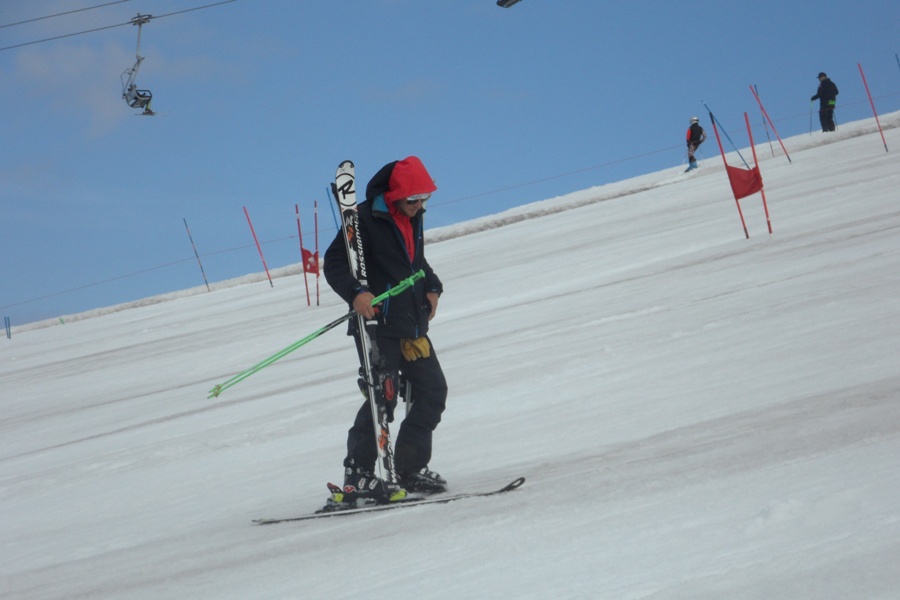 Former staffer, Kevin McDevitt (also coached Ted Ligety when he was at camp at age 10).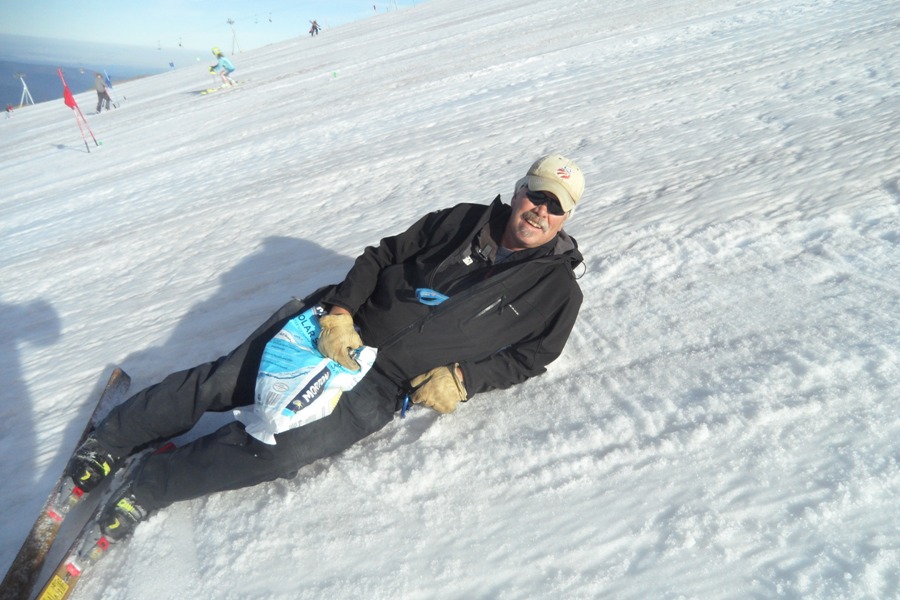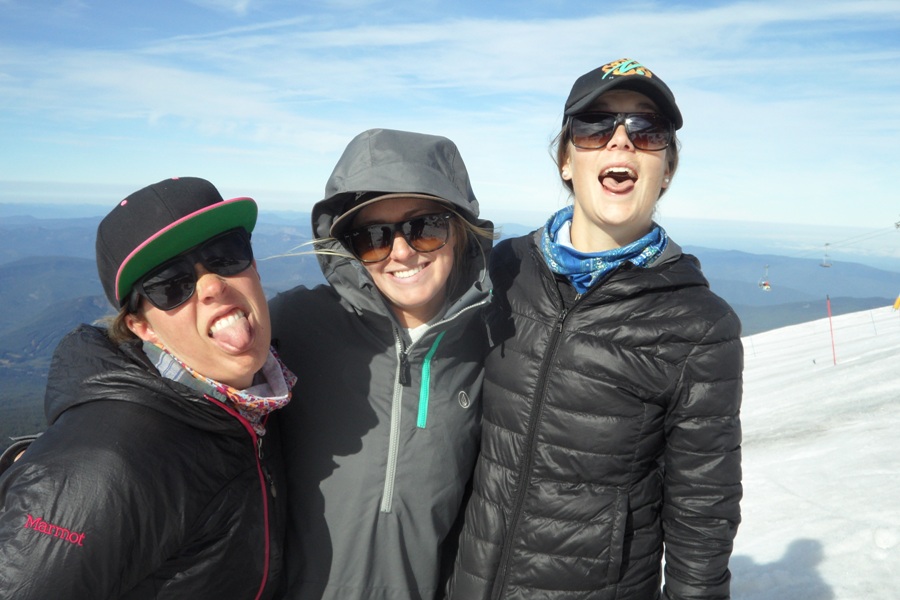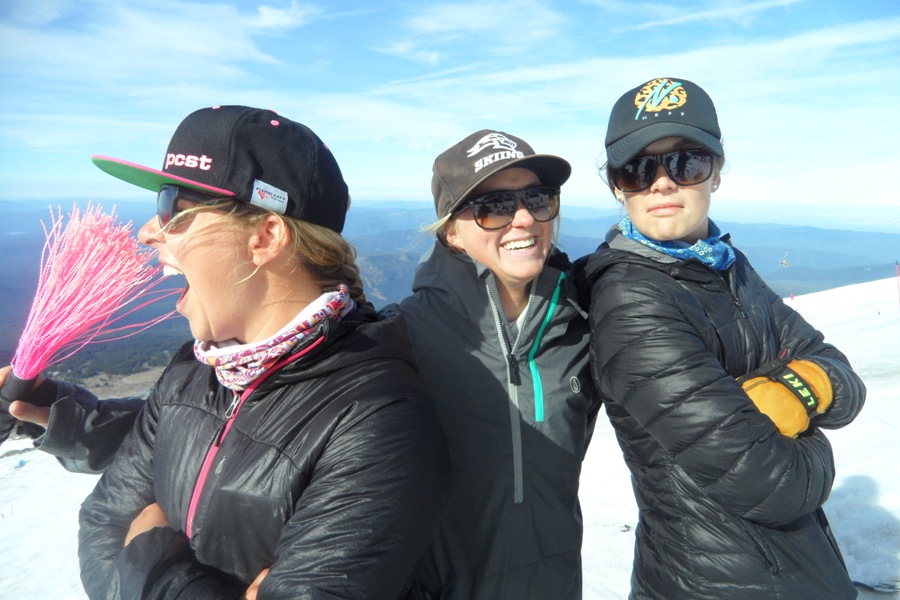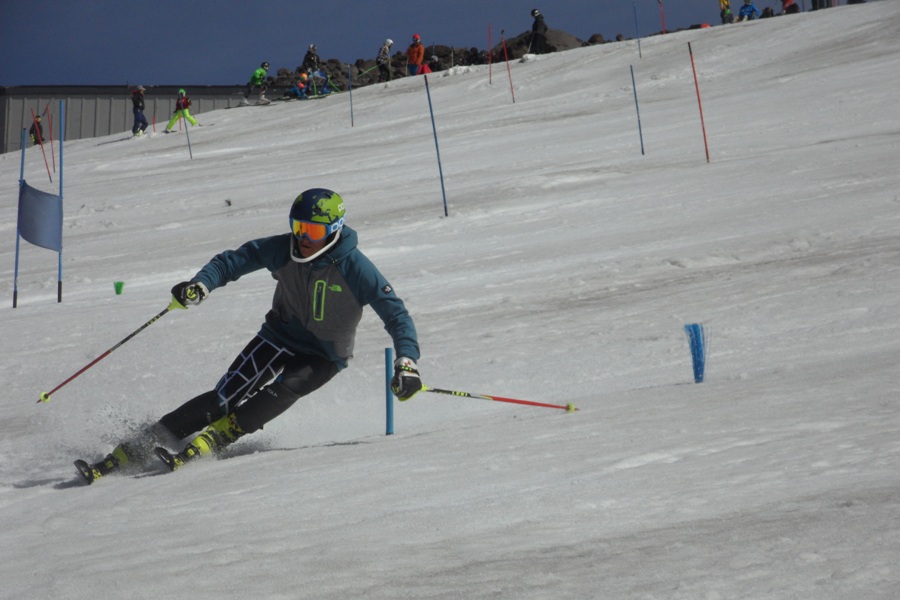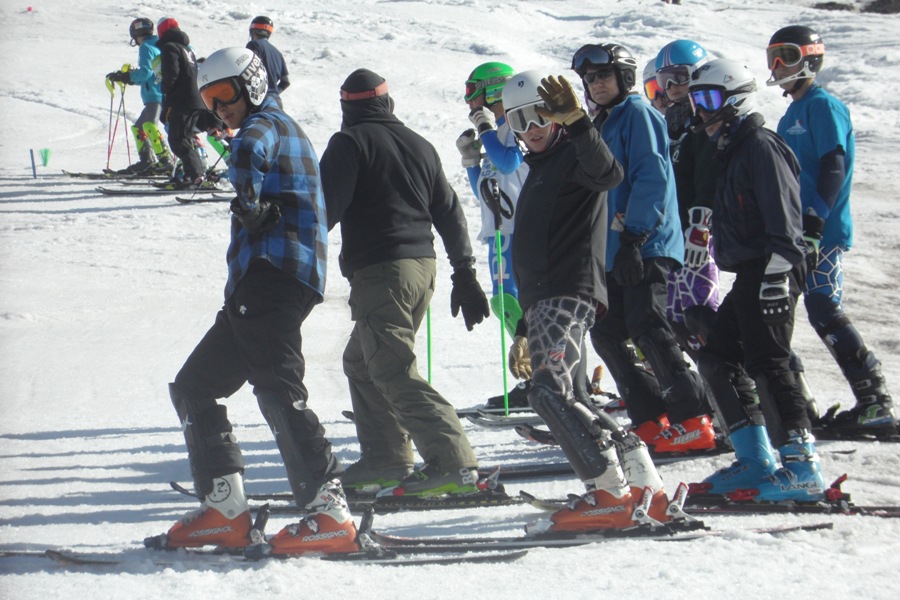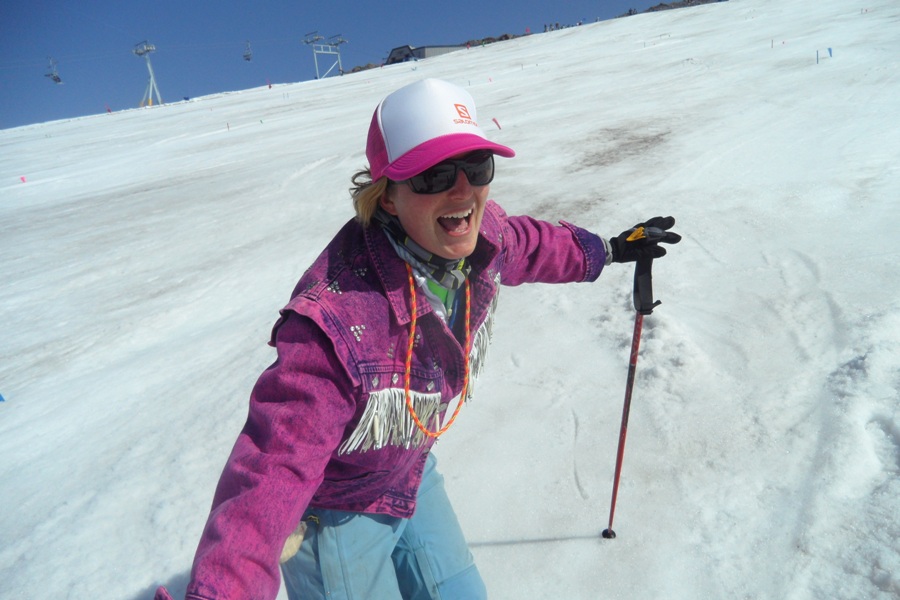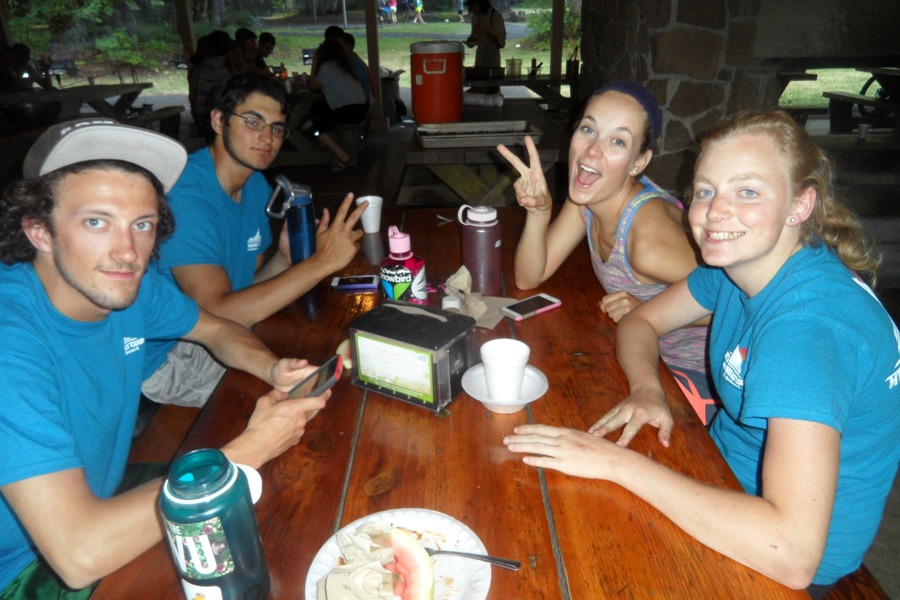 The tree that almost hit my car....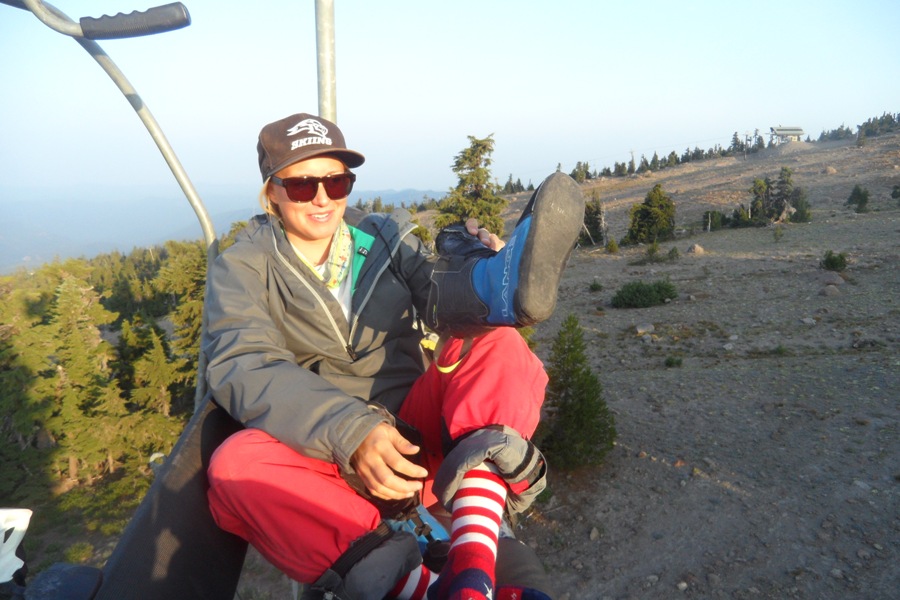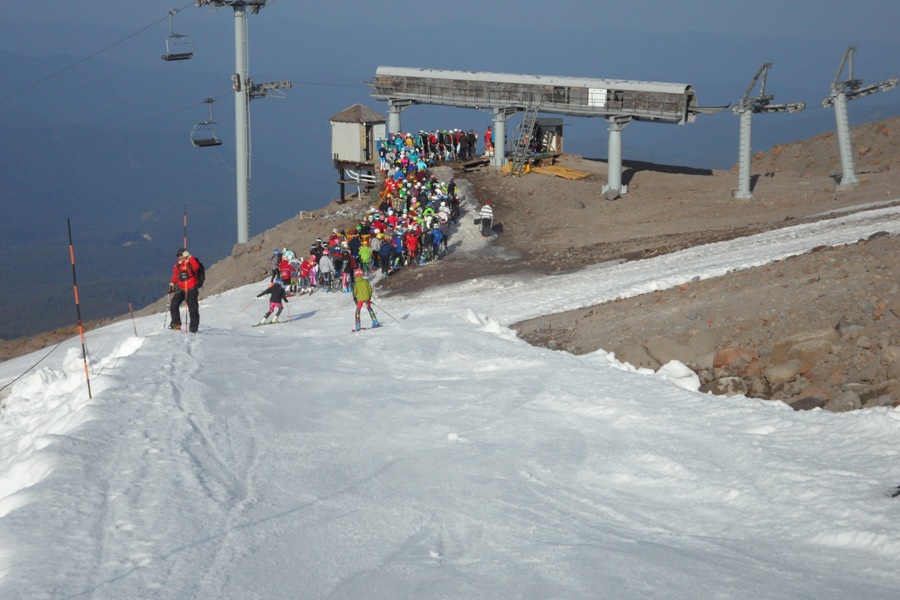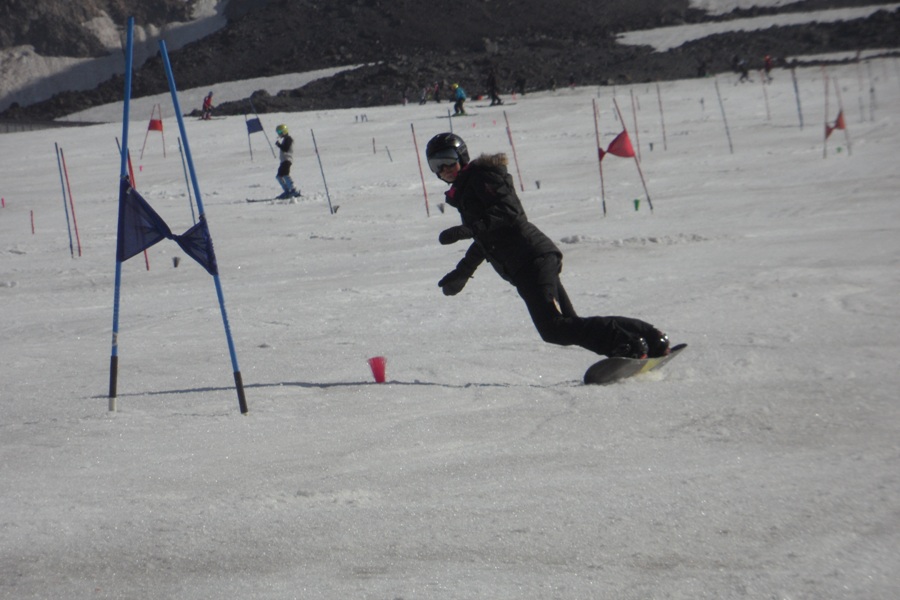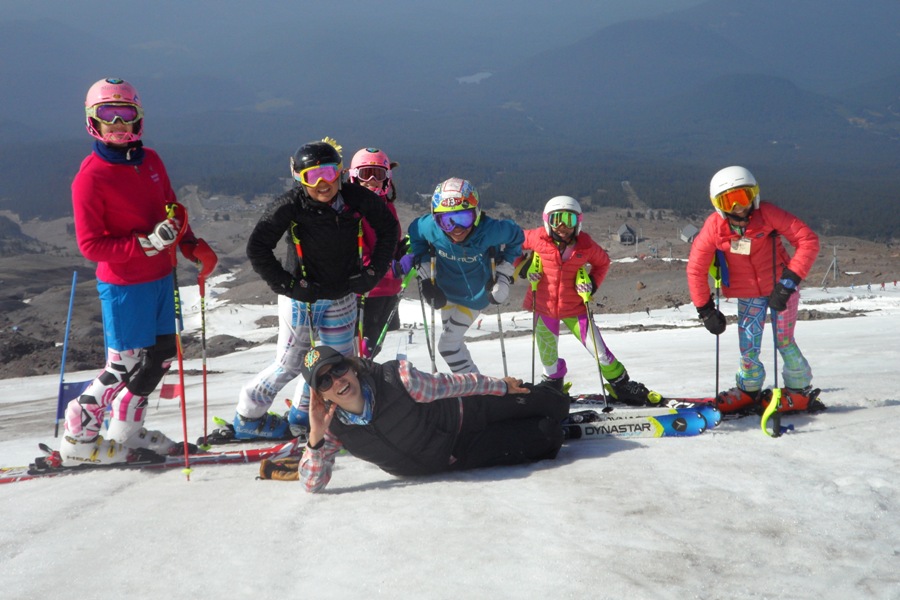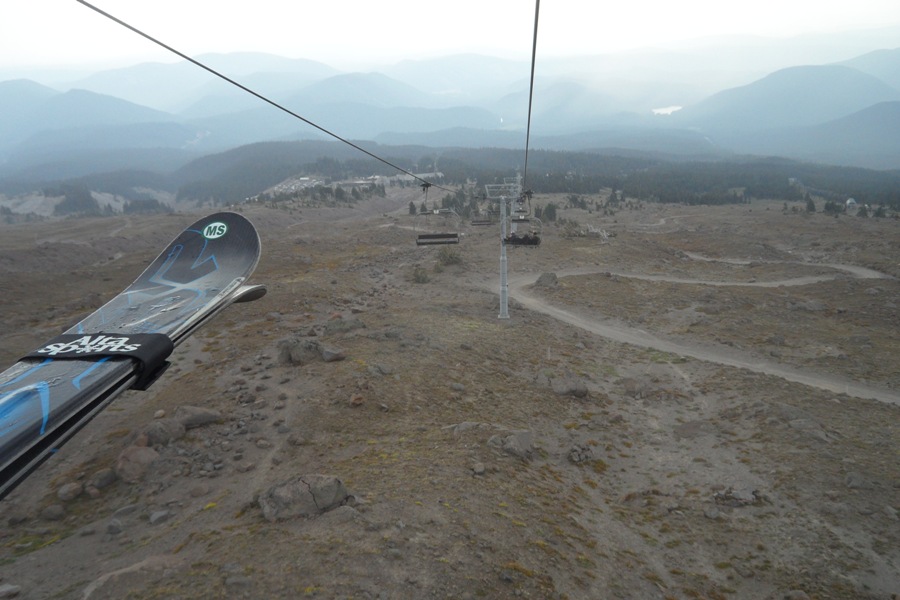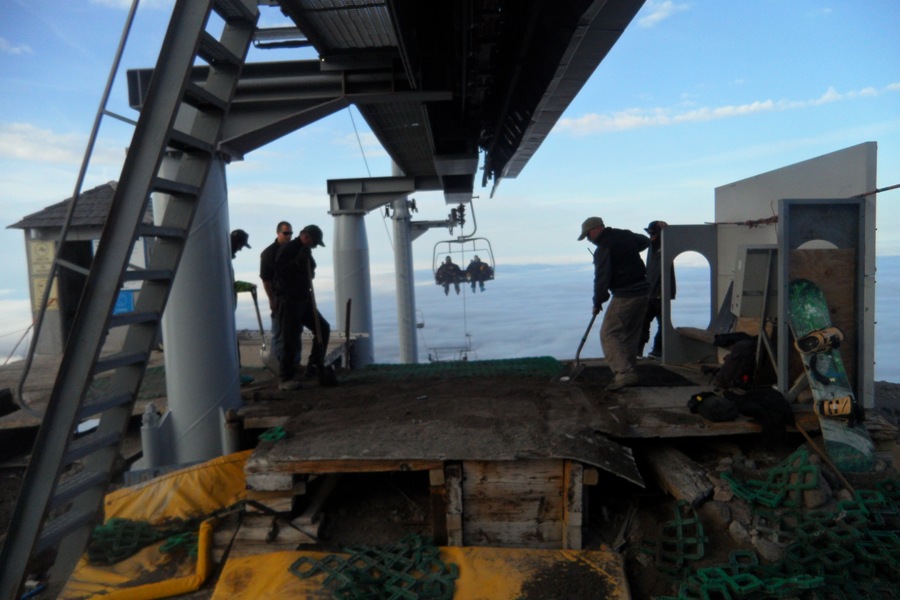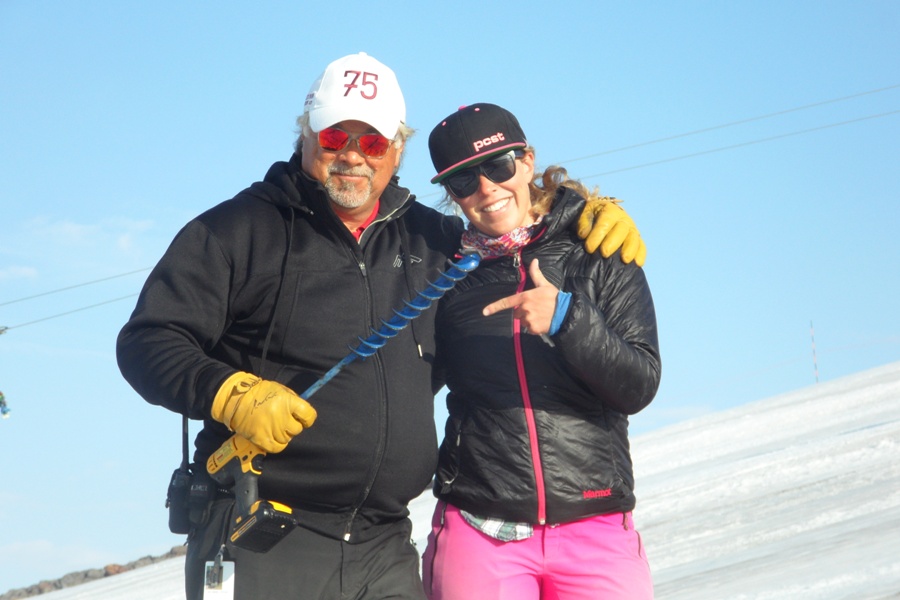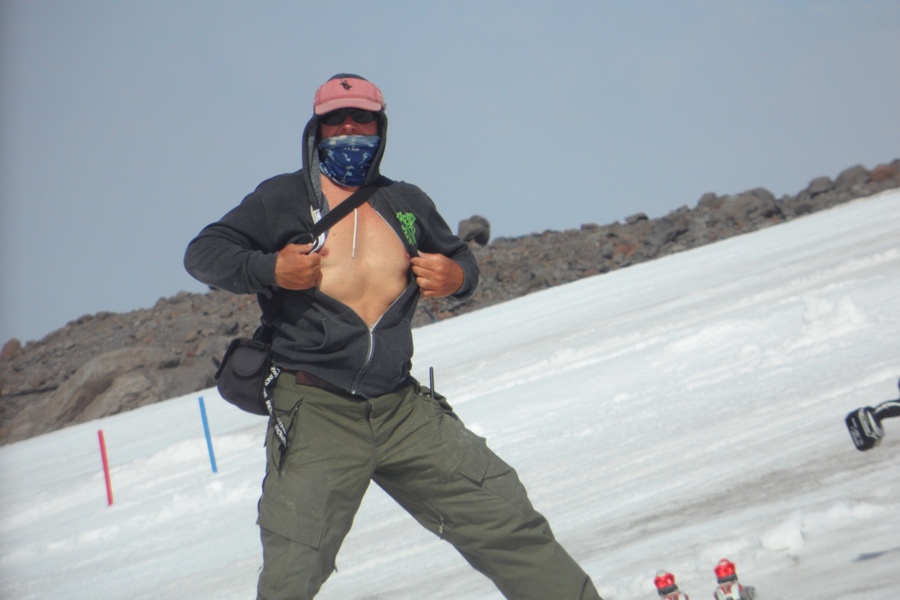 The photo below should give you a better idea of how long they can keep palmer running this summer. I took this photo on the last day of camp in 2005. The lifts actually closed on Wednesday, August 17 that year, but Mike hired a snowcat for the final 2 days of session 12 to wrap up the summer (only 4 campers!). We trained GS in the public lane/lane 1.
More session 7 photos can be seen here.
Session 8, 2015 update
Here's what happened during session 8.......it rained a little bit on Monday on the hill. Timberline made it past Mark Archer's prediction from about 2 weeks ago, saying: "the mountain will close on July 16". Nice week? Let's just say that there was some successes and some failures in regard to this years' nice week. Reid Lambres did a backflip, which you can see here. Patrick Foster did a front flip, which you can see here. Lift lines were super long on Friday. High Cascade built a terrain park near the bottom of lane 15 on upper palmer. Now that their park is located on the upper half of Palmer, those high cascade campers have become part of the lift line congestion at midway Palmer. There is also a mini public terrain park on the very top of Palmer west side. Just 3 or 4 features. They installed new carpet at palmer miday loading station, so we can, once again, put our skis on and ride the chairlift "normal" style (without carrying skis in hand). The mogul lane is quite dirty on the surface. Our race lanes now start about 50 yards below the usual top road of Palmer. Former staffer, Alexandra Andrews got married. And former staffer, Rogan Connell, had a baby, back on July 3. (see pics)
Other stuff happened at camp last week, but I forgot to jot stuff down and I'm coming up blank right now.......enjoy some photos.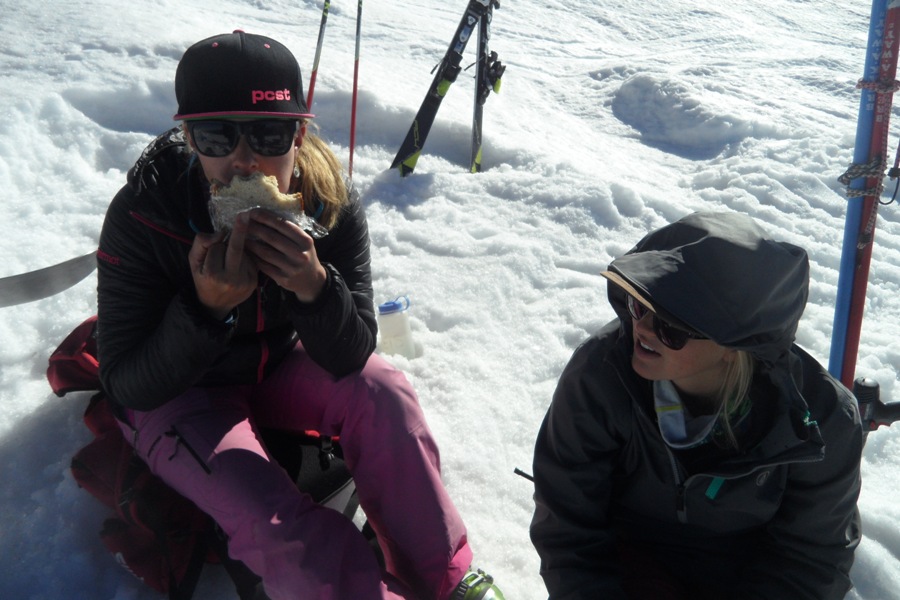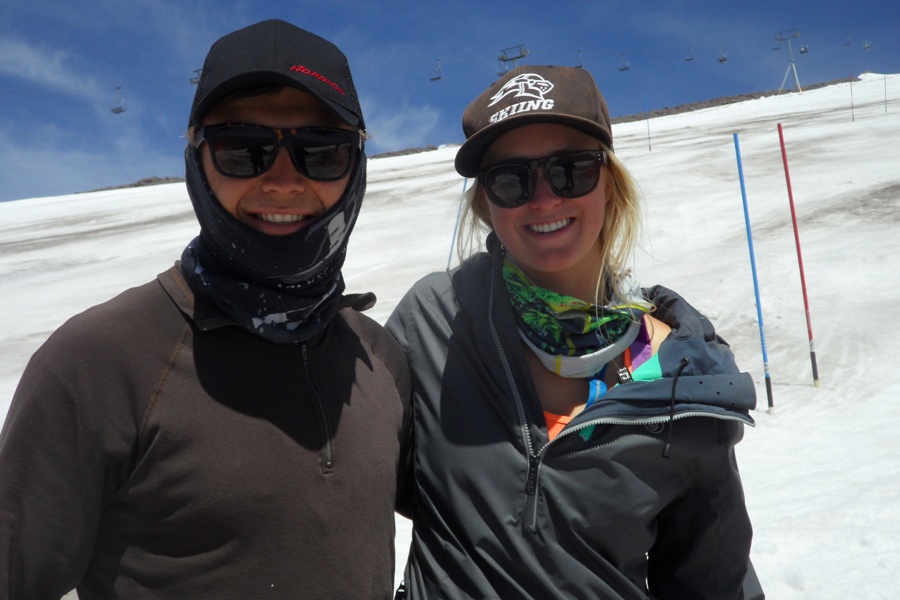 Lost Lake Butte hike: *photo by Lily Wolfe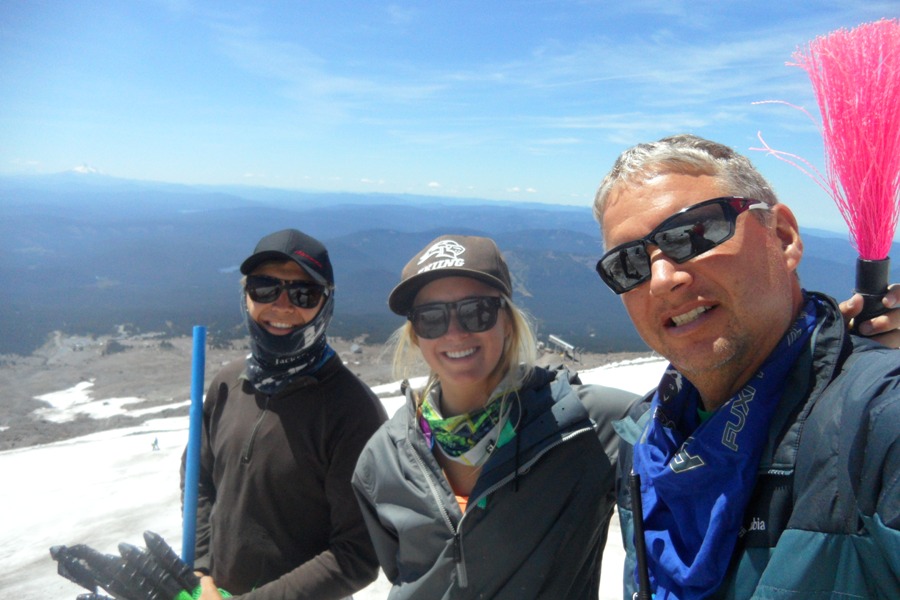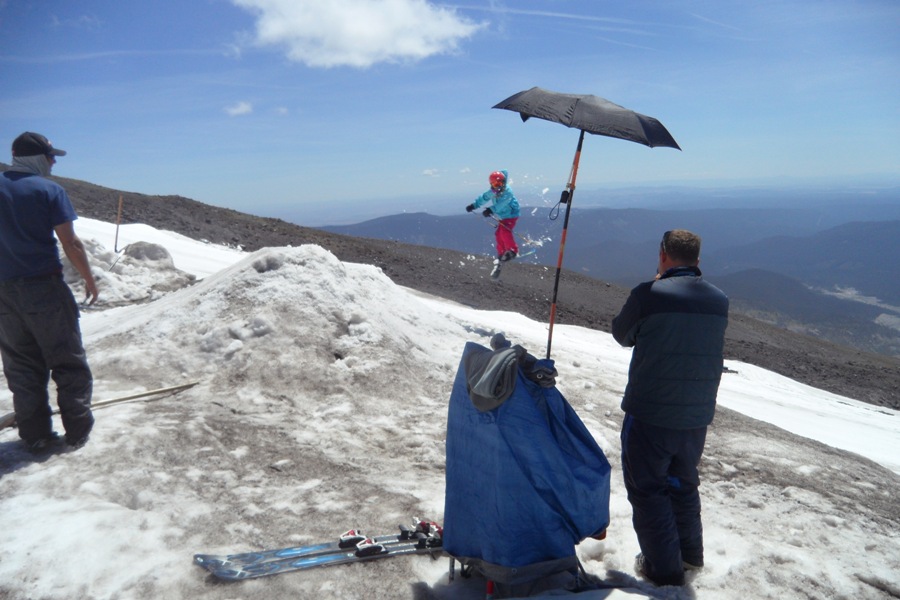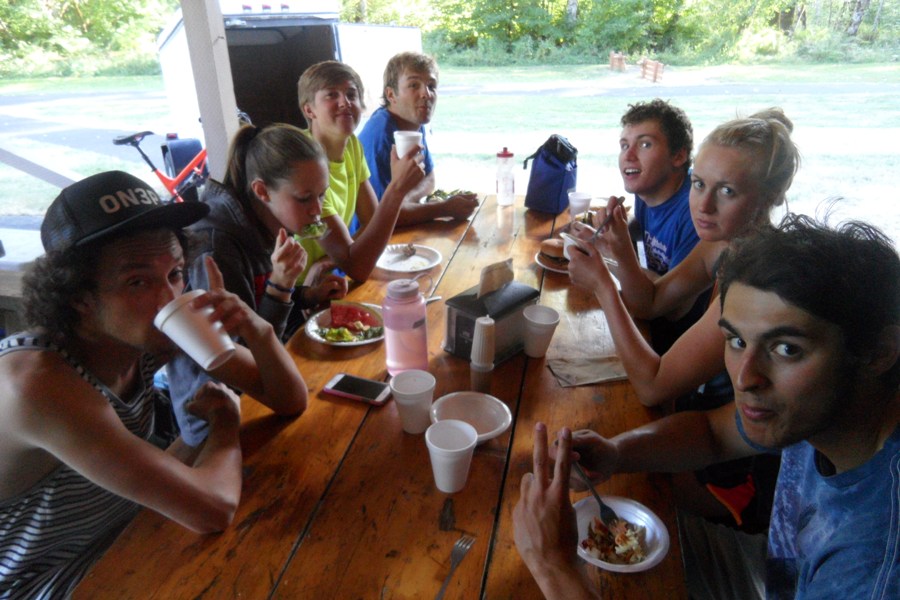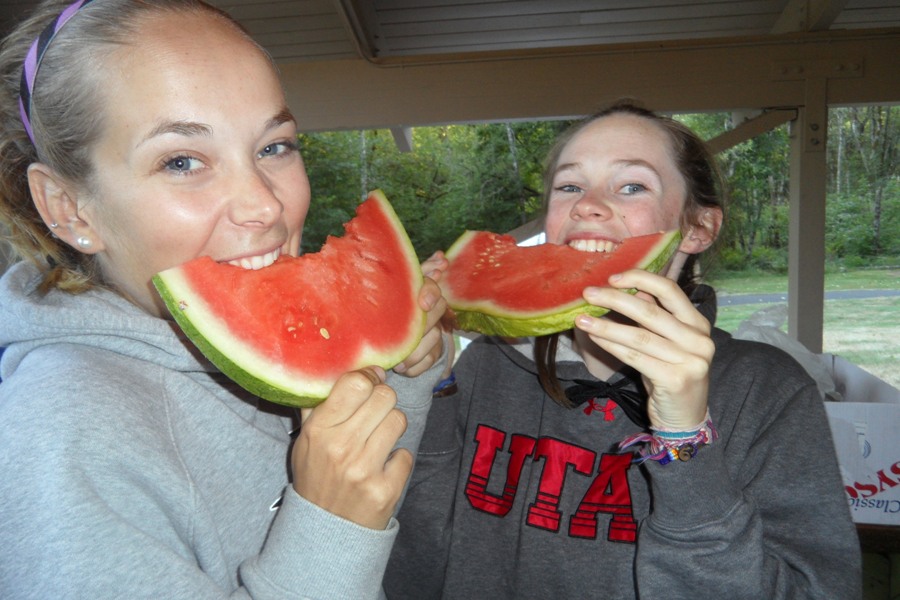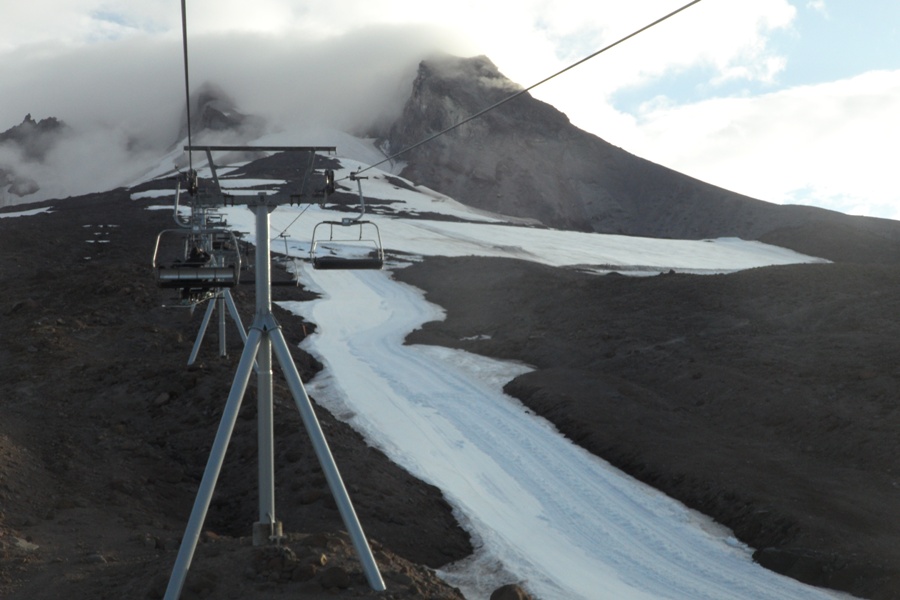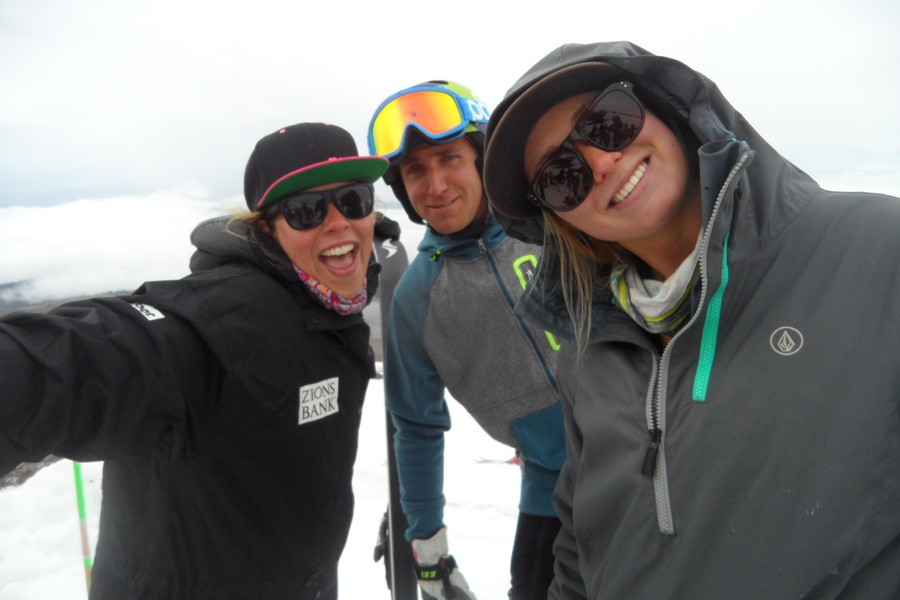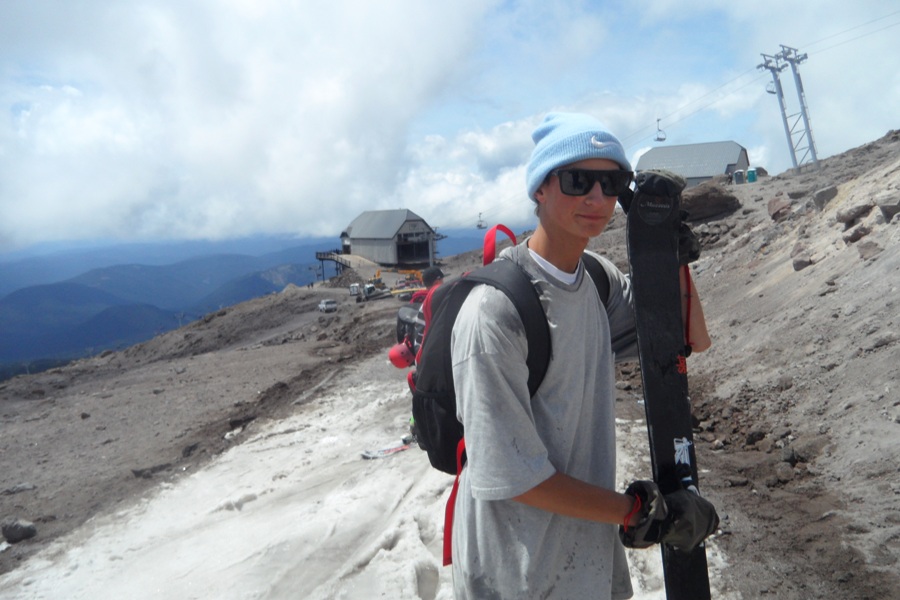 Can you see the smiley face below?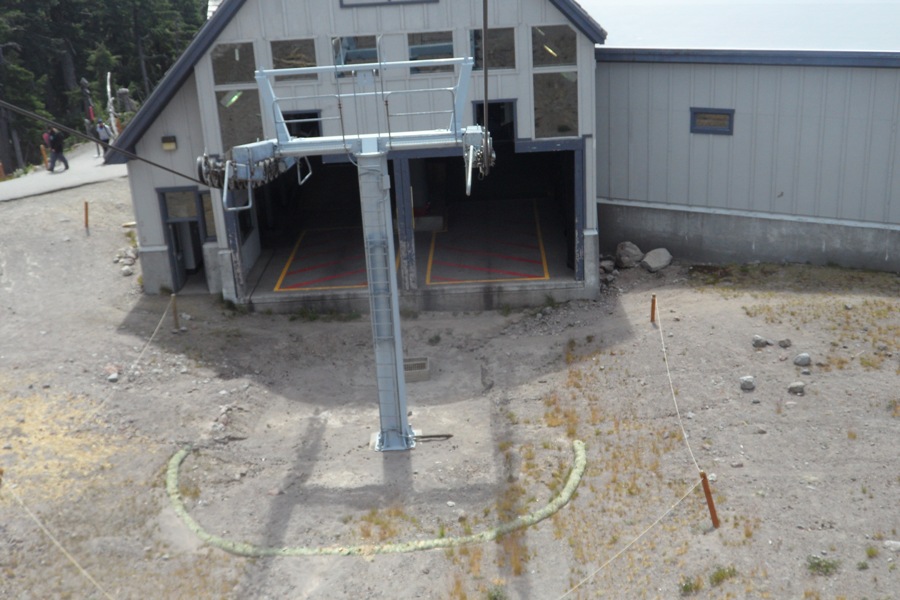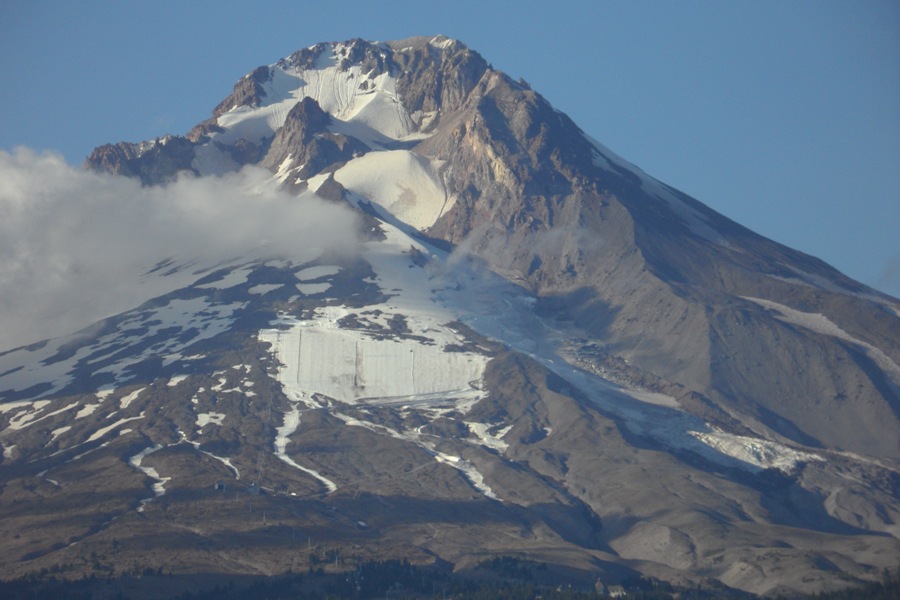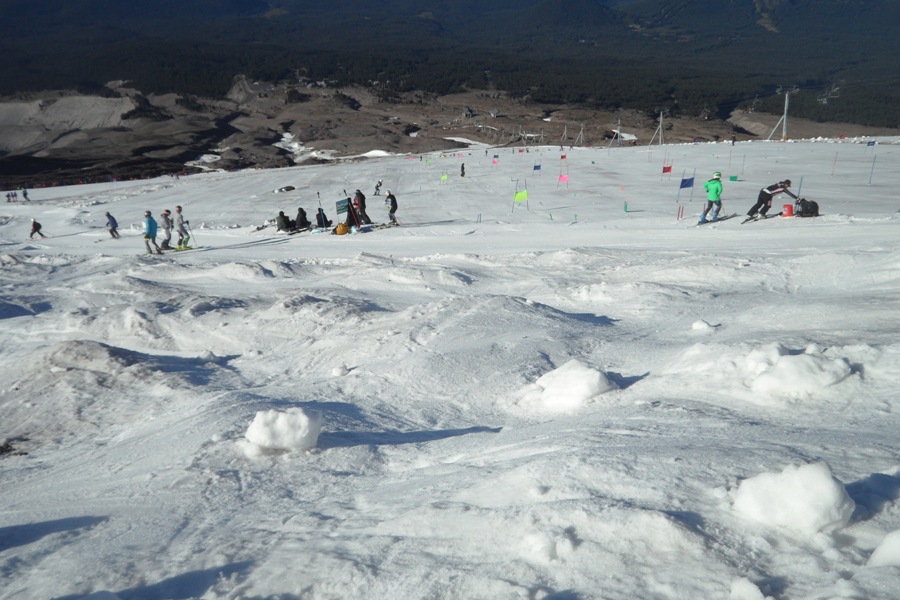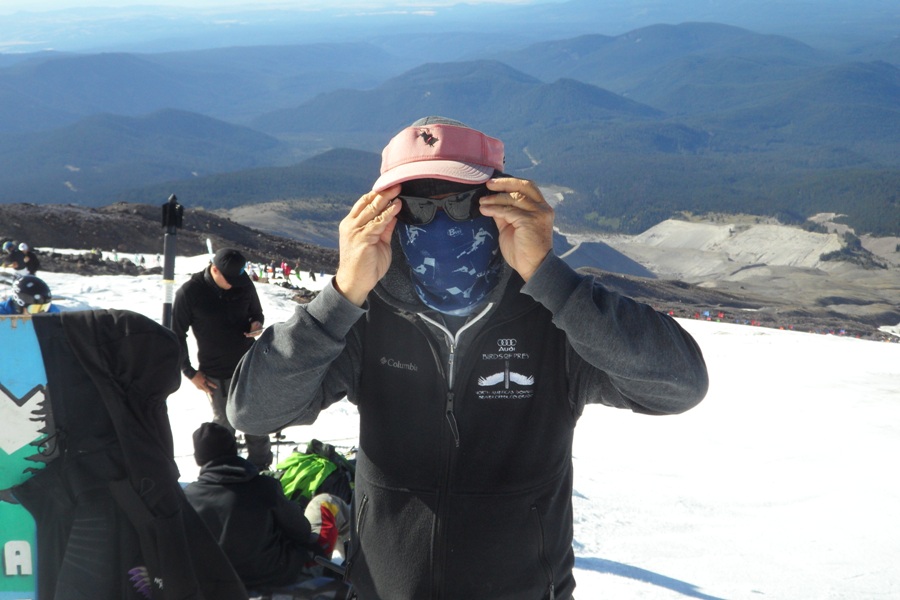 Alex Andrews practice wedding from camp picnic in 2006....
More session 8 photos can be seen here.
Session 9, 2015 update
Session 9 stuff: The alpine race groups used lanes 12 and 13 on Monday and Friday because our usual spot (lanes 5 and 6) were just too dirty to use. We had a 5 year old in camp. Not an ideal place for a 5 year old, but with the help of Courtney Troxell and Co., the 5 year old managed to ski all 5 days. Some of the girl campers were complaining about having no place to go to the bathroom up on Palmer......soooooo....Jackie Reis and Nicole Cordingley explained to these girls how to go to the bathroom up behind the rocks and still have privacy. Anyway.......one of the girls went POOP up in the rocks! .....and had no toilet paper.....omg. Some of the coaches are downloading Palmer at the end of the day. There's still snow down the lower palmer canyon to within 150 yards of the loading ramp, but it's getting a little narrow and sketchy. Darren Owen spotted some deer in Govy (see pics) He said he was within a few feet of one of them and they both stared at each other. I think Wednesday was the last day of our mhssc terrain park in operation for the summer. The number of camps on the hill is dwindling as we approach August. Becky Aurora Thompson celebrated her 25th birthday on Saturday. Timberline was closed on Saturday do to rain/low visibility (our day off anyway, so it didn't affect us). We've only had 2 rain days this whole summer.......back in Session 2. One of the timberline parking lot guys asked me when our last day of camp was. I said "August 14", and he laughed at me and said "no way". Reid Lambres, Quinn Bestwick and Nicole Cordingley got stung multiple times by bees/yellow jackets a week ago Friday, on their way down from hiking to the top of the hill above the camp lodge, after they watching the sunset. Willy Johnson hand delivered to me some giant cucumbers, giant zuchini and some Kale from his own garden last night. Anyone up for a juice party this coming week?
What's good at mt hood? Here's a July 24 written article about summer '15 from teton gravity research.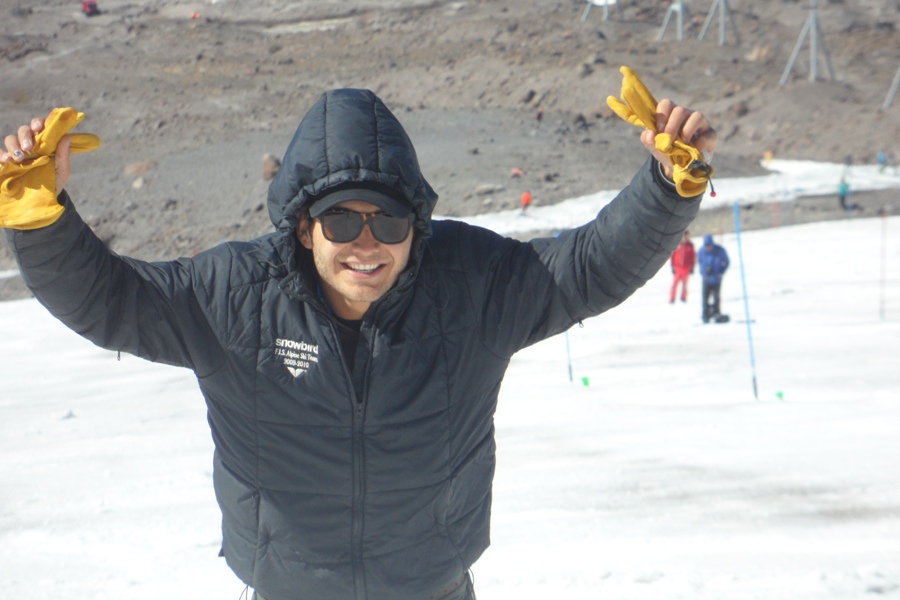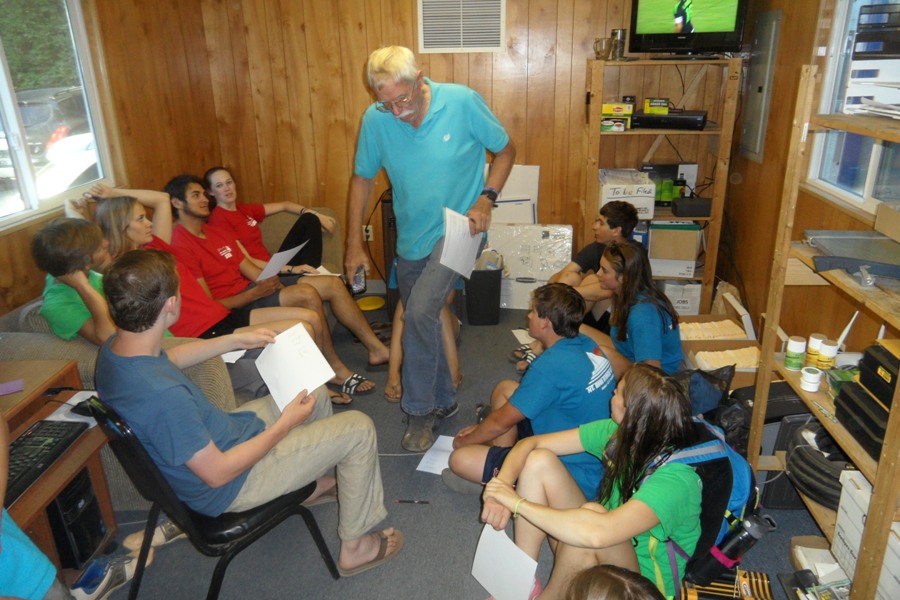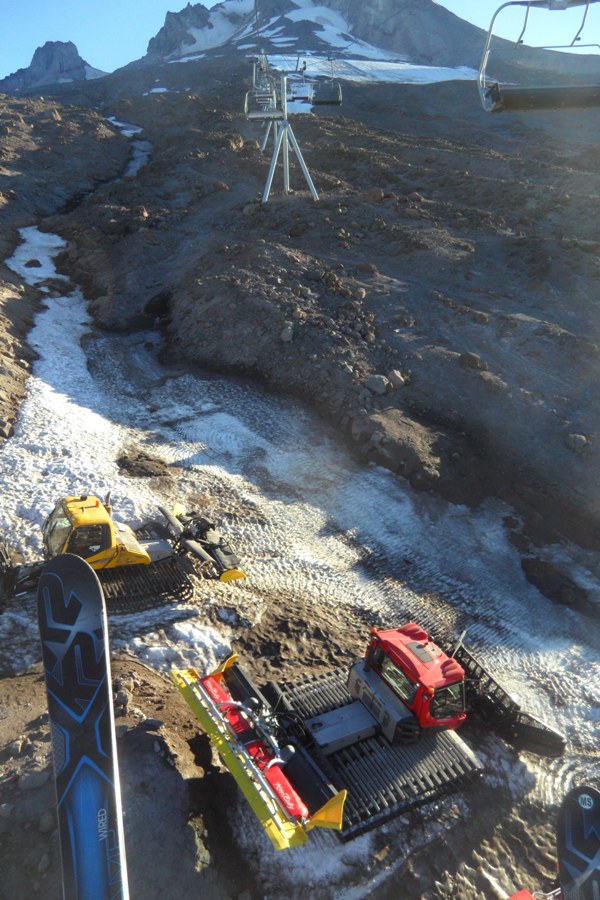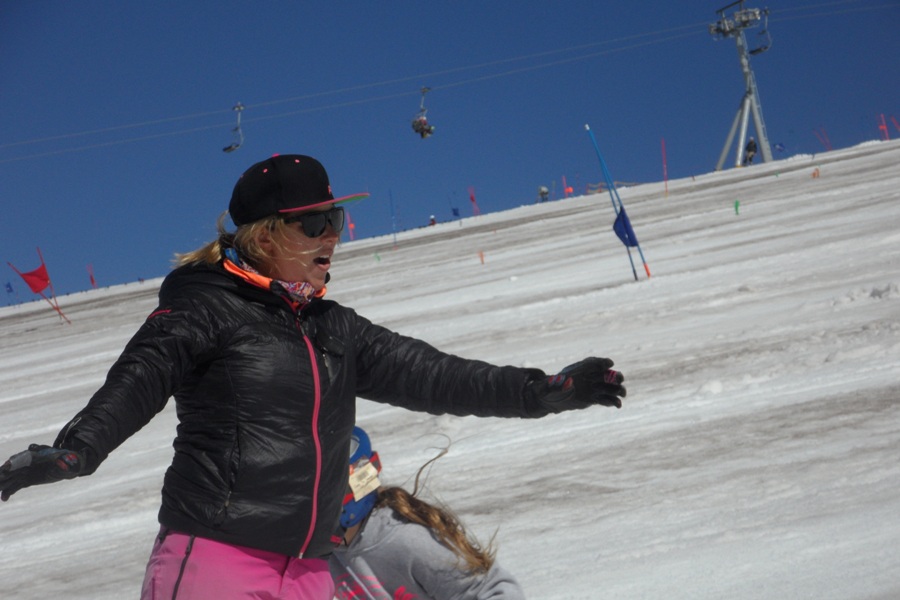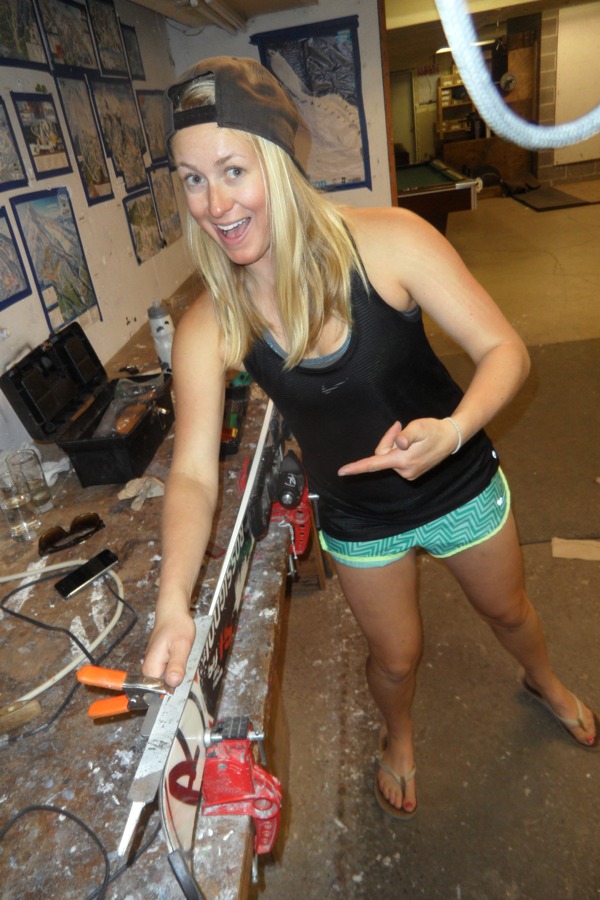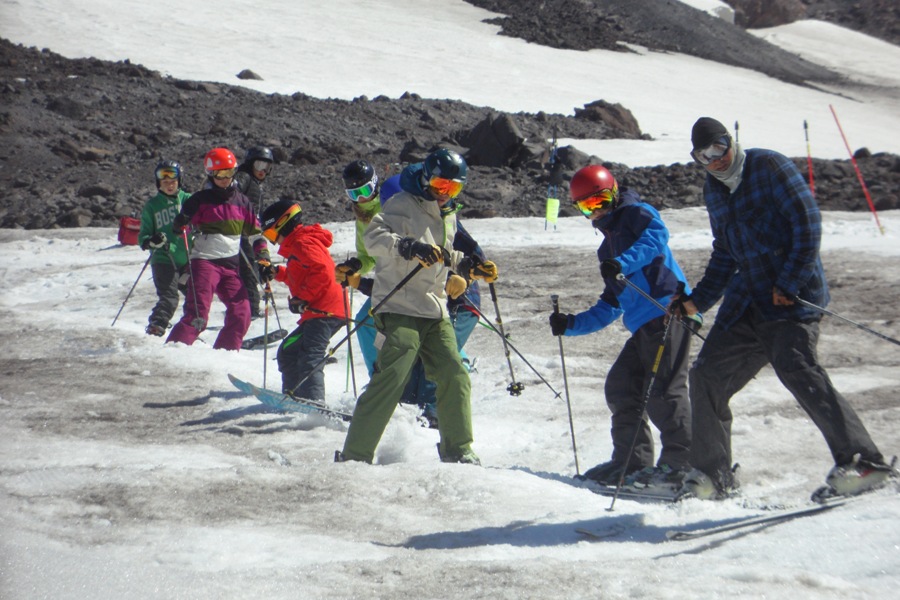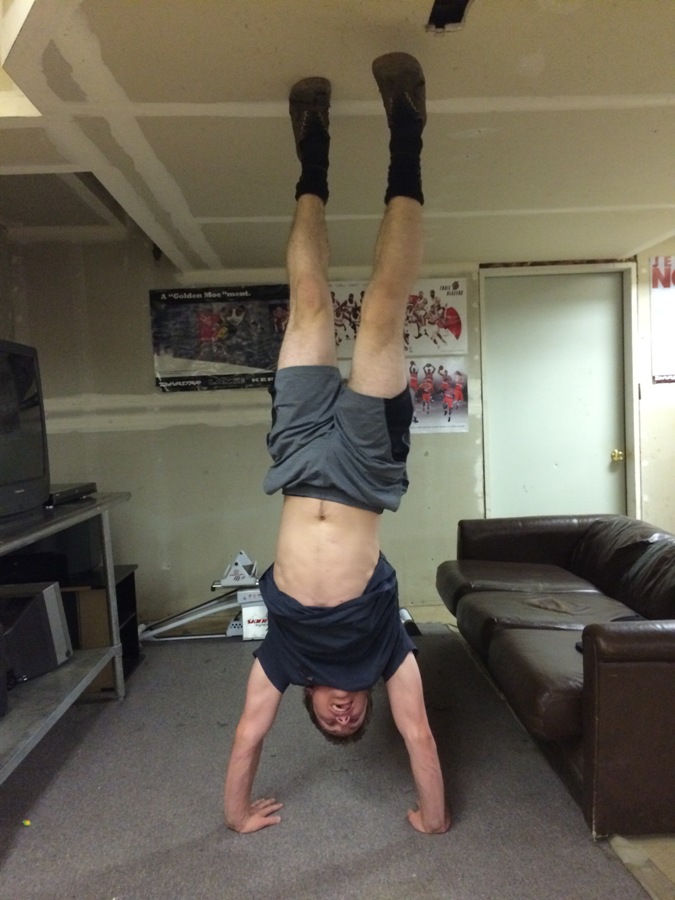 Ginger shots!! Recipe: Ginger, apple, lemon........juice all ingredients and then have a mouth explosion!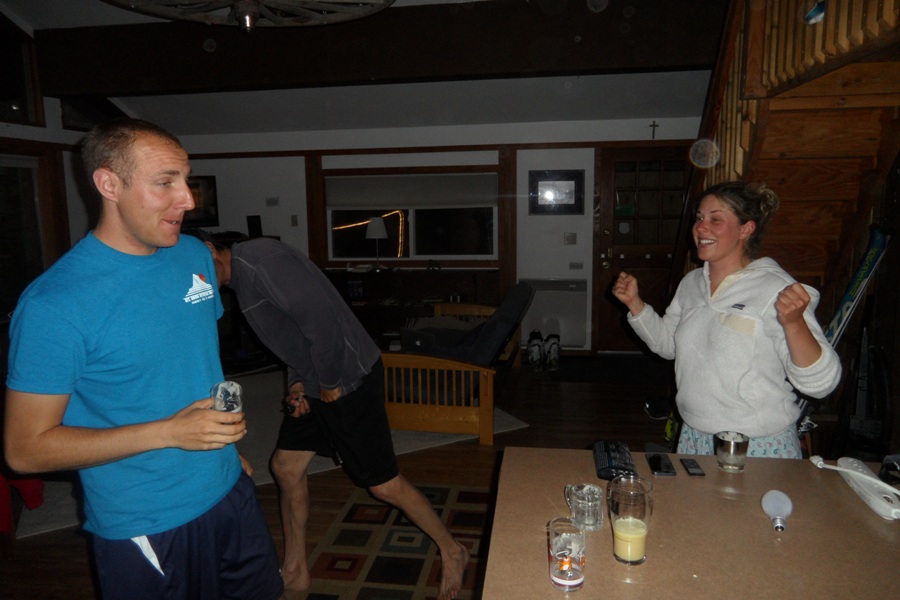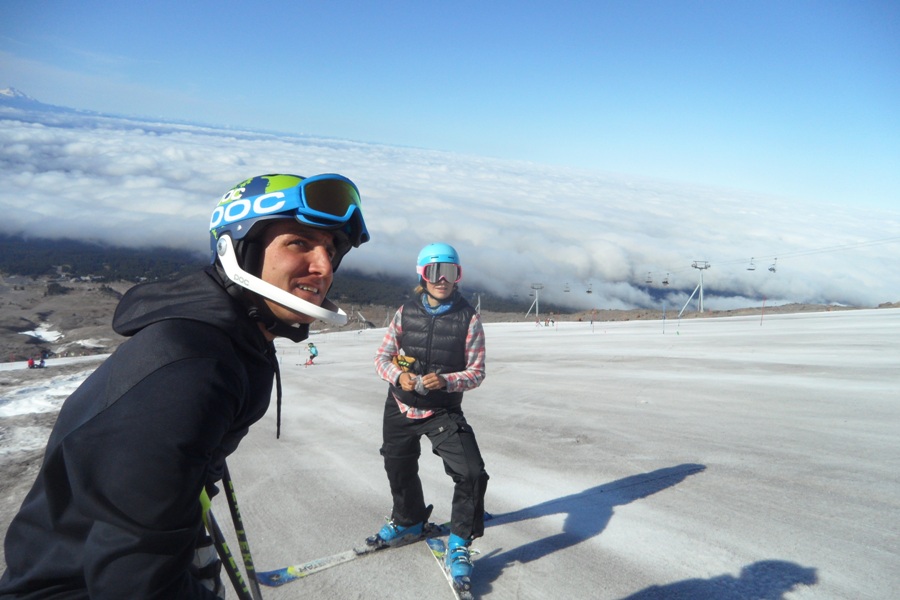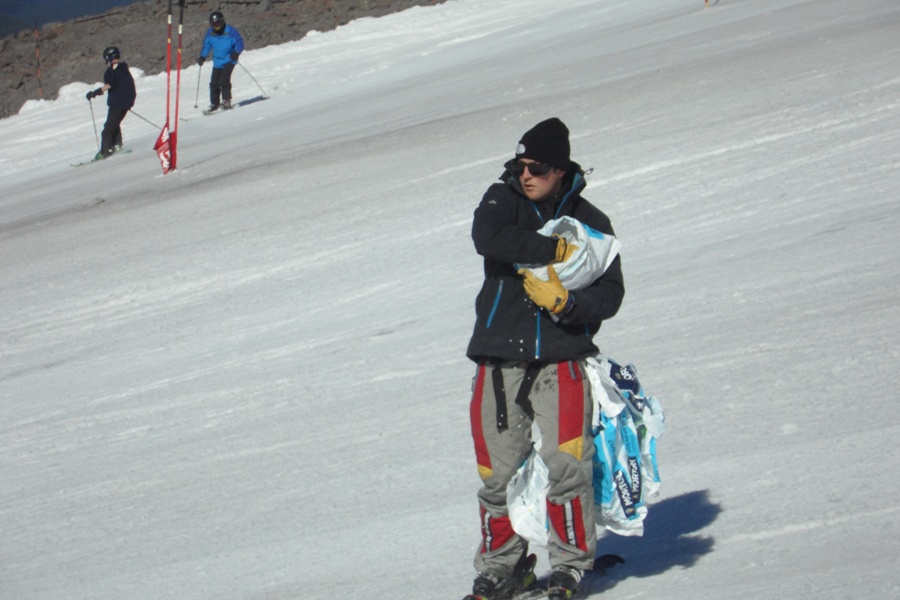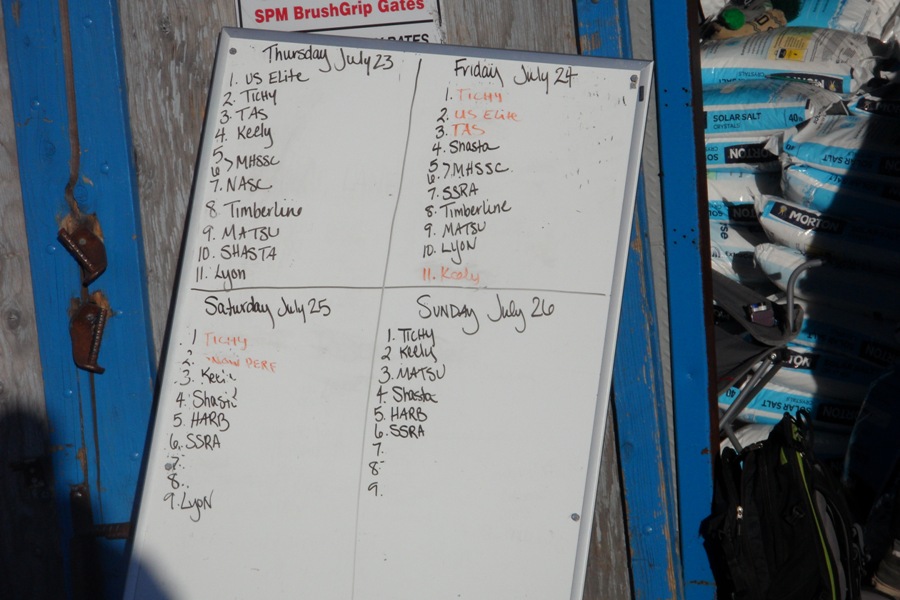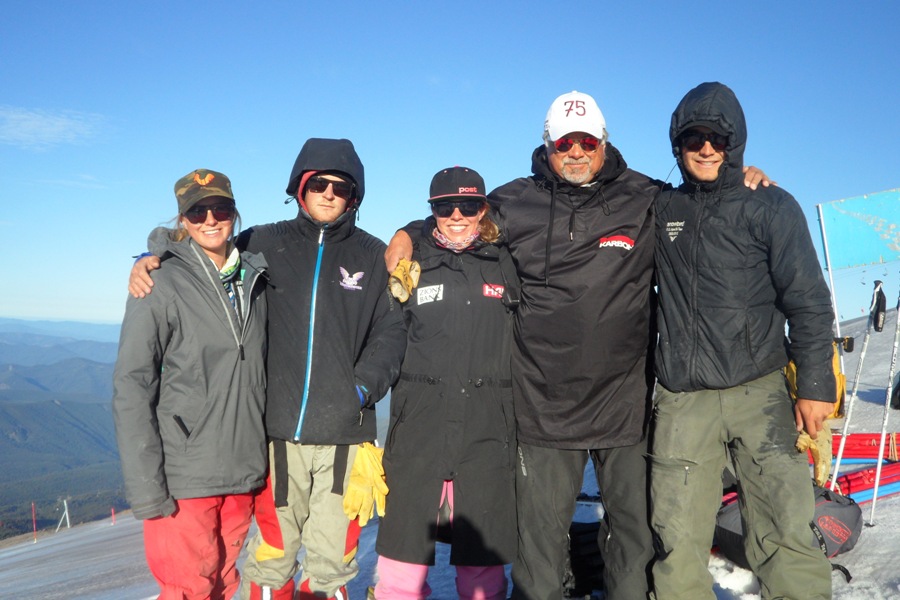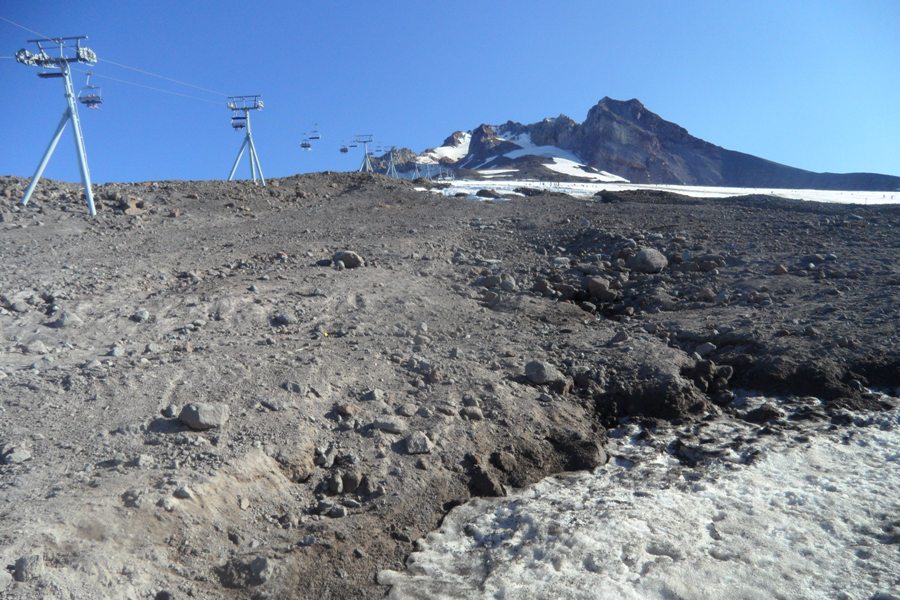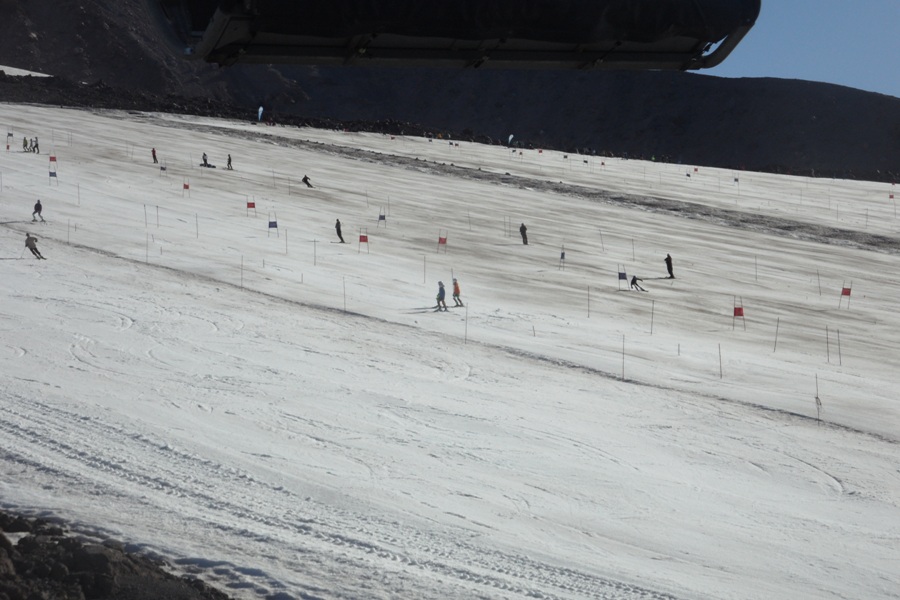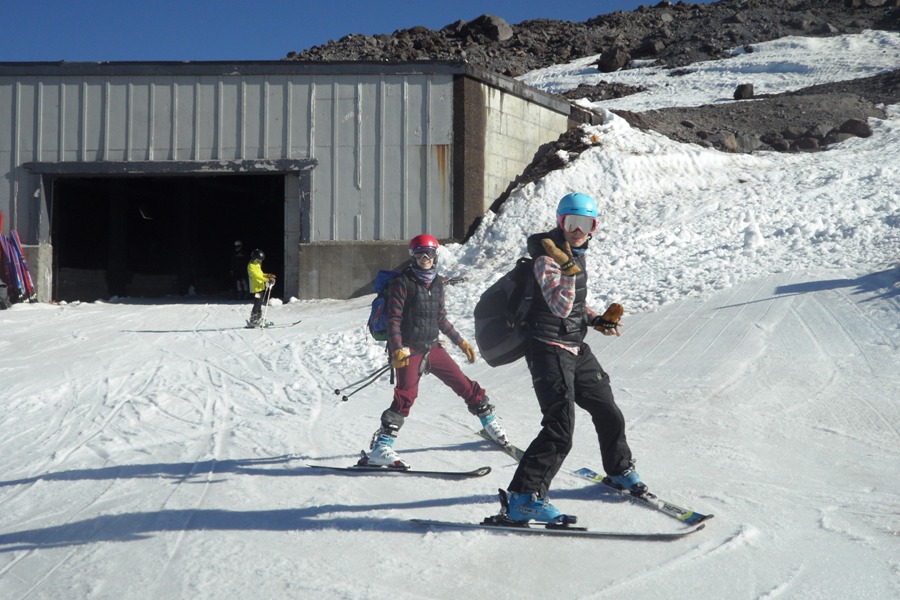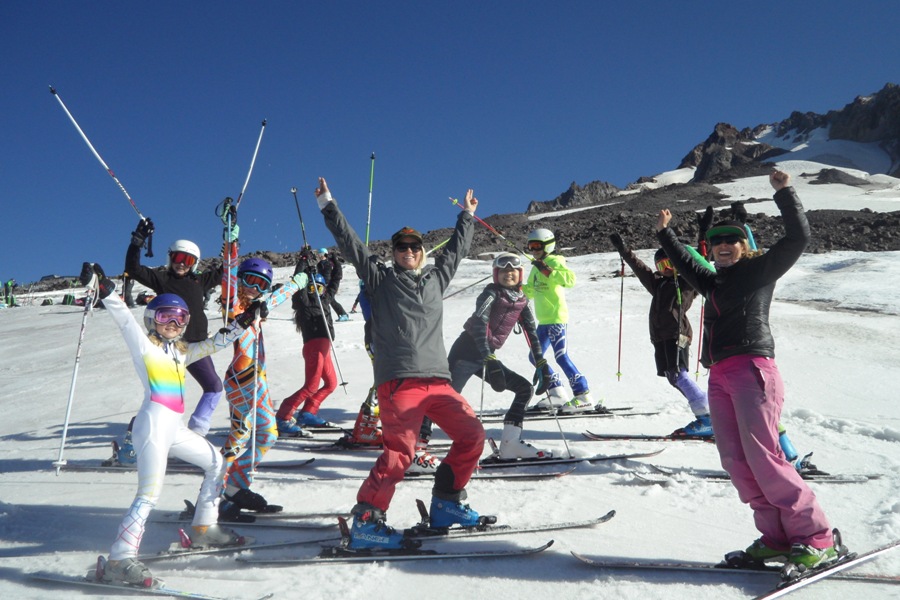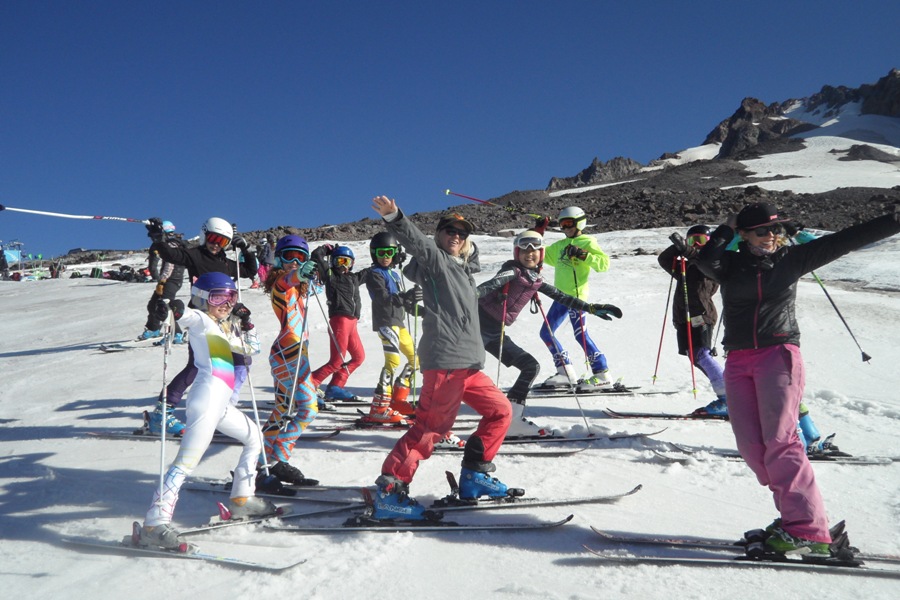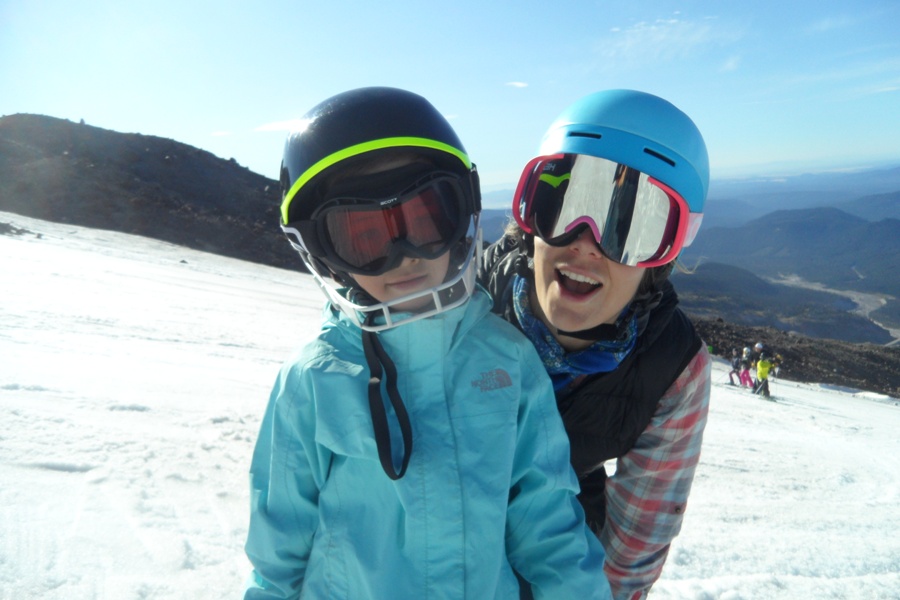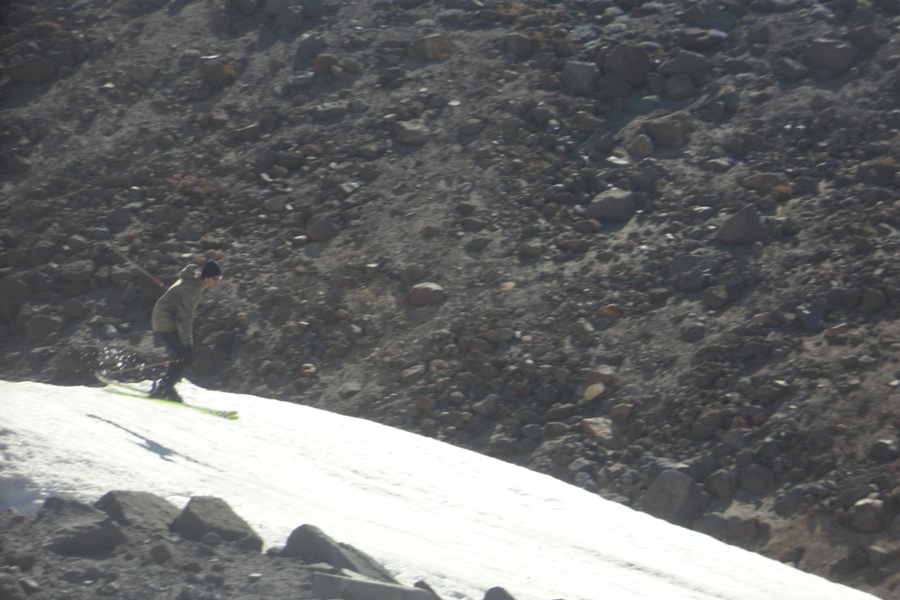 Drawing by Jackie Reis
More session 9 photos can be seen here.
Session 10, 2015 update
Here's what went down session 10: It snowed a little bit on Sunday night, so the glacier had a fresh coat of white on it on Monday morning. As you can see in the 2nd photo below, the groomers sacrificed lanes 5 and 6 to push snow onto the mid-way road on Palmer. Some freeskiers and snowboarders turned this newly created trench into a makeshift halfpipe. Somebody stole the bindings off of Mark Syrovatka's skis that he had stored underneath the magic mile top terminal. WTF! Rebecca Rist went to Charlie's bar after the camp picnic on Wednesday. Although she turned 21 last September, this was her first trip to any bar EVER. Leo Povolotskiy broke his ski brake and had to go down early. He skied down the hill on one ski, while BeckyAurora Thompson carried his broken ski. Speaking of Leo, he and Nolan Trouve got matching haircuts (see pic). Mike Banser lost his MHSSC baseball cap in the Deschutes River on Thursday. We set dual GS on Friday, for the first time this summer. I highly recommend adding avacado to your picnic burger. So very delicious. The alpine racers trained on lane 10 on Monday, then lane 2 the rest of the week. The counselors took the stayover kids to the Oregon Coast Aquarium in Newport, Oregon on Saturday. There was a small mudflow near the bottom of lane 5 that flowed on top of the snow. There was lots of this type of phenomenon all over the palmer glacier in the bad snow year of 2005. Smith Rocks clmbing camp took place this past week, although I don't have any updates or photos about how it went. I do think it was probably very HOT out there in the desert.
Rumors have been at an all time high as far as when Timberline would close the chairlifts for the summer due to the dismal snowpack. On Friday, it was especially crazy. At around noon on Friday, Timberline let us know that they could stay open for our camp as well as Windells/High Cascade beyond August 2nd with a handful of conditions, including a shorter ski day (9am to 1pm), and the possibility of no more salt delivered to the top of Palmer (when we run out, that's it for the summer). Less than an hour later, Timberline retracted that offer and said the lifts were closing to EVERYBODY on Sunday, August 2!! You'll have to read next weeks' staff update to see what happened after that.
Media reports:
On July 30, Timberline lodge's website announced that they were shutting down the lifts to the public on August 2.
Powder Magazine wrote an article about the Dire times on Mt Hood which you can read here.
Shredhood wrote an article about Timberline's closing date, which you can read here. As of this writing, this article has alread been re-written 3 times due to the ever changing decisions that have been made these last 3-4 days about when Timberline would close the chairlifts for the summer.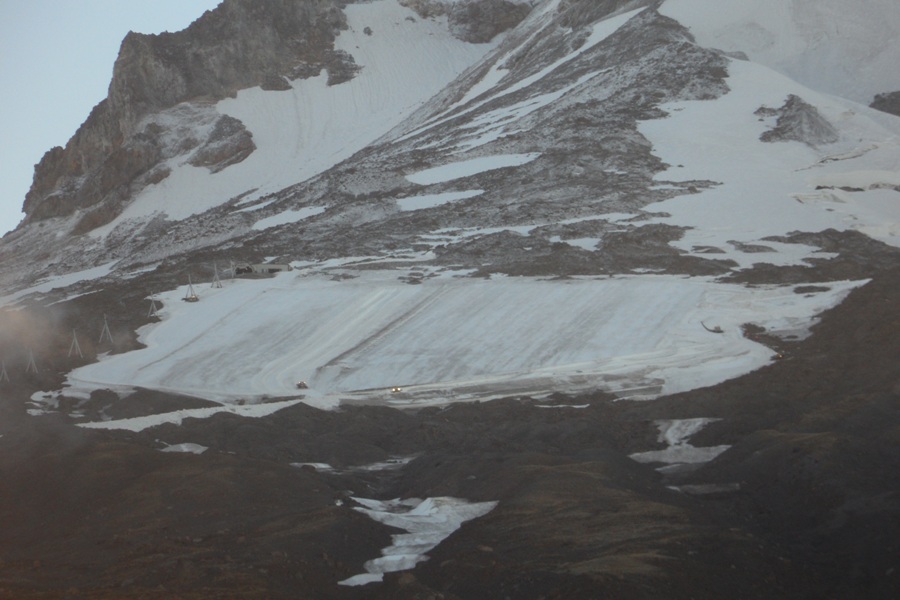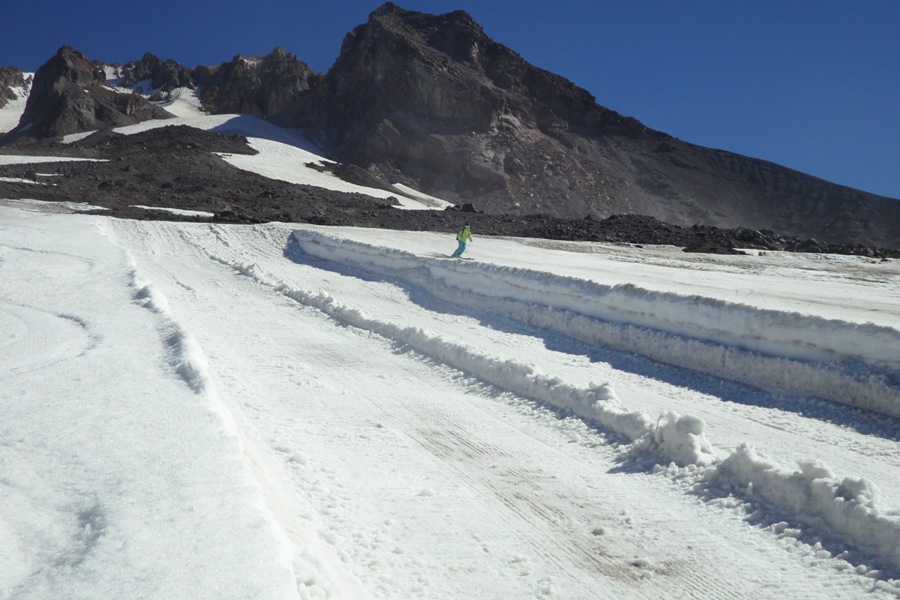 Mark Syrovatka's stolen bindings.....lame!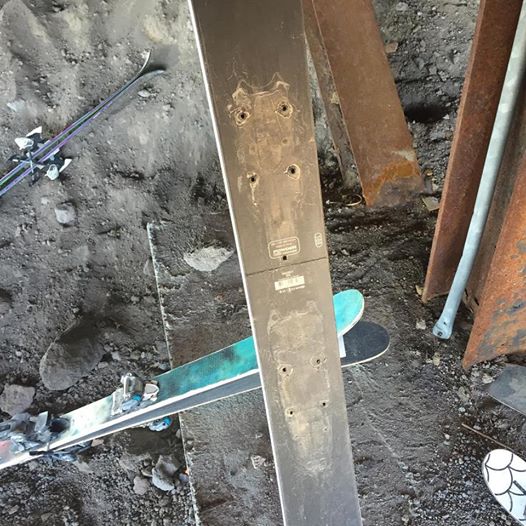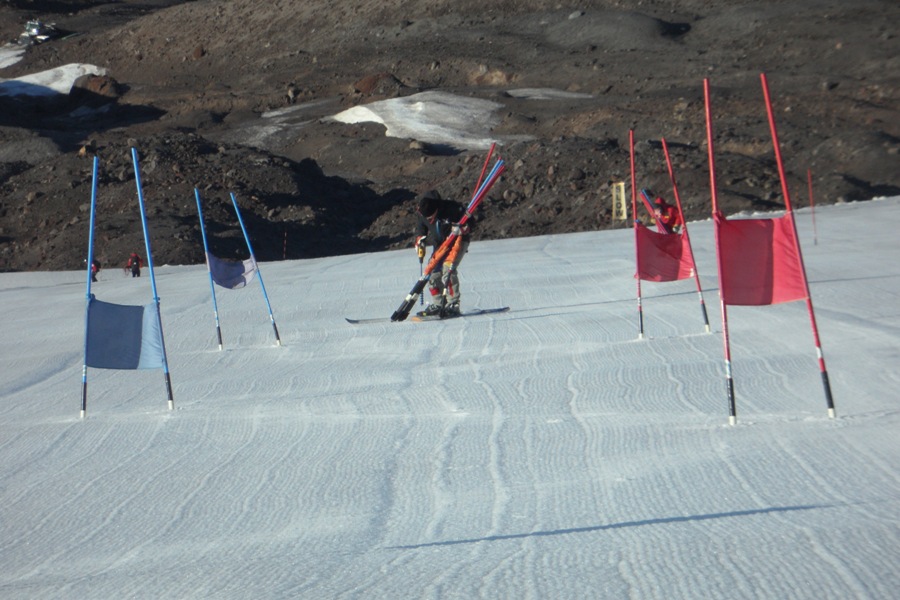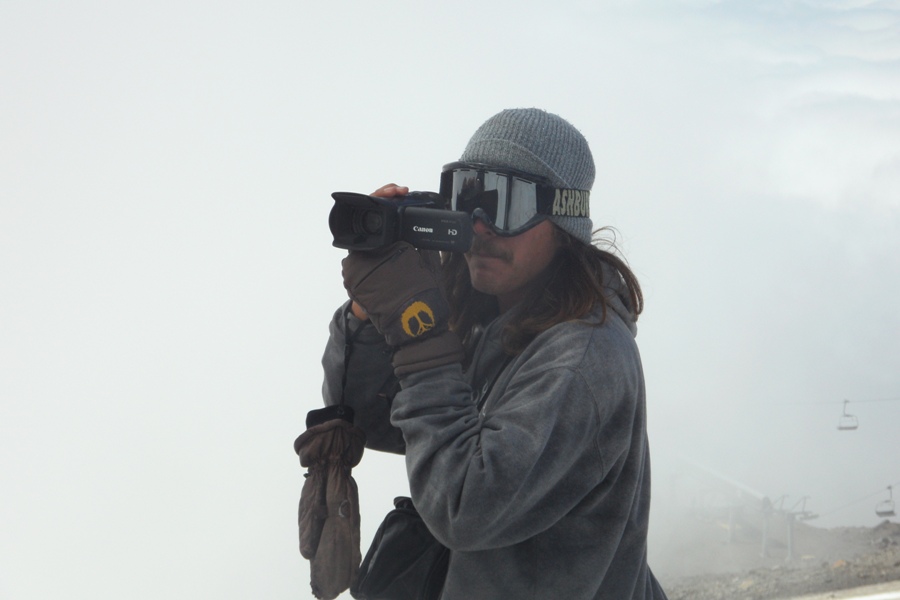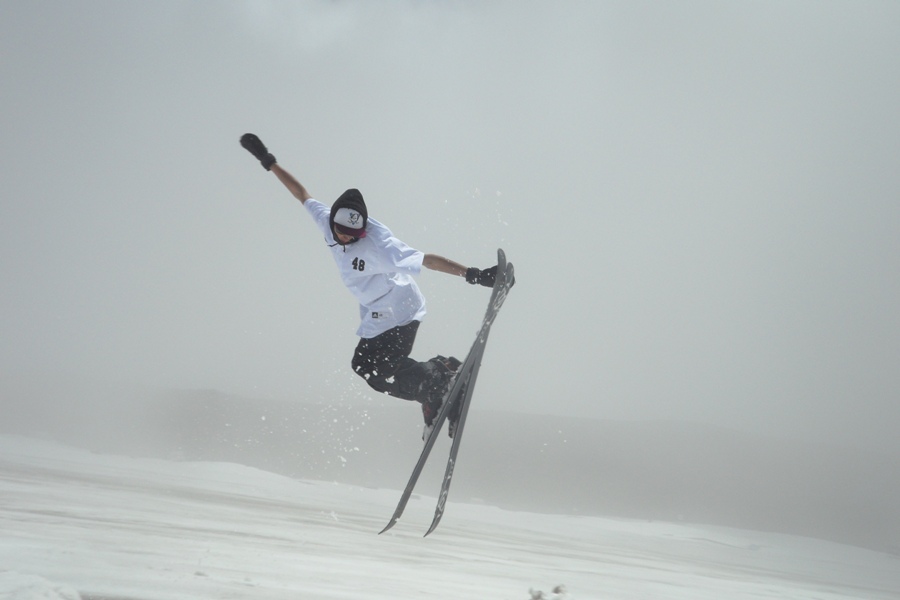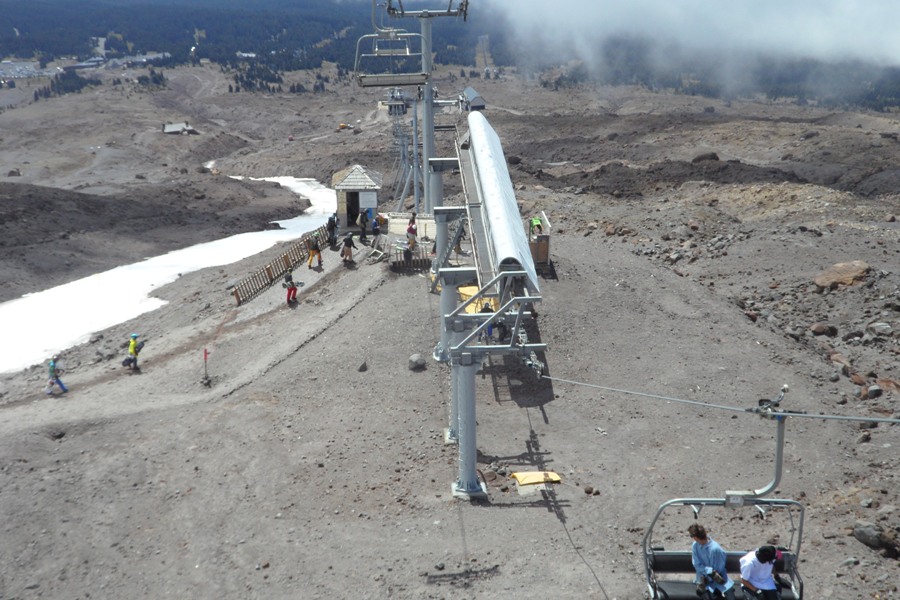 For you 80's staffers!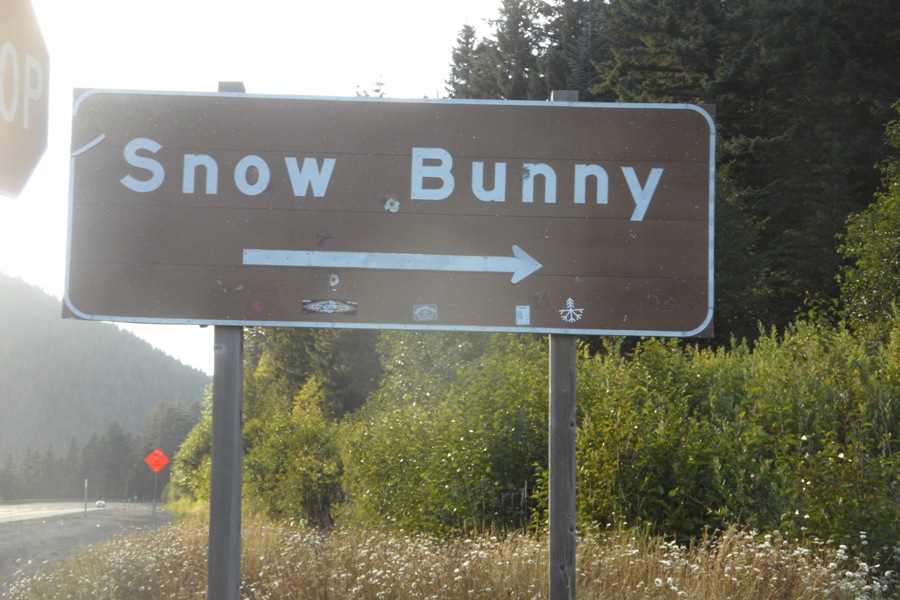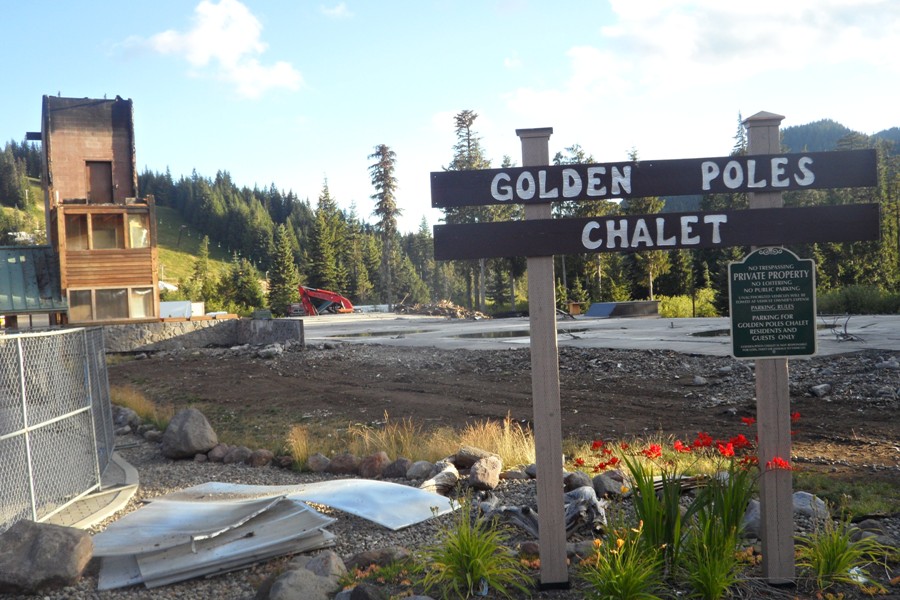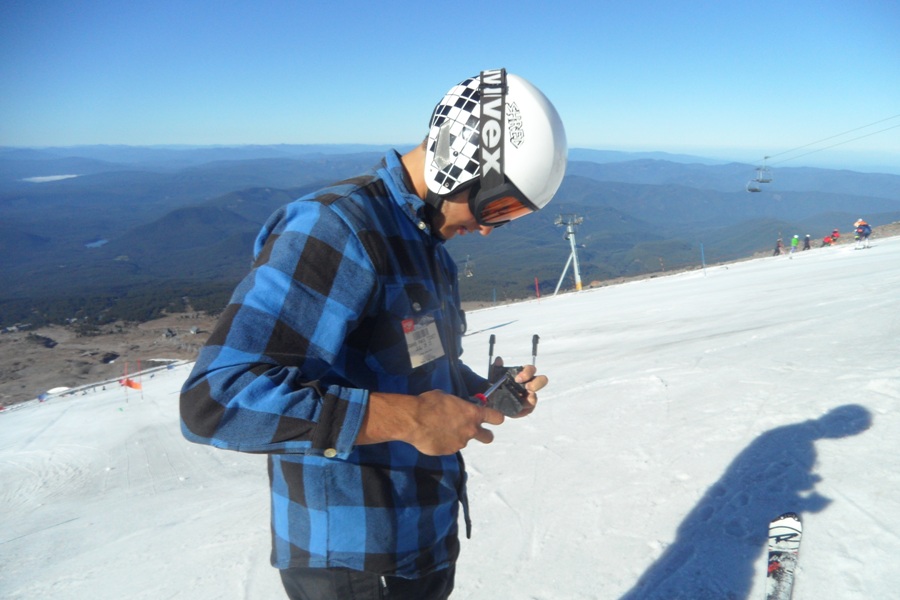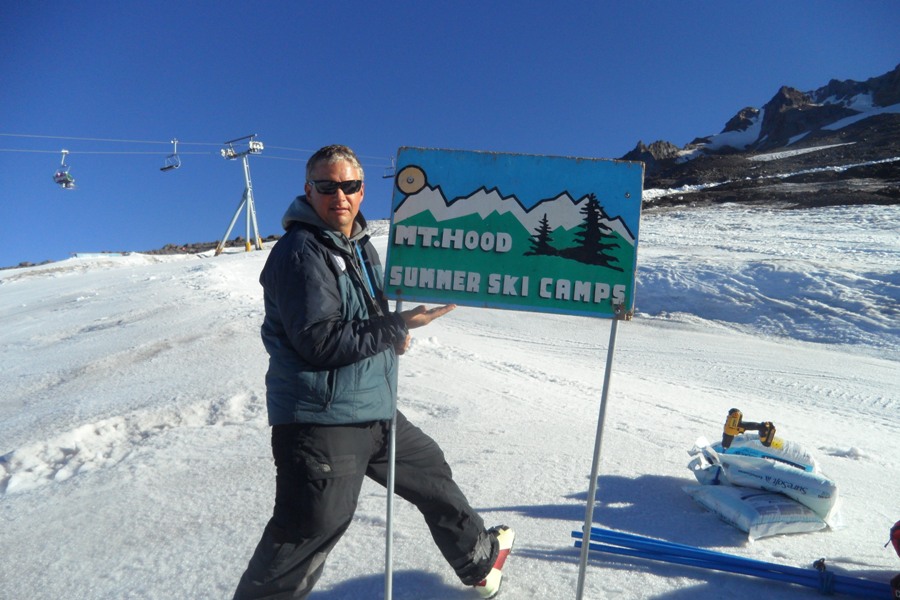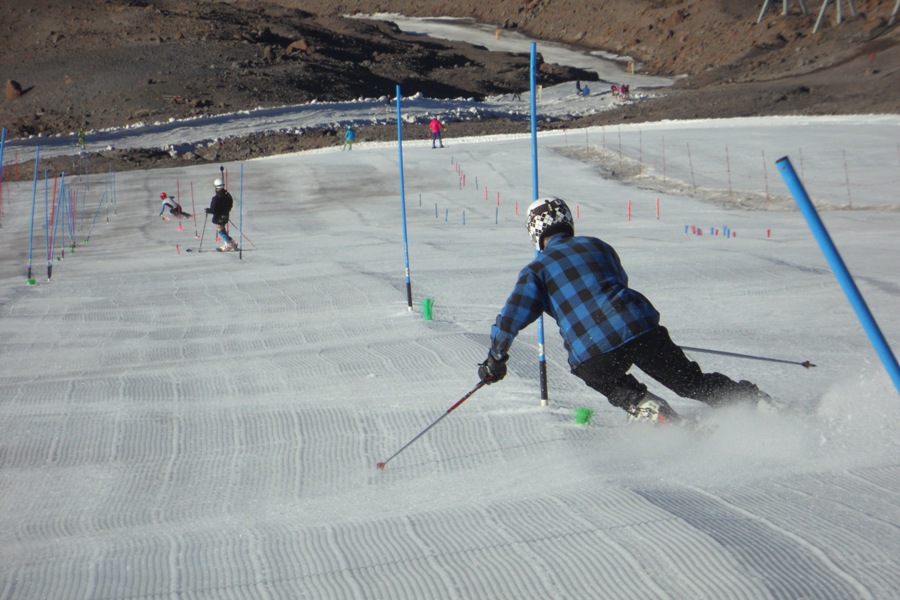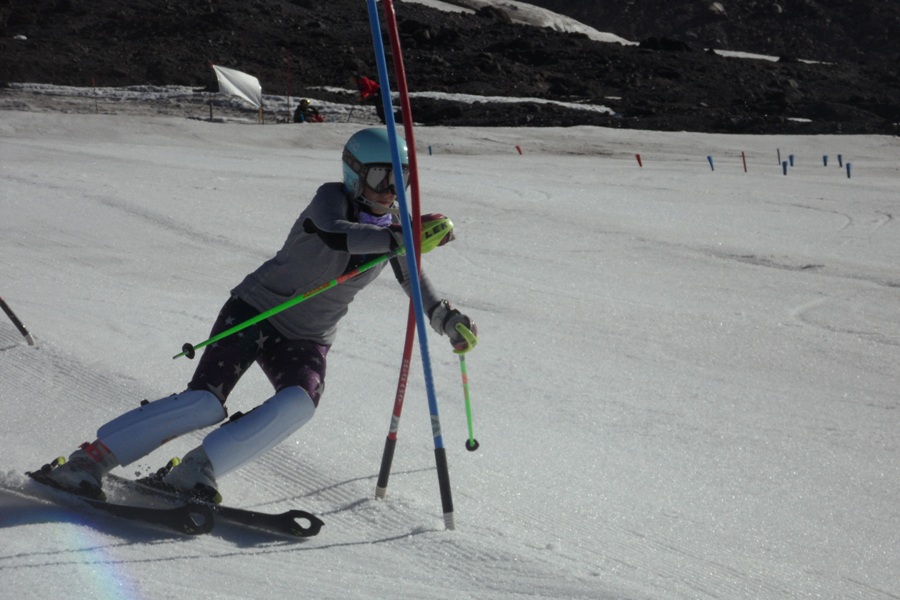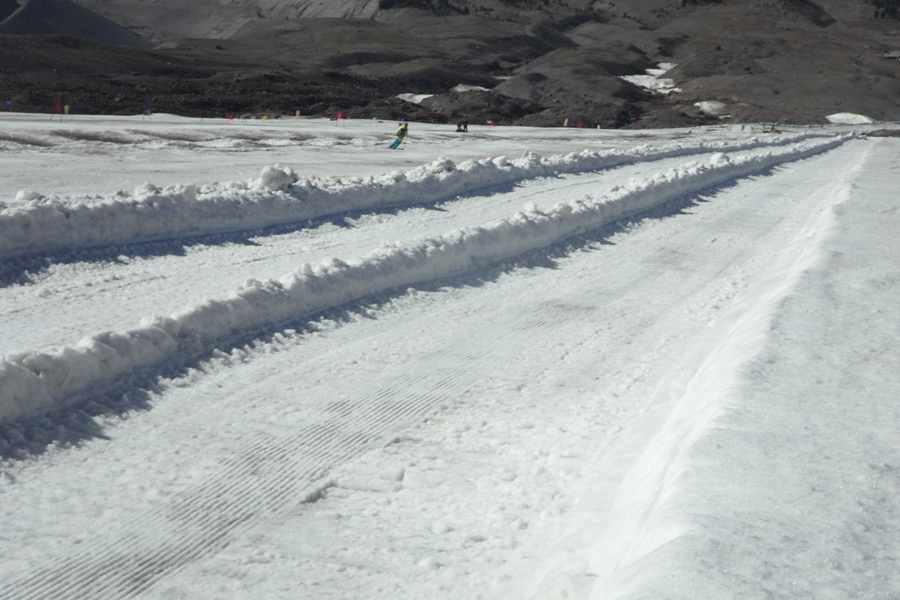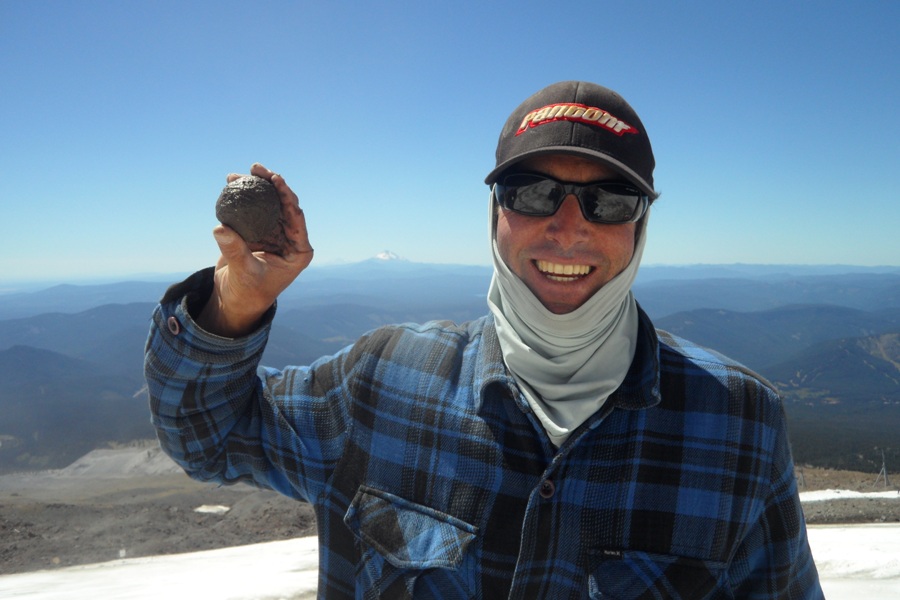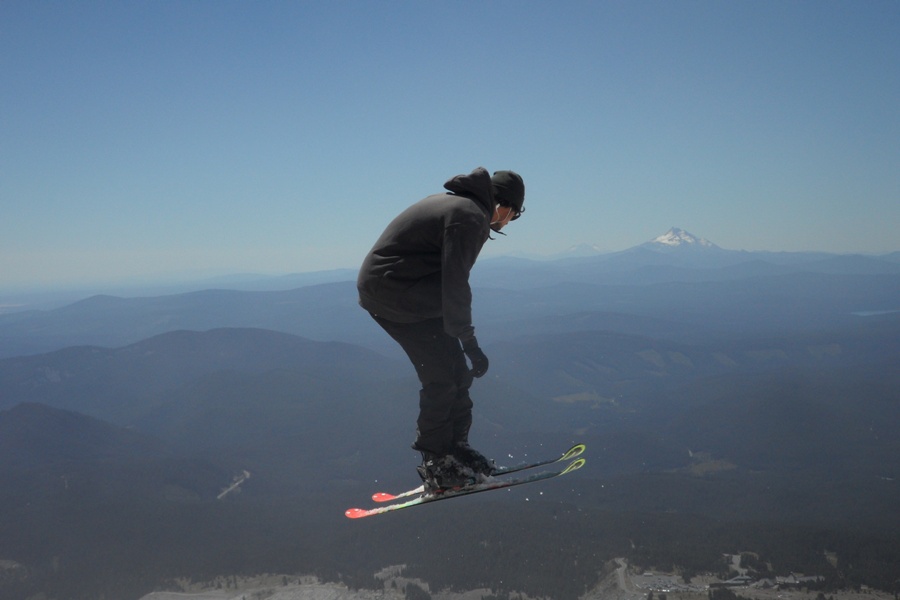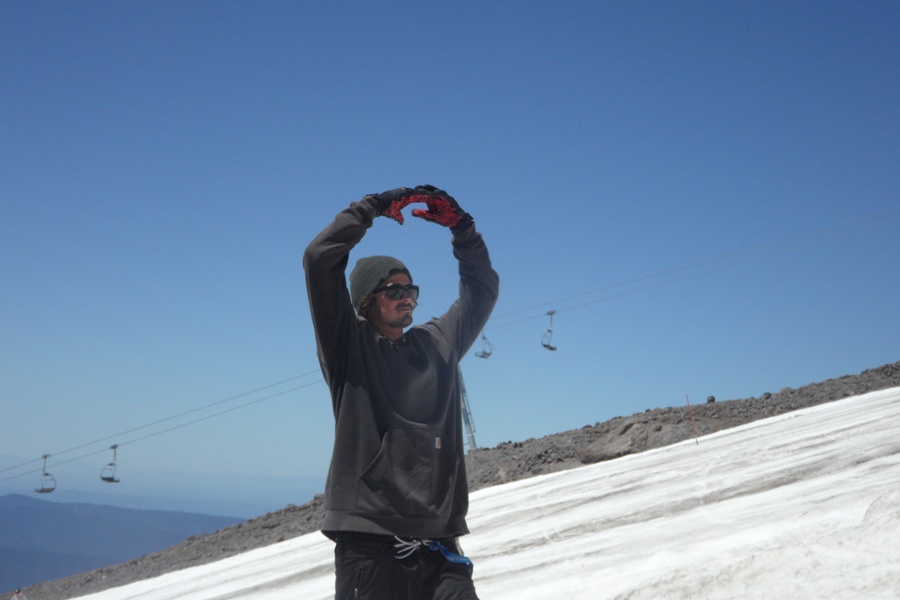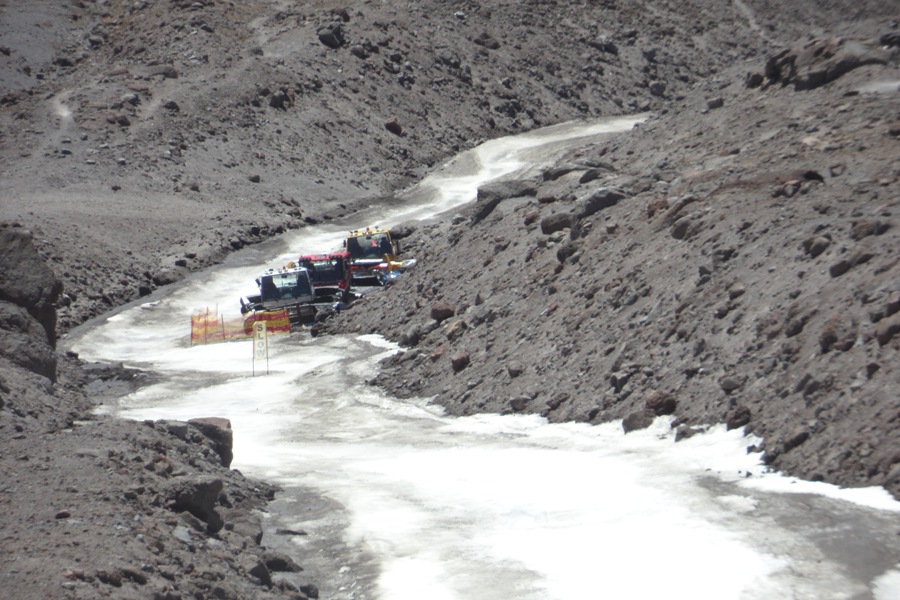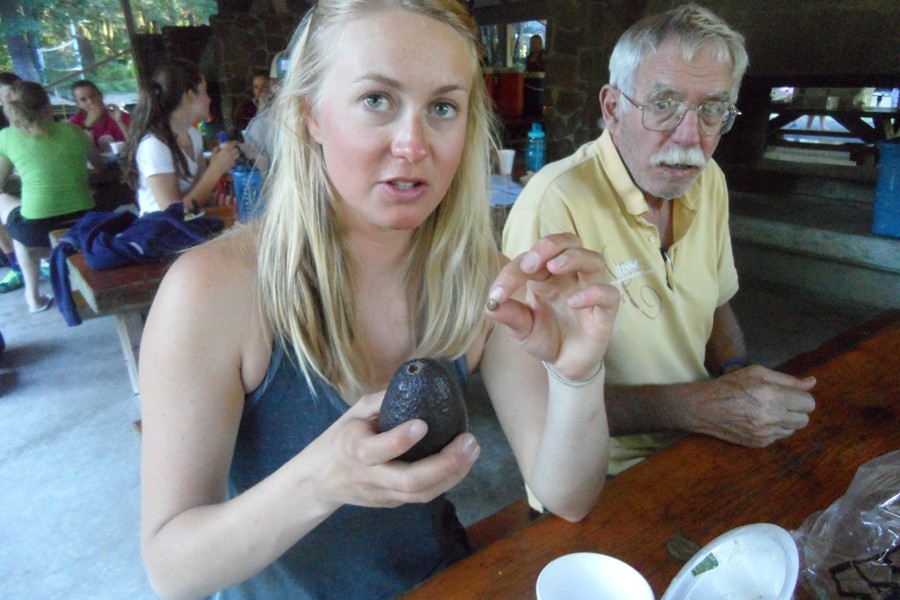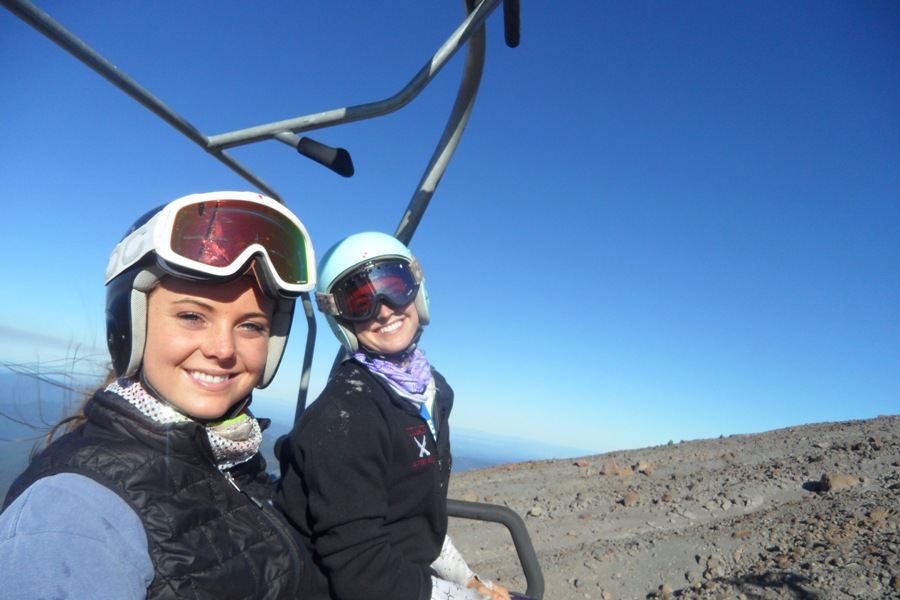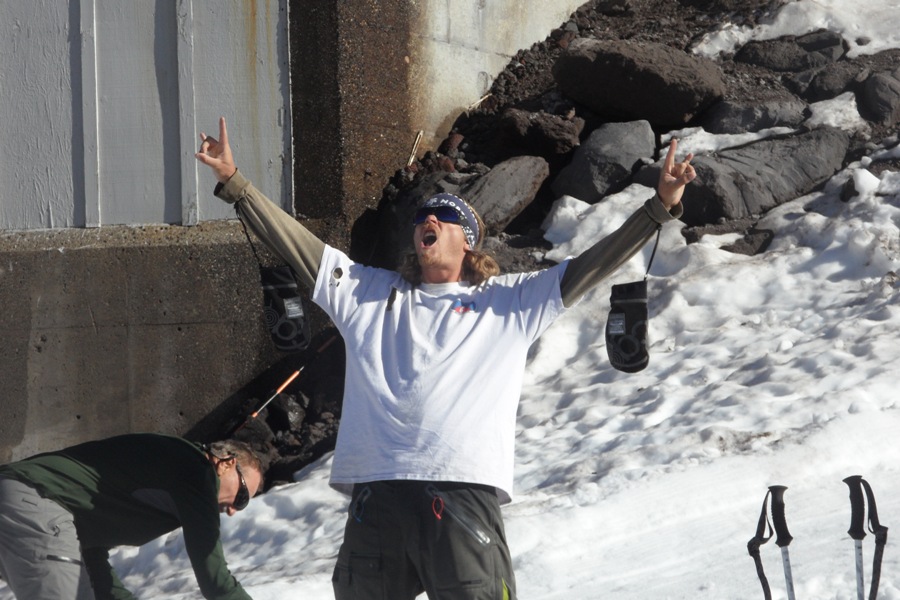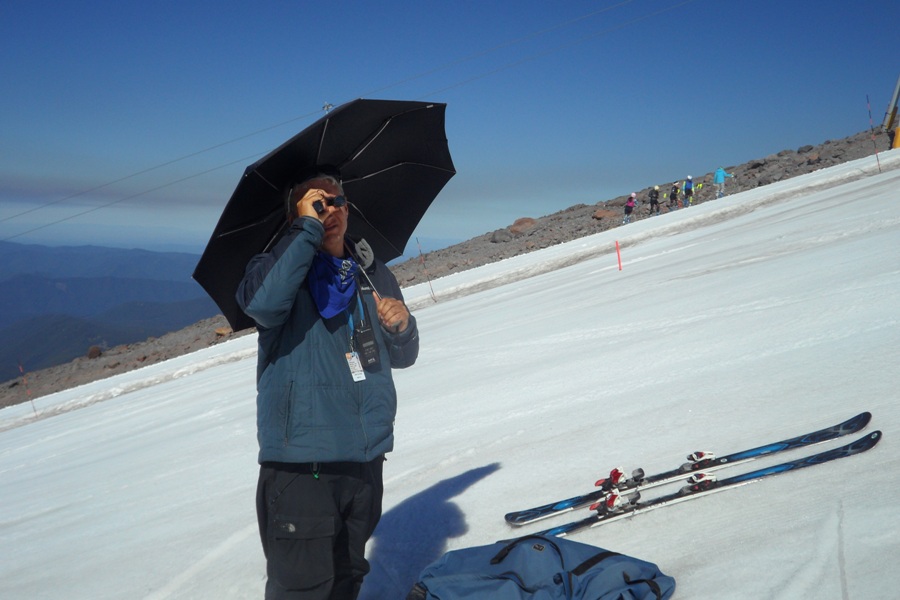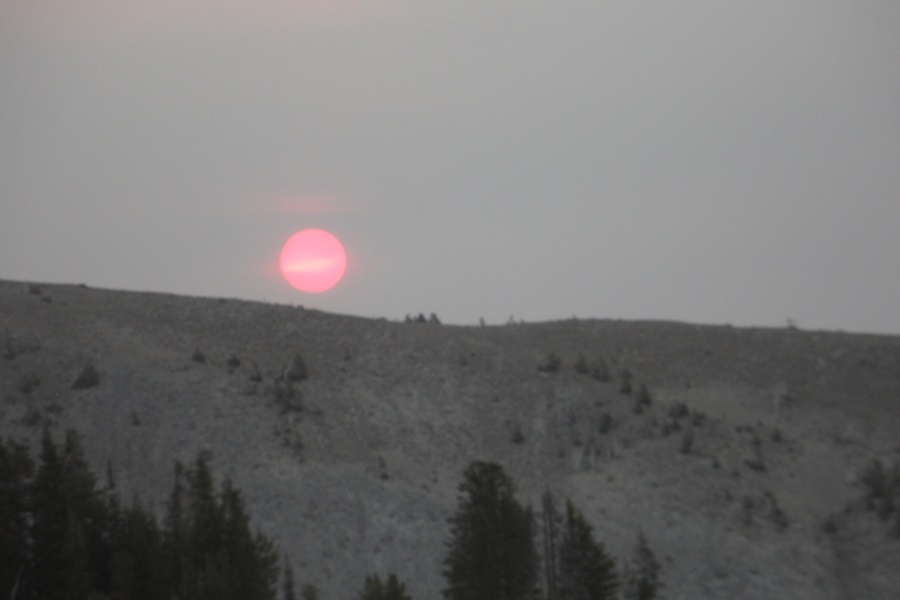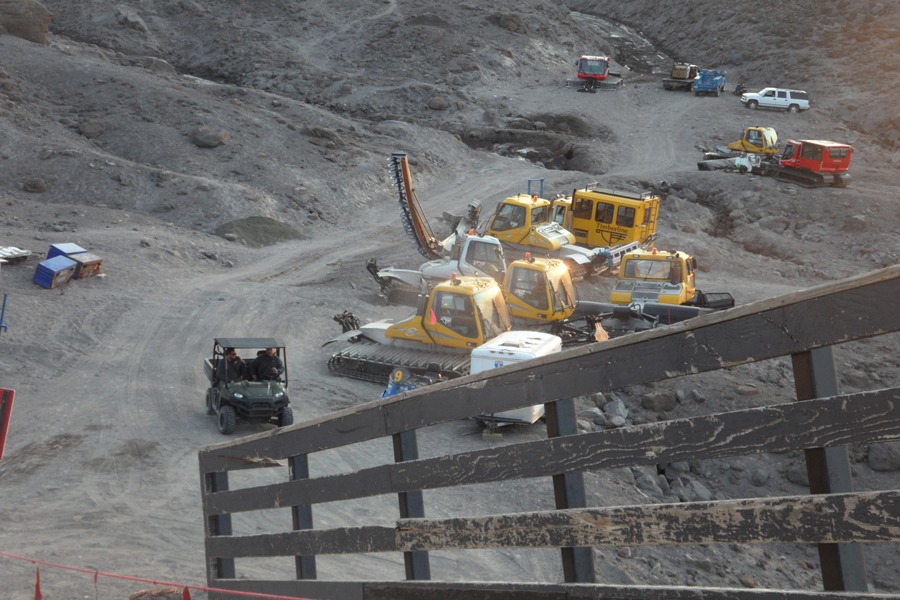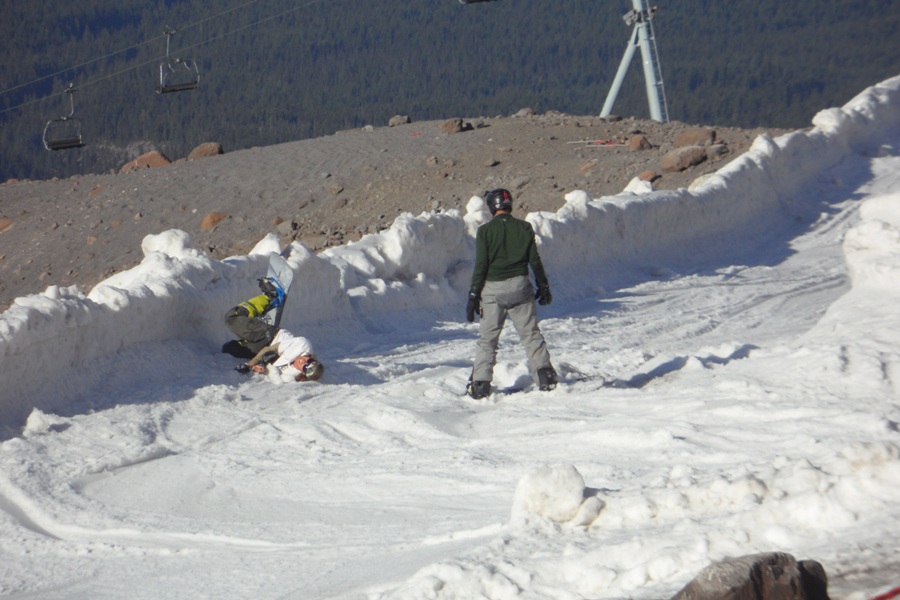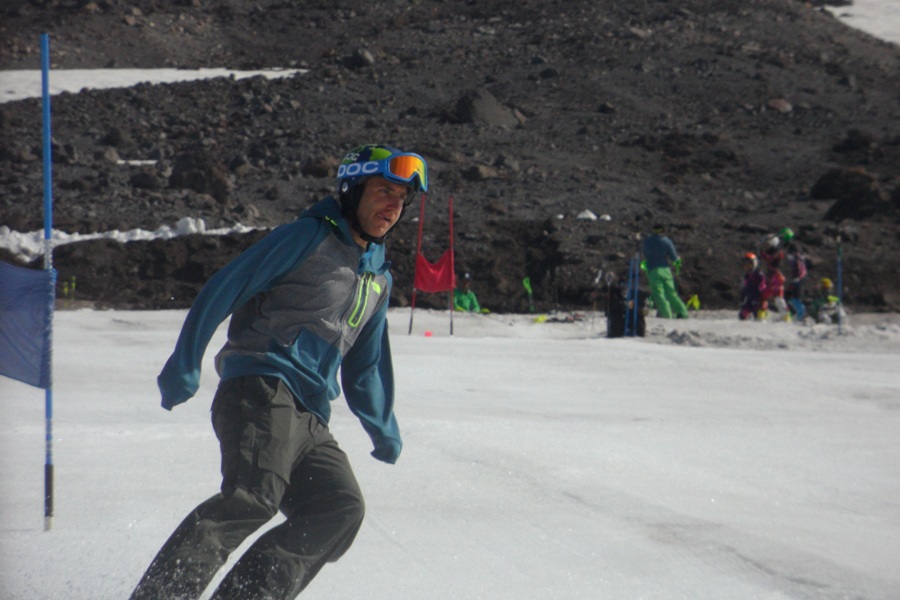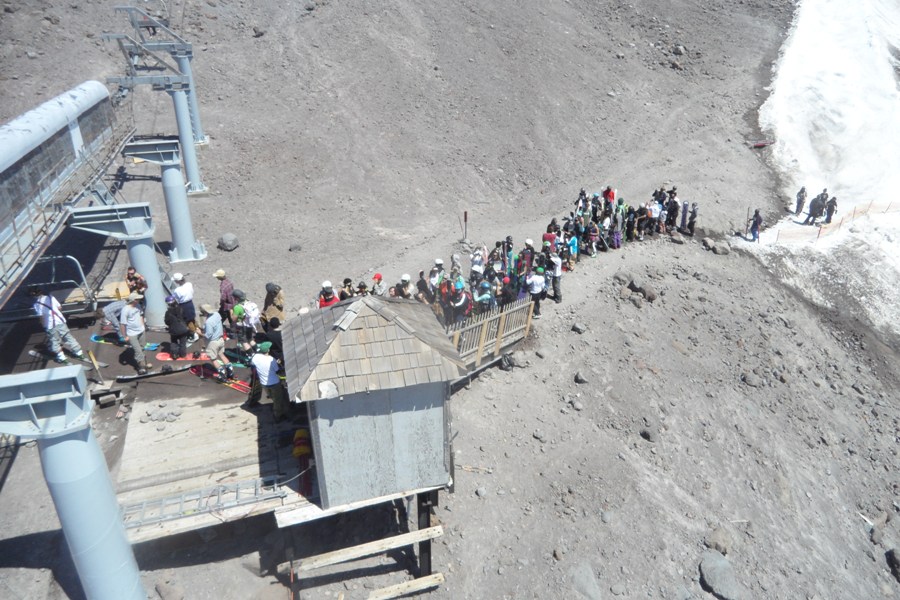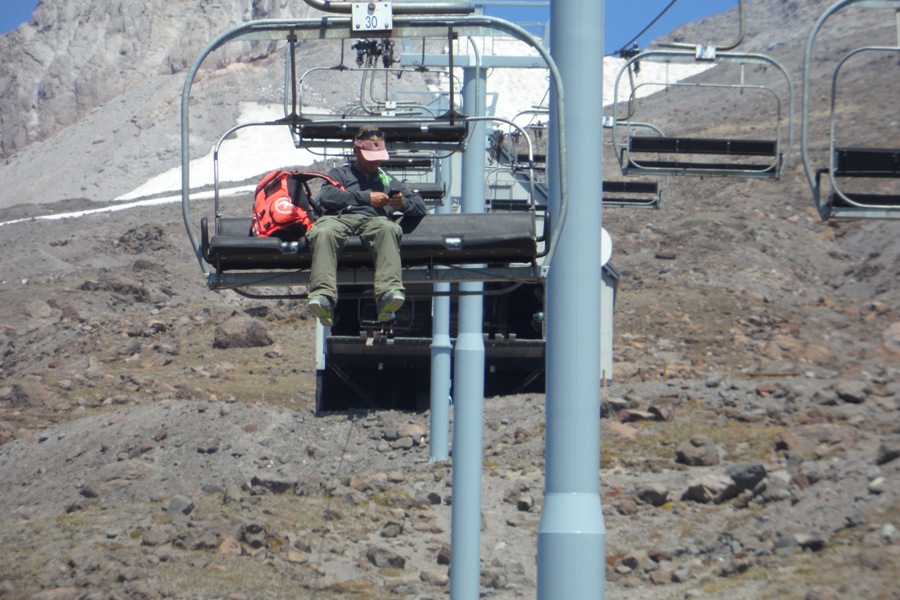 More session 10 photos can be seen here.
Session 11, 2015 update
Well Session 10 was supposed to be the end of summer '15. It wasn't. After some back and forth announcements from the leaders of Timberline Lodge, they finally decided to stay open until August 12 for MHSSC, Windells and High Cascade camps. But before we got the word of our extended season, we had decided to make Sunday, August 2nd, a normal training day for any kids that were still here. At the end of the August 2 ski day, the coaches loaded all the remaining bundles of gates into a snowcat to be taken down for the year........THEN the phone rang. It was Mike Annett. Just got word that our season was to be extended. So gates were taken off the snowcat and put away at the top of Palmer. Monday was a day off from the hill. Tuesday and Wednesday were ski days just for our camp. The other 2 big camps were between sessions. Timberline gave us a ride up Palmer, then shut it down while we trained, using a snowcat ropetow system to make training laps. (see pics). They turned palmer chair back on at 12:30pm to get us back down to the magic mile. Lift serve skiing started back up on Thursday and plans to continue until Wednesday, August 12. We had a "last day of the year" party at Charlies on August 2. Perhaps we'll have to have a new end-of-year party on August 12? Who's in?
We did a record 4th mhssc picnic in Hood River this week. Mike Annett set up 2 trainer kites to play with over by the beach. Lifts run from 9am until 2pm the rest of the summer. Coaches cannot load early, so it's quite the change of morning routine from what we're used to. Racers have been training in the public lane. Darren Owen built a jump out east in the Windells/High Cascade lap park duirng the days they were not in session for his mogul group. Ravens ripped the napkins our of the napkin holders and made a mess out of the garbage can out in front of the lodge 3 different times last week. We did a staff boat on Thursdays Deschutes River rafting trip. This was MY idea. This was my first time IN A RAFT in about 20 years. Anyway, it was fun......fun until Nicole Cordingley fell out of the raft and was caught in an Eddy (sp?) for some scary moments before she managed to get herselt to a rock island, where Mike Bansmer eventually helped her get back to the main shore. Some of the campers got interviewed after the ski day in the Timberline parking lot for NRP/OPB radio. Not sure if those interviews have aired yet. Mike Syrovatka parked in the upper Timberline Lodge parking lot and got the dreaded orange sticker parking ticket on his window (see pics). We had a beginner skier at camp.....Nicole Cordingley gave her private lessons all week, including a waterbottle slalom course on a small chunk of snow at the very top of Palmer that we smoothed out. Session 11 was declared "love week".
Here's a link to those OPB interviews about Timberline's closing date.....thanks Brooke Bonkonski!!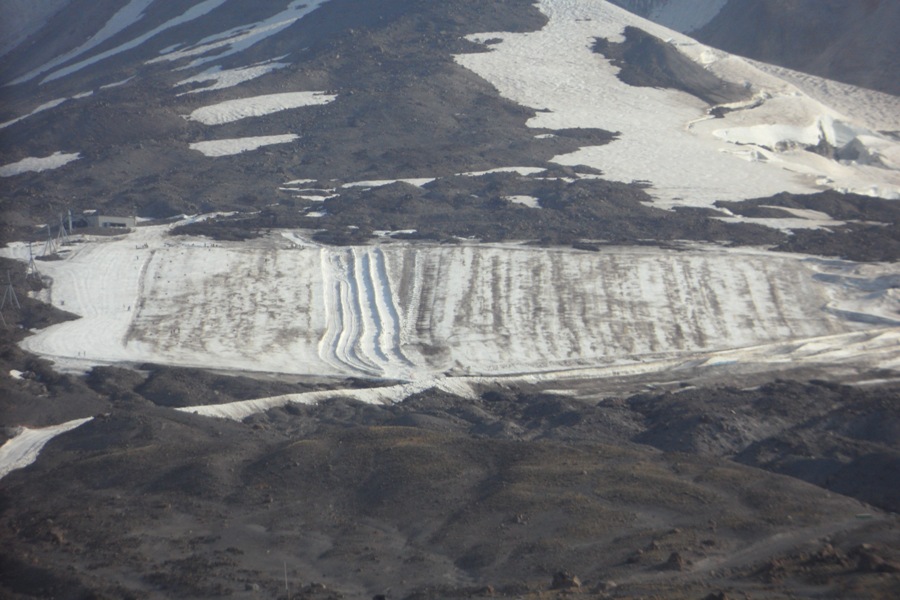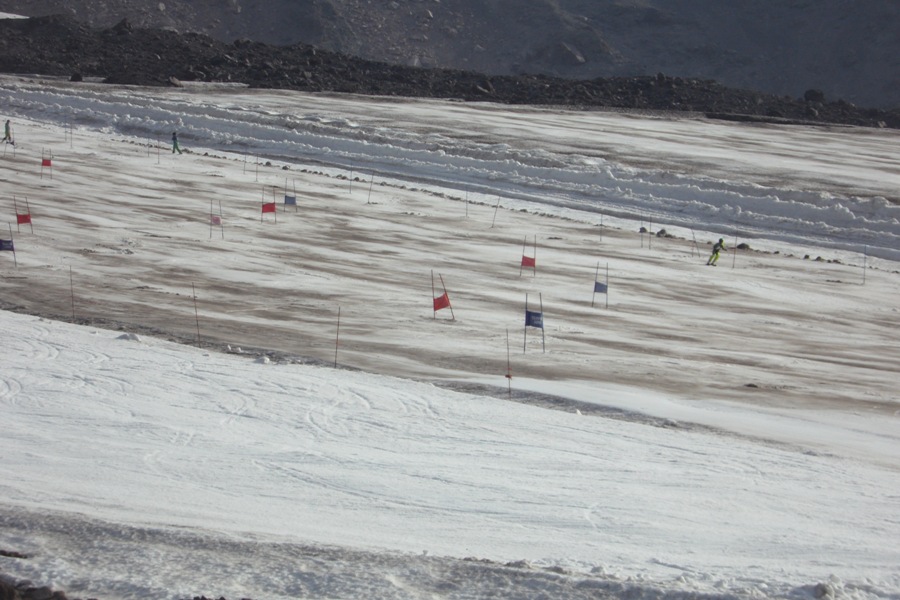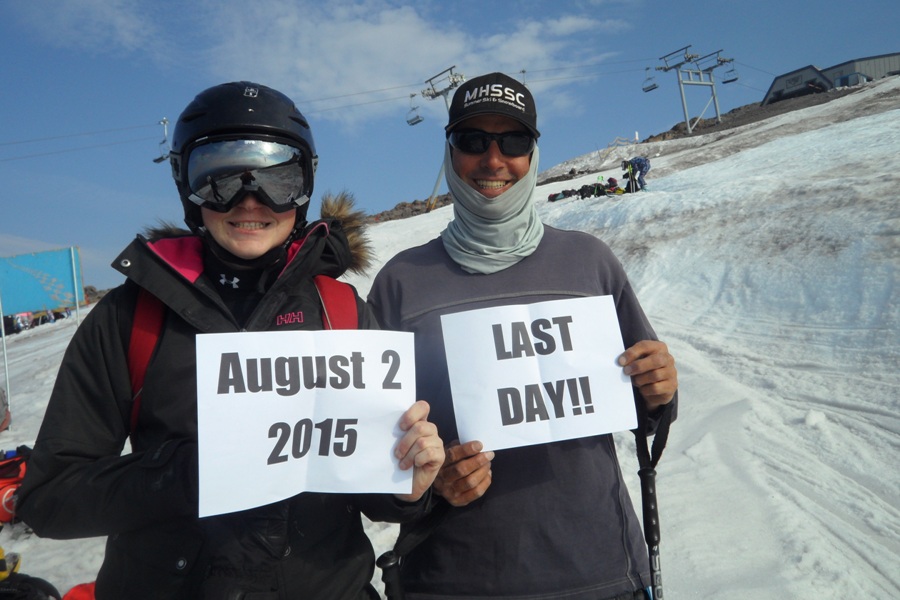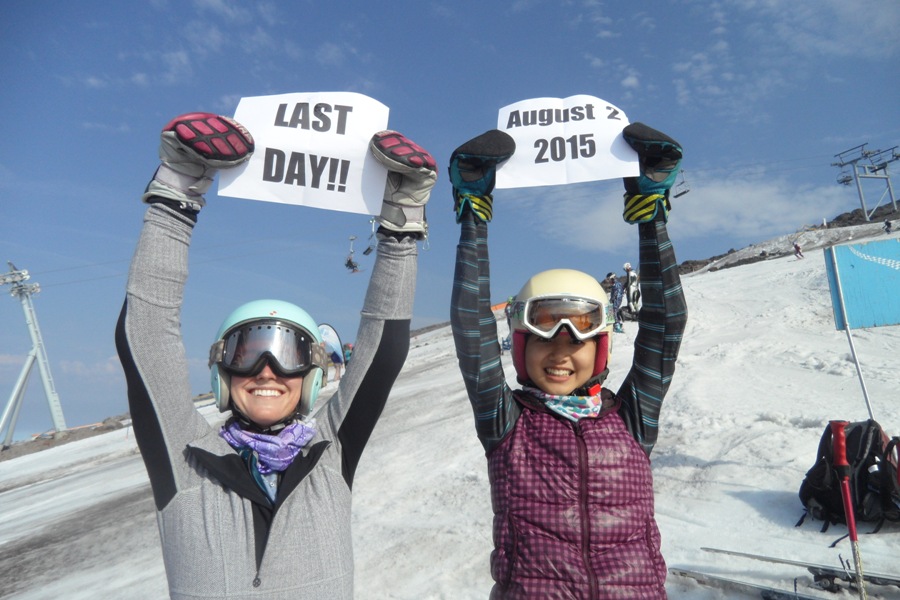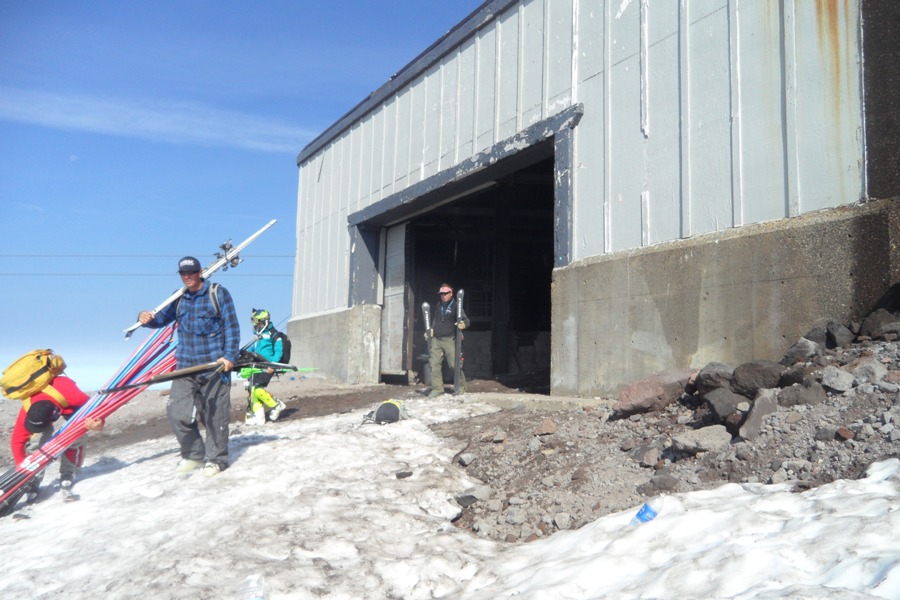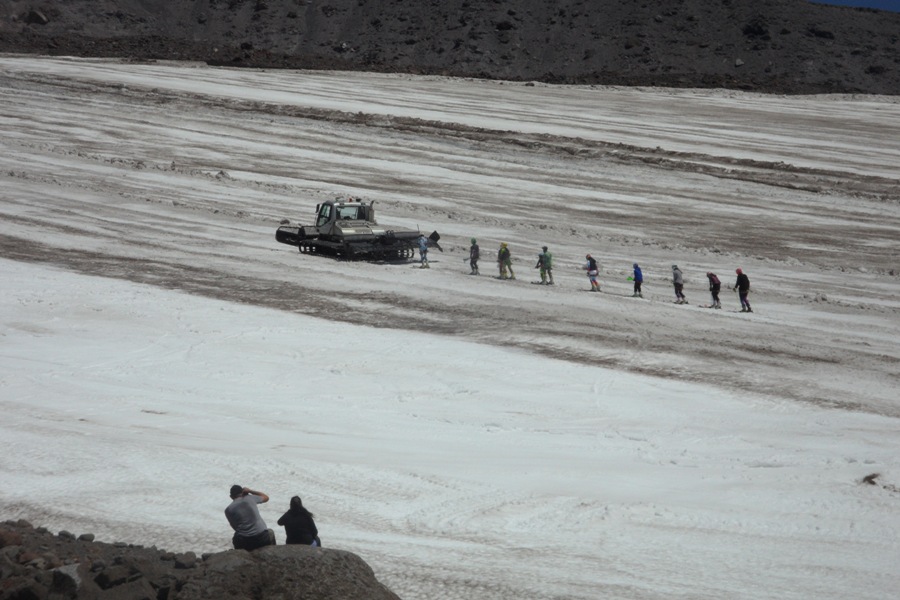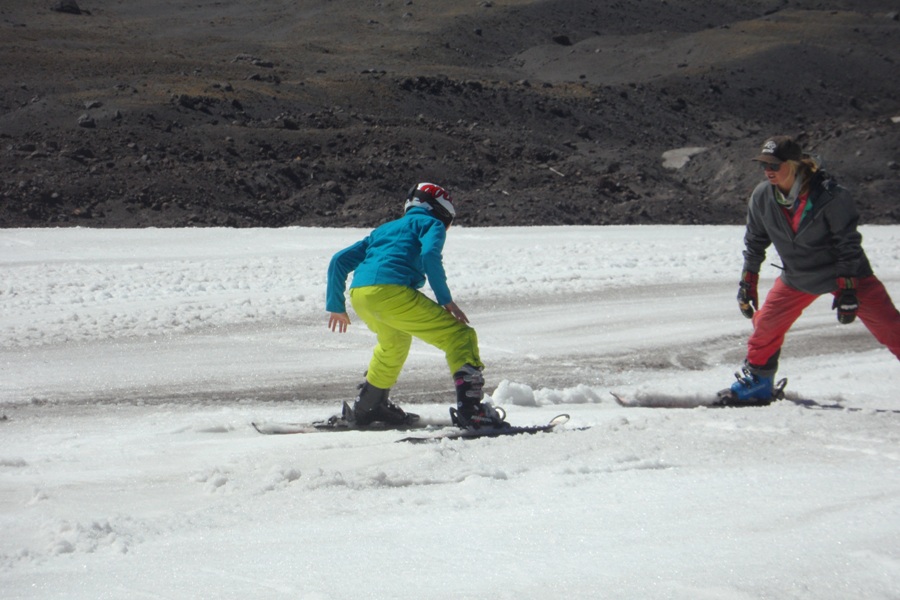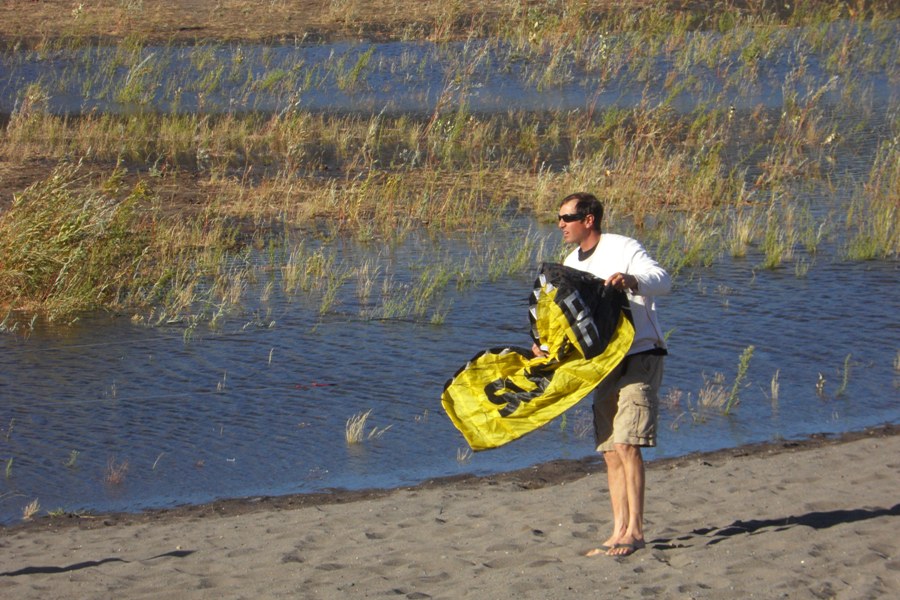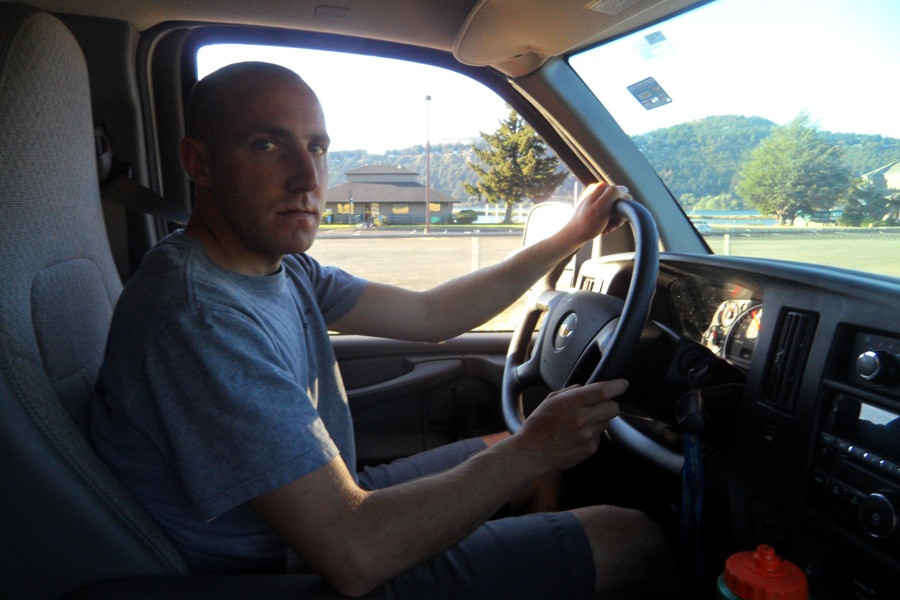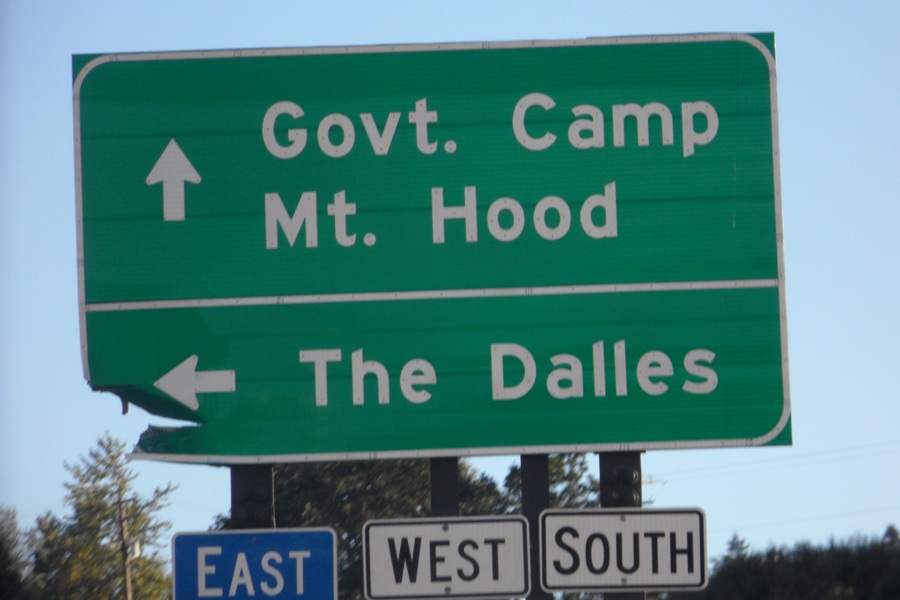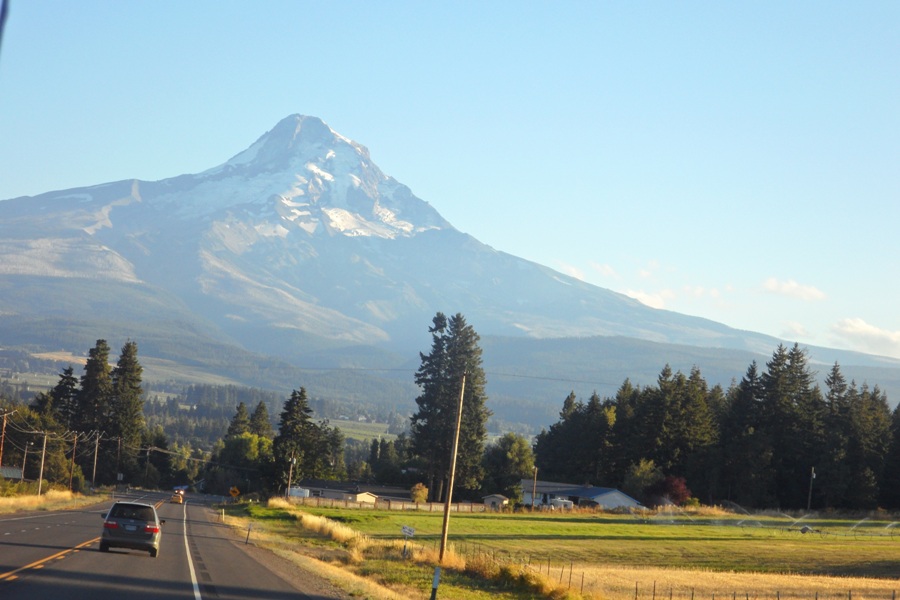 Rafting photo credit *Patrick Foster!!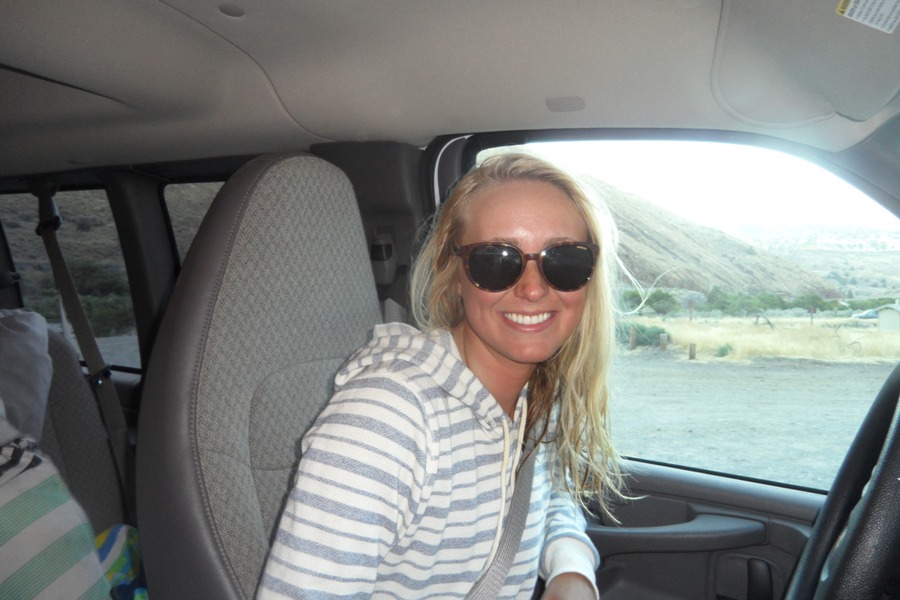 Session 12, 2015 update
The end of camp '15 is here. 3 weeks short of Labor Day weekend, our usual end. It was an unconventional session. Timberline closed the lifts on August 12, which is a Wednesday, 2 days short of the usual last day. Because of this schedule, we started session 12, 2 days early for those kids that could arrive 2 days early. In other words, we skied last weekend, both days. Lifts were closed on Tuesday, due to high winds. We had no idea about the high winds, until driving up to Timberline and coming around that last corner and the sky was filled with dust. We had one 9-year old girl ski just the last couple of days (think "giant snow plow"). Camp picnic was again, in Hood River on Wednesday, which was the 5th Hood River picnic of the summer. We "almost" sold the old camp waterski boat. We thought we found a buyer on craigslist, but he no-showed. Bill Toney pumped up the boat trailer tires and we cleaned up some of the moss growing inside and outside the boat to make it look presentable. Quinn Bestwick was the sole kstaffer left the for the final few days of camp. Rebecca Rist hit the mogul jump a couple times on Monday. Tuesday was apparently "naked guy day" in the area. The white water rafters saw a guy on shore pull his shorts down and expose himself. There was also a high cascade snowboard camp digger employee running around their camp vehicle in the timberline parking lot buck naked on that said windy day. And I noticed a naked guy at Trillium Lake, standing on a rock with lots of tourists milling around. Just weird! Timberline ran out of salt at the top of Palmer and they stopped bringing up more due to the logistical lack-of-snow mess, so Mike Annett purchased several 40 pound bags of salt at a hardware store in Hood River that we carried up to the top of Palmer for the last 4-5 days of camp. We trained on the public lane, where the snow was still somewhat white. A short mogul line was skied in on skier's right of public lane. We had to hike down from the top of Palmer about 30-40 yards to get to the snow each run. I made some banana, chocolate, peanut butter ice cream on Monday. People liked it.....even Mike Annett! NPR radio broadcast about the early closing of Timberline can be heard here. We (myself, Bill Toney and BeckyAurora Thompson) had a sendoff dinner at Shari's restaurant late last night for Rebecca Rist. Rebecca thought the waitress (Dee Dee) provided the best service she's ever experienced in her life.
I'm headed to the Oregon coast (Seaside) for 3 days August 18-20 for a mini-vacation. If anyone is in the area, feel free to join me for some beach time. Nolan Willard is already there, surfing it up at Short Sands (Oswald state park).
That's all I got. Be safe out there.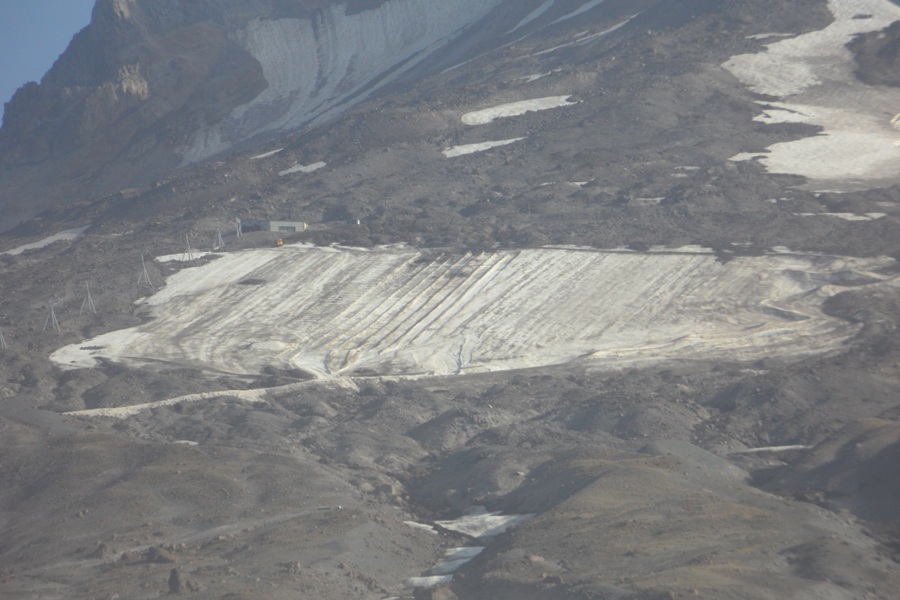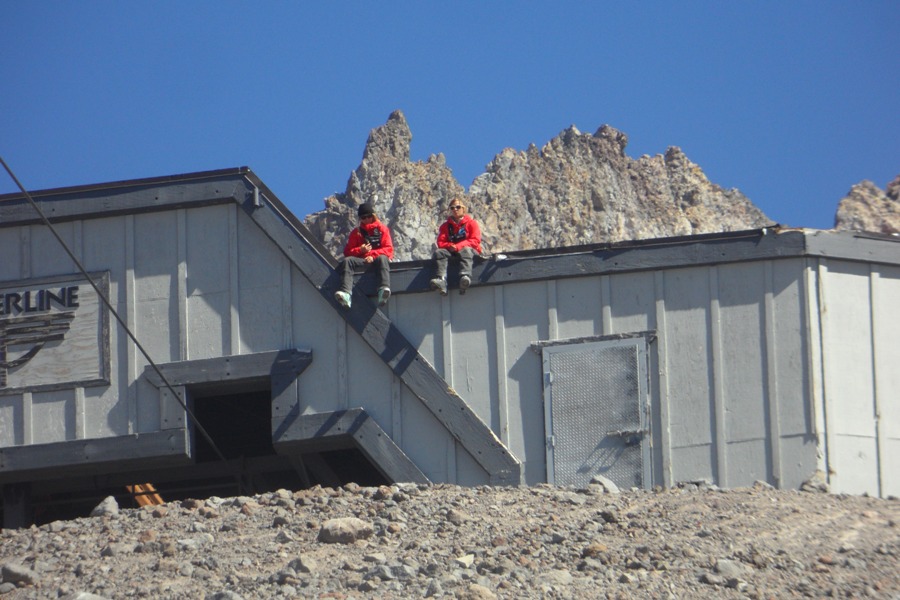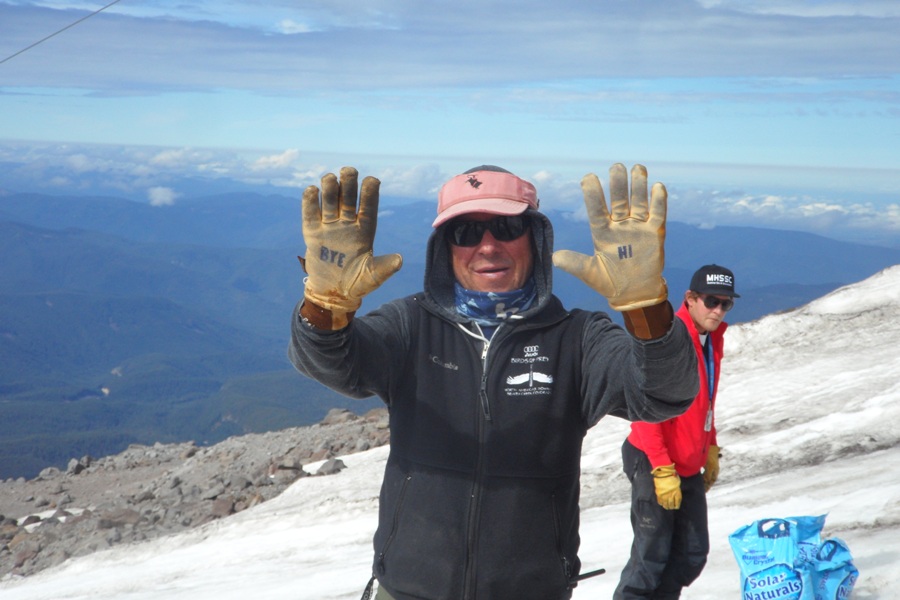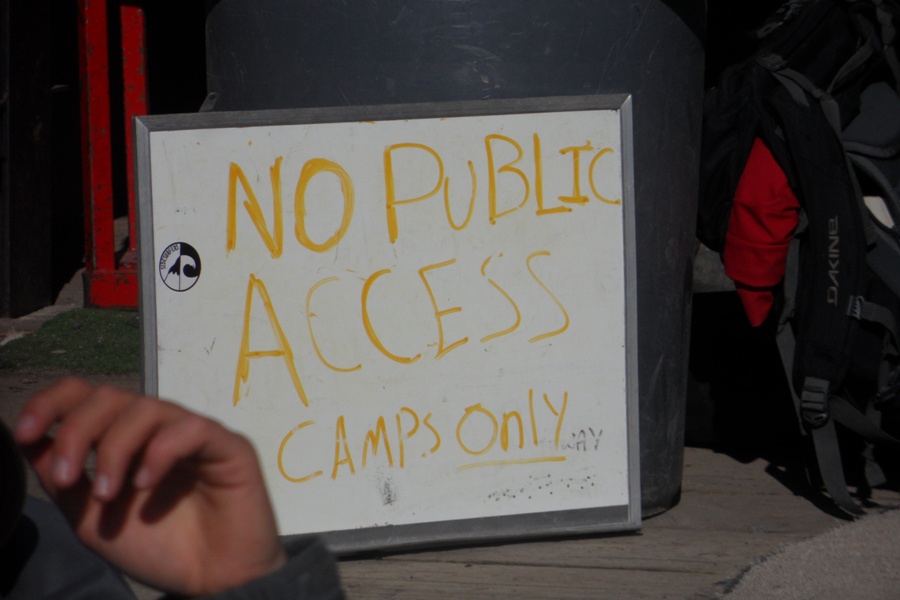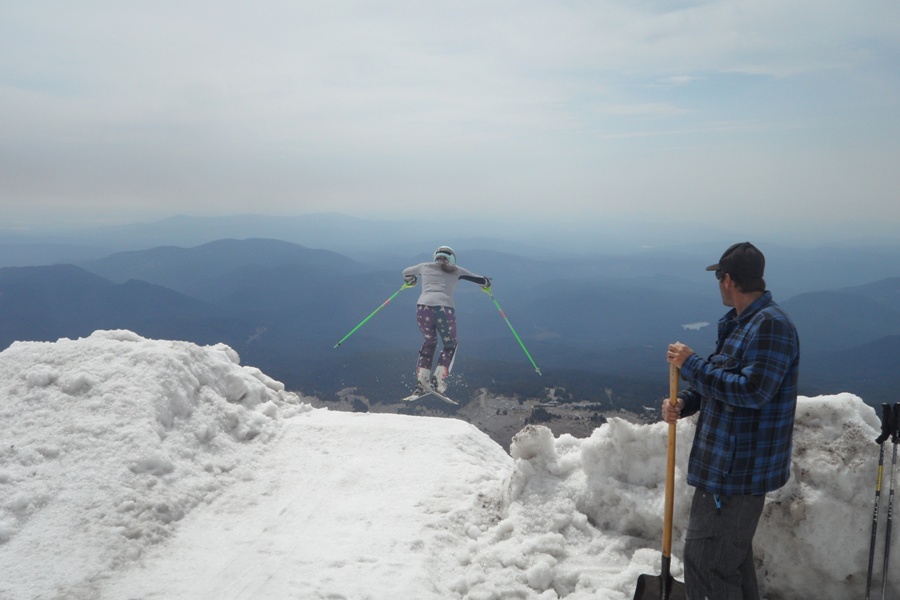 3 ingredient ice cream: frozen bananas, raw cacao powder, peanut butter. Blend for a minute or two in a high powered blender. booyah. Dairy/gluten free.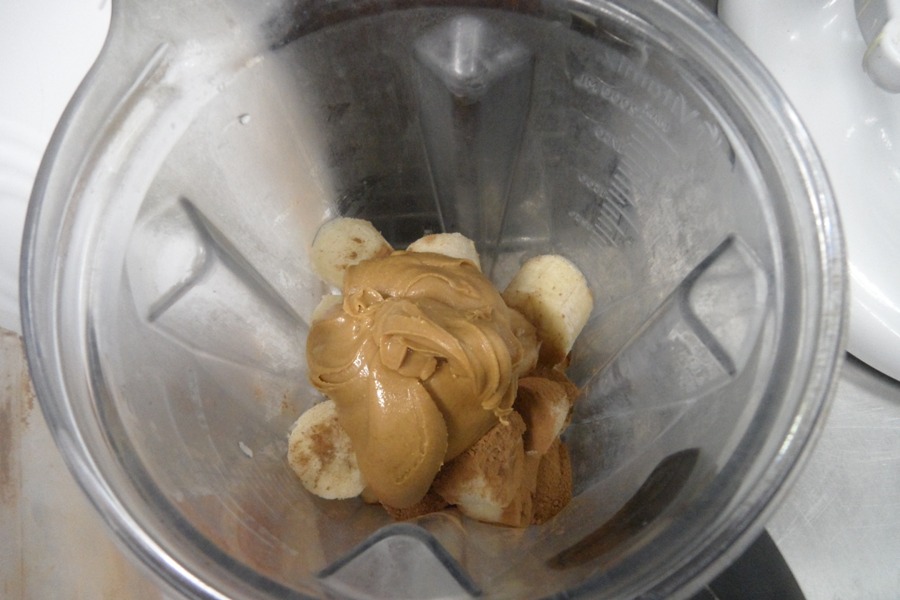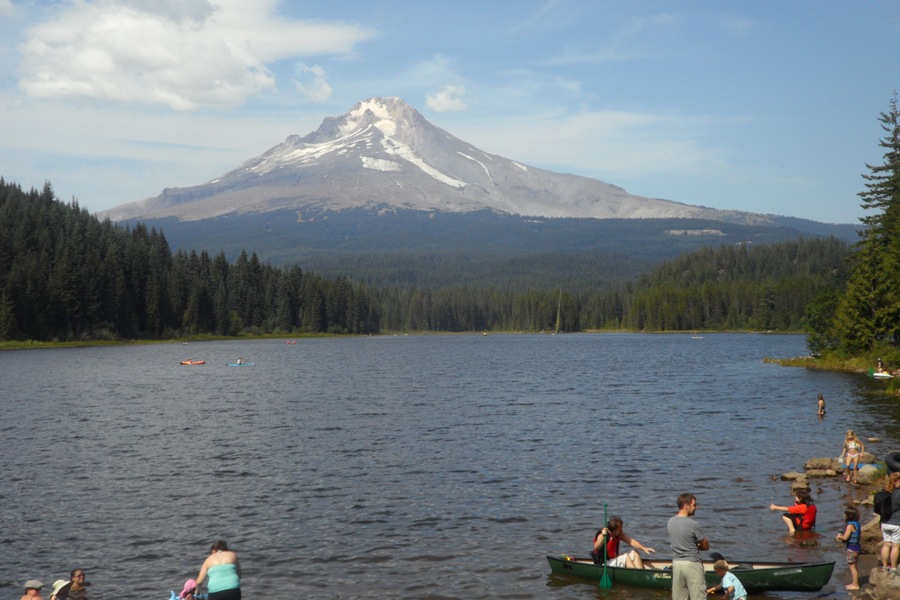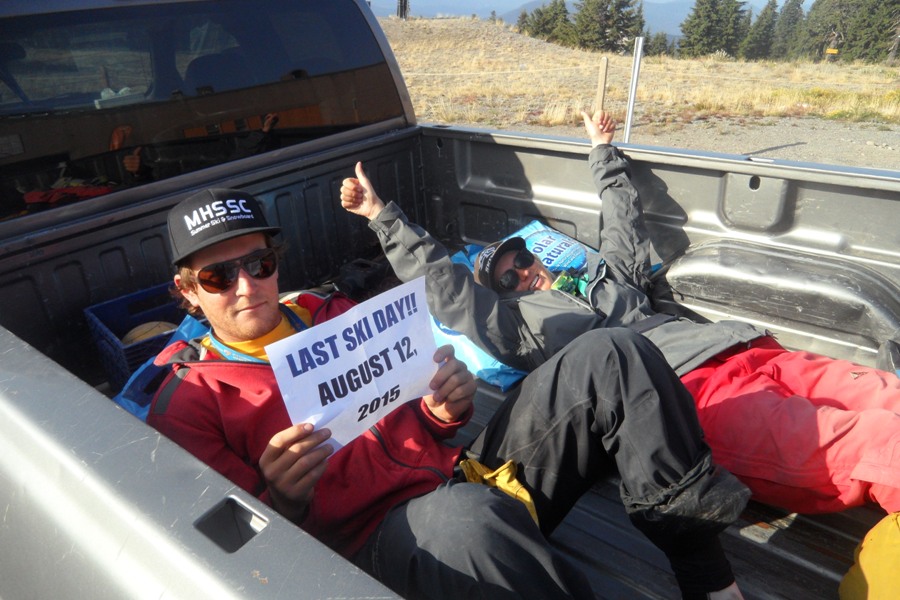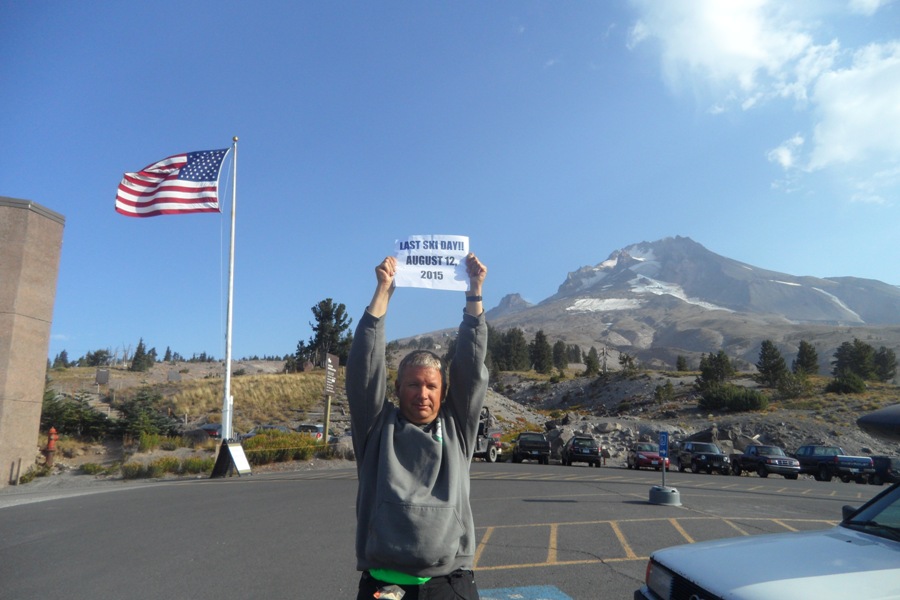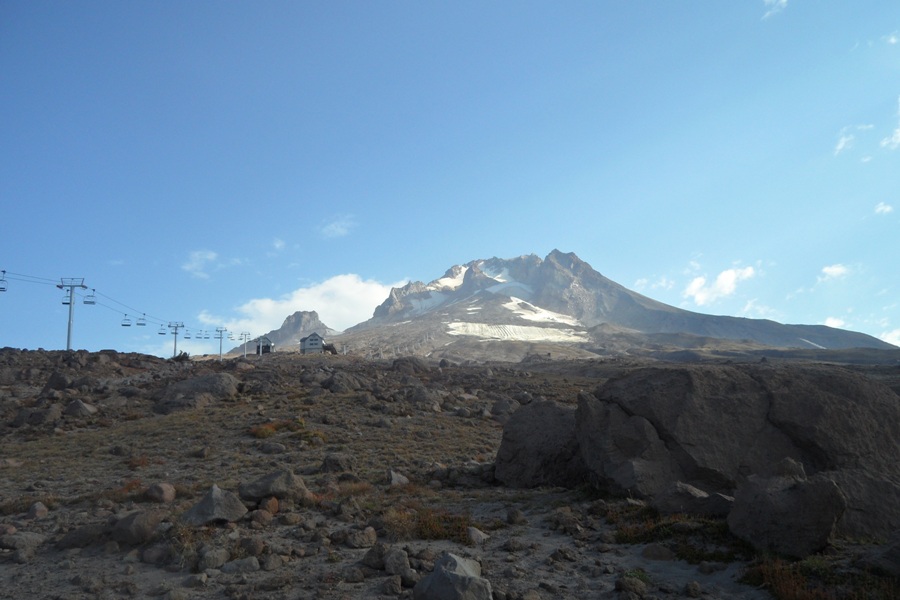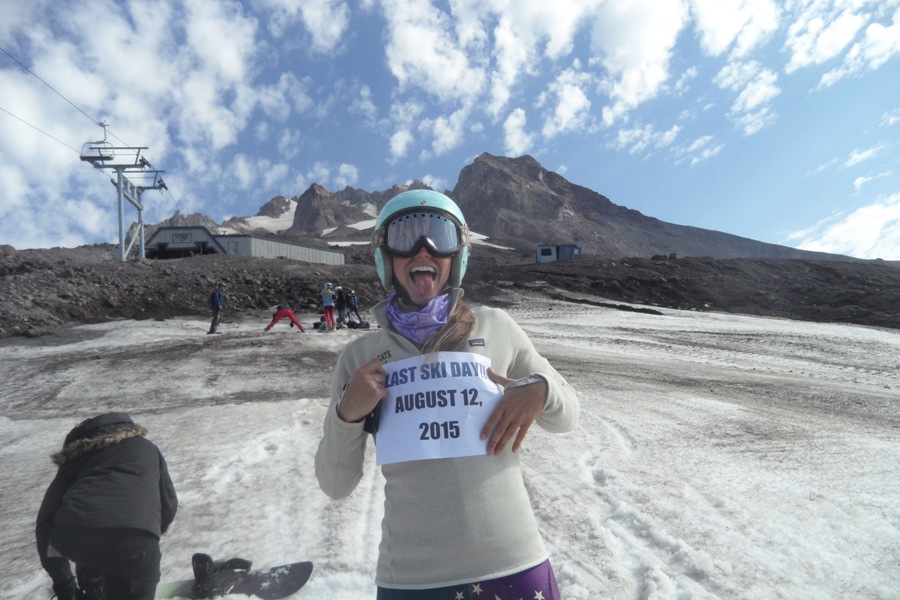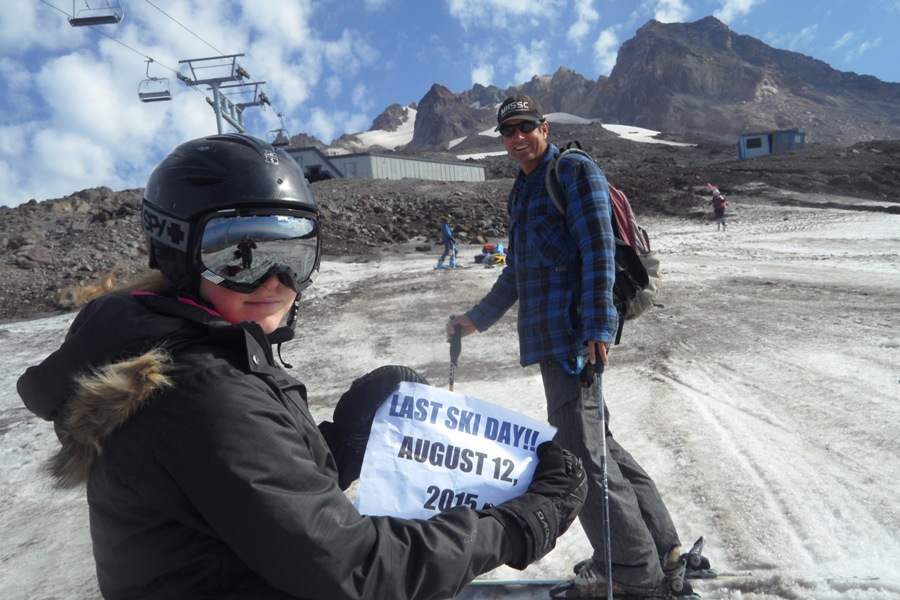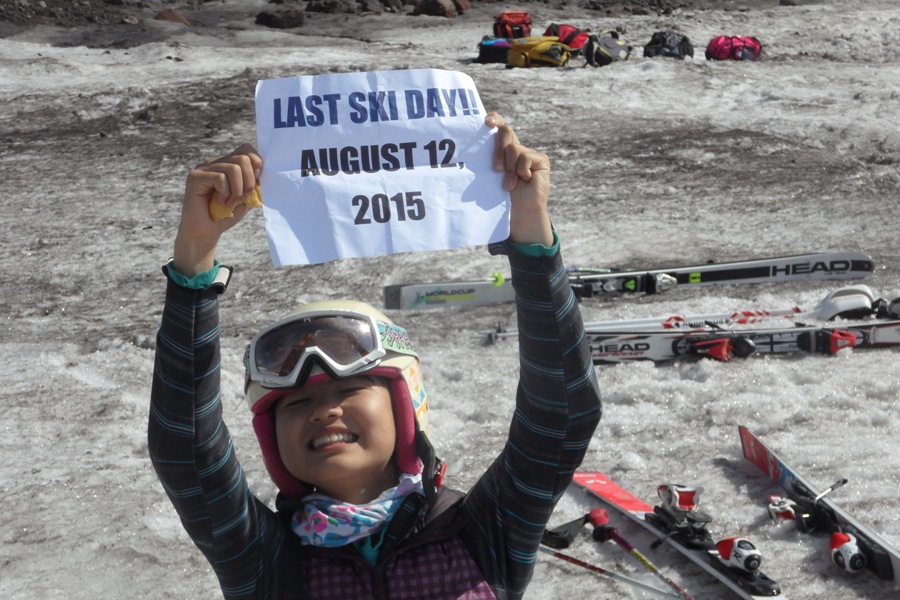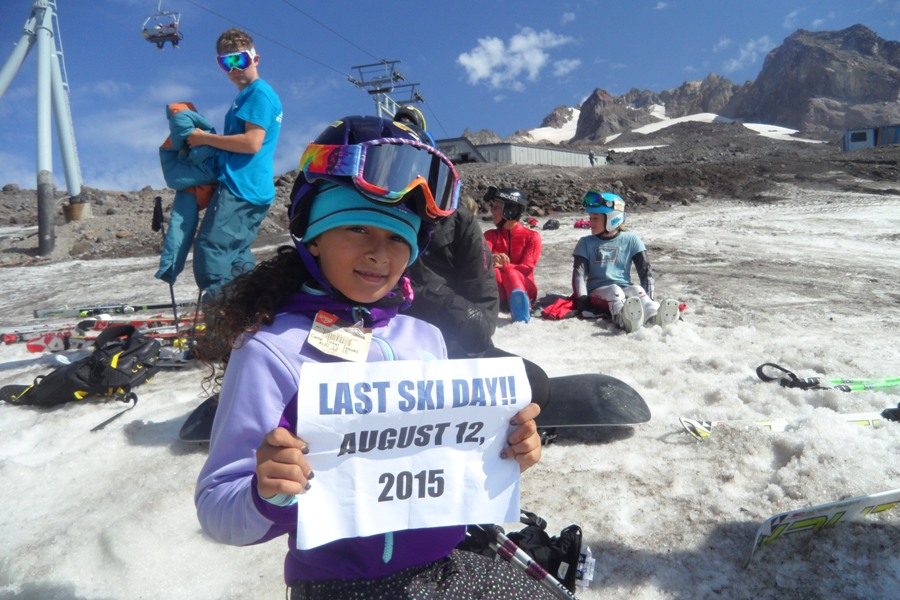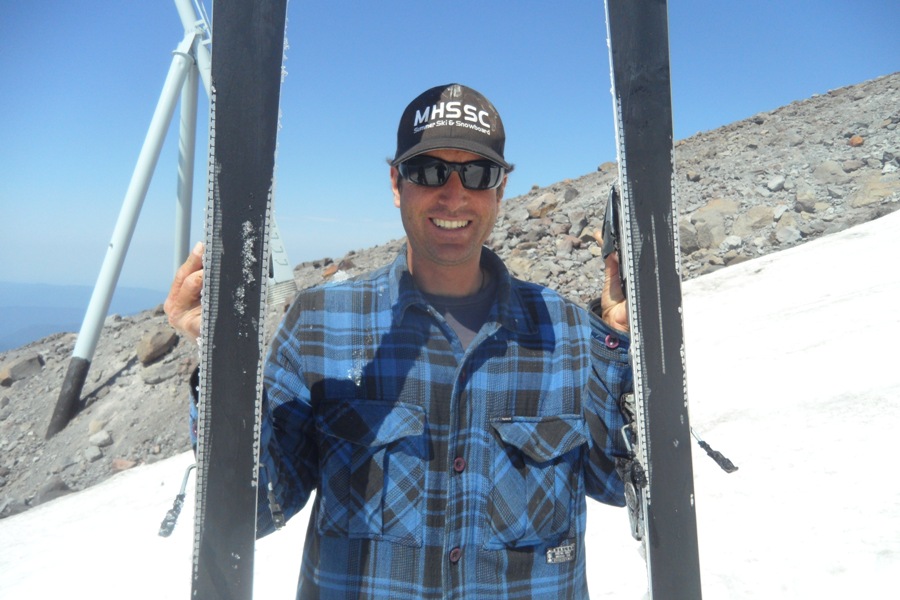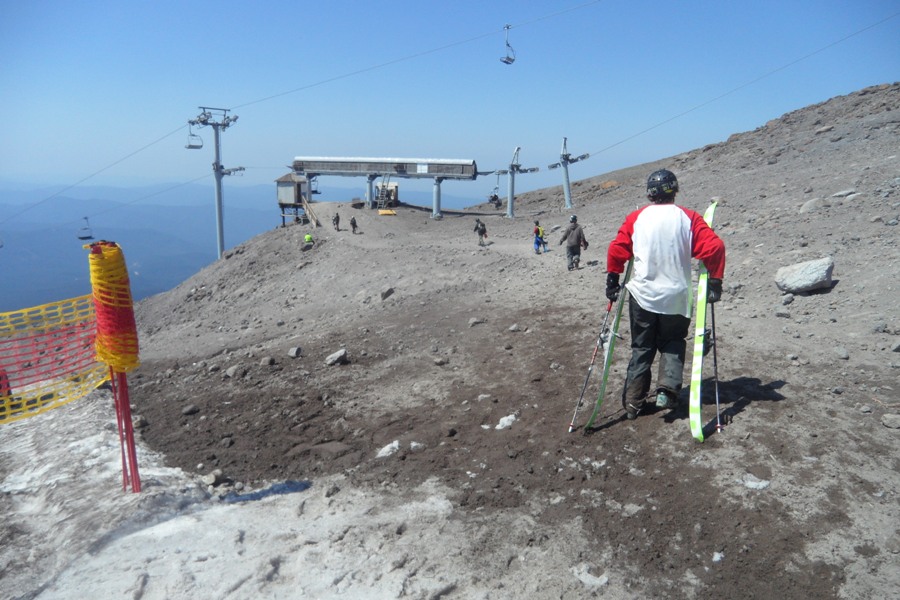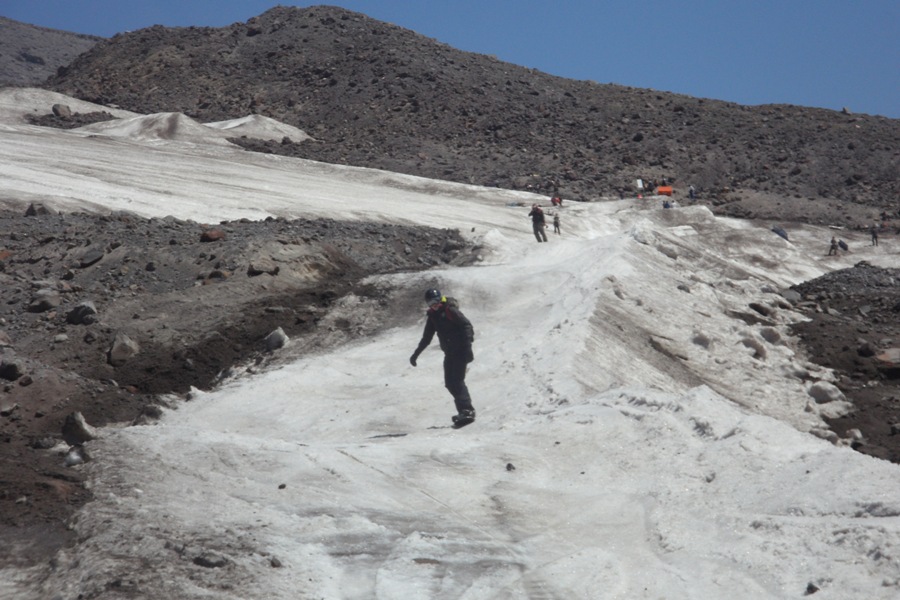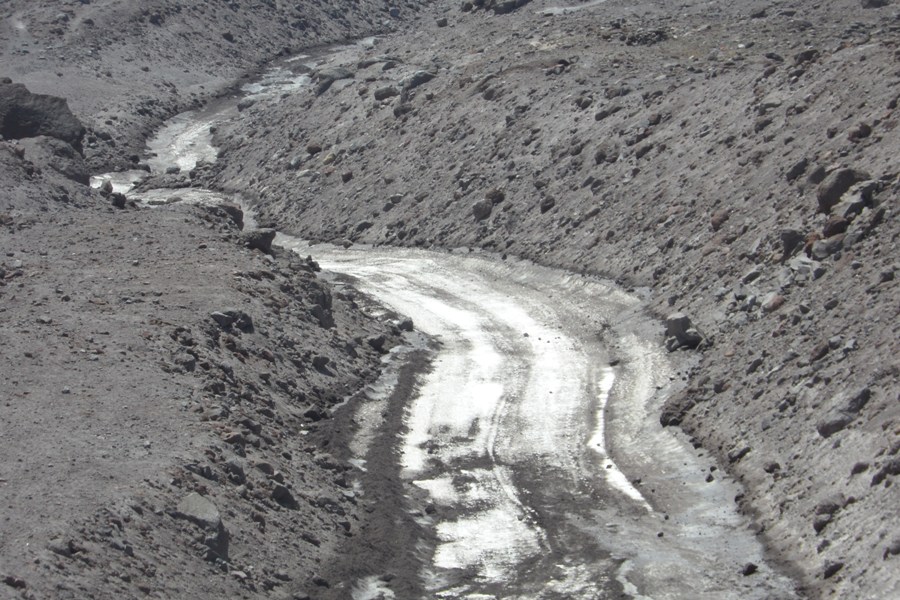 Former staffer, Polly Hopkins, got married a week or so ago!
Former staffer, AJ Crocker got married last week too!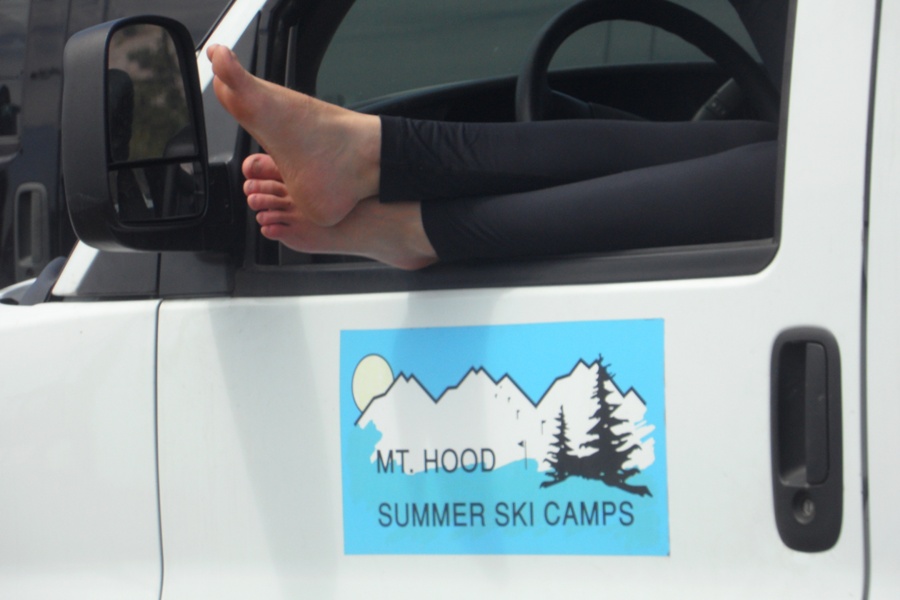 more session 11 pics here
and more session 12 pics here