2013
Session 1, 2013 MHSSC update:
It's that time again! Photo #1 (below) pretty much describes the first 3 days of camp. Rain, Rain, Rain. We had 6 campers, 4 racers, 1 mogul adult, and 1 freeski teenager. And about a dozen staff. Prescott McLaughlin was on Portland TV news a few days before session 1 started, talking about the extreme weather at Mt Hood (see below). Sam Damon was here coaching a group of college racers (different schools) during pre-session 1 and into session 1. I think it rained all 8 days they were here. The ping pong table smelled like bleach/cheese combo. There's a family of chipmunks living in Coho. On Monday (day 1) the 5am snow phone report said "clear skies, 31 degrees, palmer open".....we get there and it's pouring rain, 33 degrees and we skied on Pucci. The campers went Bowling for Monday activity. Someone stole the little white bus. The day before, Mike had jump started all the busses that were parked on his home property. He parked the white bus on the road at the end of his driveway and left it there for counselors Chase Kerzel and Rebecca Zell to pick up on Tuesday afternoon. But when they got there, it was gone. Mike reported it stolen. Shortly thereafter the bus was found a block away in someone's driveway, but the keys were gone. Mike had it towed back to his house and no 2nd set of keys could be found. Monday's wet weather killed 2 camcorders in a matter of minutes. *Dew detected. Tuesday, only 1 camcorder died. The dumbbells in the basement went missing. Turns out Mike Annett took them home and has been working out at home. NBA legend, Bill Russell, apparently stayed at the Mt Hood Inn the day before session 1. Nobody knows why he was here. Speaking of the Mt Hood Inn (now "best western" owned), long-time mhssc adult camper, Irene Slisky, told me that they show free porn movies at the Mt Hood Inn on their TV system. We have a 51 year old male camper who signed up for 13 weeks of camp. ("13-week-Stuart" nickname) There are bets going if he'll actually last that long. He doesn't have a car and he stays in Govy. Nate Reuter did a bunch of sit-ups for the first time in 2 years, then ate some ribs......and his stomach felt "bubbly". There was some new snow on the mountain Thursday and it was even sunny for a portion of the day. Friday was sunny, but a little foggy on the magic mile. Palmer opened up too. Some of the campers and staff ventured out to the cornice in zig zag and got some big air. The tuesday afternoon activity was a trip to Multnomah Falls. A raven ate Mark Syrovatka and Rebecca Zell's lunch. Ravens can unzip back-packs. My new water bottle, that I bought on Ebay, sucks! It came unscrewed and poured water all over my already wet stuff in my giant blue bag. Luckily my still camera survived the incident despite being drenched. We have a new cook, Chris O'Brien. Mark Syrovatka took the campers caving for Thursday's activity. We did picnic at Jackson Park in Hood River. The marina shelter was booked by boy-scouts, so we had to improvise. Mike had to drive home and get a portable grill. It rained at the picnic, and there was an impressive rainbow. A bluebird ate croutons out of the salad (see video below). Rick Millett and the diggers set up the MHSSC terrain park on Thursday afternoon/evening. Chase Kerzel fixed the butterfly cable on the universal weight-bench in the basement. "Parham" is no more (the owners are homeless and living there themselves). I'm living in a new place for the first time in 21 summers: An A-frame cabin that is behind the museum in Govy. Jackie Guy had the screws taken out of her leg recently. She's running the office right now and will be able to ski shortly. There were lots of big black ants roaming the staff mail slot thingy. I went to Frog Lake for the first time ever on Monday. You can see more session 1 photos here. Prescott is in too many photos this week.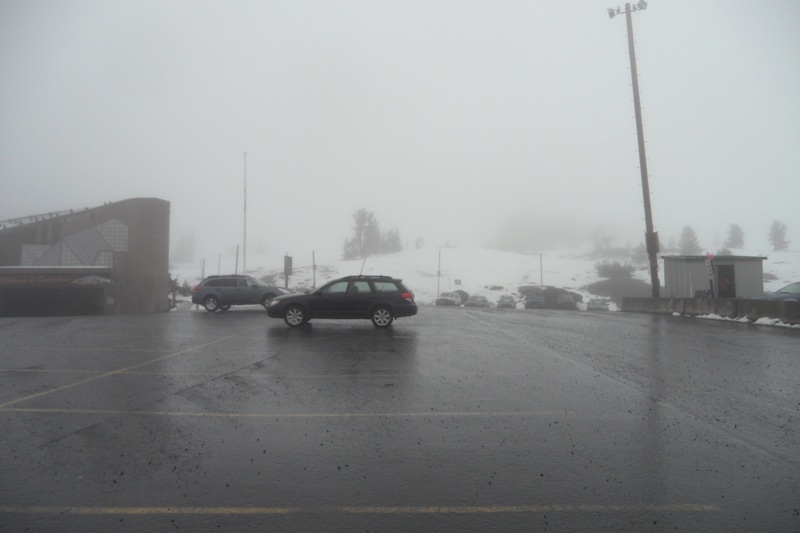 Blue-bird eats the picnic....video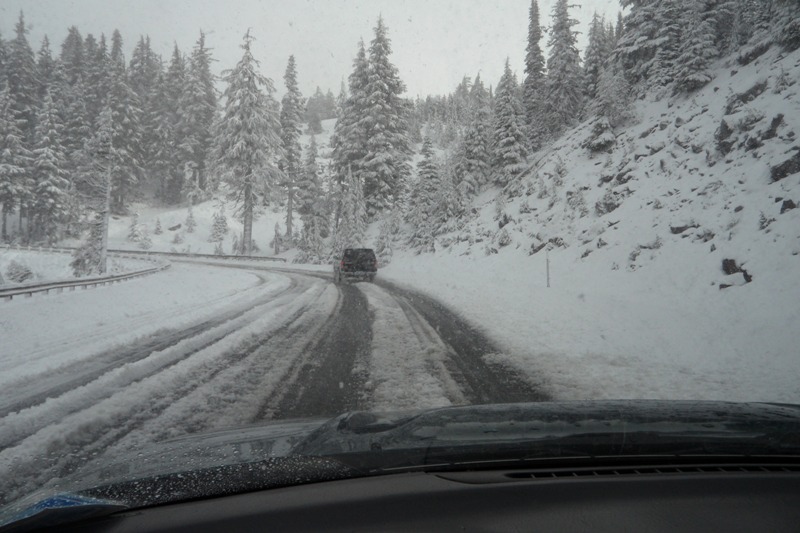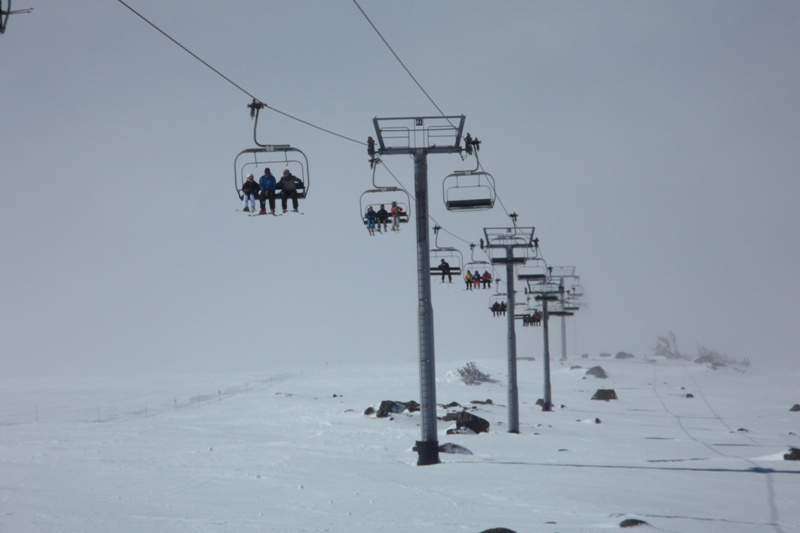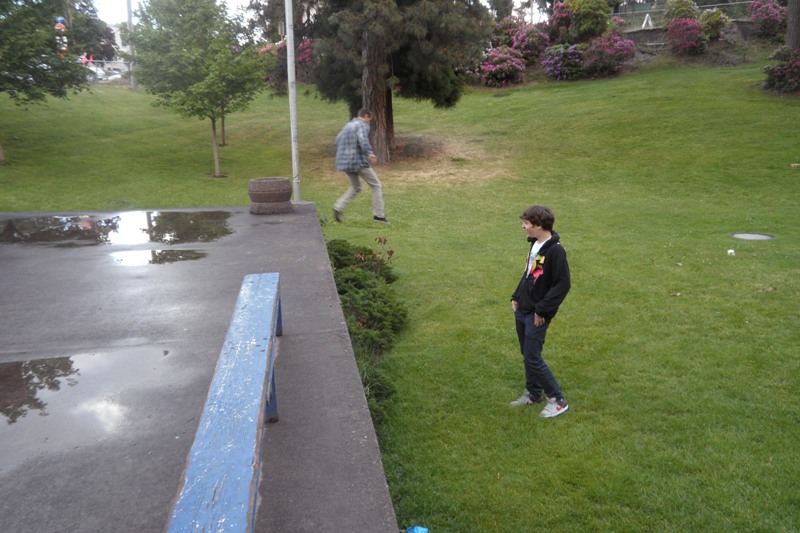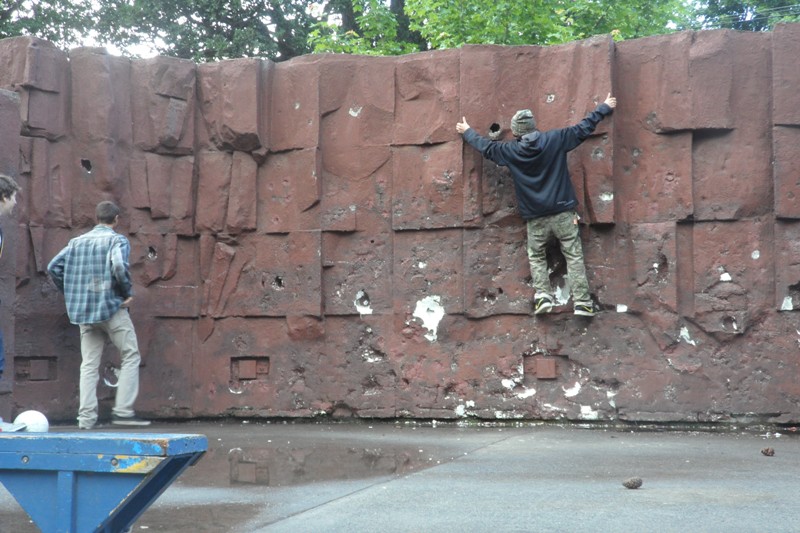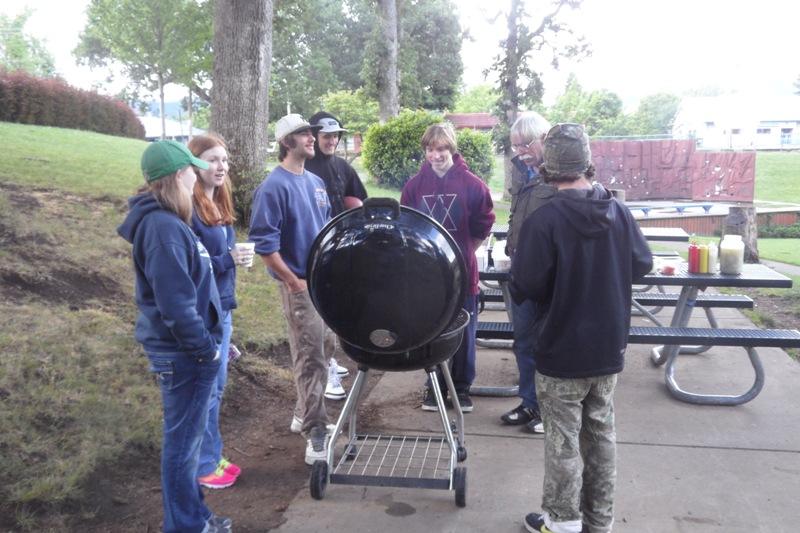 Prescott on TV....."Government Camp Resident"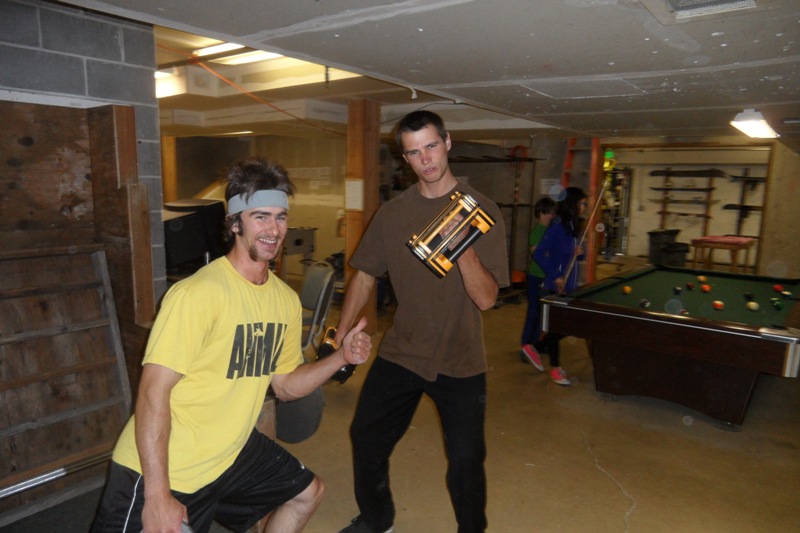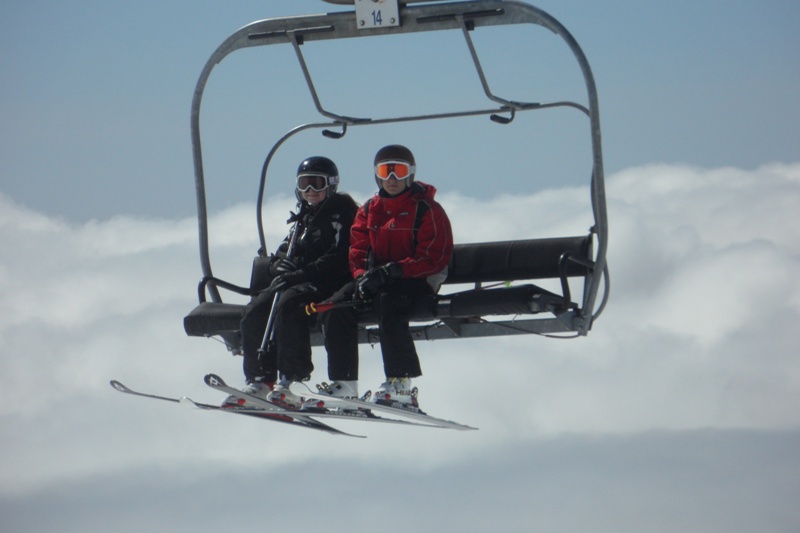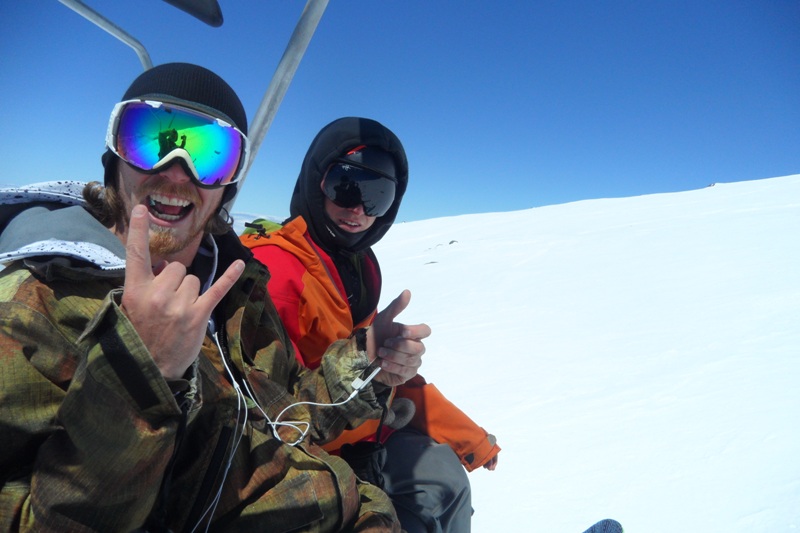 Jeff Tait was part of the mhssc k-staff back when he was a teenager during the 'summit lodge' era. Years later, he returned to camp as an alpine coach with Windham Mountain. Jeff died on April 18, 2013.
Session 2, 2013 MHSSC update:
Nothing too significant happened....It was mostly sunny and warm. Palmer was closed 3 of the 5 days, as the T-line people were putting in the mid-way station. Friday was windy, cold and a bit foggy up top. Chase Kerzel yelled "YES!!" when the Boston Bruins won game 3 in double OT with a sudden death goal. He also watched much of the game on his computer at the Hood River Wednesday picnic (see pic). Speaking of Chase, he gave me a mint plant. I hope it grows really big and I'll put some mint into my green smoothies. Reid Lambres threw the frisbee into the Columbia River at the picnic. It could not be recovered. Jackie Guy skied at Mt Hood for the first time since breaking her leg last July in the staff race. (see video and pic below). Reid Lambres did a backflip at the picnic. There was a chipmunk who managed to steal the bait (bread) out of the trap and was eating it, while standing on top of the trap, with the trap door shut.....that's one smart chipmunk. The white bus is back, safe and sound. A bus full of Taiwan tourists rode up the magic mile chairlift on Thursday. One of the ladies said to me: "I love you". (see video). Mike Jennings coached the snowboard racers. He did excellent. Mark Syrovatka did a 'helicopter' off of Darren Owen's mogul jump. It was glorious. Magic Mile doesn't have all that much snow. We fought over the 60" plasma TV remote control in the camp dining room on Tuesday night when there was an NBA playoff game AND an NHL hockey playoff game at the same time. Some camper's parents brought VooDoo donuts to camp for all to enjoy. More session 2 pics here.
Prescott McLaughlin turns 21 this coming Tuesday of session 3. Party at Charlie's....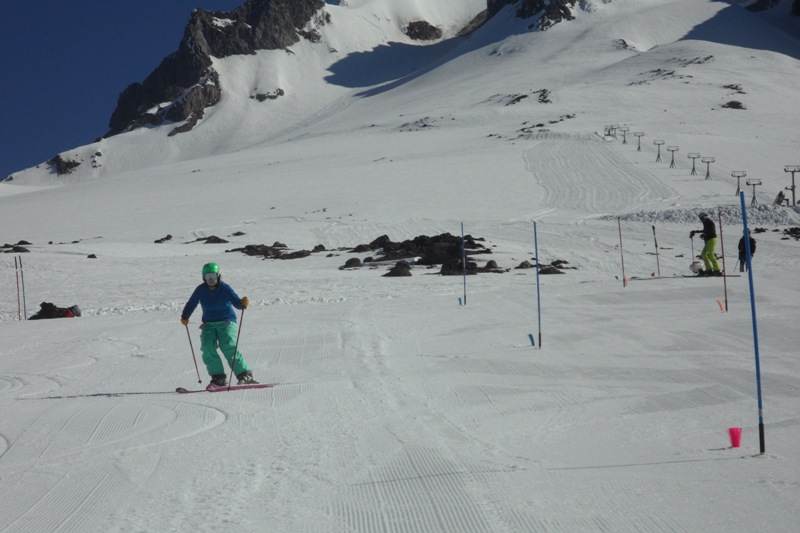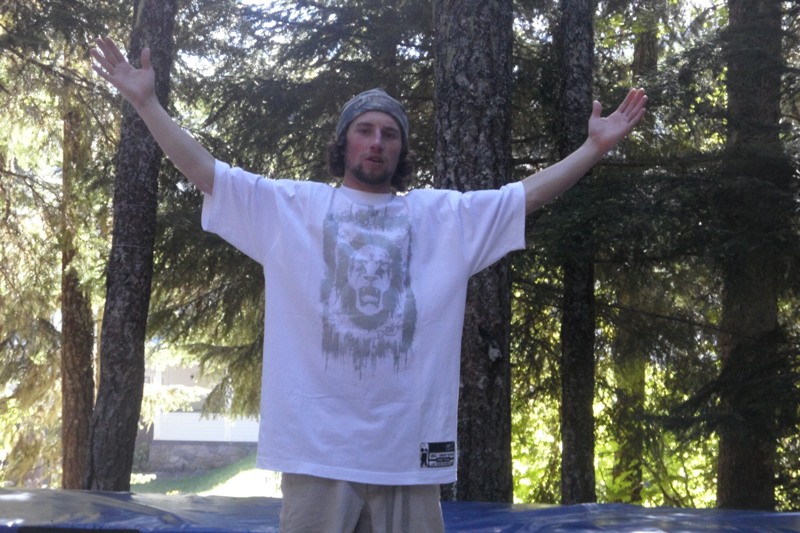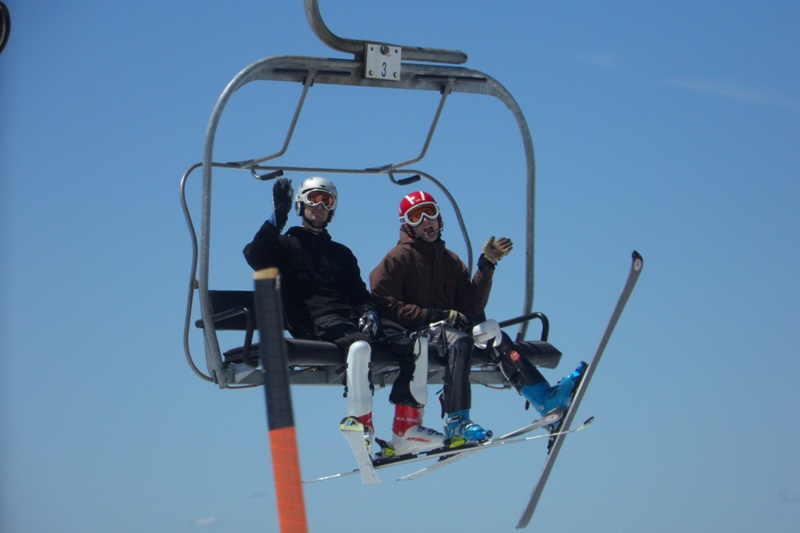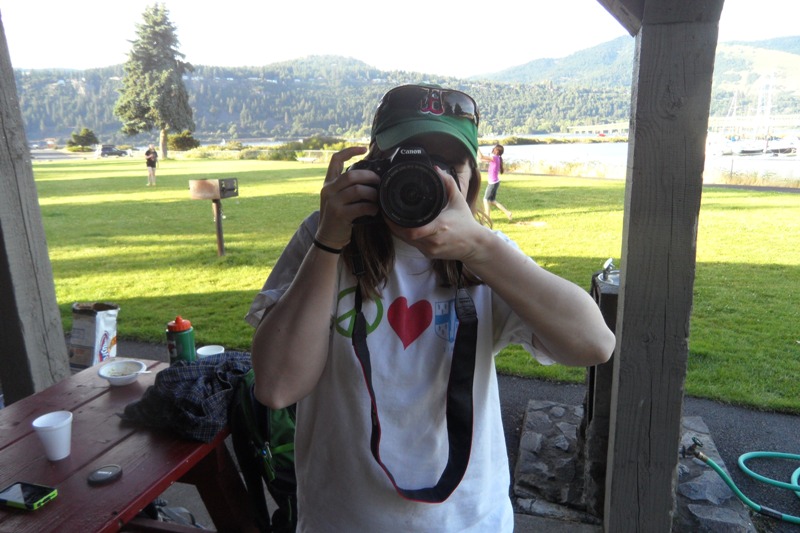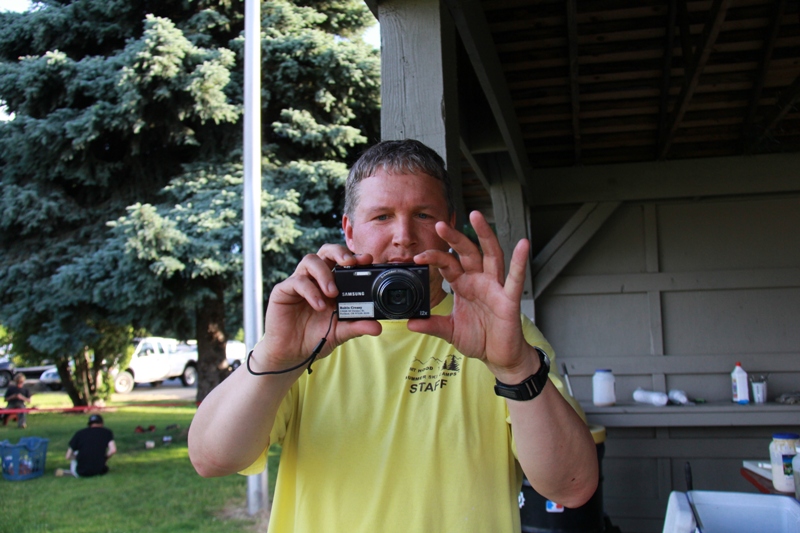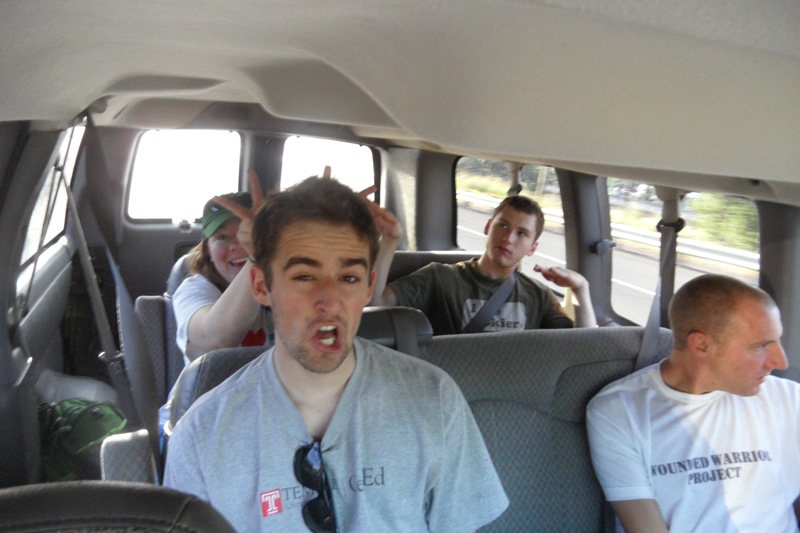 Session 3, 2013 MHSSC update:
The highlight of the week has to be Prescott McLaughlin's 21st birthday at Charlie's bar on Tuesday night. Some random Govy local convinced Prescott to "ring the bell" at Charlie's because "it's your 21st birthday man!"......Prescott, not knowing the significance of ringing the bell at the bar, went ahead and rang it. Free round of drinks for everybody in the bar!! Doh! I had already left when this happened, but I heard everybody was given a free Rainier beer and Prescott's credit card was the victim. Reis Lambres turned 19 on Wednesday. The entire camp sang happy birthday to him at the picnic, lead by Matt Chirico. The weather in Wildwood sucked, so Mike took the camp to an all new location for Wednesday's picnic: Oak Grove Park. It was in the middle of nowhere (about 20 minutes south-west of Hood River). The weather on the mountain was horrible on Tuesday and Thursday. Not too bad the other 3 days. Mike Syrovatka is terrible at basketball. It took him approximately 25 shot attempts to finally make a 16 foot shot at Parkdale school on Monday. Chase Kerzel watched Stanley Cup finals game 1 on his laptop at the picnic. He's rooting for the Bruins. Rebecca Zell put a MHSSC sticker on the front door of my house in Portland when I wasn't there (she googled my address). Lucky for her, the sticker came off without too much trouble. Mike Jennings took his snowboard race campers on a hike to Illumination Rock on Wednesday. Much of the camp took multiple runs out to the zig zag glacier cornice on Friday. See pics below from Matt Chirico. One camper girl got 19 letters in the mail on Friday. Jackie Guy got stuck while rappelling down the rock. Don't know the particulars. More session 3 pics here. There was some new snow to ski on Friday morning. It got very sticky by around 11am. A camper from the mid 80's (Paul Smith), returned to camp some 3 decades later......this time he brought his 13 year old daughter. Kieran McVeigh almost hit 4 deer in his car. The K-staff got very creative in filling up the juice jugs at the picnic (see pic and video below). Noelle Gillis arrived at PDX at approximately midnight on Wednesday. Andrew Nagel put this sweet video together. *MUST BE WATCHED IN HD"
the end...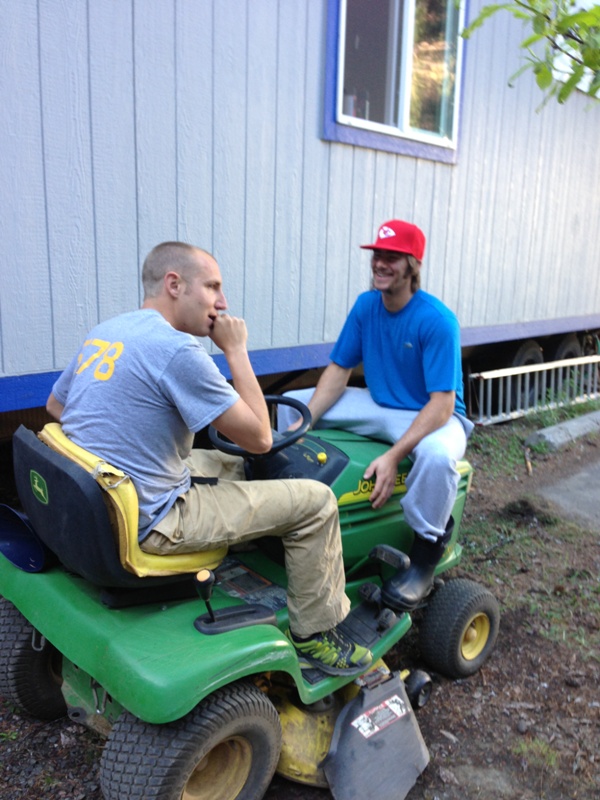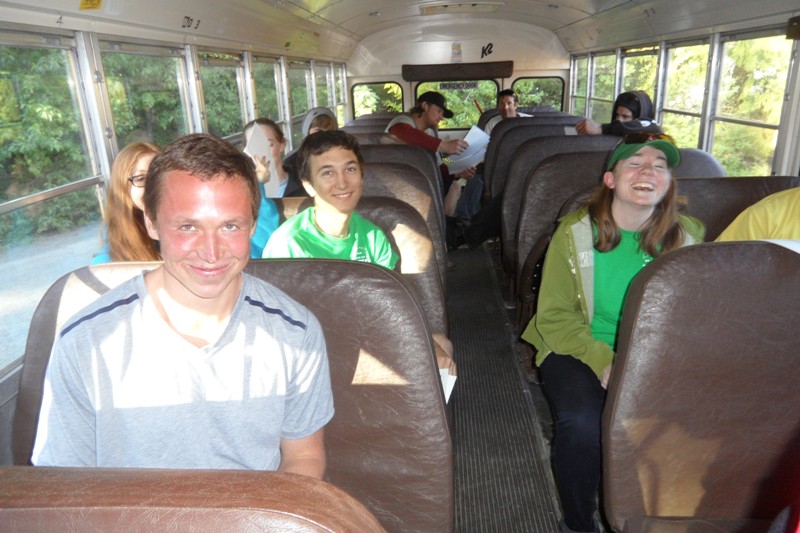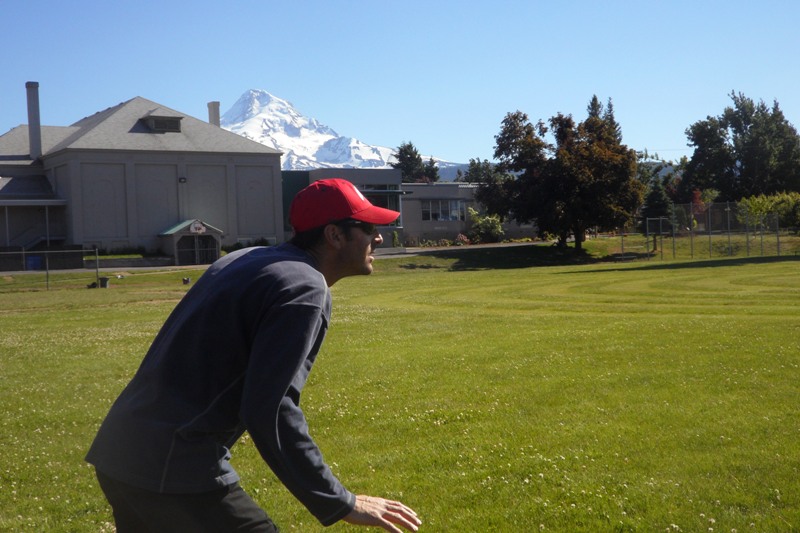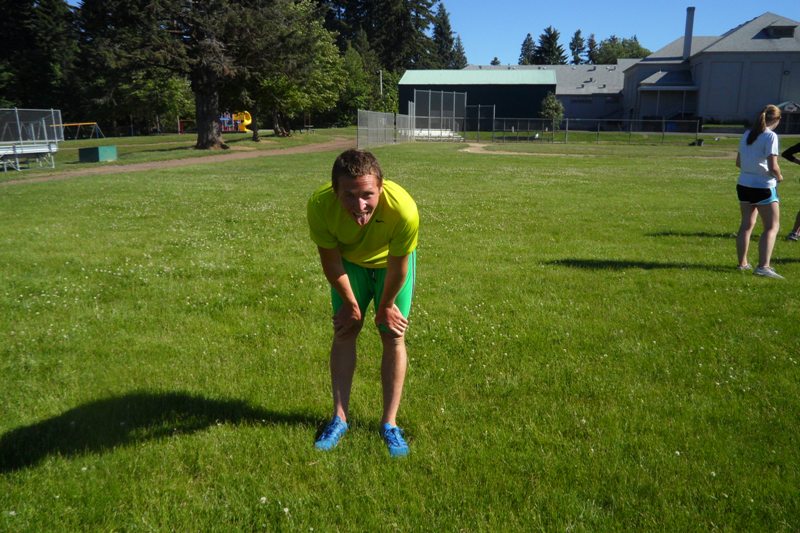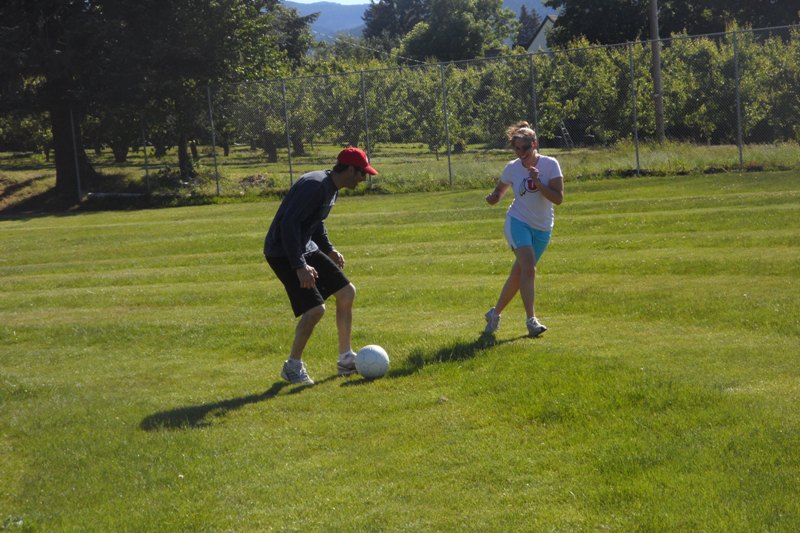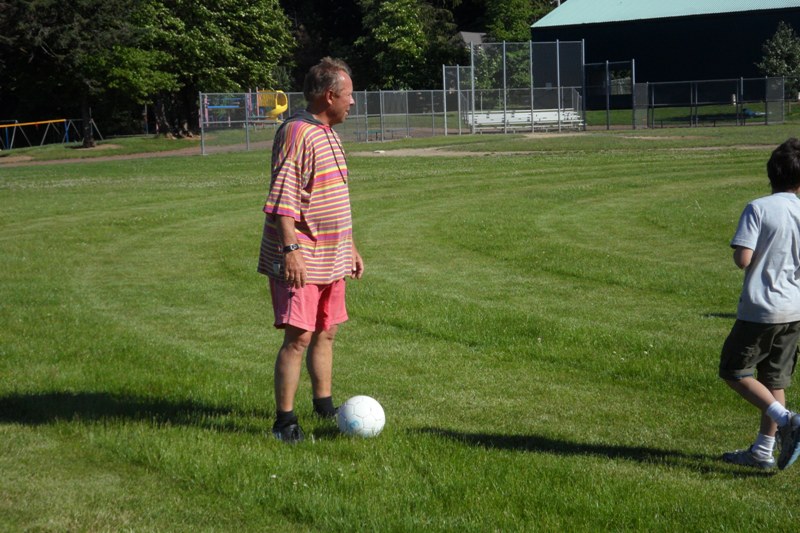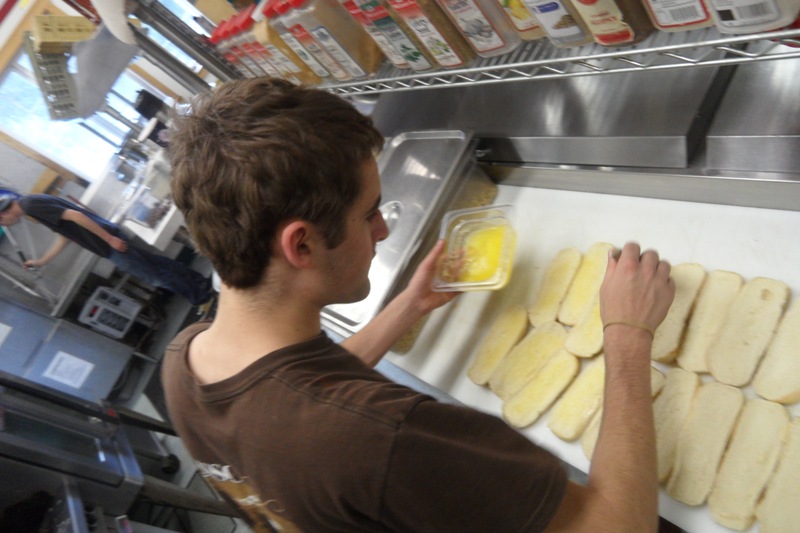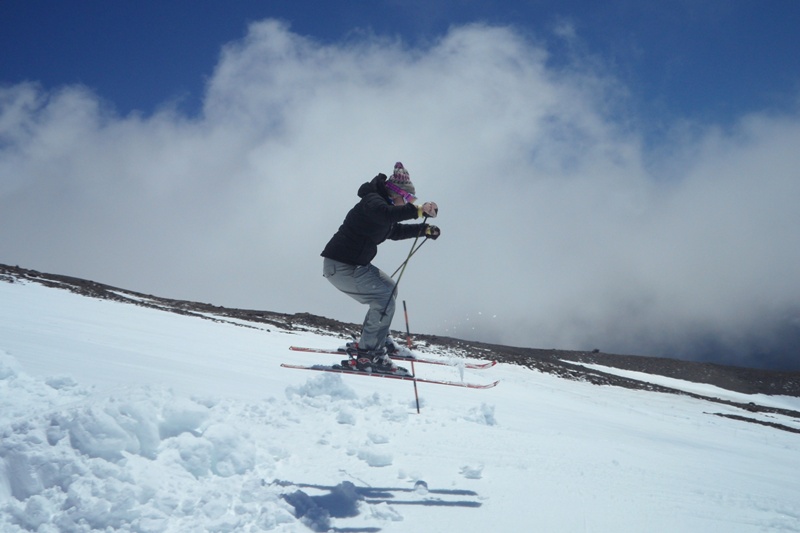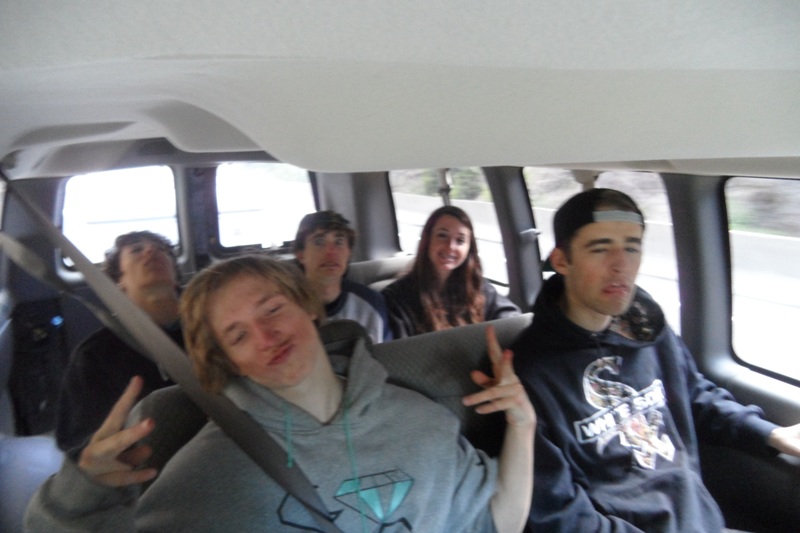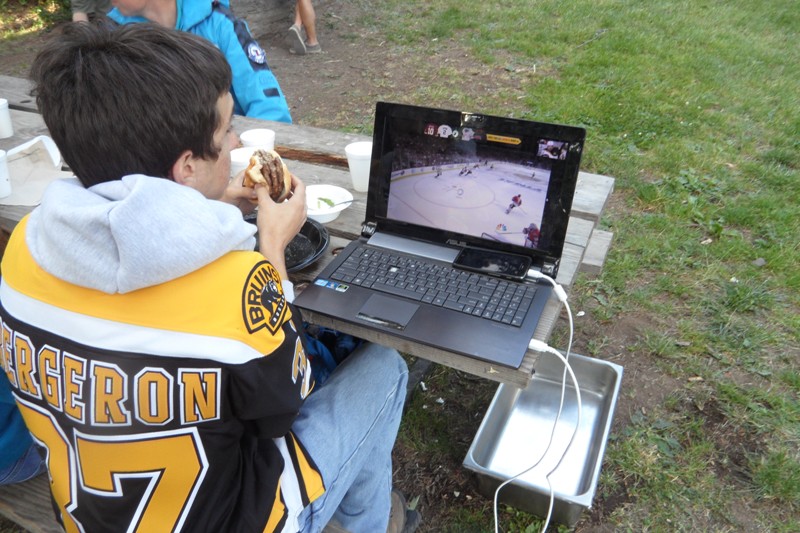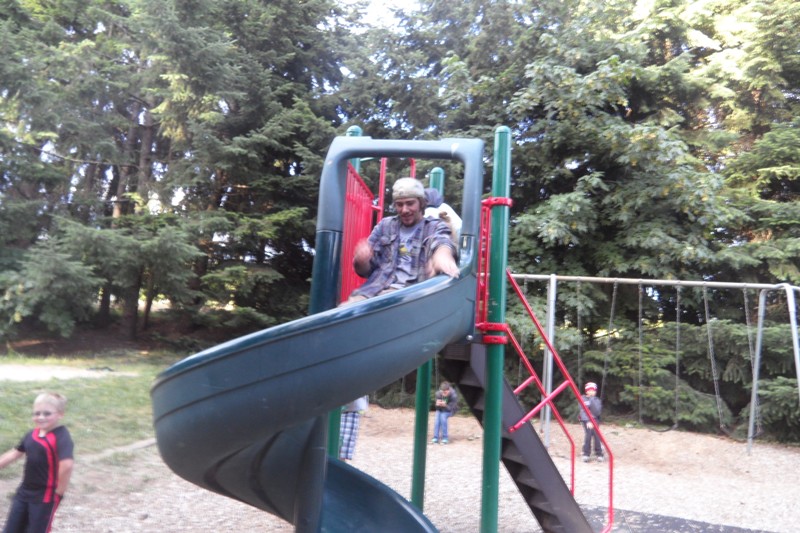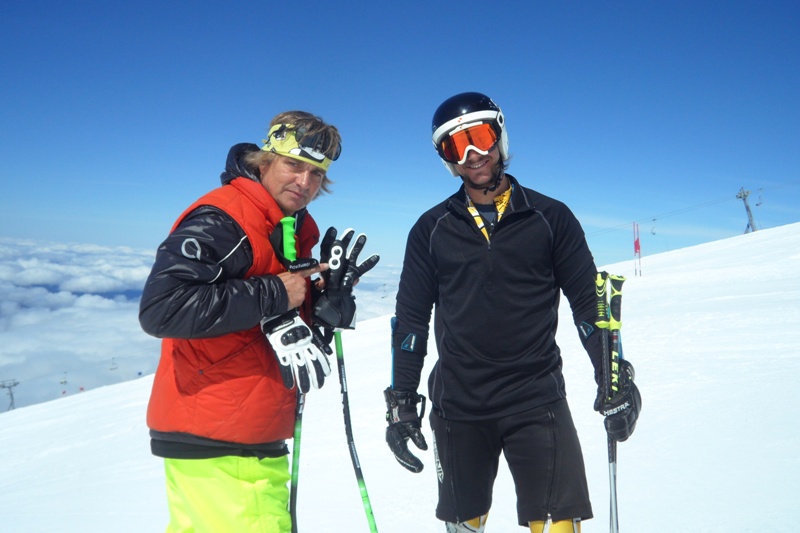 Photos below by Matt Chirico and Reid Lambres out on the zig zag cornice...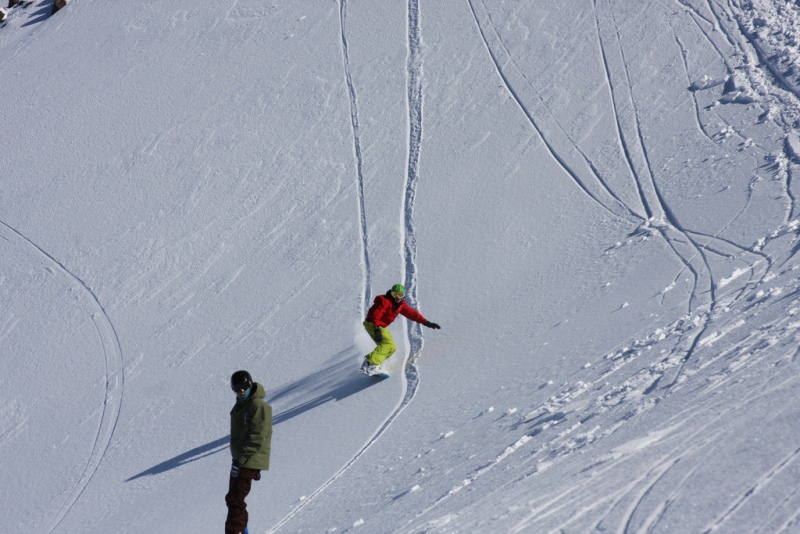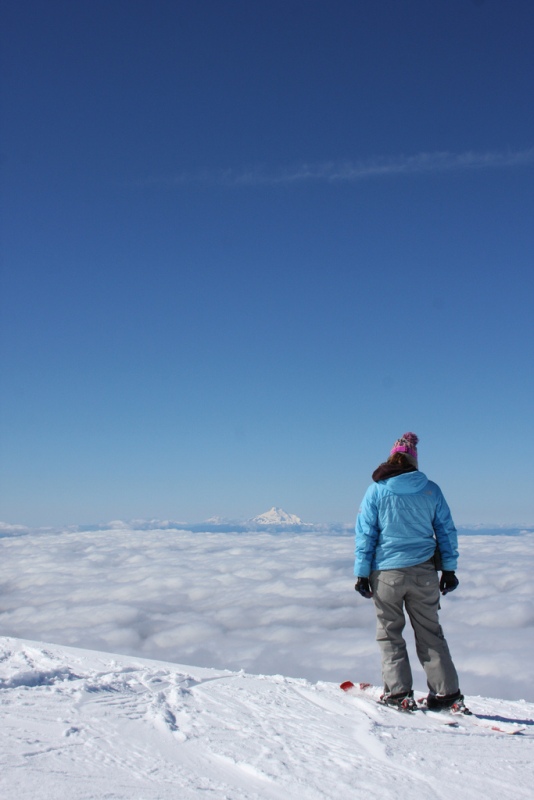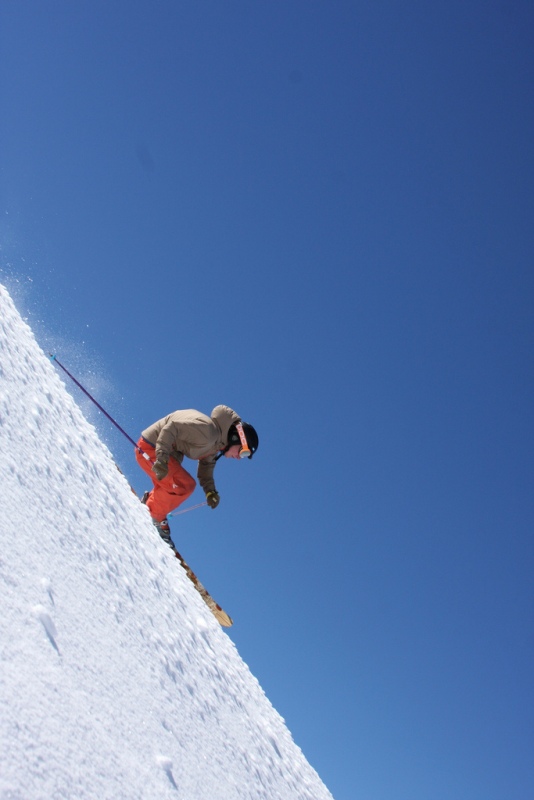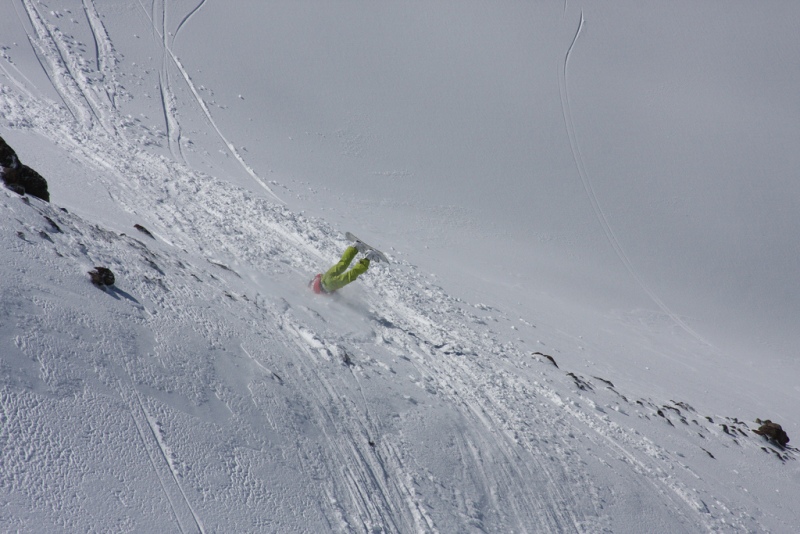 Session 4, 2013 MHSSC update:
The shitty weather pattern continued here at Mt Hood, Oregon. Monday was nice. The other 4 days were pretty brutal. Rain, snow, fog, wind, sun (brief). We did a lot of "stand-by" in the mornings. A boy in Jackie Reis' ski group did a double barrel snot rocket into the snow. Jackie said it was the biggest snot rocket she's ever seen. *sorry, no photo. A small rattlesnake took a lunge at Joe Sulpizio during Tuesday's rafting trip near swimmer's rapids. The counselors took a trip to the new Portland Aquarium on Monday (their day off). Heard it sucked. It was POURING rain at the picnic. A camper girl, in a freak accident, knocked over a glass cup up in Coho lodge, it hit the wall and broke and then she stepped on it.........I was told multiple times that it was a "big pool of blood". Jackie Guy and Matt Chirico rushed her to the hospital late night (see pic). Snowboard coach Ben Beavon, returned to coach at mhssc after a year hiatus, as he recovered from a big time broken leg some 15 months ago (see photo below of his gnarly scar). Ben's injury was so severe that he was life-flighted from Timberline to OHSU hospital in Portland. Good to see him back on his board again doing what he loves. More session 4 photos here. I'd love it if somebody could take some photos from the mhssc terrain park for the mhssc facebook page each week. Any of you park people want that task? The freeskiers and snowboarders aren't getting any love on the world wide web.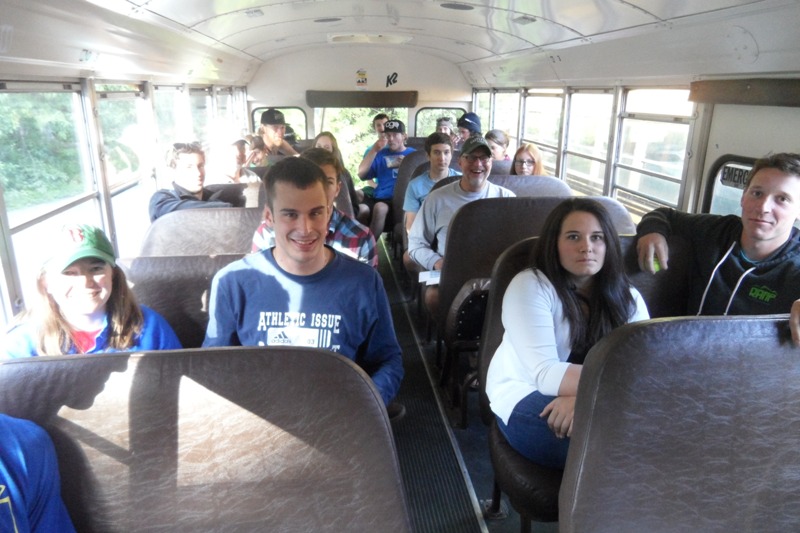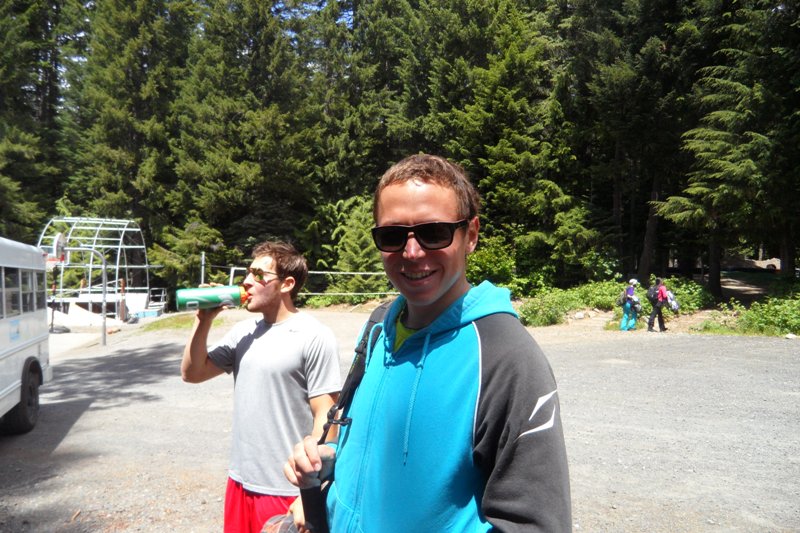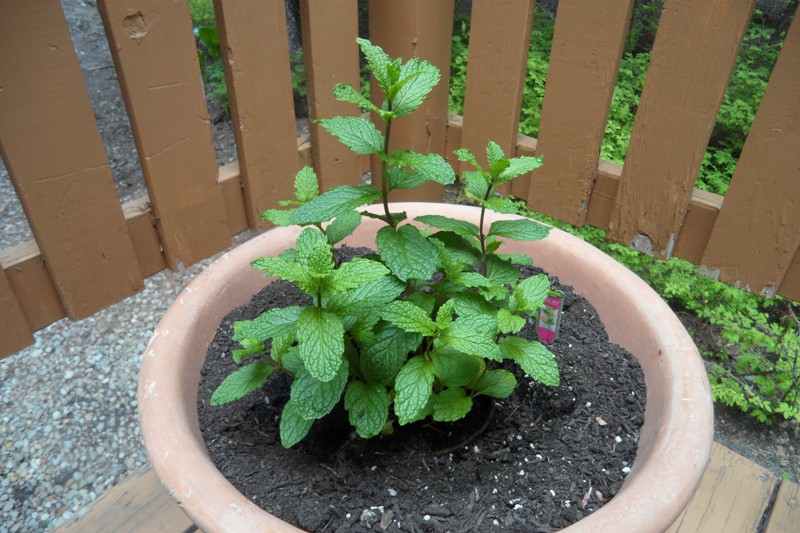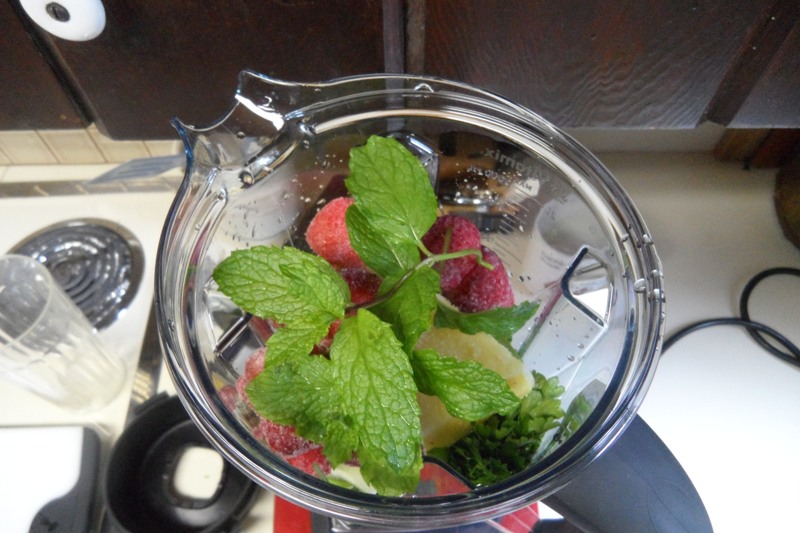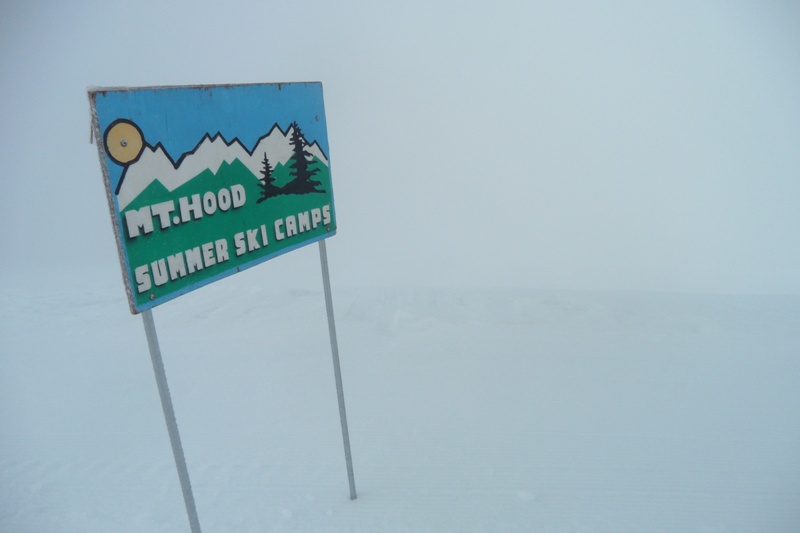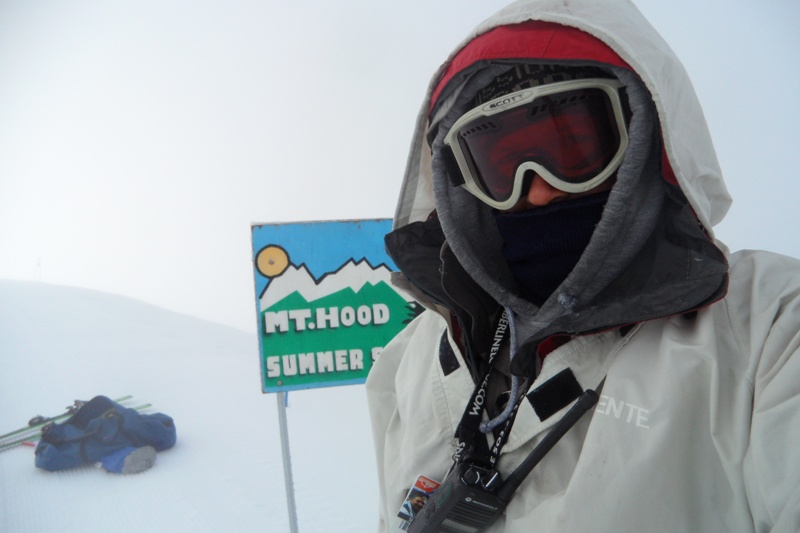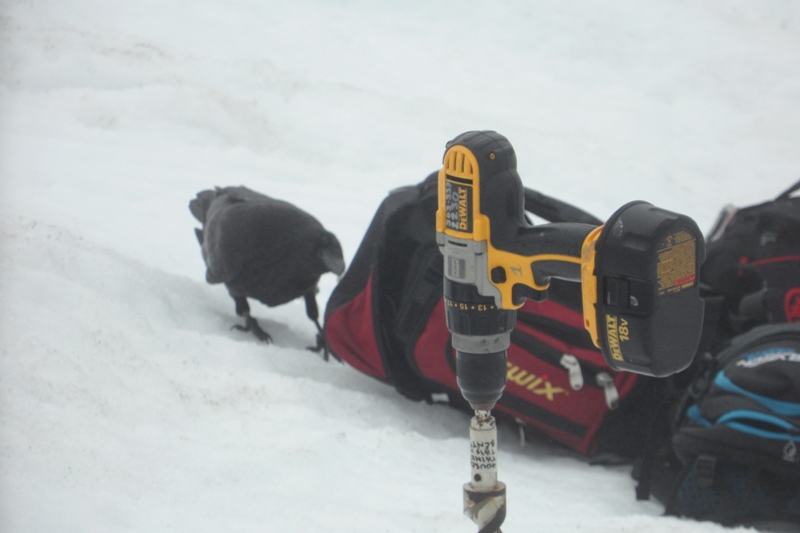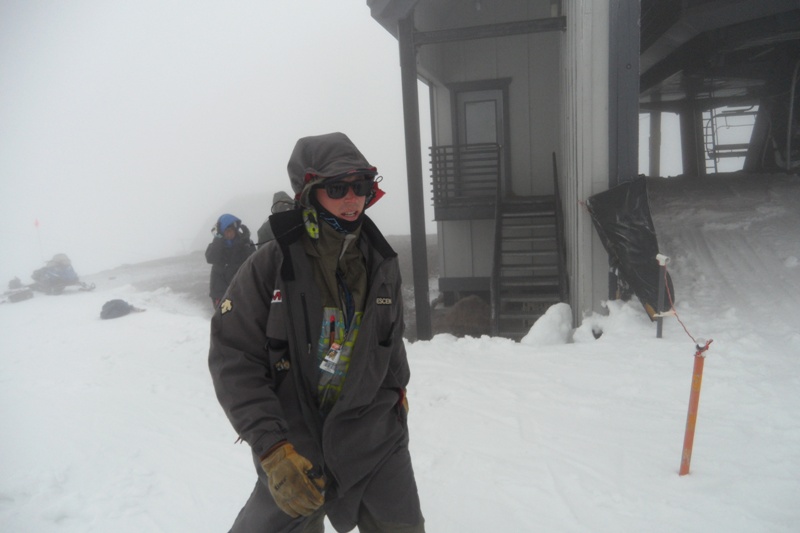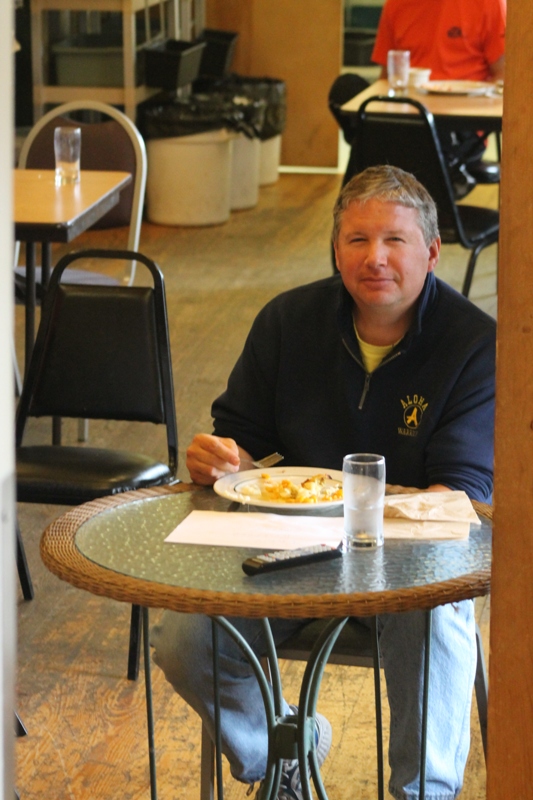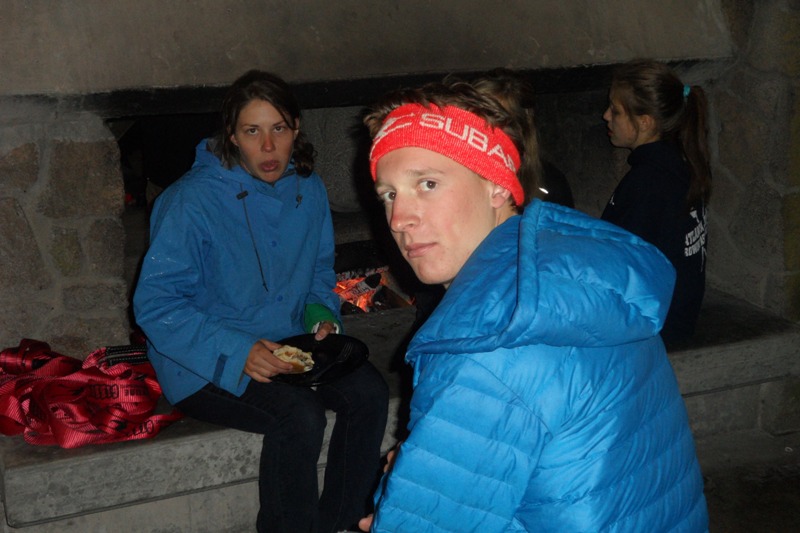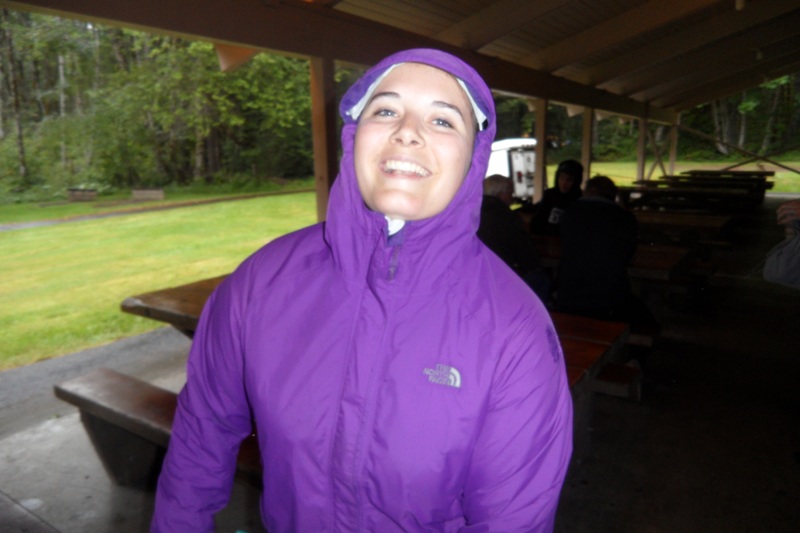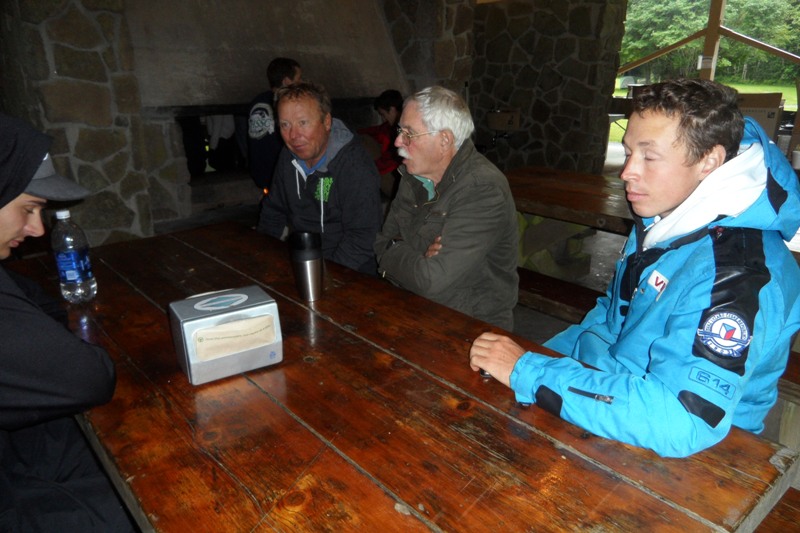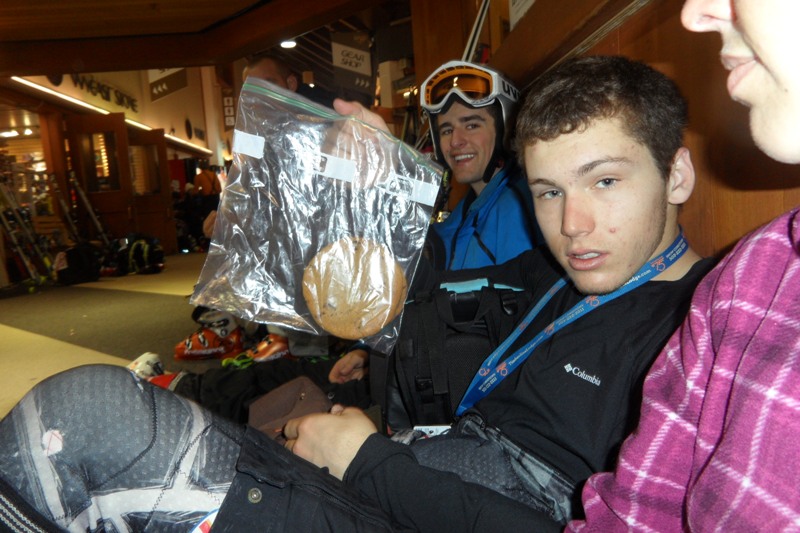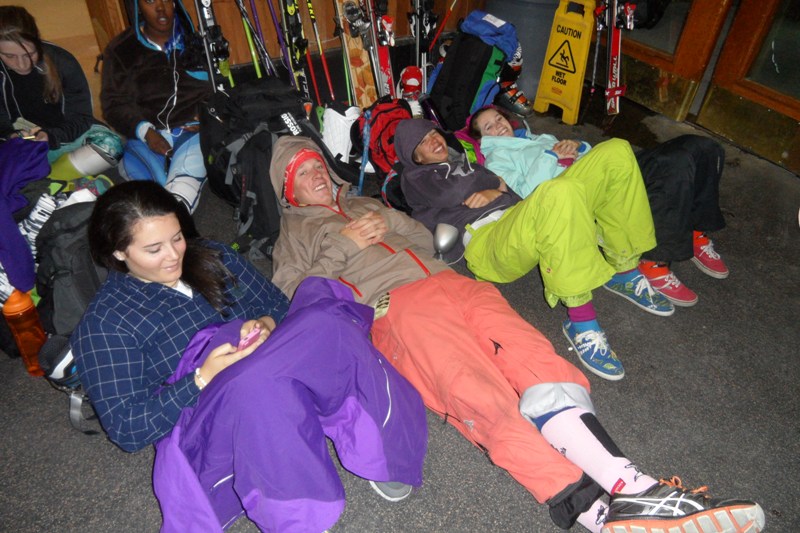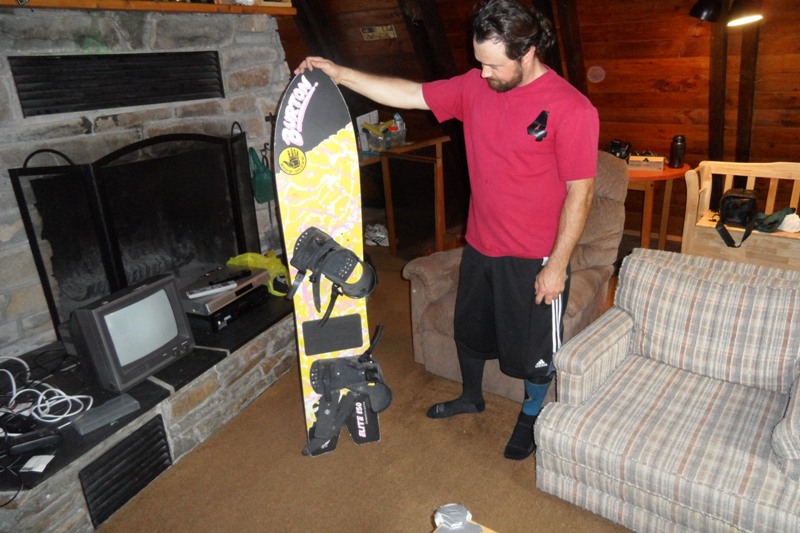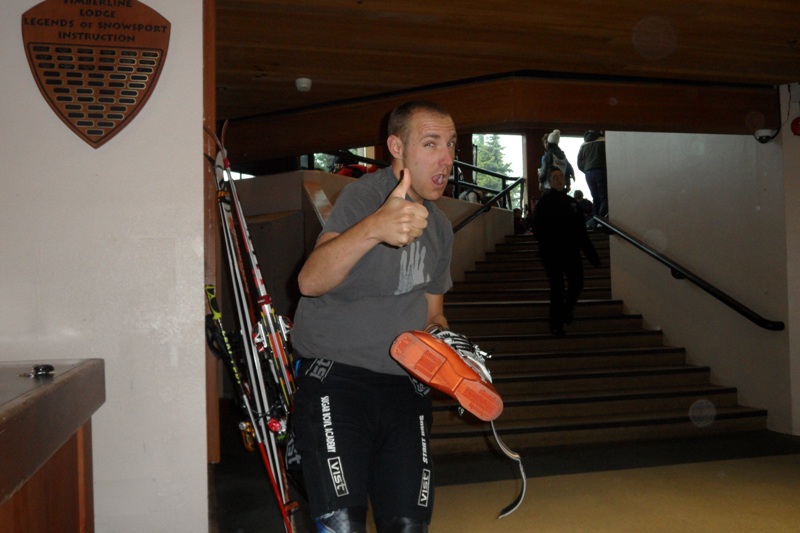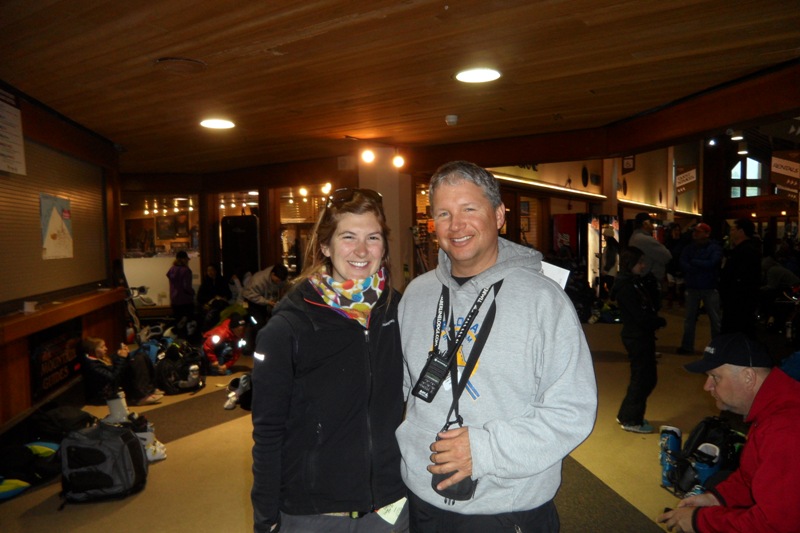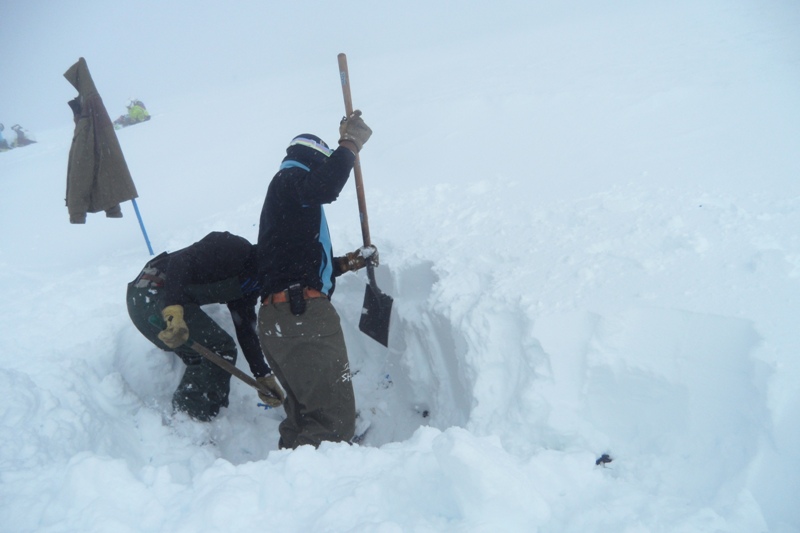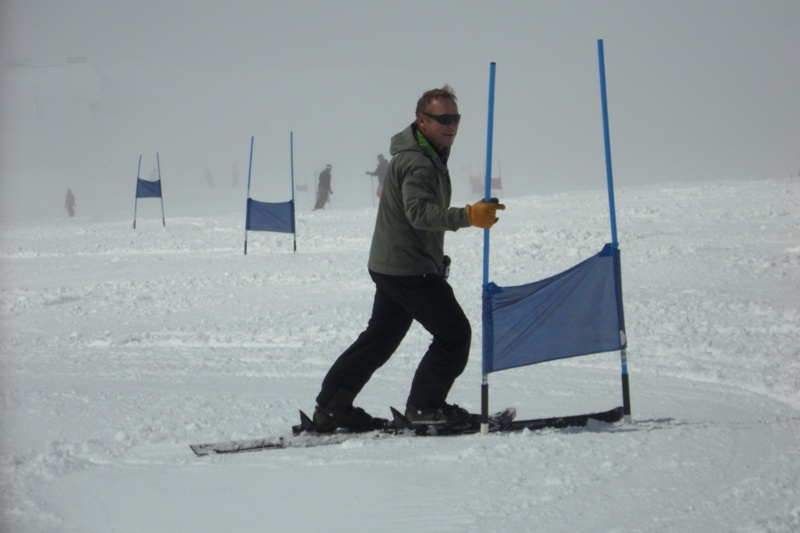 Session 5, 2013 MHSSC update:
Time got the better of me last weekend and so I never got a chance to finish and send out the session 5 update. So here it is, in all it's glory...one week late. Session 6 update should be done sometime tomorrow (sunday).
Here's what happened session 5. A random skier fell off the magic mile chairlift. It was quite frightening. His jacket got caught in the chair as he tried to unload at the top of the chair. He rode the bullwheel around and somehow swung wide and around the safety gate, so the chair kept in going until the kid was suspended in air just outside the lift terminal about 25-30 feet above ground. We were training on the magic mile that day, due to bad weather up above, and I was in a position to video tape the kid hanging there and dropping to the ground. Luckily, he landed feet first, and on the snow. A few feet in either direction and he would have landed on bare ground/rocks. I think he escaped with minimal injuries. No broken bones. I heard he wanted to resume skiing a few days later, which was a great sign. *the video of the incident won't be posted.
The weather was just horrible....really really bad. ok, friday was nice, but those other 4 days were just brutal. Chase Kerzel and Bill Toney rode their bikes to the picnic. Bill then ran 5 miles with me at the picnic. He's hardcore. There was a lost climber on Mt Hood. He stared his climb back on Saturday (before session 5) on a nice day. A week later after the weather cleared, the searchers eventually found his body. More details here. The campers went to a BMX park in Portland as a rain day activity. K-staffer Jack Sklar, set up a 100 foot slack line at the picnic. Noelle Gillis tossed a horse-shoe way high in the air and off target, at the picnic and almost hit innocent bystanders (see pic). Jaime DuPratt and myself rode the chairlift with ski racing legend Phil Mahre. I asked him if he was Steve or Phil.....and he said "I'm the good looking one"....Darren Owen is selling new camp sweatshirts, baseball caps and beanies (see pic). Craig Bowden (aka "C-Mach 2000 degrees Fahrenheit") is back coaching at mhssc after a 3-4 year absence. Long time mhssc adult camper, Irene Slisky, treated me to early happy birthday at the Ratskeller. Mark Syrovatka organized a Ted Ligety autograph session in Govy. (see pics). More session 5 pics here. Scotty Veenis (coaching the Ligety camp), got the rod taken out of his leg and he's doing great.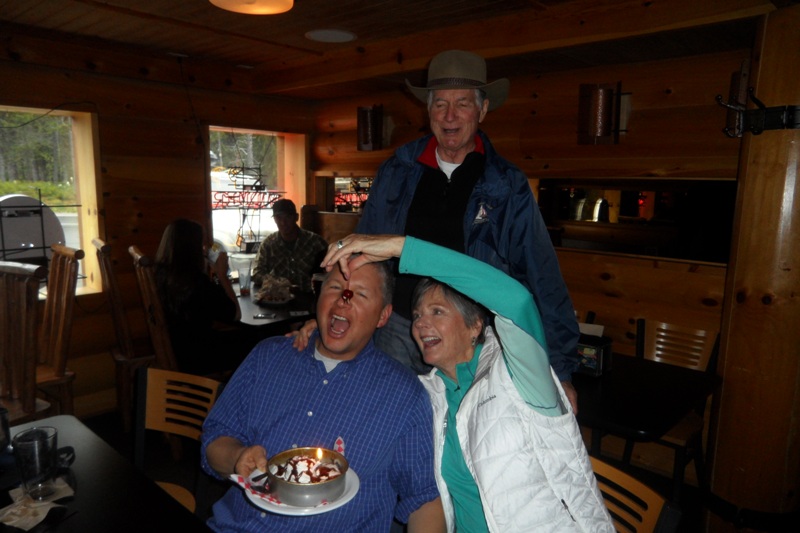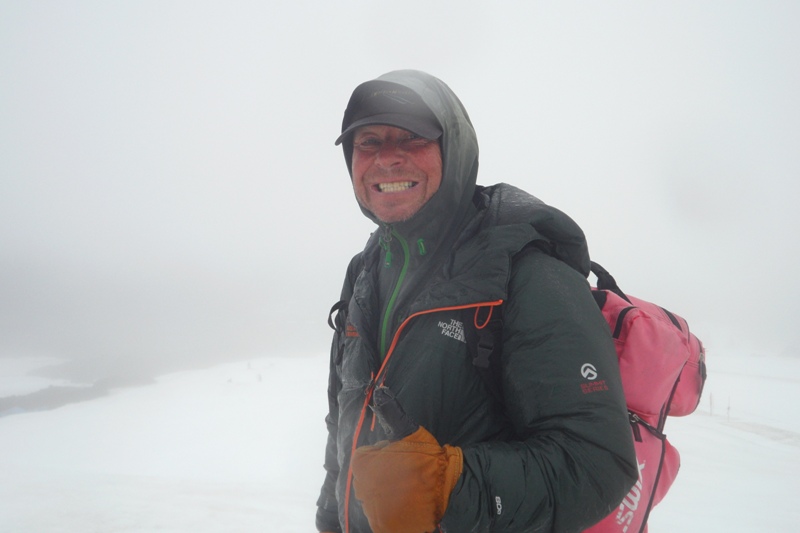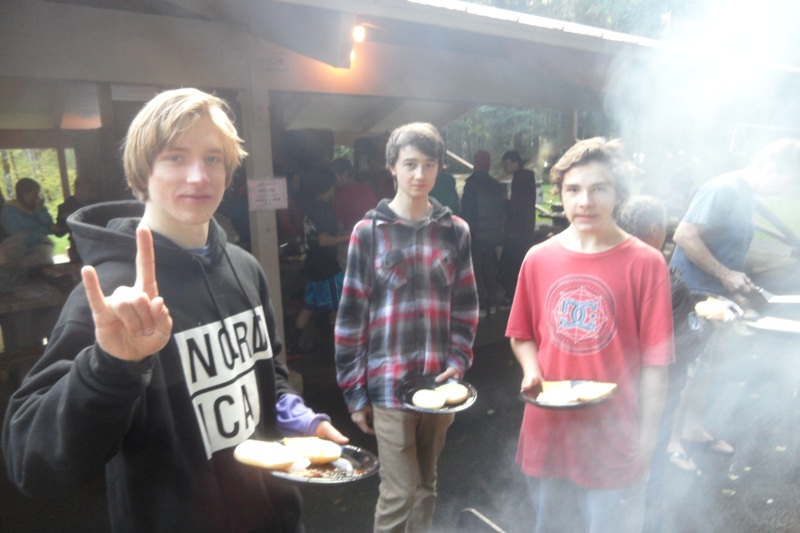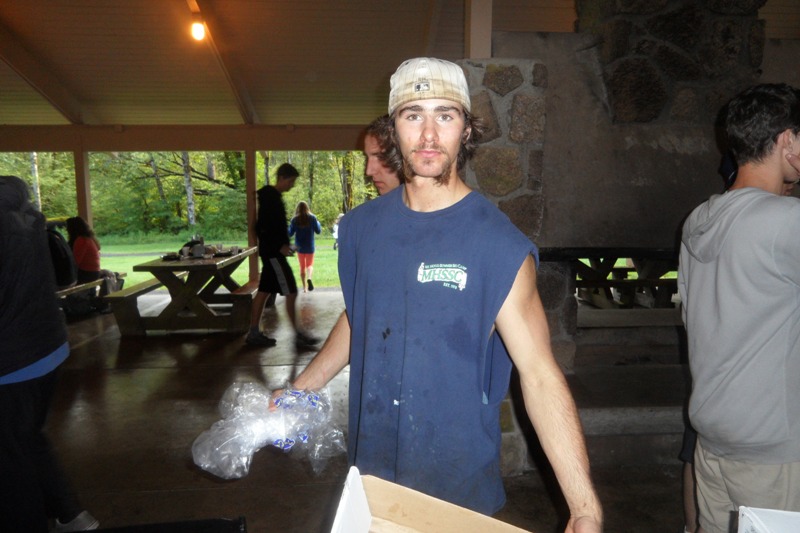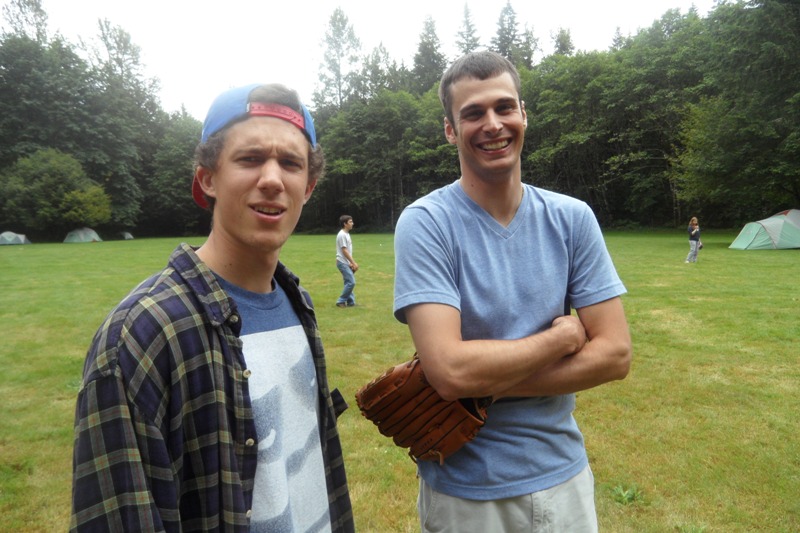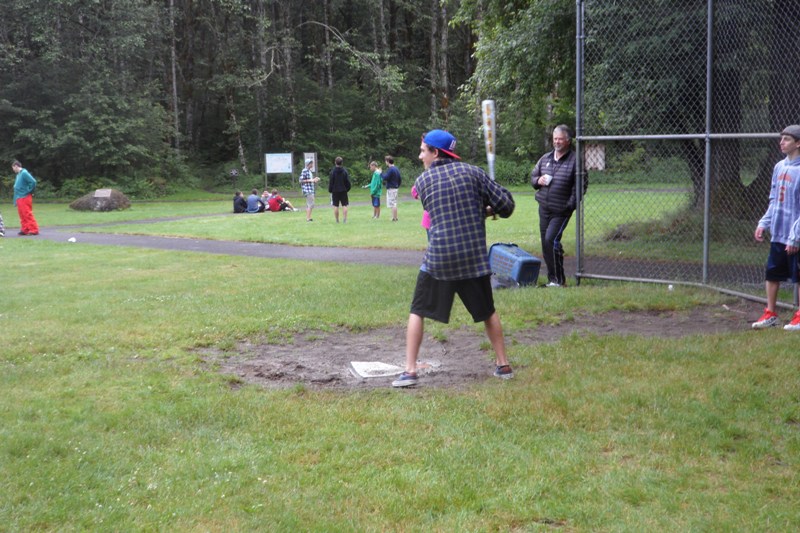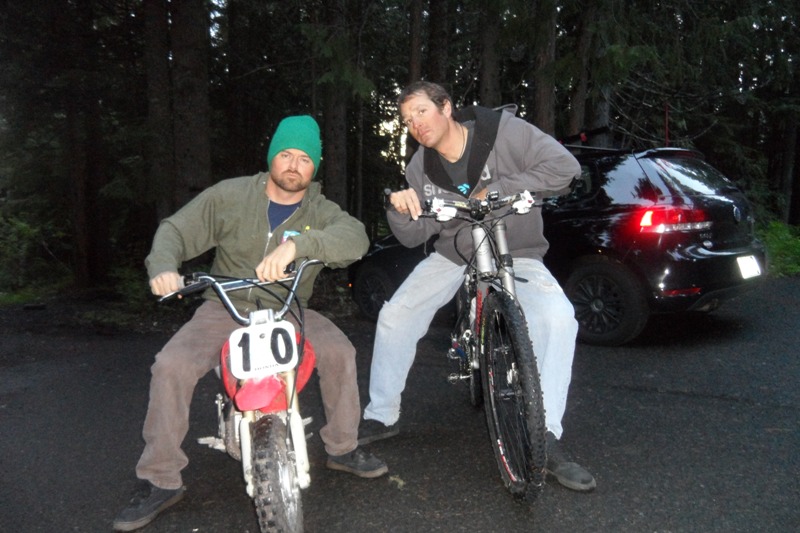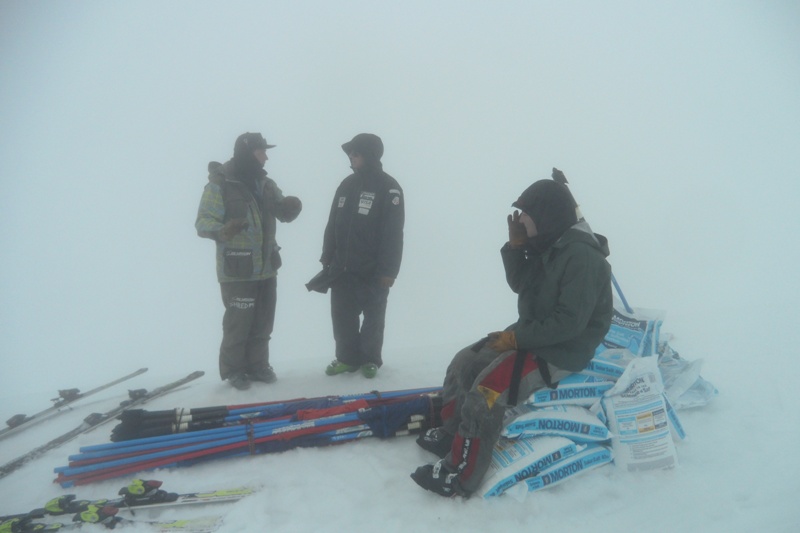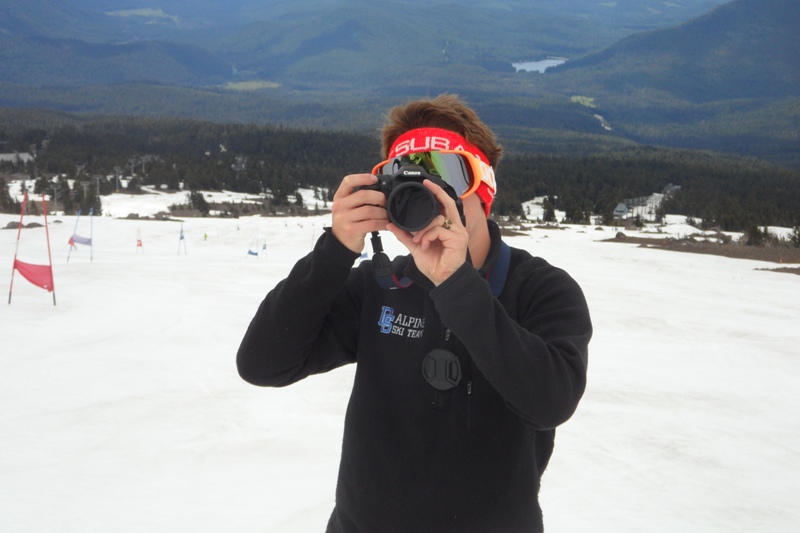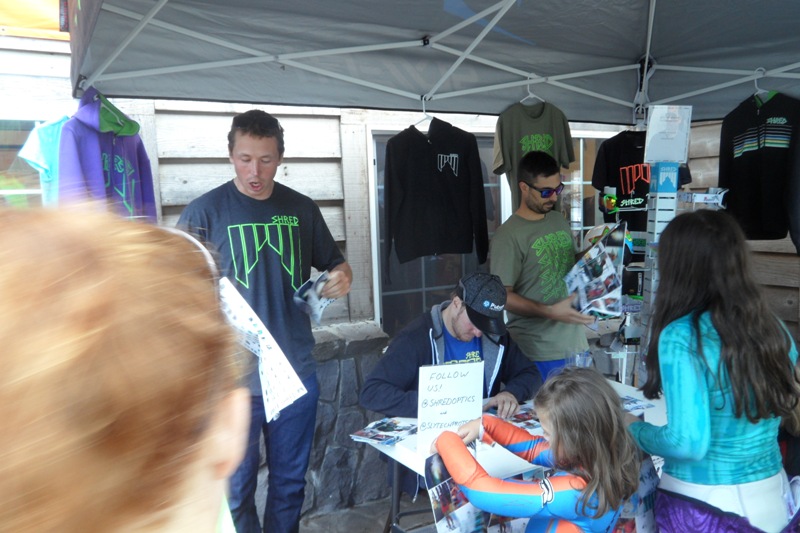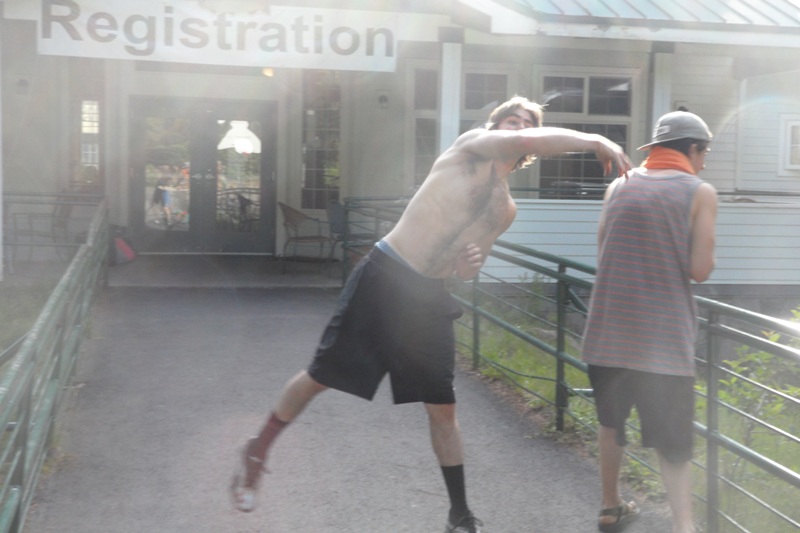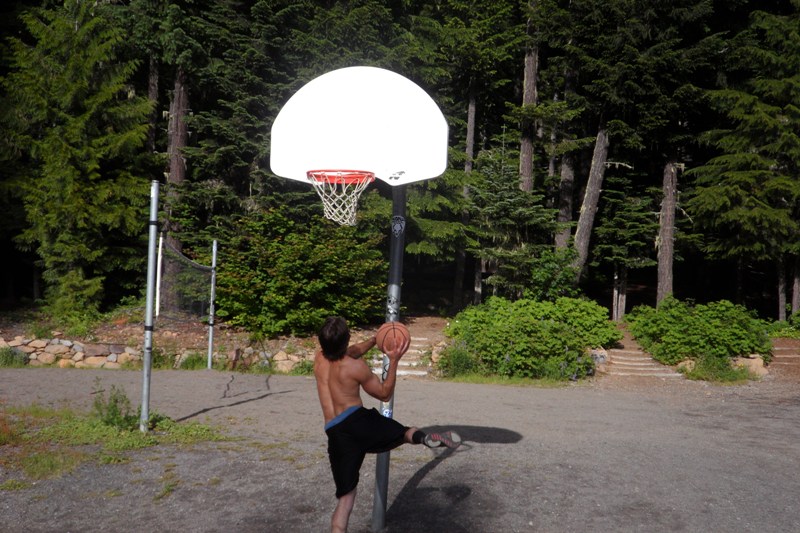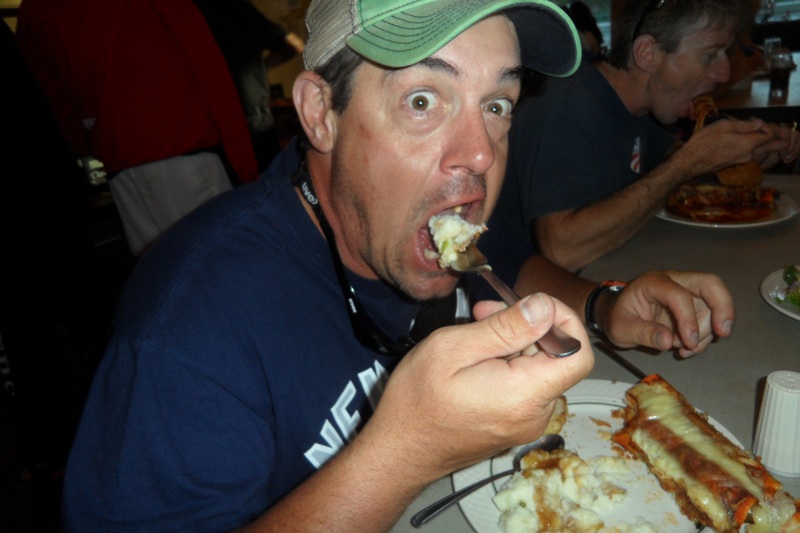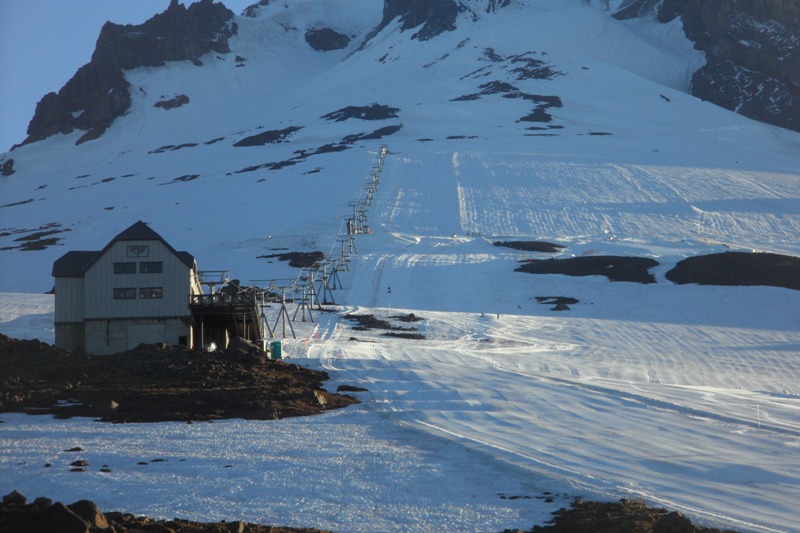 Session 6, 2013 MHSSC update:
Thunderstorms on Monday morning delayed our start on the mountain. It seems to be the theme for the summer so far: "hurry up and wait". Some kid made the mhssc "harlem shake" video (see below). It was very windy on the mountain on the 4th of July. 1991/1992 mhssc alpine coach, Eric Piper, made an appearance at camp on Wednesday afternoon. He was dropping his kid off for camp. He claimed that he remembers beating me in a one-on-one basketball game back in the day. No effin' way that ever happened. There was a sewage incident in the camp lodge this week. Some kind of clog, that resulted in some of the toilets overflowing with poop water. It was gross. The professional sewer guys were called in to fix the clog. They hooked up some vacuum type device to the sewer line. Once they cleared it, there was a poop water geyser in the front lawn. He said "I've never seen anything like that". Jaime DuPratt slid her first rail in the terrain park. Former staffer, Marcus Caston, injured his arm/elbow/concussion in a crash out on zig zag into some rocks. I stalked a deer at the camp picnic (see pic). Matt Chirico and I celebrated our birthdays on Tuesday. We both got delicious b-day cakes courtesy of the K-staff. Bob, the Govy UPS driver, is retiring this week. He's stoked! Prescott McLaughlin and Bill Toney were in charge of lighting the fireworks this year. Chase Kerzel purchased them from a place in Washington state, where they are legal. He had to do some price negotiation with the sellers. This year, they strapped down the fireworks to prevent any of them from tipping over, which has happened a couple of times in the past. Prescott and Rick Millett gave a nice makeover to the skate ramp. (see video). Check out all the videos at the bottom of various camp related "stuff". More session 6 photos here.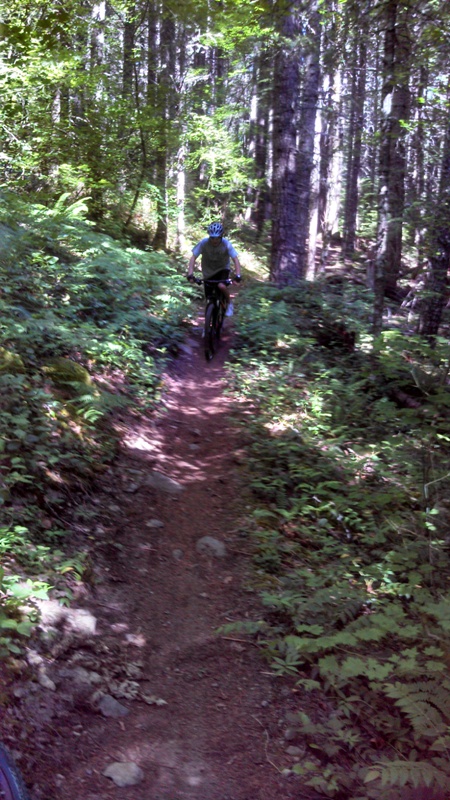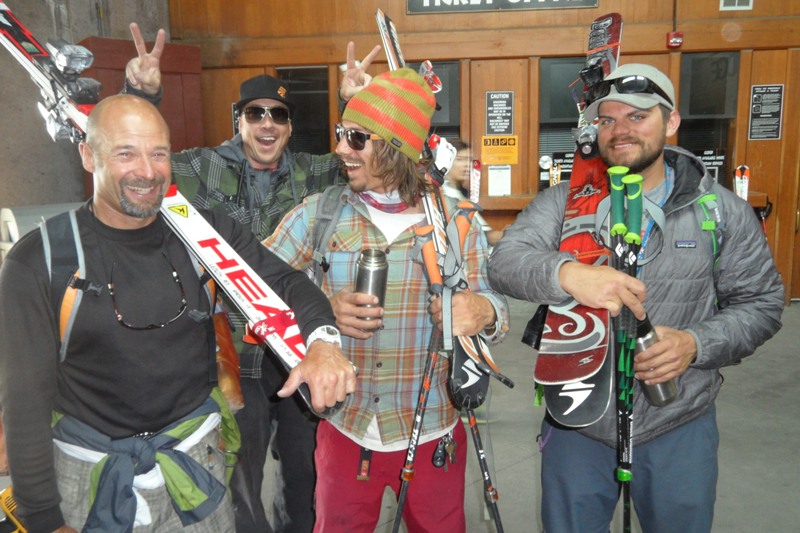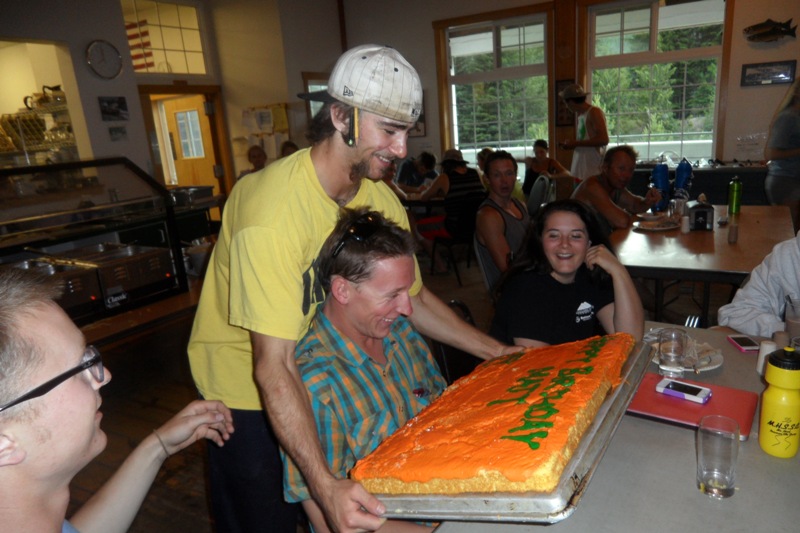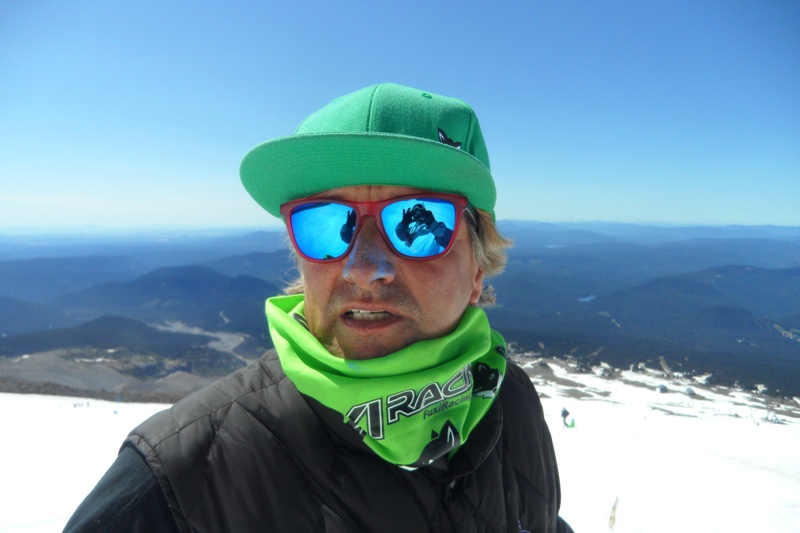 Eric Piper, staffer from the early 90's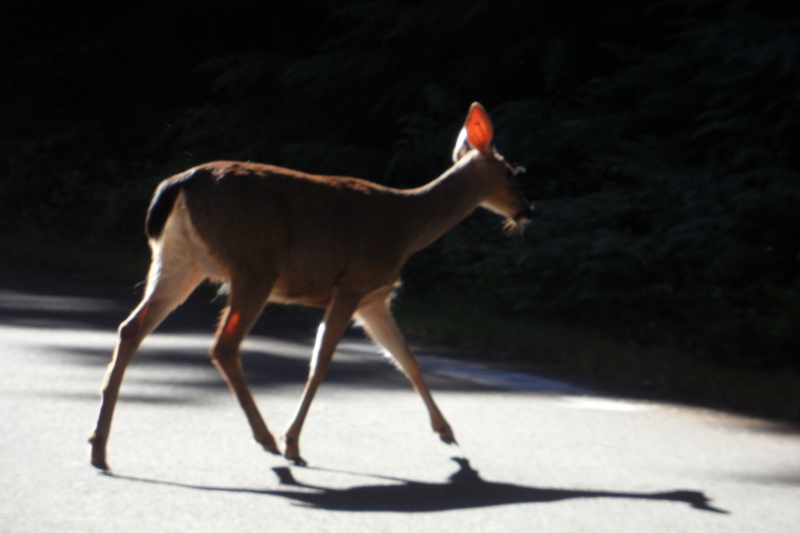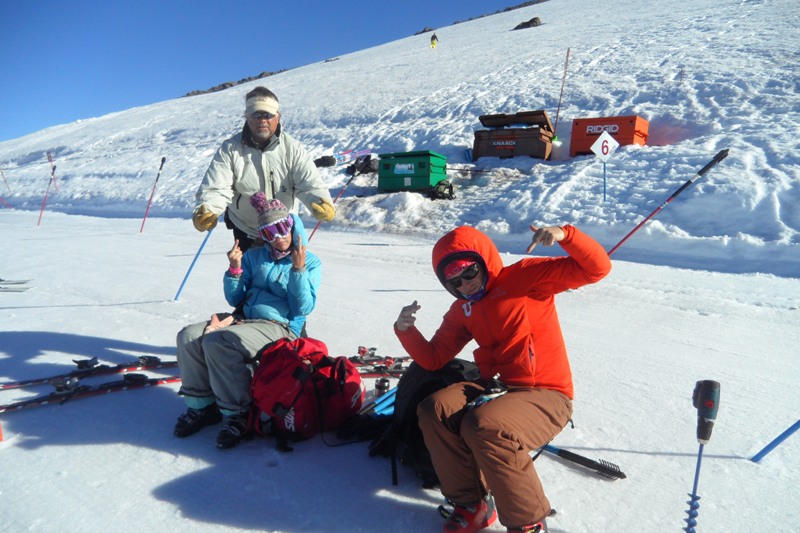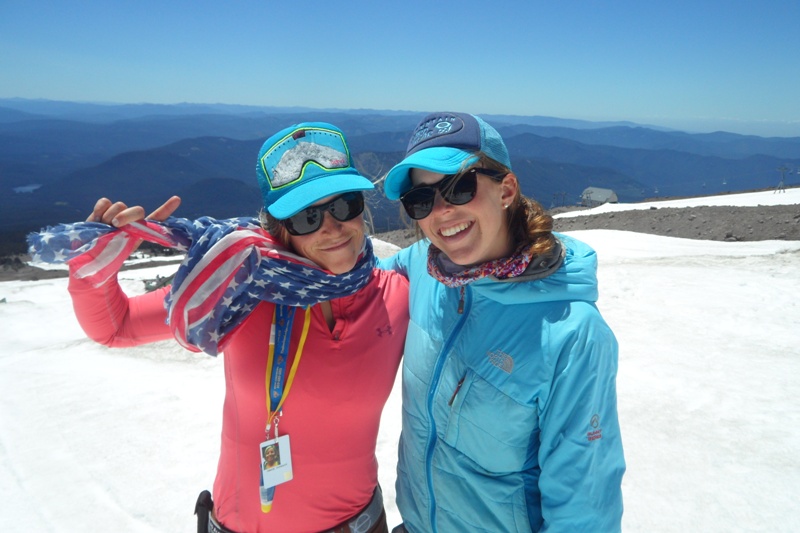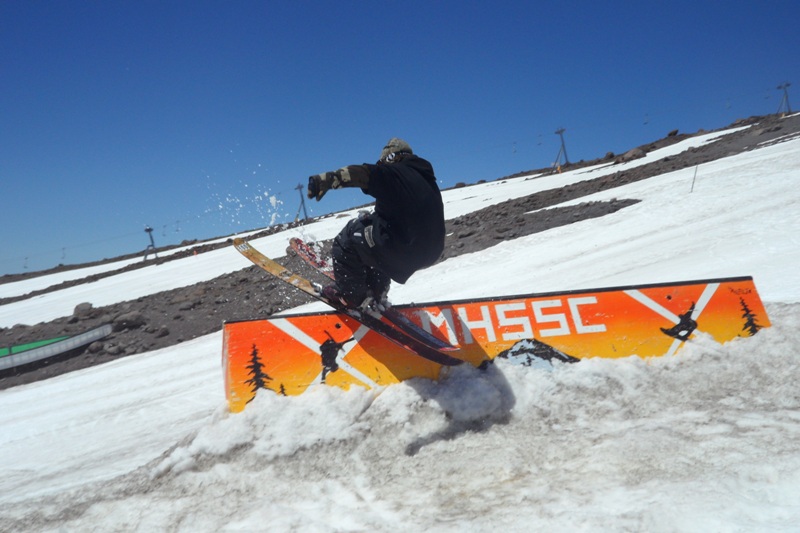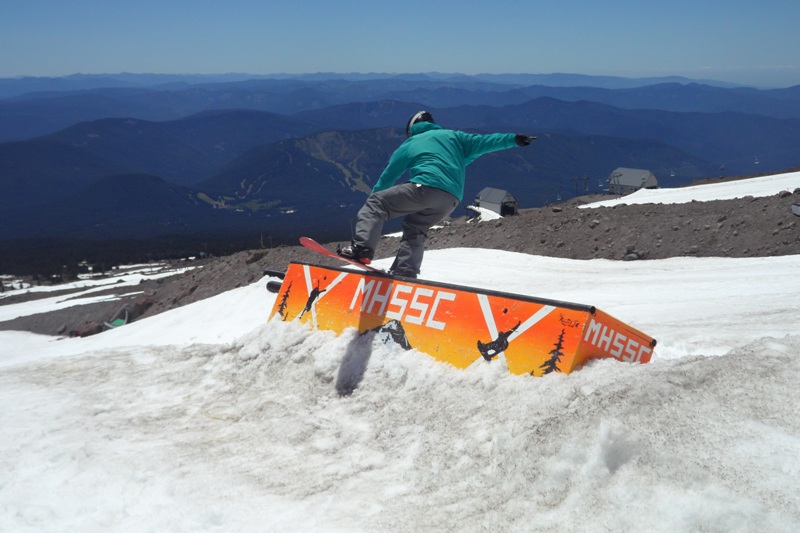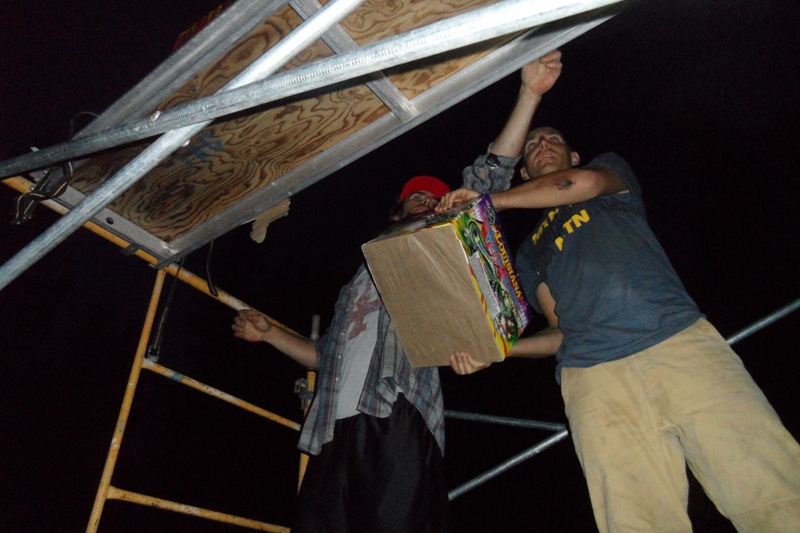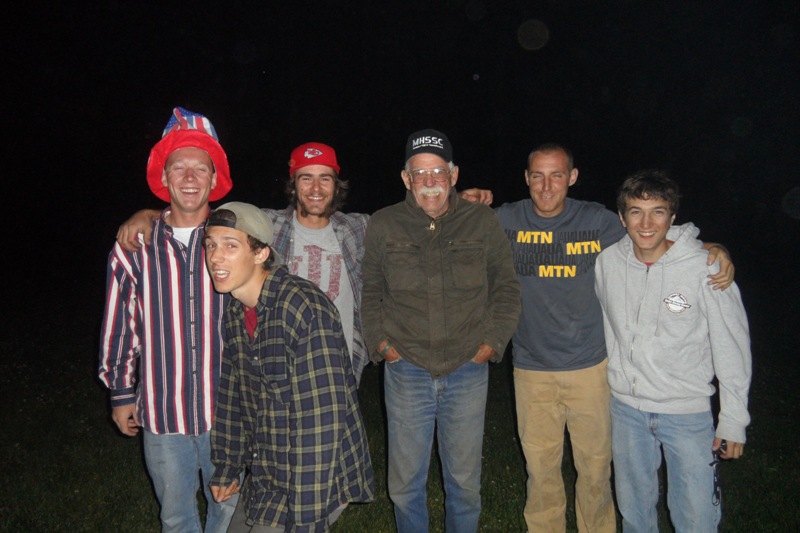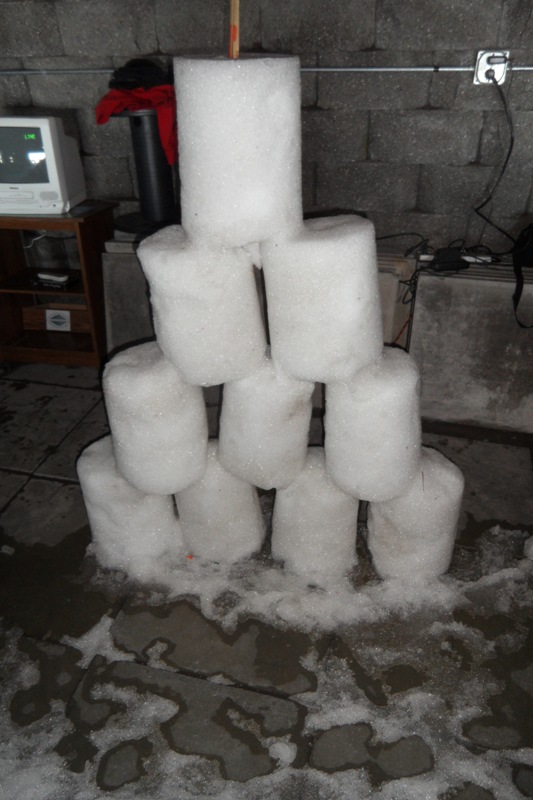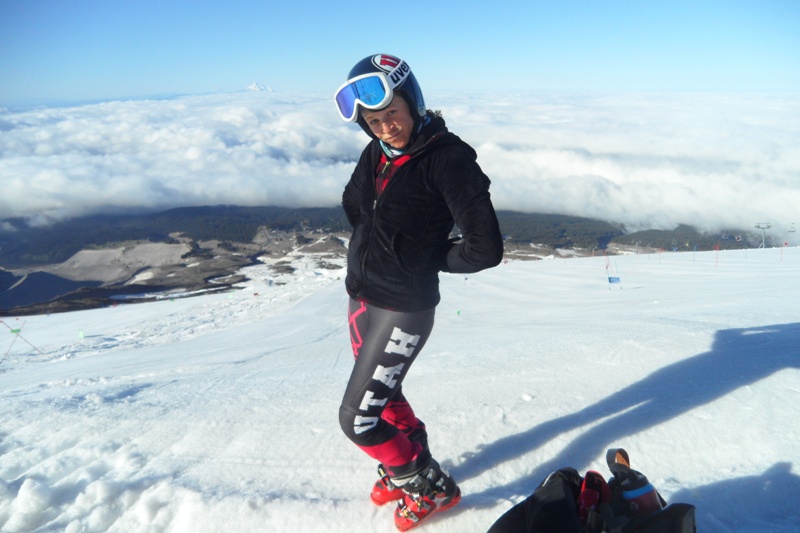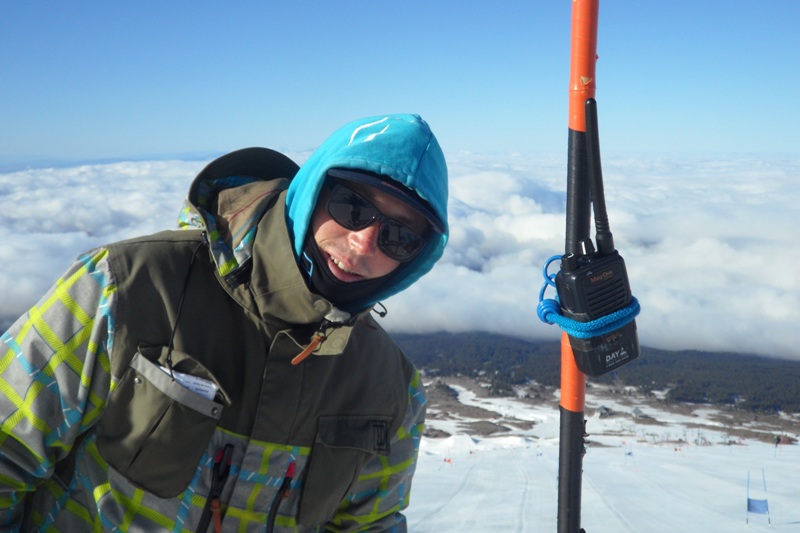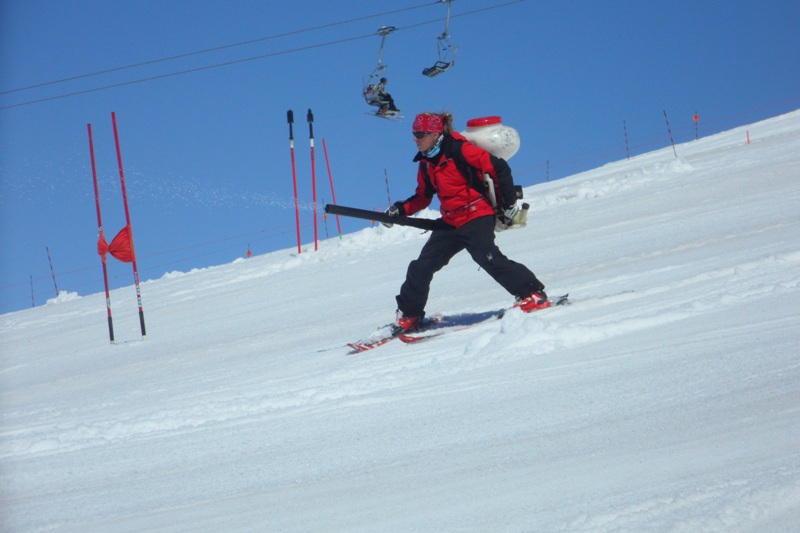 Former MHSSC staffer/mogul skier, Kyle Dempter, in this very entertaining documentary of his trip thru Russia..
Session 7, 2013 MHSSC update:
7 sessions down, 7 to go. Prescott McLaughlin shaved his facial hair. Facebook's "face recognition" didn't even recognize him. Jackie Guy is a certified nurse now! She passed her nursing exam. I can now say that we officially have a camp nurse on staff now. Jaime DuPratt dropped her brand new purple coffee mug on the palmer snowfield and it went for a long ride down the icy hill. It was found on the road below the road, just above Windells park. Windsurfing activity made a triumphant return to the mhssc afternoon schedule this past week. Mike Bansmer is an awesome skier.....GS, moguls, jumping, etc. That boy can ski! Erin Barry, Courtney Troxell, William Zell, Isabel Goni-McAteer and a camper-staff girl, joined me for 6-mile picnic run. Counselor Chase Kerzel played the role of Mike Annett, lift ticket hander-outer for 2 days Mike was gone for a tennis tournament. Robin Cressy played Eric Piper (mhssc alpine coach from 1991-92) in a long-awaited-21-years-later rematch one-on-one basketball game. The weather was perfect this past week. Lift lines were long at times. The snow is melting relatively fast. It's about a 200 yard walk from the end of the snow in mile canyon to the parking lot. A few rocks are already poking out at the top of lane 9. We had 3 female alpine coaches on mhssc staff for the first time in a long time. Counselor Simon Leach stepped to freeski coaching duties this week due to the huge number of freeskiers.

Yep, that's all I have for this week. Kinda lame, I know.
Oh wait, how about some "Emily Questions"!

1. Would you be willing to give up all television and computer use for the next 5 years if it would induce someone to provide for 1,000 starving children in Indonesia?
2. For $2,000 would you be willing to stand up in a crowded restaurant and, for at least 1 minute, loudly berate a waitress for some trivial imperfection in the service?
3. Would you prefer to be blind or deaf? Or one leg AND one arm amputated?
4. For $1,000,000 would you be willing to never see or talk to your best friend?
5. If you decided to do something and your friends strongly advised you not to, could you do it anyway?
the end...

First photo below (flag pic) is from Lily Wolfe.......and some other photos below are from Matt Chirico.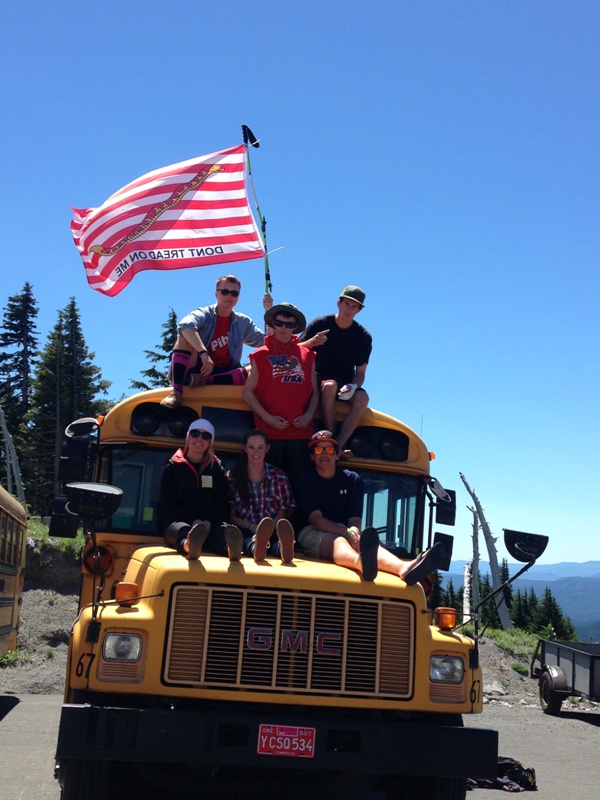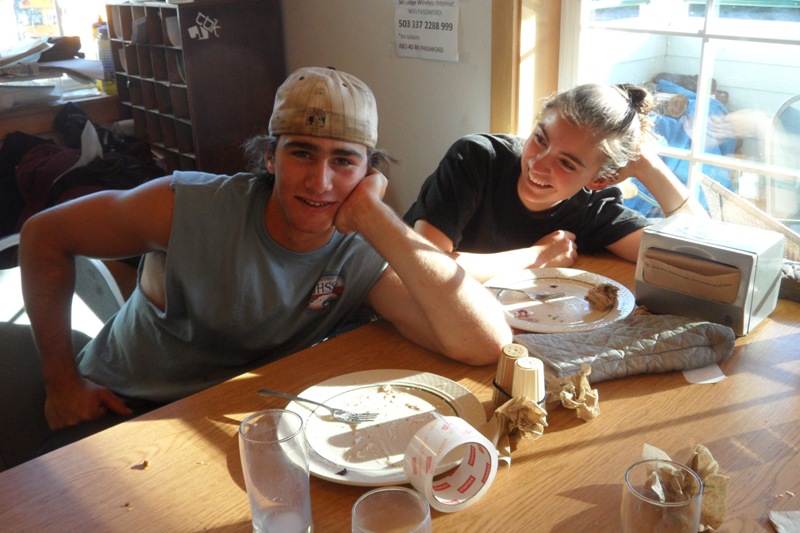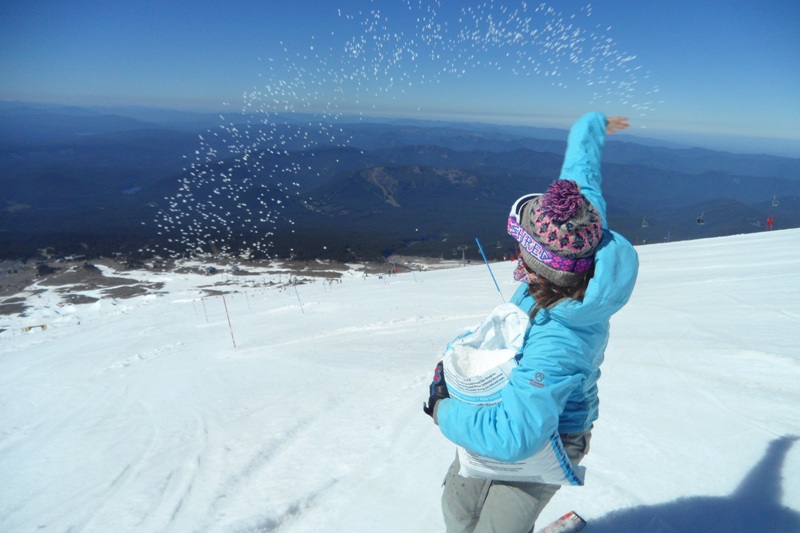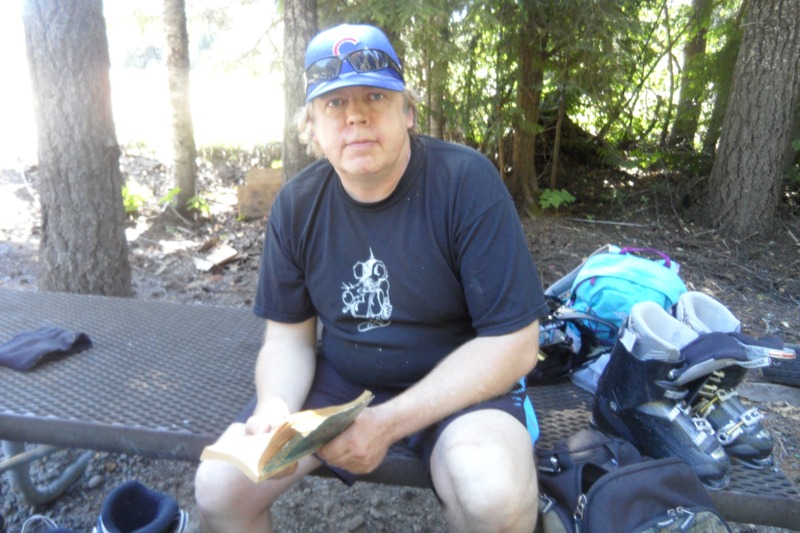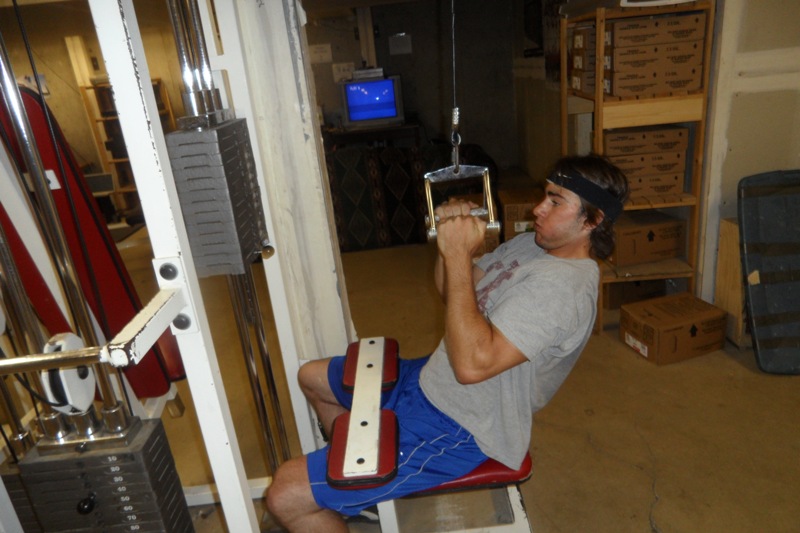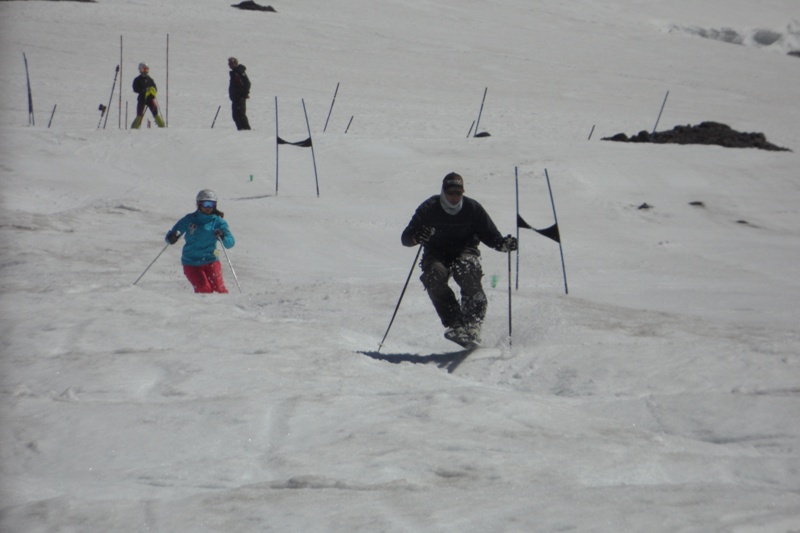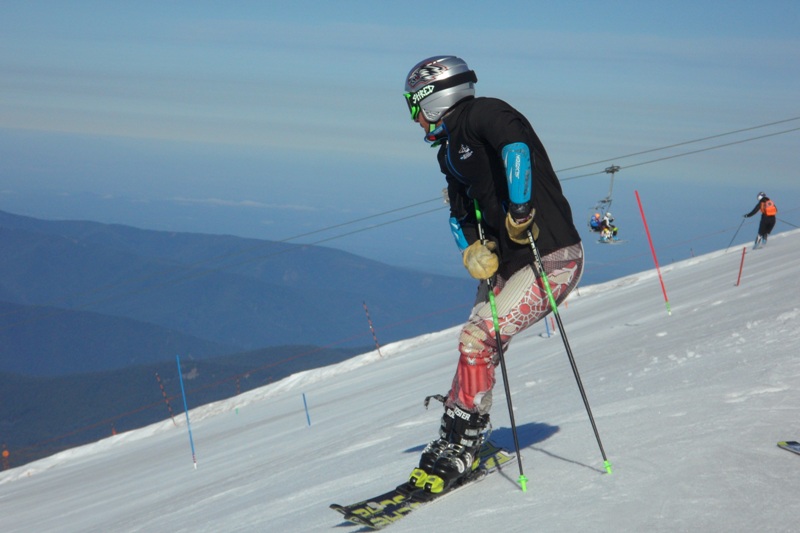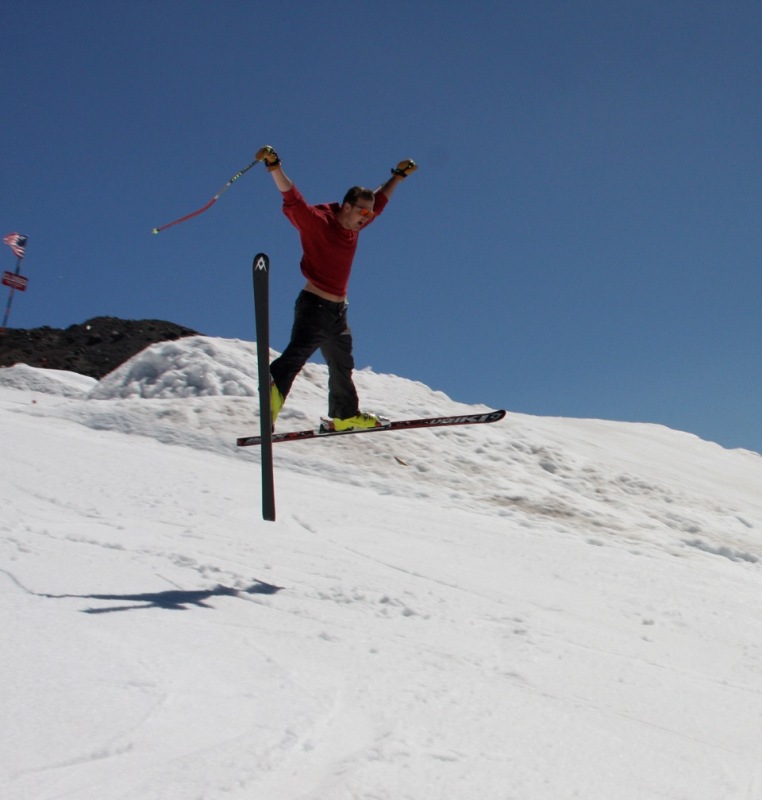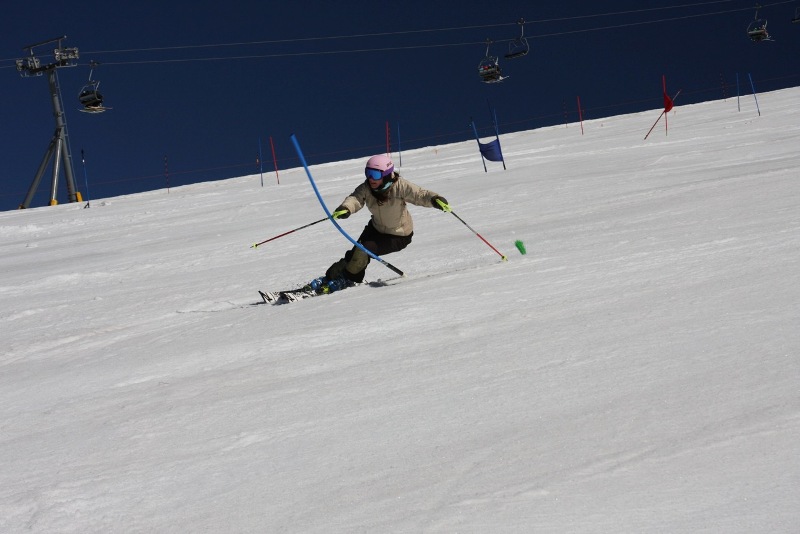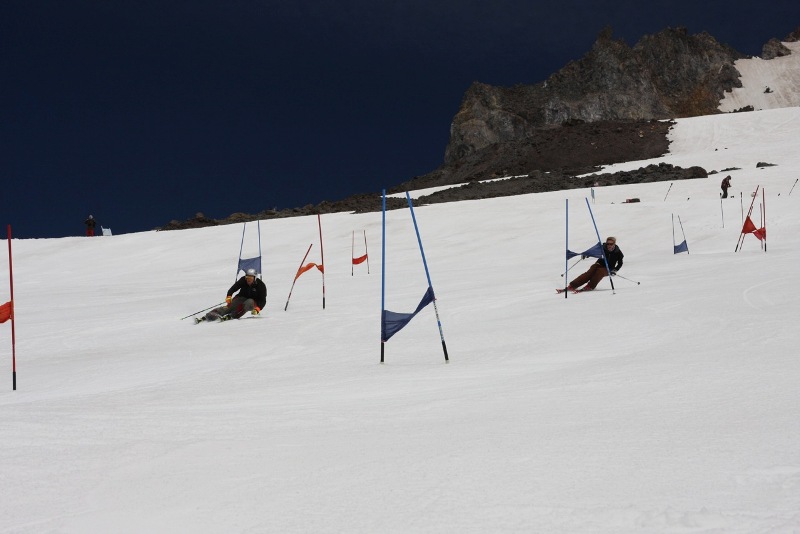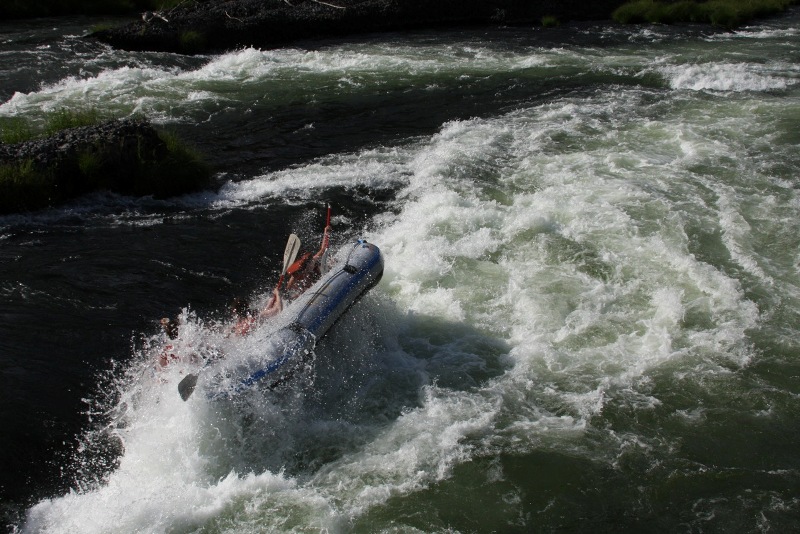 Session 8, 2013 MHSSC update:
Tuesday on the hill, there was some thunderstorm activity mid-morning. Mike Foley said that is ski poles, when held in the air for a ski drill, were crackling/humming because of all the electricity in the air during this thunderstorm period. And Craig Bowden said his ski boots heated up like they were attached to 9 volt batteries. Crazy! It rained a bit, then it was all over within a half hour. Speaking of Craig, he rode his bike down from Timberline to Govy. And he also saw a bear when driving back from rockclimbing. Prescott McLaughlin and friends. worked on their computers on top of the staff trailer. Erica Carras made a MHSSC poster (see pic). Matt Chirico got a new flying fish (the other one popped). He flew it around the dining room. Adult mogul camper Julie brought me 2-6 packs of Corona beer to the hill on Wednesday after I did a video favor for her. They were shared with some of the other adult campers/ of age coaches at the picnic later that day. Matt Chirico and Lily Wolfe, hiked up to the top of the hill behind the camp lodge and took some photos (see bottom pic). They hiked back in complete darkness. John Rust's daughter, Bergen, was a camper this week, skiing in Jackie Reis' group. Speaking of John Rust, next session is the annual Smith Rocks climbing camp session. It's also "nice camp". The idea of nice-week is to be extra nice to each other and to the campers too. In case you didn't know, there's a MHSSC staff facebook group -->here. And more session 8 pics here. And I forgot to include the bonus pics of session 7 last week, which can be found here.
That's pretty much all I have this week. Lots of pics below. Oh wait...there was a request to watch the "MHSSC coaching procedures" video.....watch it below. It's old.....outdated in a few examples. And nobody in the history of camp, carries the gates with the bases up, dragging the tops of the shafts in the snow. just sayin'.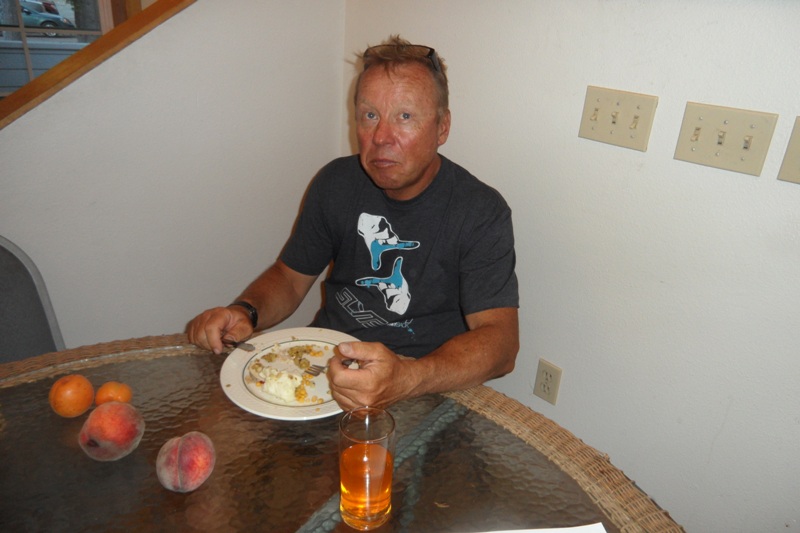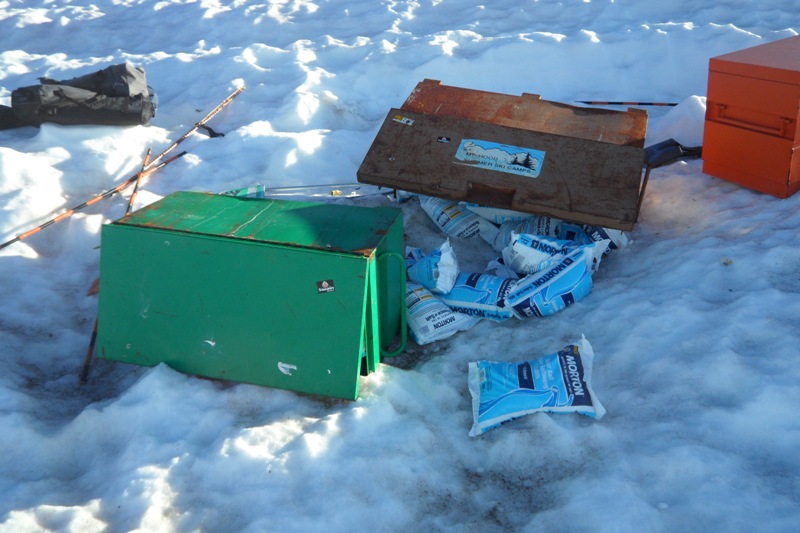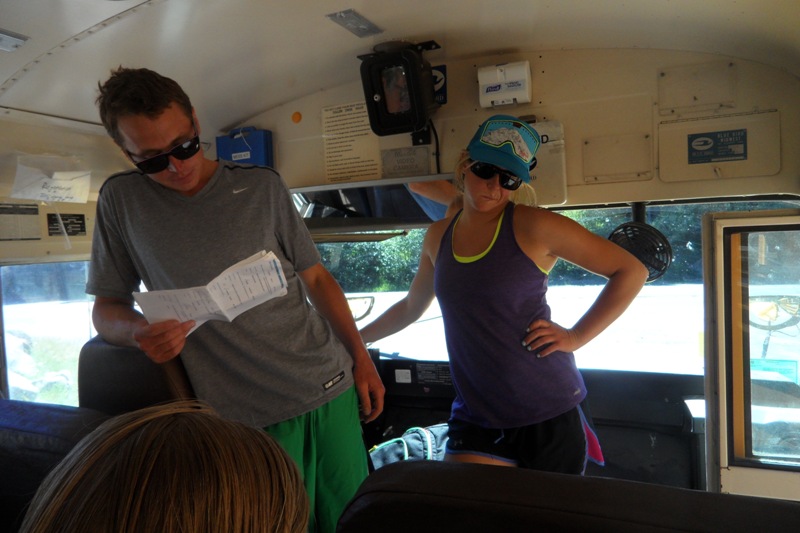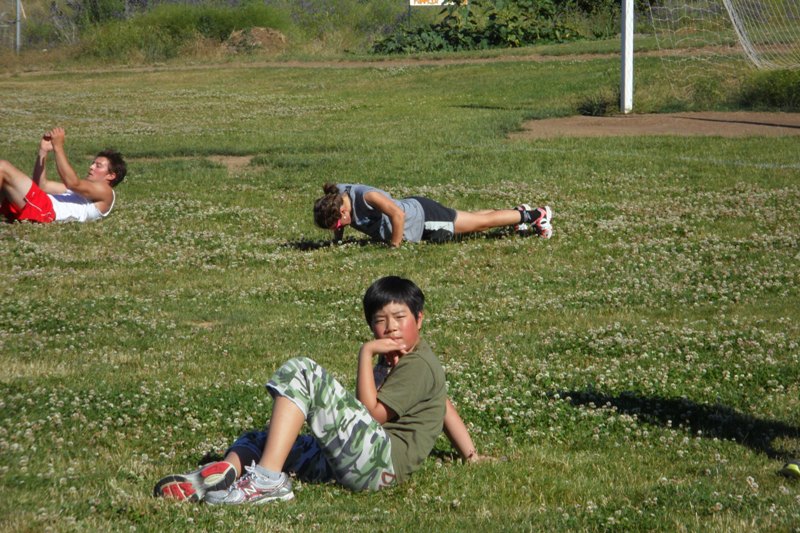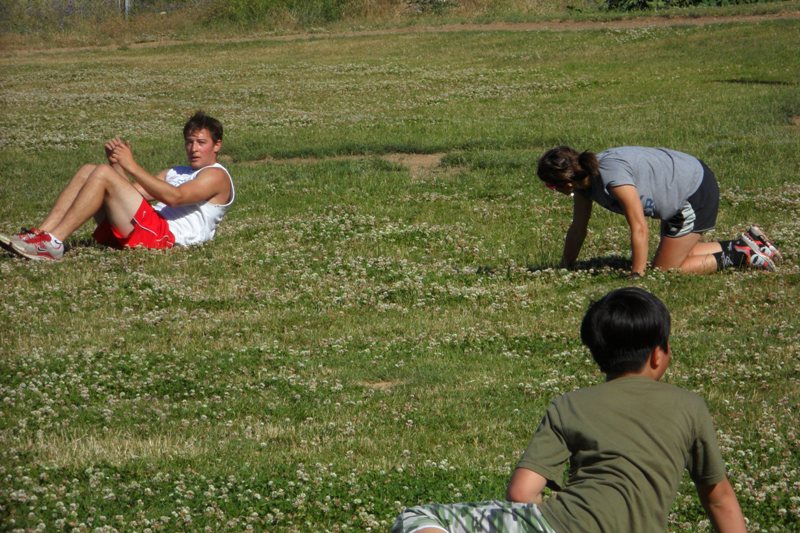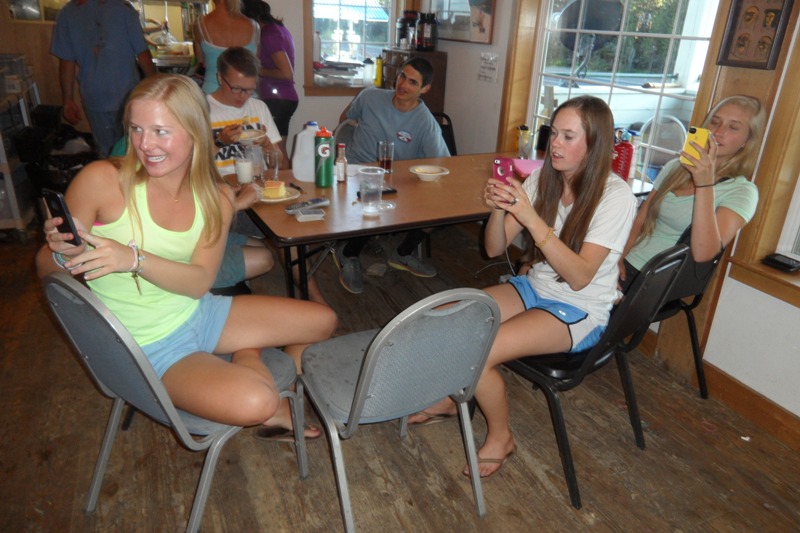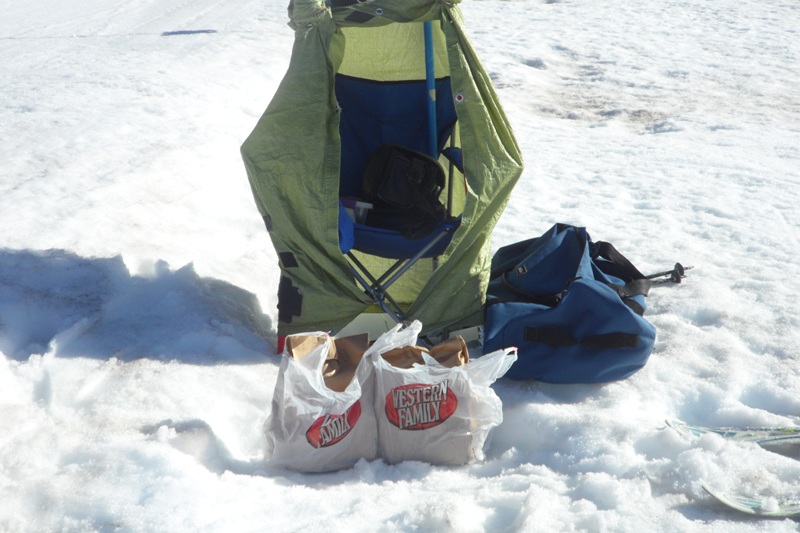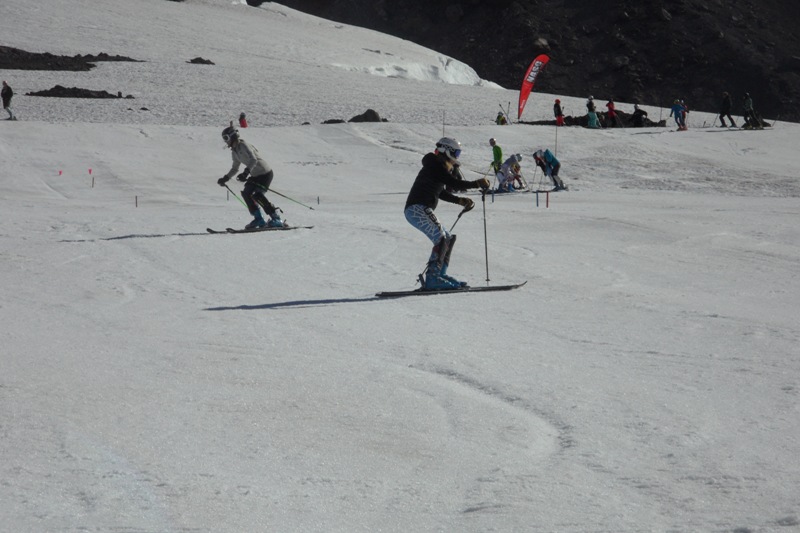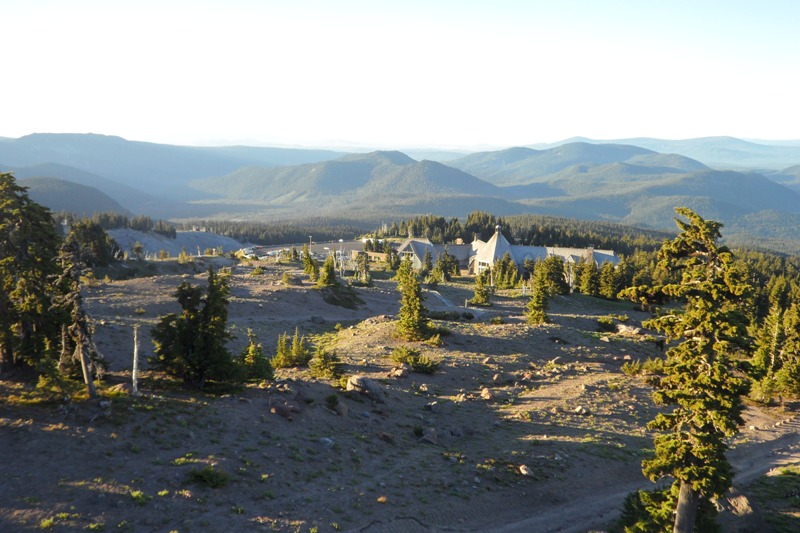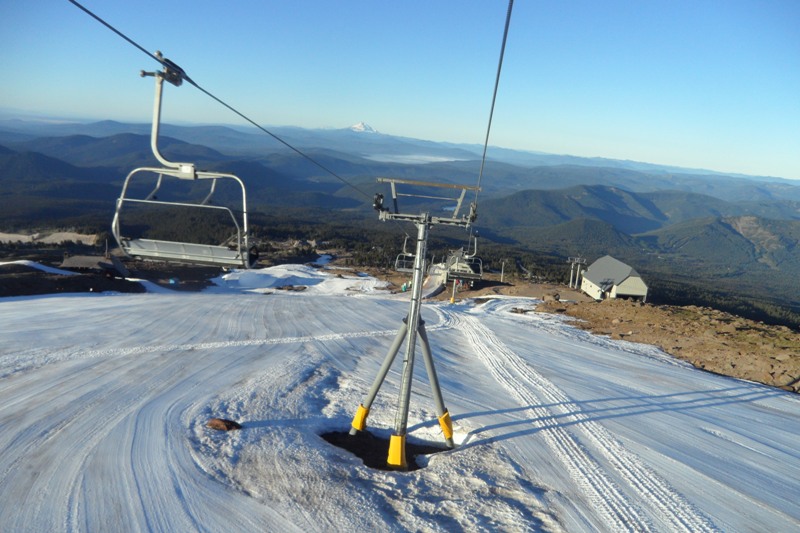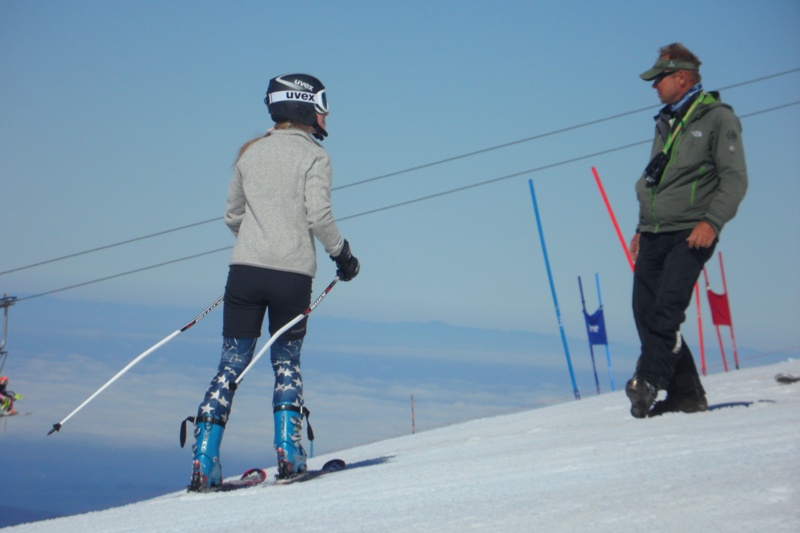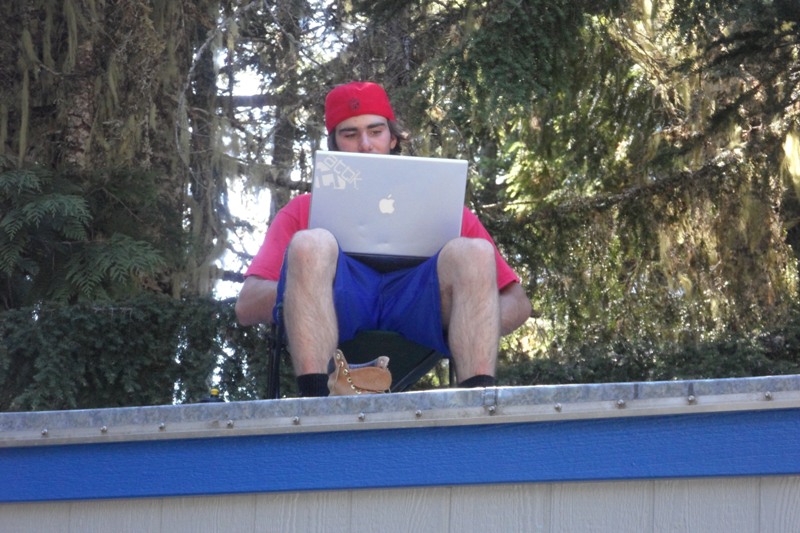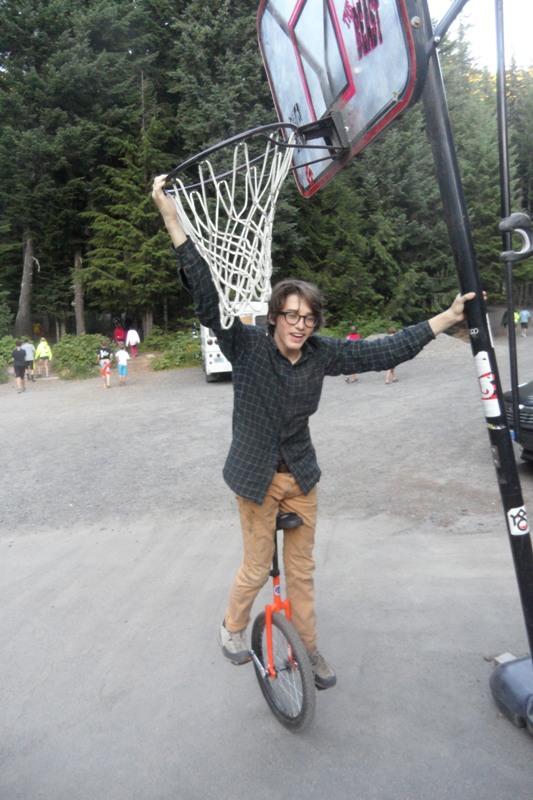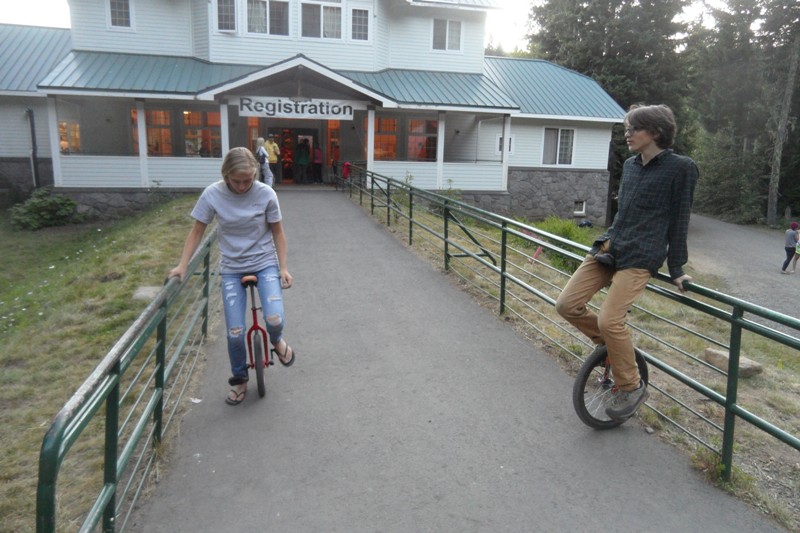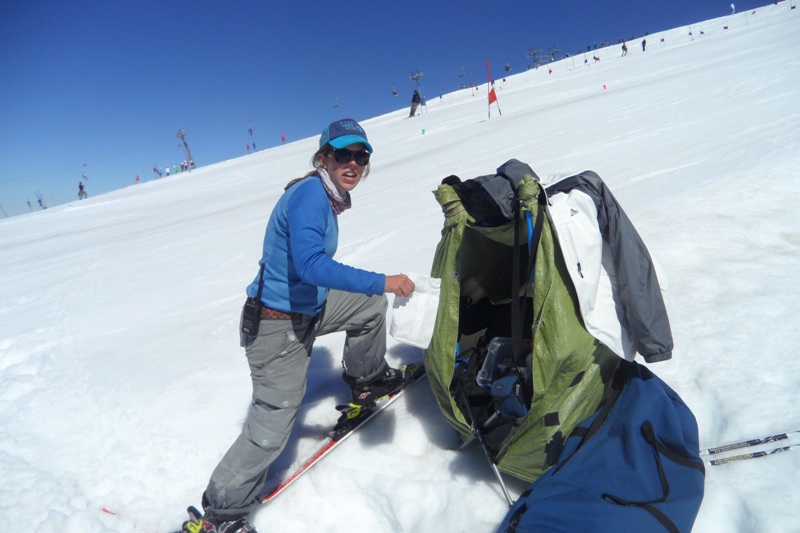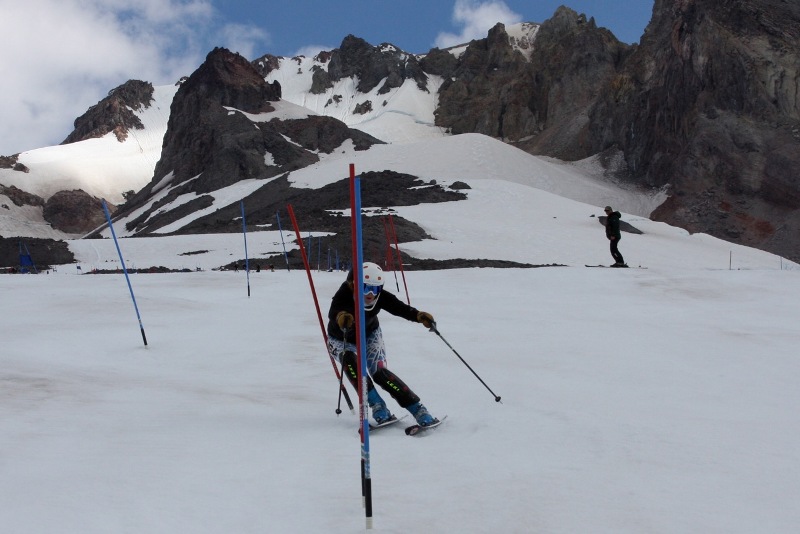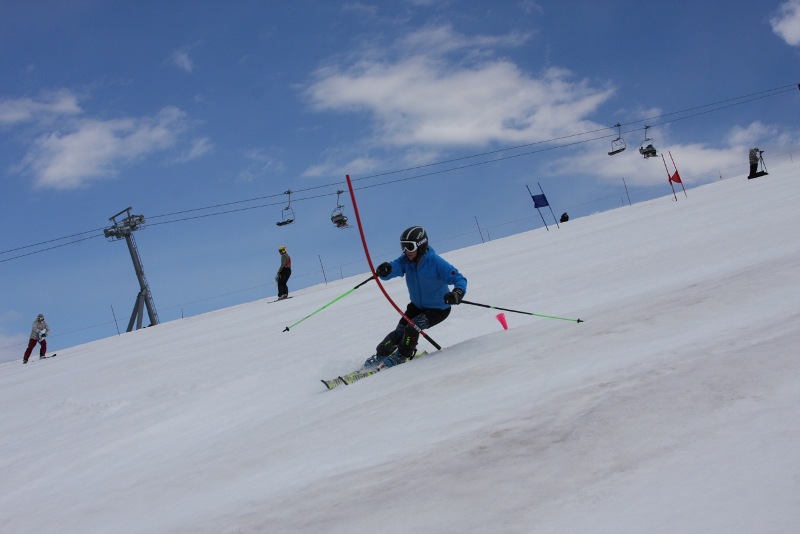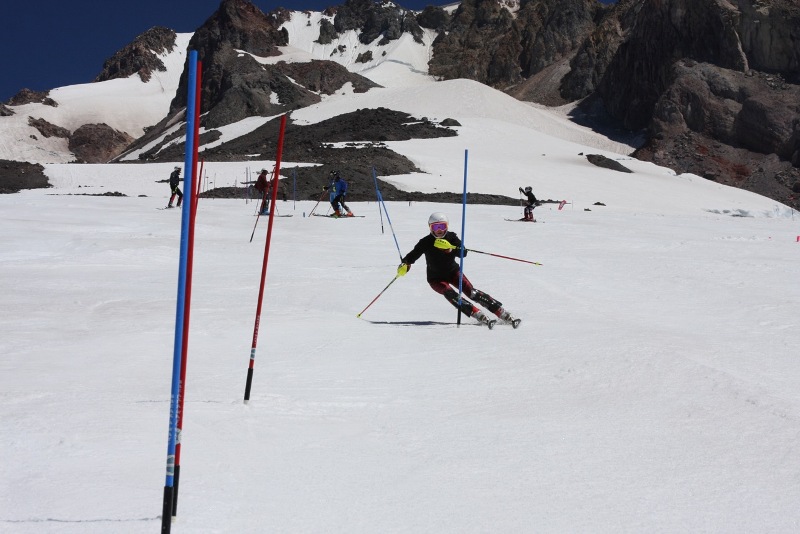 Session 9, 2013 MHSSC update:
The clock has run out on me.....no staff update.....just some photos. Some of these photos courtesy of Jackie Guy, Rick Millett and Matt Chirico (and maybe Noelle too?). Sorry! I'm sort of in charge of my high school 30-year reunion, which is happening in 2 weeks from now, so it's been a time bandit. that's my lame excuse. Nice week was great!
bye!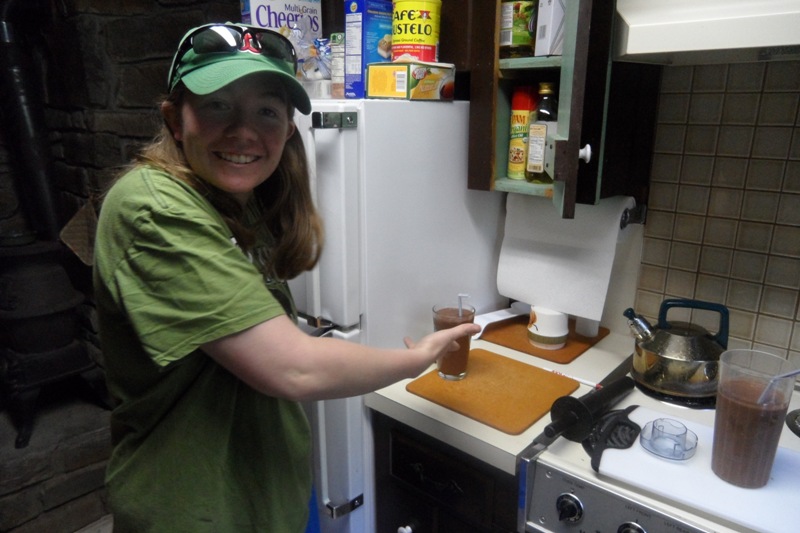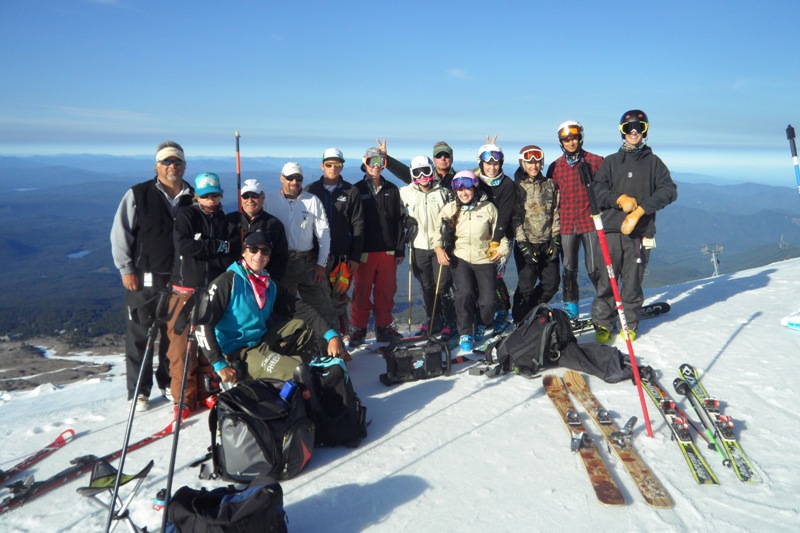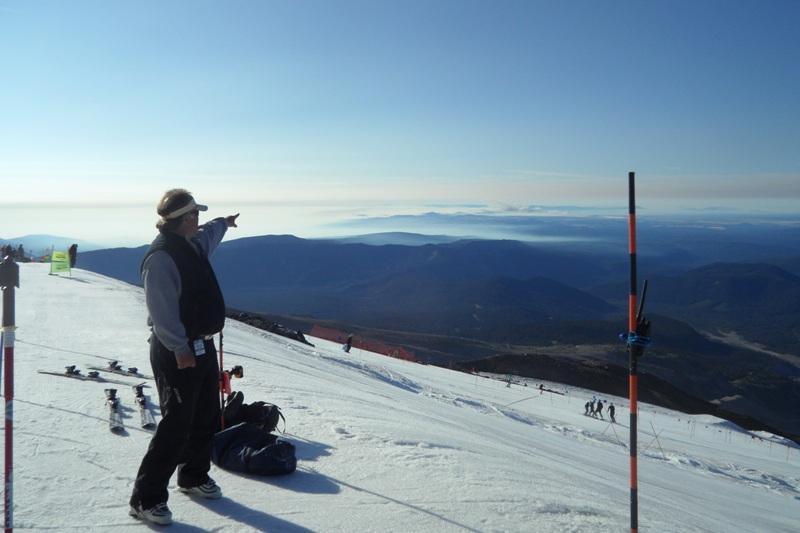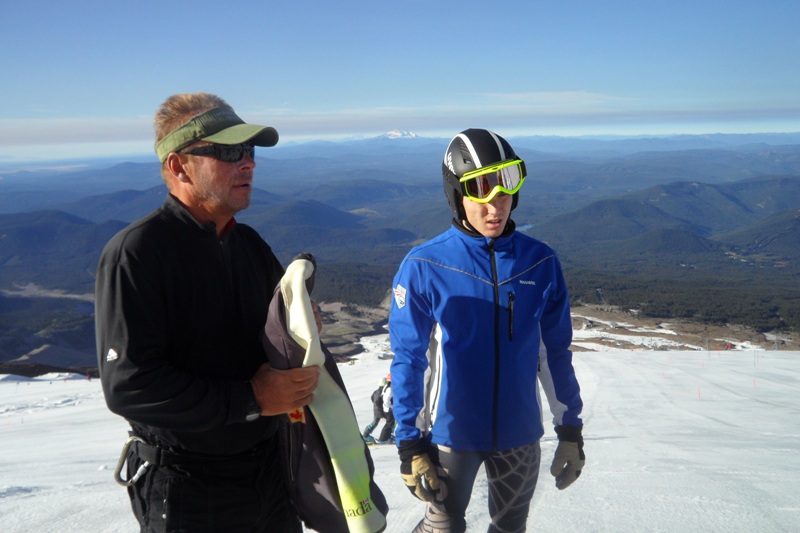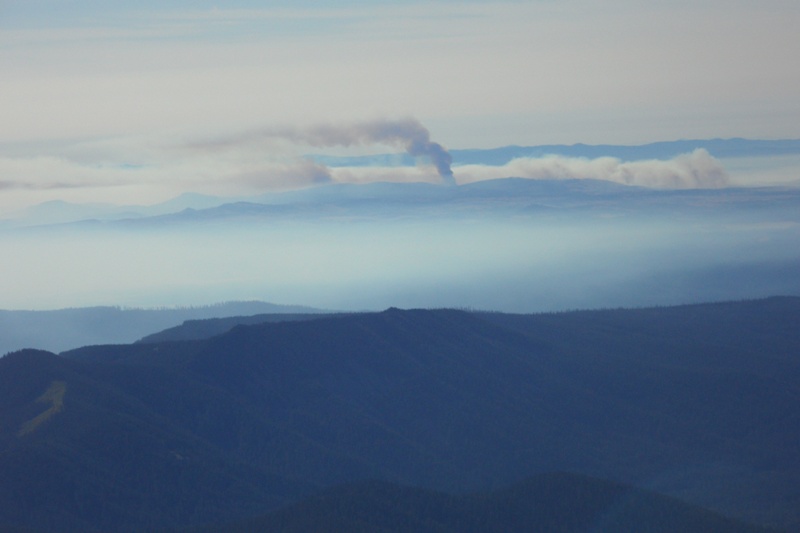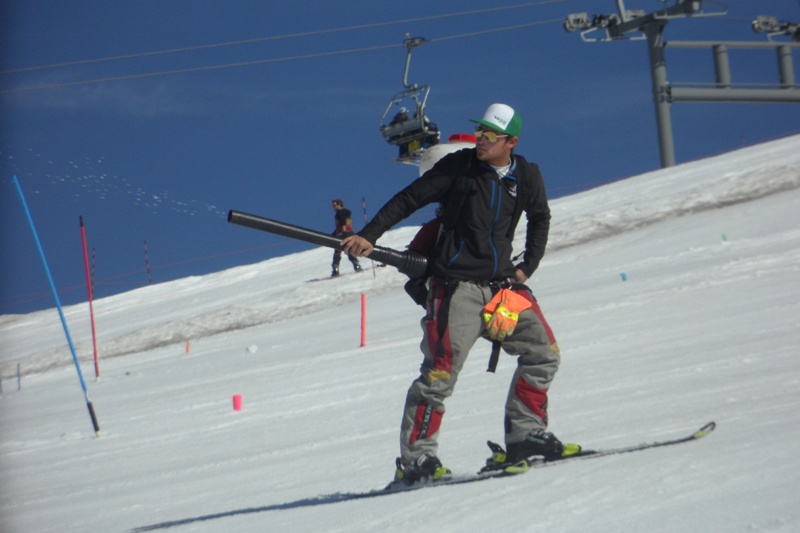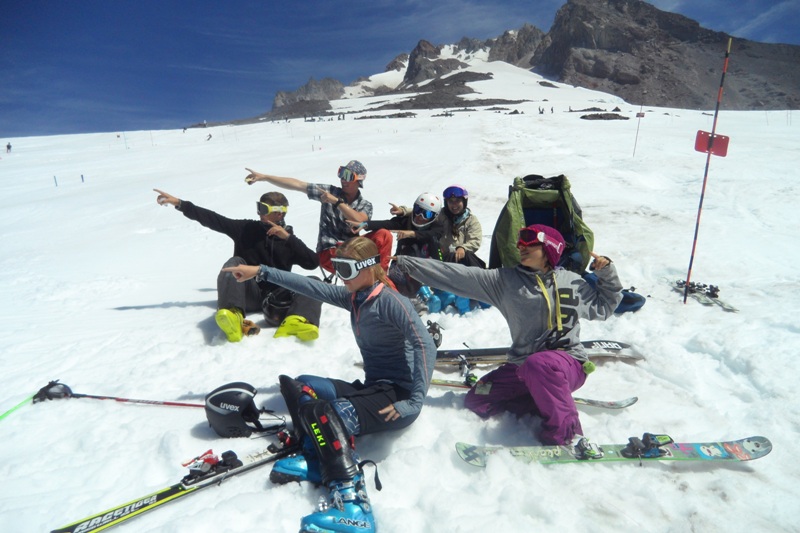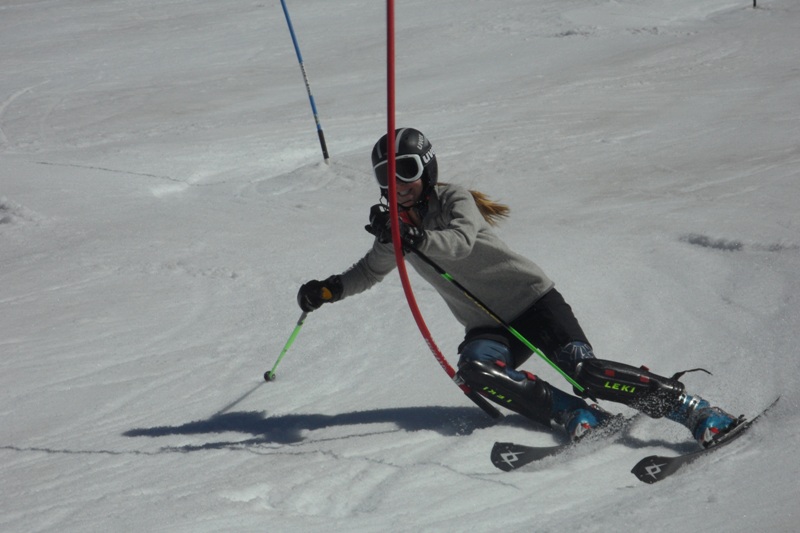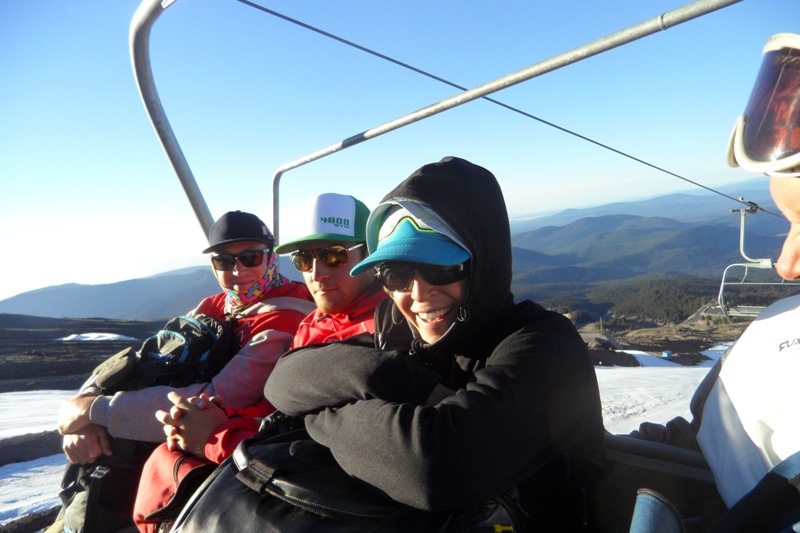 Session 10, 2013 MHSSC update:
Sad news to report from High Cascade Snowboard Camp:
Yesterday an off-duty staff member was killed from a snow cave collapse in an out of bounds area at Mt. Hood. We are deeply saddened by this loss but wish to immediately inform the public that all campers are safe and none were on the mountain when this incident occurred. We would like to reiterate that the area of this incident is out of bounds far from HCSC's private facilities and is an area that is off-limits to campers. We are still learning more details about the incident with cooperation from the Hood River County Sheriff's Office and will be providing crisis-counseling onsite for staff and campers.

*The area of the snow caves was just to the east of the race lanes on upper Palmer. The snowboarder's name is Collin Backowski, a 25 year old coach for High Cascade. More details about the accident here.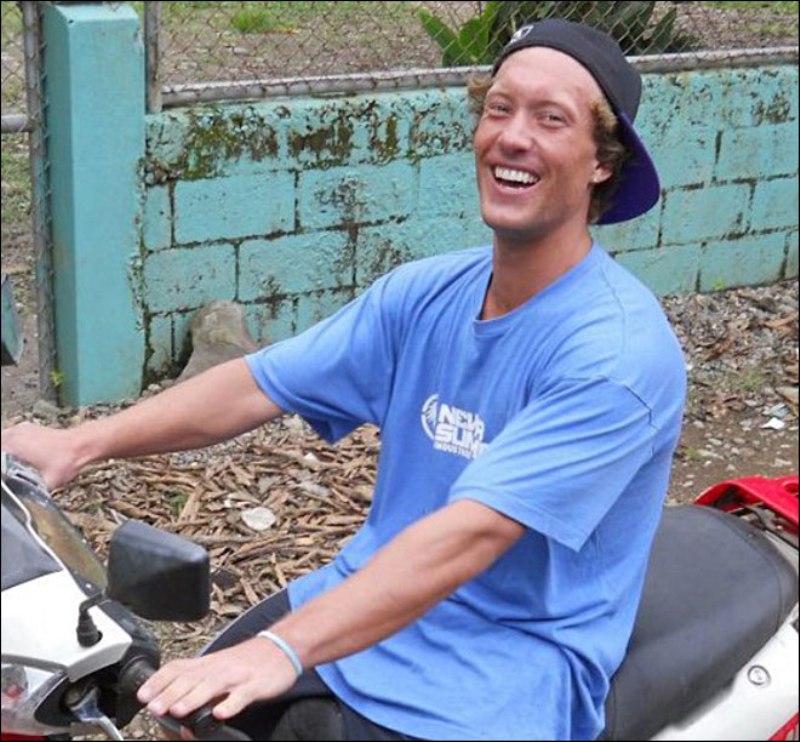 As you read in last week's shortened staff update, I didn't have time to finish it. I can't remember much from 2 weeks ago, but here are a few nuggets from session 9: Mike Foley got tossed out of his raft at Oak Springs. He ended up with a very sore hip and maybe a broken toe. *photo below by Noelle Gillis. Those are Foley's feet sticking out of the water. Roger Bay gave Jaime DuPratt a super-bouncy-ball. She bounced it really high off the ground in the Timberline Parking lot and it got away from her and she went running down the parking lot to recover it. Chase Kerzel video-taped the capture of a chipmunk inside the the lodge. See video below. That's all I have for session 9. Session 10 stuff below the chipmunk video.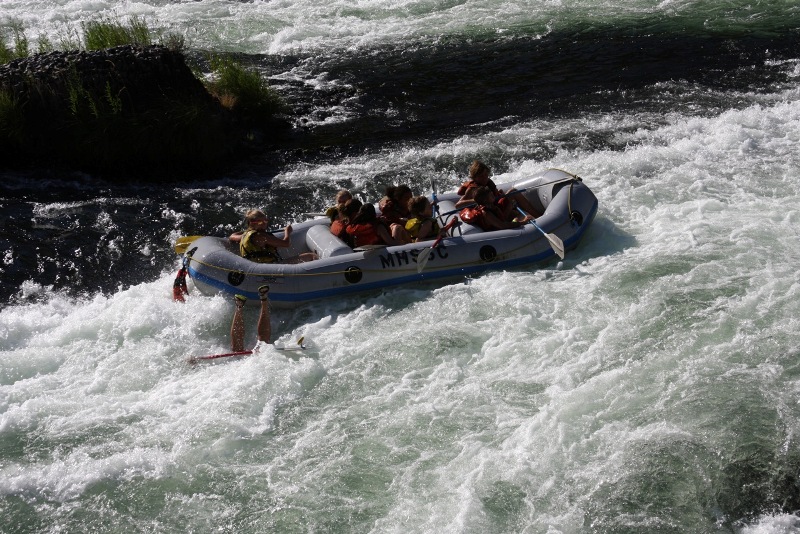 Session 10 stuff.....3 words: "Bloody......mouth........kid" On Friday, I was filming the mogul jump
ers with Darren Owen. Some kids skied down from the dual GS course and tell us about a racer camper that just did a face plant at the finish line. Anyway, this face plant kid skis down to us and he has the mostly blood face I have EVER seen. Blood was all over his face, like Gene Simmons looks like at a KISS concert. It was thick dark drooling blood POURING out of his nose and mouth. Darren helped take his mhssc camp t-shirt off and use it as a wash cloth on his face to help wipe up some of the blood from his face. Moments later, Jackie Reis ditched her USSCA level 2 coaching clinic to go help treat her camper. Jackie was this kids' coach Monday thru Thursday before she had her coaching clinic that began on Friday. Jackie pulled out a tampon (for real!) and put it on his face to help stop the bleeding. Just a classic moment in camp history!! Eventually the ski patroller (Kaile Cota, daughter of former mhssc coach Chris Cota) shows up to help clean this kid up and finish treating him. He was fine......just a big bloody mess. The kid was calm the whole time.....probably because he couldn't see his own face. I didn't get any photos until he was mostly cleaned up. That's probably a good thing.
Counselor Courtney Troxell celebrated her 20th birthday on Thursday. Robert Johnson celebrated his 49th birthday on Tuesday. Mike Annett purchased a new (barely used) van from a car dealer in...........Reno, Nevada! What?! So he bought Bill Toney a plane ticket from Portland to Reno for him to go pick it up and drive it back to Oregon. Erica Carras was doing 360's off the mogul jump. Connor Krell was doing 720's. We had the 2nd annual green smoothie party at the lodge on Thursday. We had about a dozen staff join in on the healthy fun. Prescott McLaughln helped with the prep. We had superfoods: spinach, broccoli, kale, romaine, parsley......also tossed in some carrots, celery, cucumbers, mint (from the mint plant growing in Govy)....and lots of frozen fruits to sweeten it up: oranges, blueberries, blackberries, strawberries, cantaloupe, bananas, etc. Some ice cubes and some almond/rice 'milk'. Yummy and healthy.
10 weeks down, 4 to go. Still no rocks in our upper palmer race/mogul lanes, but that could change soon. The staff is thinning out as the number of campers thins out too for the last month of camp.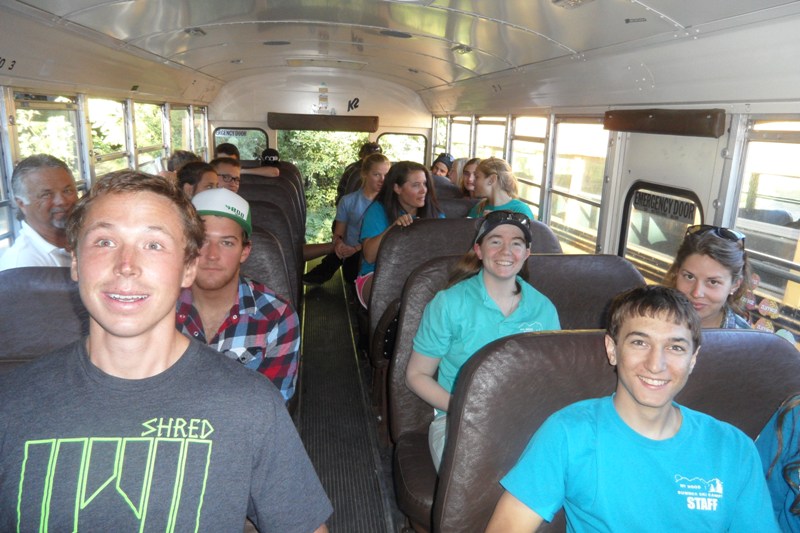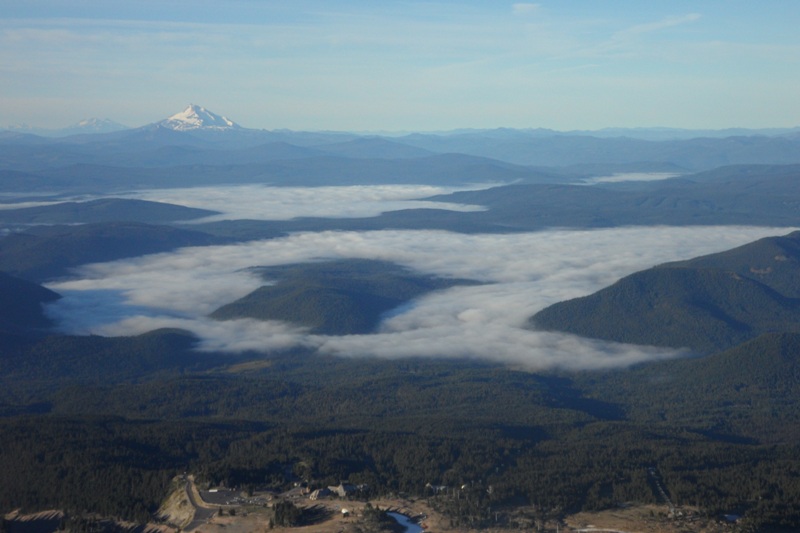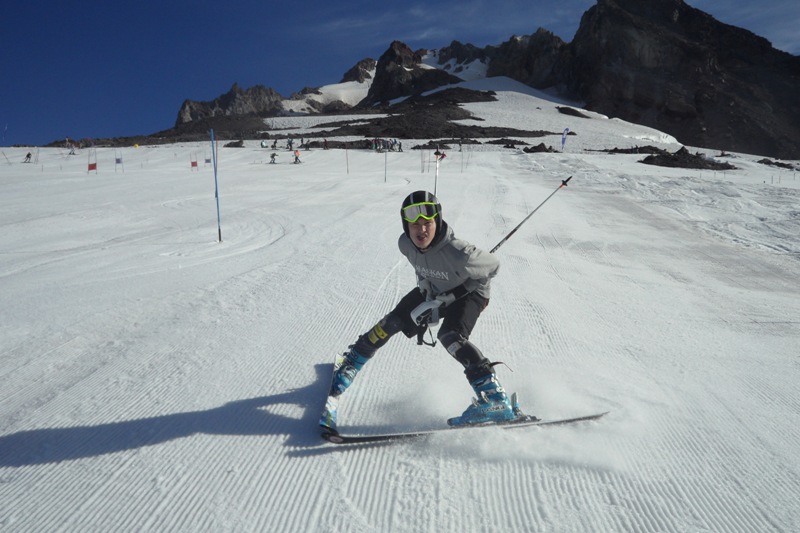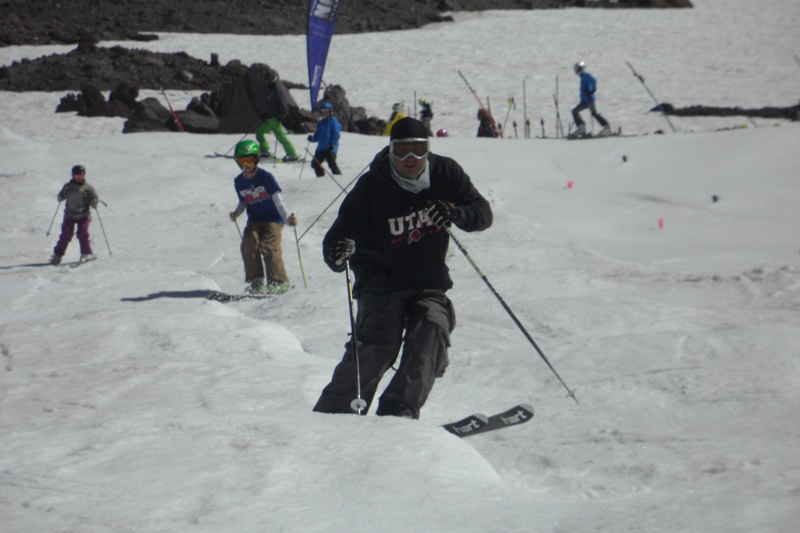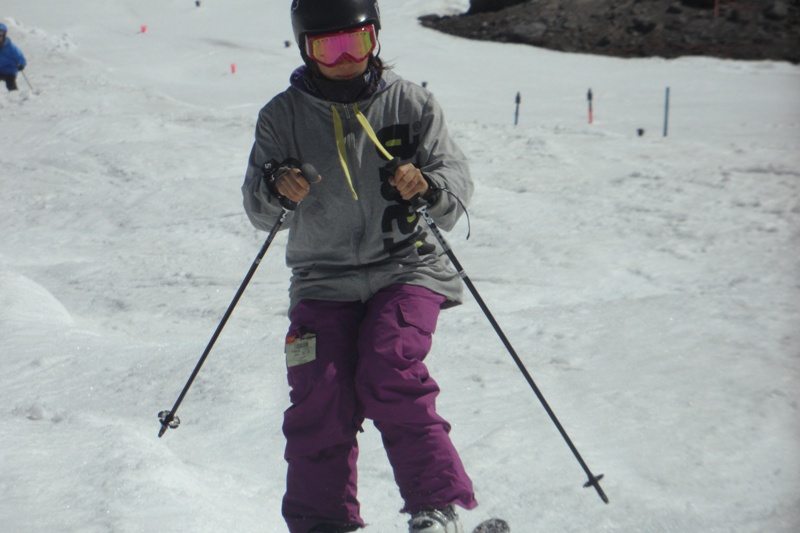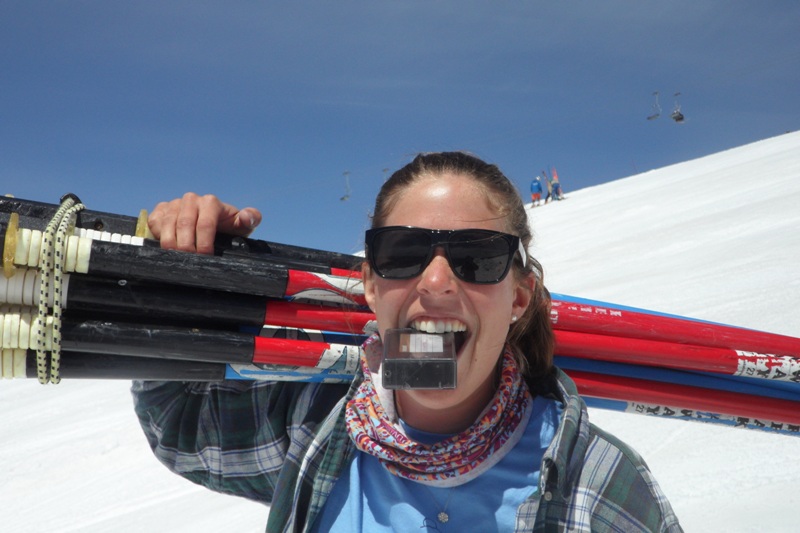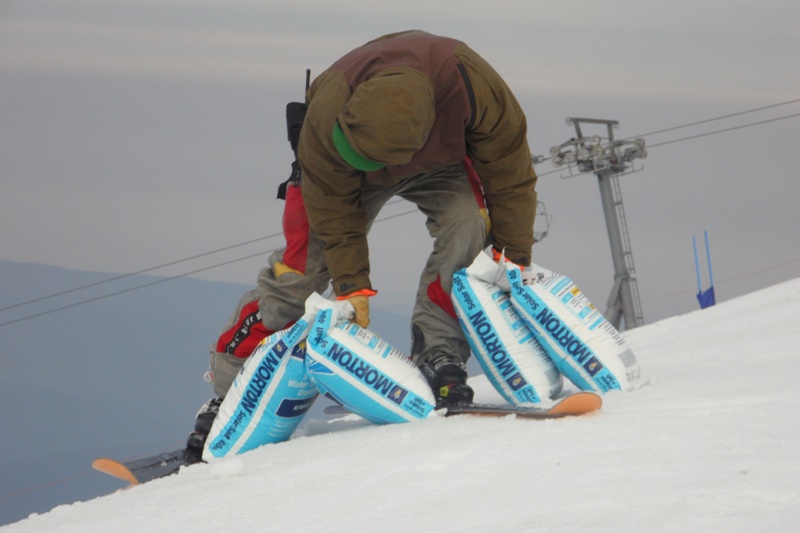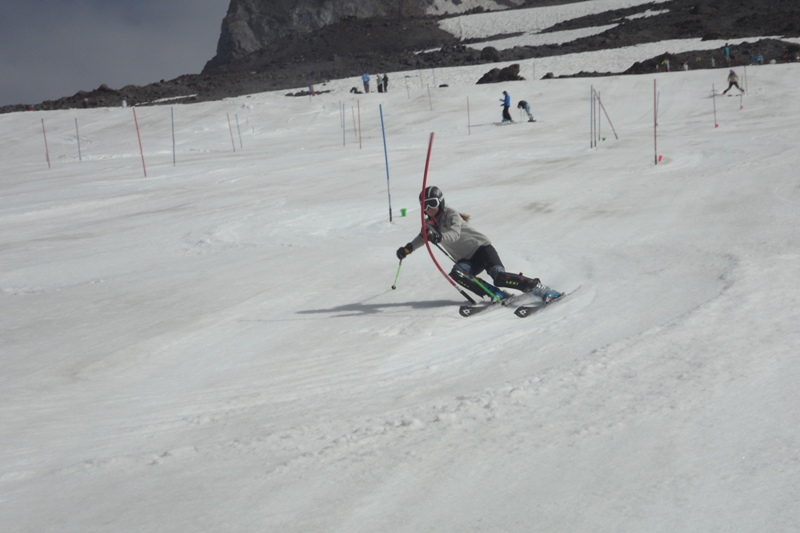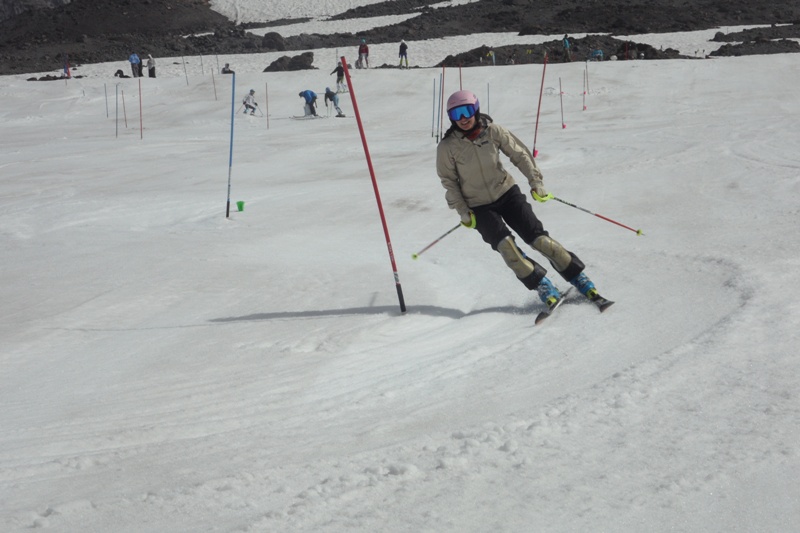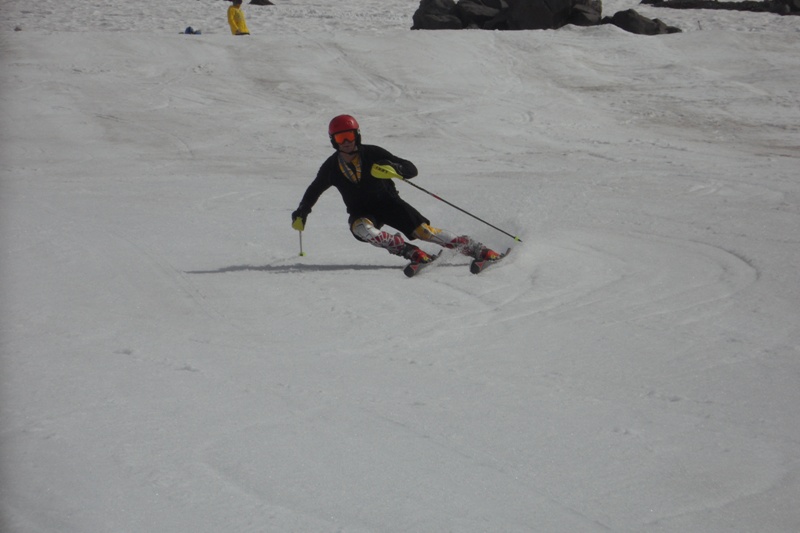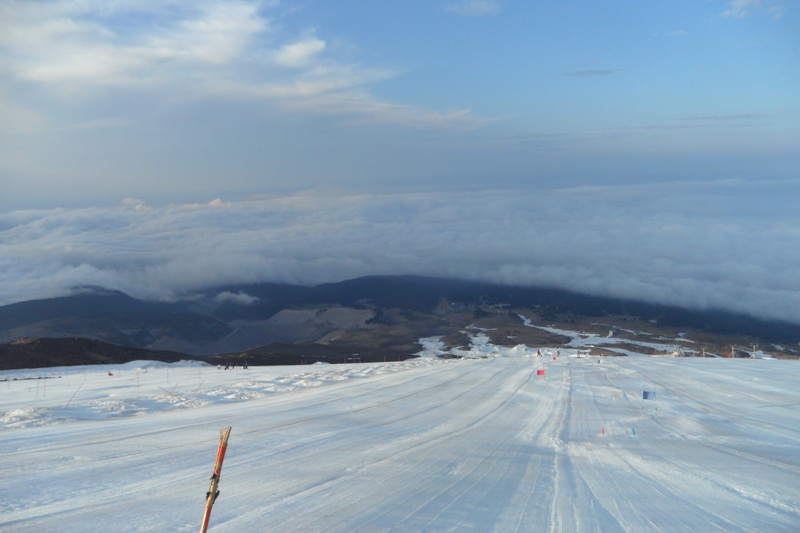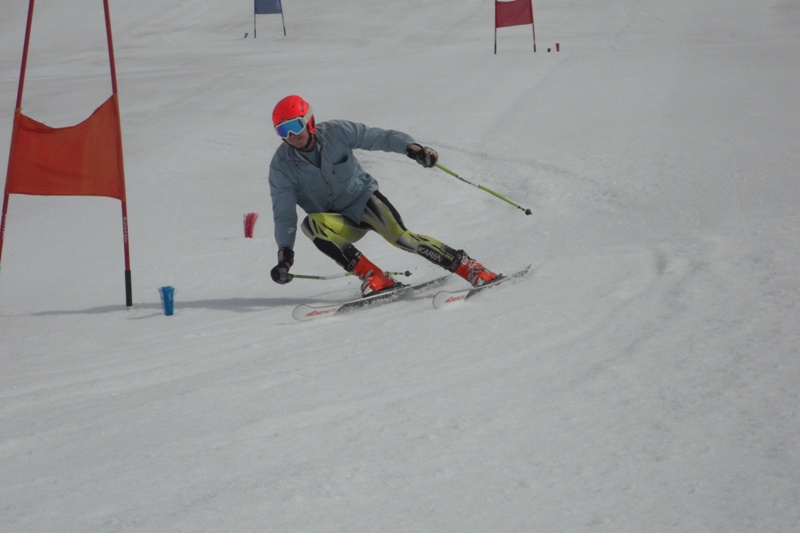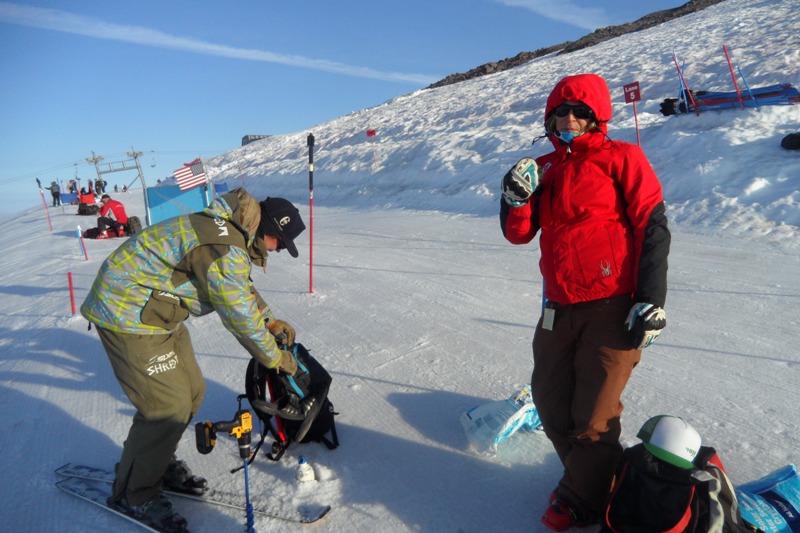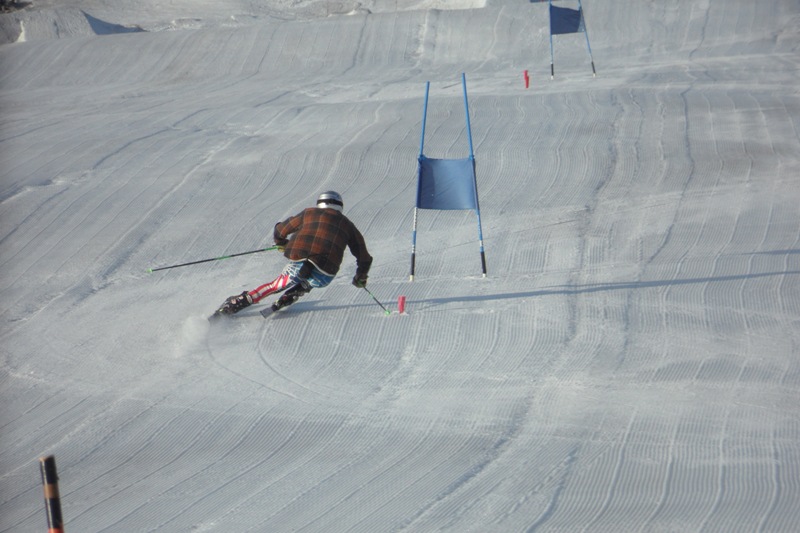 Session 11, 2013 MHSSC update:
Oregon Public Broadcasting (OPB) came to camp this week to produce a segment for a show called "Oregon Field Guide". They interviewed Mike Annett, Jackie Reis, Darren Owen. Not sure who else. Mostly they focused their attention on the on-hill parts of camp, but they did shoot some b-roll around the camp lodge. Jackie Reis got to wear a GoPro and follow around a very fast 11 year old Japanese girl. OPB was originally planning on doing this in June, but the bad weather postponed their plans. Turns out it rained a little bit (friday) on the day they shot the on-hill parts. Bill Toney played the role of "Sherpa", carrying the heavy video stuff. The 2-person OPB crew did not know the air date for our episode, but I will let you all know once that is figured out.
A college racer had a diabetic seizure at the camp picnic. Kinda scary to witness such a happening. Luckily his brother was there to help with the our staff (Nurse Jackie Guy and Co.) to get him back to "normal". The MHSSC busses passed the ODOT inspection. Also heard that the busses failed the inspection from High Cascade snowboard camp and Windells camp. Yay, for our team! 2 staffers from long long ago, showed up this week: Pat Savaria and John Mulligan (see pics below). Mulligan is a cousin of current CIT Erika Brattstrom, although he had not seen her since he held her as a baby. Pat Savaria is still a coach at Sun Valley. Robert Johnson made a nice new cross to replace the worn cross, in memory of Kees Nederhand. take a look below. Former staffer Adrien Young was on the hill last week too.
That's really all I have. My focus as been on my 30-year high school reunion the last several weeks. The reunion happened last night. It was very fun, by the way.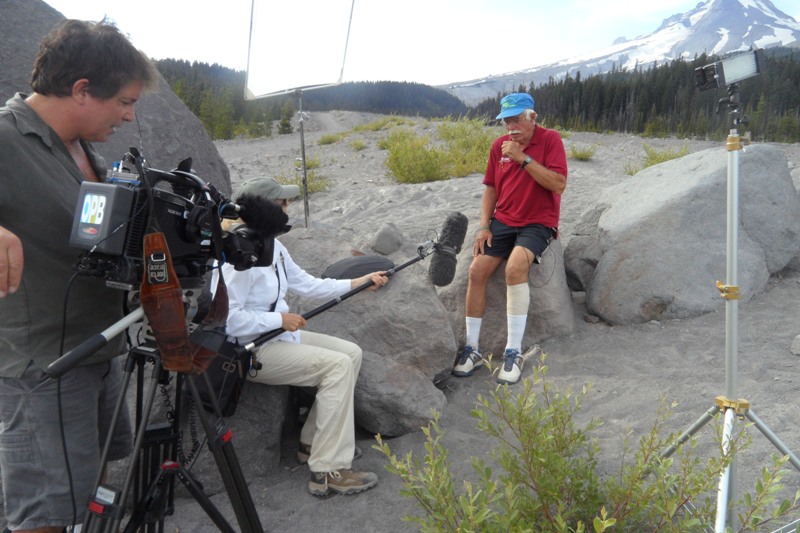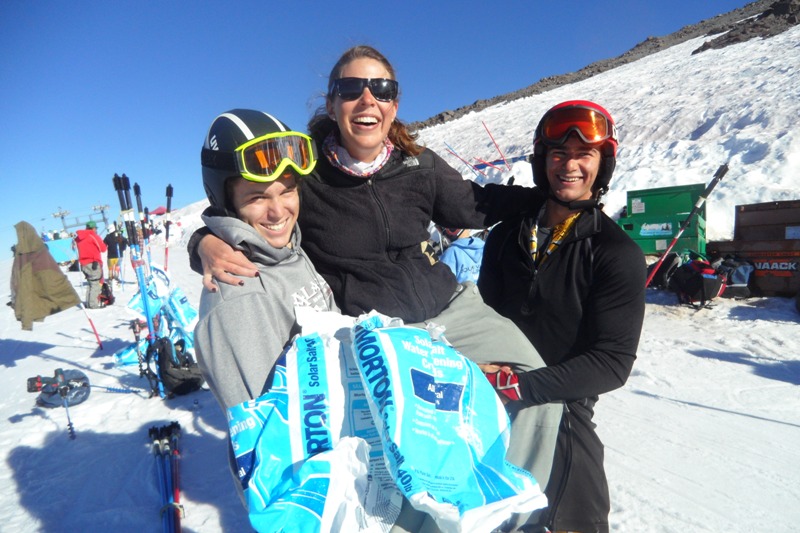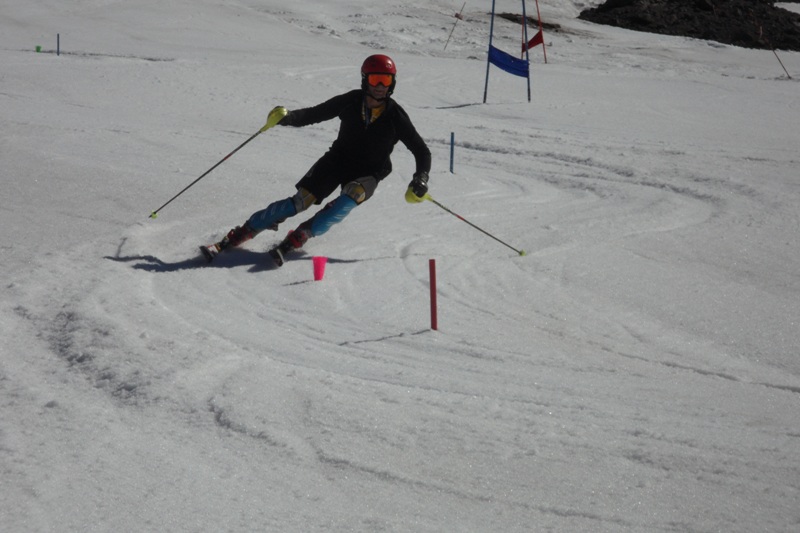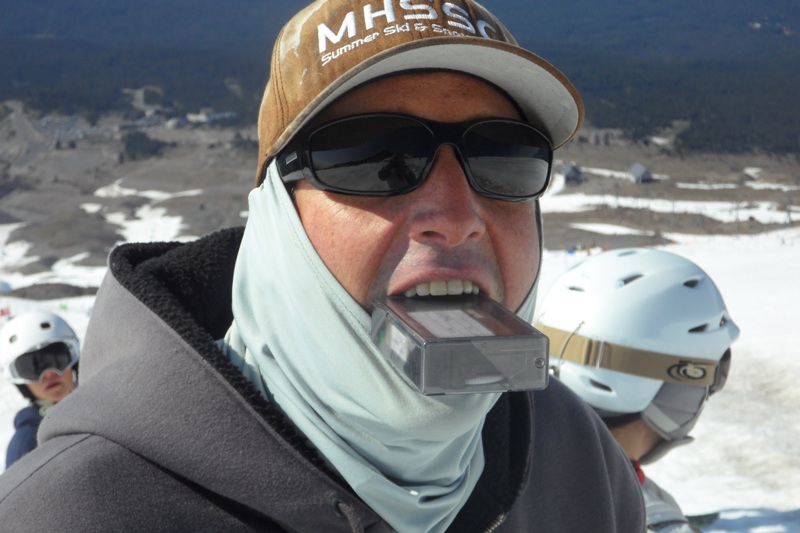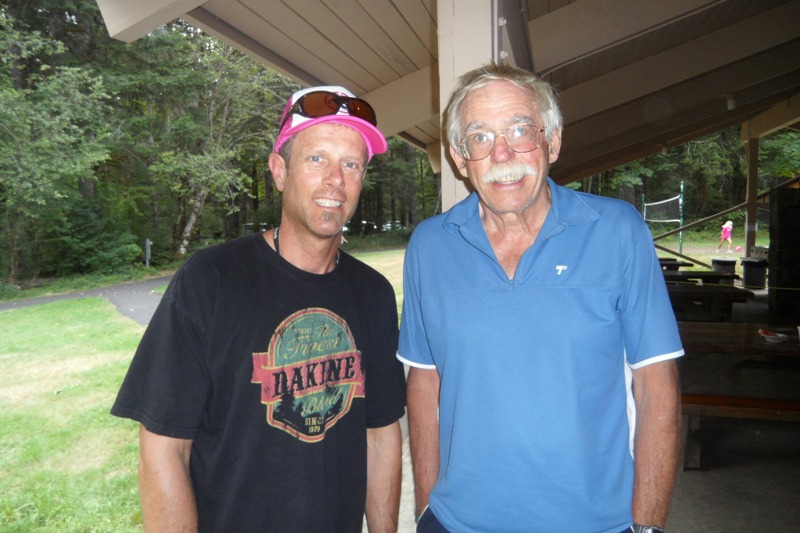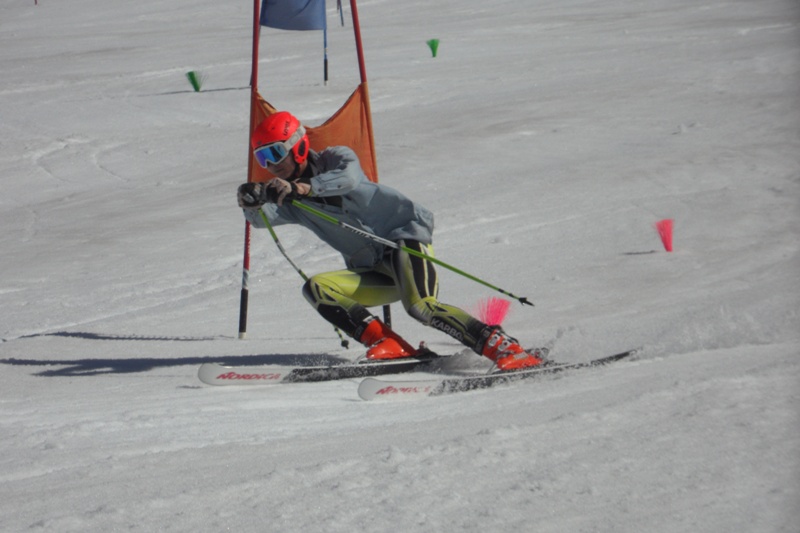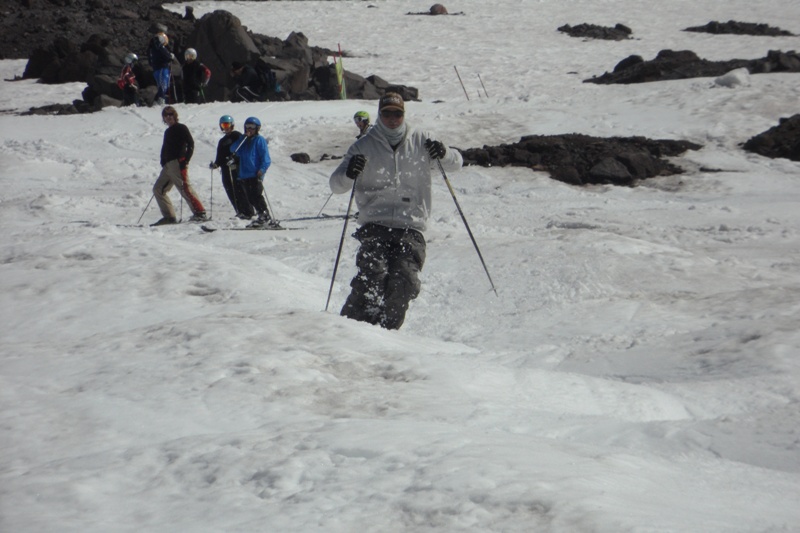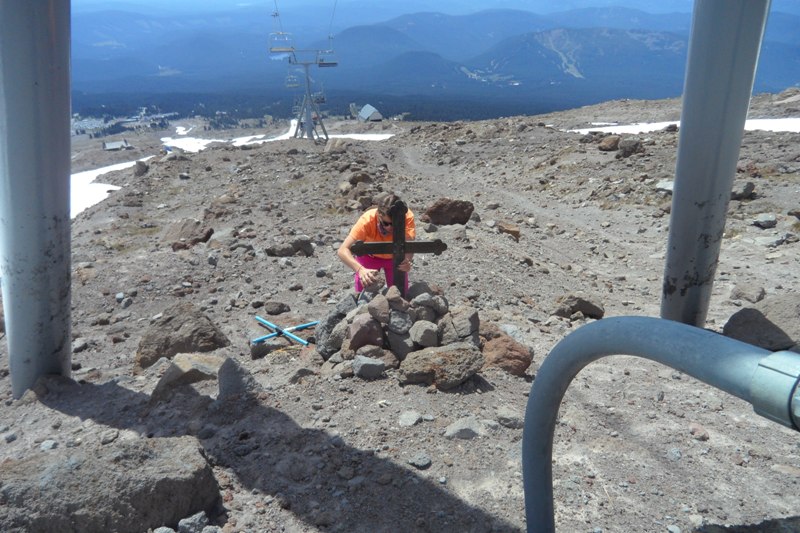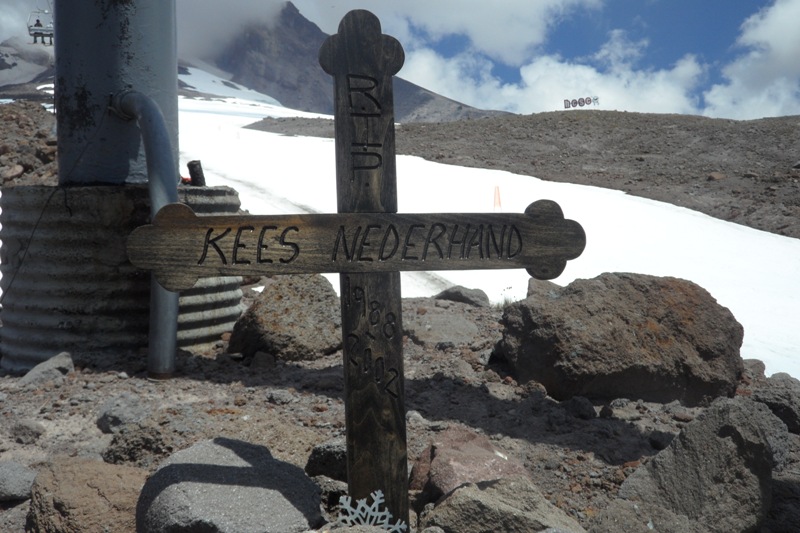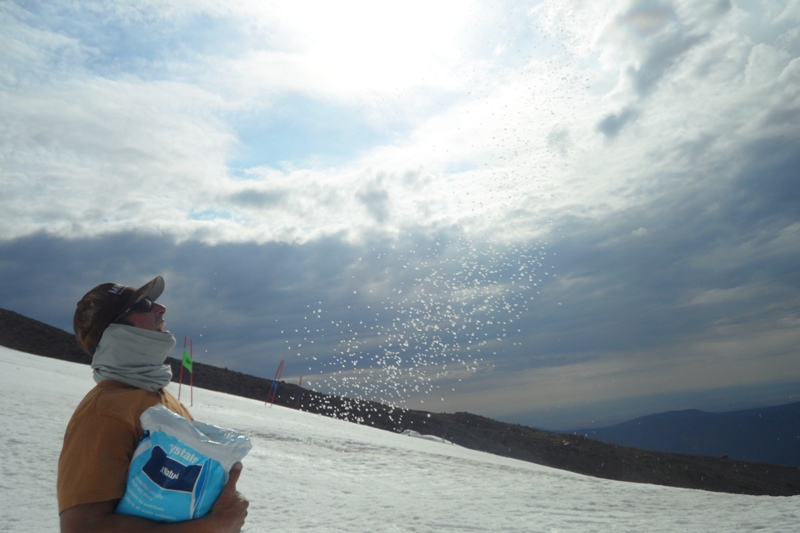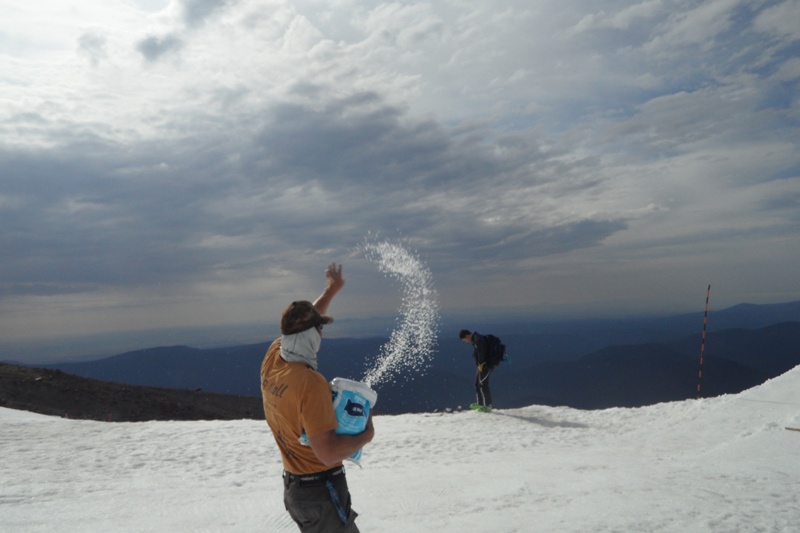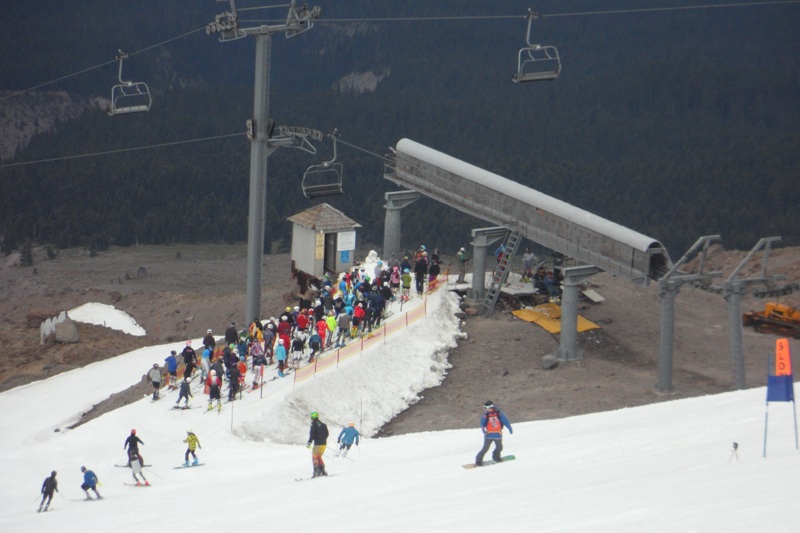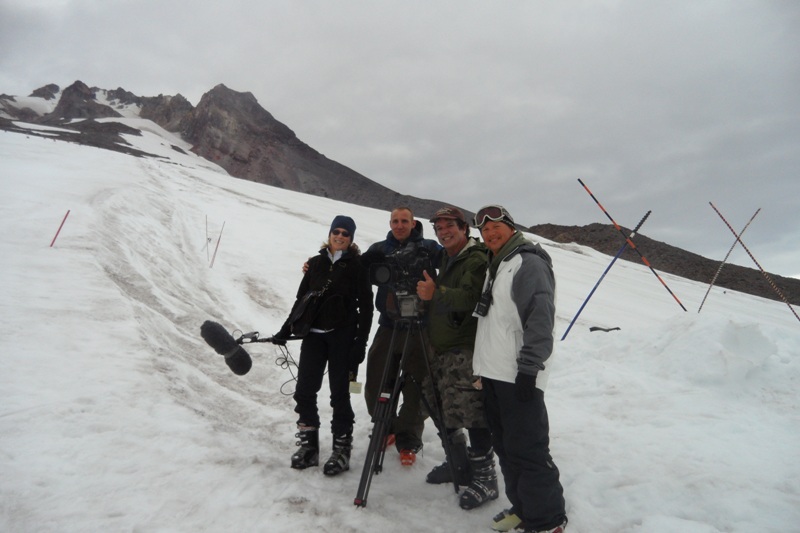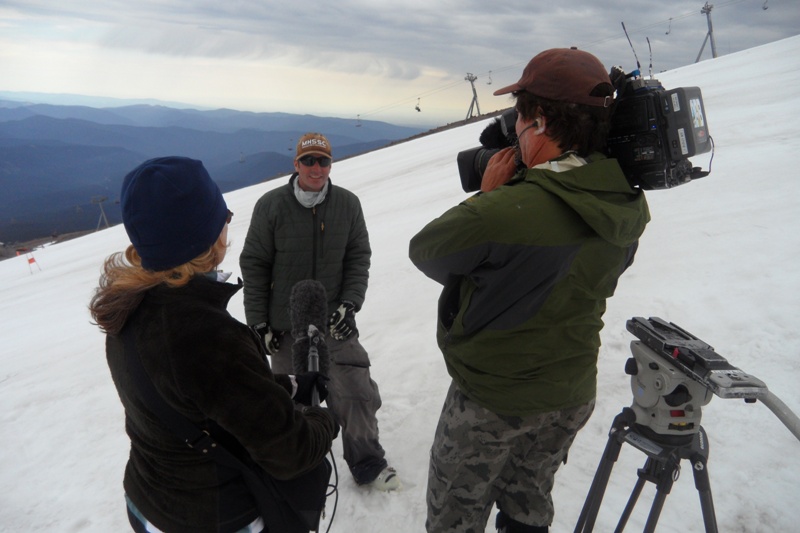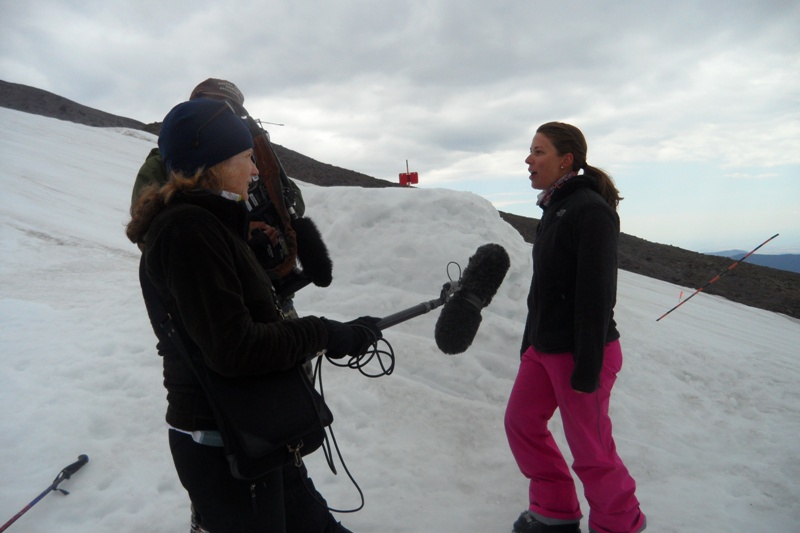 My High School reunion photo for your viewing pleasure. This was a group shot of people that I went to elementary school with. Good times.
Session 12, 2013 MHSSC update:
BREAKING NEWS Mike Annett went skiing! First time this summer. He went up Thursday of session 12.
Sorry for the delay on session 12 update. I'm having technical difficulties issues these last 2 sessions with the website. Anyway, this weeks update will cover sessions 12 AND 13! And I might even toss in some stuff from previous sessions that I forgot about. For example: About 3 weeks ago, Darren Owen was walking down the mile canyon at the end of the ski day and a donkey started running down the hill in his direction. WHAT!? Yes, a random mule up at Timberline! Anyway, as this mule gets closer to Darren, somebody from above whistles really loud and the mule stops in his tracks....turns around and trots back up to his owner. I think they were on the Pacific Crest Trail. Darren thinks that the mule confused him with the owner. And here's a nugget from session 11 that I forgot to mention: An 8-year old camper was skiing down upper palmer for her video run on Tuesday and when she got near me video-taping her, she yelled out "I farted". I can't make this shit up! The next day same girl yelled "I sharted" during her video run. (look it up in Urban Dictionary)
Ok, here's some session 12 stuff that happened (besides Mike went skiing)....Courtney Troxell bought a fish and named it "Jigga". (see pics). She intended to bring it back home with her (drive across the country), but Jigga passed away after about 7-8 days of living in a fishbowl on the staff table. It rained a bit on the hill on Friday. The mhssc diggers/coaches brought down all the boxes and rails from the terrain park on Tuesday. Mike bought a new basketball net for the camp hoop. Nolan Willard went snowboarding (see pic). I think it was his 3rd time ever. There was a double-rainbow on Friday (see pic, courtesy of Darren Owen). 90's staffer, Janet Lorton-Moran was on the hill this week coaching with Squaw Valley's camp. (see pic). That's it for session 12 stuff....scroll down to see session 13. Mike Annett forgot to reserve Wildwood park for our last picnic.....anyway, we get there and start setting up and what not. A park lady gives us the "ok", turns on the electricity for us, etc. Then around 7pm, another park employee comes rolling up in his golf cart and is all bent out of shape super-mad at us for being there without a reservation. Mike tried to diffuse the situation but the guy went away still pretty pissed off.....then he came back 5 minutes later with a gun and shot everybody. Ok, the last part didn't happen, but he was angry old guy.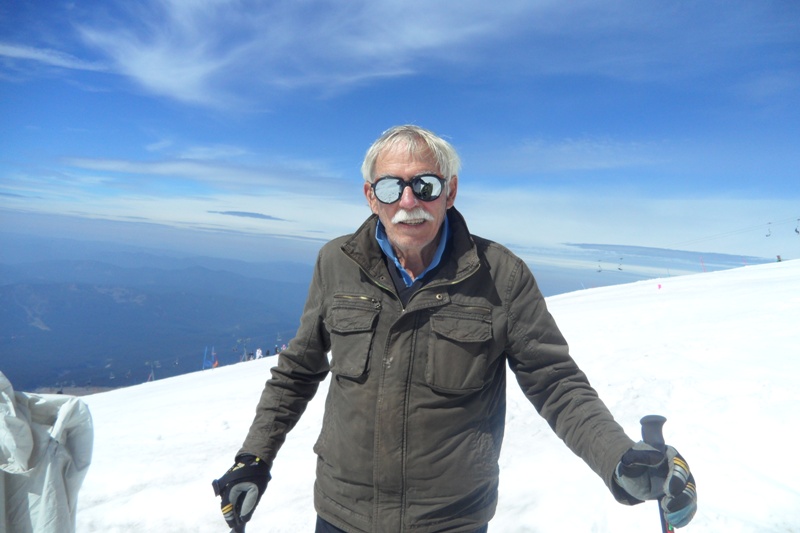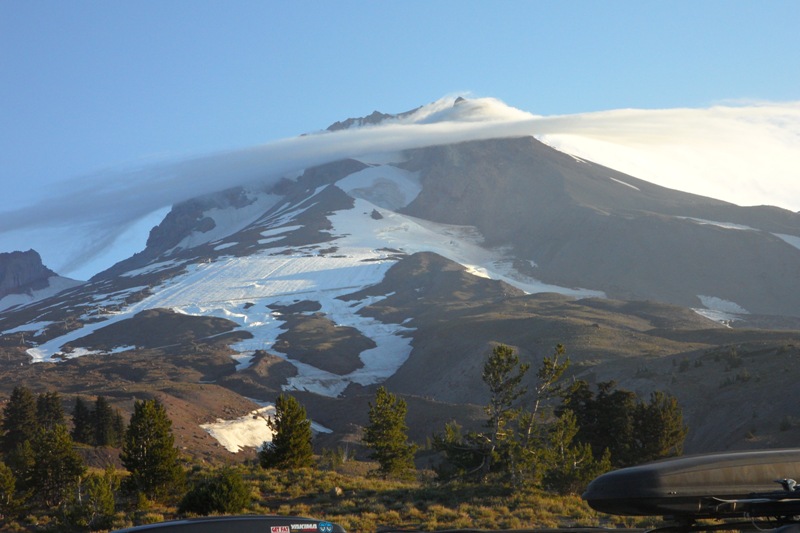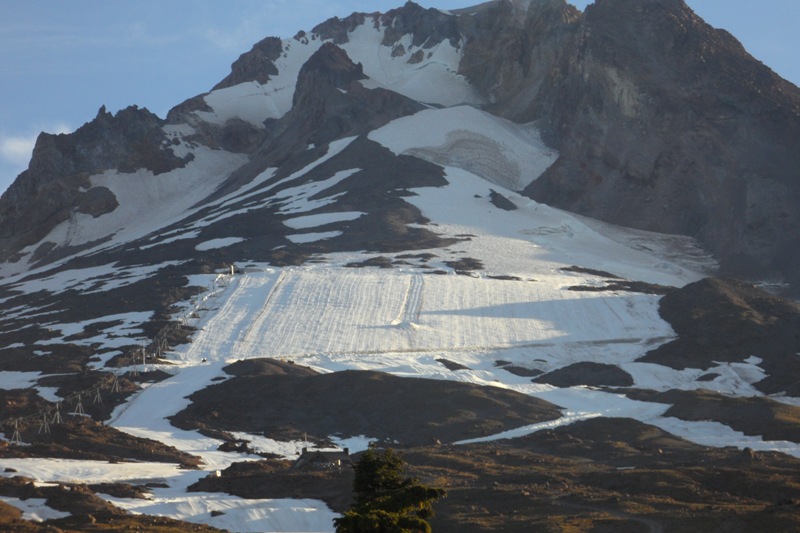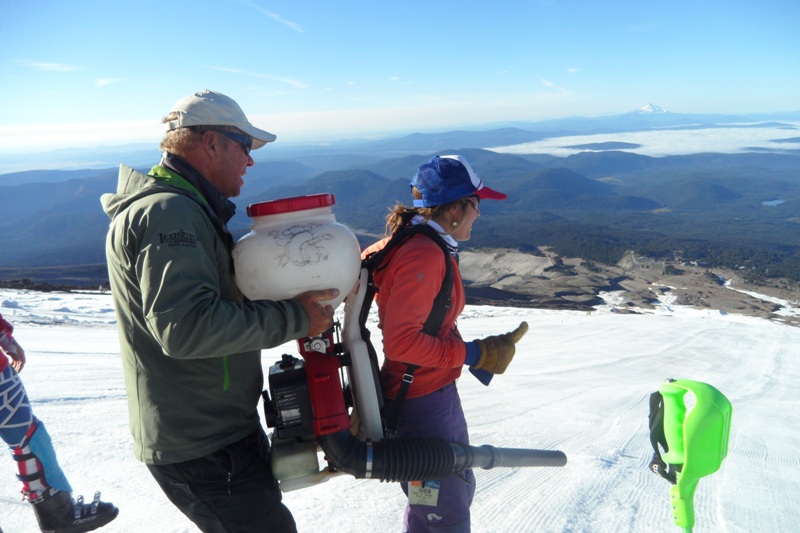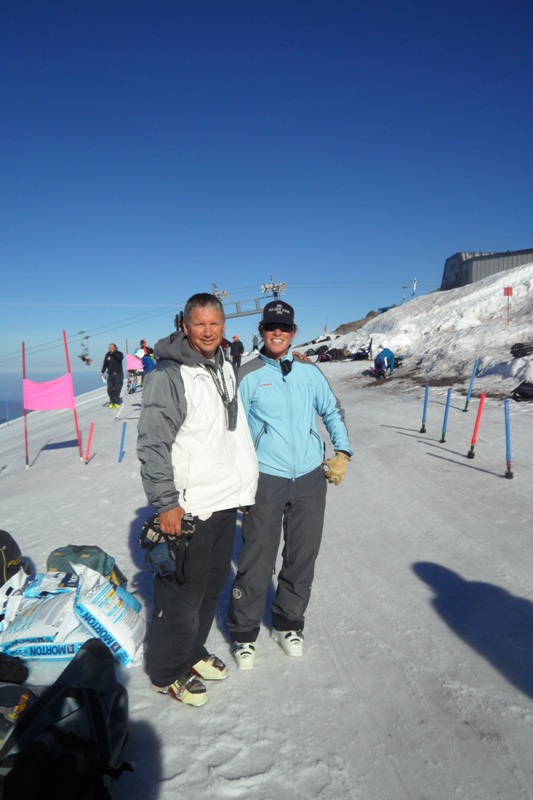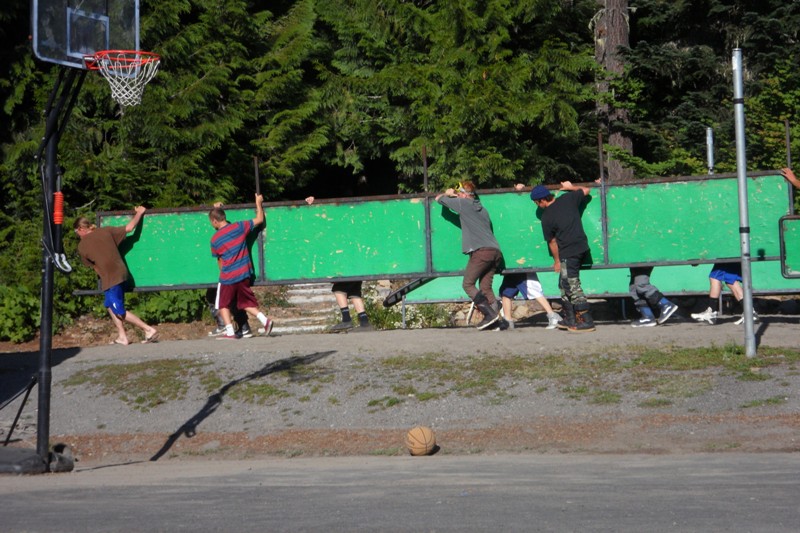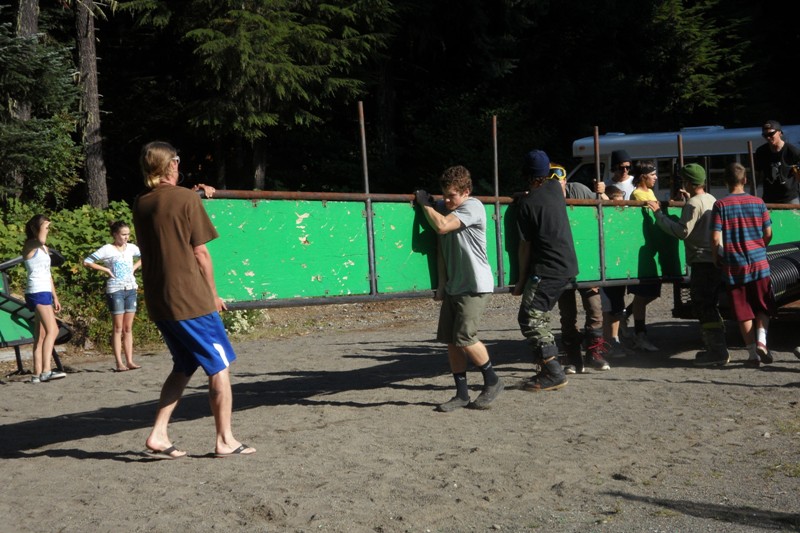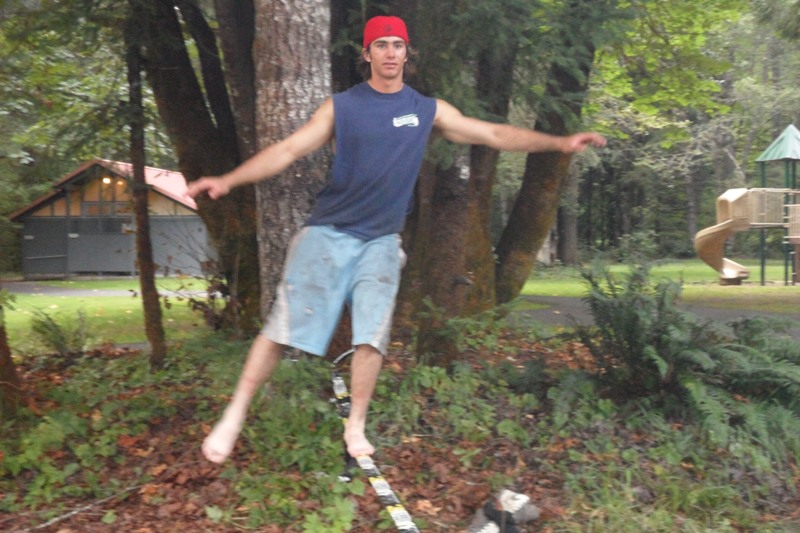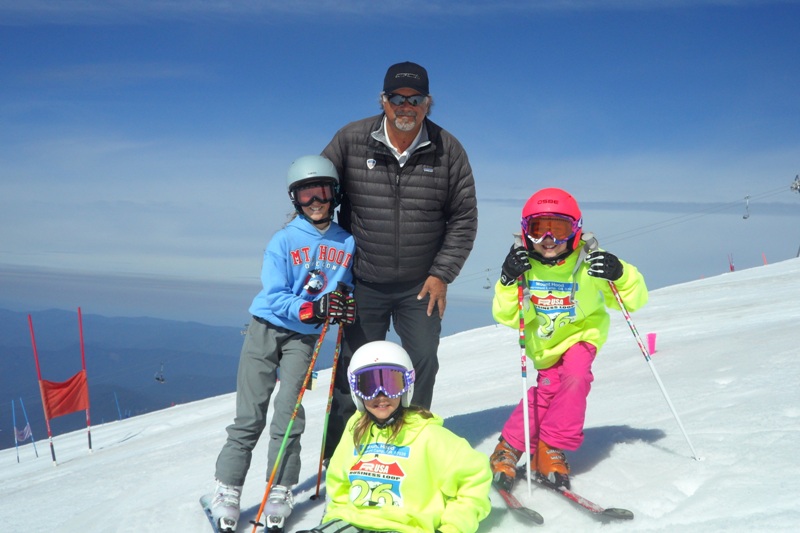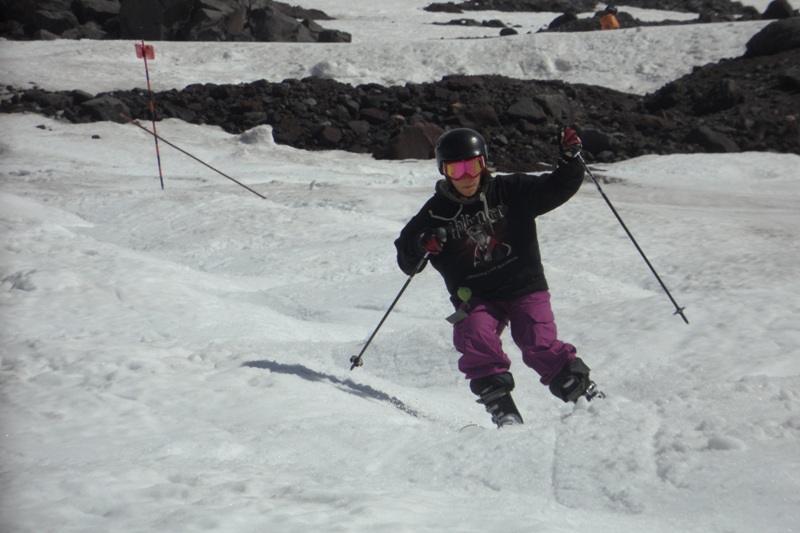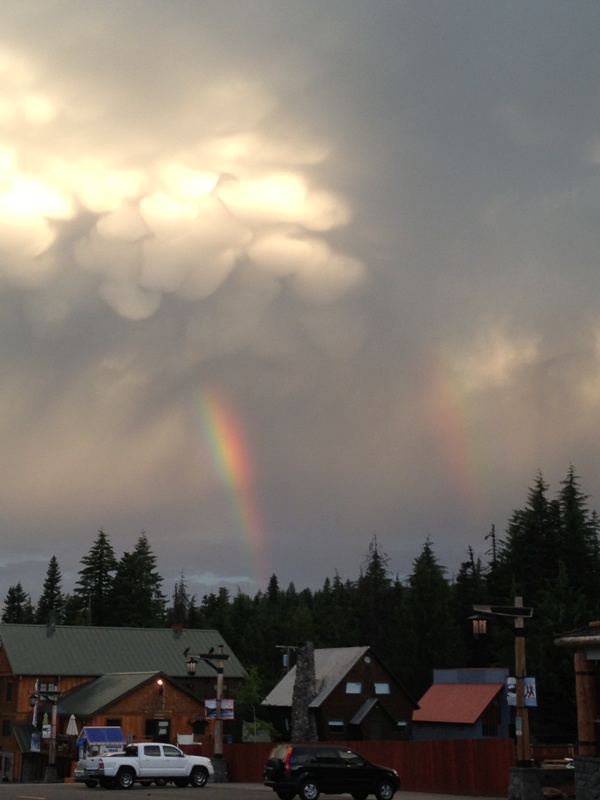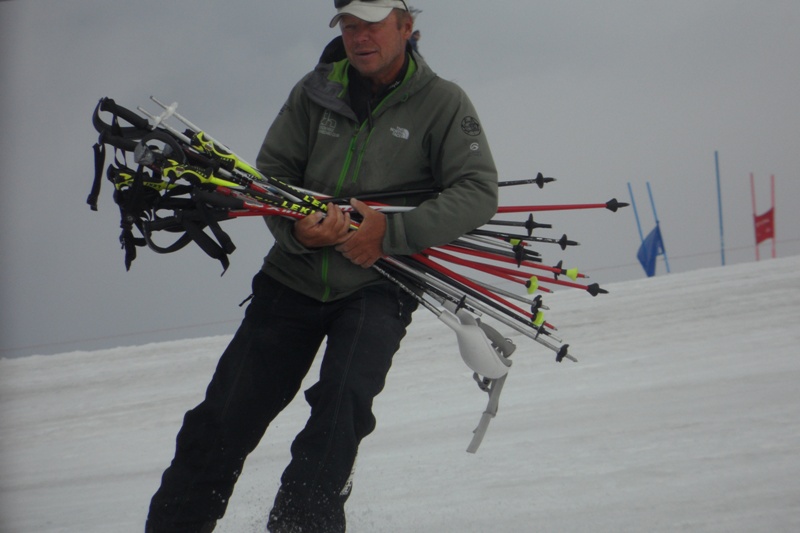 Session 13, 2013 MHSSC update:
A scary thunderstorm rolled into the area on Thursday morning, causing Timberline to shut the lifts and order an immediate evacuation of the mountain. No downloading the magic mile.....you had no choice, but to ski down to the end of the snow and walk the rest of the way to the parking lot. It's about a 10 minute walk these days. Nobody got struck by lightning, but it was sketchy! A teenage camper had a 5-pound Hershey candy-bar that his mother sent him. He was sharing it with all the campers on the last day of camp. The annual Hood-to-Coast relay race started on Friday. Former staffers Peter Bowden and Courtney Vermass both ran in this years' event. Courtney ran leg #2, so she got to run thru Govy. The mystery lake pictured below is "little crater lake". It was my first time there (about 20 minutes from camp near Timothy Lake). Apparently some of the staff have been swimming there multiple times before. who knew? It's about 1/100th the size of the real crater lake, but it pretty cool nonetheless. The rocks are starting to take over the top of the race lanes and also near the mid-way loading station on Palmer. But overall, the snowpack is still in solid shape. The snow isn't all that dirty for this time of year. I've seen much worse. We had an adult camper who would get to the lodge cafeteria each morning 40 minutes before breakfast....he'd turn on fox/financial news on the big screen TV, surf the internet on TWO different computers at the same time, make a call or two on the magic-jack phone and drink lots of coffee. Quite the morning routine each day for this east coast business guy. Coach Sophie Ostroski ran up the glade trail from Govy to the top of the magic mile and back on Thursday. She's the one being hoisted up in her skis in photo #1 below. *some photos below, courtesy of Connor Krell.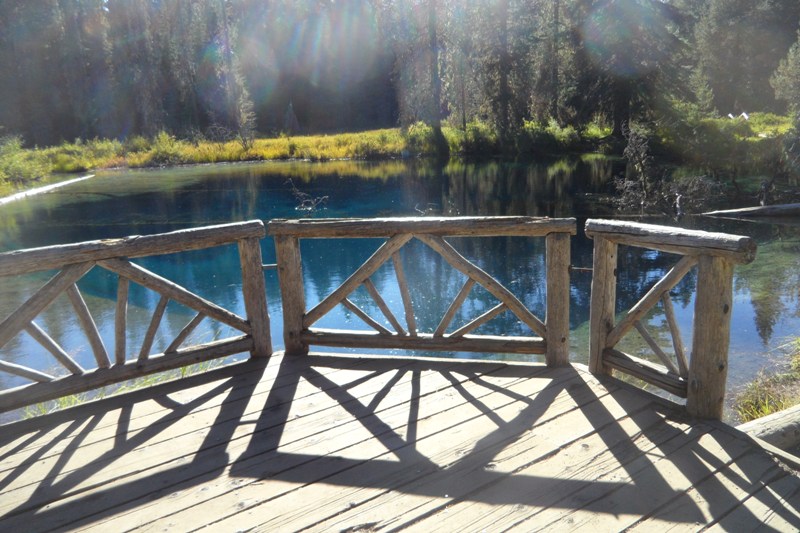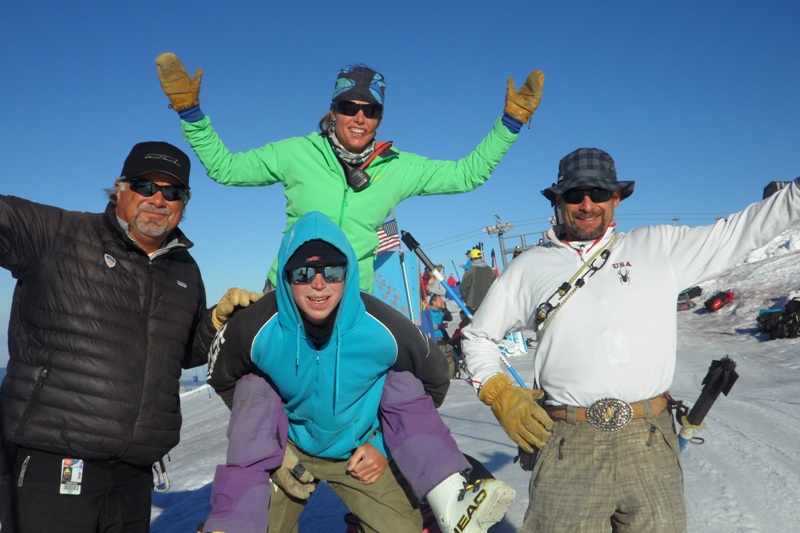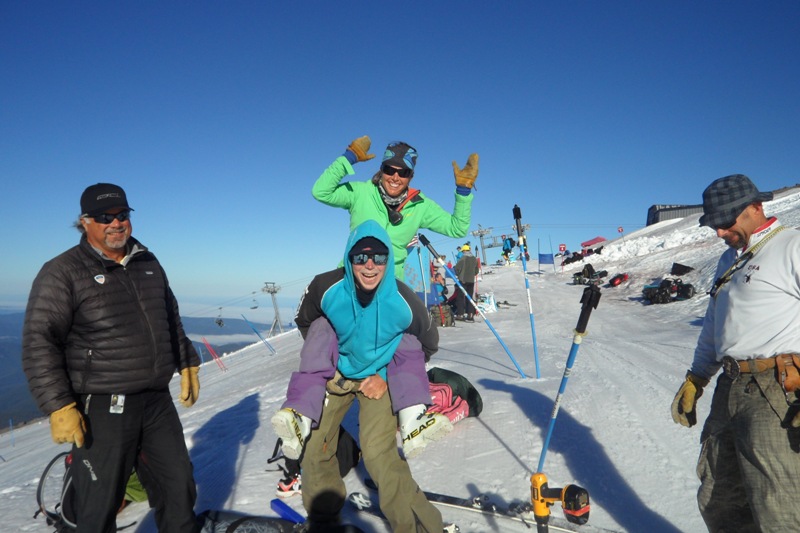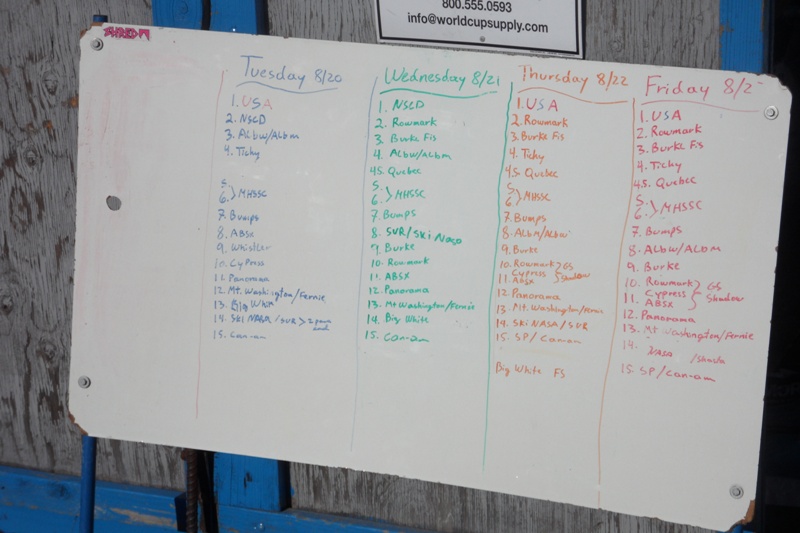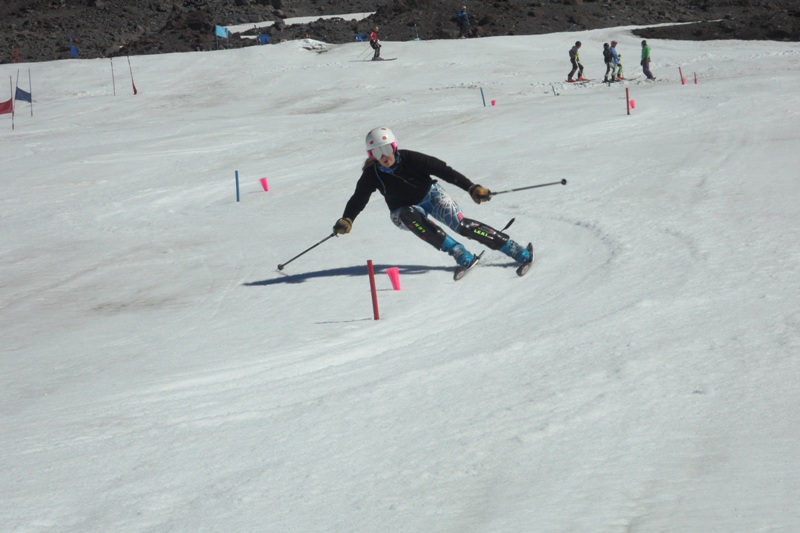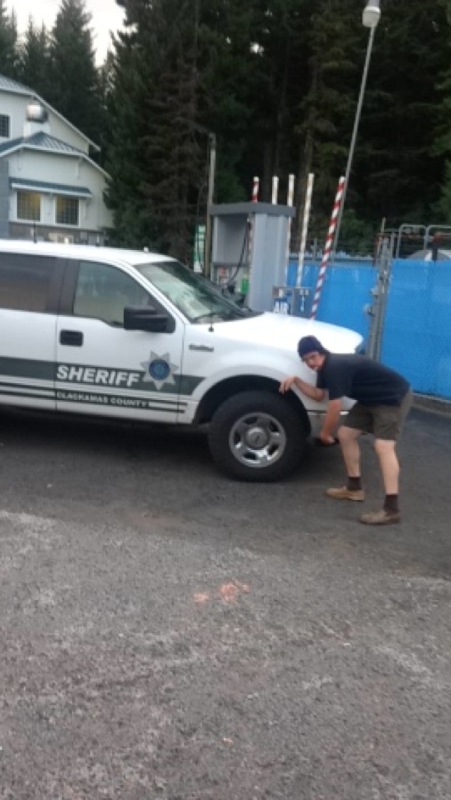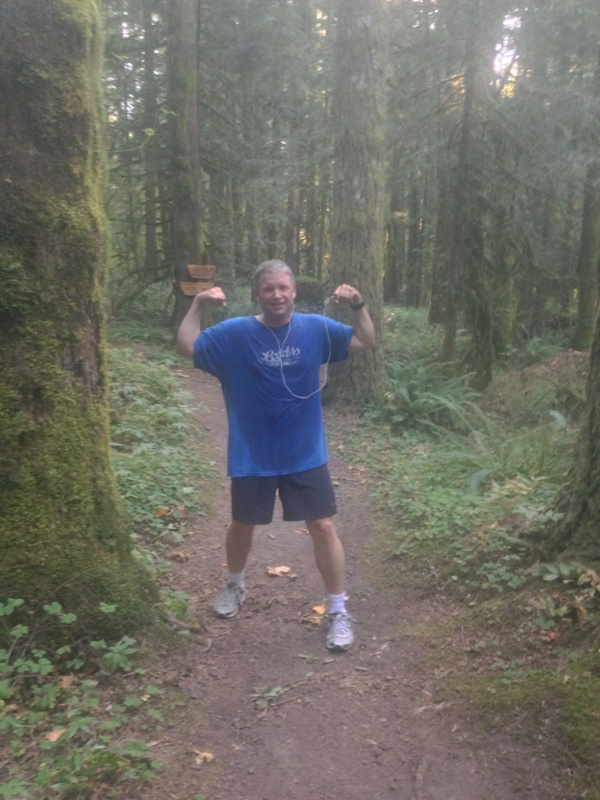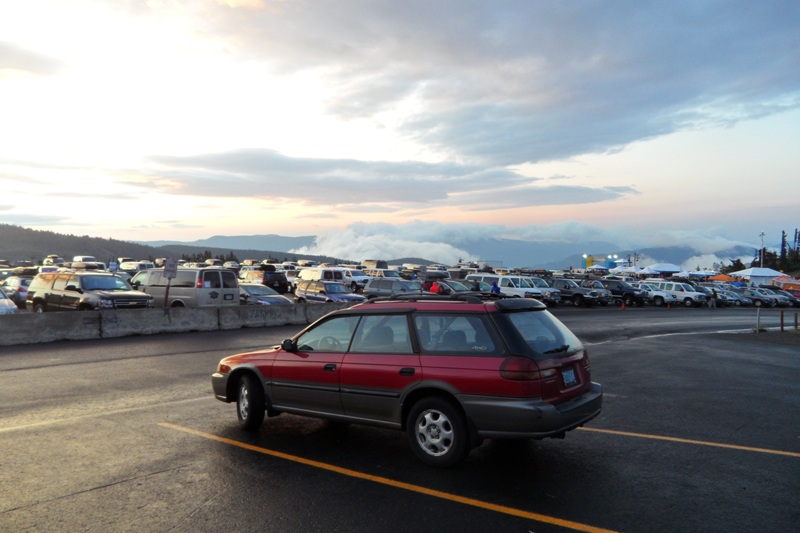 Roger and I did the robot (recorded by Darren Owen on his fancy phone)

And, although this has NOTHING to do with camp, here's the movie I helped put together for my 30-year high school reunion. It's a horror style comedy featuring 80's music, bad acting, and some bloody vomit to boot. Watch it ONLY if you are super bored with nothing better to do. *I make a cameo appearance near the end.

One session to go! Adults-Only week! I think about 20 adults have signed up. Should be fun. Possible rain showers are in the forecast.
Session 14, 2013 MHSSC update:
IT'S OVER! Yep, just like that, camp is over. An adult camper lady tore her ACL in the first 20 seconds of her first warm-up run on Monday. Not a good way to start a session. We had lots of different weather this week. Fog, rain, thunderstorm, sunshine, mist, etc. Thursday morning was the day of the big thunderstorm. The forecast called for 100% chance of rain in addition to the possible thunderstorm warning. We go up the chairlift that morning, no rain, just cloudy. Then after we get the courses set and salted, we started hearing thunder....lots of it! Timberline ordered an immediate evacuation....not even enough time to pull the GS courses. We just played that game a week ago, but this time, the campers didn't even get a chance to finish their warm-up runs. The storm passed within an hour or so and then they put the lifts on "stand-by". It was too foggy to resume running the lifts, so that was the end of our ski day. I was able to ride up in a snowcat later that morning to grab the camp TV/VCR's out of the top terminal. The adult campers went on a wine tour in the Hood River region on Thursday afternoon/evening, including a stop at the winery Brian Robb works at. Former staffer, Brandy Powell, got married last weekend! Congrats Brandy! Mike Annett and Lynne went to Sunriver resort with family and missed the last day and a half of camp. Yellow jacket bees are in full force at the lodge. Rick Millett set up his tent in room 209 in the lodge. Former staffers, Sam Damon and Tory Amorello were on the hill this week. I caught them kissing at the top of lane 2. There were some super-drunk dudes in the timberline parking lot after the thunderstorm event. They were from Pennsylvania and were in Oregon for a wedding. They planned to snowboard as part of the bachelor party. One guy had a Voodoo donut beer (see pic). A coaches radio, that was lost a couple weeks ago, was found on the ground near lift tower 6 on Palmer by a ski patroller! His reward for finding it: a half dozen mhssc cookies. Erica Carras did a 360 off the big mogul jump, making the adult mogul campers go "oooh and ahhhh". The adult camper guy who signed up for the entire summer and nick-named "13-week-Stuart", didn't end up skiing all 13 weeks. He left in the middle of the summer for at least a month, then trained on his own in the public lane during the last couple weeks of August. Bill Toney missed his first week of college courses at University of Utah, to keep working the final week of camp. On the last day of camp, the majority of the snow melted on the palmer mid-way loading station, so most people were taking their skis off, walking up the ramp, then putting their skis on before loading. (see pics). We "partied" at Charlie's on Friday night to celebrate the last day of camp. We only lasted until 11pm before exhaustion set in and we went to bed.
More session 14 photos here.
Next up: Oregon coast mini-vacation Sept. 2-4 (or 5?). Going to Lincoln City this year. Jackie Guy is coming down for at least 1 night. Nolan Willard might come if he's excused from Clackamas County jury duty. And Willy Johnson (and son) might come down too. Anyone else?
Hope you enjoyed this summer's mhssc staff newsletters. Perhaps I'll send some coast pics soon if I get any good ones. BYE for now!
Robin J. Cressy