2010
It's almost session 1, 2010 MHSSC update:
Hello MHSSC staffers past and present! It's been 5 months since the last update and camp is starting up in a few days, so I think it's time to do a staff newsletter. So here ya go:
Mike Annett is back east this week attending his 50-year high school reunion. Mike said he had never gone to a previous HS reunion. One of his old school buddies had emailed this old school photo of Mike to the office computer and of course I snagged it so I could share it with all of you! Enjoy! (Mike is the one in the middle)

Heidi Gamma had her baby back on Feb 18! In Heidi's words: Jay was born on the 18th of February, so today he is already 7 weeks old. It was a big change to figure out this parenting thing, but by now it's going very well and i enjoy it very much, more than i could ever imagine. With Dan's help i also got to go ski a bit on 2 powder days which was great as well.

Dr. Bill! Bill Whalley is an optometrist! He said it poured rain at one point during the outdoor graduation ceremony at Pacific University. Bill hopes to find work in Hawaii. Congrats Bill!
Roger Bay got his hip replaced back in April. In Roger's words:
Boy was that scary. I was so nervous I couldn't believe it. but I have a great doc. I got a metal on metal, but there's a thin plastic (super duper special plastic, that is) cup inside the metal cup. Everything went really well this morning. They'll actually have me up on my feet later this afternoon. I'll be in the hospital till Sun or Mon then home (for tea). I can ski in 6-8 weeks. However, the USST picked me up again. I'll be working the the WC SLGS women.Check out my attached pic,
Former staffer Pierce Louis and his wife Kyla had a baby!
Copeland Wolfe Louis- Born 3/28/2010- 8:38pm 8lbs 13 oz. 21 inches long

Tim Feeney is going to visit Mt Hood this summer, July 1-5. Feeney party at Charlies on July 1!

Grant Wilson has a new website (Grant says it's a work in progress) for his band, "Surfin USA" (Beach Boys tribute band). Here's the link: www.surfinusa.com
There's even a picture of Grant from a MHSSC picnic:
http://www.surfinusa.com/bios/bio_grant.html
And in case you didn't know, Grant and his wife Sonya are expecting their first child in September!
There were some staffers that graduated from college in recent days......so a little shout out congrats to Olivier Lacaille (U of New Mexico) and Spencer Raymond (Syracuse). Way to go!
Former staffer Bryan Rooney visited Mt Hood a couple weeks back. He's living the dream with his new job at Vail. He was at Mt Hood for the cutters camp.

MHSSC Employee of the month program: I'm looking to pass the torch on running the employee of the month program at camp. It's something we started up at camp about 5 or 6 years ago. There were two or three "fixed" voting campaigns (in my opinion) and countless complaints about the whole thing.......plus it was like pulling teeth getting people to vote....so basically I'm over it. I hope EOM continues because I think it's a good concept to reward and recognize good employees, but somebody else needs to step up and run it. Any volunteers?
Session 1 starts this weekend. Bring it on!
Session 1, 2010 MHSSC update
"RAIN".........that pretty much sums up session 1. Mix in a little fog, a little wind too. But we did manage to get on the hill 4 of the 5 days, so it wasn't all that bad.
Monday and Friday, we skied in the rain on Stormin' Norman chairlift. It might be the flattest ski hill in America. Tuesday and Thursday were actually decent weather days. Just a touch of rain and some fog that rolled in and out throughout the day. Wednesday was a flat out unforgiving rain storm. Lifts closed. One of those rare MHSSC occasions where we didn't even bother driving the kids up to sit in the WyEast day lodge to see if the lifts would open. We just did long breakfast and gave the kids the option of bowling and/or a trip to Lloyd Center mall. Some of the kids came home from the mall with interesting haircuts (see pic below). Emily Longfield made a guest appearance on the hill on Monday. She promises to come back up for the Tim Feeney reunion tour on July 1. And Spencer Raymond showed up for camp dinner on Tuesday. Spencer is now in South Africa working for ESPN for the World Cup Soccer tournament.
Other random happenings at camp this week. The wednesday picnic was moved to Thursday because of the Wednesday rain event......but..........But, as the caravan of camp vehicles headed toward Hood River for our session 1 Thursday picnic, suddenly cars/vans were turning around about halfway down highway 35. Mike gave the word that it was raining hard in Hood River, so we were to move the picnic to..........camp lodge! I think this was the 3rd ever on-campus picnic. Maks Gorman and Nate Reuter cooked up some burgers on the grill and we did indoor picnic, while we watched game 1 of the NBA finals. Darren Owen sacrificed his finger to press the channel up button on the satellite box some 500 times to get to the right channel to watch the game, as the remote is broken and nobody knows how to program the new remote. The satellite box is located in fax room in the basement, so we had to use the camp walkie talkie radios to tell Darren to keep pressing the channel up button. It took like 15 minutes! During our indoor picnic, Kevin Malone noticed a deer walking around over by the trampoline area (see pic below). Joe Sulpizio ate 4 burgers at the picnic. He also ate 2 servings of fries, a brownie, and washed it down with some coca-cola. And now that both are age 21, Joe and Jackie Reis visited Charlie's for the first time ever. The British Columbia ski camp hoarded all the salt bags on Thursday. But Jason Hey finally was able to talk them out of 3 bags for our little GS course. A raven unzipped a backpack and stole the sandwich from one of the adult campers. And yes, I captured the whole event on video. (*and for the record, I chased this bird away 3 times before I was too late the 4th time......then decided it was time to grab the camera.).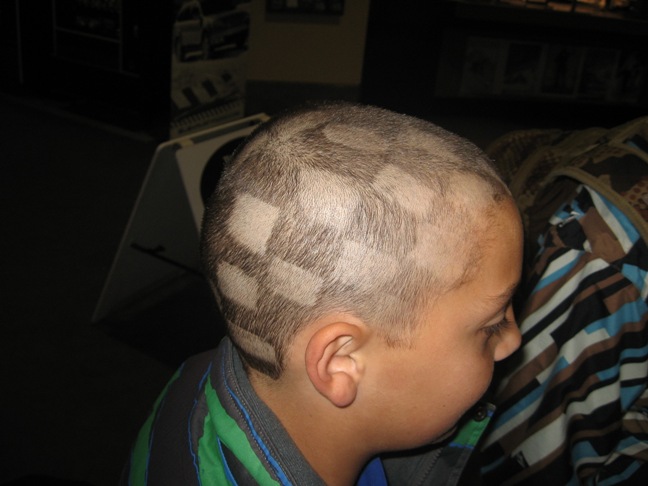 photographer for deer photo: Malone, using Joe's camera
Welcome to the Gun Show! Elliot Halverson showing off his guns and his handlebar beard thingy. Elliot was guest office person for a few weeks, but now he's gone back to Colorado. Will he come back? that is the question.
Ex-staffer, Eva Gonzalez, got married last month somewhere in Spain (I think?). I stole this wedding picture from her facebook page. Congrats Eva! Jason Hey was a wedding guest as he was traveling all over Europe for a good solid month before camp started.
Photographer Elliot Halverson. This photo must have been taken before session 1, because we never saw blue sky last week.
J-Hey shows off his killer rain gear.
Maks Gorman taste test on pasta night.
On Wednesday morning during long breakfast/rain delay, the staff was so bored that we had a competition to see who had the biggest ear. Winner Mark Stegall had an ear measurement of 7.5 centimeters. The silver medal went to Mike Annett at 7.4cm.....Robin Cressy took the bronze. The female winner was Jackie Reis (*no other female staff are here yet and I wasn't about to get Lynne involved in this one).
Terry McLeod was here for just session 1. As you can see, he built a stairway to the zipline platform.
For you mhssc old schoolers.........this is Tom Sell's knee. Tom finally had knee replacement surgery. Tom says he has 30% more flexion now as he is 2 months into his rehab. (*ewwww!)
Anyone have a valid email address for any of the following people?: Catherine Crim, Craig Daniels, Brett Andrews, Brad "Tex" Hatfield, Greg Curran, Chris Hargrave, Trevor Hamilton, Jeff Tait, Joe Maas, Louise Dickson, Matt Murphy, Tom Davenport, Mike Langdon...? Got kickback reject messages back for these peoples.....
Session 2, 2010 MHSSC update
Another challenging week of wet cold weather this past week. 2 days were spent training on Pucci chairlift, and 3 days on the magic mile. The sun FINALLY showed itself on Friday. Former staffer Chad Kossar made a guest appearance at the Hood River camp picnic on Wednesday. Chad is living in Hood River this summer as he's doing an internship at Insitu. Prescott McLaughlin celebrated his 18th birthday on Friday. He's now a man! Joe Sulpizio organized a staff ping pong tournament on Friday night. It was a random drawing for the seedings and it ended up being Robin Cressy vs Mike Annett in the first round........which was a rematch of the ping pong tournament finals at Snow Bunny Lodge in July of 1987. Although Mike won the championship in '87, Robin was able to get some revenge in 2010 by beating Mike 21-18. In a classic Mike moment, as the match was to begin, Mike pulls out his secret ping pong paddle out of a fancy padded cover. Anyway, there were several good matches throughout, and in the end it was Matt Stinson winning the championship over Joe Sulpizio in the finals. Matt won $10 bucks ($1 entry fee, winner takes all but $1 goes to the 2nd place guy). We've spent very little time on the Palmer snowfield these first 2 weeks of camp because of weather issues....That's all I have.....enjoy the photos.
Former staffer Spencer Raymond's website: www.dispence.org
Photo: Darren Owen ripping up the pucci slalom course on Thursday morning
\
The Timberline parking lot was a total sheet of ice on Friday morning. Wish I had some video of Jon Winslow out there spinning cookies in his automobile.
Jay-Hey hard at work
Joe Sulpizio slalom on magic mile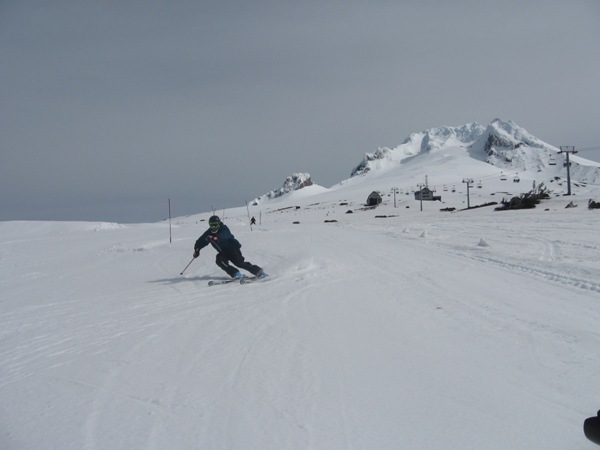 Malone
Mark Syrovatka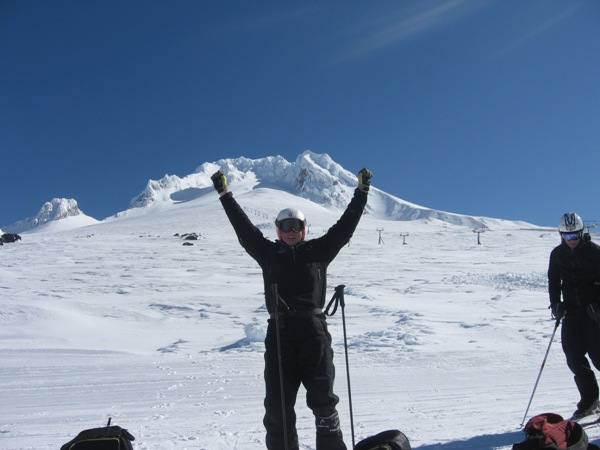 Ping Pong finalists. Winner Matt Stinson! Joe won a taco bell chalupa coupon for coming in 2nd.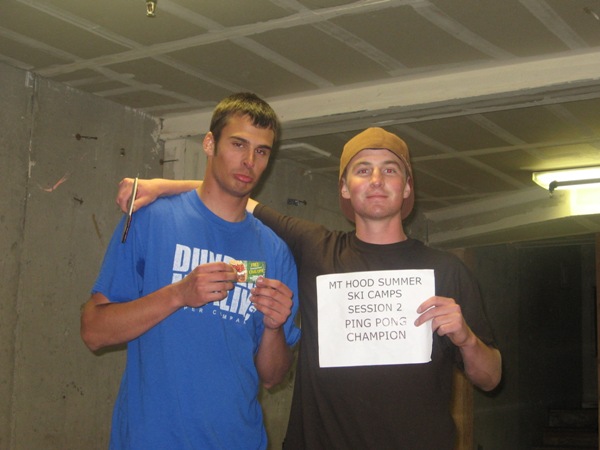 Rain gear
U.S. ski team racer Sarah Schleperalongside the video guy at mhssc.
Schleper GS run (she coaches with Erich Sailer ski camp)
Former mhssc coach Uros Pavlovcic! (also working for Erich Sailer camp) He's getting married later this summer!
Former staffer Bridgette Shipley got married on March 8 in Yosemite. Congrats Bridgette!
Former staffer Bill Whalley sent me this link to challenge the mhssc K-staff at being creative with pancakes:
http://www.jimspancakes.com/
Session 3, 2010 MHSSC update
Another cold wet week in the Pacific Northwest. I remember looking at the long range weather forecast at the end of session 2 with some other staffers and it looked like a lot of sunshine and warm temperatures were in our future.......but that didn't happen. Monday was ok. Tuesday VERY COLD! Wednesday new snow, "chains required" on Timberline road. Mark Syrovatka's pickup truck couldn't make it up the road, so he had to park his car alongside the road and hitch a ride with Jason Hey. On Thursday, Timberline reported 8 inches new snow overnight. It was mostly sunny that day, but Palmer was not groomed and we were confined to Pucci chairlift and the magic mile.....NO GATES allowed for any of the camps. Friday, overcast and chilly, but at least we had the use of Palmer again. So far this summer, we've only been able to train on Palmer 3 out of a possible 15 days. I'm sure you are sick of me talking about the weather on this blog newsletter thingy, but it's been the story of the year so far. It was pouring rain at the picnic (wildwood park). Jackie Reis set up the chipmunk trap in her dorm-room, but was unable to catch the rodent that she heard scurrying around.
Check out this video about new mhssc snowboard race coach Sean Busby. Great stuff!
Prescott moving furniture by himself.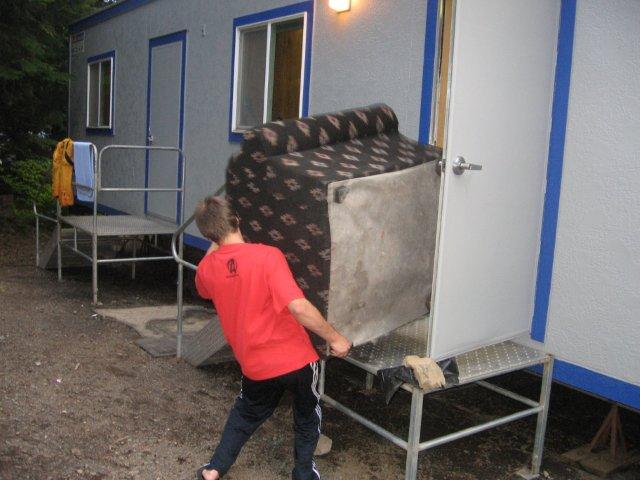 he really likes that sign!................a lot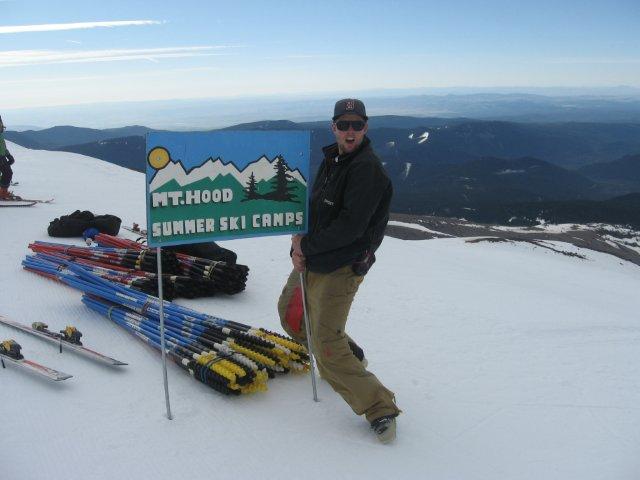 Bob Robicsek and Jay-Hey
June 16, 2010..........chains required!
Darren Owen joined me for picnic run in the rain.
Cold Nolan
Ribs!
Kids huddling by the fire @ the cold wet picnic.
Matt Stinson, bus driver
Pucci filled to the maximum
Post-storm shoveling, looking for our gates
Success!
Session 4, 2010 MHSSC update
THE SUN CAME OUT! finally! No rain this week. Well I felt 3 or 4 raindrops on friday morning before the clouds burned off. This was a pretty big session with 120+ campers. Long lift lines, especially when Windells and High Cascade camps were on the hill the same days as us. 2010 Olympic bronze medalist in men's moguls, Bryan Wilson, was on the hill training this week. Lots of ex-mhssc-staffers running around the snowfield these days: Jon O'Brien, Brian Gudolowicz, Sam Damon, Tory Amorello, etc, to name a few......the race coaches had a bbq on friday at the end of the day on the top of lane 5-6. (see photo). Counselor Joe Sulpizio became coach Joe this week, coaching a near beginner skier. This beginner skier was originally assigned to Darren's mogul group, but upper Palmer was no place for this poor kid. Darren had to hold his hand to help him side-slip down to mid-station. Big creepy flying black ants were swarming at the lodge on Wednesday afternoon.........ahhhhh, run for your lives! I helped Jackie Reis set the chipmunk trap on Friday afternoon (friday of session 3)......when I got back on Sunday, I asked Jackie "well, did you catch a chipmunk?".....she had totally forgot about it......and yes there was a chipmunk in the trap. Jackie and Joe went to Portland on Wednesday night to see comedian Aziz Ansari. A little kid (not a camper) was riding his bike with training wheels at the picnic......kept looping around in circles and crashing over and over again. The staff was fully entertained by this. They must be understaffed at wildwood park this summer. No park employee is manning the parking toll booth when you enter the park and nobody seems to come around during the picnic to complain about something we are doing. They squeezed 3 GS courses on lanes 5-6.5 on Thursday. It was sketchy at times. Pretty warm this week......lots of salt was tossed. Jay-Hey had 3 Koreans in his group this week that really didn't speak any English. People keep asking me about John Rust. Here's some info on John and his new gig. And the Tim Feeney reunion tour starts on Thursday, July 1...at Charlie's of course.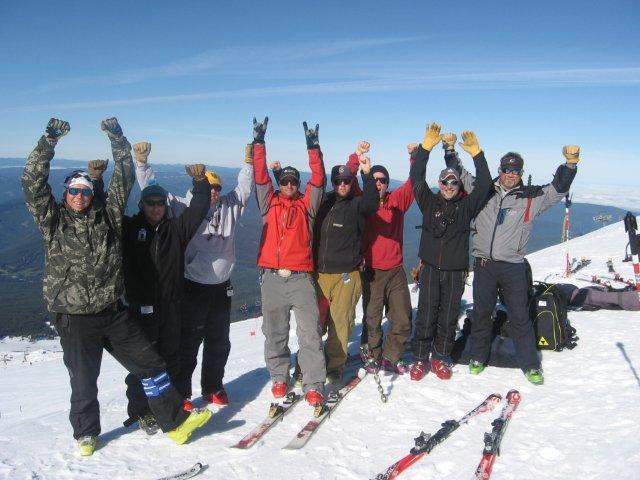 Mike was sporting his Brazil soccer jersey for the orientation meeting on Sunday night.
Black bear spotted at wildwood park........ahhhhh, run for your lives!
the staffers enjoyed watching the little training wheels bicycle kid at the picnic.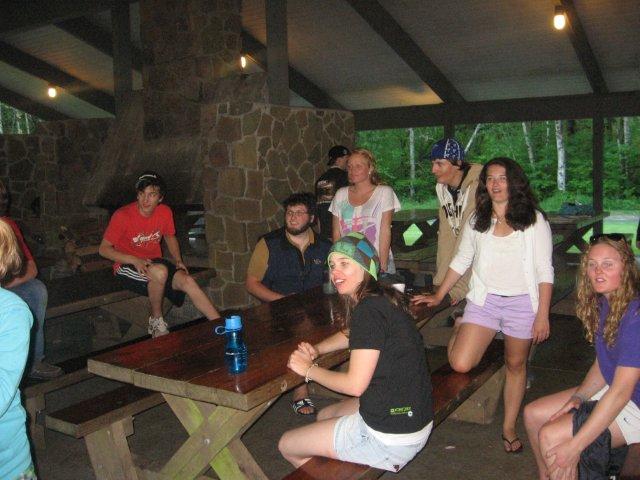 Maks Gorham
Mark Syrovatka spreading the seasoning.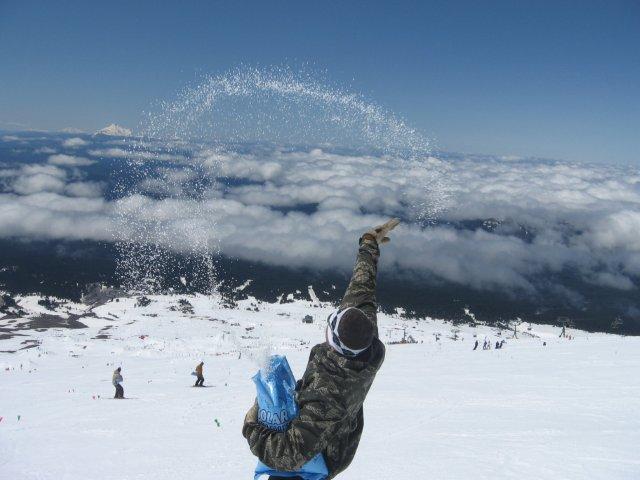 Charlie Sperr memorial on his special chair. A celebration of his life is planned for September. Charlie was 86.
Charlie of Charlie's has passed away
Charlie died Friday night in his sleep.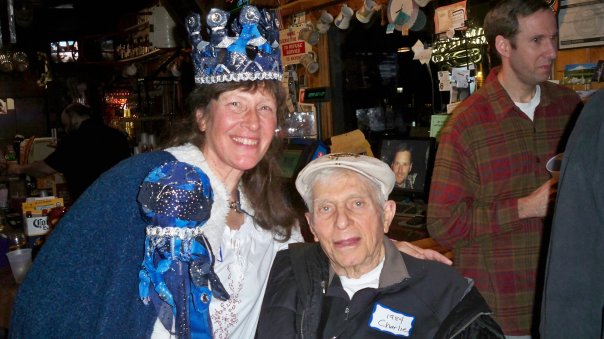 Session 5, 2010 MHSSC update
I'm running out of time, so this will be short and sweet. Former staffer Tim Feeney came to Oregon this week with his girlfriend. "Feeney-Fest" took place on Thursday night at Charlie's. Sorry, no pics of Feeney....I left the camera at home that night. John Rust made a visit to the mountain on Wednesday. He climbed to the top of Mt Hood from the top of the chairlift and skied down. The "shorty-40" bus broke down (see pic below). And one of the other busses in the mhssc fleet has been nicknamed "struggle-bus" as it's famous for only going 10 mph up hills. It snowed a couple times on Thursday and Friday was an all out bad weather day: fog, wind, mist, then all-out rain by the end. Most of the race camps bailed that day, but we did some freeskiing on magic mile (palmer was closed). Two mhssc staffers were involved in a car wreck with a big semi-truck at the bottom of Timberline Road on Wednesday. The front of their car was pretty much destroyed but nobody was hurt. Timberline is paving their parking lots this month. It's a huge mess up there at times because there's not a ton of extra space to put all the camp vehicles from all the different camps. Why they didn't wait until September to do this paving project is a little suspect. Sessions 4 and 5 were the big ones of the summer...now we'll gradually get smaller as the weeks go by. Charlie Reynolds rode his bike back up the hill after the picnic to govy. We have lots of new staff this year, which you can check out here. Jay Panther is here for 3 weeks, coaching for Stratton Freestyle team (moguls). Matt Chirico turned 16 on Friday.......Robin Cressy turned 45 on the same day. Cayley Christopher turned 20 (see pic below)
I'm in search of a videographer to film the stratton mogul camp for session 7. Just 4 days of work, Monday thru Thursday. Work about 2 hours per day. Pay is minimum wage. You need to be a current employee at camp to qualify. We aren't bringing in a whole new person for this little gig. See Robin if interested.
Mike Annett told me that I needed to put the captions at the bottom of my photos rather than at the top.......so here ya go:
Brain twister, presented by Marcus Caston. Ok, by only moving 2 ski poles, you must create the same shape, and have that glove end up outside the field goal shape thingy. And no, you cannot touch the glove, and there's no play on words, and the shape really does keep that same field goal type shape...no tricks. figure it out!
Robin Cressy and Mark Archer posing with US ski team stud Ted Ligety
Ted Ligety gets mobbed at Fuxi's autograph session on Wednesday afternoon.
Mike Syrovatka video-taping Matt Chirico in the slalom course
Pasta night
Posing with U.S. ski team legend Phil Mahre. Greatest American ski racer EVER!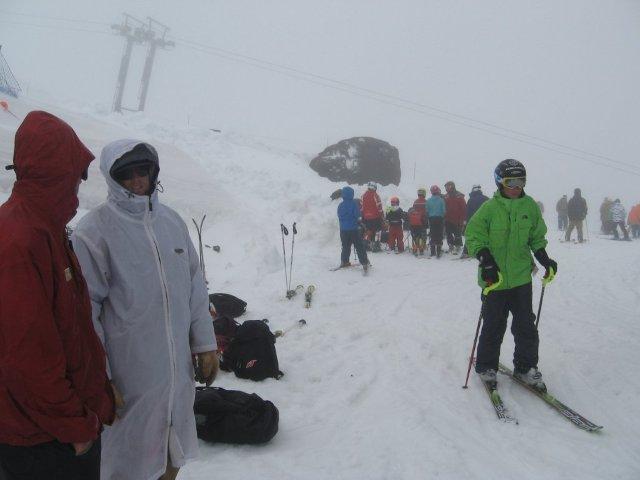 Crap weather day Friday. That's Jay-Hey in the white rain coat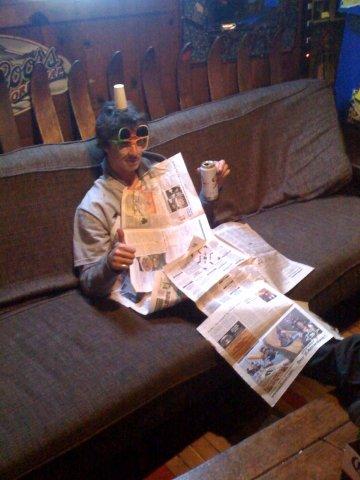 Random weird guy at Charlie's during "feeney-fest" (Photo courtesy of Darren Owen)
Alice Winter, meatball prep!
Shorty-40 bus sat there along highway 26 for a few days
Cayley Christopher celebrates her 20th birthday at camp.
Session 6, 2010 MHSSC update
Sorry for the 2 day delay on the camp update. I had computer issues.....anyway.......We had high winds Monday thru Wednesday this past week. Tuesday it was so windy that the lifts were on wind-hold for over 2 hours. Scotty Veenis, J-Hey, Darren Owen, and Charlie Reynolds hiked "almost" to the summit of mt hood on Friday at the end of the ski day. They said there were a few sketchy mini-slide avalanches going on around them and they played it safe and turned around, about 15-20 minutes from reaching the top. Thursday and Friday were the two warmest days of the summer. We are still skiing to the parking lot at the end of the day. Sorry for the lack of material in this week's update.....I'll do better next time.
Here are a few select photos from session 6: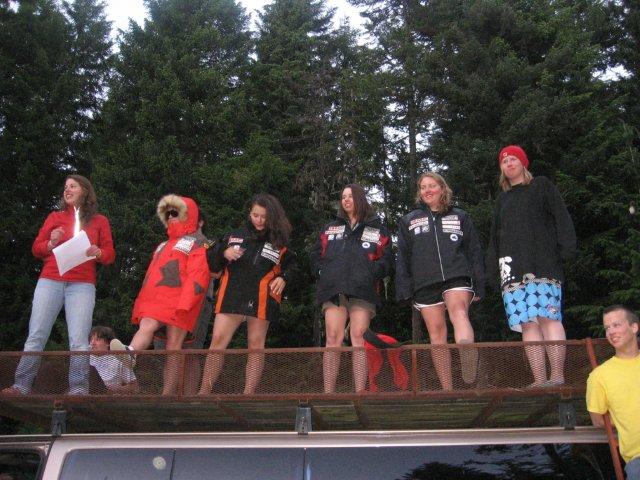 Team Canada spyder jacket fashion show.........anyone wanna buy a way-cool jacket?
Counselor Andrew Stinson
Former mhssc staffer Ryohei Akiyama, ripping up the moguls
new brand of salt.....
Timmy!
Crazy high winds did THIS!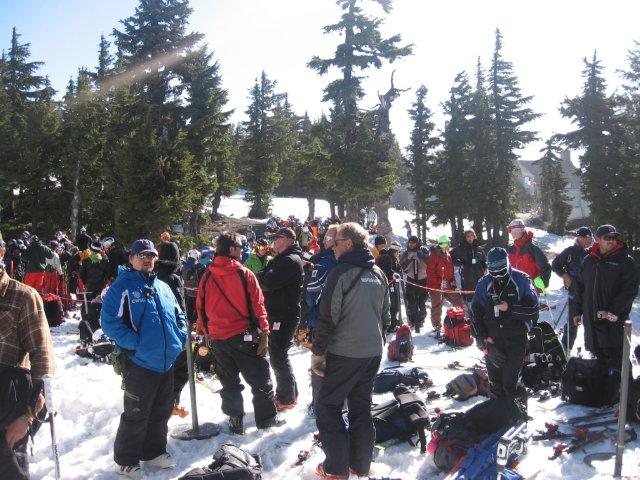 2-Hour Wind delay...as the crowd does the hurry-up-and-wait thing at the bottom of magic mile
Here are Scotty's photos from their climb on Friday: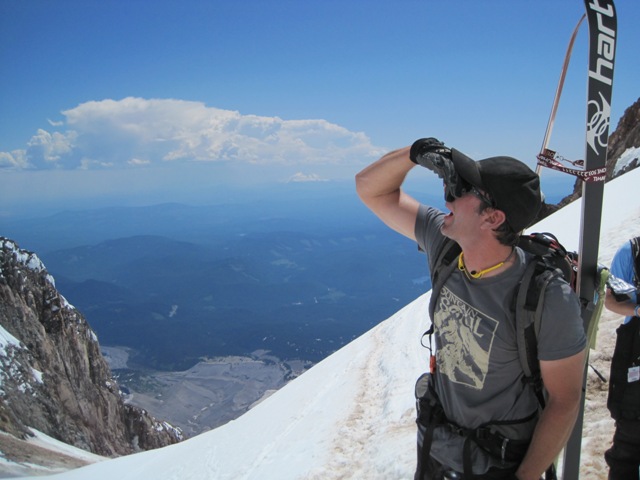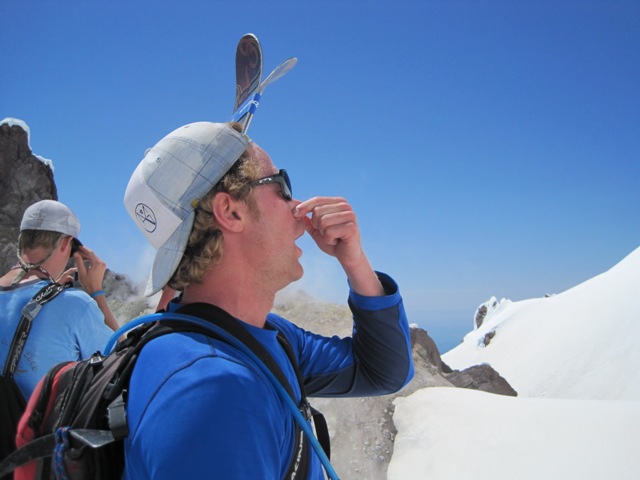 Session 7, 2010 MHSSC update
Half way done with Summer '10! 7 more weeks to go. CIT Charlie Ruehl celebrated his 17th birthday this week with a cake that read "rated-R". Prescott McLaughlin made a basketball shot from the 2nd post on the catwalk at the lodge on his 3rd try. (very impressive!) During Mike's weekly camp orientation meeting, Mike had counselor Matt Stinson take his shirt off for the audience to show is very sunburned back, to emphasize the importance of sunscreen. I hustled a 11 year old kid out of $1 in a game of H-O-R-S-E.....he paid me in quarters. A teenage boy camper decided to try to skateboard down the newly paved Timberline parking lot......he got going super-fast and the board started wobbling......he bailed, made one and a half running steps, then went SPLAT on the pavement! Only his hand and wrist got cut up.......could have been a lot worse. Monday on the mountain was INSANELY windy. One of the windiest days I can remember where they actually ran the chairlifts. The wind never let up all day. There were about 150 kids hanging out in the lift terminal at the top of Palmer at around 10:30am hiding from the wind. Jason Hey, Scotty Veenis, Marcus Caston, Jackie Reis and Olivier Lacaille successfully climbed to the summit of mt hood on friday afternoon. On Wednesday, the hill seemed deserted.........there was not a single race course set up east of the mogul lane. Still skiing to the parking lot at the end of the day, but it's getting a little thin in that last section of the mile canyon. Portland TV station KATU, might come up to camp this coming Wednesday to do a story on summer skiing/snowboarding. Oregonians, set your DVR's!
Former mhssc staffer Pierce Louis, is an entrepreneur. Check this video out:
http://www.youtube.com/watch?v=Ti5uXILiCuM
The return of the infamous "Emily Questions" to the camp update:
1. If the only food available to you was your absolutely least favorite food for a 4-day period, would you eat that food? Or go hungry for those 4 days? (water would be available to you)
2. Would you rather have a broken femur or a ruptured achilles tendon?
3. Would you go on reality TV if they required you to be naked for part of it?
4. Would you drink 1-cup of human blood for $1,162.42? (blood would test negative for HIV and other diseases)
5. Would you rather live in the hottest place on earth or the coldest place on earth for 1-year?
6. Would you wear the same pair of underwear for 1 year in exchange for free food at your favorite restaurant for that 1 year? (you couldn't wash the underwear)
7. Would you give up all contact with all your current friends and family for 3 years for $40,000?
8. What deceased famous person would you want to have dinner with?
Got $3 million bucks? you can buy camp for that.........just sayin'.....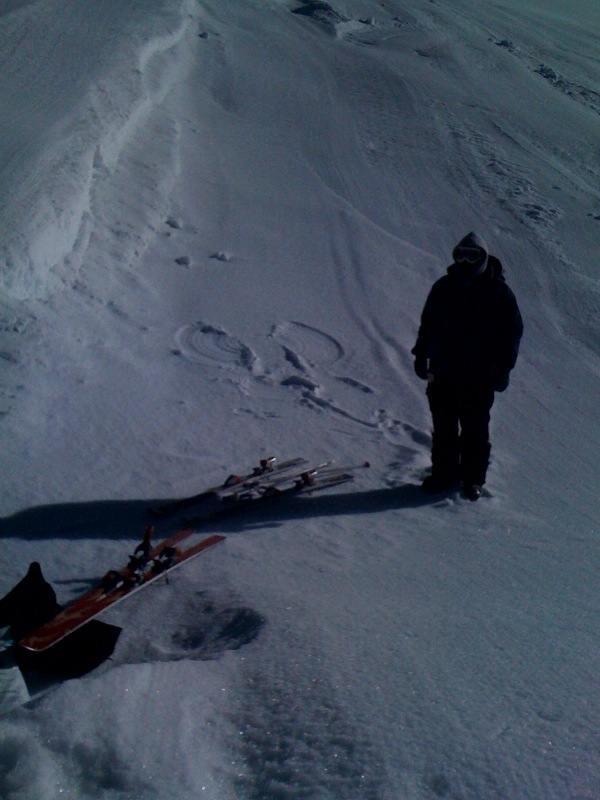 Cressy snow angel in the wind blown snow on Monday (photo by Darren Owen)
Counselor Jasper Newton put this mhssc freeski video together.
These first 6 photos are courtesy of Jason Hey from their summit climb on Friday afternoon.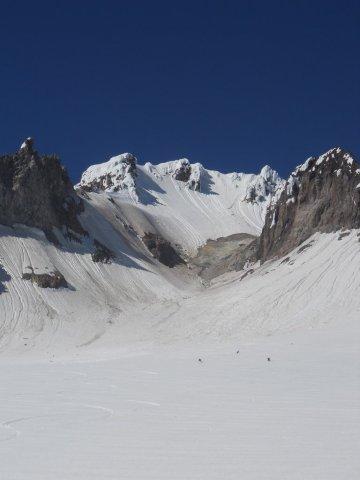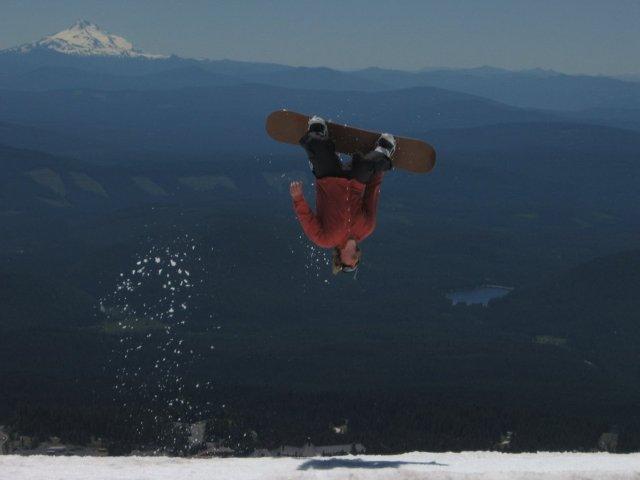 Luke Wendel inverted
Lisa Rust birthday hike to the summit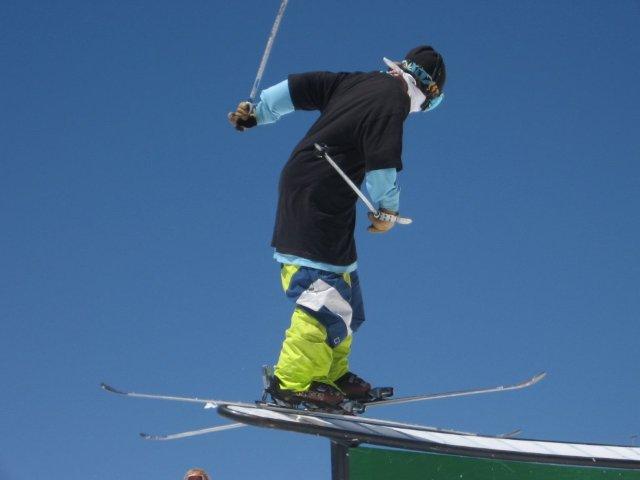 Maks Gorham
Former staffer Willy Johnson
Session 8, 2010 MHSSC update
Counselor Jackie Guy got locked into one of the dorm bathrooms in the main lodge on Friday morning. The door handle wasn't working. So she was able to unscrew some of the door handle screws by hand. Once Jackie was able to remove the door handle, CIT Noelle Gillis was able to pass her expired USSA card thru the door handle hole and use that card to jimmy the door open. Some of the coaches went to the Portland Beavers (triple A) baseball game on Thursday night. Former staffer Emily Longfield joined us for pregame dinner. The Beavers lost to the Reno Aces 10-3. (see pics below). We bought our $9 general admission tickets, then sat down in the $40 seats and within 30 seconds, an usher booted us to the upper level.
We held the 2nd annual mhssc staff race on Friday. $5 entry fee, winner takes all minus the $5 return on investment for coming in 2nd place. I don't have complete results, but Olivier Lacaille won the men's race. 2nd place went to last year's winner Prescott McLaughlin and Connor O'Brien took the bronze. And for the women, Jacquelyn Reis won. I didn't get the info on 2nd or 3rd place. There was a "freeskier" division, but only one person entered the race: Charlie Ruehl. Charlie, racing in his twin tips, only lasted 4 or 5 gates. Matt Chirico skied half naked for run #2 (see pic) And speaking of female race winner "Jackie Reis".......she prefers her real name of Jacquelyn. So from now on, please call her Jacquelyn. KATU, Portland channel 2 news postponed their scheduled visit to MHSSC. I have no idea when or if they are coming. Thursday, July 22, 2010 was the last day we could ski all the way to the parking lot. Still tons of snow on Palmer. NASC (National Alpine Ski Camp) cancelled their final 2 scheduled sessions due to a lack of signups.
Here are a few pics from the staff race: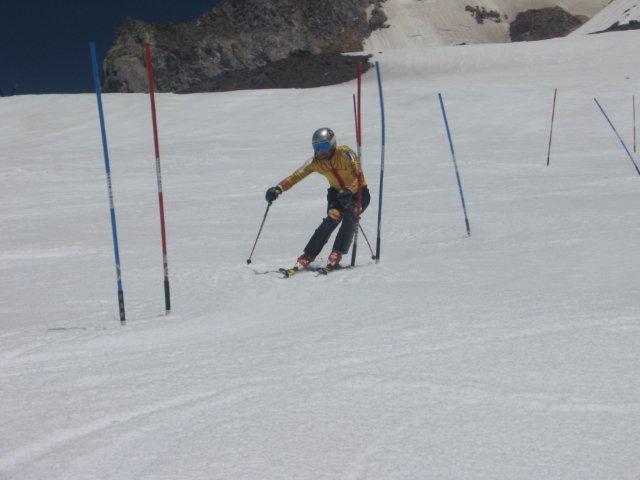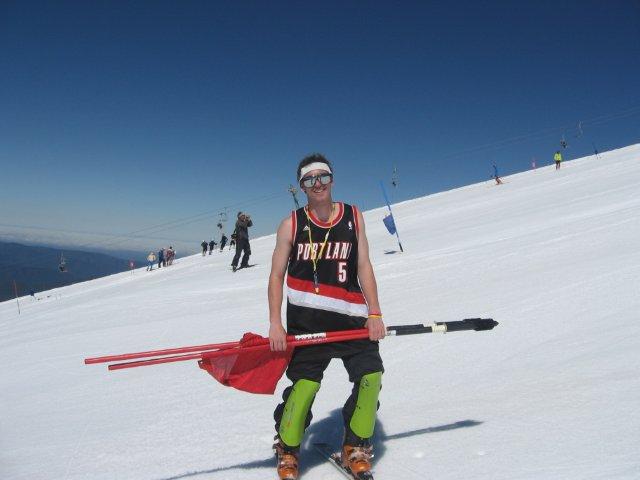 Portland Beavers vs Reno Aces at PGE Park
Out in the concourse, people were posing for photos with the Portland Beavers mascot. Jay-Hey, Darren and Scotty had other ideas...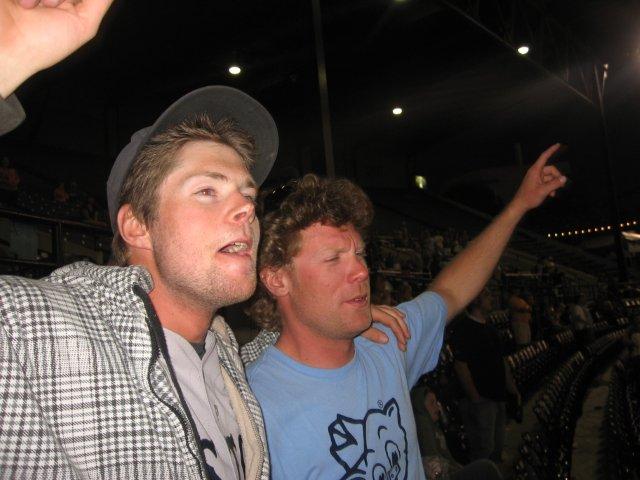 "take me out to the ball game".....7th inning stretch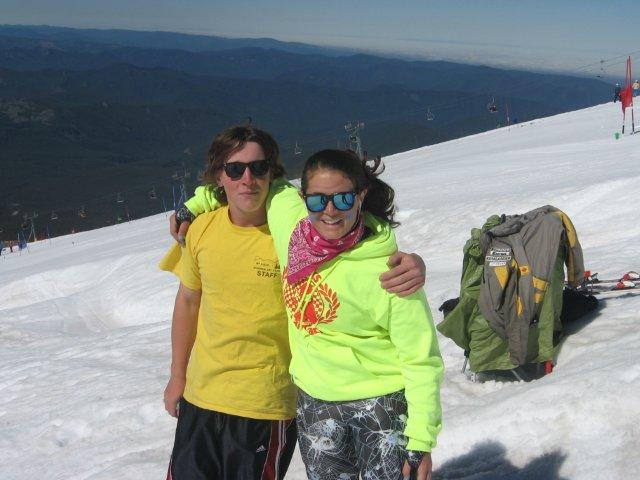 Matt & Noelle
Cayley Christopher sunday dinner
Rasta Nate inverted off the mogul jump
Flashback to August 1992. This was one of the lowest snow years in camp history. Left to Right: Lesley Black, Vance Lemley, Janet Lorton-Moran, Tom Sell & Jack Suierveld. I think that might be Bob Geyer in the red pants, black hat in the background.
Photo courtesy of Janet Lorton-Moran
Session 9, 2010 MHSSC update
Session 9 was our 8th (or so) annual "nice camp".......invented by Terry McLeod. Everybody on staff was super nice! We even had "nice" weather. Quote of the week about 'nice camp' came from Jason Hey at about 11:30am on Friday on the hill: "only a few more hours of nice camp left, then I can go back to being a _________ (bleep). Last Sunday, Scotty Veenis showed up for the Master's "summer fun nationals" ski race and beat the field in the slalom event. Friday marked the first day we had to carry our skis up the magic mile chairlift in the morning. The snowpack is still quite impressive for this time of the summer......a few rocks poking up in lanes 8 and 9, but that's about it. There's still a public terrain park on the magic mile and the walk to the parking lot at the end of the day is not very long. There was a threat of thunderstorms in the forecast this week, but they never quite materialized. Former staffer Bryan Rooney made a visit to mt hood this past week with his lovely wife Anneliese. Bryan last worked at camp in 2001.
John Rust returned to mhssc last week to coach the annual Smith Rocks rockclimbing camp. I think there were 5 actual campers, but someone said that the entourage of staff and random people totaled 19 bodies. One of the kids got separated from the group for a couple hours when he went to the bathroom and when he came out, everybody was gone. Hoping to get pics and a better smith rocks update from somebody who was actually there.
Yeah, kind of a short and boring update......not much happened this past week. This kid in photo #1 had a cool helmet. They called him "Darth" (Vader).........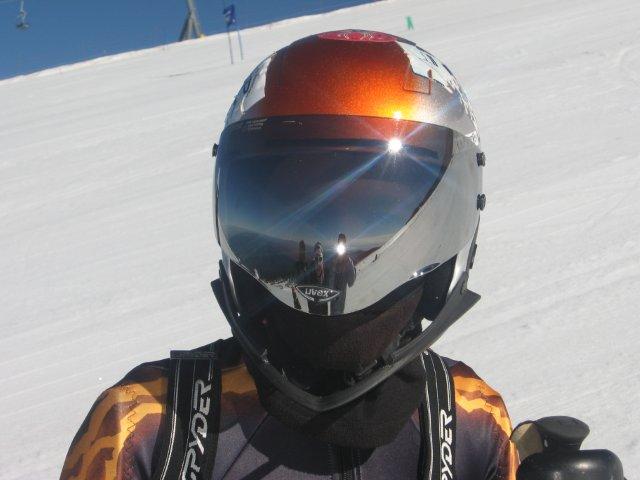 Session 10, 2010 MHSSC update
Session 10 was rather large. 11 race groups squeezed into 2 lanes for the majority of the week. There were a few sketchy situations this week on the snowfield. One of the tri-state coaches dropped a salt bag and the bag slid down the hill at high speed, crossed the mogul lane and hit a kid from another camp (broken hip). Also, the race camp in lane 4 was doing high speed Super-G speed drills down their lane with no regard to human safety. As I was handing Jacquelyn Reis her video tape on Tuesday morning, I said to her "the lane 4 people are sketching me out", 3 seconds later one of those high speed skiers crashed and slid into one of her young female campers just below us. It was horrible to watch this as I thought to myself that this poor kid probably just broke both her legs. Luckily no broken bones, but ski patrol took her down with a possible concussion. J-Hey and Alice White both made banana bread. Both versions were delicious. Jacquelyn Reis jumped off the bridge into the Deschutes River just below Sherar's Falls......twice! If you want to see smith rocks rockclimbing camp photos from session 9, find them on Jackie Guy's facebook page. Jasper Newton coached a freeski group this week. There is no hot water at Bloomquist.
10 sessions down, 4 to go.
Sean Mailey recommends this classic "double rainbow" youtube video:
You might follow that video up with this one.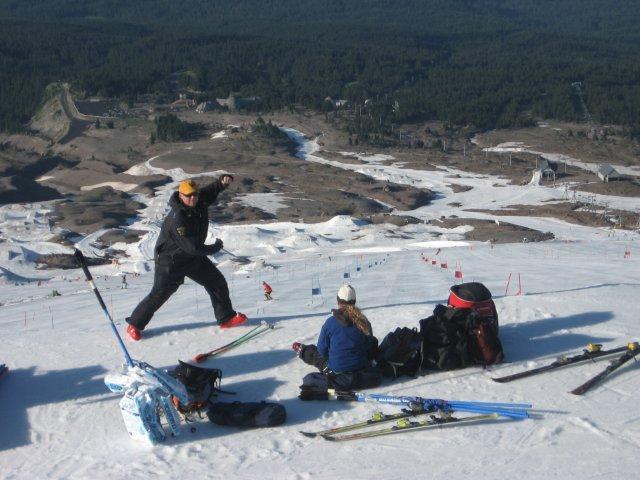 Mike Syrovatka modeling his sexy Fuxi socks (photo by Fuxi himself)
Session 11, 2010 MHSSC update
I get the impression that most people scroll down and glance at all the photos before they scroll back up and read (or barely skim thru) all the text of these newsletters. Do YOU do that? Well anyway, for those of you that actually READ these newsletters, here's what happened last week: After last week's salt bag dropping/injury incident, Timberline instituted a $200 fine policy for dropping a salt bag......There were plenty of ex-staffers on the mountain last week: Tom Sell, Matt Brown, Jon O'Brien, Kevin McDevitt to name a few. Plus Spencer Raymond made a guest appearance at the picnic on Wednesday. High Cascade and Windells camps both finished up for the year on Tuesday, so that's the end of the 10-10:30am lift line phenomenon......and plus the number of poachers sliding thru the upper race lanes has dropped significantly minus those 2 camps on the hill. Jackie Guy took a lead climb fall at Frenchie's this week. She landed awkwardly on her ankle, spraining it pretty good (see photos below). Nate Goodman carried her back to the van. On Friday, we had a 2+ hour high-wind stand-by delay. They finally opened up the chairlifts around 9:30am and we ended up having a good day up there. A random modified school bus parked itself next to CJ's Chevron gas station on Thursday evening. Inside were 3 people, 2 dogs and 1 cat. This 3-person/3-pet tour started on July 10, 2010 in Corpus Christi, TX. The purpose of their tour is to touch lives and spread joy and smiles throughout the entire country. They said they left Texas with only $6 dollars...so they accept donations along the way for gas and food. They have a facebook page (search "Candy Highway"). See photos below. Tom Lowney and Conner O'Brien signed their bus with a sharpie. Brian Robb forgot his camera battery at home sitting on the charger in Hood River on Thursday, so he wasn't able to take any photos that day.
August 14, 2010 was the 8-year anniversary of the Kees Nederhand tragedy on the mountain. Jacquelyn Reis took some time on Friday to clean up his memorial at lift tower #8 on Palmer.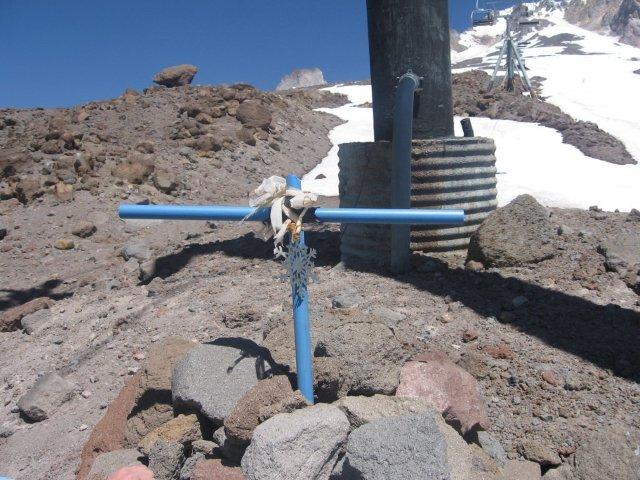 Darren Owen stubbed his toe
Jackie Guy's sprained ankle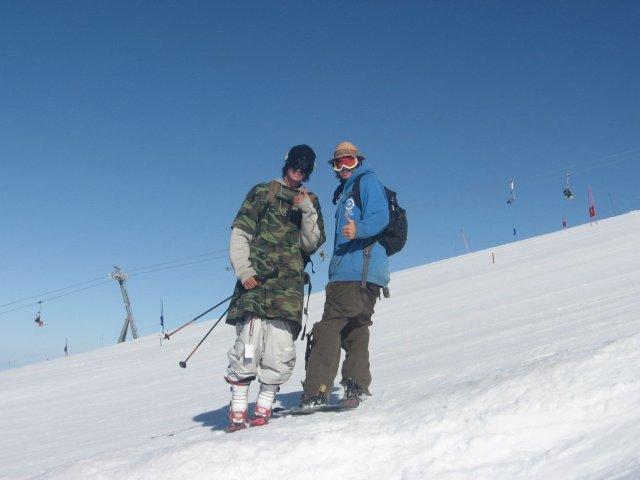 Friday, wind delay day
Robin's ski......will his skis last 3 more weeks?
"Olivi-Hey"
starring Olivier Lacaille and Jason Hey
"Keep the faith & live free" tour
**6:30pm update: Spencer Nelson died in a climbing accident on Saturday. I just heard this news from Tom Lowney. Spencer coached at mhssc session 10. He was on the University of Colorado ski team. Age 20. I wish I had more to say, but I'm just numb. Really nice guy. I only knew him for 2 weeks. Just tragic.
I found this article about his accident.
Spencer Nelson
1990-2010
"Spencer lived every second of his life"....Spencer's mom, Peggy Smith
Article about his accident.
Tribute article
*many thanks to Marcus Caston, for supplying me with most of these photos.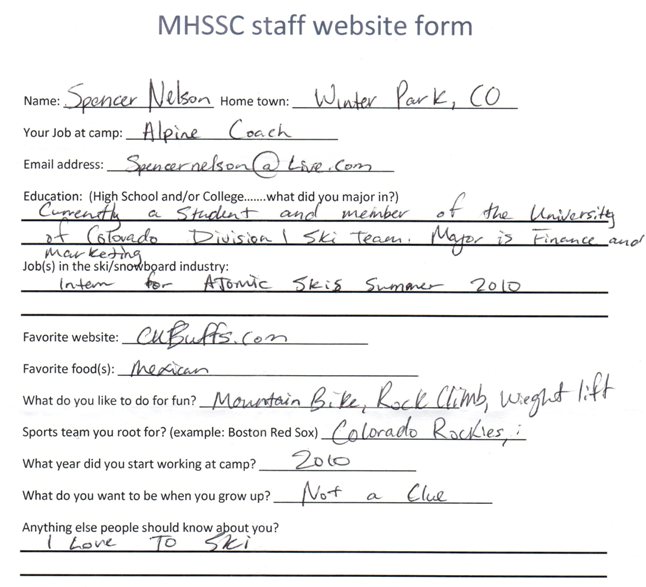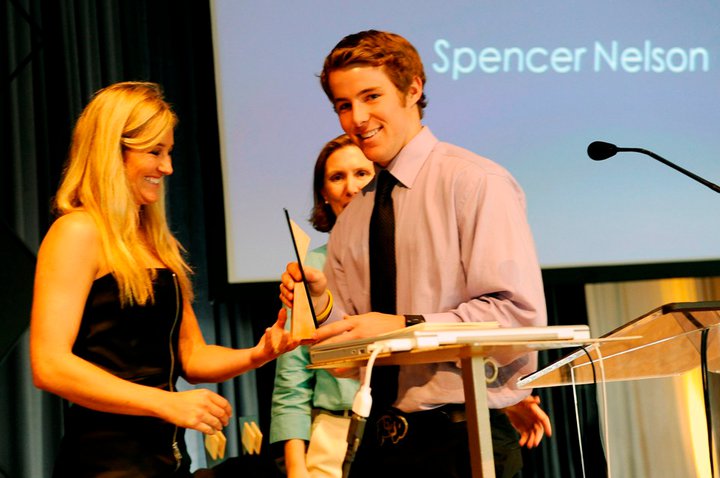 Spencer receiving Colorado Ski Country USA All Star of the year award from Gretchen Bleiler, 2010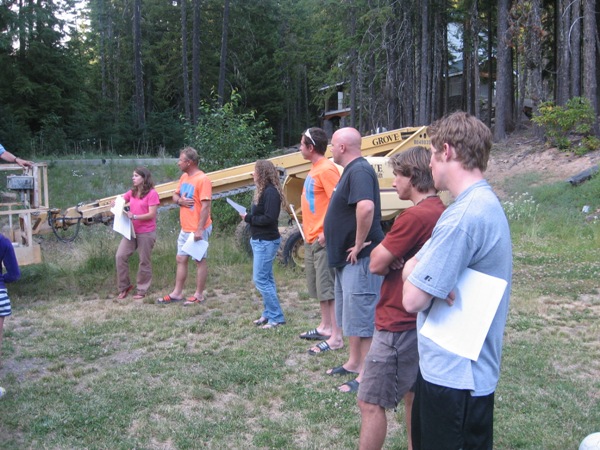 Conner & Spencer
"Spencer was a wonderful son, an incredible young man. He had accomplished so much in his short life. He had so much more to accomplish, but God had other plans for him. It was always his dream to ski for the University of Colorado. He had been a Buff since an early age, as both my wife and I are alumni. He was very proud to wear the CU speed suit and the buffalo logo on his helmet. He had a great freshman season, but he was not content with those results. It was his goal to be an All-American, captain of the team and lead the team to the National Championship. I know in my heart that he would have done that. We are overwhelmed by the love and support from the CU Nation. We love the University, Coach Rokos and all of the Ski Team athletes. They will forever be in our hearts. It is our hope that Spencer's spirit lives on in each of his teammates and helps them to the NCAA title this year. Go Buffs!"
-Peter Nelson, father
---
"When Spence was about 5 or 6 years old his family came to Camp Nelson, his persistance was evident at an early age. His father was helping Uncle John with a building project, (the boat house deck) and he told Spence he would take him for a canoe ride when was done. Spence stood by thier side, paddle in hand, ready to go for hours, smile on his face. I will never forget his words as he was standing there, 'Dad, Dad, Dad, Dad, Dad,' he figured he would help get things going by cheering them on. Peter finaly looked at John and said I'm going canoeing with my son I'll be back later, and he did. Always ready for action but gentle soal, I could keep writing about him and his family for hours because they make my life and my families life whole. He will always be with us."
-LeAnn Nelson, Spencer's aunt
---
"Spencer was a dear son, brother, grandson, teammate and friend. The fact that Spencer is no longer with us is still beyond our wildest imagination. Only belief that his spirit is in place we all will meet one day again can give us the strength to cope with it. We cannot ease the sorrow of his family, but we know we will love, honor and cherish Spencer in our fondest memories for the rest of our lives."
-Richard Rokos, CU ski coach
---
"I have never met anyone who was so excited about absolutely everything in life as much as Spencer. Like most know, he was always smiling and always happy. Every person he met was immediately his friend because his joy and passion for life spread easily.
"Spencer belonged outdoors and in nature. Whether skiing, hiking, or biking, he was always up for an adventure. I was fortunate enough to be with Spencer when we climbed his 17th 14er. We had planned on camping and climbing Quandry on a day in early July. Sitting around the campfire watching the sun set, Spencer suggested that we climb the peak at midnight. We all laughed and dismissed his idea, but sure enough, guided by Spencer's enthusiasm, we all started the trek up the mountain under the stars and moonlight. Four hours later, and we had made it to the 14,000-foot summit. From the top we stared out at hundreds of miles of jagged mountains, just as the moon disappeared behind a ridge.
"Its adventures like these that no one else would take that seemed to fuel Spencer that night. I am so appreciative to have known Spencer and been able to see the things I have seen because of him. Our team will deeply miss him.
"We all love you so much Spencer."
-Eric Davis, CU teammate
---
"Spencer embodied the notions of motivation, ambition and "joie de vivre" (meaning "happiness to live"). He was a hard worker and always the one to take an extra run on the hill. When working out, he was always at 100 percent, minimum. He knew what he wanted to become a champion. His approach to life he has always been a champion, always smiling and optimistic, his constant curiosity animated impassioned conversations about skiing and sports. I cannot express how much we will all miss him, but I can say that he inspired me and everyone who met him.
"Spencer was a loved friend and teammate. His smile will accompany us forever; we will never forget you Spencer."
-Gabriel Rivas, CU teammate
In lieu of flowers, the family is asking those wishing to make a donation to do the Spencer Nelson Memorial Gift Fund through the University of Colorado Foundation and at Wells Fargo. For more information about the CU Foundation fund, contact Scott McMichael or Rachel Kulkarni at (303) 492-2200, or people can make checks out to the CU Foundation and put Spencer Nelson in the memo field and mail them to:
University of Colorado
Buff Club or Ski Team
369 UCB
Boulder, CO 80309-0369
Session 12, 2010 MHSSC update
Session 12 was a bit of a blur. Sunday night, we all learned of Spencer Nelson's accident. Just heartbreaking and hard to accept as real. Monday morning at the top of Palmer, written on the dry erase board: "We are all shredding today for Spencer Nelson". I heard 1,500 people attended Spencer's celebration of life in Colorado on Friday.
Anjuli "AJ" Crocker came back to camp after a 1-year hiatus to coach a group of snowboard race campers. AJ set a dual slalom on friday for her group. Alex Rapice moved from "digger" to "k-staff" for these last few sessions as we are a little short handed in the kitchen these days. The mhssc terrain park is mostly put away for the summer, but Timberline converted the old High Cascade park to the new public park.....with a snow-road back to lower palmer, so anyone in the park can make lift-served laps without having to hike over dirt/rocks. Olivier Lacaille did "human slalom" and "3-person 360's" with his group of young racer kids in his group this week. He really kept those kids entertained while they improved their skills. J-Hey did some juicing this week (see pic). Yummy and healthy! He also made 3 loafs of banana bread. He forgot the baking soda for loaf #2....sort of. long story. One of the mogul kids suffered a minor leg injury on Monday after crashing off the jump.....he got a leg cast......later that night he fell off the top bunk while sleeping and injured his wrist......which required a 2nd trip to the doctor. One thing I forgot to mention in the session 11 update: Jason Hey and Olivier had to carry a random injured broke-leg guy at Frenchies up to the parking lot. This guy and his significant other were climbing at frenchies just around the corner from where the mhssc kids/staff were set-up. And apparently this guy took a lead climb fall.....hitting with enough force to break his tib-fib on a ledge part-way down the rock. Olivier said his leg was just hanging there all limp-like......just the skin and muscle holding his leg together. Is that descriptive enough? icky!
2 weeks left of camp. The snowpack is still in great shape. I think we have only 18 campers signed up for session 13 and 20-25 peoples for adult camp at the end. I'm debating on whether or not to start downloading the magic mile at the end of the ski day. It's still only a 5-7 minute walk to the parking lot from the end of the snow in mile canyon.
Hood-to-coast relay run event is happening this coming friday. Sean Mailey is signed up to run.....as is ex-staffer from way-long-ago, Peter Bowden. And long-time mhssc snowboard coach Luke Wendel is getting married this coming Saturday. Congrats Luke!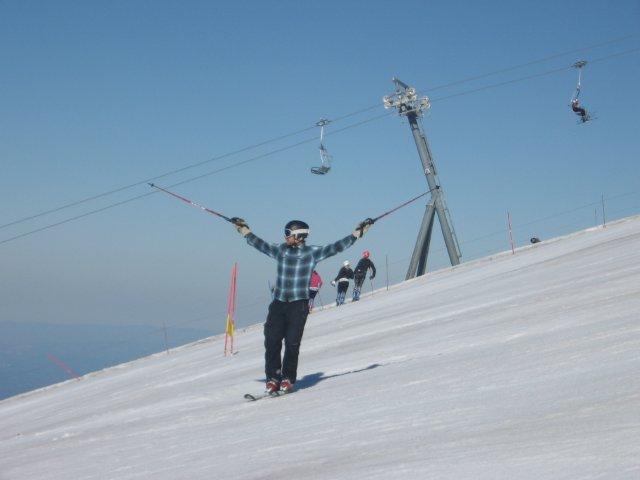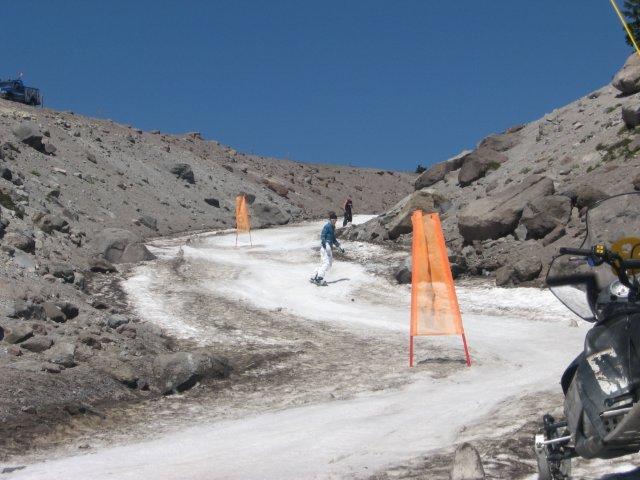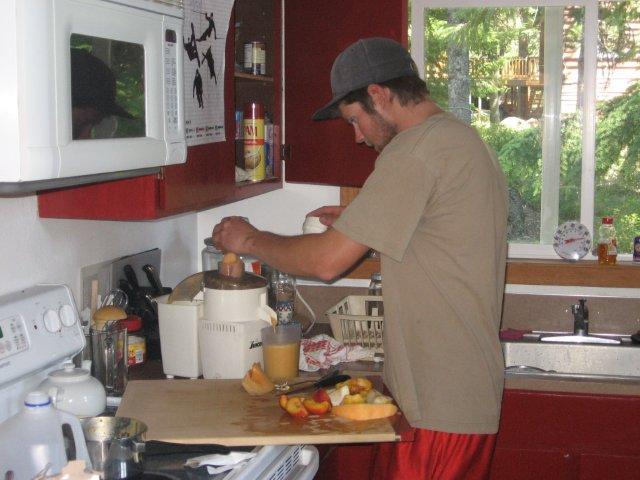 Session 13, 2010 MHSSC update
BREAKING NEWS: Luke Wendel is somebody's husband! Congrats to Luke and his new bride Emily! They got married last night at scenic Husum Highlands Bed & Breakfast, which is about 15 miles north of Hood River in Washington State, overlooking the Columbia Gorge and mt hood off in the distant background. Rick Millett and Ryan Anderson were groomsmen. It was a beautiful setting, a thunderstorm was doing its thing just to the northeast of us during the ceremony but leaving us high and dry and in the sunshine....and a rainbow plus a few random cows to boot.
LUKE & EMILY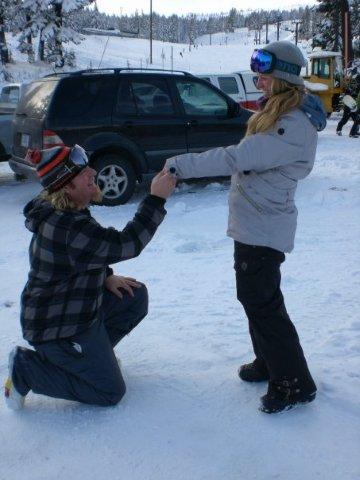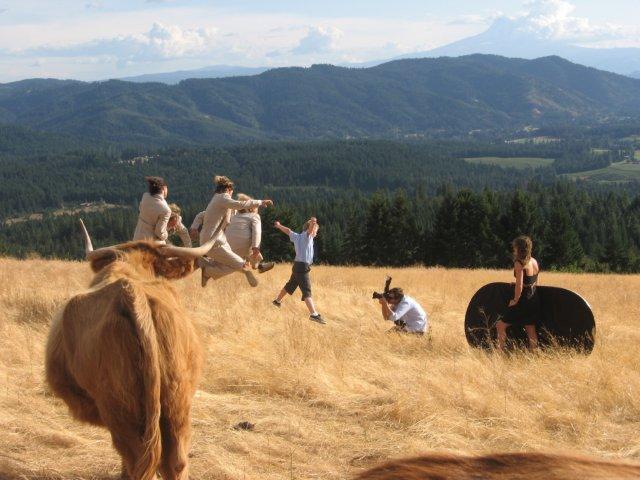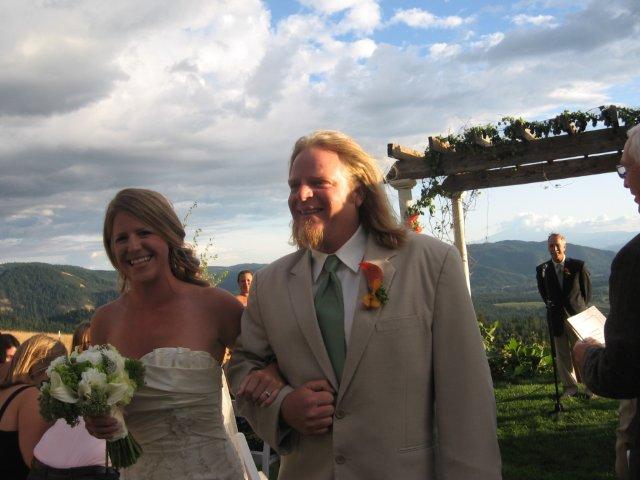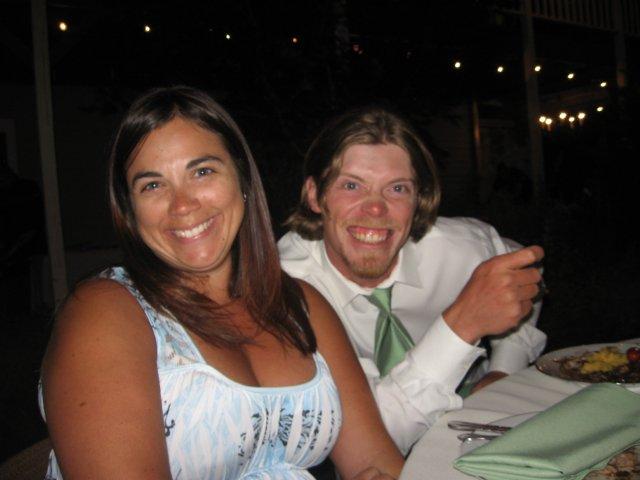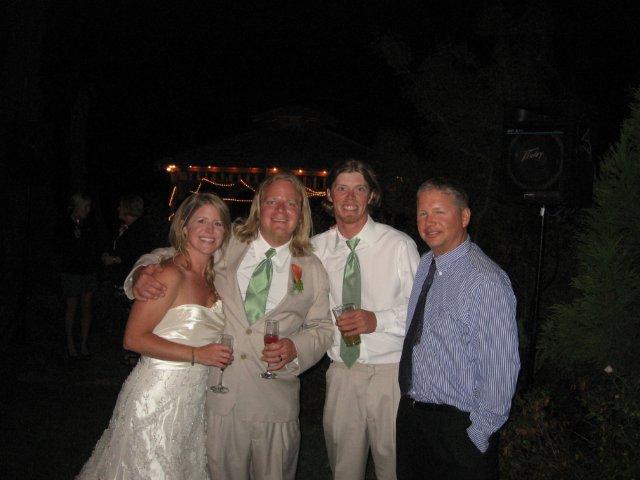 Luke & Emily mhssc congrats messages:
The 29th annual "Hood-to-coast" running relay race also took place this past week. MHSSC was well represented this year with 2 current staffers and 1 ex-staffer running in this big event. Sean Mailey ran legs 12, 24, and 36 for his team. From Mailey's facebook: "well...I made it!!! didn't walk one step! what a crazy fun time." Ex-staffer Peter Bowden (brother of Craig Bowden) competed in his 2nd hood-to-coast event with team "PBR me ASAP". His team was 1-man short, so they recruited Jason Hey for the dreaded leg 1. Leg 1 is rated "very hard"......Description: "5.64 miles. Severe Downhill on Timberline Road". J-Hey told me beforehand that he had not run more than 1-mile since November of 2007. So he basically came off the couch to run one of the toughest legs on the entire 197-mile course in about 37 minutes. J-Hey could barely walk afterwards and the next day he took a hot bath hoping to ease the pain. Peter ended up running 4 of the legs for his team.......and team PBR finished in the top 100 teams (of 1000 teams). "they" are producing a "Hood to Coast" movie to premiere on January 1, 2011.....check out the trailer.
Enjoy these hood-to-coast pics.......courtesy of Peter Bowden and Amanda Mailey.
HOOD TO COAST 2010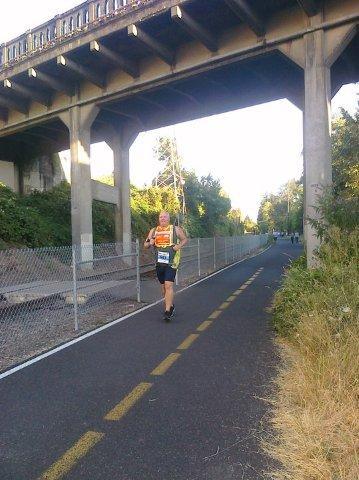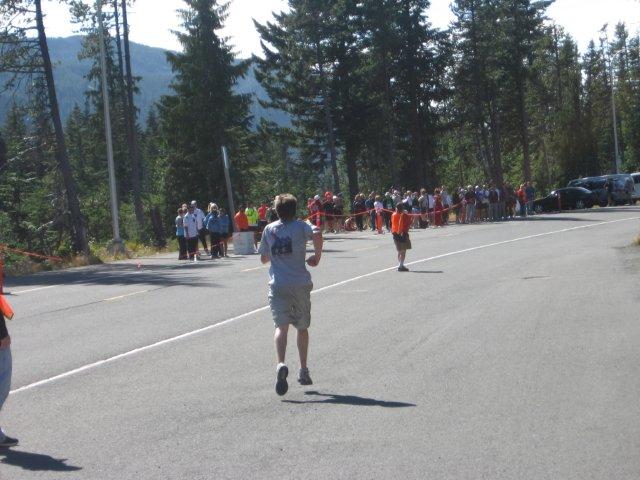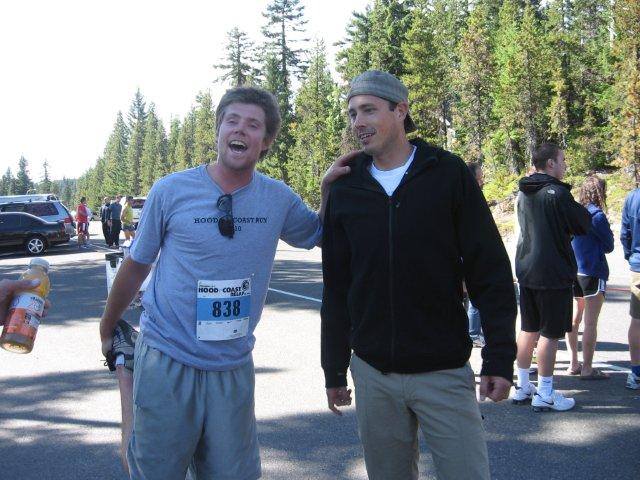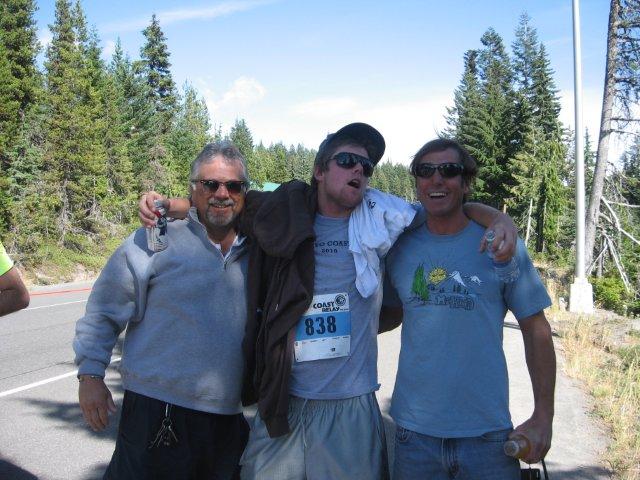 Session 13......what else happened besides a way-cool wedding a a long-ass running event? Well it was super-hot on Wednesday......then pretty dang cold on Thursday. Climbers on the mountain found human remains early in the week, so the portland TV media trucks and a bunch of rescue vehicles were scattered among the timberline parking lot on one of the days (see pics). They discovered the bodies of two climbers that got lost back in December of 2009.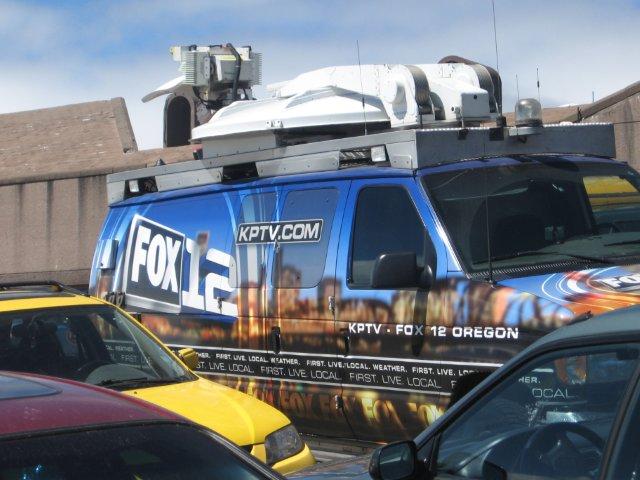 Thomas Lowney, who had only skied 1 time during sessions 1 thru 12, came out and skied 4 times this past week! Tom would have skied all 5 days, but he had to do a hospital run for one of the injured campers.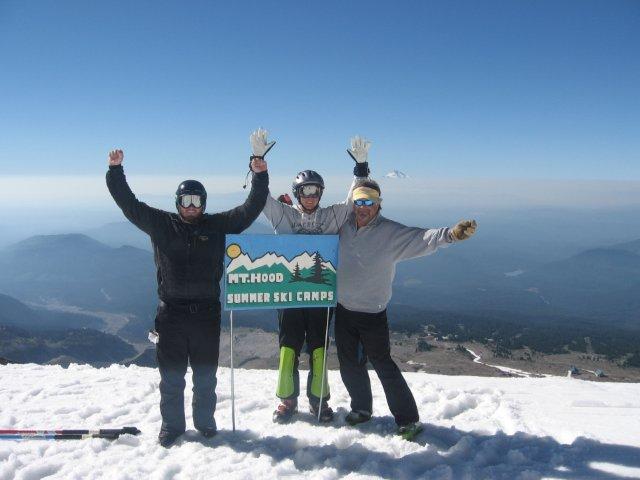 I received a nice message from Spencer Nelson's mom Peggy Smith and thought I'd pass it along:
Session 14, 2010 MHSSC update
GAME OVER! Summer #31 is in the books. Session 14 was the annual adults-only camp. We had 25 or so adults. Mother Nature took it's final shot of the summer at us this week. Monday the lifts never opened after we waited on "stand-by" for a couple of hours due to poor visibility. So we took a group to smith rocks for rockclimbing and/or jogging-hiking the trails. Mark Stegall took a small group to the coast for surfing. They got back to govy around midnight. Tuesday was super-foggy on the mountain, but we managed to get in a a decent day of training. Wednesday was all about rain, wind and fog......again the lifts were closed........we didn't even bother driving up there. The majority of the adult campers went mountain biking/brewery in Hood River before heading to the picnic in Welches that day. There was also golfing in Kahneeta, and a late-night wine tour in Hood River. The internet at the lodge stopped working Sunday night. Adult campers without internet service! Oh the humanity! run for your lives! ahhhhhhhhhhhhhhh!
Thankfully it was sunny Thursday and Friday to wrap up the session. J-Hey retired his ski pants (see pic below) and I retired my worn out skis on Friday. Darren Owen did some sweet "screamin' semen" jumps this week, impressing his adult mogul campers to no end. We broke out some old-school sparklers at Charlie's on friday night to celebrate the end of camp '10. (see pic).
Luke Wendel got mugged/robbed $240 bucks while in San Jose, on a stop-over on his way to his honeymoon in Costa Rica as they were waiting for lost luggage. On a more positive note, you can view Luke's wedding pics at this link. Then click "Emily & Luke" on the left hand side. Then type in the password: 8-28-10 (including those dashes)........Really stunning photos.......I recommend you take the time to check out those wedding pics.
For me, this finished up my 25th summer working at mhssc. Quarter century...Most of the current staff weren't born yet when I started. Wednesday's picnic was #300 for me (approx.)......300 picnics! That's a lot of cheeseburgers. Despite the cheeseburgers and picnic brownie's, I managed to drop 27 pounds since session 1. I think I'll celebrate with a dozen donuts and a couple liter's of soda........
As mentioned in a previous update (session 4), Charlie Sperr of Charlie's past away this summer at age 86. There is a "celebration of life" event at the Cascade Lodge on Sunday, Sept 12, 11:00am - _______? I've heard predictions of 500 or more attendance expected. In case you didn't know, Cascade Lodge is the building where High Cascade sets up shop in the summer (right across the street from Charlie's bar, next to Huckleberry's). Let me know if you plan on attending. I'm a "maybe" at this point.
Thanks for being faithful readers of this silly little newsletter.......I'm off to the coast to relax........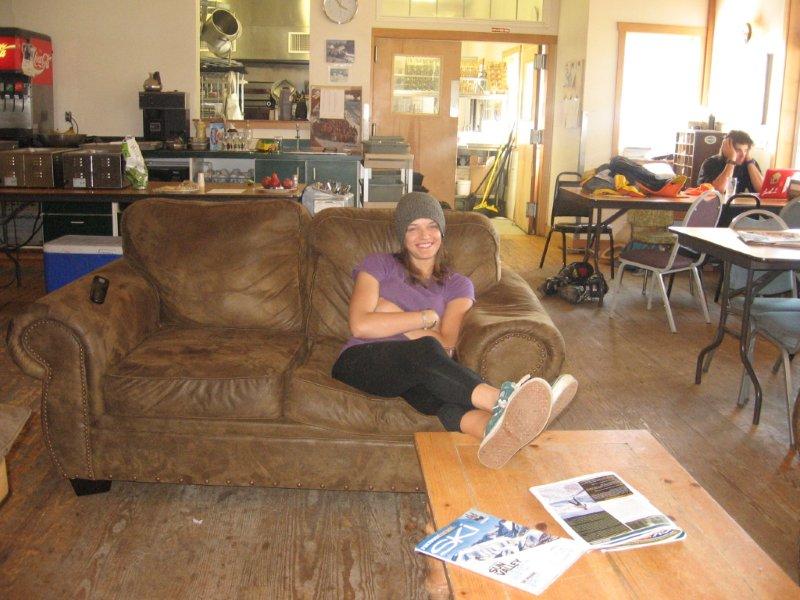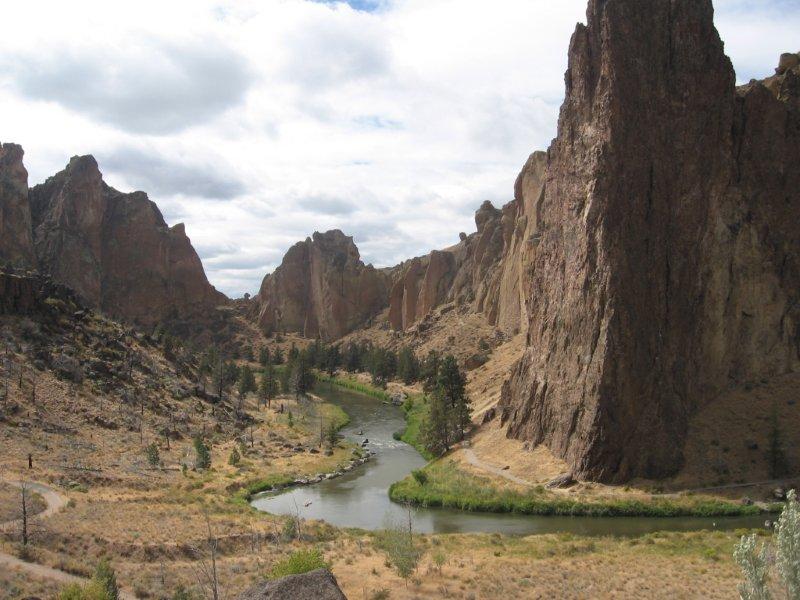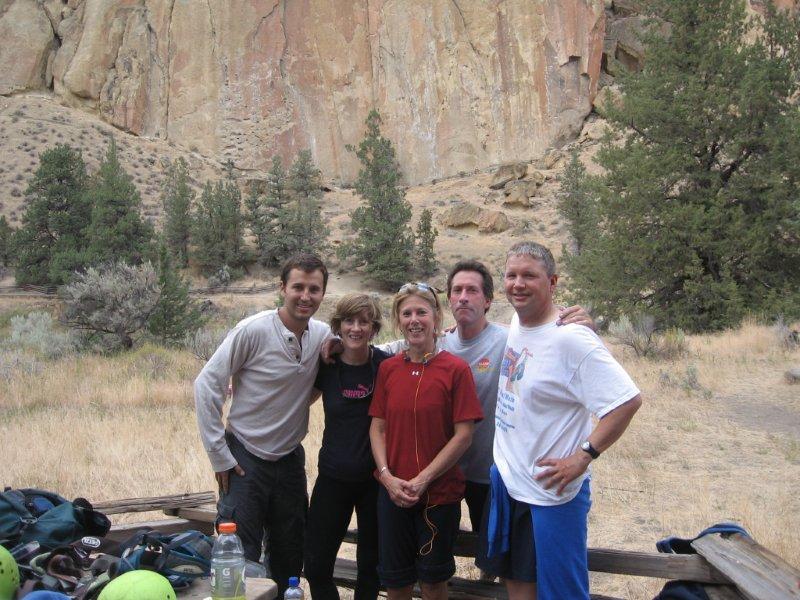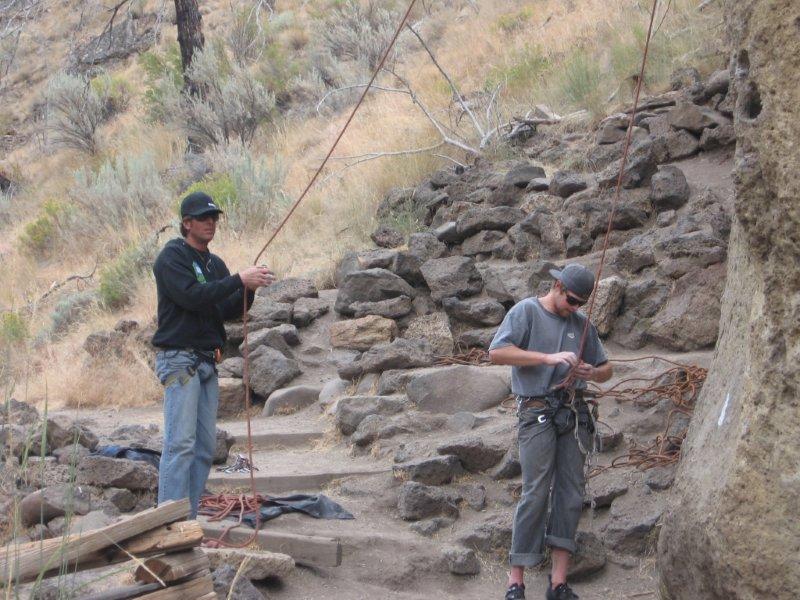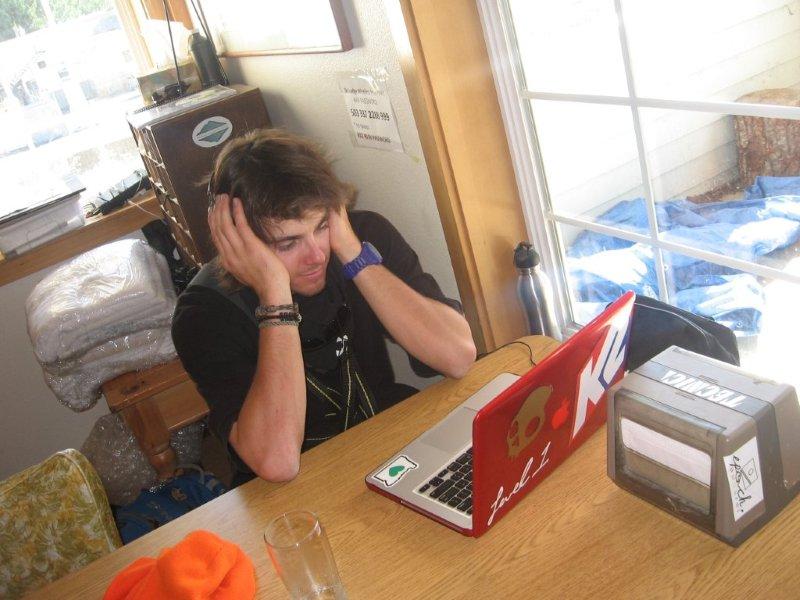 Post Summer 2010 update
Hi all......Huge crowd showed up for the Charlie Sperr (Charlie of Charlie's) celebration of life yesterday. Several of Charlie's relatives and friends got up on stage to tell stories about Charlie's life. It was a huge mix of people there, young and old and everything in between. Beautiful weather. MHSSC was well represented with Mike Foley, Robert Johnson, long-time adult camper Violet Anderson. Bartender Geoff got up with his guitar and sang a Charlie song. At one point, one of the people asked the crowd how many of the females in the crowd was ever kissed by Charlie and a very high percentage of the crowd raised their hands. I left before the majority of drinking and partying went down, but I took some pics before I left. As you can see in a photo below, parking was at a premium in Govy.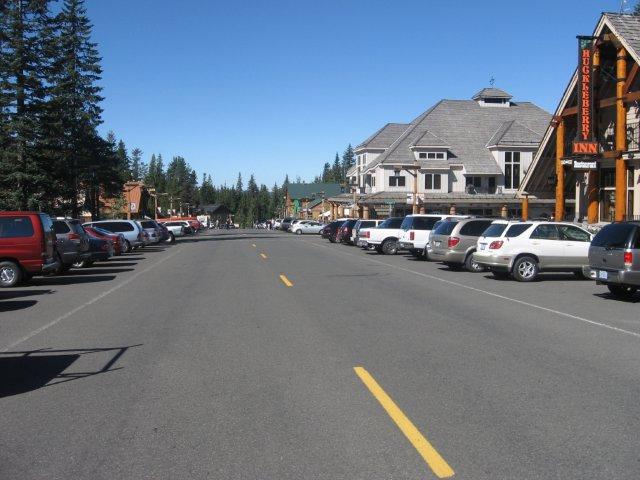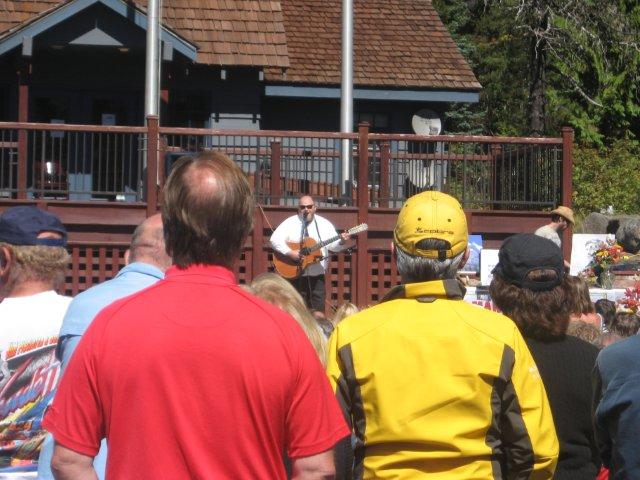 ........some shameless self promotion.......got some very nice emails from a few of you guys regarding the mhssc staff newsletter.....thought I'd pass some of them along and make myself look really cool. Your emails keep me motivated to continue the newsletter............So here ya go:
Robo,
I really enjoyed the updates. I even read them! Thanks for keeping us all up-to-date even when we can't be there.
Robin!

Thanks for the updates. It was nice to read what was going on all those weeks. had to much I wish I was there. But I decided not to go, while last year I had to much traveling and this year I needed a break. I'm getting old!!!

Anyway, I'm in La Parva, Chile for summer camp. When I got here I run into Bowden and Dave Curwine from Park City ski team. Too bad they were just leaving and we didn't have time to talk much. So far everything goes by plan and I'm looking forward for the upcoming season.

Take care, Andrej

Hey Robin, I am sad to think that was the last report until the next year!! 300 Picnics- Wow
Have a great week at the coast. Love you, Irene

Thanks for all the updates, Robin! Even though I didn't know the couple who got married, I'm a sucker for wedding photos, so I looked--wow! I LOVE outdoor weddings, and you were right, there were some remarkable photos. I was just at a wedding on the 21st (Chris's youngest brother--my two girls were flower girls), and while it was beautiful, there's just something about an outdoor wedding that really takes my breath away! (the wedding we attended was in Chicago--totally different feel!).

Take good care!
Laura Jordan

Dear Robin
I just thought I should respond at least once to let you know how much I enjoy this on going News Letter!!! You do a fabulous job up on Hood and your dedication to Mt Hood Summer Ski camps and to Lynn and Mike is incredible.
Keep up the great work.
Matt Brown
Summit Ski Team, Park City Ut.
Program Director

Congrats on the 25 year MHSSC mark - holy smokes. I just wanted to say thank you for the staff updates all summer. I know they probably seem like a pain in the ass to you, but I really love reading them. Since Sam gets them too, one of us usually reads it first and then fully rubs it in the others' face. I can't remember exactly what it was, but at some point this summer, there was a totally epic shot of Mike doing something ridiculous (hard to imagine) that we both cracked up about for an entire evening. The newsletters are one of the best emails I get on a consistent basis, so thanks for all your time!!!
GO RELAX ON THE BEACH! STRUT YOUR 27 LB SKINNIER SELF ON THE BEACH IN A SPEEDO OR SOMETHING (that's a medium size childs worth of weight you've lost...I don't think that can be healthy...). Yay end of summer!!!
You= my hero. Your updates are f-ing epic and are your lega-cress-y.
I am upset that I can no longer expect to open up a gem on my Sunday nights now. I wish I could make it to charlies next weekend but going up to Seattle for poor boys ski movie premiere. My priorities are obviously out of wack.
And here are a few photos from my mini-vacation on the oregon coast.......it was mostly cloudy and raining when I was there, but the sun did present itself for a few hours on day 2 in the afternoon. I hope to go back there later this month if the weather improves. The seagull in the photos was pretty tame. He just sort of waddled up to me at my camping chair and hung out...until I got some food out of my bag. I fed it some Praeventia brand mini dark chocolate cookies and the seagull just stayed there next to me for like 45 minutes.......hoping I had more food to donate to its cause. Eventually a random unleashed dog chased it away. Mark Stegall also came down to do a little surfing.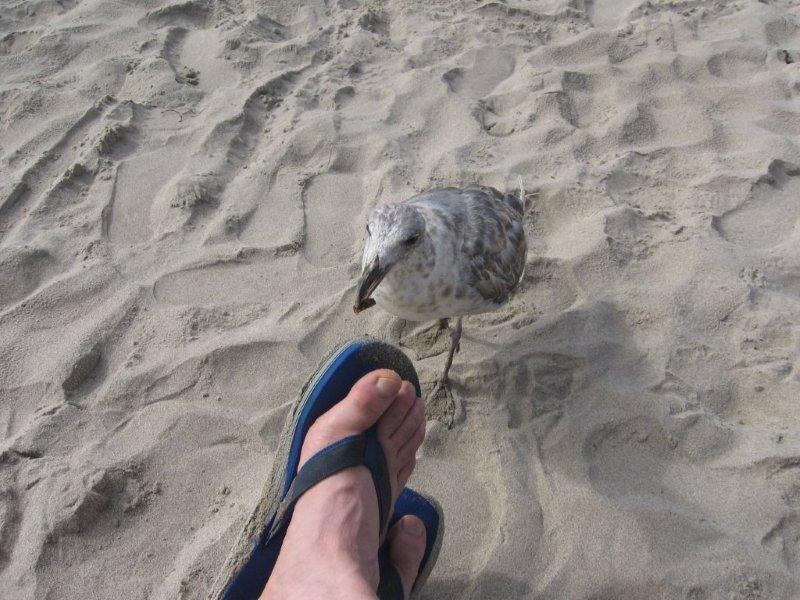 Vacation necessities?......cell phone, GPS, MP3, Itouch.......TV remote......how did we get by in life before all this stuff was invented?
Happy Thanksgiving 2010 MHSSC staffers!
Hi all! Time for an update......Mt Hood has a solid start to it's winter season. Timberline has 57 inches of snow on the ground and is in full operation now. Former staffer Rogan Connell is here coaching his Bates College ski team for the week. Rogan and I met up for dinner last night at "the Rainbow Dragon" in SE Portland where they were serving up HUGE portions of Chinese food for $8 bucks. MHSSC has had a couple of fall camps, coached by Mark Stegall, Mike Foley and Ryan Boroughs. Mike and Lynne just returned from a month-long vacation in Brazil. Former staffer (from the late 80's) Lynn Gibson ran the Portland Marathon in October and followed that up with a 50k run (that's 30 miles!) a couple weeks ago.......and she is doing another 50k soon. She's crazy!
Former staffer Emily Longfield put this way-cool video together, as part of her application for the "ultimate mountain gig" job to the Canyons Resort in Utah. Please take 2 minutes and 16 seconds out of your day to check it out. It's really good! Watch it again and again, so she gets lots of "hits". Also you can follow Emily on twitter.
Look, news doors at MHSSC lodge!
That's all I have for now......happy thanksgiving! Enjoy some tryptophan with your turkey...