2017
Session 1, 2017 update
Here we go. It's that time again. Here's what happened session 1, 2017:
It was sunny on Monday, then it got thunderstormy in the afternoon. There was major traffic on Monday, Memorial Day for all the cars headed back to Portland on highway 26 at the end of the 3-day weekend (see photo). There were 5 locals on the multorpor bridge that goes over highway 26, that were waving and yelling "happy memorial day" to the stop and go traffic below. Andrea Dahl made her return to MHSSC staff after a 3-year hiatus. Reid Lambres has a mustache now (see pic). We had a dozen campers this session, plus a couple more latched on later in the week, including Grant Wilson. Palmer chairlift was closed Tuesday and Wednesday, while they installed the palmer mid-station. Darren Owen found a girls wallet in Govy. So far, we've been unable to directly contact the owner of the wallet, that was likely buried in snow for who knows how long. It has all the usual stuff inside including drivers license, credit cards, cash ($12 dollars), library card. Picnic was in Hood River. Nice day down there...windy, so lots of windsurfers and kiteboarders on the Columbia River. There was a homeless guy near our picnic sight. (see photo below). We fed him a cheeseburger and fruit salad. He was very appreciative and told us "god bless you guys". Former staffer, Jeff Holce, made a guest appearance at the picnic. The weather turned to shit on Thursday. Fog, rain, a bit windy too. Lifts were open though. We got in a good hour or so of training before bailing. Former staffer, John Rust, was on the hill on Friday, skiing with Grant and his son. We have a new alpine coach, Ben Nilsson, from Winter Park.
The week ended on a scary note. After skiing, back at camp, a 13 year old boy camper was choking on an ice cream bar that he got at the gas station next door. I know what you are saying: "choking on ice cream"? But yeah, he couldn't breath and he frantically made his way over to Andrea, the counselor, holding his hands to his throat. She performed the Heimlich hug on him to try to dislodge the food from his throat. It wasn't working. He continued to choke. Newbie office guy Nathan Goddard stepped in and continued the Heimlich hug and was able to free the food from his throat. THIS is why, first aid classes are a good thing! The kid was fine. I'm still a little freaked out by the whole thing. The last photo below, was a sort of humorous reenactment of the ordeal. Andrea and Nathan are super heroes!!
Check out this old photo of the original magic mile chairlift!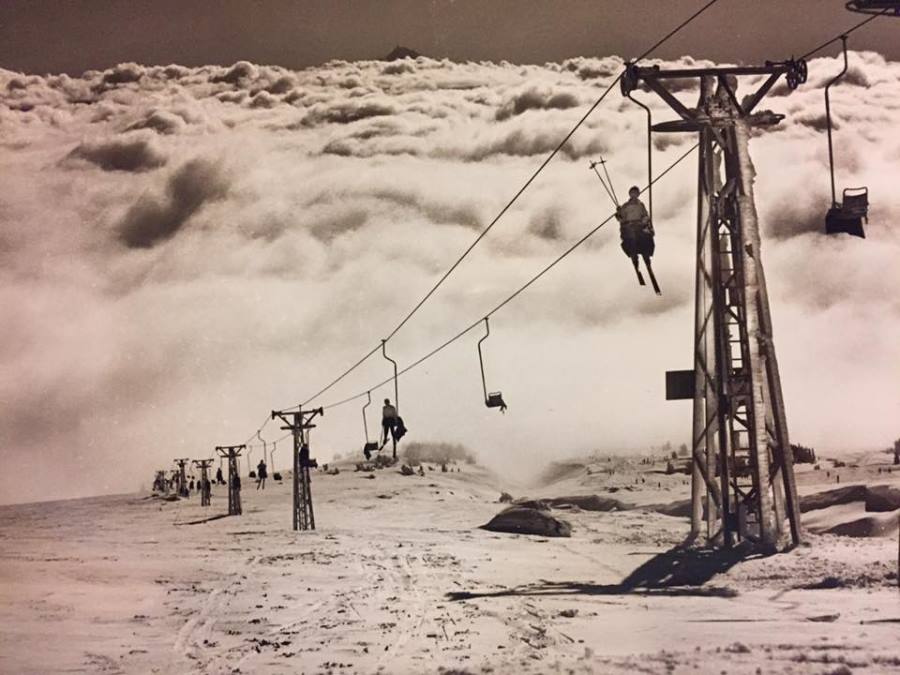 Sunday camp orientation meeting. Mostly adults at camp session 1.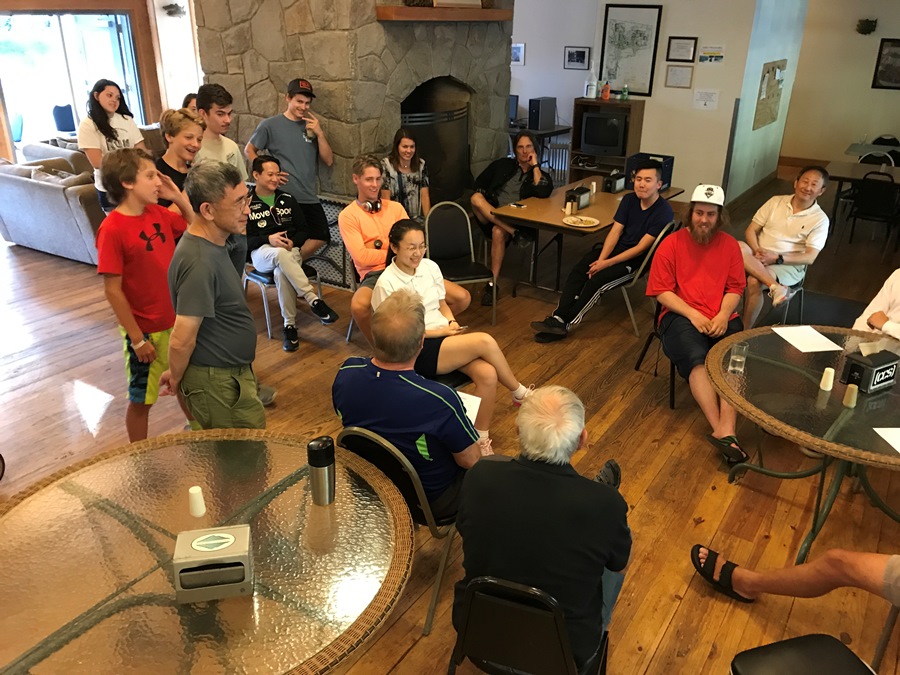 Memorial Day traffic headed back to Ptown.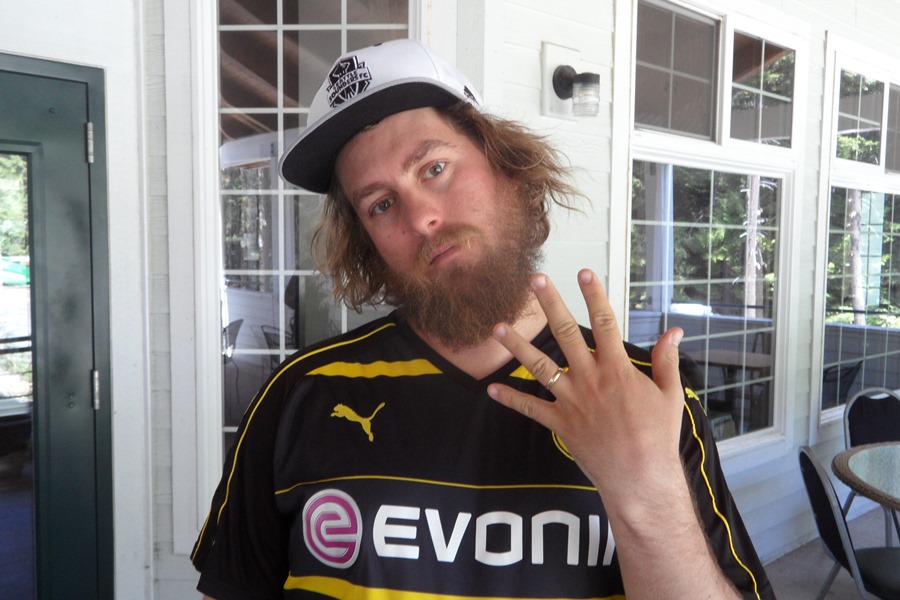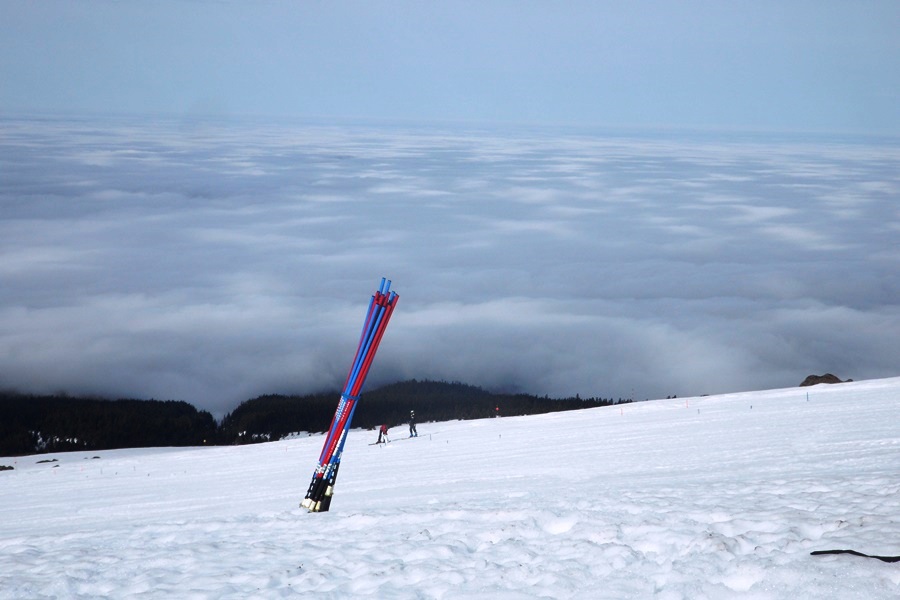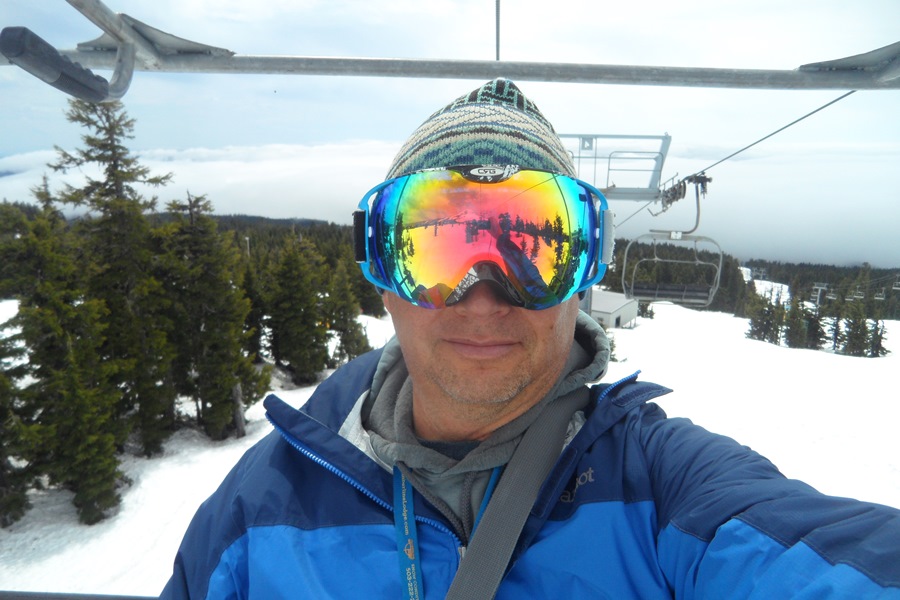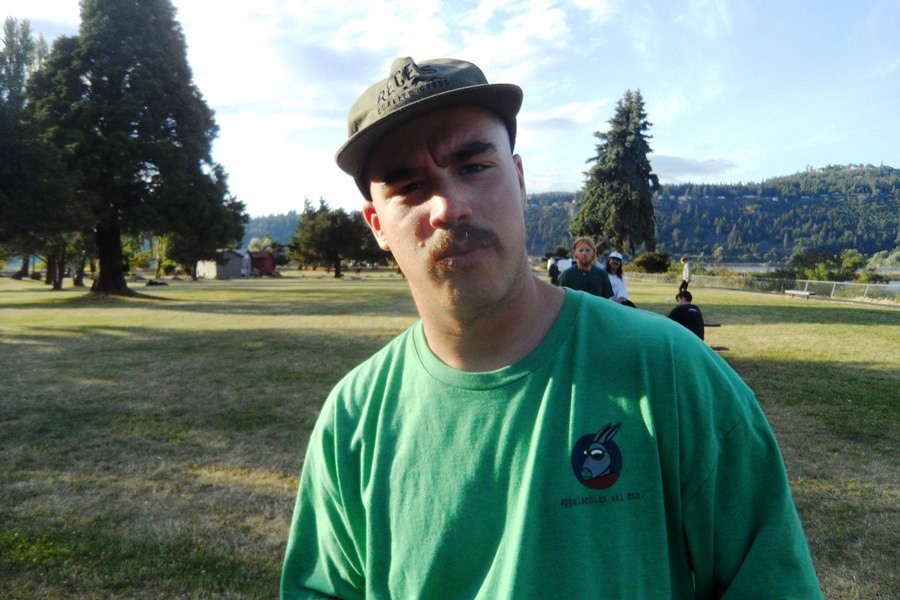 Homeless guy at picnic we gave a cheeseburger to.
Reeactment of the choking incident. Scary stuff!
Session 2, 2017 update
Here's what happened session 2, 2017:
On Monday after skiing, a 13 year old camper attempted to jump over the MHSSC lodge rail near the main entrance, caught his foot on the rail and broke his arm when he landed hand first onto the pavement. It wasn't pretty. Bill Toney splinted him up and drove him to Hood River hospital for x-rays. Luckily his father was only an hour away and was able to take him home (Seattle). The doctor was impressed with Bill's splinting job! (see 2nd photo below). The dad said "6 week recovery", so not so bad, although his arm had a distinct "S" shape to it. The weather sucked on Thursday. Rain, wind, fog. Upper mountain was closed. Mike Syrovatka described it as "like a car wash". The weather improved later in the morning and we managed to get in a few runs on Pucci chairlift. There were 2 other camps sharing Pucci with us but it was closed to the general public. The soaking wet lift op at the bottom kept asking me "when are you guys gonna be done?" The small group of campers that went rafting on Thursday, saw 2 dead rattlesnakes on the road. Freeski coach, Jonah Elston, celebrated his birthday (20?) on June 8. Check out his sweet haircut in the photo below (cut by Peter Cimmino). It snowed on Friday. Maybe an inch or two. Palmer was closed (visibility), so we trained in the semi-fog on the magic mile.According to Darren Owen, a 16 year old camper stared at his smart phone the entire way in the van to and from disc golfing in Estacada. We have a MHSSC newschoolers page now, created by Nathan Goddard. Photo credit Rick Millett in the June 9 snow-on-car photo below. We've only trained on Palmer 2 days total in these first 2 weeks of camp.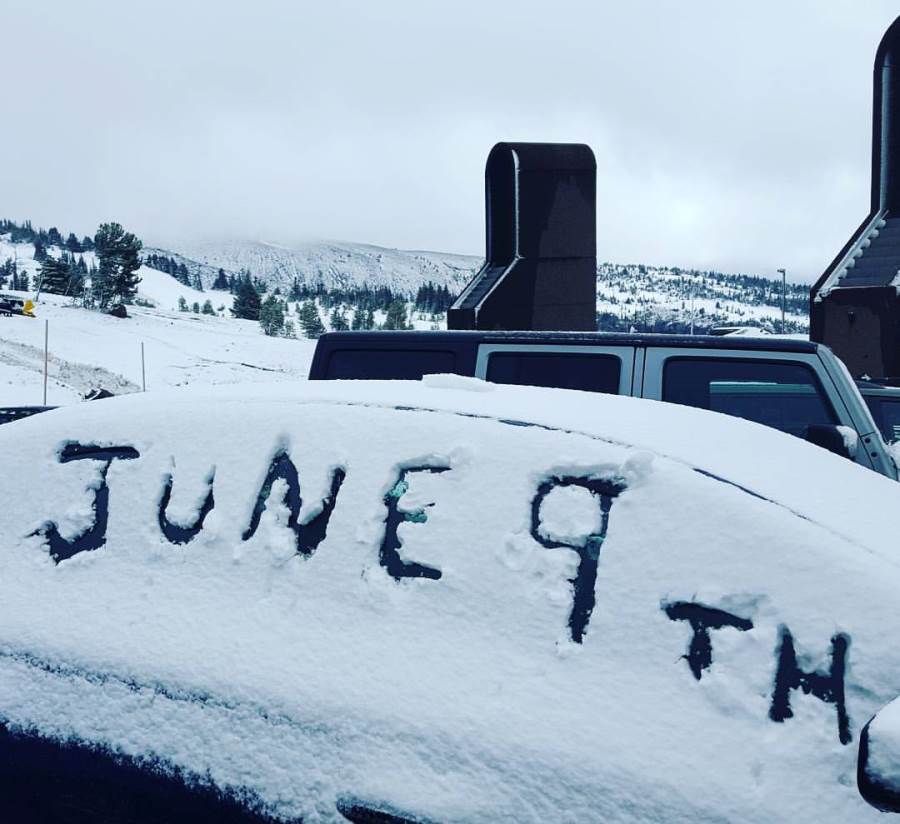 Broken arm kid. He said he had broken his other arm before....and that "my parents are going to kill me".
Jonah Elston's ski.
Jonah's new trending hairstyle. Hair done by Peter Cimmino.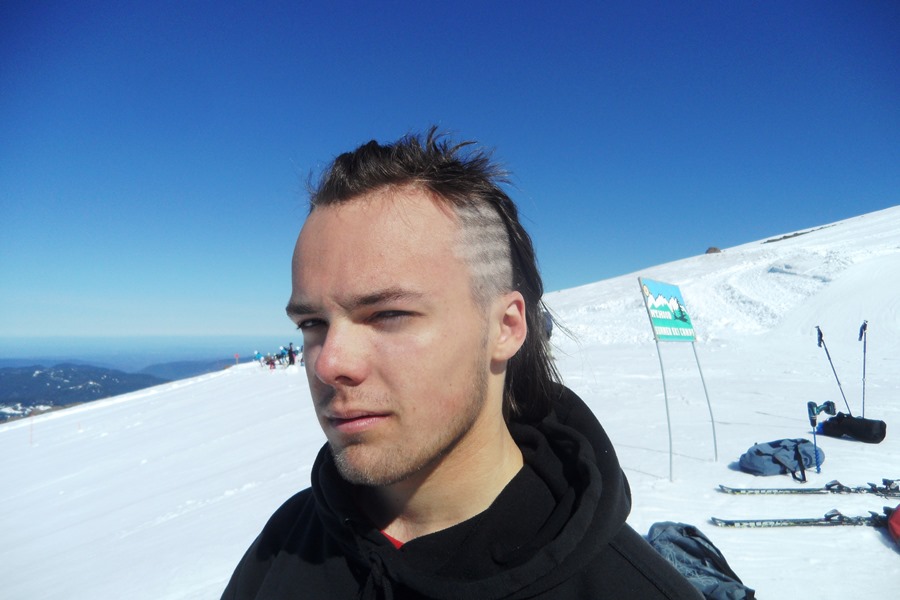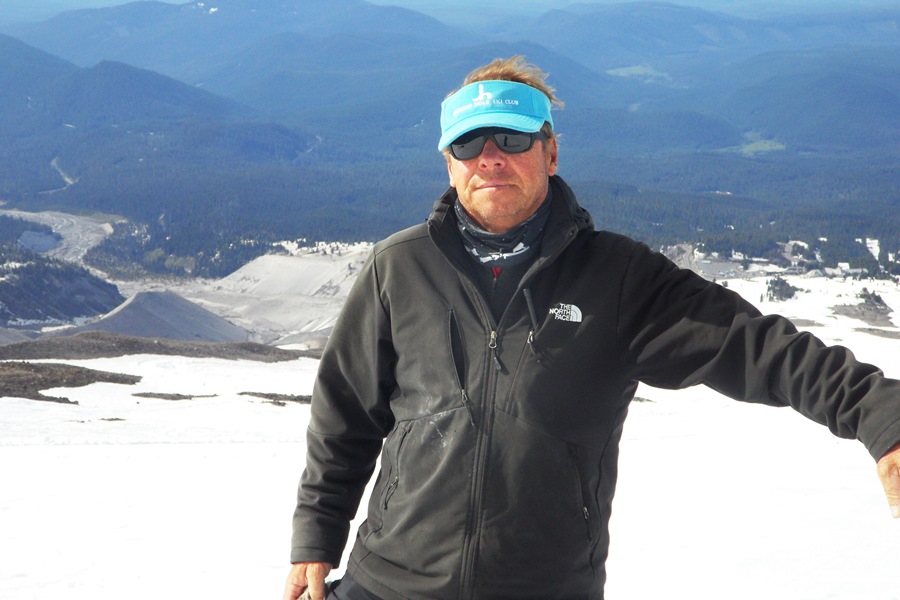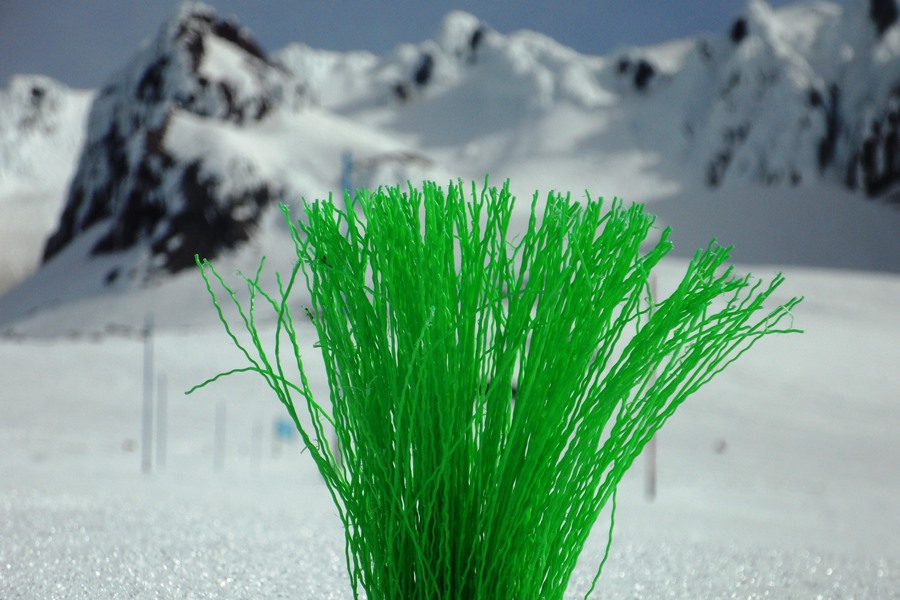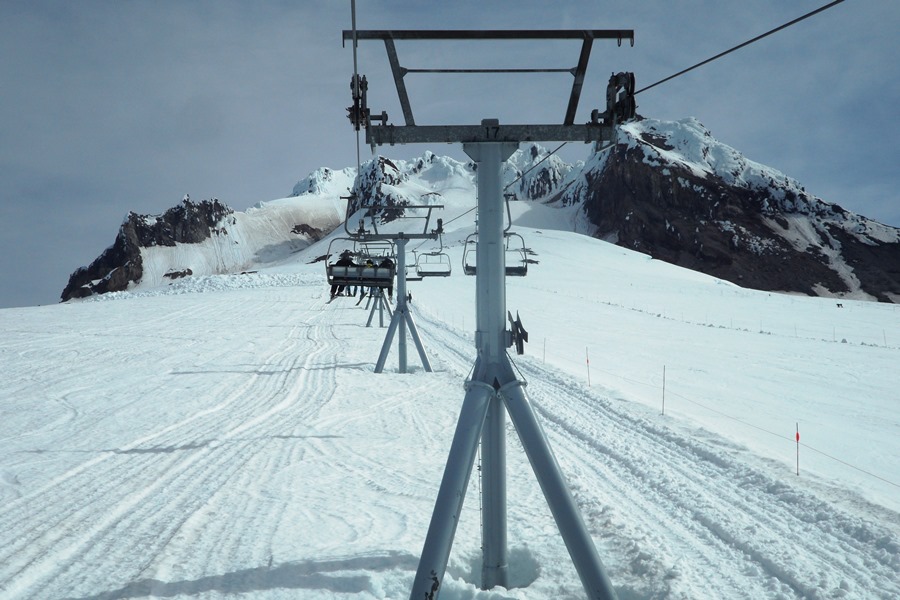 The new staff tees!
Unicorn pose Andrea Dahl
Inconvenience indeed. Especially for the female species.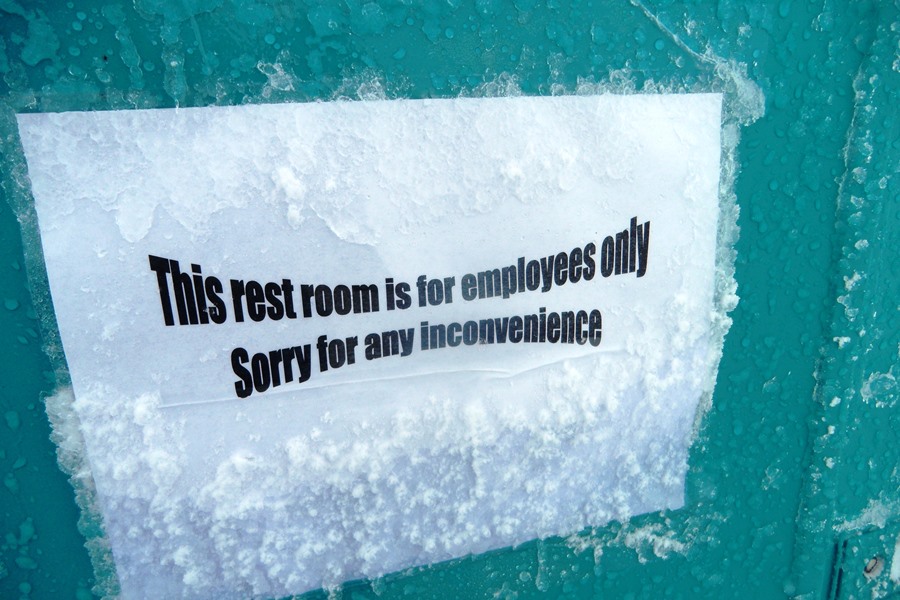 Flashback to 1991.....Bristol and Terri
Session 3, 2017 update
It was the best of times. It was the worst of times. Reid Lambres celebrated his twenty-somethingth birthday on Monday. The weather sucked on Monday, Tuesday, Thursday and Friday. We experienced rain, wind, fog, snow......Wednesday was partly sunny, but the Magic Mile needed morning repairs, so it loaded about 45 minutes late and Palmer was running about an hour late for de-icing. Lifts were closed on Tuesday, so we did the hike thing near the bottom of magic mile. The freestyle groups built a jump and hiked it. We trained on Pucci chairlift on three of those bad weather days. Kids went to "Lumberyard" indoor mountain bike park in Portland on Thursday afternoon (instead of rafting).
*I'm now using an email marketing company to send out the staff email link each week, called "campayn.com". As of June 1, gmail changed their settings for sending out mass group emails, which was blocking my emails from going out to you guys the last couple of weeks. Some people were getting the link, others were not. Fortunately Campayn is free to use as long as I don't have more than 500 recipients or send out more than 12,500 emails in a given year. If you missed staff updates from sessions 1 and/or 2, just click the "2017" link at the top of bottom of this webpage.
Sorry for the brief update....just a lack of material. Enjoy the photos.
party on Wayne & Garth......
fancy pants
Gave myself the Timberline Lodge grand tour during one of the bad weather days. Found this June 30, 1979 Oregonian newspaper article about the early days of the Palmer chairlift.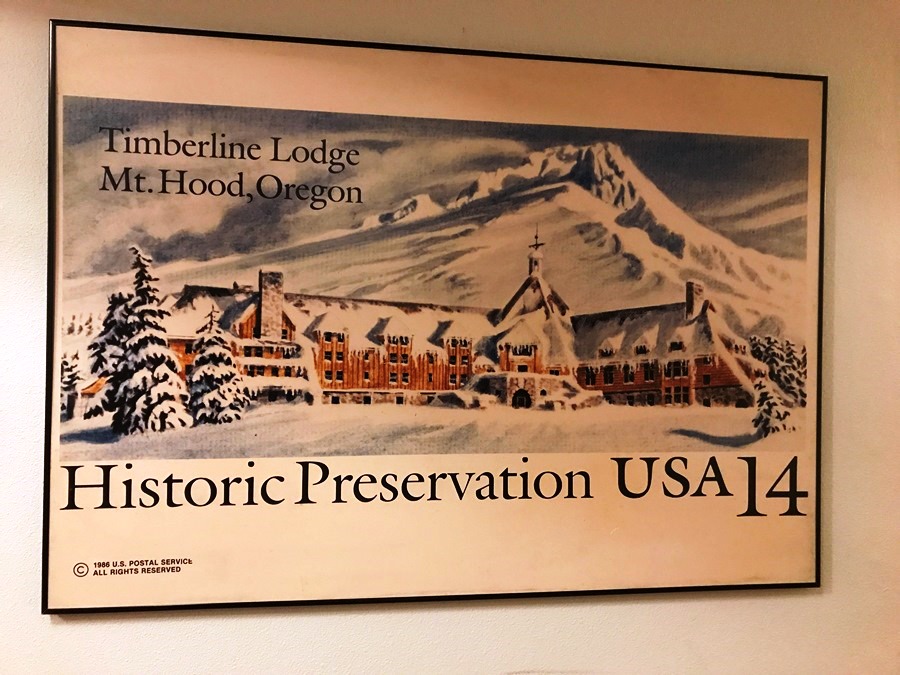 The view from Timberline Lodge.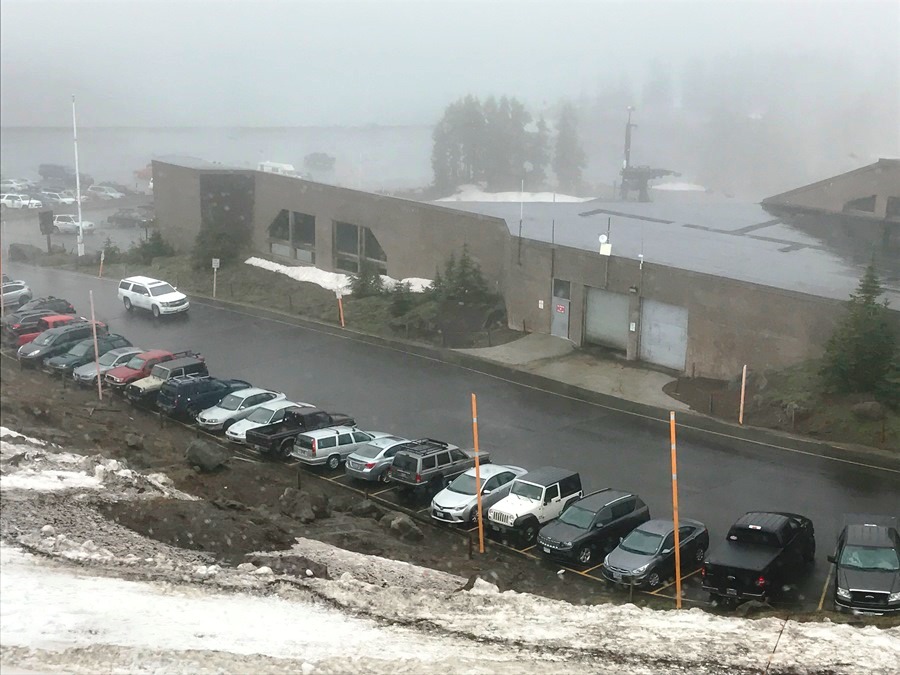 Happy Birthday Reid Lambres!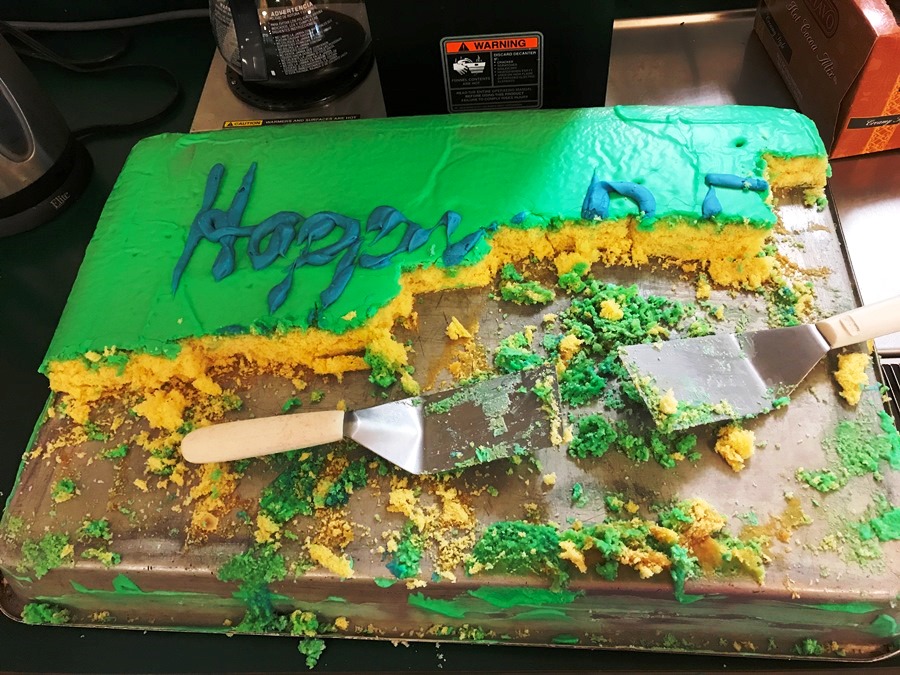 This greenhouse stops by camp for a pressure washing from Robert Johnson before it ended up getting towed to Mike & Lynne's home in Odell.
Bacon grease candle.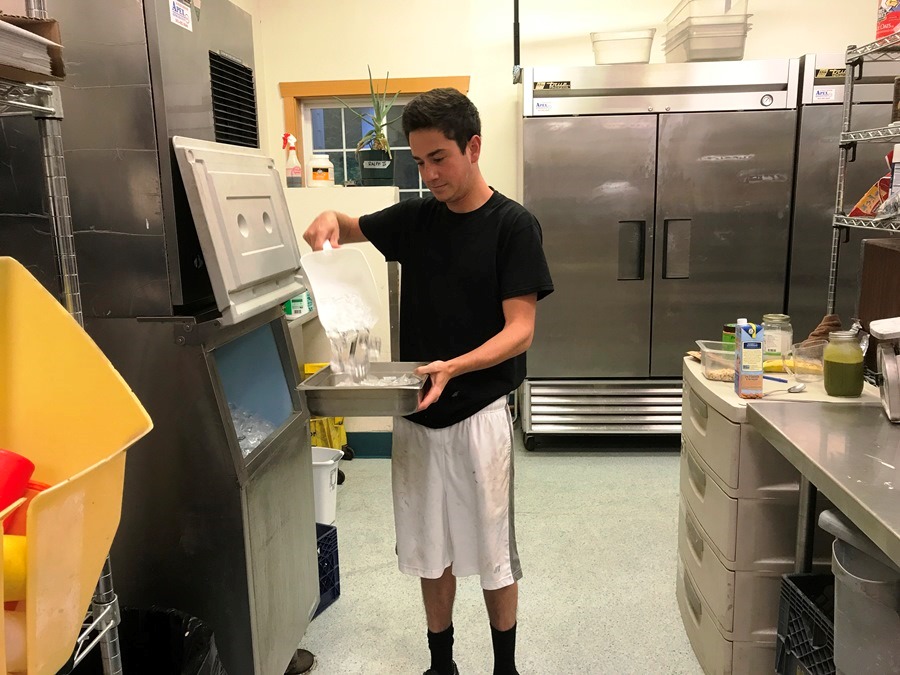 Pucci salting by Mike Syrovatka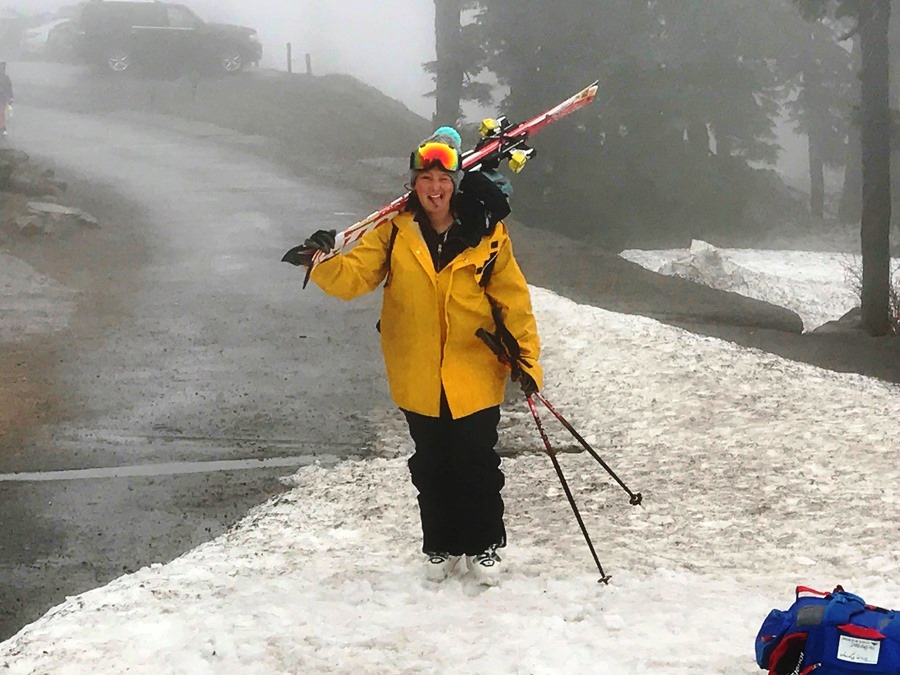 They are all reading last weeks' staff update.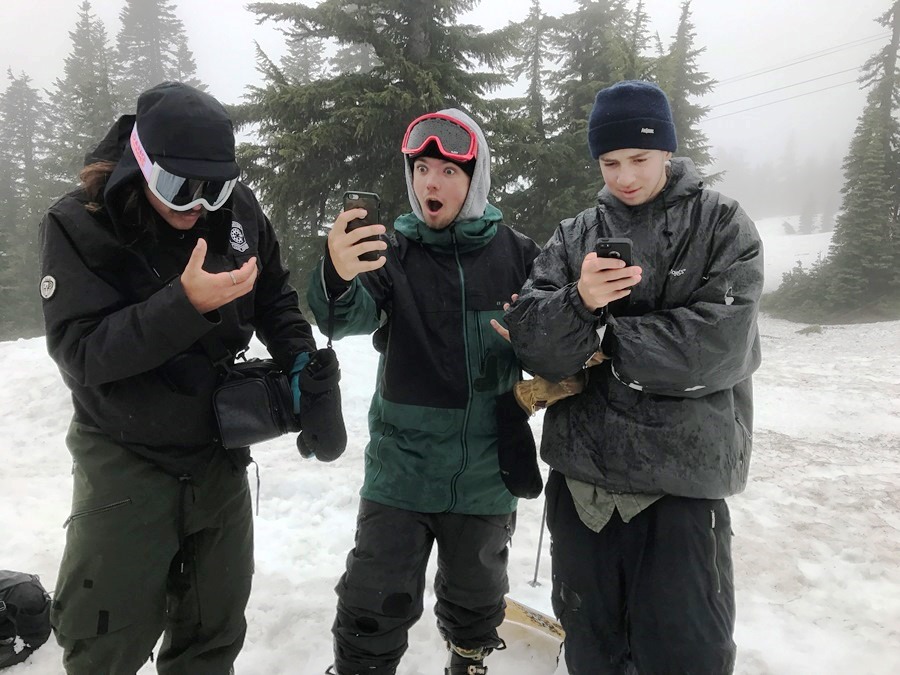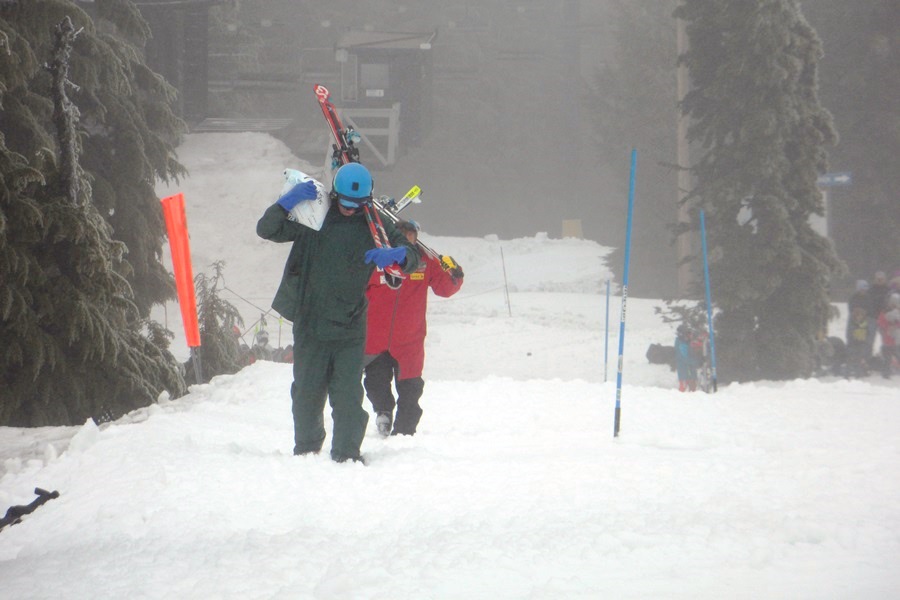 45 minute delayed opening on the only nice weather day of the session.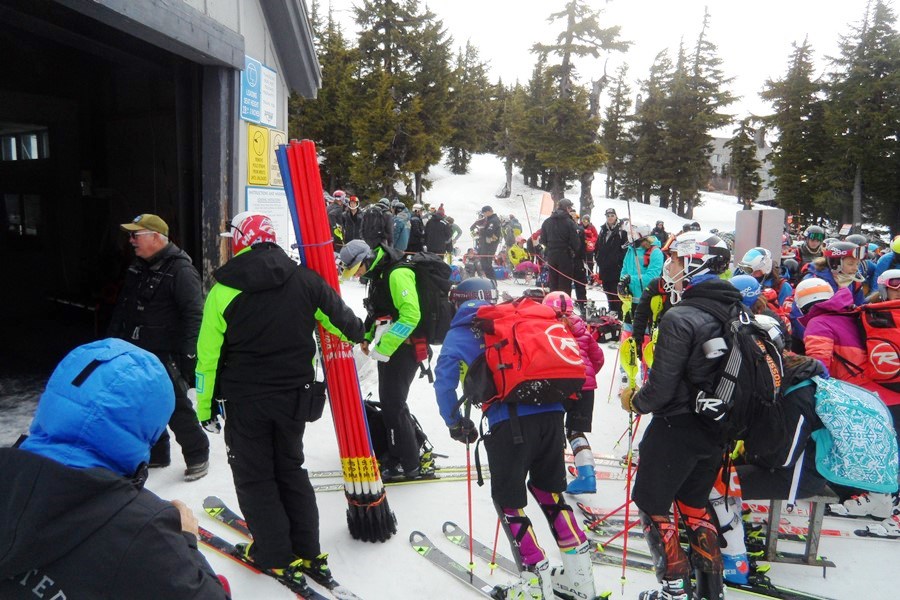 Freezing mist did a number on all the gates at the top of mile.
Sunny on Wednesday, but the snow consistency was like cocktail ice in spots.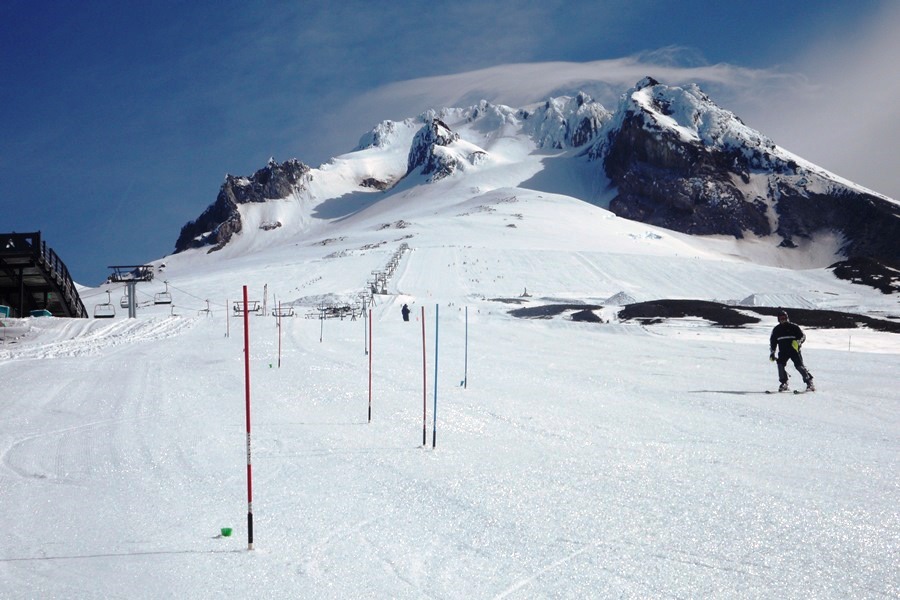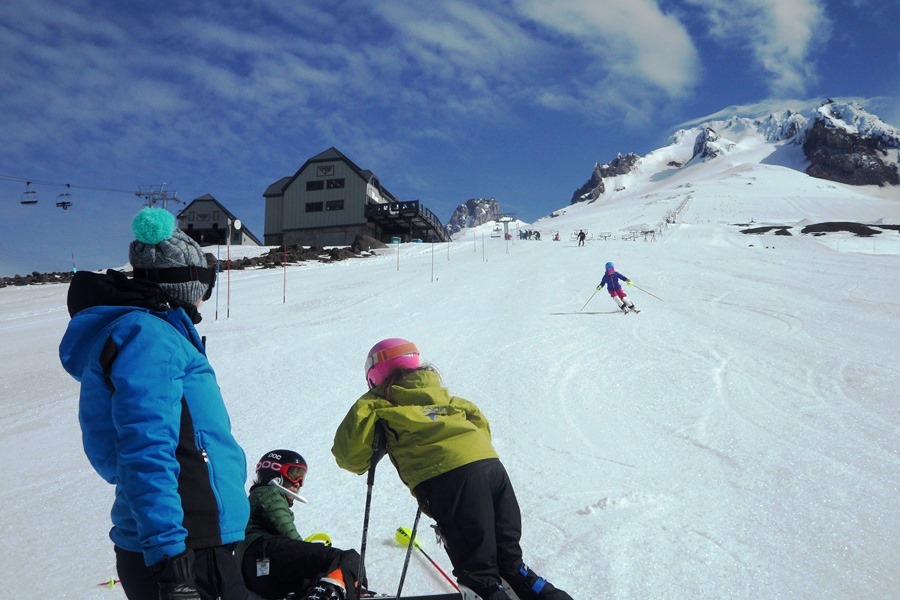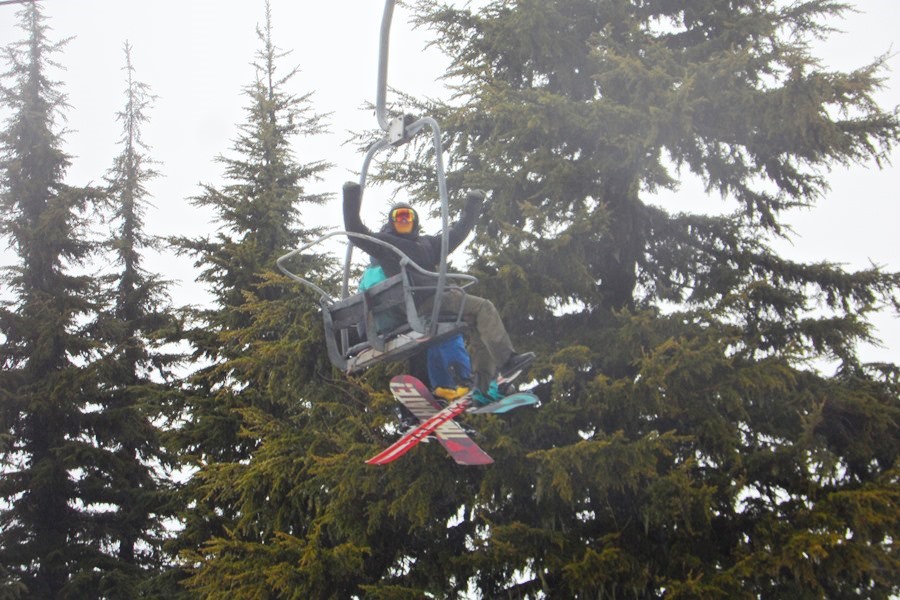 We have a new TV in the dining room that includes a camp photo montage slide show as well as campers flight information, as you can see below. It was also have afternoon activity info for the campers.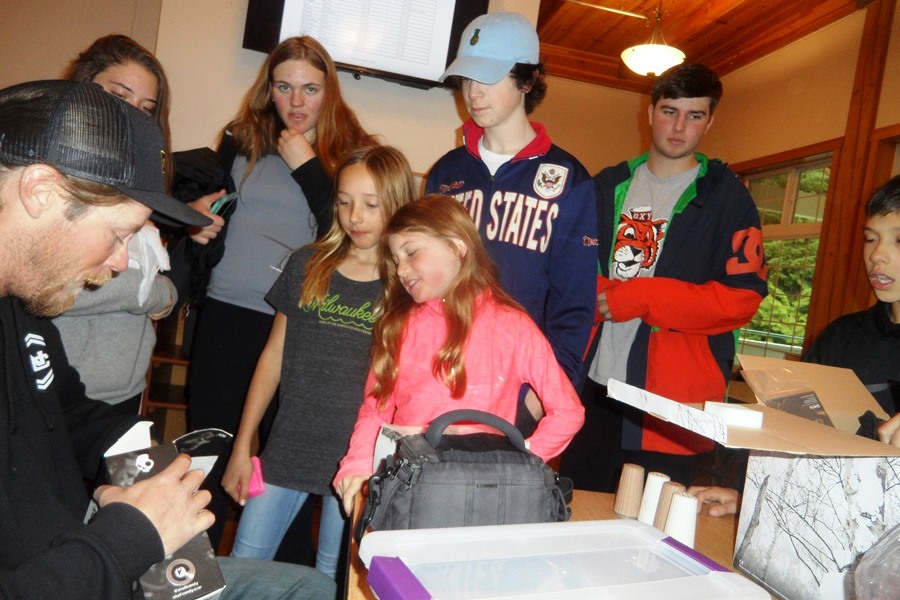 Session 4, 2017 update
I can see clearly now, the rain has gone.....great week at MHSSC. Jake Benda ran barefoot down the Tamanas Falls trail on Monday. Andrea Dahl pressure washed the lodge front porch. She said many people "mansplained" how to do use the pressure washer despite her several years of experience. I beat Jack Reid in 2 games of H-O-R-S-E for $2. Double or nothing Jack? USA legend ski racers Phil and Steve Mahre were on the mountain this week. I asked Phil if I could take his photo, and he said "no". But he was smiling when he said it. (see photo below). I asked a group of ski racer campers who won the 1984 Men's Olympic Gold medal in slalom and they had no clue. I guess that was 33 years ago. Mike Foley made a guest appearance at the picnic on Wednesday. A package of gummy worms went flying down the glacier on Wednesday morning before coming to a stop in the mogul lane. Devan LaMere recovered them. Luckily no gummy worms were injured in the incident. I swallowed a decent sized insect during picnic jog. I did that whole choke-vomit thing for about 30 seconds. Some people on the trail ahead of me, thought I was a bear based on the sounds that were coming out of me. (for real they thought that). A young ski racer camper had a wicked bad crash that caused him to spin around in circles like a helicopter blade, before crashing into a GS gate, at which point he and all his stuff become a yard sale. After hitting the gate, he kept sliding toward me and I was lucky enough to grab him and stop his progress down the icy hill. He came up smiling though, so that was good. Former staffer, Scotty Veenis, was on the hill on Friday. (see photo). One last thing.....check out Rick Millett is his boxers!
from the Multorpor bridge.
Robert Johnson plans on making a new cross for Kees Nederhand.
Foley!!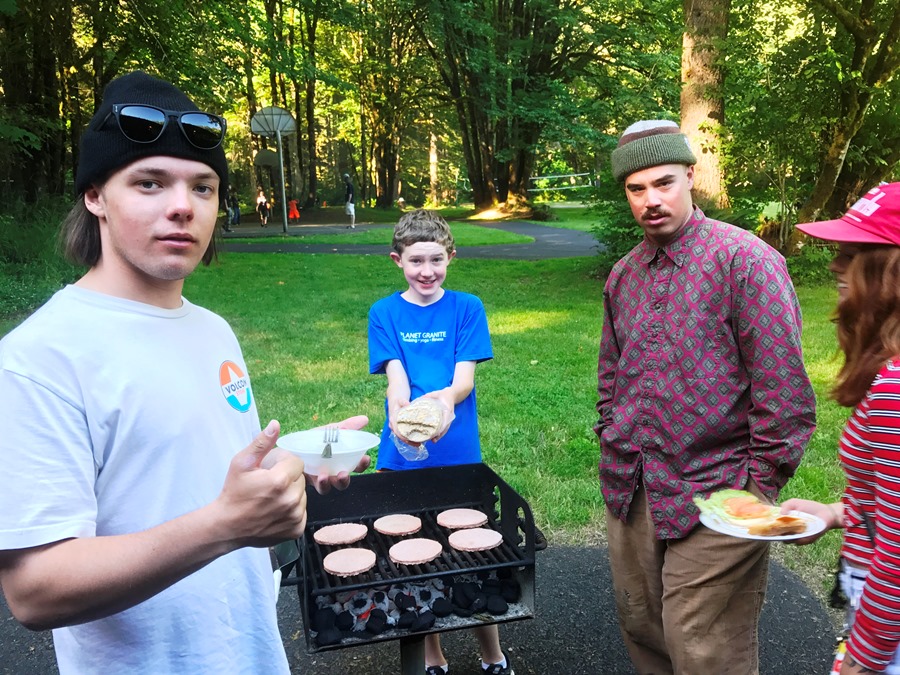 Scotty Veenis (Ted Ligety camp) and Terry McLeod (Timberline camp)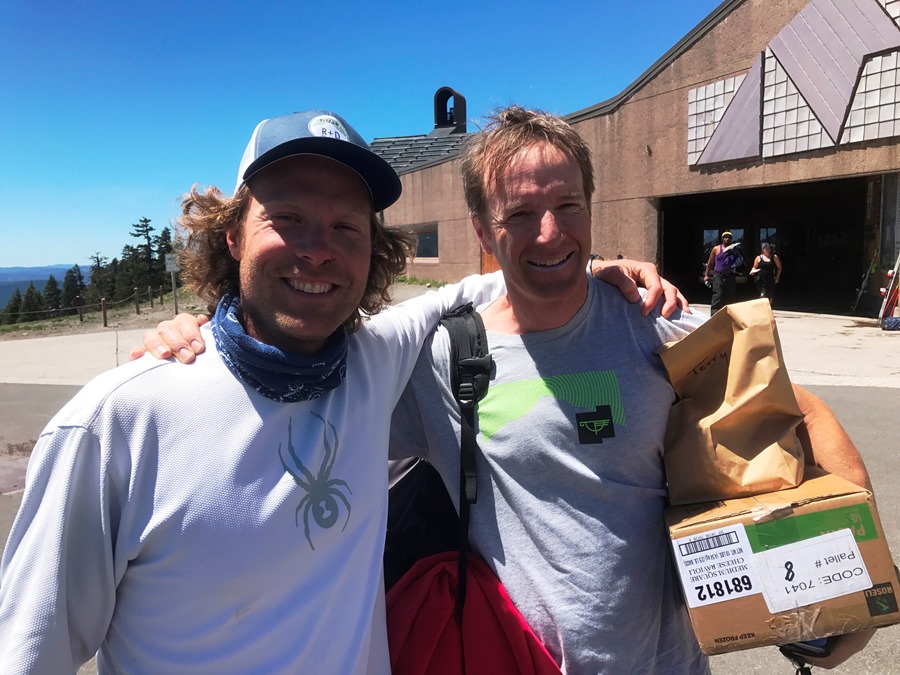 Thursday rafting bus.
Golden Poles condos rebuild in progress.
Abandoned skis/boots at the east end of the glacier.
3-time overall world cup winner from USA!! Phil Mahre. Also won a silver and gold medal in men's Olympic slalom in 1980 and 1984. Trivia (without cheating). Who won the men's gold in slalom in 1980?
Jake Benda carried FIVE salt bags. Who does that?
We'll be skiing all the way to the parking lot for a few more weeks I would imagine.
From Rick's facebook page.
Session 5, 2017 update
Session 5 was the biggest session of the summer. Lift lines were medium big some of the time. For the most part, the hill was pretty much deserted by around 12 noon each day as far as the race lanes. Some locals tried to do a "garage sale" in Govy just west of "Cobra Dogs" on Monday afternoon. According to the locals running it, the museum peeps across the street called the police and they came up to Govy to shut their operation down for not having a permit. They had a massage table set up too to do massages. A young camper girl broke her leg (tib/fib) on the last run of the day on Monday about half way down magic mile skiing thru the slush. (see photo). As you can imagine, she was in a lot of pain. The camp picnic was on Thursday this past week. Apparently Wildwood park was all rented out on Wednesday. Mike rented a "man-lift" for the camp zipline. Our regular manlift is in need of some repairs. Office guy Nathan Goddard was leading a game of H-O-R-S-E on the camp trampoline on Thursday. Instead of basketball shots, each kid would do a trick on the trampoline and the next kid would have to match the trick to avoid getting a letter. A random camper-staff made it on the staff bus meeting on Sunday evening. Apparently, someone named Mike Syrovatka told me him he needed to be there. I think that was the first ever camper-staff to attend the weekly staff bus meeting. Patrick Foster coached the mogul group this week, while Darren Owen was out on lane 15, doing a 2-week stint with party beach ski camp. (see photo).
Glacier Haus for dinner instead of Leftover night at camp.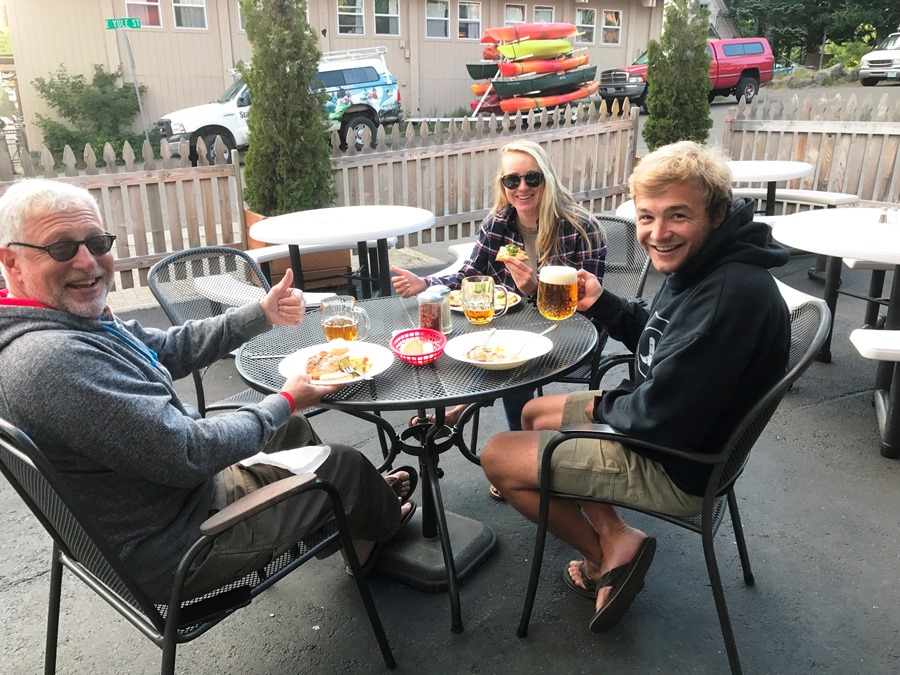 On the way back from camp picnic, I took Roger Bay and Pete Petry to "Laurel Hill". A super steep section of hill that the early settlers had to lower their covered wagons down along the Oregon Trail route.
One of the adult mogul campers showed up in this rig. He sells supplements.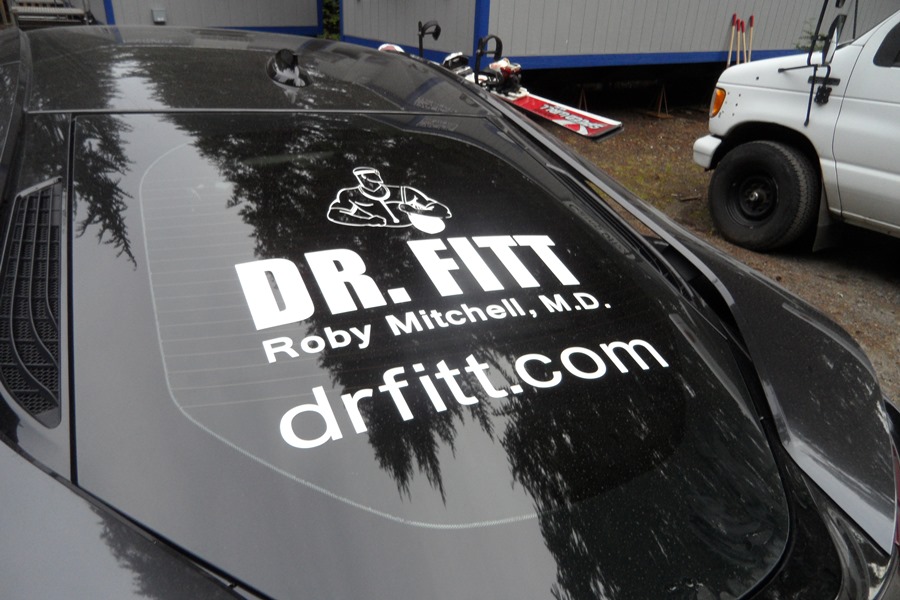 shit happens.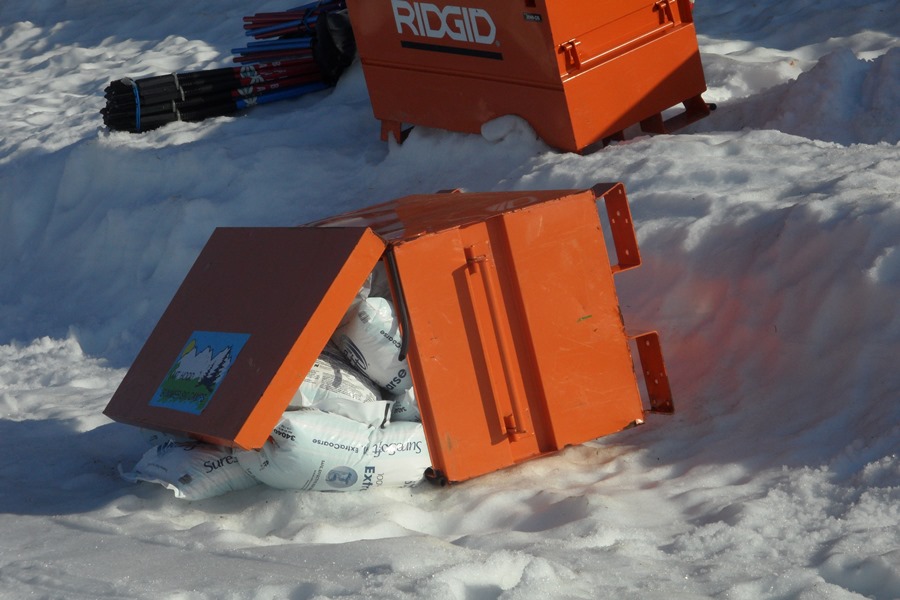 I wonder what was in the package? Jake never set it down during video analysis on Monday.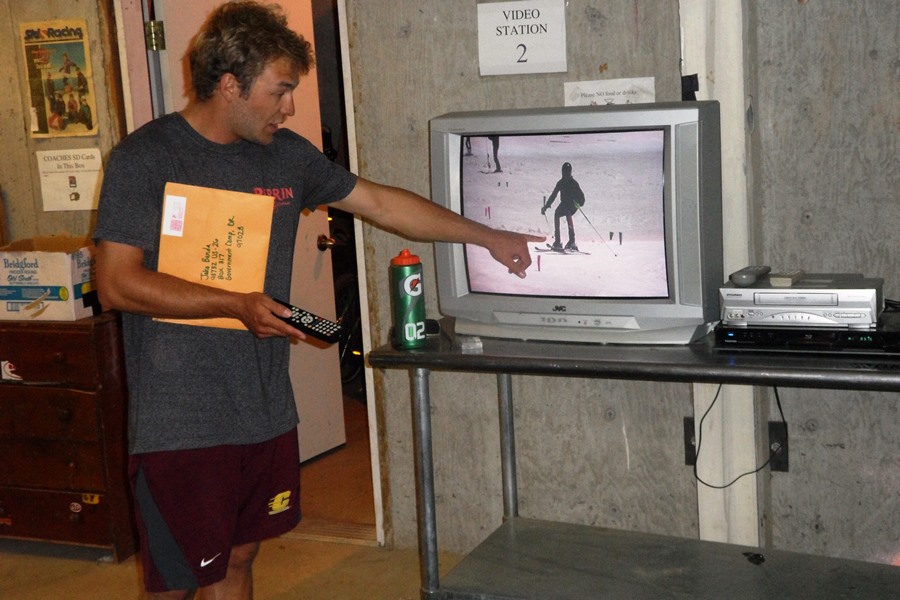 Check out Quinn Bestwick's new hair style!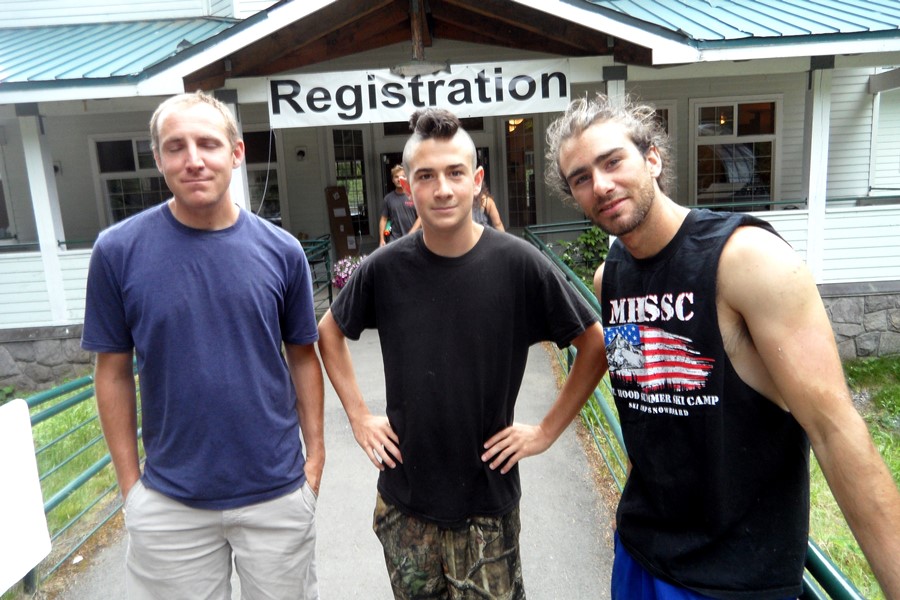 Darren Owen's new cliff feature over there at party beach ski camp, top of lane 15'ish.
fixing some bent ski brakes using a broken gate as the tool of choice.
Corduroy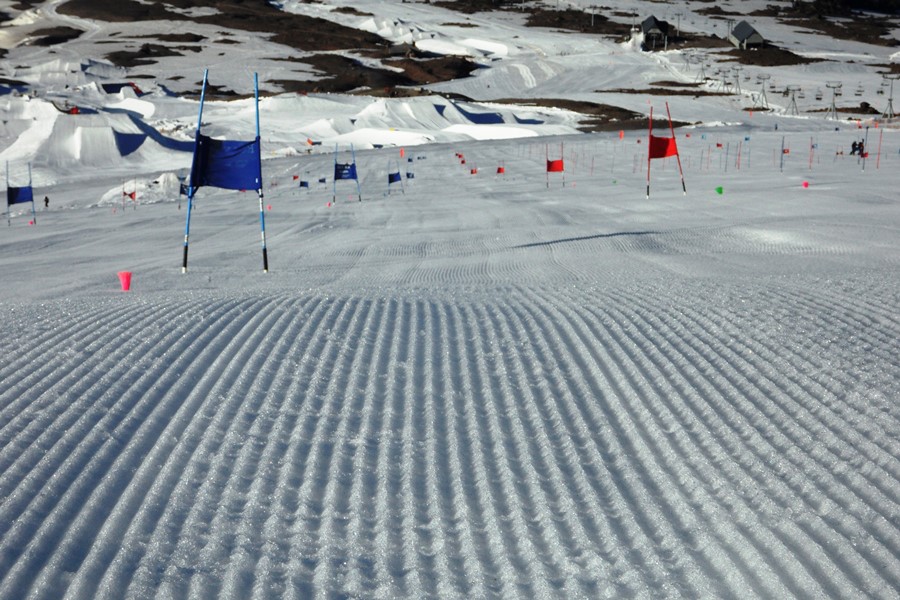 best sweatshirt on the mountain.
Man lift rental.
porn stache.
Emily Ballon ripping GS turns.
Session 6, 2017 update
Google "staff update". Low and behold, this ridiculous little page is the first one on the list!! Kudos to Bill Toney for that discovery. Now back to our normally scheduled program, here's what went down last week: I celebrated my 52nd birthday on Sunday. We had a small gathering at Charlie's. I ordered some food and they gave me #52. Whoa man.....#52 on my 52nd birthday. A remarkable concurrence of events or circumstances without apparent causal connection. We had the usual 4th of July firework display on tghe camp soccerfield. One of the mortars was apparently upside down by mistake when it was lit and it exploded near ground level. Fuxi held his annual on-hill Independence Day food/drink celebration at the top of public lane. It was very warm on the hill on Wednesday and Thursday. We are on a nice streak of good weather right now. Almost miss having a rain day now and then just to throw off the groundhog day effect. Some mice moved into the pile of slalom gates this week. One of them got crushed (see photo). Poor little guy (or girl). I wonder why mice are living at 8,200 feet. What do they eat? Jackie Reis and Nicole Cordingley arm wrestled each other left handed.....twice. Nicole is 2 and 0. We are still skiing all the way to the parking lot at the end of the day. A young camper kid in Jackie's ski group made her a delish bacon cheeseburger at the picnic. Same kid ate a stick of butter on Thursday because "I like butter". We had a 4-pack of staffers do the 3-mile picnic run on Wednesday. Who wants to join us this coming week?
Fuxi's shrimp and grapes party on the 4th.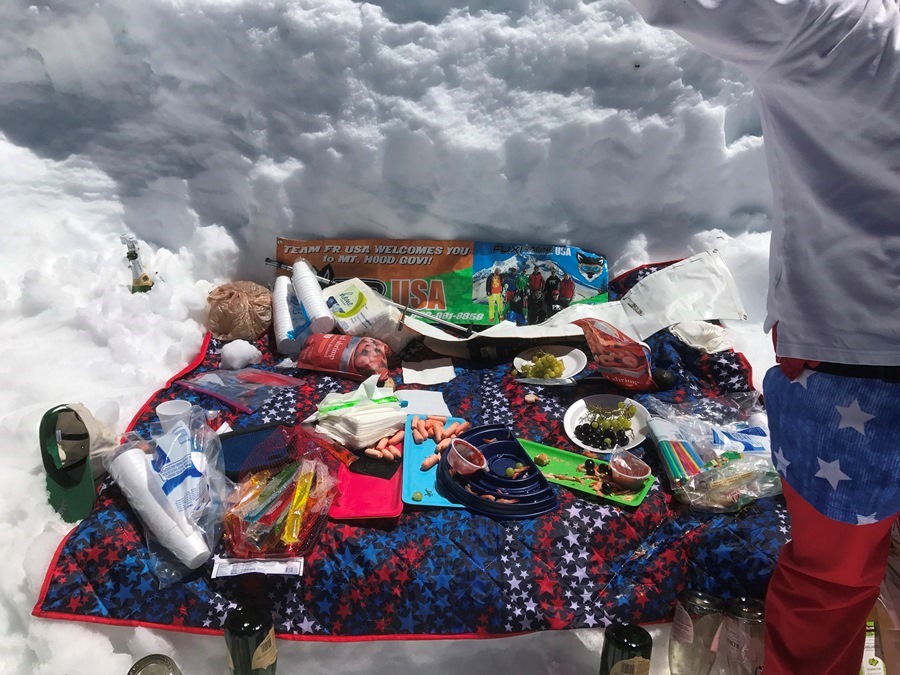 dead mouse.
Ligety camp on lane 1, but Ted was a no-show. Heard he just had a baby....or his wife did most of the work.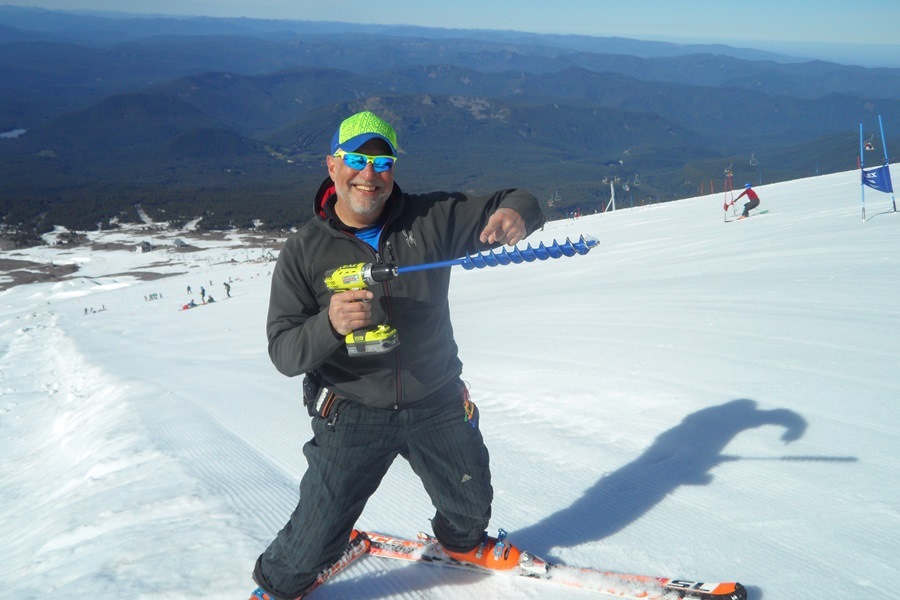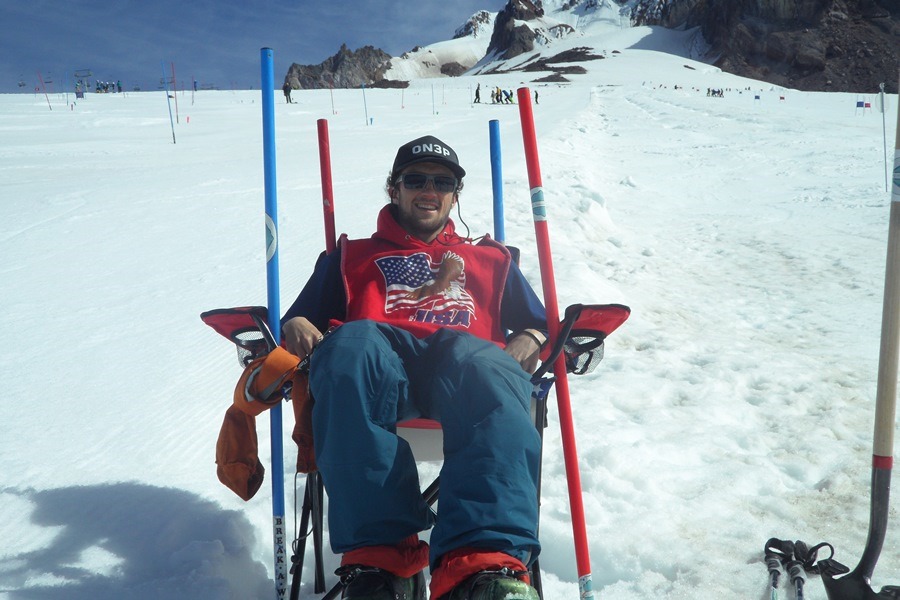 Nolan Trouve crashed on his snowboard on lane 6. He survived.
Our sign needs some lovin'.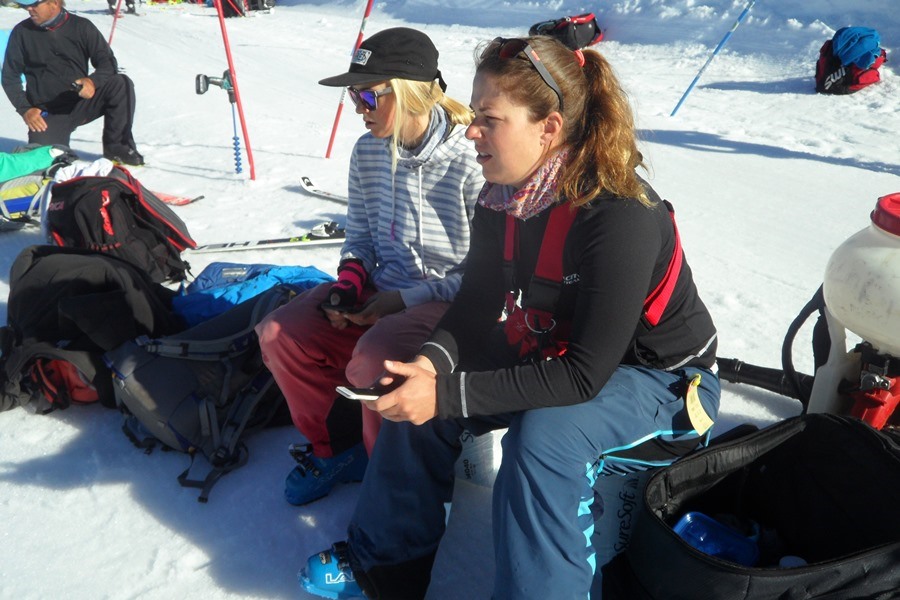 Thursday was HOT. Devan LaMere was trying to stay cool.
Banana, raspberry ice cream. 2 ingredient, no guilt, dairy free delish dessert!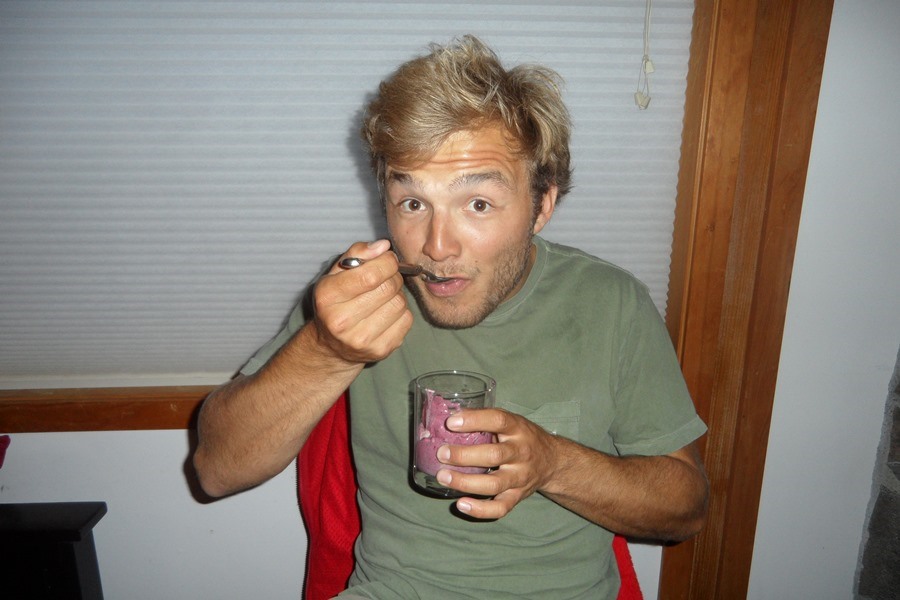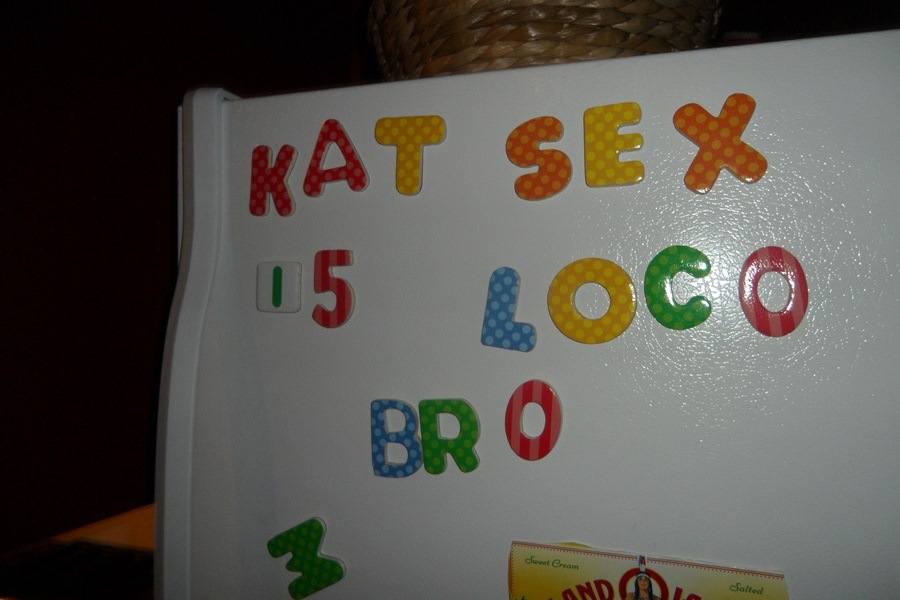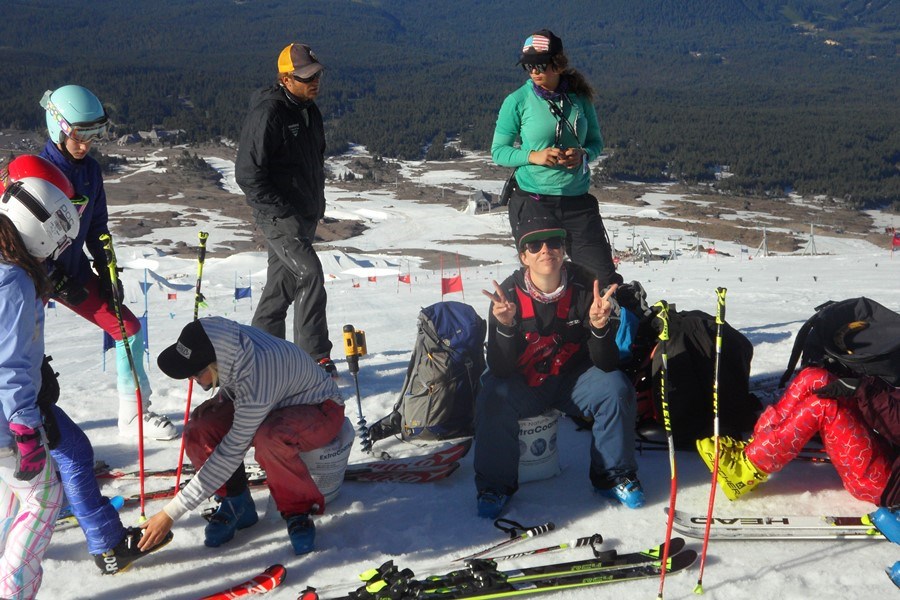 Above the clouds. Never get tired of the view.
John Rust was on the hill this week, coaching for Mac ski club. His 2 kids were campers (I think?)
Fake Christmas tree?
Word on the street is that the Oregon Department of Transportation is installing a real-time road condition sign here near the bottom of Timberline road. There is also one being put up just across the highway from the camp lodge.
Session 7, 2017 update
There is a mice epidemic at the top of our lane.
Jackie Reis lost her keys last Friday. Luckily someone found them, turned them in to lost-and-found at Timberline and she was able to recover them on Monday evening. Jack Reid skateboarded across the mini-halfpipe 24 times in a row. It was the Testosterone vs Estrogen competition between lanes 5 and 6. The boys lane consisted of Mike Syrovatka, Jake Benda and Ben Nilsson. The girls lane team was Jackie Reis, Nicole Cordingley and Devan LaMere. I volunteered to judge the two teams as far as course setting, cooperation, communication, salting the lane, etc. The boys won Monday and Wednesday. The girls won Tuesday and Thursday. Friday was a tie, so both teams ended in a tie. We had 2 beginner skiers at camp this week, coached by Andrea Dahl. They mostly skied on the magic mile, but did make it up palmer on Friday. Devan LaMere rode her bike to the picnic on Wednesday, THEN ran the staff 3-mile picnic run. She's hardcore! Hammocks are trending at camp these days (see photos below). Thursday, July 13, was the last day of summer we could ski ALL the way to the parking lot.
Peter Cimmino's new toy!
Ben Nilsson, doing some camp sign repairs.
picnic relaxation.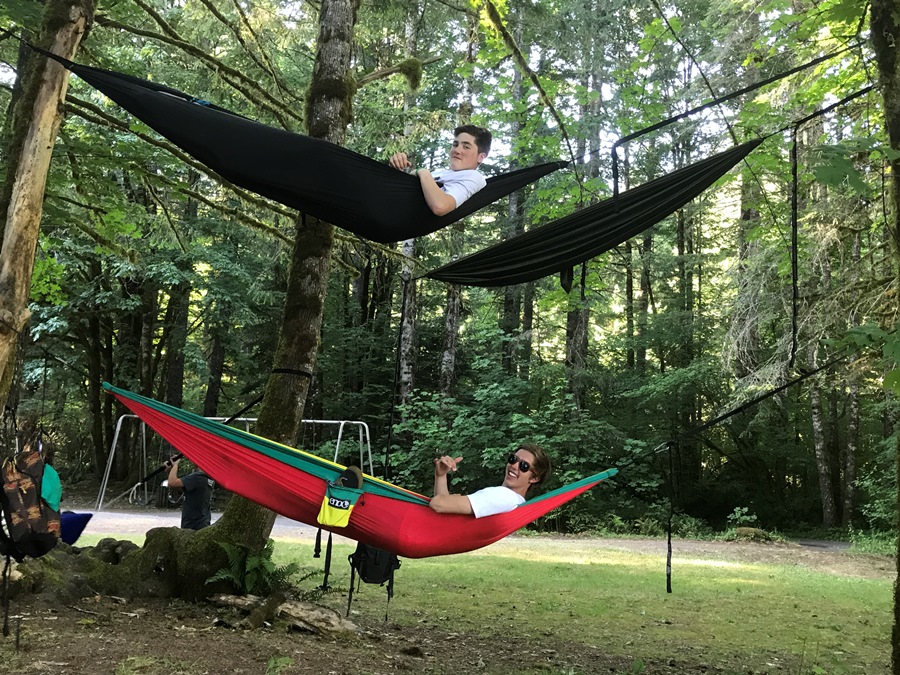 Peter Cimmino narrating the intense game of 'knockout' at the picnic.
Darren Owen and I stopped by "silent rocks" on Wedneday on the return from the picnic. We did the 2 minute hike to the top to find a couple interesting structures.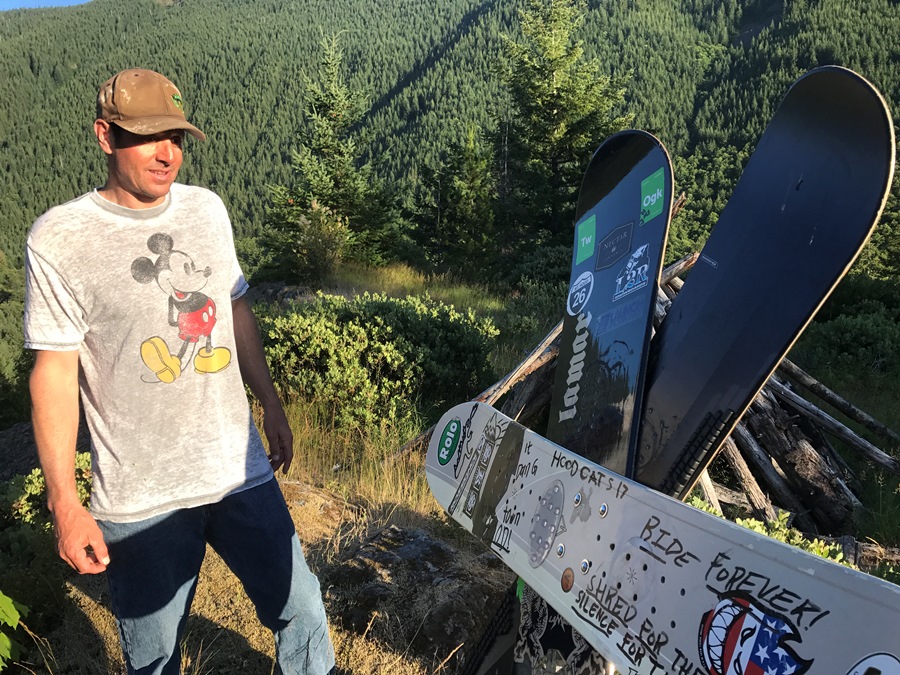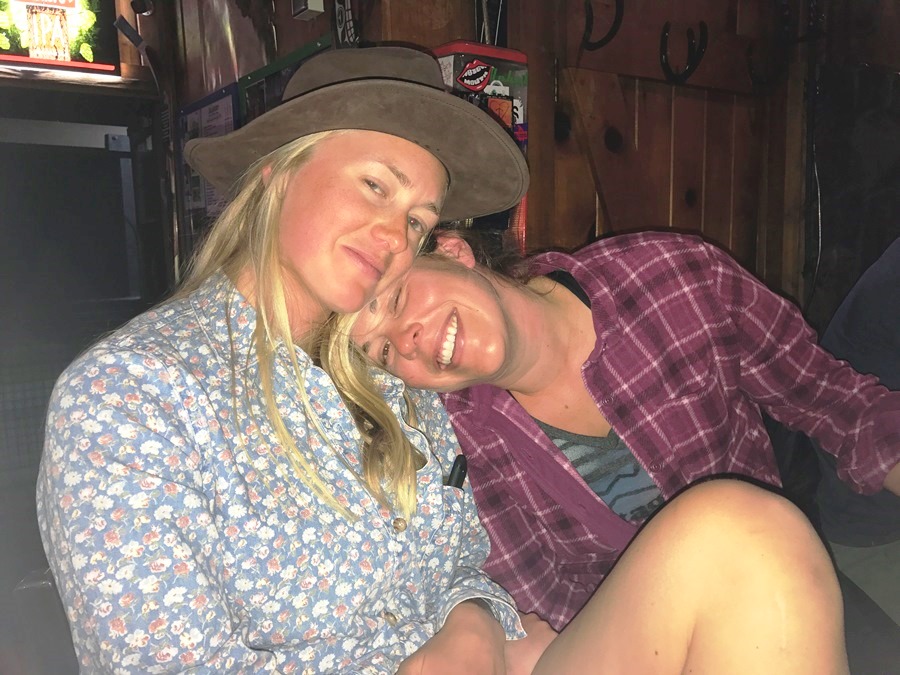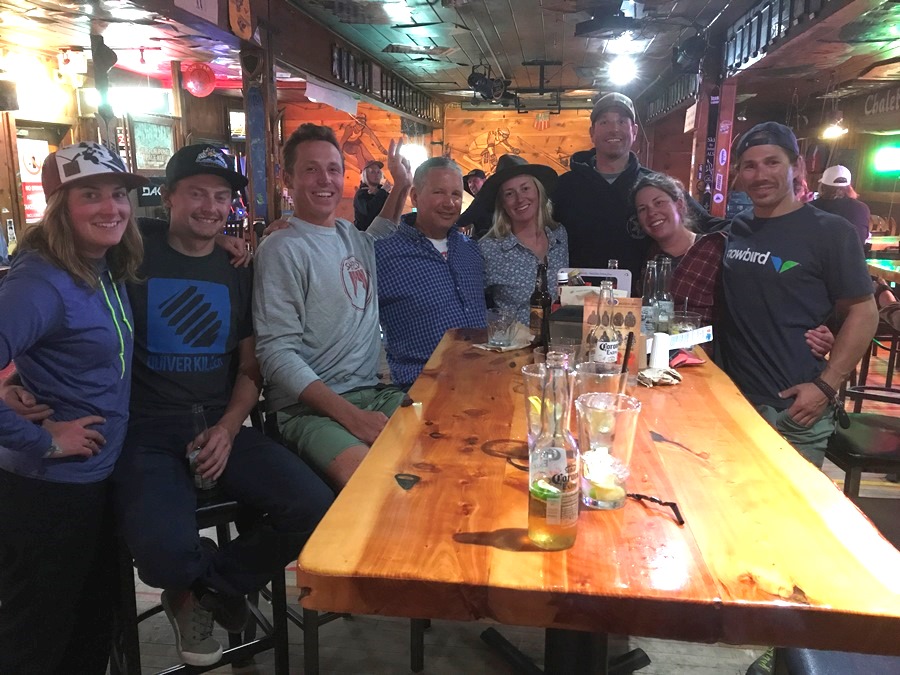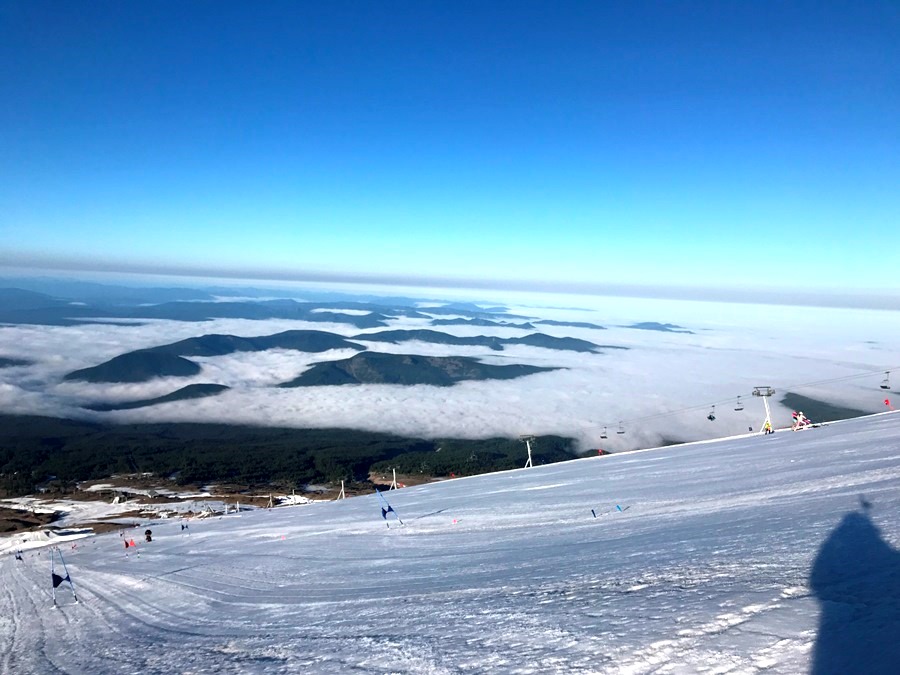 Final day skiing to the parking lot. July 13.
Robert Johnson built a new memorial cross for Kees Nederhand to replace the old one, which was broken.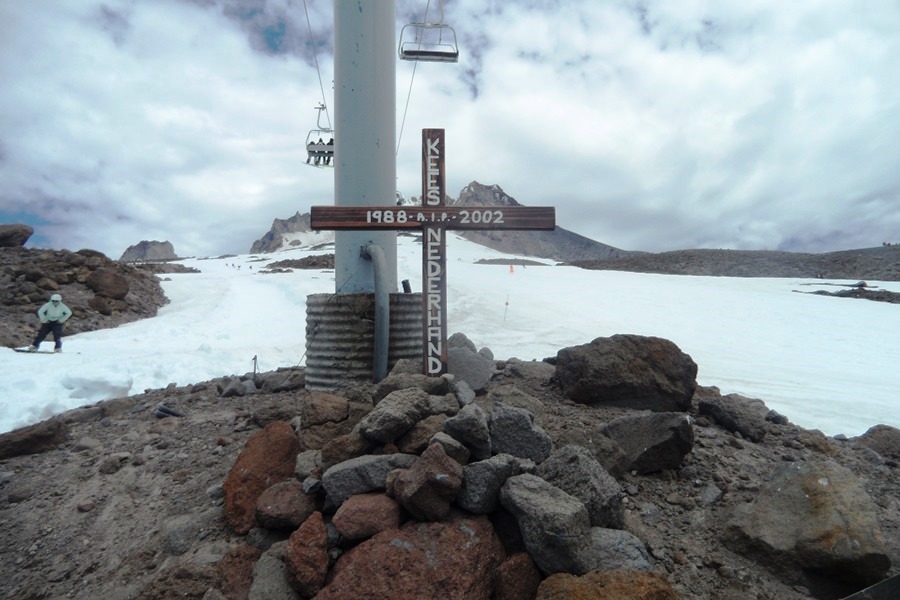 Marcus Caston going big with a bundle of gates.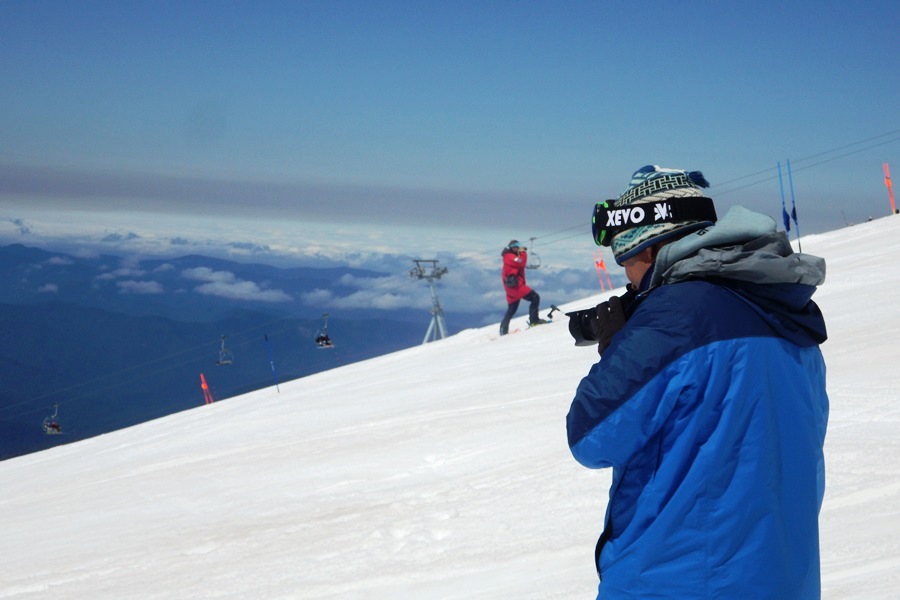 Lift lines were longish on Friday. There was an influx of adult ski racers training for the 'summer fun nationals' event, which took place this weekend.
Check out Nicole Cordingley's new eyewear that she bought at GoodWill for $5 bucks. There's a new GoodWill superstore in Sandy.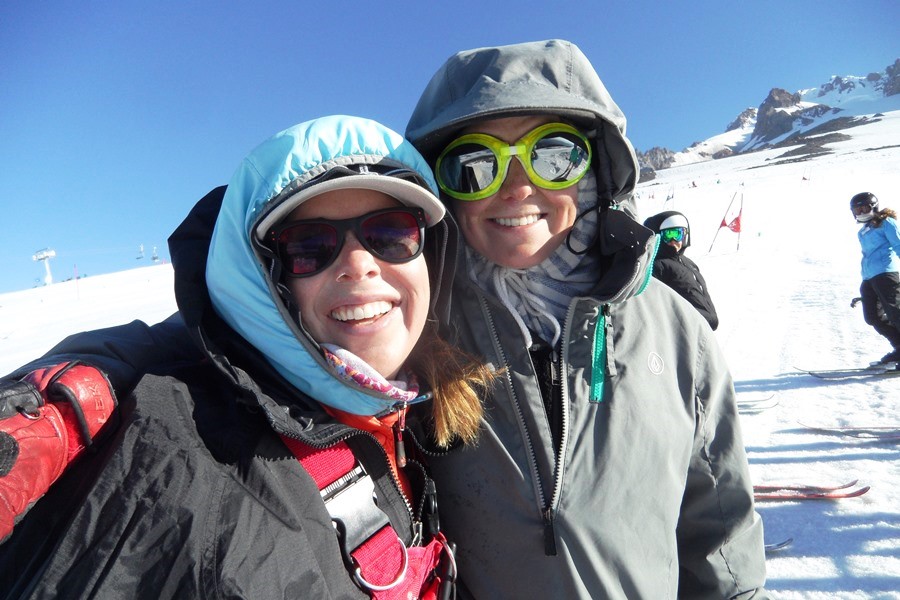 Session 8, 2017 update
Ok, this will be a double update since there was no update last week. I forgot my camera in Govy last weekend, so didn't have the session 8 photos with me. With that being said, you can double your pleasure this week.
Session 8 stuff: Bill Toney discovered a live chipmunk trapped under the ski room door in the main camp lodge basement. The door wasn't quite shut and there was a tiny space under it for it to get stuck. I heard it was eventually freed after about a 15 minute ordeal. Mike Foley made a guest appearance at the picnic for the 2nd time this summer. Famous skier, Tanner Hall, stopped by the mogul jump to chat it up with Darren Owen, his old coach from back in the day. The weather was perfect all week. No hint of crappy weather since session 3. Mini snowman appeared on lane 7 on Tuesday. Nobody knocked it down all day.....but it was pretty much melted gone by the next morning.
This bunny was to be sold for $1 at a friend's garage sale. Darren didn't let that happen.
July snowman!
Although national hamburger day was July 28, Reid Lambres got started a week and a half early.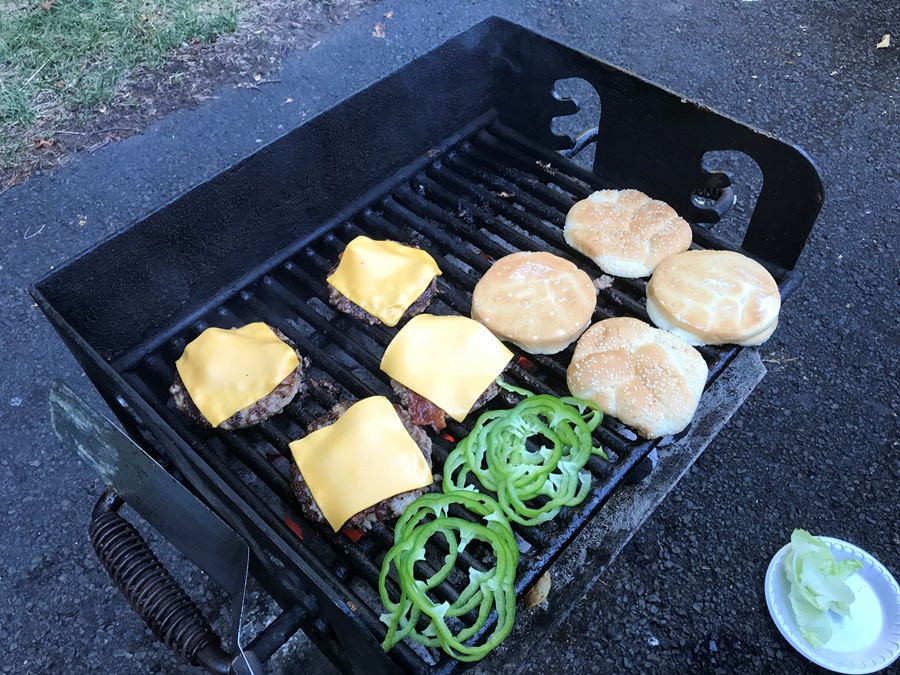 who needs a picnic table?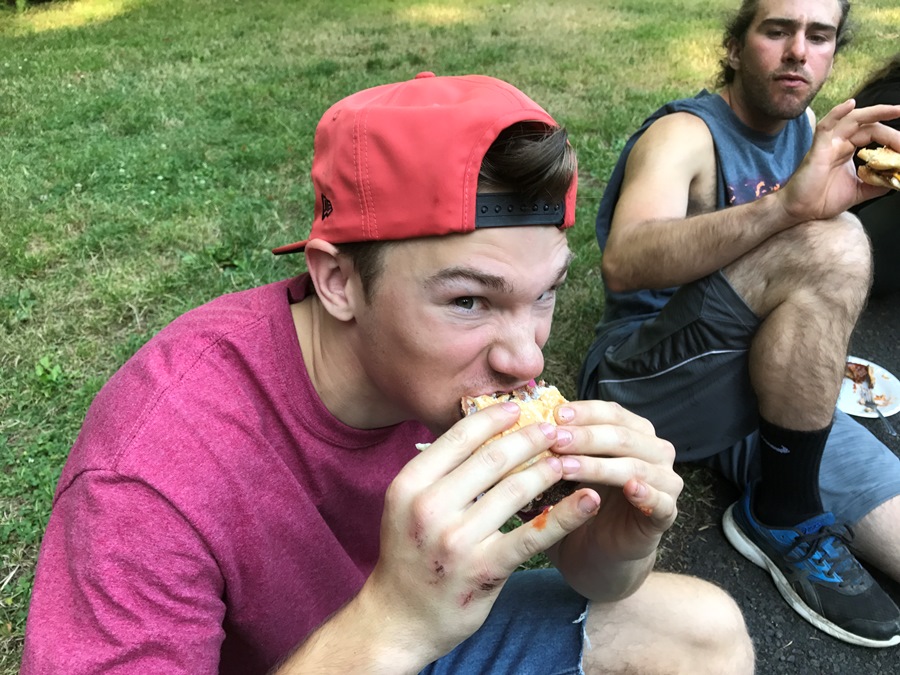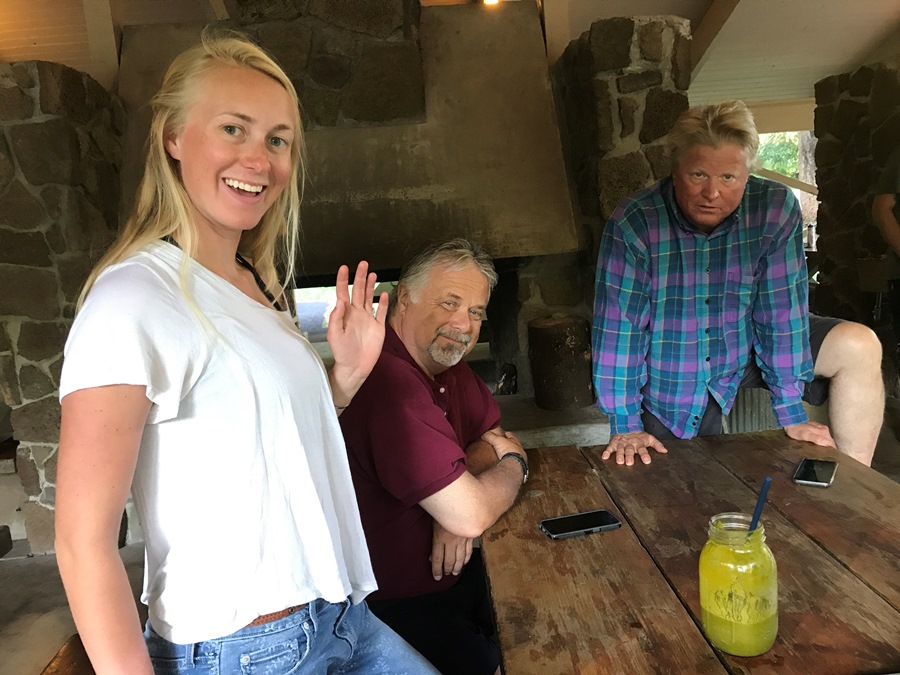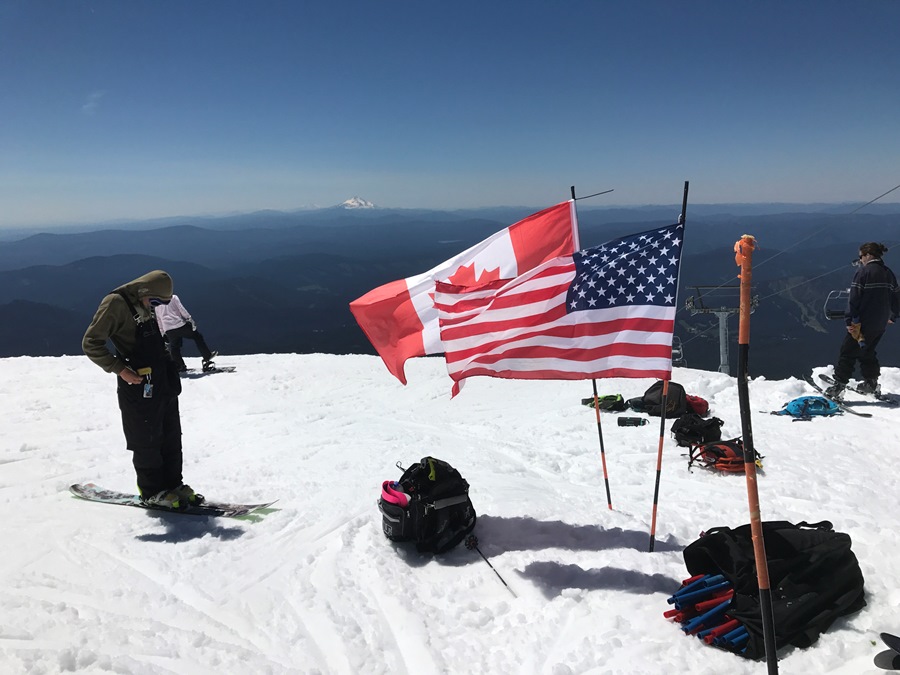 bros.
mogul jump site.
Session 9, 2017 update
Session 9 was the annual "nice camp" session! Yay! Niiiiice!
John Rust and Jackie Guy were back at camp this week for the annual 'smith rocks rockclimbing camp'. A girl from another camp, broke her ski binding. She borrowed one binding from coach Devan LaMere. Then she coached on Jake Benda's skis all day, while Benda coached on one ski/no poles all day long (see photo below). Sean Mailey made a guest appearance on the hill this week. His 10 year old son, Jackson, was a camper, while Mailey helped shag gates and carry salt. Mike Foley skied with us for a day this week. The weather was perfect......again. The snow is amazing and plentiful for this time of year. Lift lines are short most the time.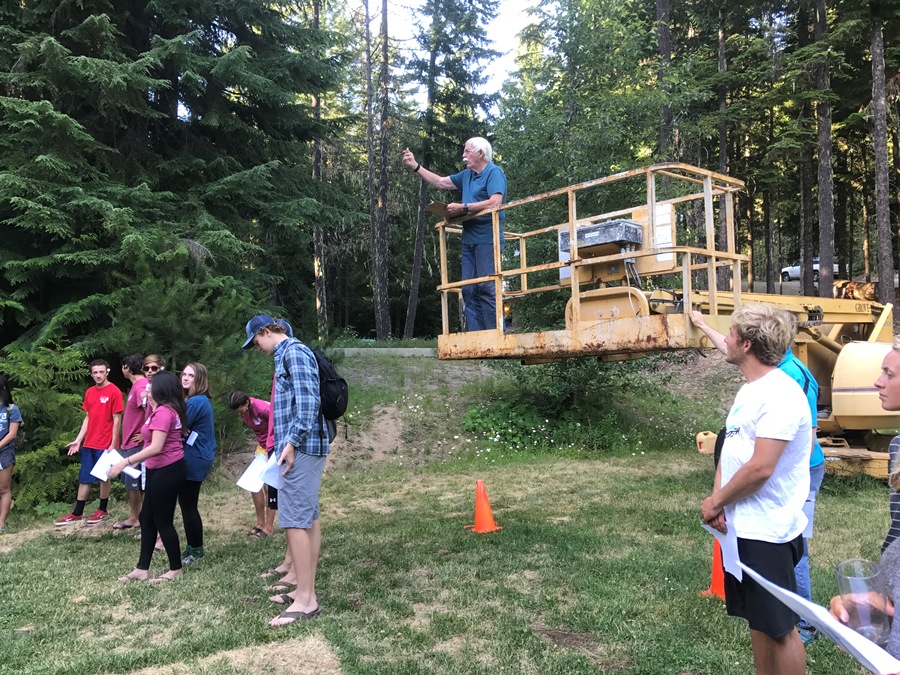 Jake Benda's mad skilz: coaching, setting, & salting on one ski all day long.
If you've never driven the alternate Timberline road down the mountain at the end of the ski day, you are missing out on some scenery.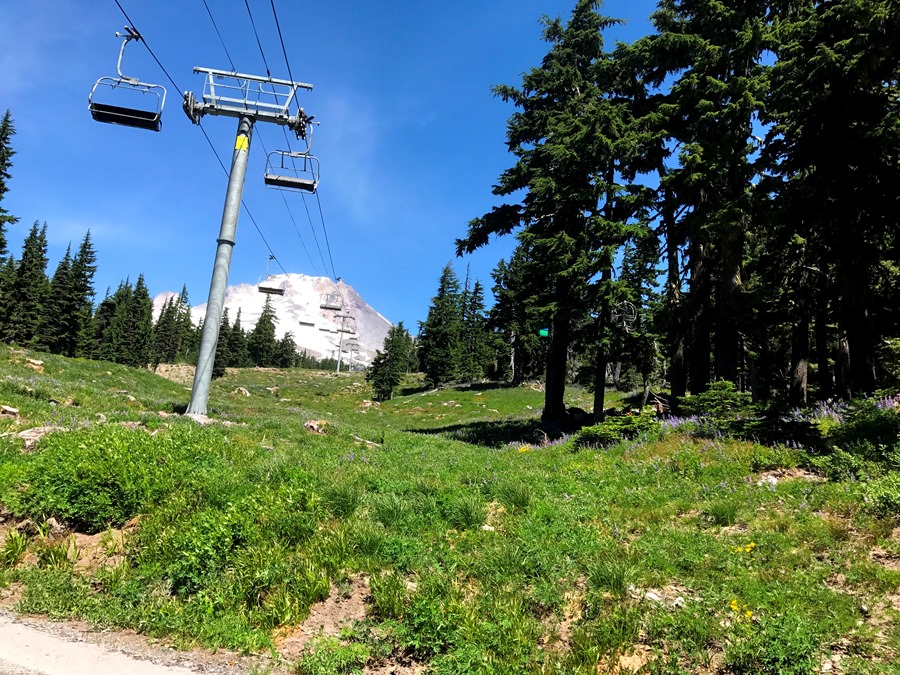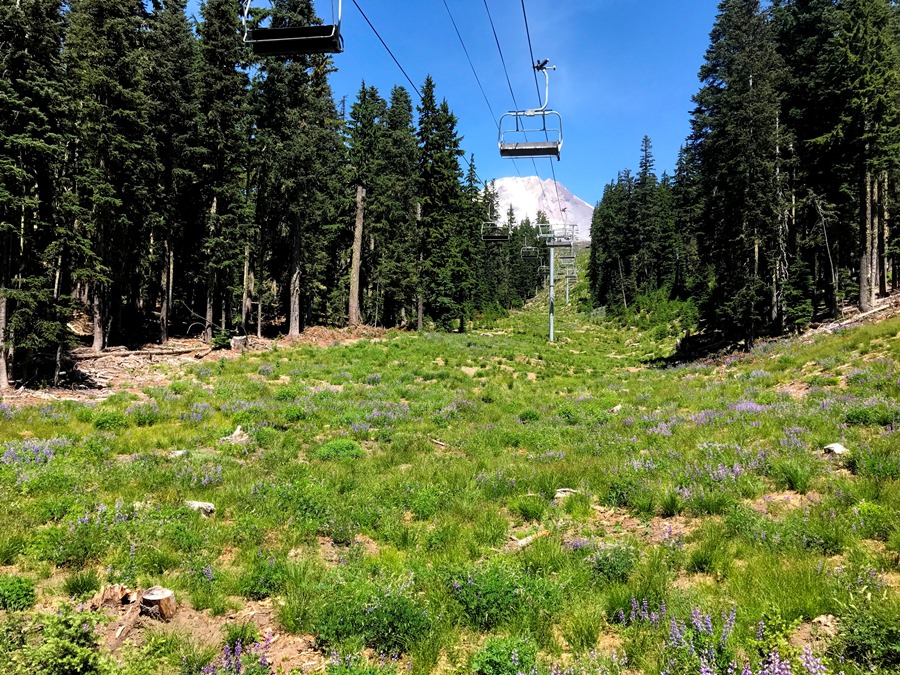 Some random little kids left this heart shaped nature art on our doorstep at Parham this week.
Scotty Veenis made a short appearance on the glacier this week.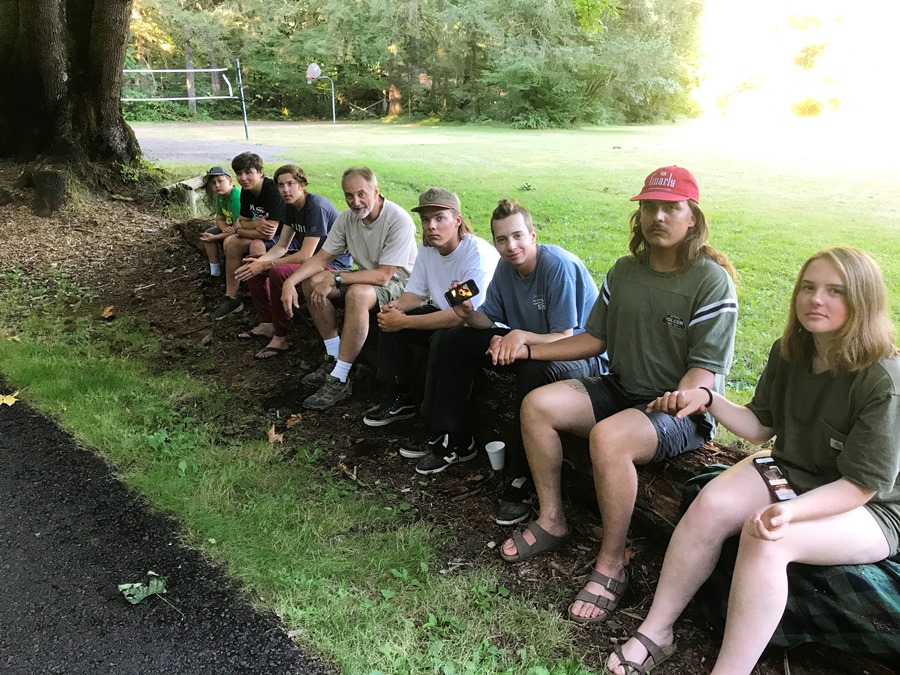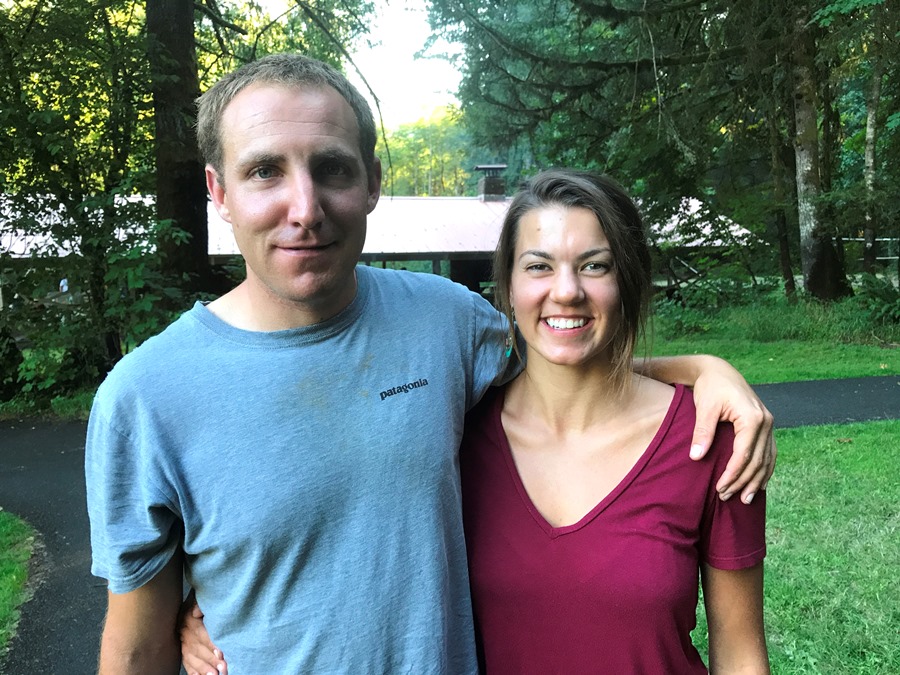 Ginger shots!! 3 ingredients: apple, ginger, lemon.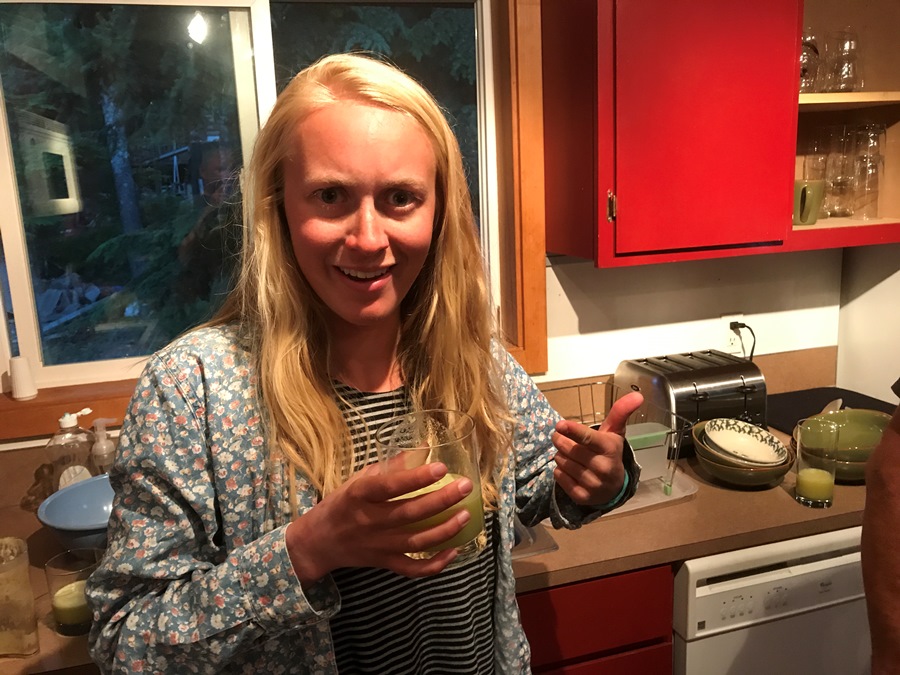 Two ingredient frozen banana raspberry ice cream topped with healthy-ingredient chocolate sauce that hardens like 'magic shell'. Chocolate syrup recipe: 1 cup unrefined virgin coconut oil, 1 cup cacao powder, 3 tablespoons pure maple syrup, and a pinch of sea salt. Blend and serve.
Somebody donated this bike to Robert Johnson, who then donated it to camp.....then the chipmunk wanted a ride.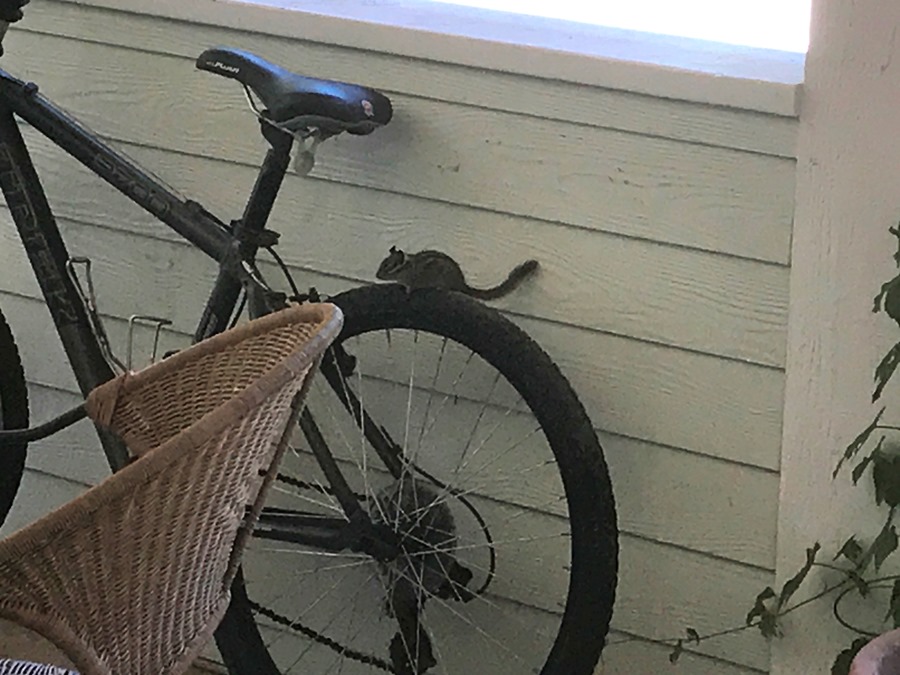 Mailey helping me with sales on Friday afternoon.
Getting ready for an exciting weekend.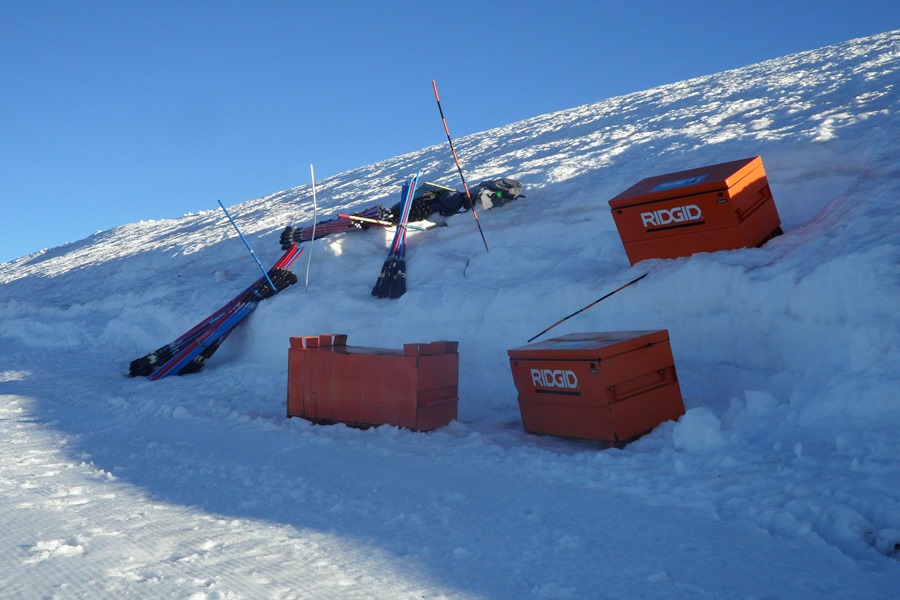 Me standing about 30 feet from the hoop with the basketball in my hands: "Hey Nicole, what will you give me if I make this shot?"
Nicole Cordingley: "a clif bar"
'swish'
Ben Nilsson has skied 200+ days this year.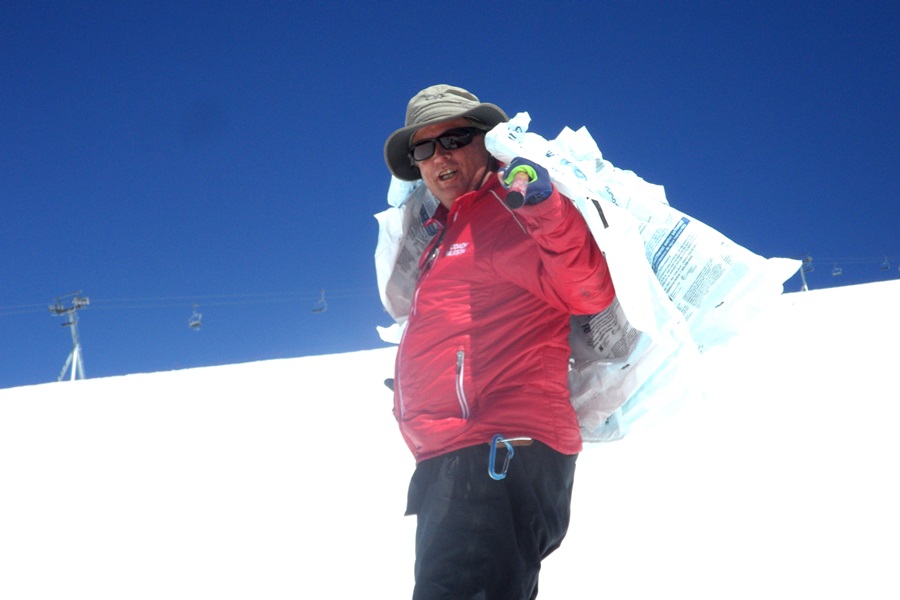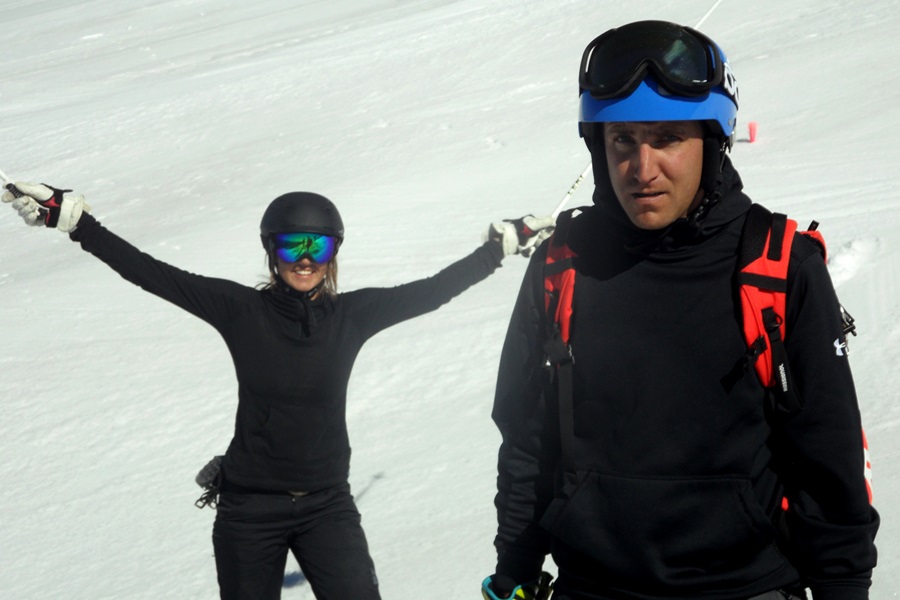 lane 7 urinal is a thing as demonstrated here by Sean Mailey.. Even the girl staffers use it.
#notreesfor2miles
waiting for another salt bag.
decorations.
Merumo attempting a "3".
Session 10, 2017 update
An exciting week at mt hood summer ski camps. There was a butterfly invasion similar to the ones we witnessed in 2006 and 2007. Millions of these "California Turtleshell" butterflies would appear out of nowhere around 11:30am when the temps warmed up and they were flying up the mountain (north). The Bend Bulletin newspaper had this to say about these butterflies. If you want to read up about the 2006 butterfly migration at mt thood, click the "2006" staff update link and scroll down to session 12.
The palmer chairlift was temporarily broken on Thursday morning. After a very slow ride that included approximately 15 stops for the early load coaches, they stopped loading people which game the lift mechanics to fix the issue and get the chair up and running. Coach Ben Nilsson was accidentally left behind at Timothy Lake after "Lake Sports" acitivity on Monday afternoon. Luckily Mark Syrovatka had driven his vehicle there that day too and was able to give him a ride back to camp. Ben apparently followed the wrong trail from the lake back to the road. Rob Engleken celebrated his birthday on Friday. I heard there was a baskin robbins ice cream cake as part of the birthday festivities. There was no water available in the Coho Lodge early in the week due to a water shortage.....the camp sprinklers were the likely culprit. The lawn needs water too! It was wicked hot in the pacific northwest this week with temps over 100 degrees in Portland for 3 consecutive days. Up on Palmer it was warm, but not insane warm. The snowfield is holding up great with only 4 weeks left of summer. Lift lines are short. There was an interesting article about the merge of High Cascade and Windells camps which you can read here. Sounds like they will do the majority of their lodging for both camps down at the Windells campus starting soon. Could mean the end of "cobra dogs" (it's a hot dog stand in Govy if you didn't know).
The kid that broke his arm in two places from session 2 (he landed wrong when jumping over the rail on the lodge catwalk) returned to camp this week for more training. His doctors didn't clear him for pole planting, so he skied around with one ski pole holding it out in front of him all session.
There was a hummingbird in the ski room in the basement on Monday. It couldn't seem to find the door to outside to escape, so Mark Syrovatka and Jake Benda used some ski poles to help guide the hummingbird outside.
A timberline snowcat broke down and was stranded at the top of lane 5 on Tuesday.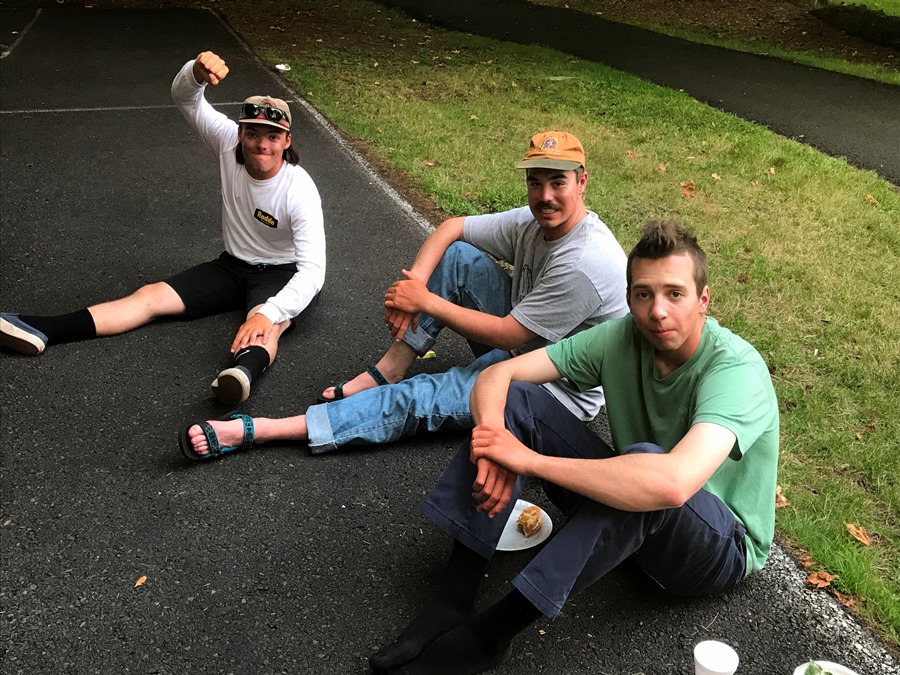 Banana-raspberry ice cream with chocolate sauce!! It's fucking delicious. Yep, I f-bombed.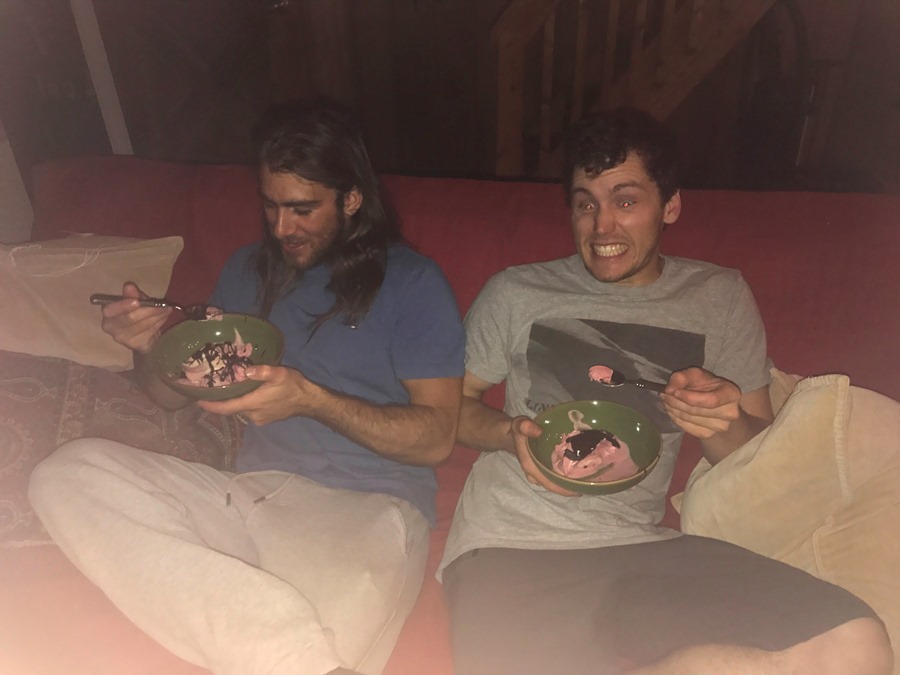 Had a little fun with time lapse video on the way up Palmer the other day
Thick layer of smoke out on the horizon. Great for photos, not so great to breath.
Devan LaMere got a tip in Chinese money $$.
Devan's last day. Prepping her car for her road trip home.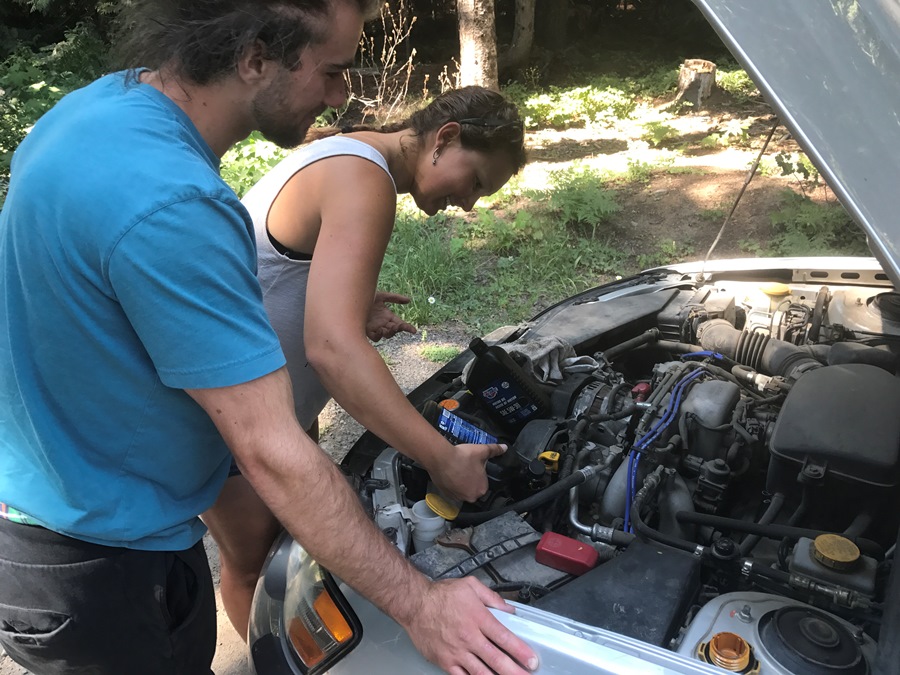 Happy Birthday Robert Johnson. I think he is 53. He wasn't actually there to enjoy this green cake.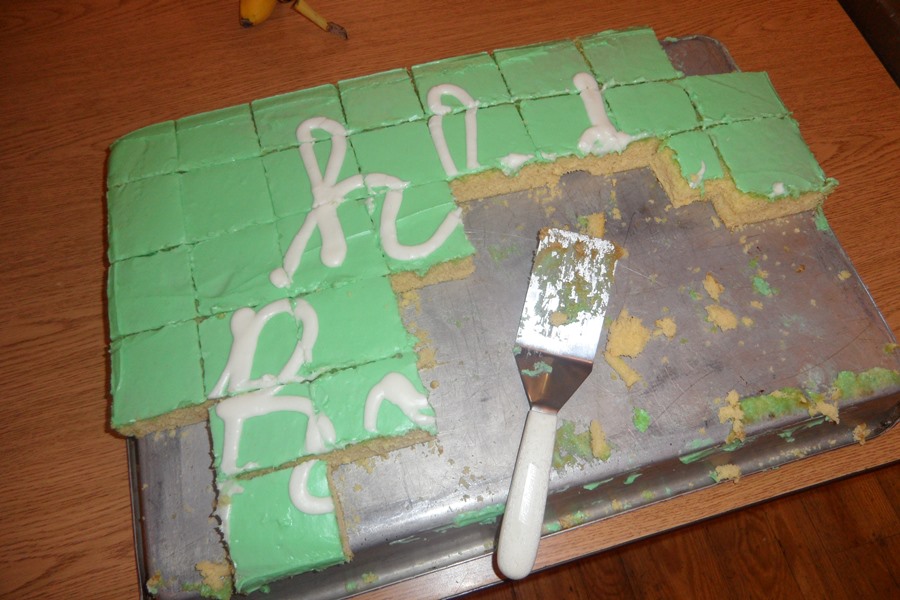 Butterfly invasion! There were some butterflies at Timothy Lake too.
When the chairlift broke on Thursday, the line got significant at the bottom of palmer.
Mogul group from Steamboat Springs, Colorado......using the athletes bodies to help build the jumps.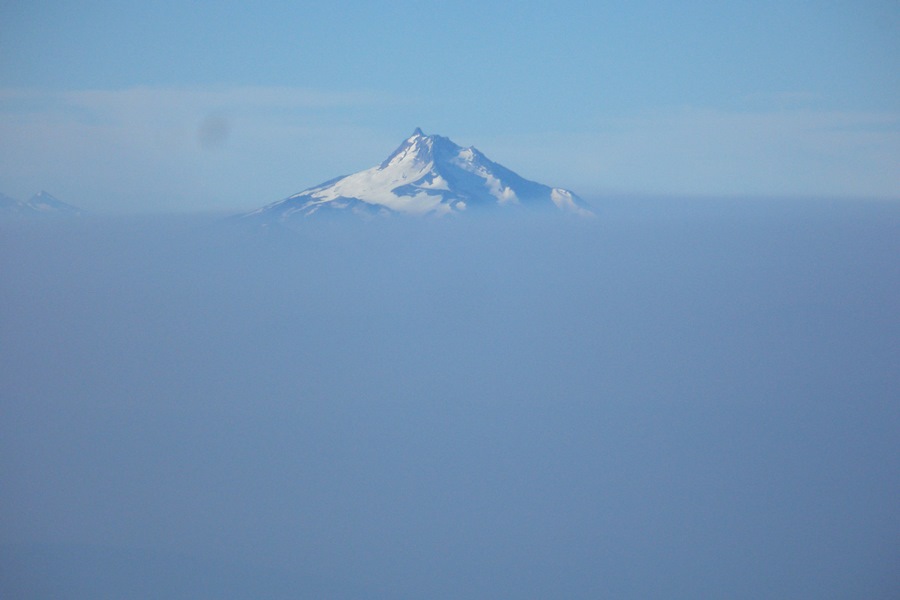 Andrea Dahl, received some colorful chalk in a care package on Friday. Some of the campers displayed some chalk art on the lodge cat-walk including this GS course below.
Session 11, 2017 update
Fifty-Seven.......57 days of no rain has finally ended. Today. Timberline is closed today due to the weather. But it's Sunday, and we aren't up there and it's supposed to be sunny again tomorrow. The 57 dry days in a row is the 3rd longest dry streak in recorded history for this area. The all-time record is 71 days.
The Palmer chairlift was broken for 3+ hours on Tuesday morning. 3 hours of hanging out at the bottom of Palmer with a ton of people. We managed to get "the wave" going a couple times during the 3 hour wait. A few skiers hiked up a little ways to kill time. One group was doing ski drills. Our terrain park peeps hiked over to our private terrain park and got that going. Rumor had it that there was a mechanical/electric issue at mid-station and that none of the senior mechanics were working that day.
Mike Annett was shredding GS on Friday. Jason Hay and Jackie Reis were on the hill this week, coaching for Park City. Jason Hattery came up to shoot some interviews of staff ski racers at the picnic for his ski racing documentary film.
Powder magazine article about skiing mt hood until labor day.
Before and after pics of HOT picnic run on Wednesday. *photo credit Andrea Dahl
AFTER!
#sweaty
Chad McLaughlin with the virtual reality goggles.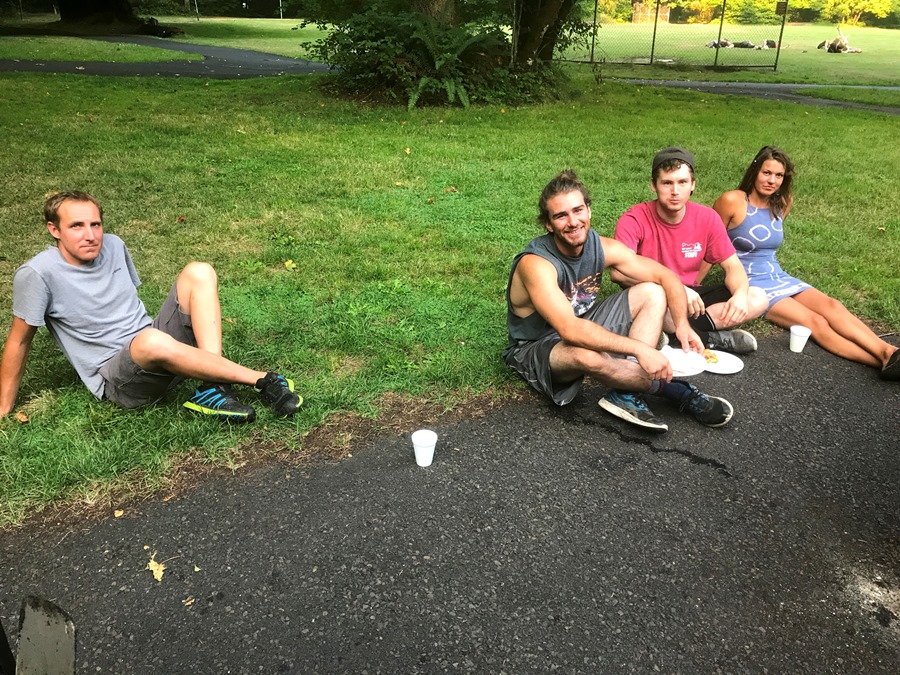 sunrise
The annual fancy schmancy classic cars day in the Timberline parking lot. This is a regular stopping point on their way to Pebble Beach.
My first trip to "cobra dogs" for Thursday dinner. Cobra dogs plans on staying put in Govy next summer despite High Cascade snowboard camp moving their headquarters to the Windells Campus 18 miles west.
"cheddaconda" with cobra sauce and bacon bits.
Golden Poles has half a roof now.
The view from ski bowl west.....still lots of smoke in the air, as you can see.
Friday...tired campers at the top of lane 6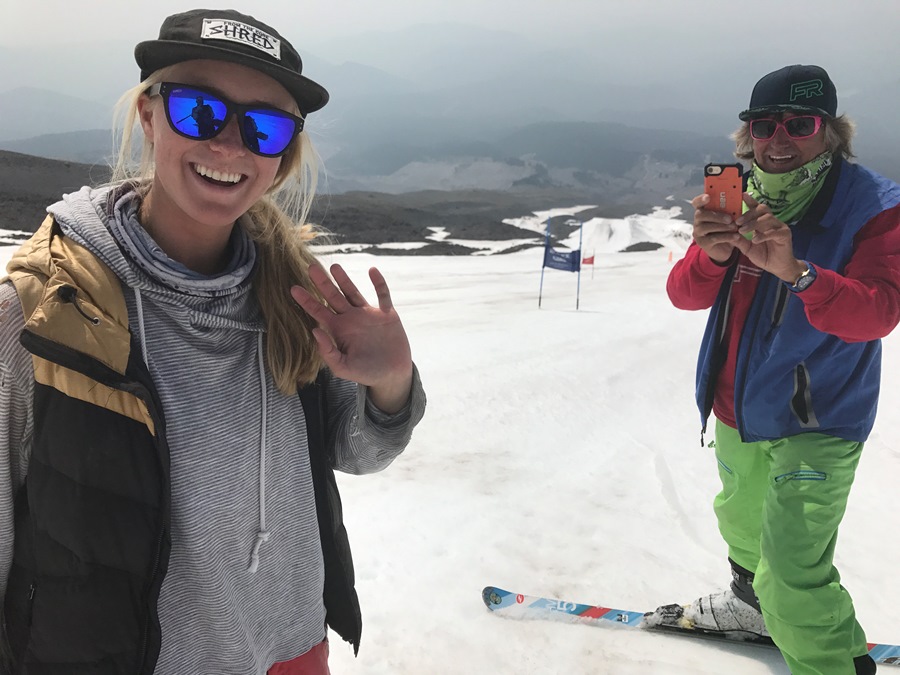 The final day of High Cascade/Windells for summer '17. This area below mid-station Palmer, becomes the public terrain park until Labor Day.
#makeyourownshade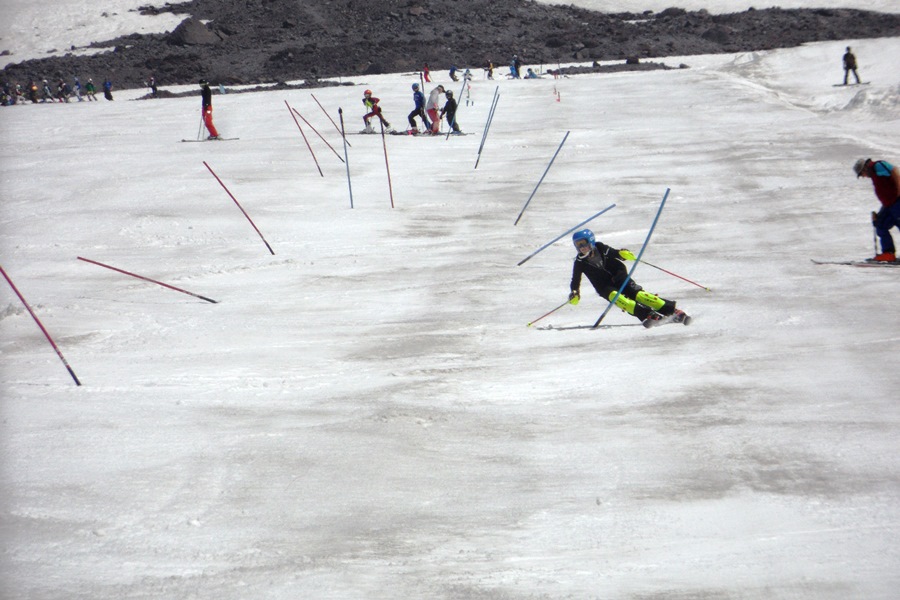 Rebecca Rist was willing to arm wrestle anyone in the terrain park on Wednesday. I think she went undefeated.
Former mhssc terrain park videographer, Jeff Holce, made a guest appearance this week.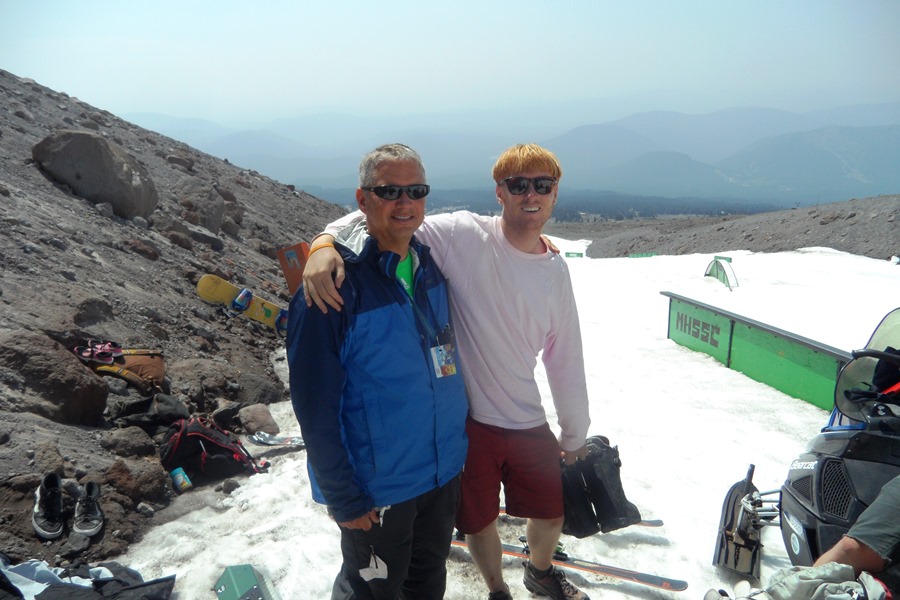 level shoulders.
This camper crashed about 70 - 80% of his runs. It was quite remarkable his crash frequency. I had to be careful where I would film from every time he came down the mountain. Had to dodge him once to avoid major injury.
former mhssc mogul coach, Jon O'Brien, leading his Wasatch freestyle team in a morning yoga stretch.
Banana raspberry w/chocolate syrup homemade ice cream.
Butterflies last week, this week grasshoppers. Not a lot of them and they weren't very active. Just chillin' out on the snow.
Sunday, August 13, 2017....the 57-day nice weather streak is over...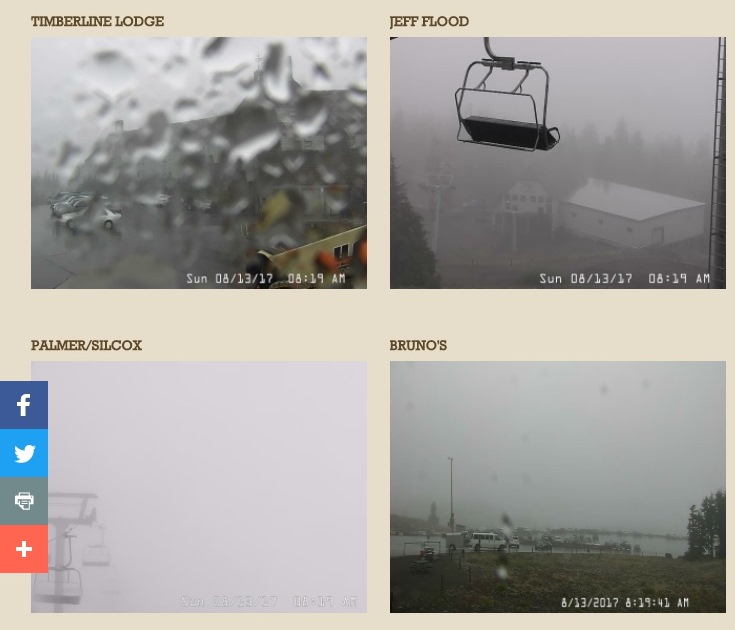 Session 12, 2017 update
Charcoal was banned at the picnic this week due to the impending eclipse......what?! We had to rent a gas grill to cook the burgers. (see photo). Bill Toney rode his bike up to Timberline to recover a camp van. The snow on the bottom of Palmer loading ramp has finally melted out, and the groomers are doing pushing snow on it. Still tons of snow on the mountain though for this late into the summer. Lanes 1-6 are still fully intact, although there are rocks poking thru near the bottom of the public lane as well as in lanes 7 (moguls) and beyond. Not too many camps are on the hill, so plenty of space for everybody. Nicole Cordingley lost her ski boot tongue and used to hats to fill in that space. This was session 11 news, but Roger Bay went diving in Timothy Lake......and forgot he had his smart phone in his pocket. After a few days of drying, it began to work again. Mark Syrovatka spoke while in 'silent rocks' on Thursday. There was a rock slide on the steel cliffs on Friday. The gas price at the Chevron in Govy went up 45 cents per gallon a few days ago to take advantage of eclipse travelers. There was a drowned dead chipmunk in one of the dorm room bathroom toilets on Friday (see pic). Not sure what this chipmunk was trying to do. Get a drink of water and couldn't get back out? We had a mogul skier from the Ukraine this week with very limited english. Coach Darren Owen used a google translater on his smart phone as part of his communication with him. The Ukraine skier gave the mhssc staff lots of delicious chocolate and other candy treats. Erica Carras made a guest appearance at dinner on Tuesday.
Looking ahead, we have this eclipse thing coming our way tomorrow morning. Timberline is supposed to get 97% coverage, so not quite a total eclipse. You'd have to drive a bit south to get the full thing. Regardless, Timberline, Mt Hood Meadows and Ski Bowl all have eclipse events that include chairlift rides. Timberline sold out 1000 magic mile chairlift rides @ $29 per person. Mike Annett told me that the national guard will be manning the road to Timberline in the morning to make sure only ski camp people and eclipse event goers are allowed up the road, as there isn't a ton of parking up there. They also closed the atlernate "west leg road" that weaves thru the lower mountain up to the resort.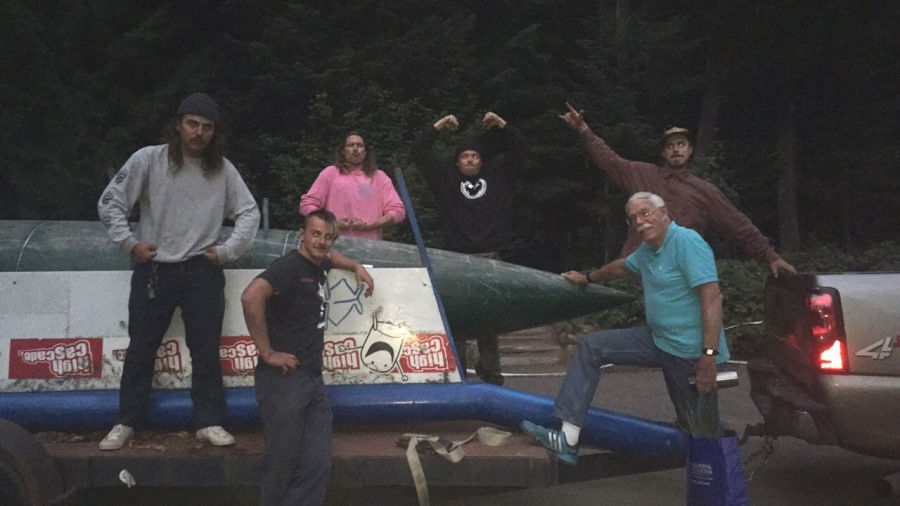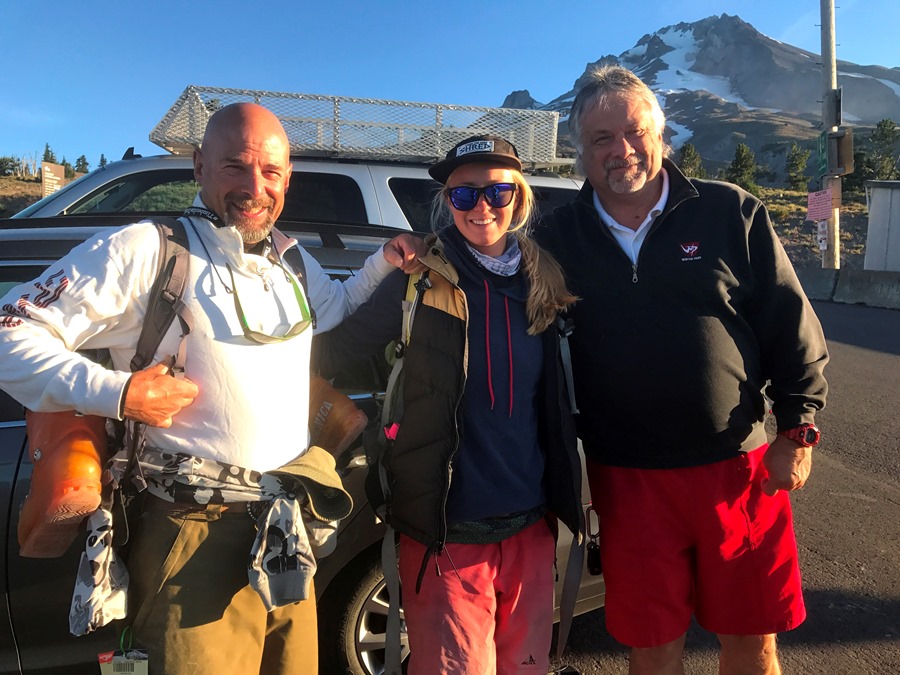 There is a charcoal ban in the state of Oregon right now. So this rented gas grill was our plan B.
walking on someone's back was trending this week.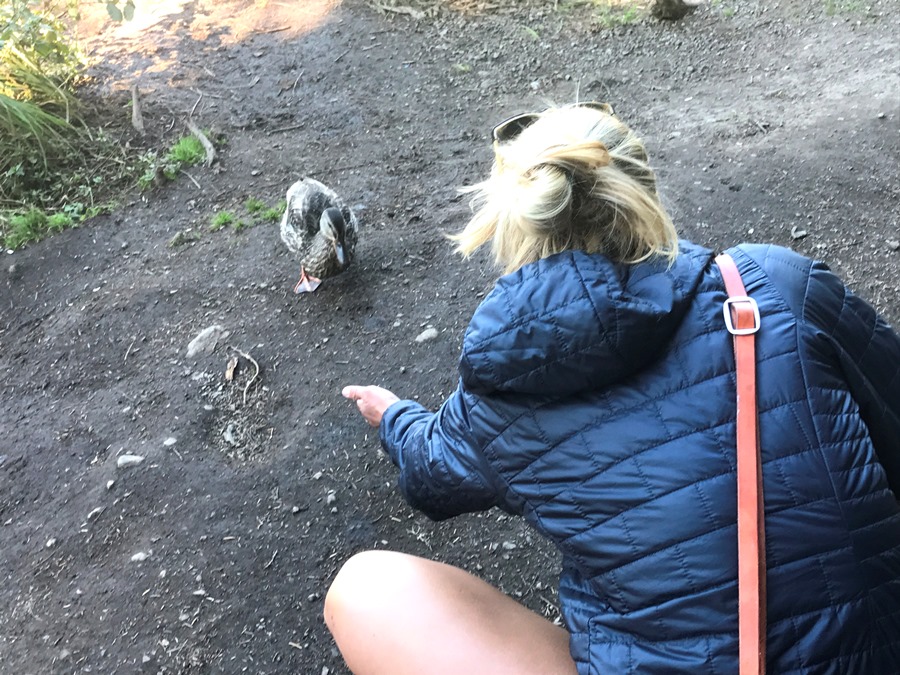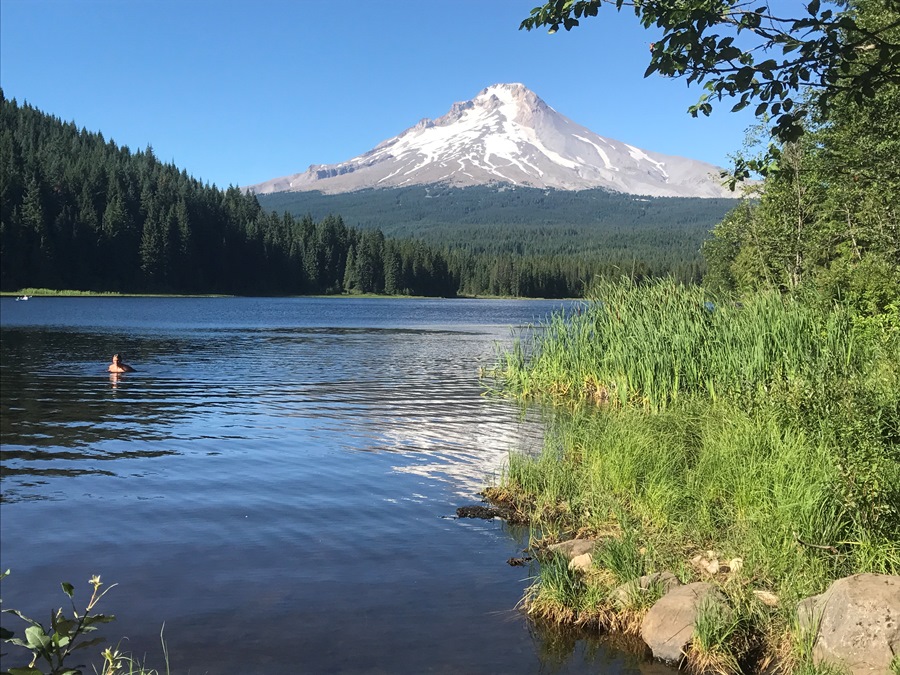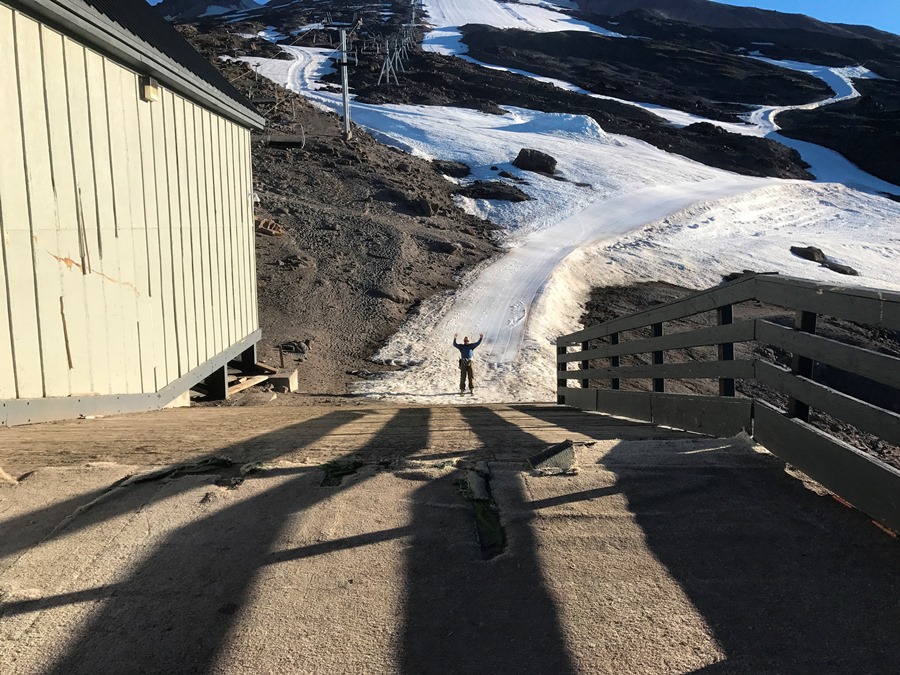 a couple of forest fires are happening east of the cascade mountain range.
dead chipmunk in the toilet in one of the dorm room bathrooms.
Rodent patrol at Parham. Bait = tahini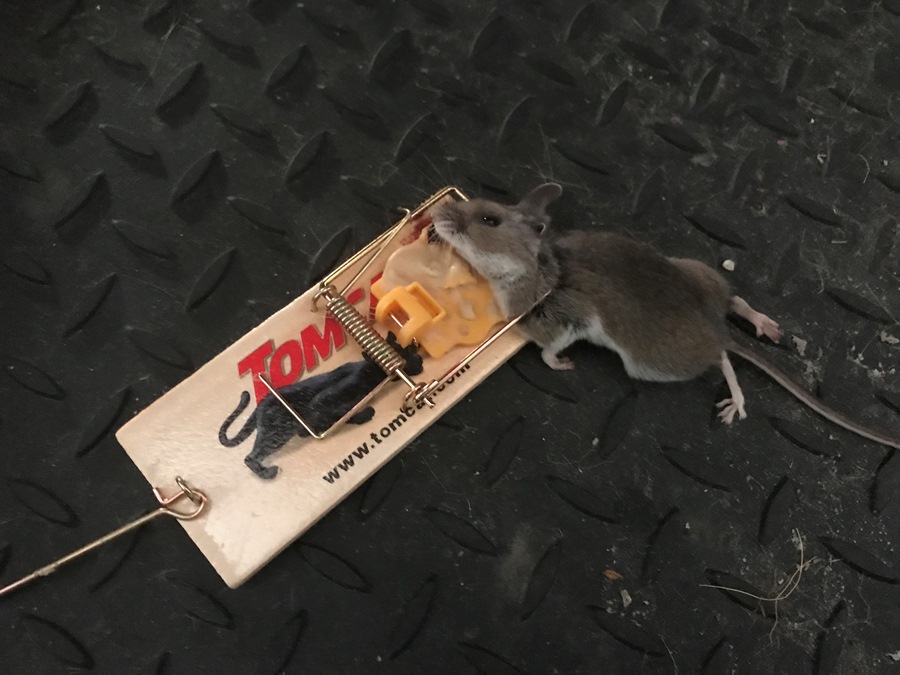 Rodent feeding! *photos by Nicole Cordingley. Bait = peanut.
The freeski group used the mogul jump area on Monday while the new public terrain park was under construction.
ice cream! *using healthy ingredients.
Below is a snowboard hurling down the mogul lane. This came from an injured public guy that the ski patrol was dealing with about 75 yards above me. The 2nd photo below is Nicole Cordingley, who was able to stop the board before it headed down below mid station road.
nice save Nicole!
The photo below (a bit out of focus) is of Andrea Dahl. This is post "worst-crash-of-the-summer" (at least that I have witnessed). Her ski popped off in the GS course on lane 6 and her momentum caused to to tumble a super long way and into the bottom of the mogul lane, just missing the big "stop" sign that is there to keep poachers off the jump. Despite her major tumble, she was mostly 'ok'.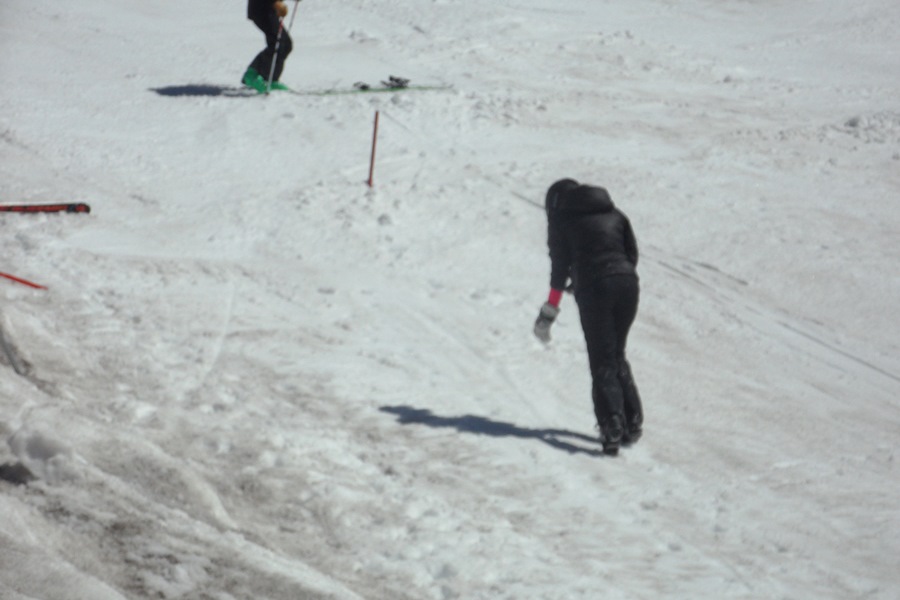 Mike shredding GS!
Click the Timberline eclipse pic below for more details.
Session 13, 2017 update
We got to experience a 97% eclipse from the top of the Palmer chairlift on Monday. It was quite amazing! There was lots of media hype about pre-eclipe traffic and that the Timberline parking lot would be filled to capacity and would have to turn people away. Those things never happened. Pre-eclipse traffic was barely noticeable. And the Tline parking lot might have been 2/3 full the morning of the event. Timberline supposedly sold 1000 magic mile lift tickets to eclipse goers, but as you can see in a photo below, there were maybe 100-200 people there. Only a small handful of public bought actual regular lift tickets and went skiing on Palmer. You had to travel south a bit to witness the 100% totality.
Tuesday, forest fire smoke filled the air on the mountain. Really thick stuff. Then around 12 noon on Tuesday, the palmer chairlift broke down. The fired up the back up diesel power to get people off the chair, but didn't load anyone after that. We had 3 slalom courses still in the ground, about a half dozen kids backpacks at the top, as well as a handful of other stuff we had to deal with, without the use of a moving chairlift. Luckily one of the Timberline salt shack guys helped carry the backpacks down. Darren Owen, the mogul coach, pulled the bottom slalom course. We got it done! Speaking of Darren, his double cheeseburger hit the ground after he was bumped in the elbow at the picnic on Wednesday seconds after he took it off the grill. Friday was the annual 'hood-to-coast' relay race (running). 199 miles from Timberline parking lot to Seaside, Oregon it teams of 12 runner, who each run three separate 4-7 mile legs. There was a clif bar booth near the hood-to-coast start, handing out free samples of those newer nut butter filled clif bars. I grabbed the campers that were in the bus and took them over there to get handfuls of free clif bars!. yay!
Bizarre story from the hood-to-coast event......one of the runners stole a truck and ran over another runner, who was resting in a sleep area before her 3rd and final leg. Luckily the woman who got ran over is mostly fine. No broken bones. More on the story-->> here. crazy!
Pre-eclipse warning! This was Sunday afternoon in Rhododendron.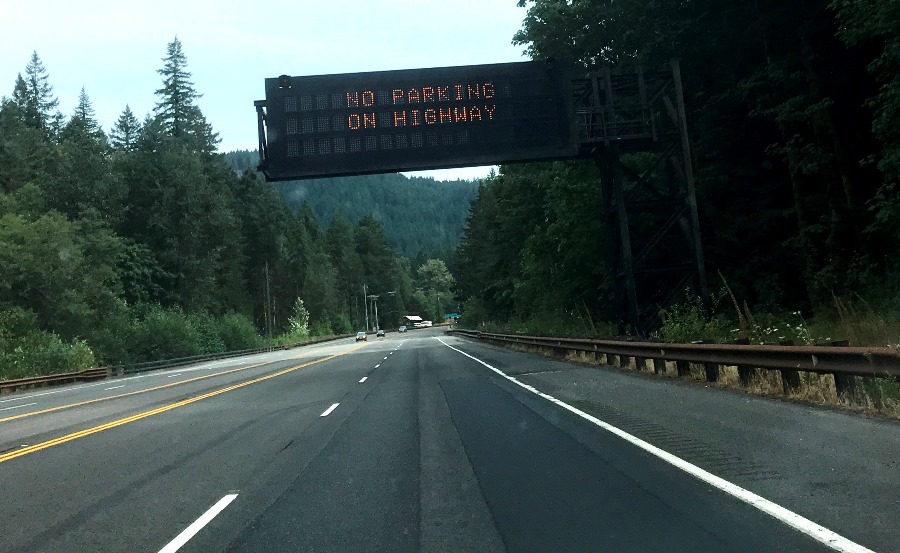 This was the scene at the top of magic mile around 7am, about 3 hours before the eclipse.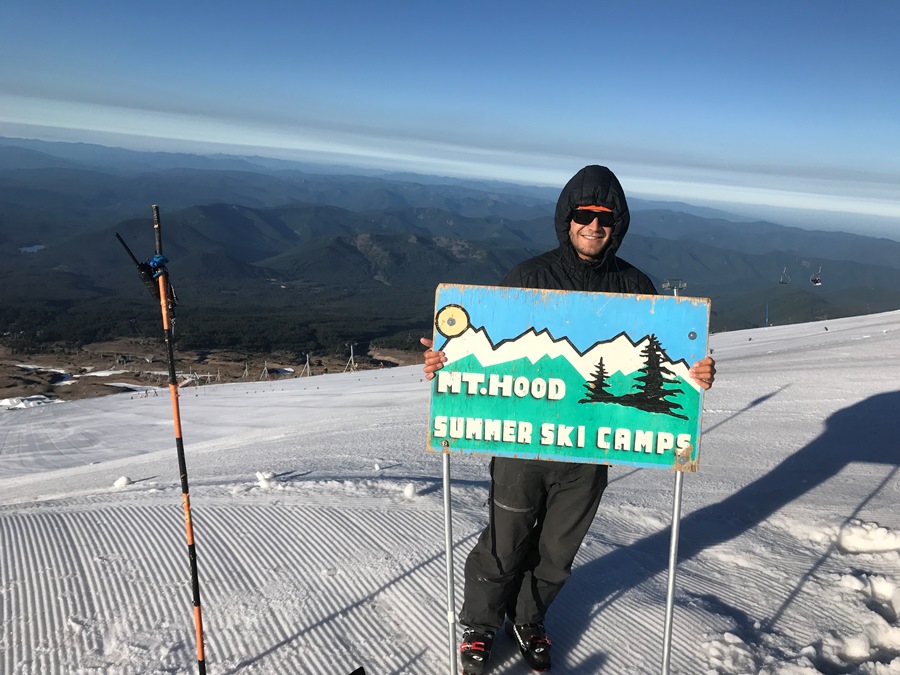 Jake Benda had his fancy schmancy REI eclipse viewing goggles.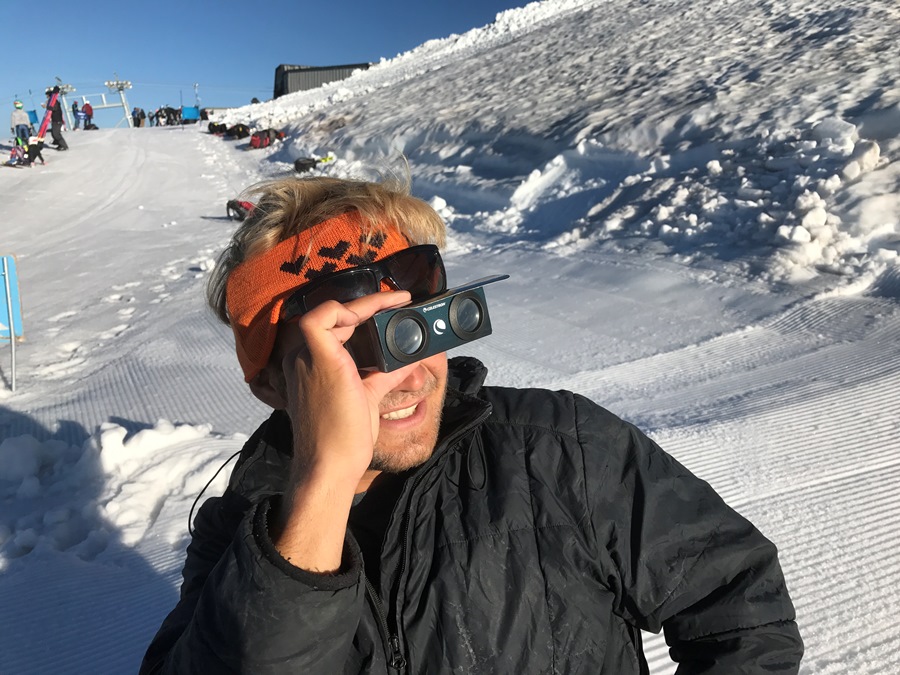 There was a few eclipse memorabilia items in the Timberline gift shop, including these stickers.
Day AFTER the eclipse, the forest fire smoke from Eastern Oregon fires really thickened up the air.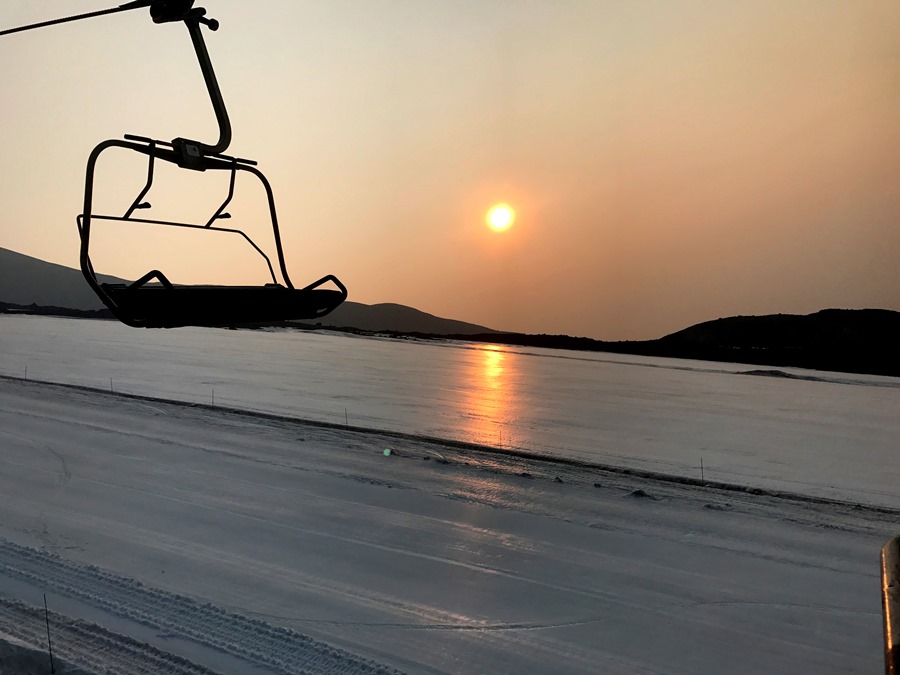 Makai Bradley (right) made an appearance on the hill mid-week, as he put in 2 days of ski patrol duty.
The view from the top of ski bowl west.
Jake Benda caught this little guy, who was stealing lunches from campers' backpacks at the top of lane 6.
There's a short video or Jake's chipmunk here

A little celebration toasting Ben Nilsson's last day of coaching summer '17.
Hood to Coast.
free clif bars!
Tuesday's smokey skies
Session 13 ice cream party with special guests Makai Bradley and Terry McLeod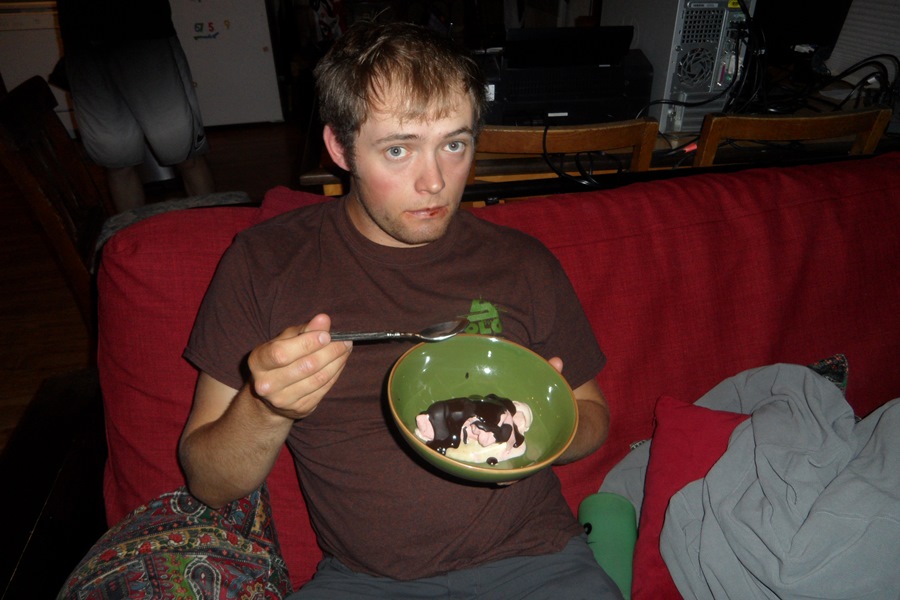 Rebecca Rist!
Next 3 eclipse pics by Jake Benda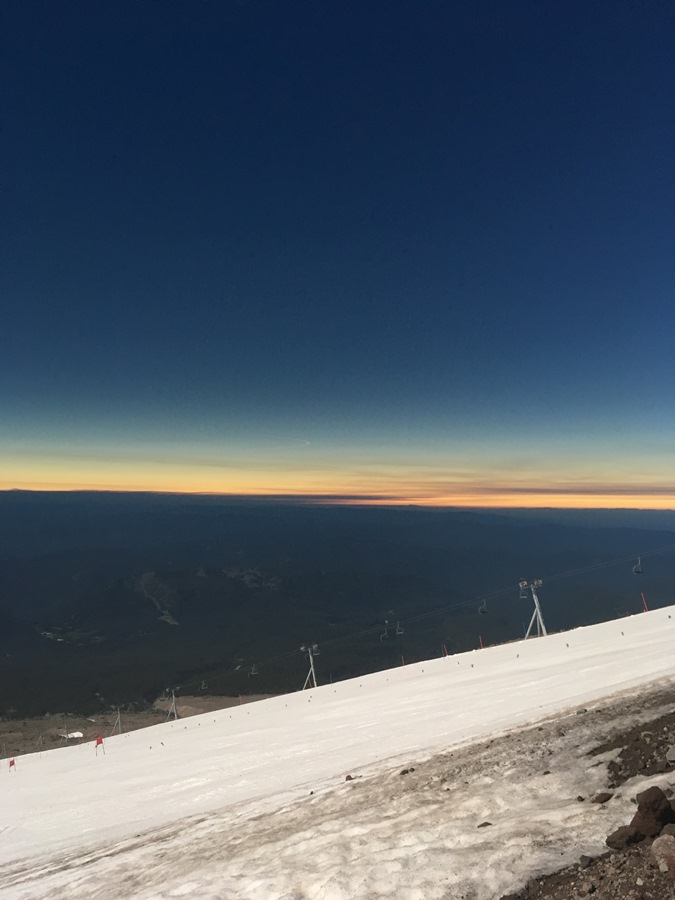 *photo credit Fuxi next 2 pics
Session 14, 2017 update
It's over! It went by fast. Still lots of snow left despite a very mild/dry summer.
Mike Foley returned to the coaching ranks at MHSSC this week. It was great to have him back in the fold. We had about 30 adult campers to wrap up the summer, about half of which were mogul skiers. The forest fire smoke was thick on Monday. So thick, that one of the adult campers decided to bail for home after driving to the mountain on Monday morning. The smoke eased up the rest of the session, which was nice. Prescott McLaughlin made 70 cookies for lunches on Wednesday afternoon. All but 12 were stolen from the trays in the kitchen. Patrick Foster took 2 adult campers on a hike to Tamanawas Falls on Friday. One of the campers brought his drone and got some good drone pics. Rick Millett shared his peanut butter and jelly sandwich with a chipmunk!! Check out his instagram page.
smoke filled Monday.
Did an evening hike to twin lakes on Tuesday after dinner. It was pretty much pitch black for much of the hike back to the car. Had to use my iphone flashlight to see the trail. This picture was lower twin lake.
Steak'n'bacon for Rick Millett. As you can see in the background, the regular charcoal grills were covered up with big plastic garbage bags, as the no-fire ban is still in effect. This was our 3rd week in a row, we had to rent a gas grill at the camp picnic.
Robert......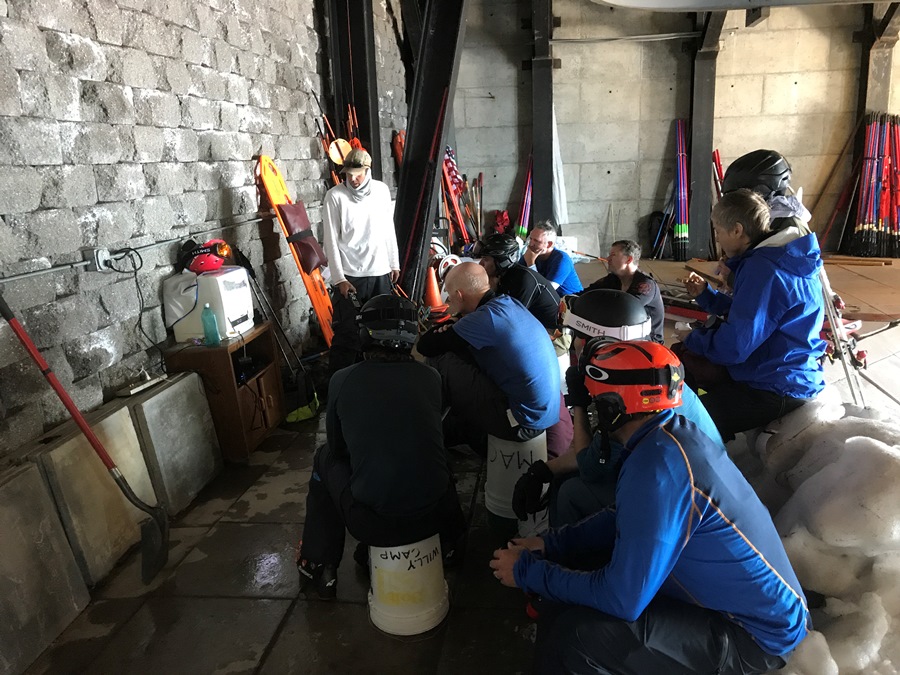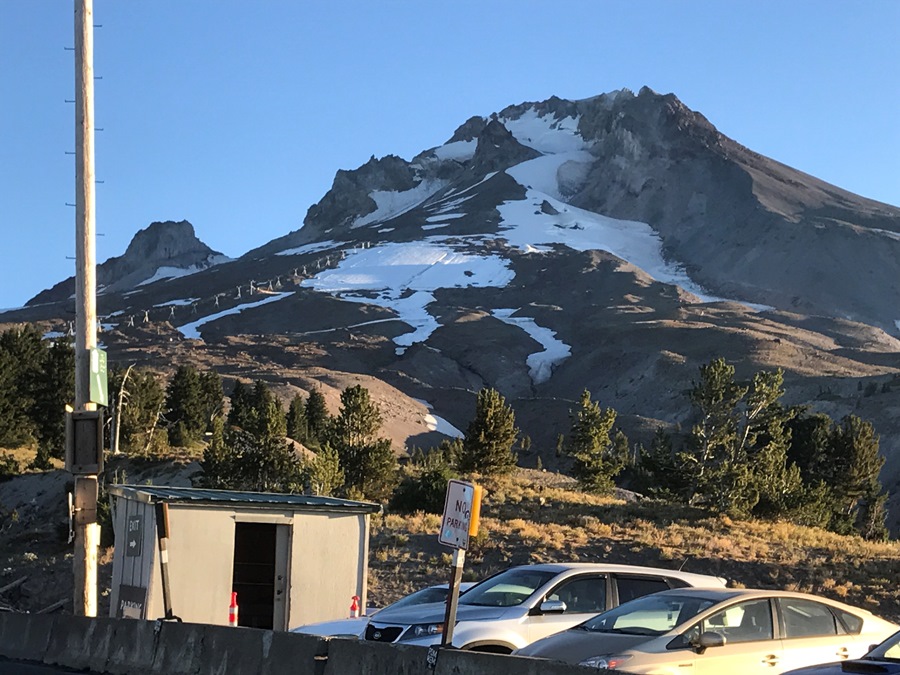 PBR sweater!
Foley!!
"clear!"
This could be Fuxi's last summer having a ski retail store in Govy. He plans on returning to mt hood next summer, but on a limited basis. And as you can see, he can still ski pretty well!
Photo of the mile canyon on the last day of camp. *photo credit Darren Owen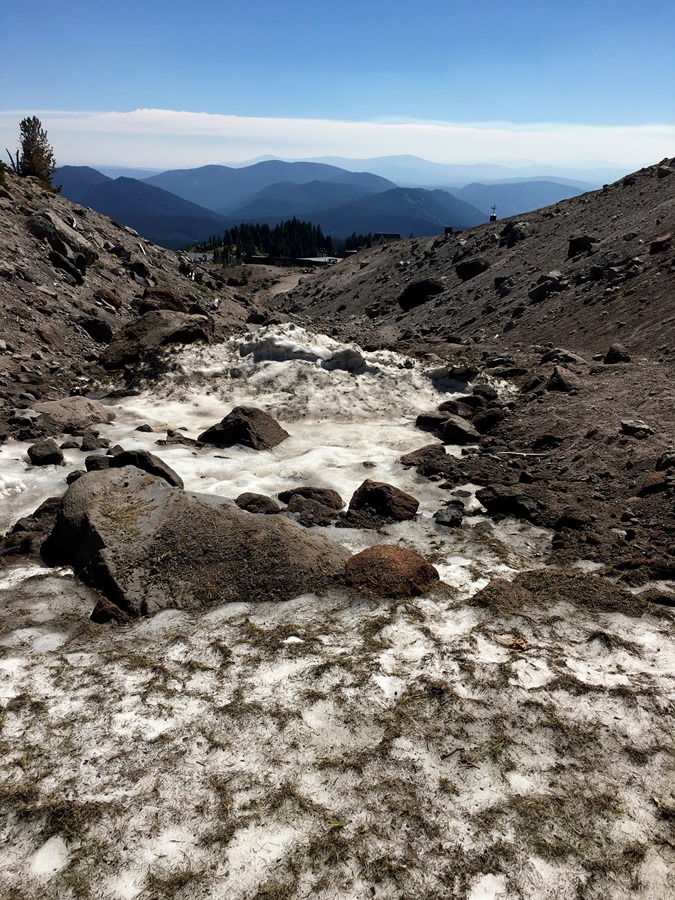 Prescott was having car issues. He had to delay his trip home for several hours. As of this posting, I'm not sure he and his dad made it all the way across the country in his not so fixed car.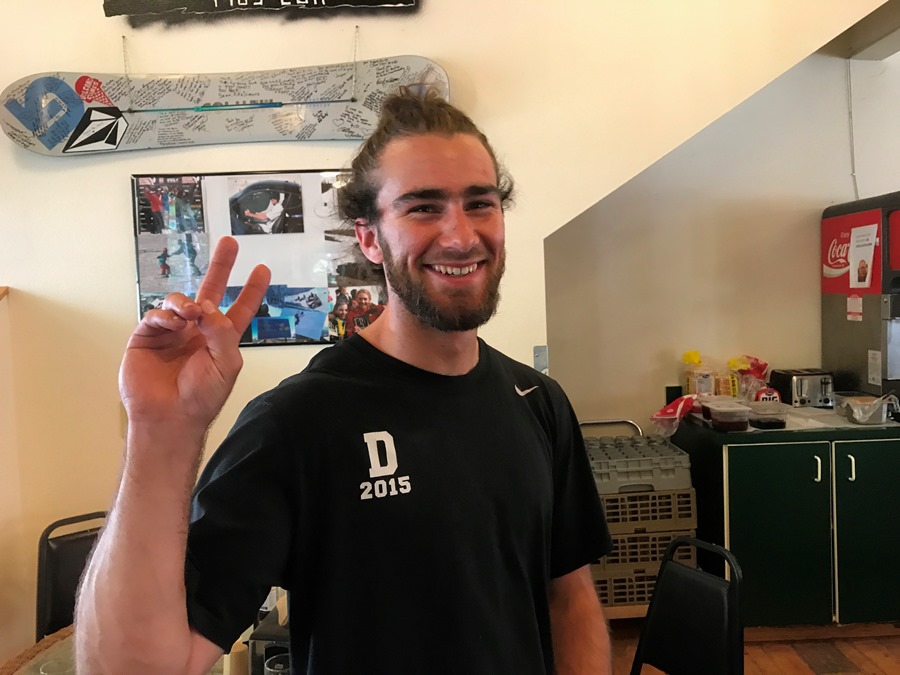 Last day of ski camp party at Charlie's.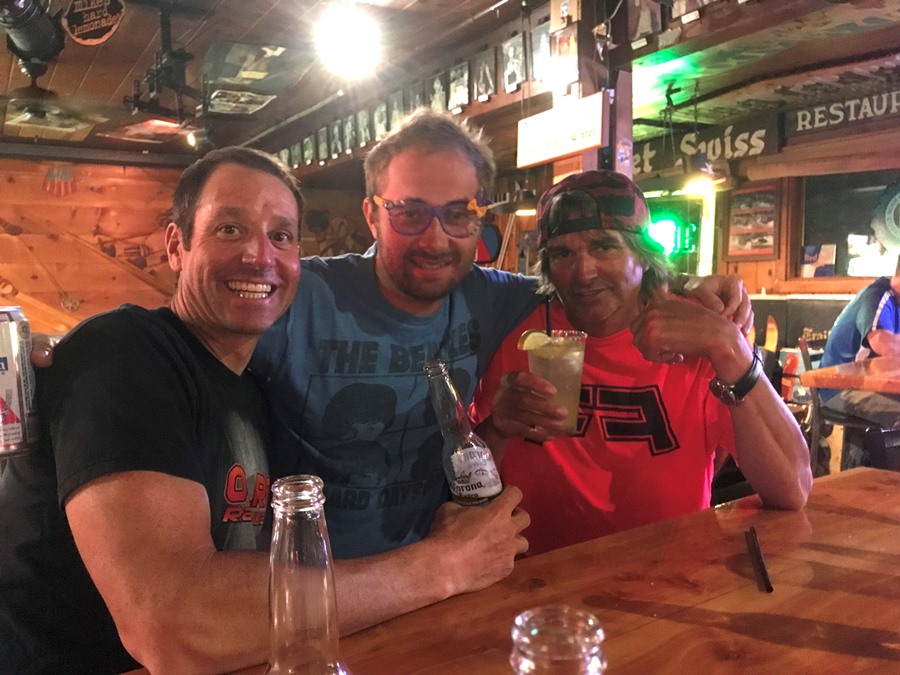 Former staffer Luke Wendel and his lovely wife Emily showed up at the party too!
Andrea Dahl forgot her boot dryer at camp when she left for home on Saturday morning. We called her some 10 minutes later and she drove back to get it......just in time for me to snap this photo of her and Bill Toney.
Somebody's car got messed up in Govy. They really got after it.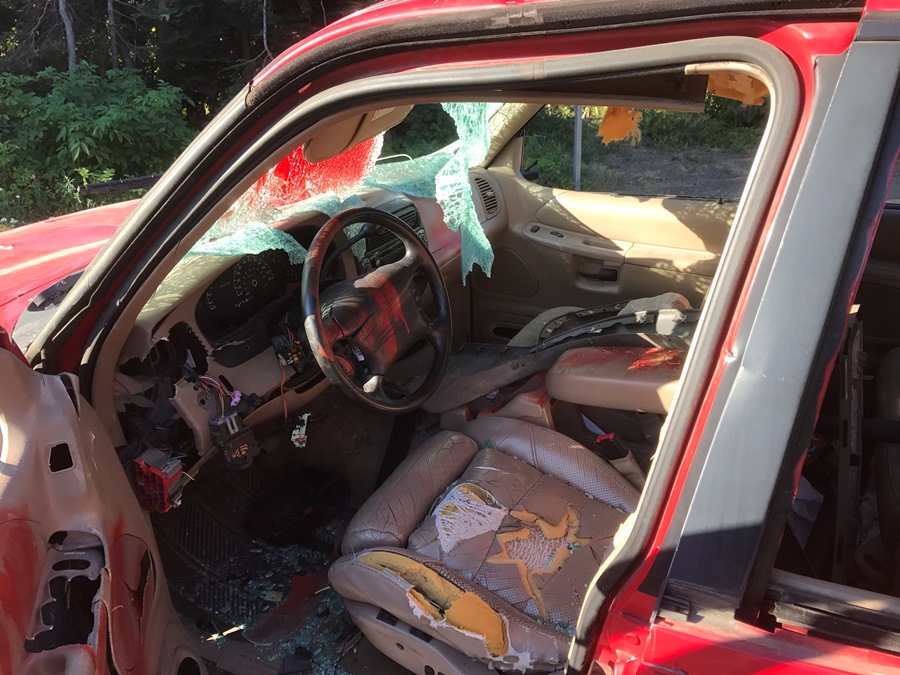 77 year old camper, Don Smith, making his 22nd appearance at MHSSC in the last 27 years.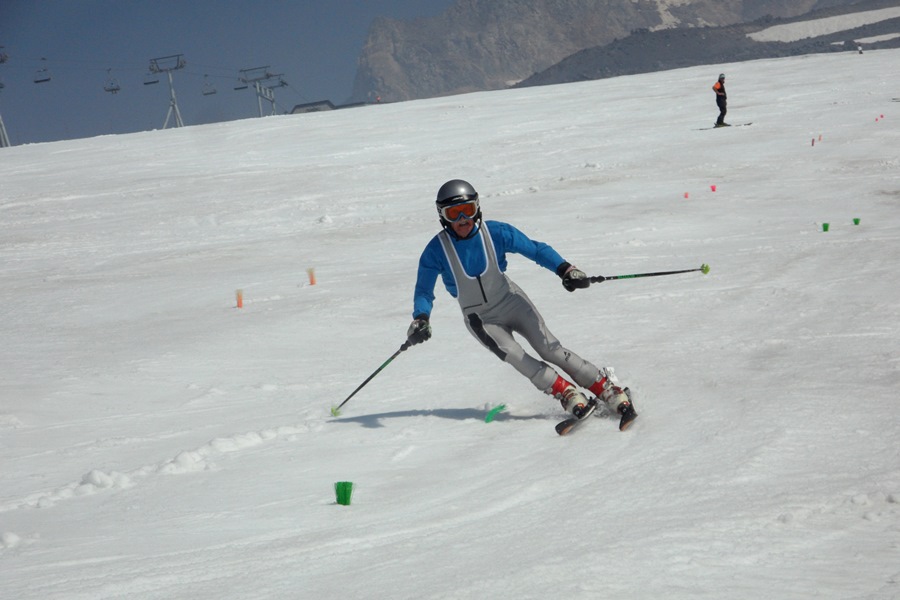 The new owners of "Parham", had a deck built this past week or so. This was the 3rd set of owners of this Govy cabin over the 25+ years we've been renting it. Pretty sweet deck! They also plan on replacing the roof and getting a hot tub in the near future.
There were these 3 brothers in the mogul camp, that really got creative off the jumps. Freestyle is back!
morning photo by Darren Owen from the chairlift.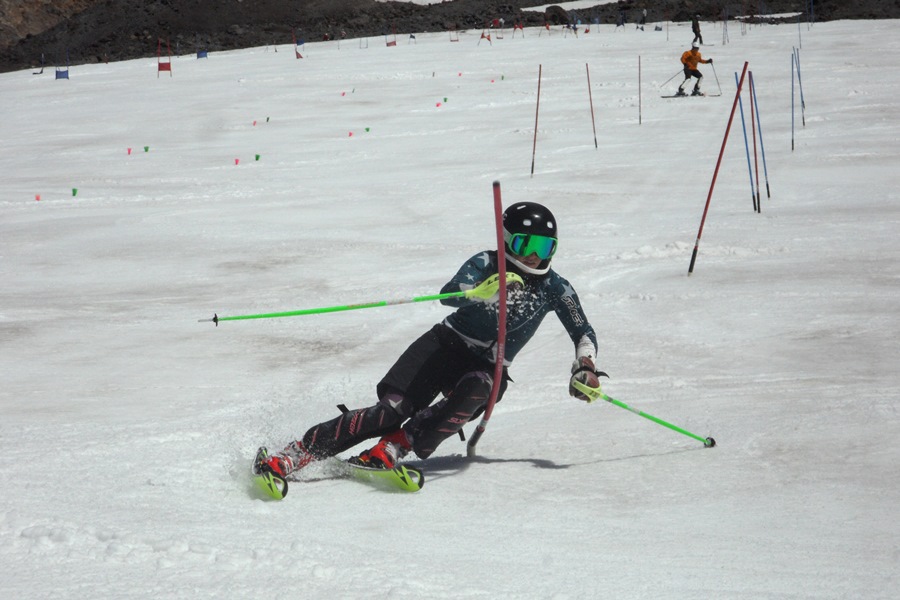 Final download on Friday....another excellent summer is in the books.
That's all folks!