2014
Before we get into session 1, you should watch this (if you haven't done so already). This was taped last August 2013, and aired in March of 2014 on Oregon Public Broadcasting's "Oregon Field Guide".
Session 1, 2014 staff update:
We only had 3 campers for session 1, all adults. We skied on Pucci 2 days, and 3 days on the magic mile. Palmer opened up on Friday. At the end of the session, I asked all 3 campers to rate their camp experience on a scale from 1 to 10. Got two "10's" and one "9.5". The 9.5 guy said it would have been "10" if there were potato chips available for lunch. Mark Syrovatka coached the 2 racers and Mike Foley coached the learn to ski better guy, who ended up loving gate training and might come back for adult camp in August. There was a road kill deer about a mile from camp on highway 26 early in the week. I saw a wolf munching on it on Tuesday morning. Also saw 2 elk crossing the highway near camp. I've only seen elk at Mt Hood 3 times ever. The snow was INSANE sticky on Wednesday. It had snowed a couple inches the night before, then it got warm, then toss in some thick fog and that equals major sticky. At the end of that day, Mark Syro grabbed both bundles of gates over his shoulders, plus his heavy backpack and watched him straight shoot it thru the sticky snow like it was nothing. Meanwhile, it took me about 15 minutes to ski down to the parking lot. Camp picnic was at Hood River marina. We shared the park with another group that was having a birthday party celebration. They offered us birthday cake. There's a new pool table in Coho basement. Matt ___?, who is not really a camp employee, camped out on the soccer field in his tent. He did the "adopt a highway" cleanup on highway 26 on Friday. Patrick Tingle built a new weight lifting platform in the basement. He also helped me clean "double secret" room where we found a dried up dead chipmunk (see photo below). Chase Kerzel and Reid Lambres have been working on a mountain bike trail between camp and Pioneer Women's Grave, just off of highway 35. Robert Johnson helped out in the kitchen during session 1, as the Kstaff only had Reid Lambres working. We have 3 newer vans in the camp vehicle fleet. They are all white. One van is nicknamed "great white". Another is named "ghost" and the 3rd van doesn't have a name yet. Any suggestions? None of the adults wanted to do any afternoon activities during session 1, with the exception of a 3-hour long tuning clinic, given by Mark Syro.
Former staffer, Chad Kossar, saved someone from drowning!! Read this on his facebook page: Well, today brought a bit more activity than expected for a Memorial Day on the beach. While Kris and I were throwing around a football in the ocean he noticed a man nearby who appeared to be flailing his arms awkwardly at the water. No shouts for help, but it quickly became apparent that something was not quite right. By the time I was able to swim out to him he was face down in the water and hardly moving. Being about twice my size it was all I could do to try to keep his head above water in a strong current. A special thank you to the two total strangers who recognized the situation from the beach and helped me swim him towards the shore and then drag him up onto the beach. Once we got him rolled up on his side on the beach he coughed up quite a bit of seawater and returned to normal breathing with marginal conciousness as the paramedics arrived. My thoughts tonight go to him for a healthy recovery. Just a friendly reminder to you water-lovin' friends out there to keep an eye out for those around you and to remember that drowning victims don't usually look or sound like they're drowning. Be safe.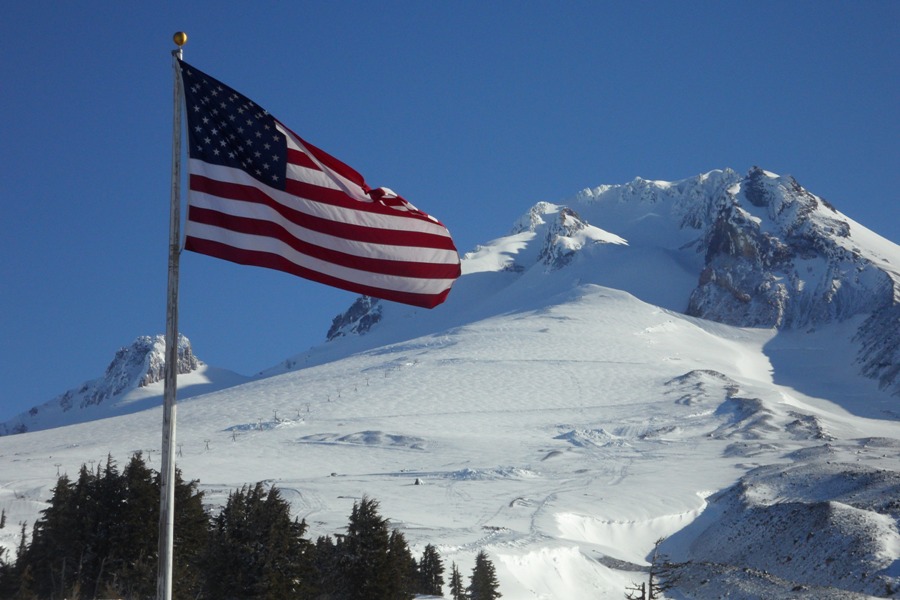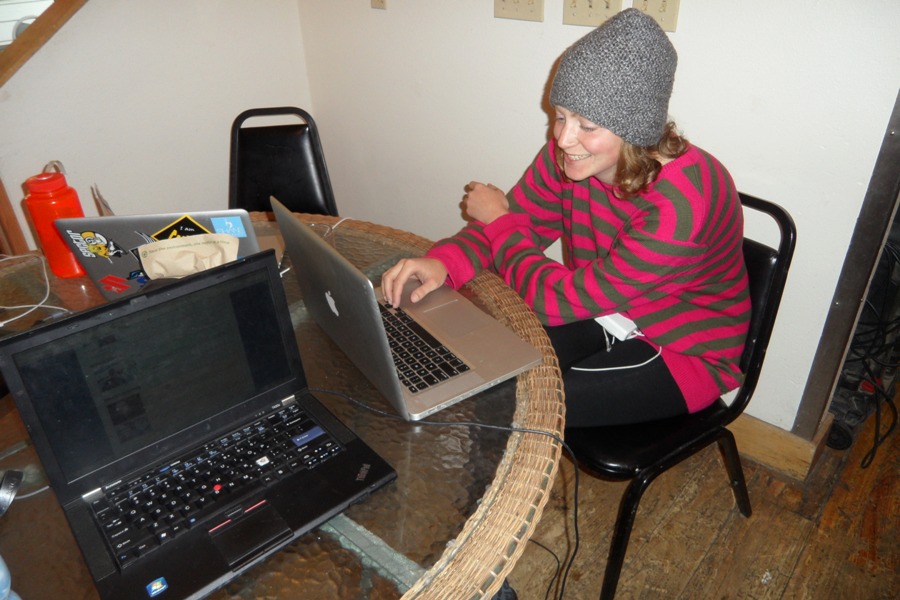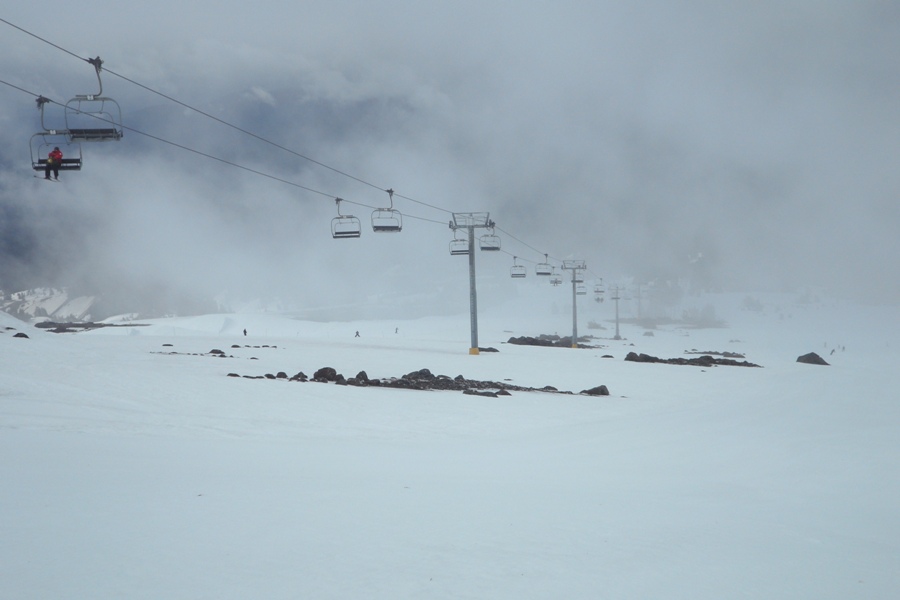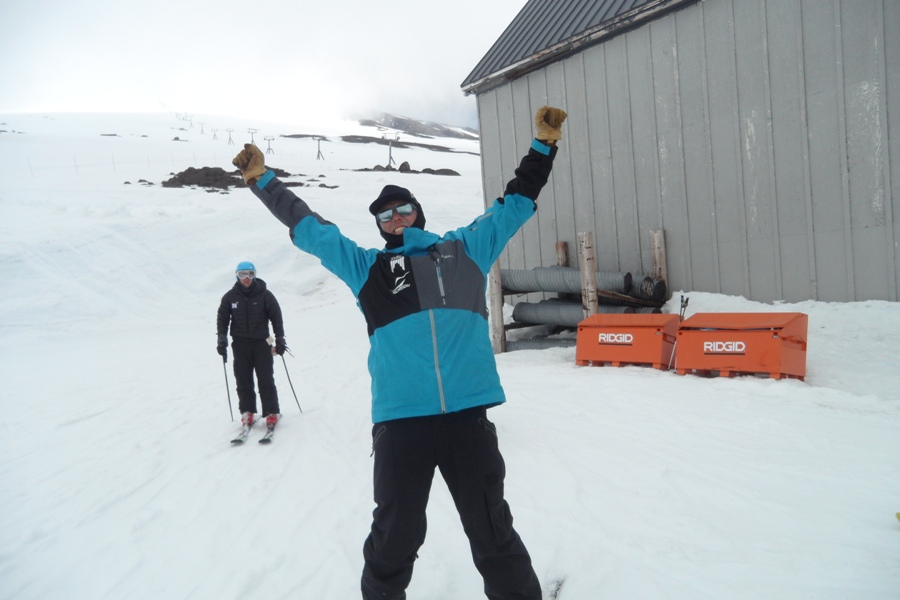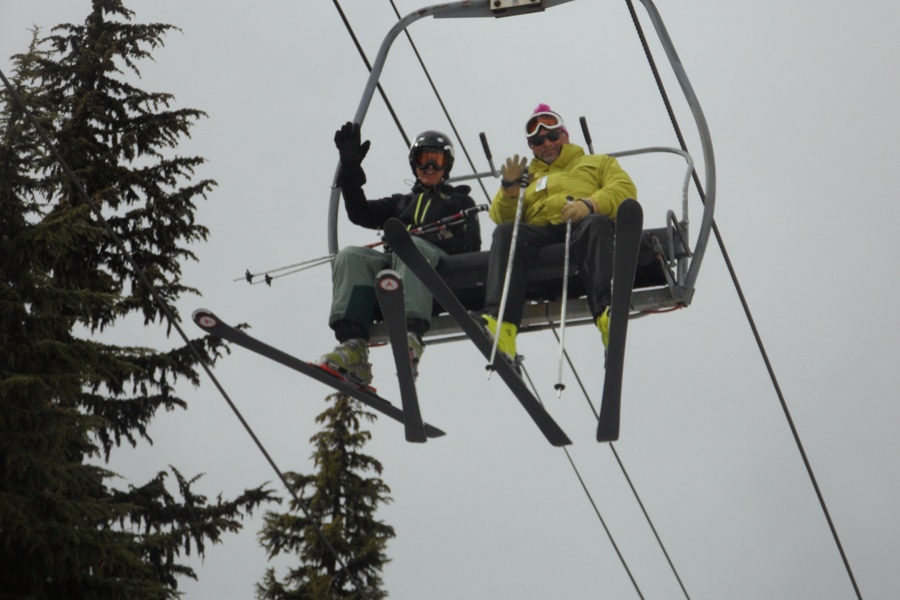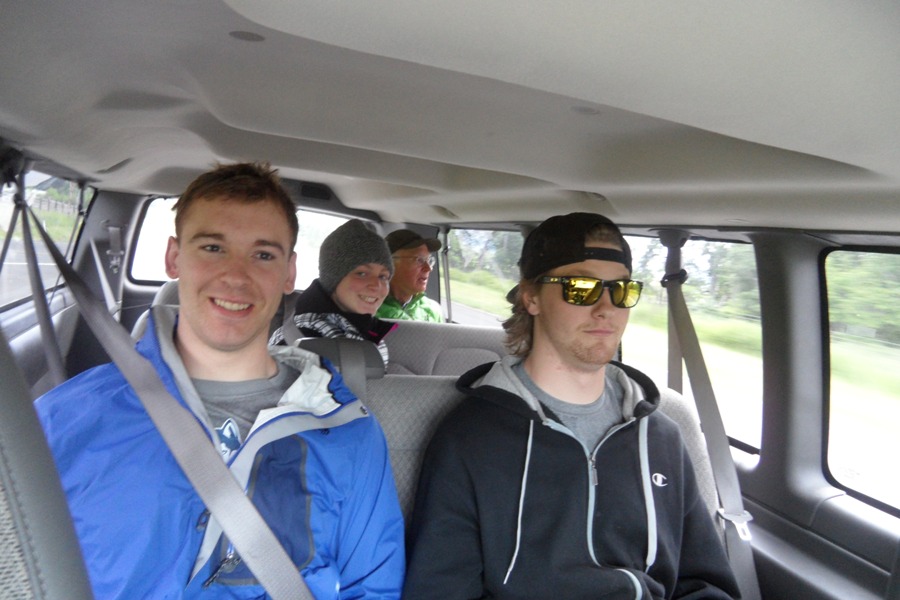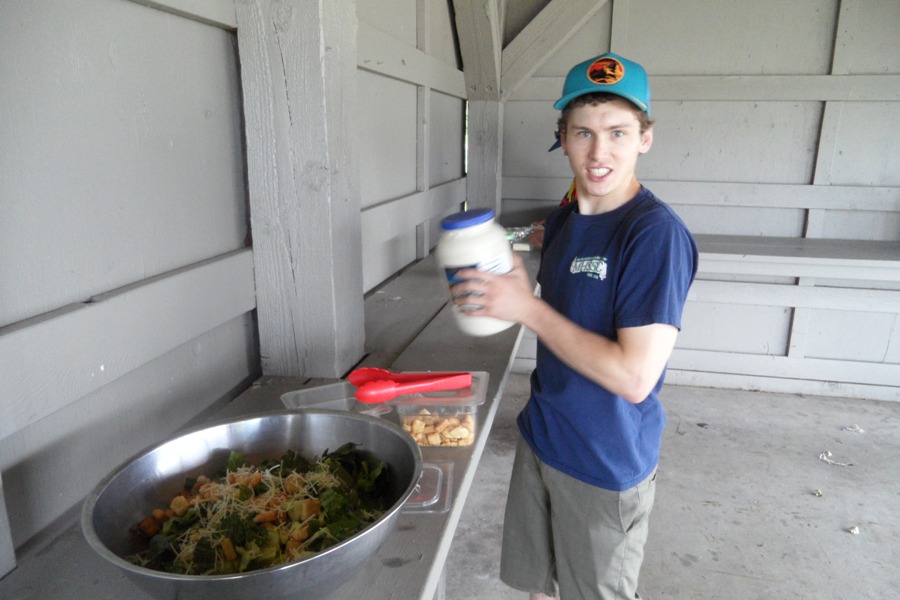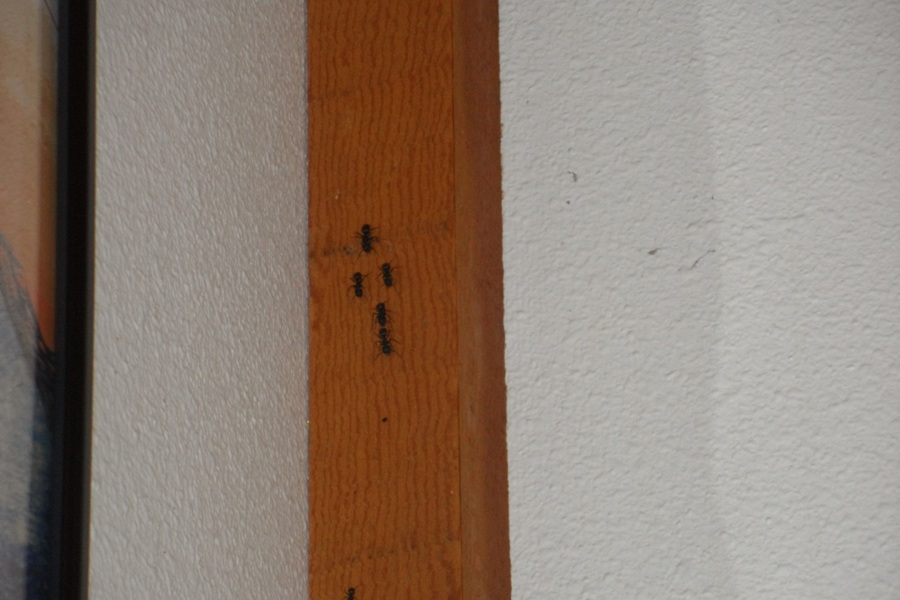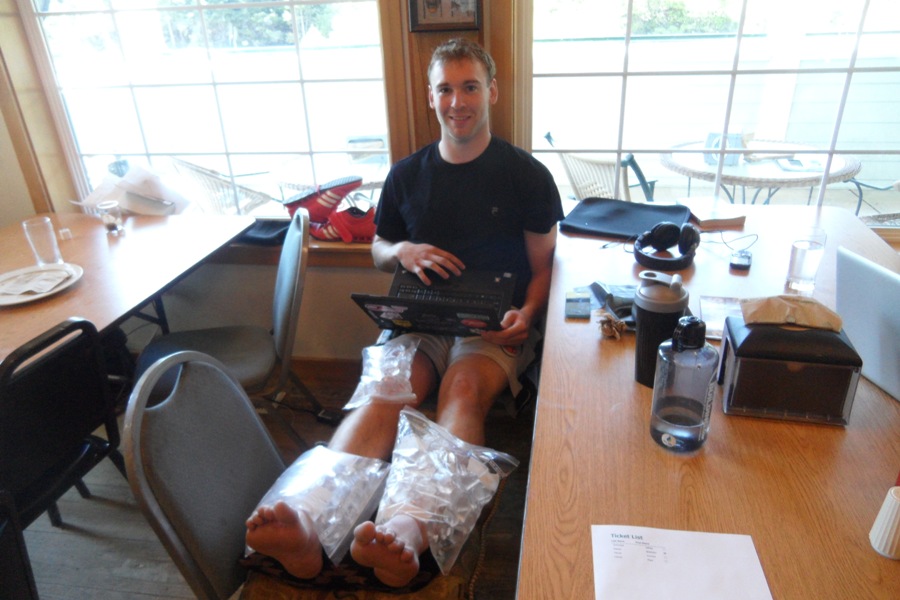 More session 1 photos here.
Session 2, 2014 staff update:
We had 9 or 10 campers for session 2, split between all the mhssc categories: ski racing, snowboard racing, freeski, moguls, and snowboard freeride. We had the perfect weather week and zero lift lines. Former staffers Florjan Jagodic and Matt Murphy were on the hill this week doing some coaching. Matt had not been to mt hood since 2000. He's the only coach in mhssc history that coached ski racing, moguls, and snowboard. Speaking of former staffers, Chad Kossar showed up at the camp picnic in Hood River on Wednesday. Mark Syrovatka went kiting at the Gorge before the picnic (see pic).We have a new camp photographer. His name is Justin Wiegand. A girl camper requested a bandaid for her tongue. Same girl camper declared that she has 7 years good luck, because when riding the magic mile chairlift, her chair stopped right at a lift tower. I had no idea this was a good luck thing. Chase Kerzel, went deep into the blackberry bushes to recover the camp soccer ball at the picnic (see photo). An adult mogul skier had bad cramping legs in a run out on zig zag, ala LeBron James in game 1 of the NBA finals. He could barely ski back to the main run. He went on the hill without bringing a backpack (water and food). Bad idea. I shot video in 19 different locations on the mountain on Monday. Friday: only ONE location. Easiest day ever. Becky Aurora Thompson, got separated from the group on Thursday's mountain bike afternoon activity. But she was eventually found and lived happily ever after. The skate ramp is getting a makeover (see pics).Dillon O'Brien and Pat Tingle cooked beef kabobs (sp?) at the picnic (see pic). Mark Syrovatka lost his i-phone on the mountain on Friday. He re-traced his tracks thru zig zag cornice and FOUND IT! It was at the bottom of the canyon. This is the 2nd time in 2 years that he has lost his phone and then recovered it on palmer. Mark did this happy dance shortly after finding his phone: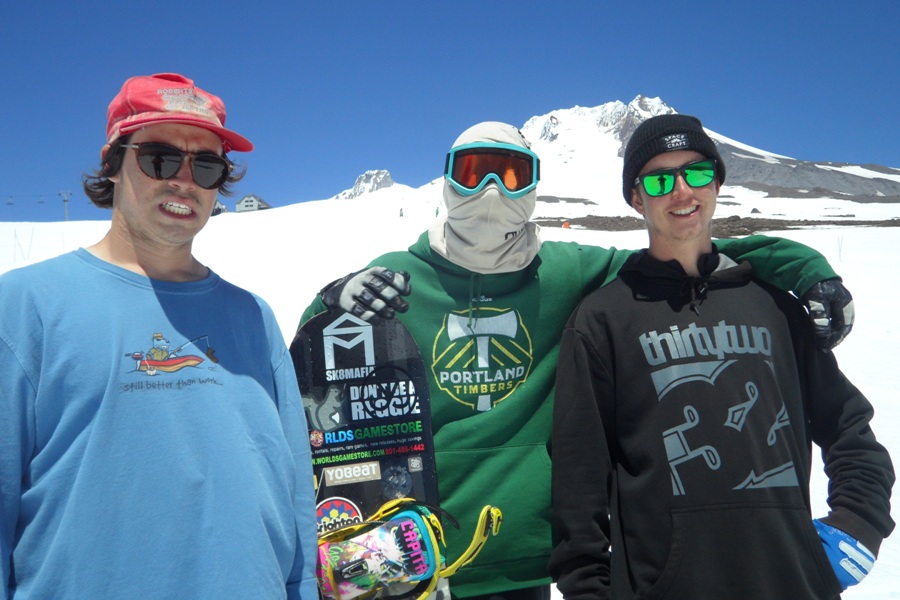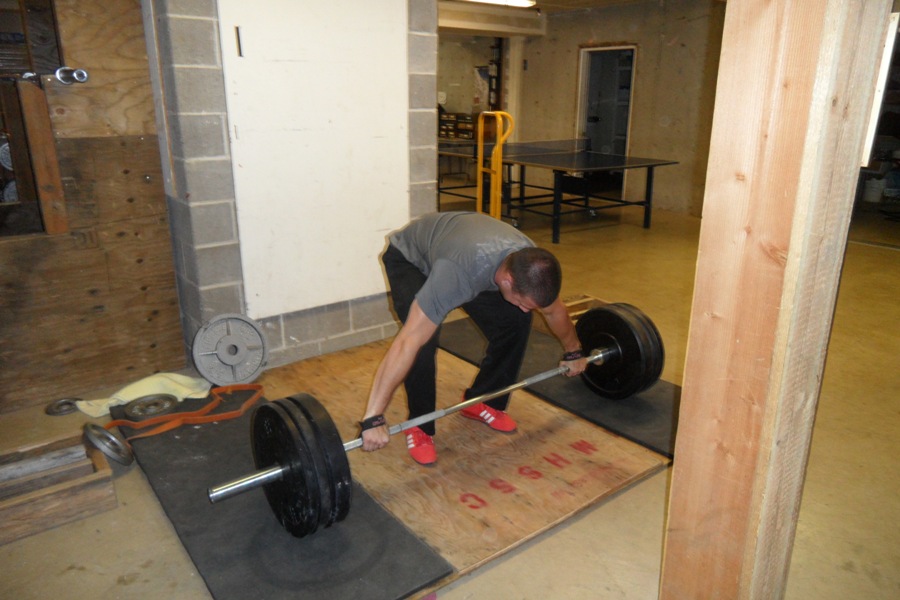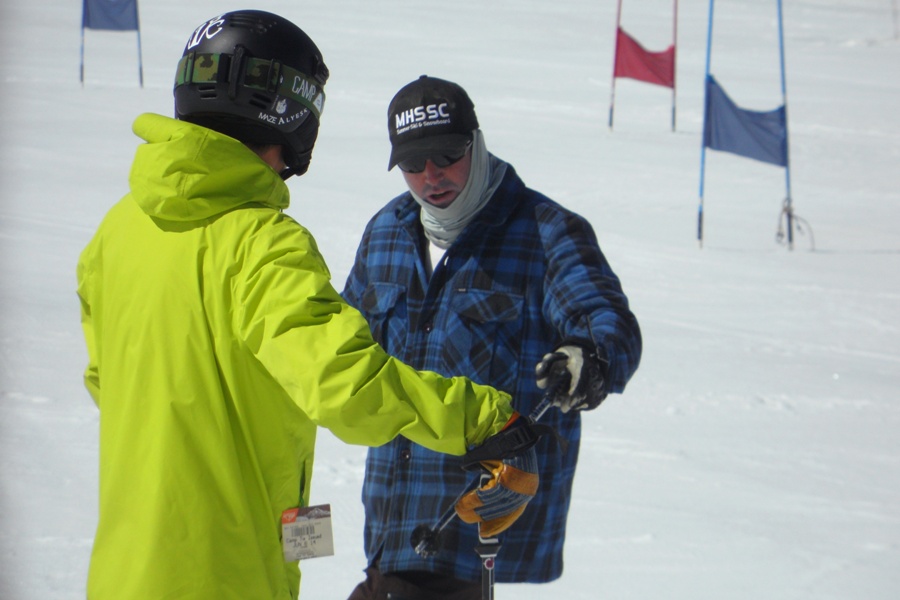 More session 2 photos here.
Session 3, 2014 staff update:
Happy Father's Day to all the dad's out there. Here's a few nuggets from session 3....On the way back from field sports in Parkdale, the bus ran out of gas as we pulled into the parking lot at camp. Not even enough gas to get to the gas station 100 feet away. Pat Tingle was the driver and kept mentioning that we were low on gas on the trip home. It was cold and windy on the mountain on Tuesday and Thursday. Thick fog rolled in at the end of the day on Thursday. Friday, insane rain/wind shut the mountain down. It was one of those rare occasions where we didn't even drive the kids up to Timberline. Instead kids went to laser tag, movies or waterpark. Taber Engleken and Prescott McLaughlin drove 52 straight hours to get from the east coast to mhssc, arriving on Monday. Prescott forgot the juice coolers for the picnic and drove back to camp to get them. Once he got back to Wildwood park, he realized that he forgot the burgers too....2nd trip back to camp! doh! Michael Jennings saw two elk on the camp tennis court on Tuesday morning. Mark Syrovatka sharted on Monday. Michael DuHain made a Timberline/mthood.com cake. (see pic). During Friday's rain delay morning, we watched camp promo videos from the late 80's. Most of the staff that were watching, were not even born yet. For you newbie staffers, we have a MHSSC staff facebook group, which you find here. Prescott celebrated his 22nd birthday on Wednesday (a trip to Charlie's). Reid Lambres celebrated his 20th birthday on Thursday (went to bed early). On the mountain, the 40 pound salt bags with handles, have been replaced with 50 pound bags/no handles.
The rafts flew off the raft trailer on the way back from rafting on Tuesday (see pic). In Chase Kerzel's words: I was driving up the hill at 55 and a wind gust hit the bottom of the rafts and ripped them up and over. I saw the whole thing happen in the mirror. It looked like cars in a F1 race crashing. Two were on the road and the third one which was the middle raft on the trailer went down into a ditch and across a barbwire fence. We had to clip one thing of barbed wire and pull the raft out of the ditch with the truck . Then some locals helped us put that raft into the bed of the truck. It was just Becky and I who were there and had to stack the first two in wind alone. ~Chase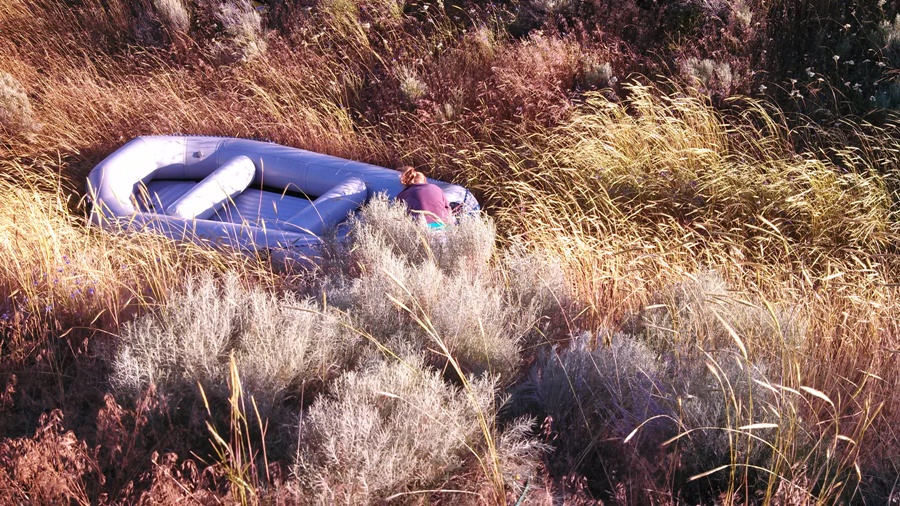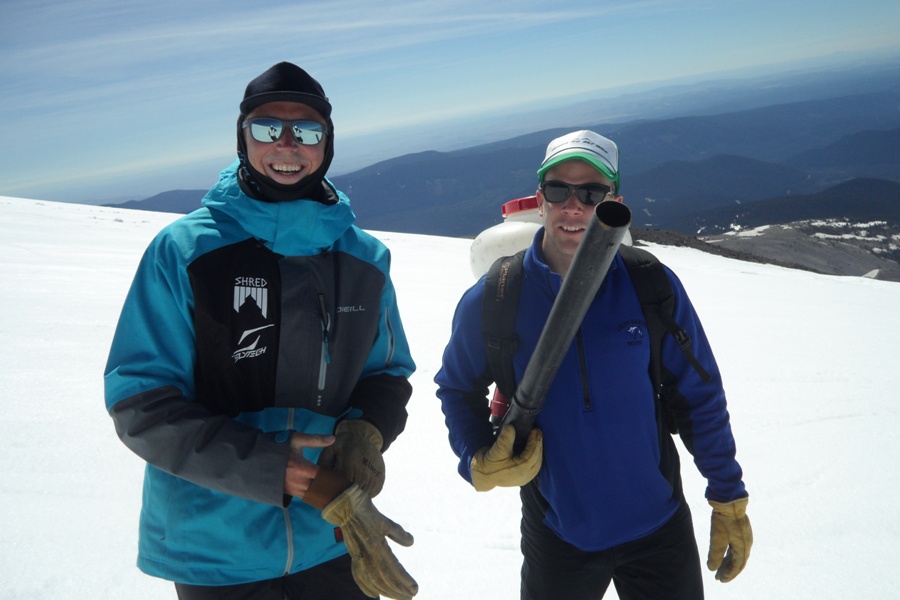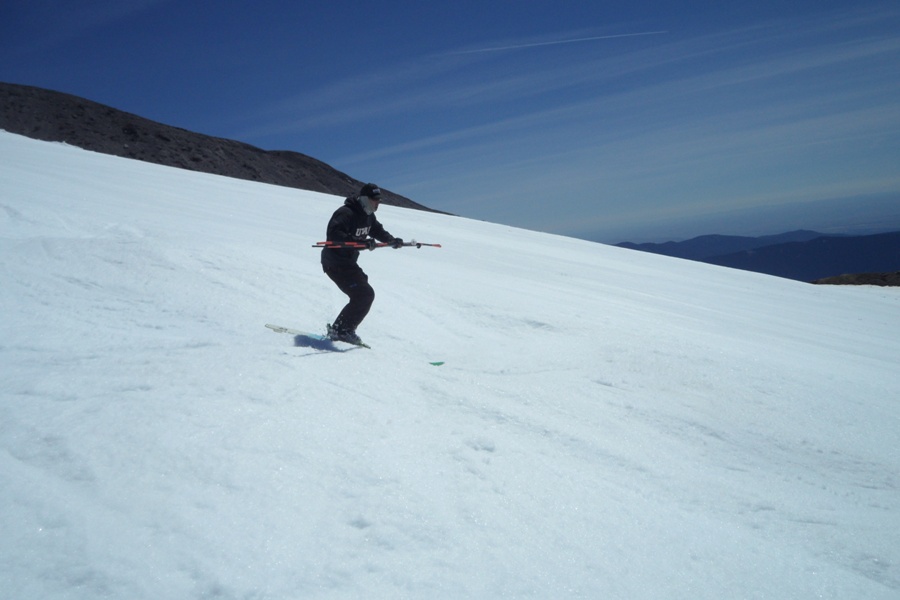 1987 flashback (videographer Steve Heuer)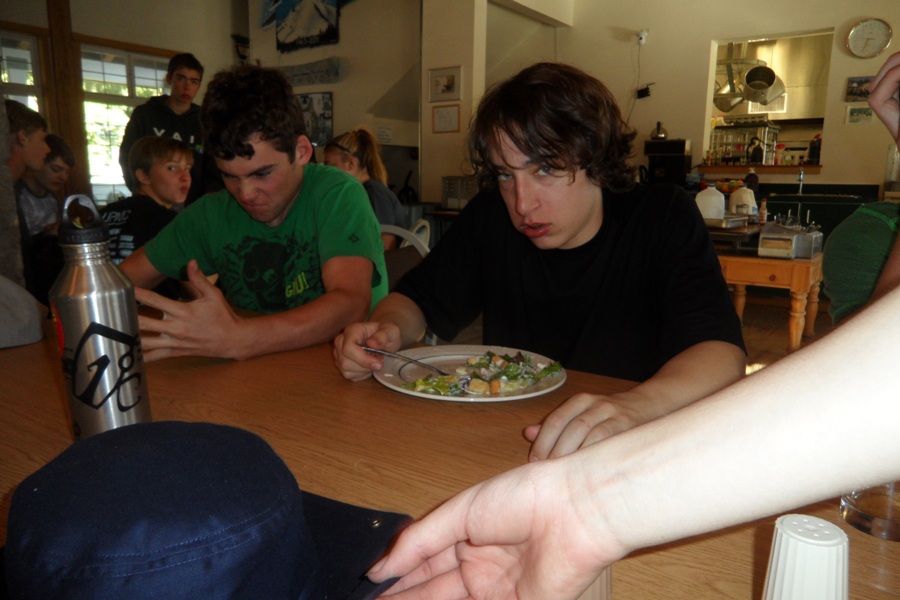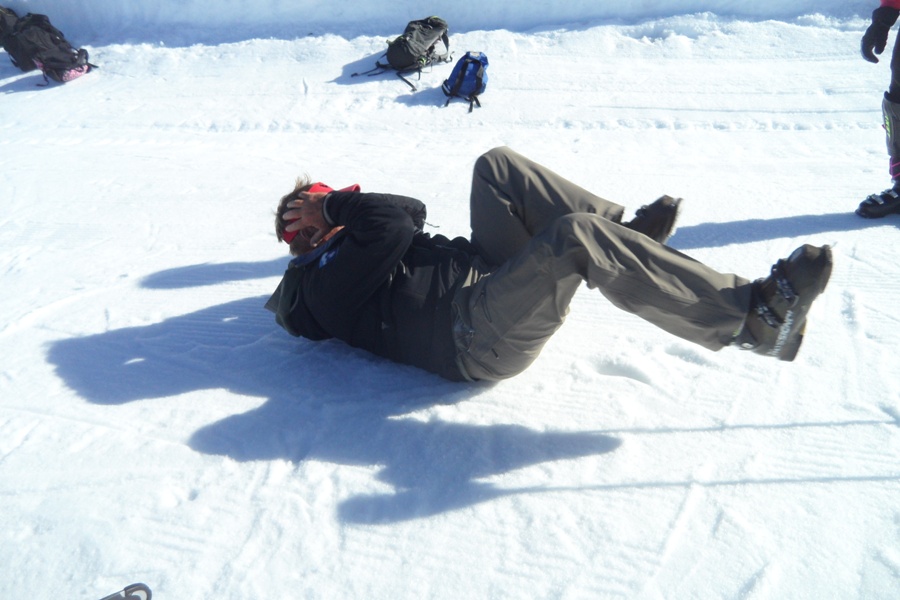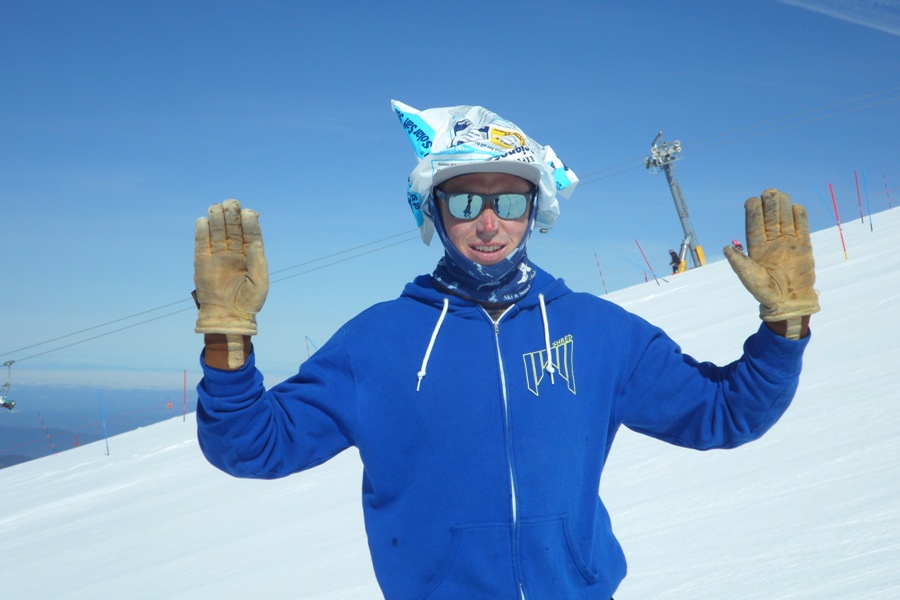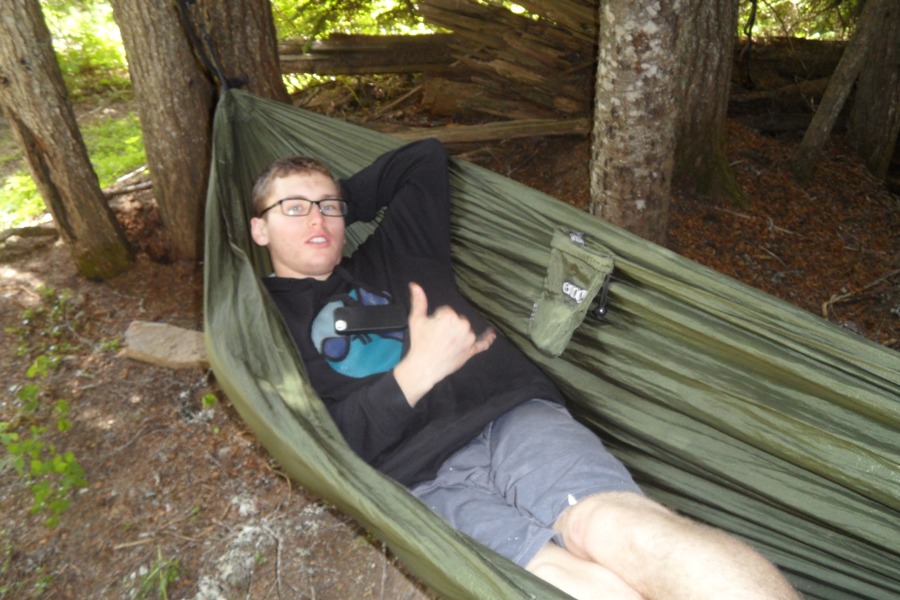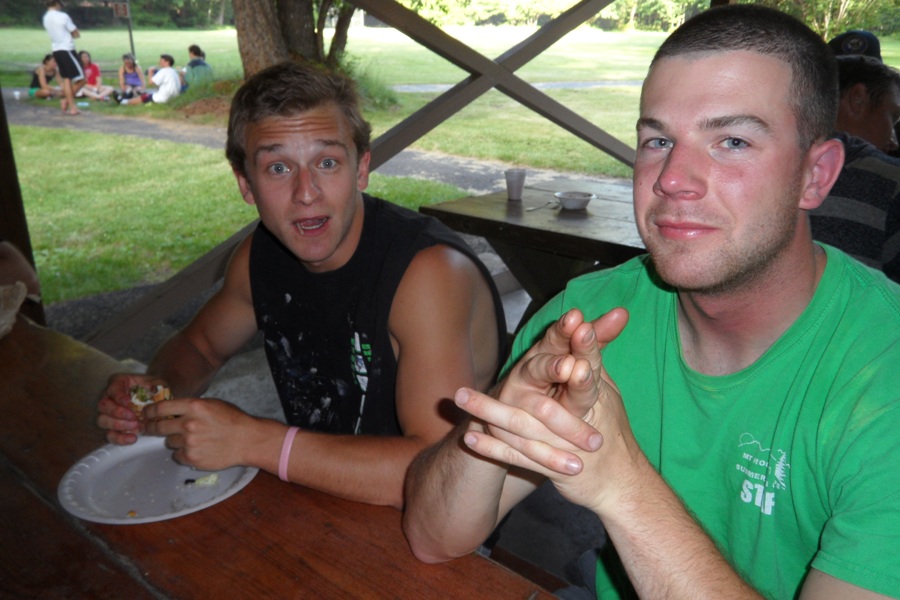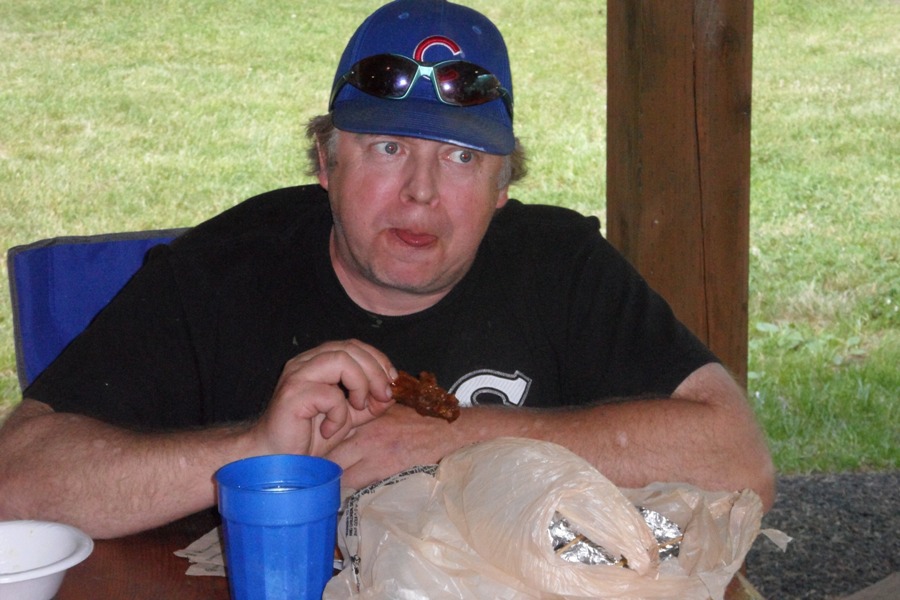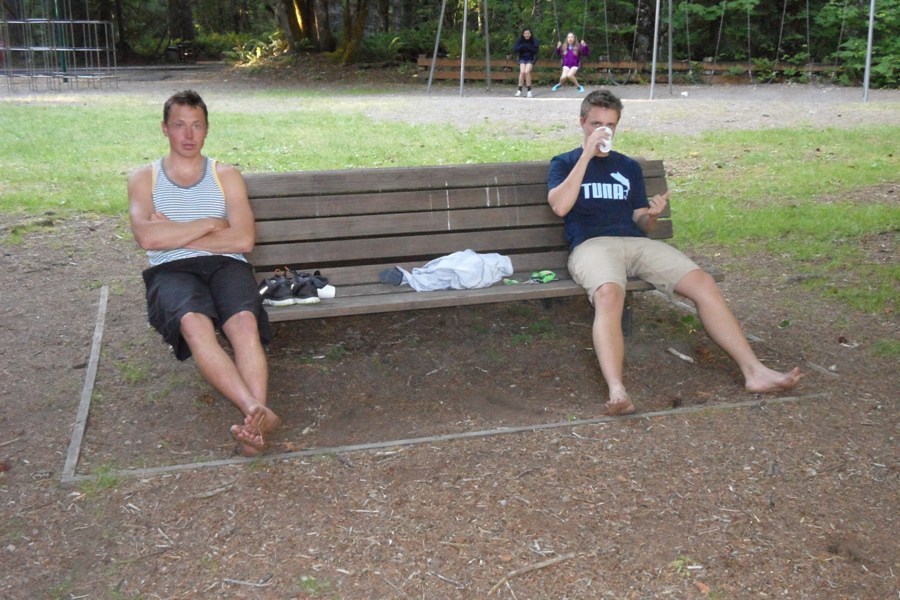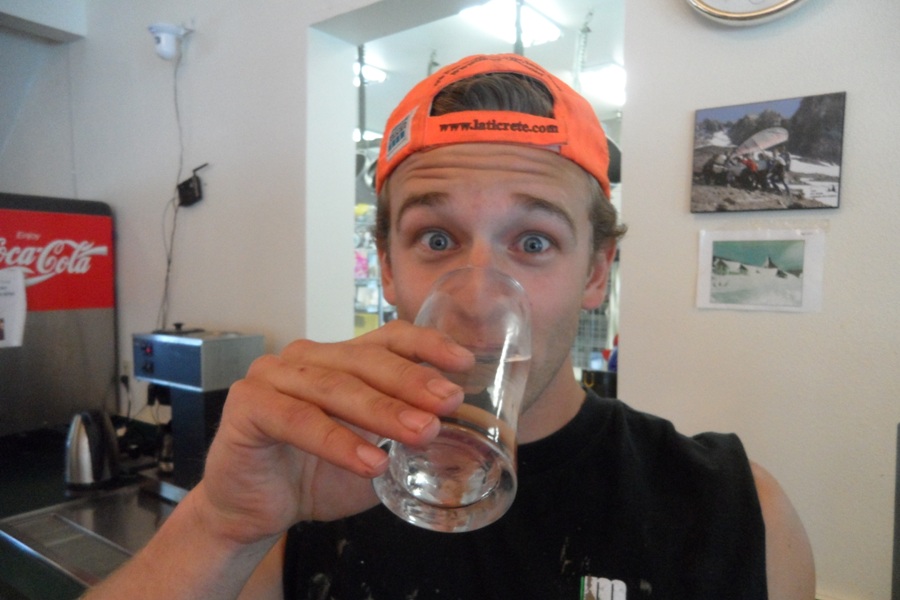 More session 3 photos here.
Session 4, 2014 staff update:
Winter type weather seemed to put it's stamp on session 4. Lifts were closed on Monday....only 2 camps hiked, including us. We set slalom underneath magic mile near the bottom, while the freestyles built a jump and sessioned a rail a couple hundred yards up the hill from the race groups. The bus got stuck (see pics). Bill Toney and Pat Tingle helped Mike Annett get the bus un-stuck. Tuesday, another winter type day, magic mile opened up for freekskiing only (no gates). BUT-Mark Syrovatka and Co. set up a dipsy-doodle "pump" slalom course thru the woods below tower 7 on the magic mile. I think this was a first ever for mhssc. Nicole Cordingley skied it and ended up launching herself off the retaining wall above the microwave tower thing near the bottom of the course. She somehow landed on her feet. Tuesday's rafting trip: a raft got away at the unloading area at Sandy's beach. The unmanned raft floated downriver, while staffers jumped in Mike's truck to track it down before it went over the waterfalls. (see pics). The weather cleared up Wednesday, but Palmer was about a 90 minute delayed opening to clear the insane amount of new snow at the mid-station and top terminal. Darren Owen said the groomers made the best moguls on palmer he's ever seen. Chase Kerzel took RAM out of one dining room computer and installed it in another computer in 33.50 seconds. Friday, the weather turned to shit again.....fog, mist, wind, cold. Some of the kids lasted less than an hour before bailing for the lodge. Rick Millett made a basketball shot from the catwalk on Friday....swish! Check out this classic year 2000 photo of Izi Jerman and myself on the new shredhood.org website. Mike Bansmer and Mark Syrovatka had a coach wrestling match at top of magic mile while waiting for Palmer to open. Mark's shred glasses broke in the brawl. (see pic)
Former staffer, Tim Feeney, had a baby! Well his significant other did most of the heavy lifting. William Emerson Feeney. Born 9:50 pm 6/18/2014. 6lbs 10 oz.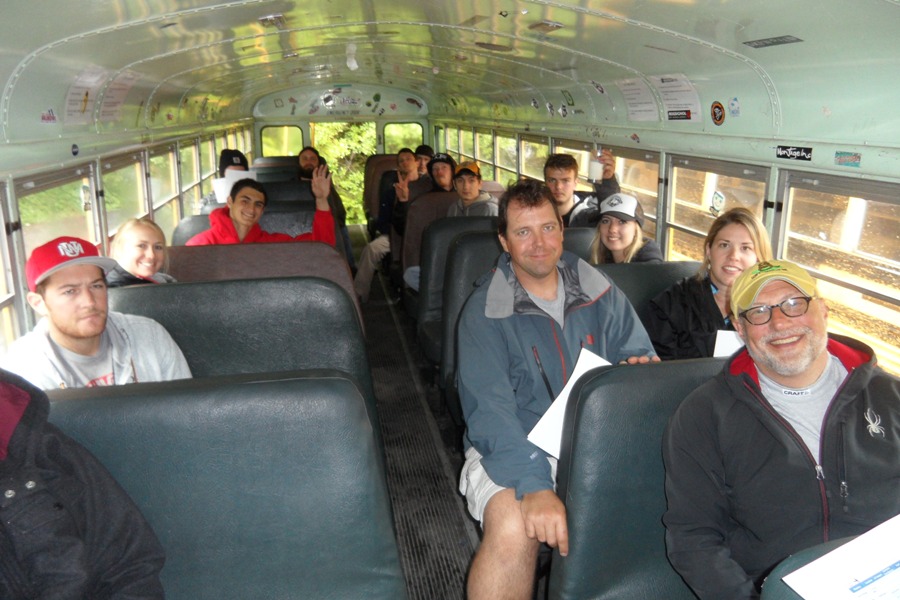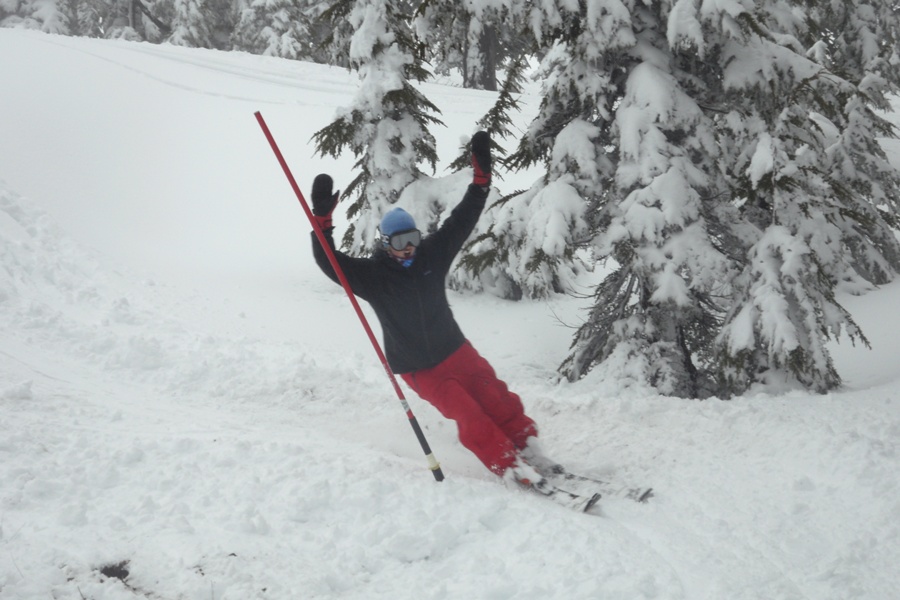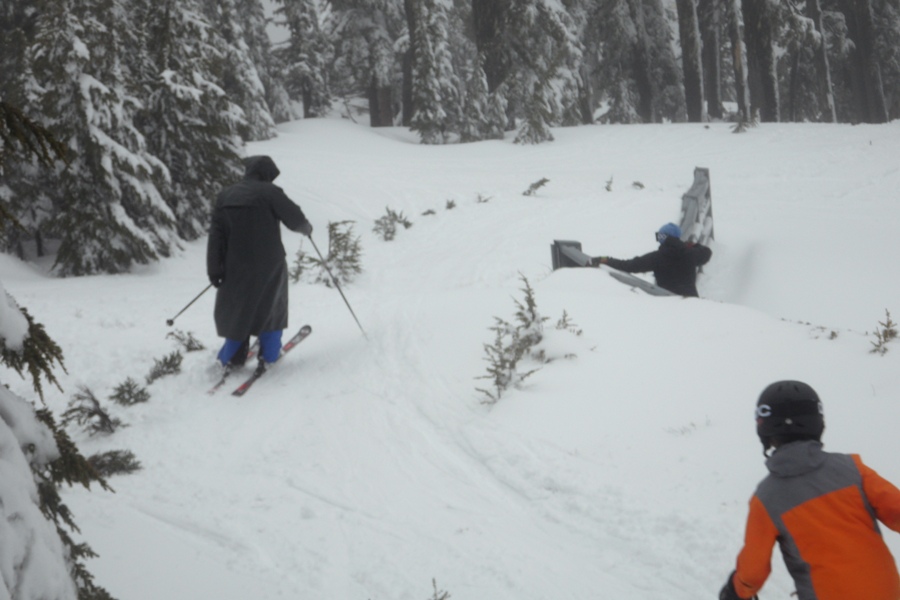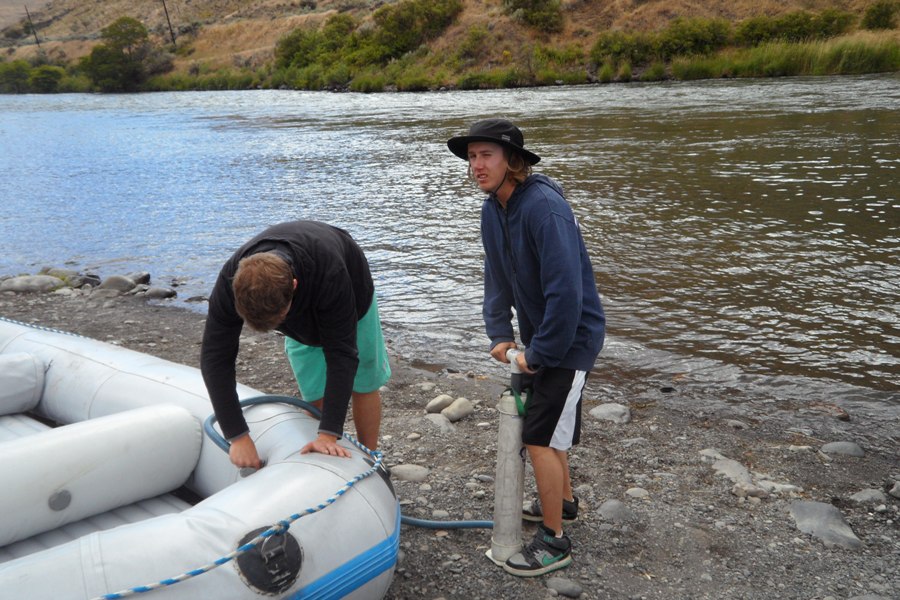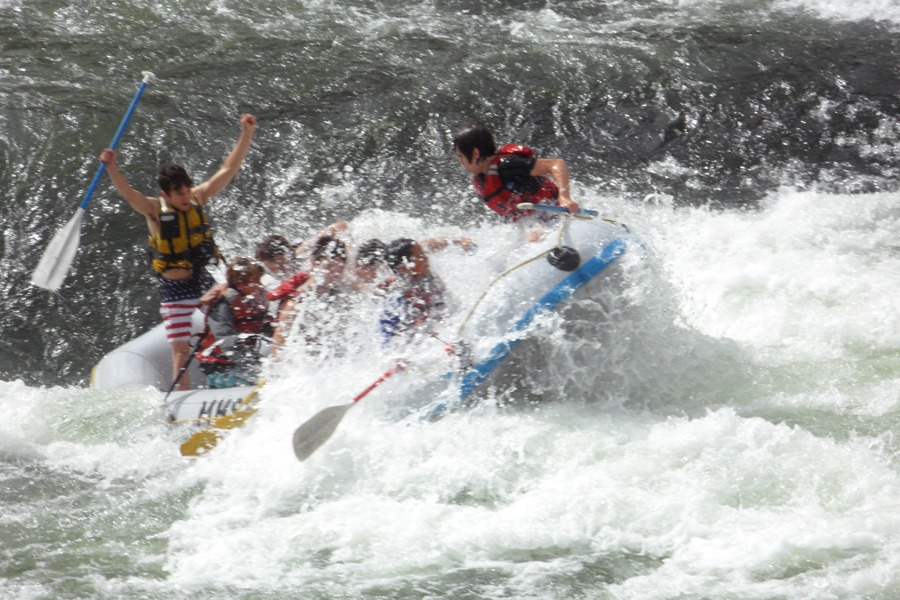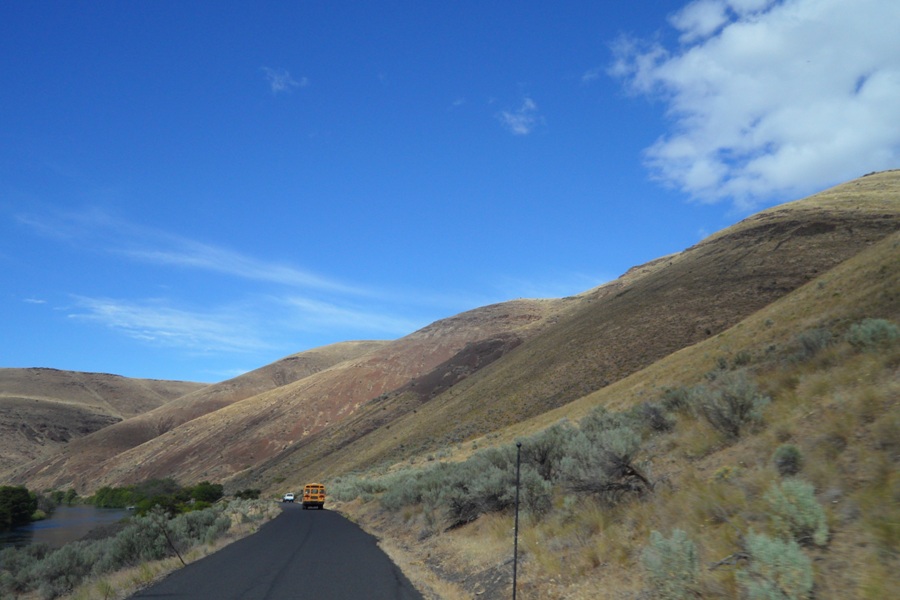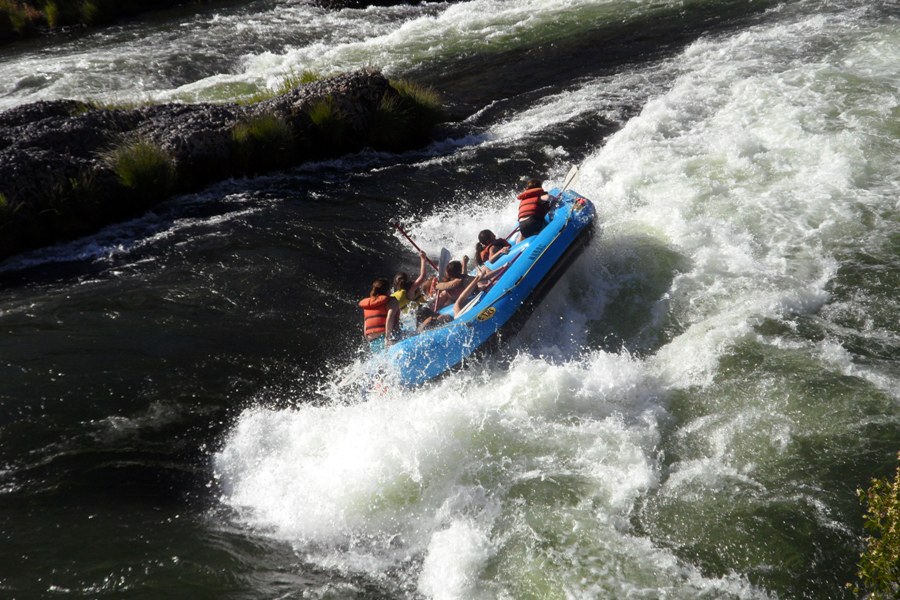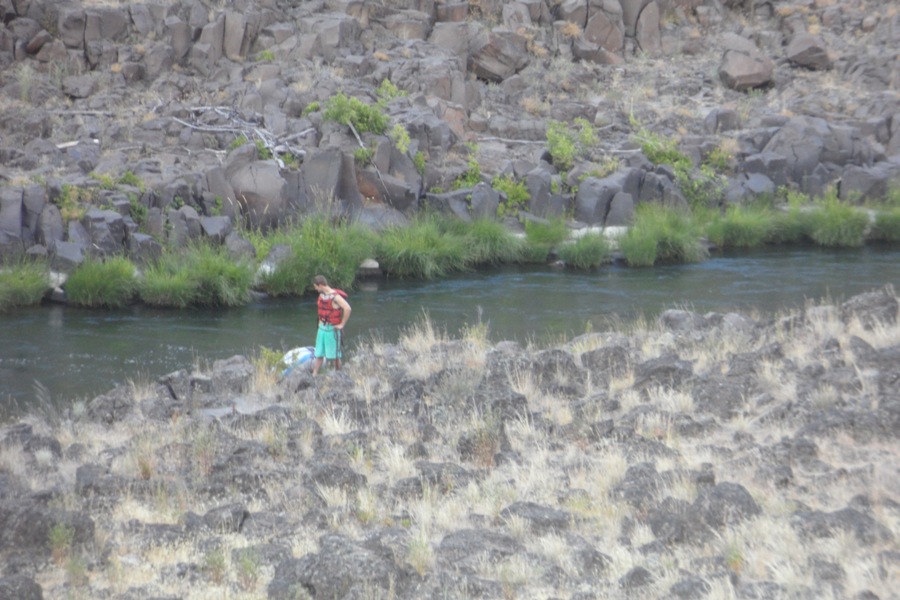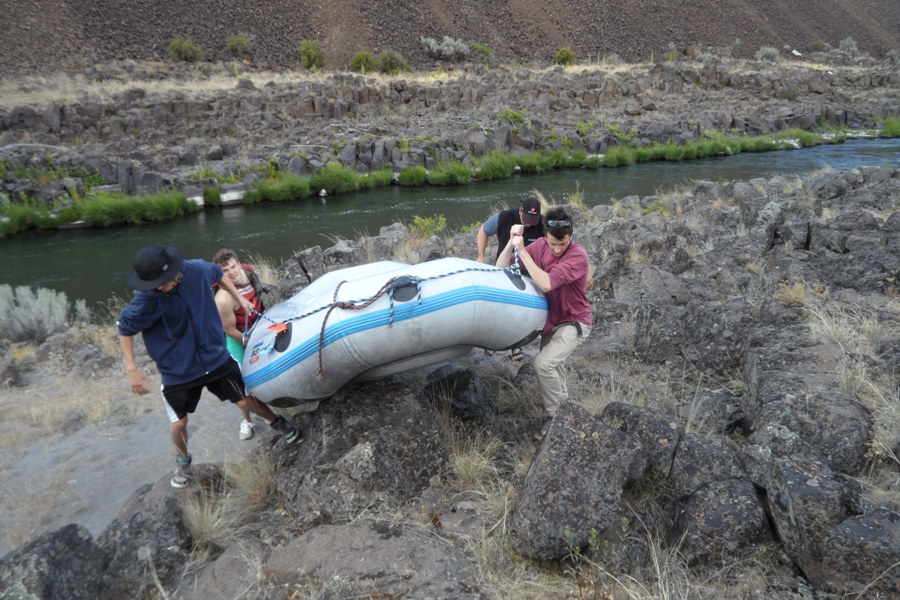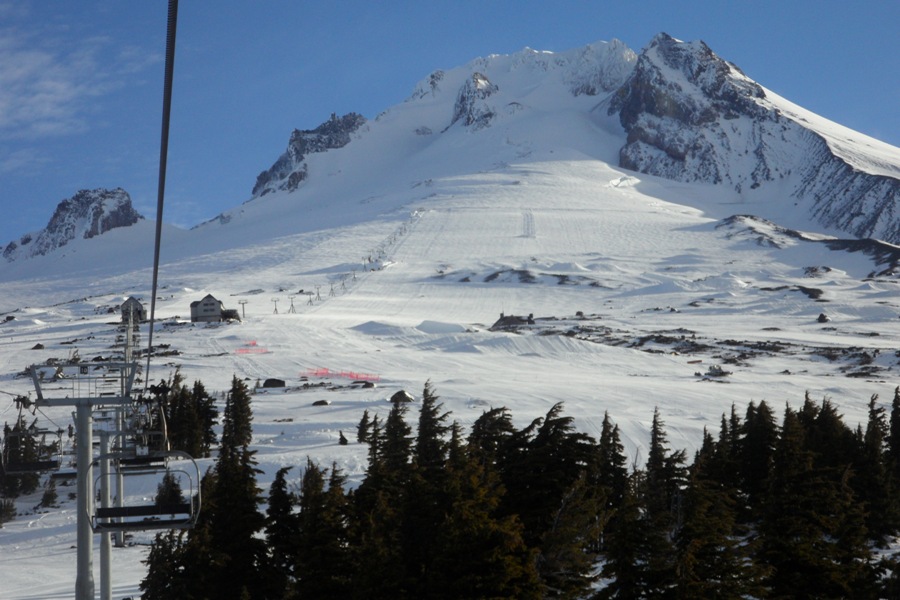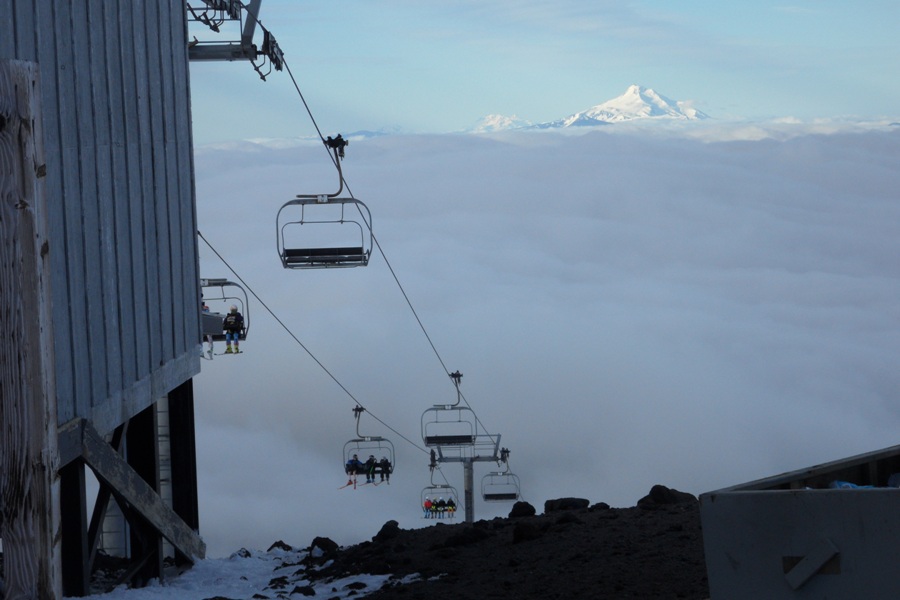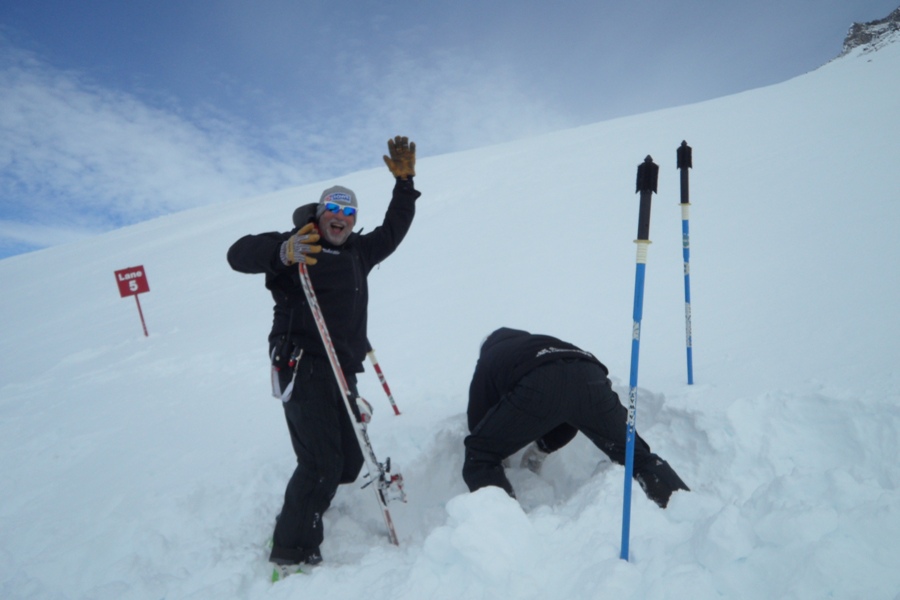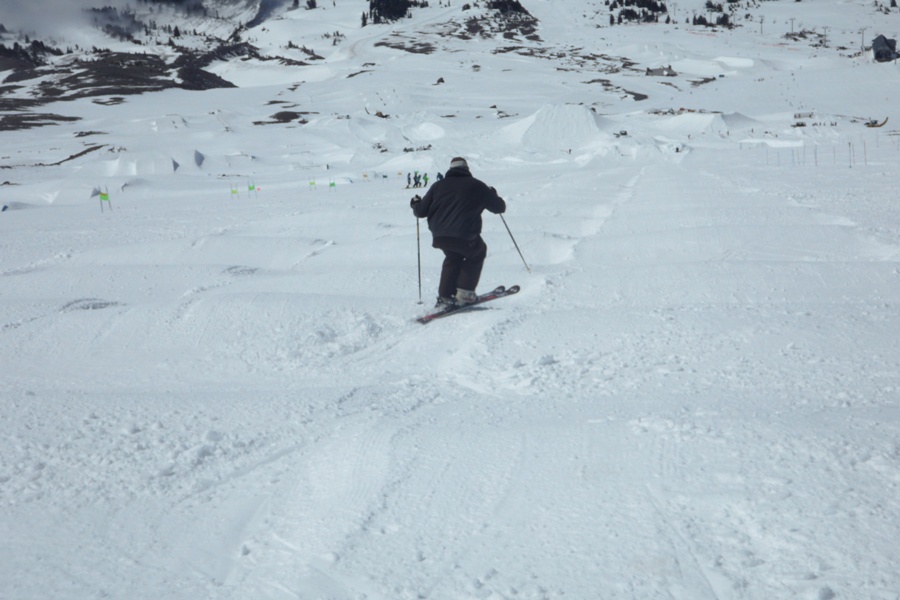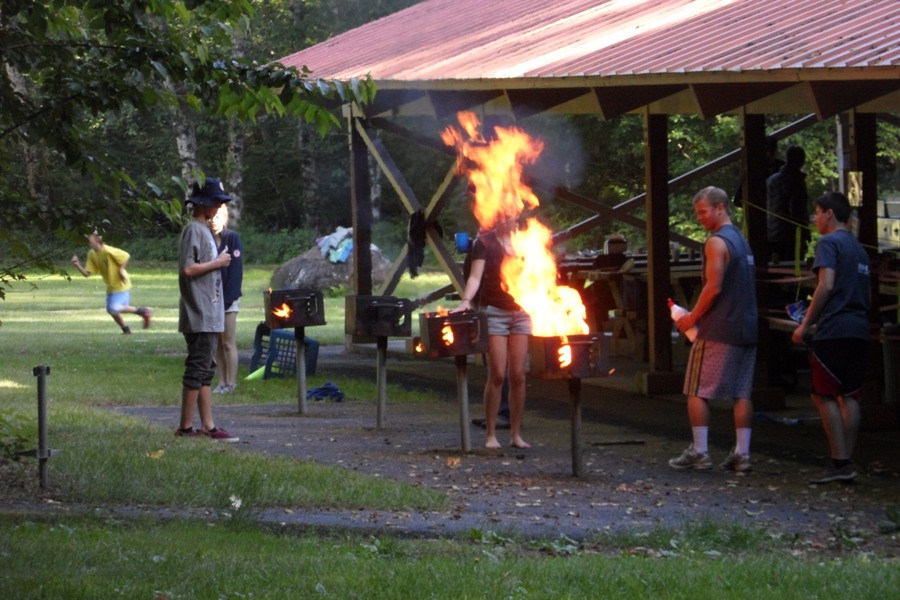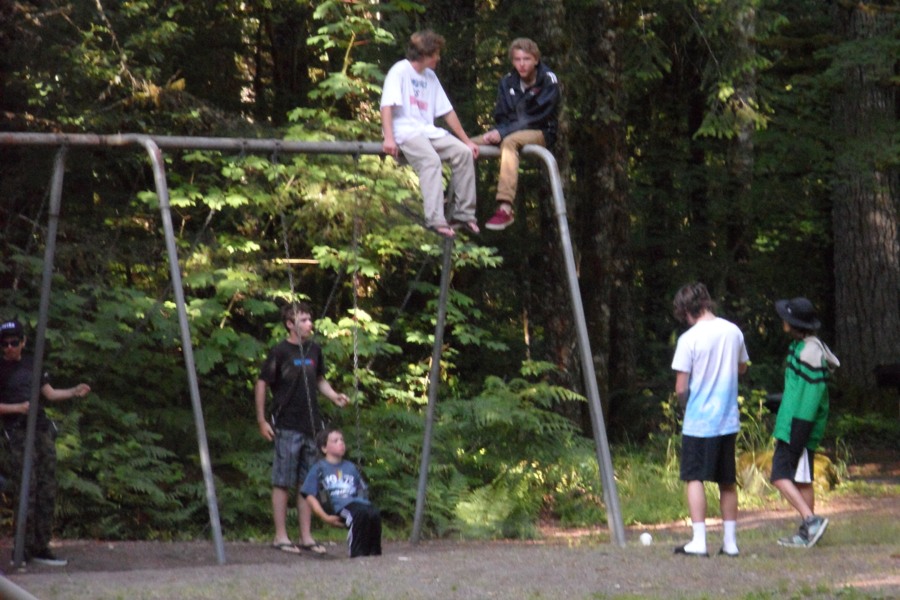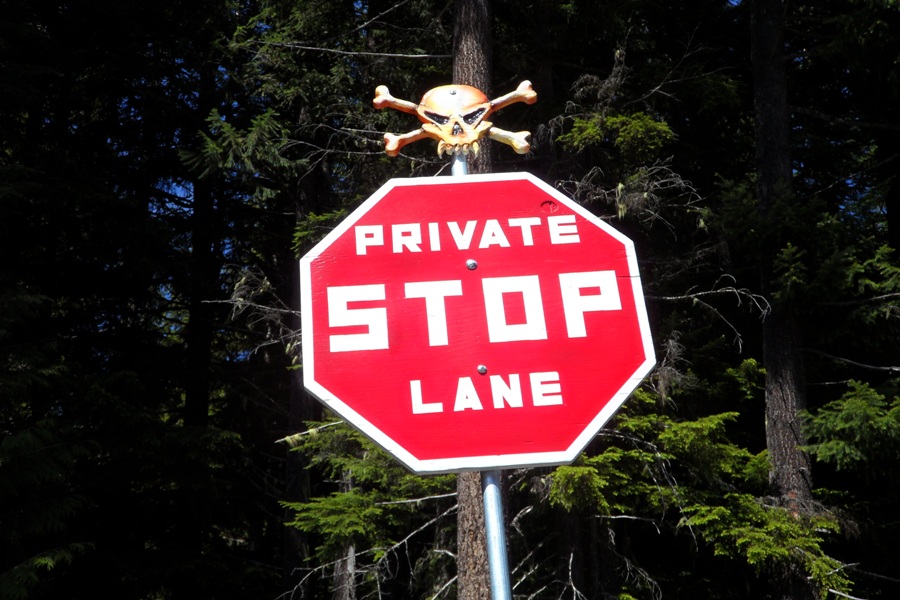 I'm headed to the KISS/Def Leppard concert this coming Friday (june 27). You can still buy tickets...as cheap as $40.80 if you don't mind sitting on the grass/general admission (sleep country amphitheater, just north of Portland in Ridgefield, WA). 7pm starting time. Tickets can be purchased here. You haven't lived until you've seen Gene Simmons spit blood and blow fire.
Another 194 session 4 photos here.
Session 5, 2014 staff update:
Not a whole lot to write about, but I'll try to take up some space with a few sentences about session 5. Bob Robicsek's son, Karl, turned 21 on Monday. Birthday party took place at Charlie's. Two days later, Patrick Tingle celebrated his 22nd birthday at the same place. There was a nice rainbow at the mountain on Tuesday morning. Darren Owen spotted two deer roaming west in Govy (see pic) on Tuesday. Lots of mhssc ex-staffers on the hill this past week: Chris Hargrave, Tory Amorello (pregnant!) along with hubby Sam Damon, Janet Lorton-Moran, Tommy Eckfeldt, Marcus Caston, Scotty Veenis, Lyndsay Strange, Jay Hey,Terry McLeod.... probably some other's that I can't think of or never saw. Jackie Reis made a snow angel on video, which you can watch -->here. Magic Mile had a late opening on Tuesday morning due to technical issues....creating a giant lift line at the bottom (see pic). Former mhssc camper, Ted Ligety signed autographs on Wednesday afternoon. There was a ladies race lane (Jackie Reis, Sophie Ostroski, and Nicole Cordingley) and a men's race lane (Mike Syrovatka, Mark Syrovatka, and Mike Bansmer). It poured rain on Thursday. Magic Mile was the only chair running. Our campers made anywhere from Zero to Five runs that day. Friday, Timberline didn't even bother to open at all due to insane rain. Kids went to Lloyd Center Mall, caving at Mt Adams, or a water park in McMinnville, OR. We have some big sessions coming up. John Rust is coming out of retirement to coach on the hill for a week. Some camper boy injured his foot/ankle on the trampoline. This SAME BOY did the exact same thing the previous year, after pledging to stay away from the trampoline when he came back to camp this summer. It rained at the picnic and another camp STOLE our usual shelter at wildwood park. Campers vs Staff in kickball took place. Connor Krell caught a pop fly ball in the face. (see pic).
the end.......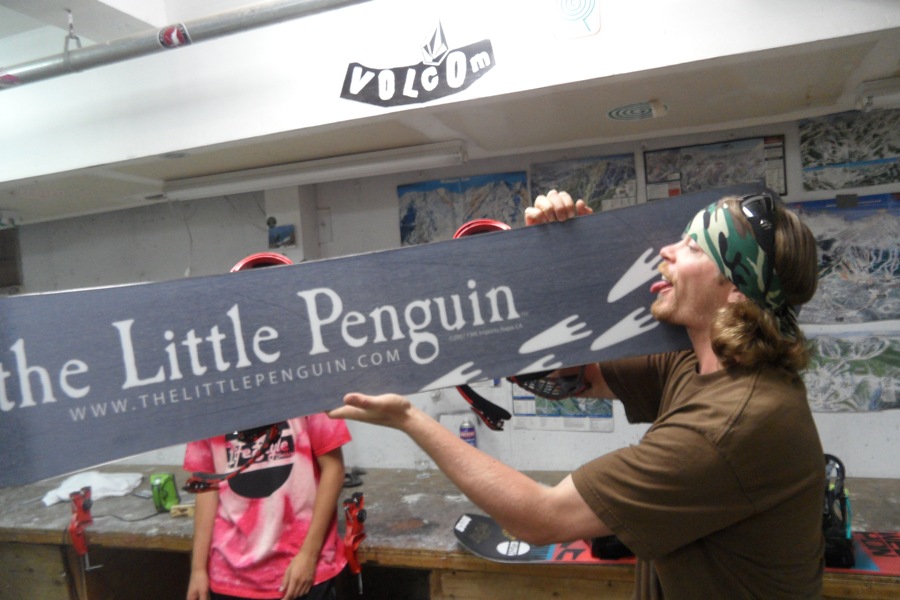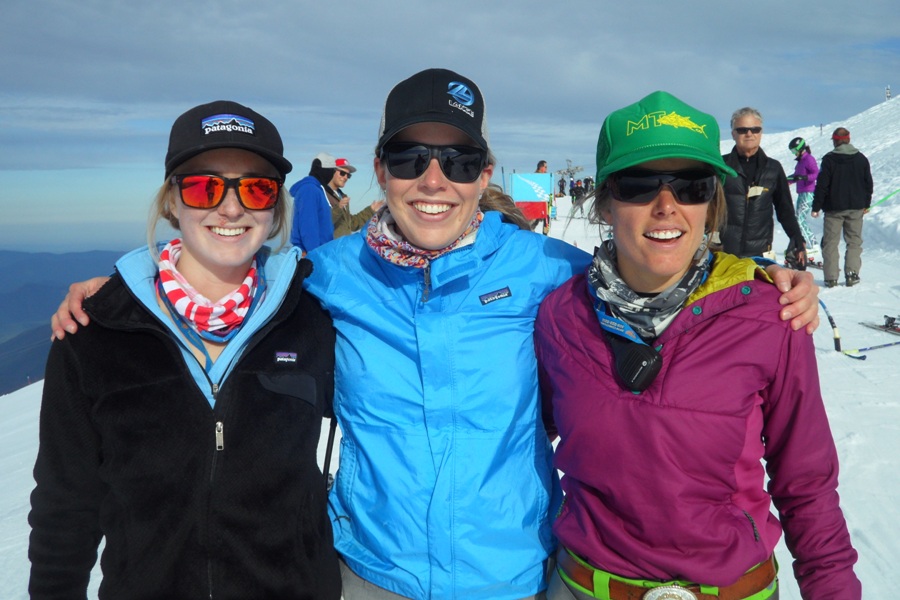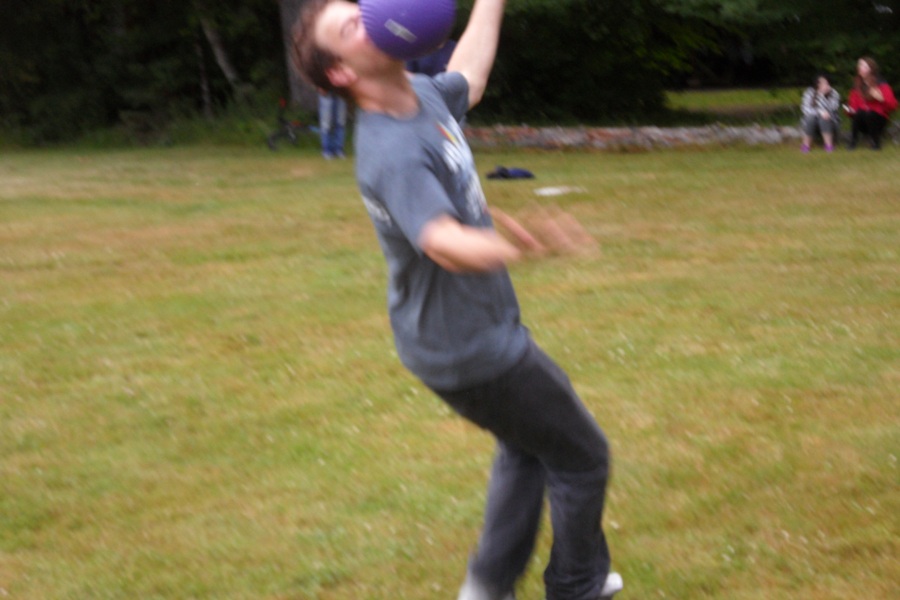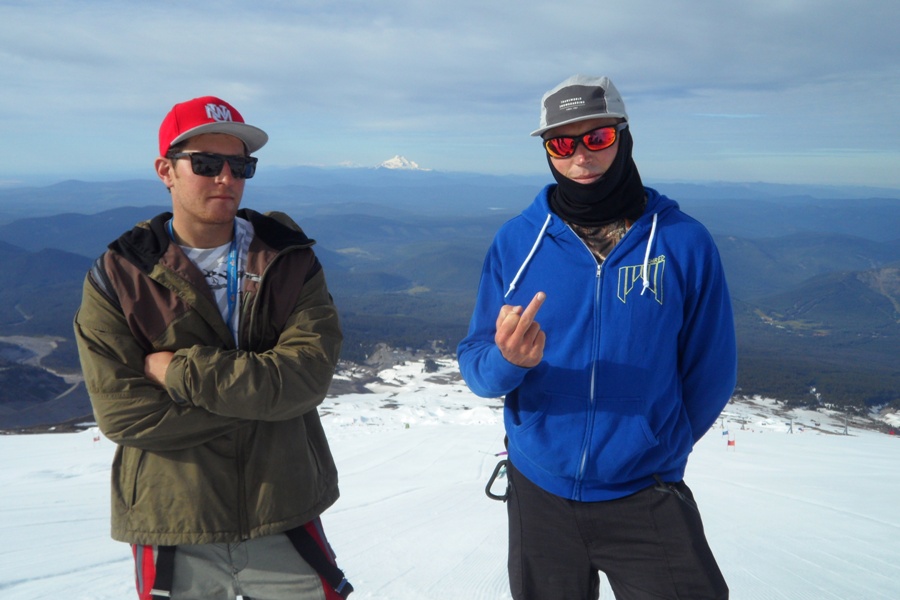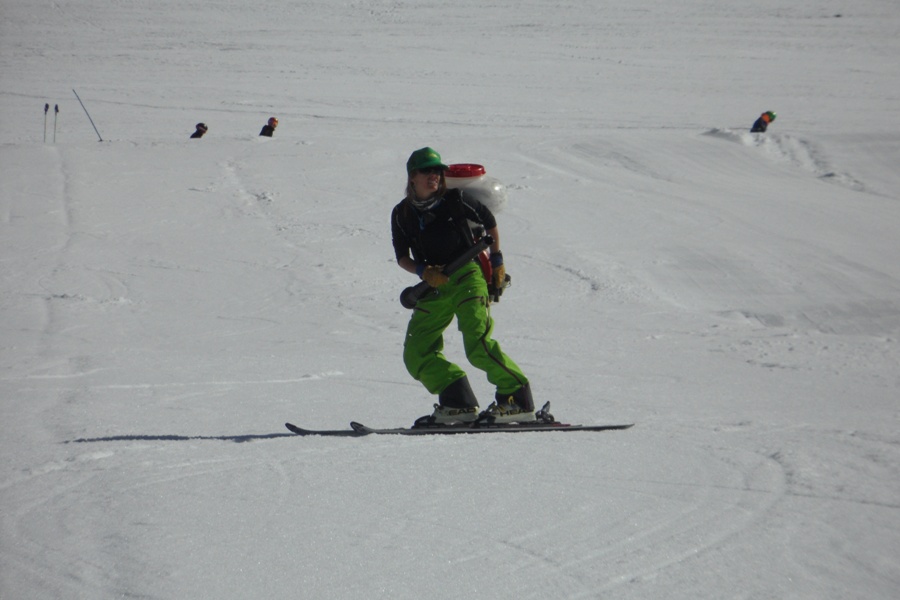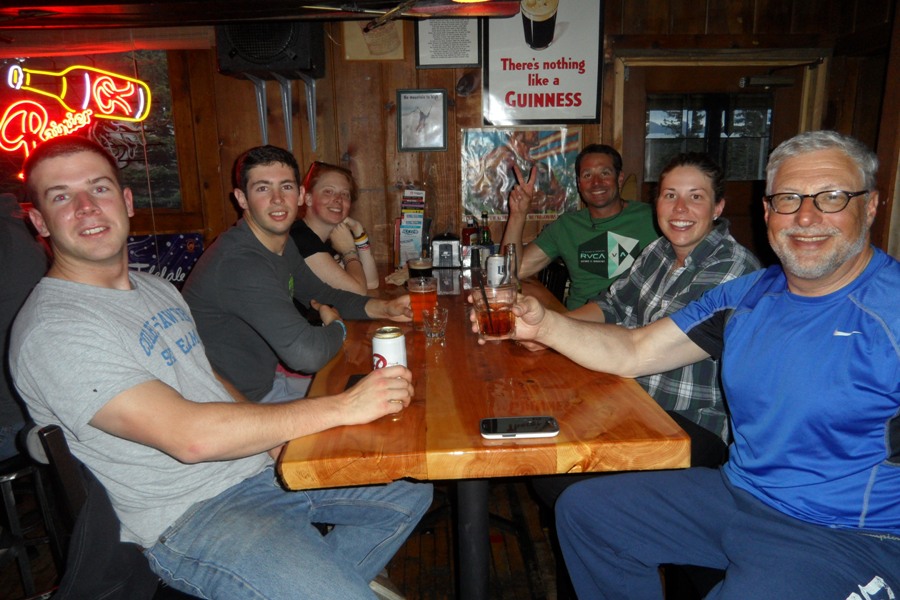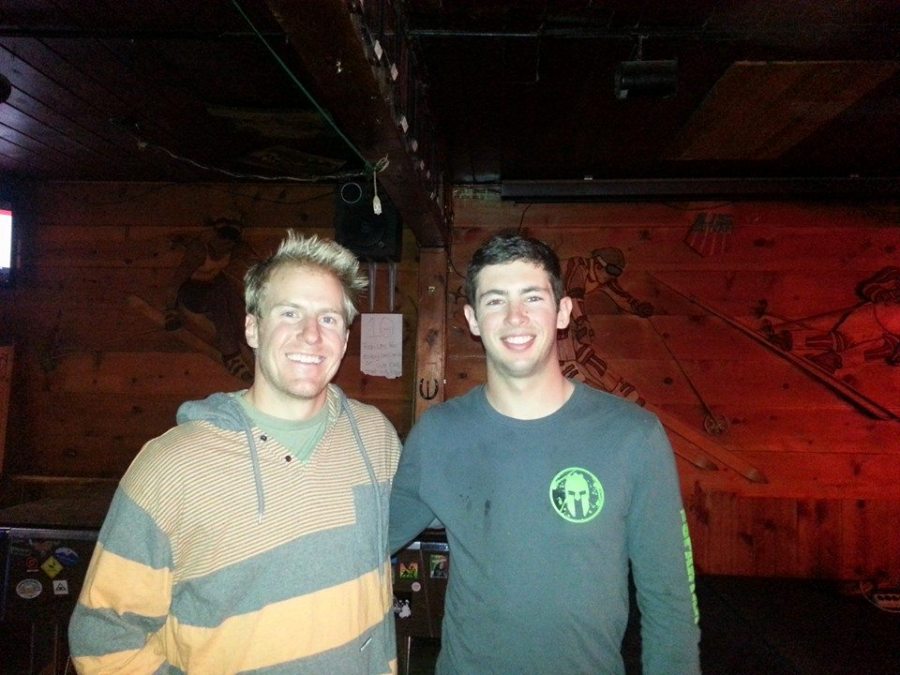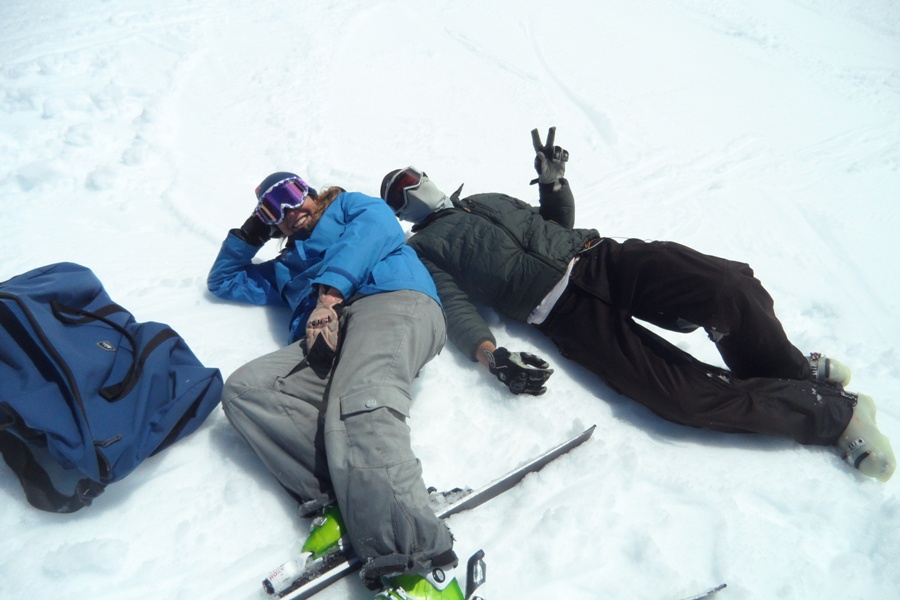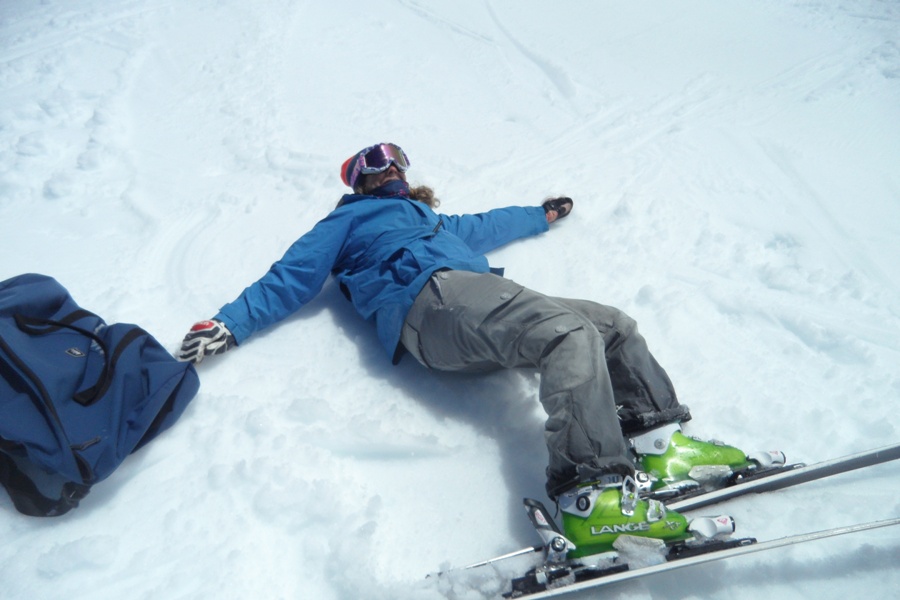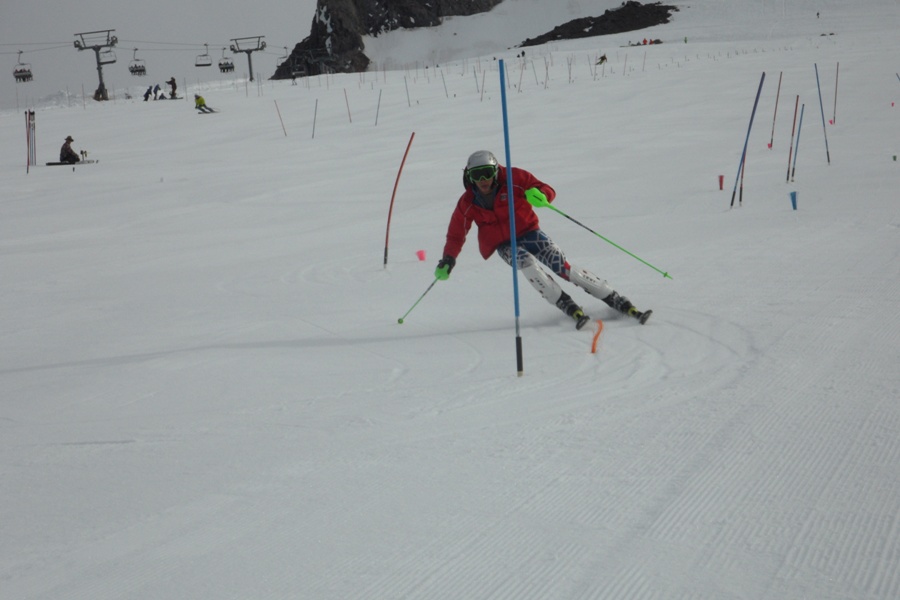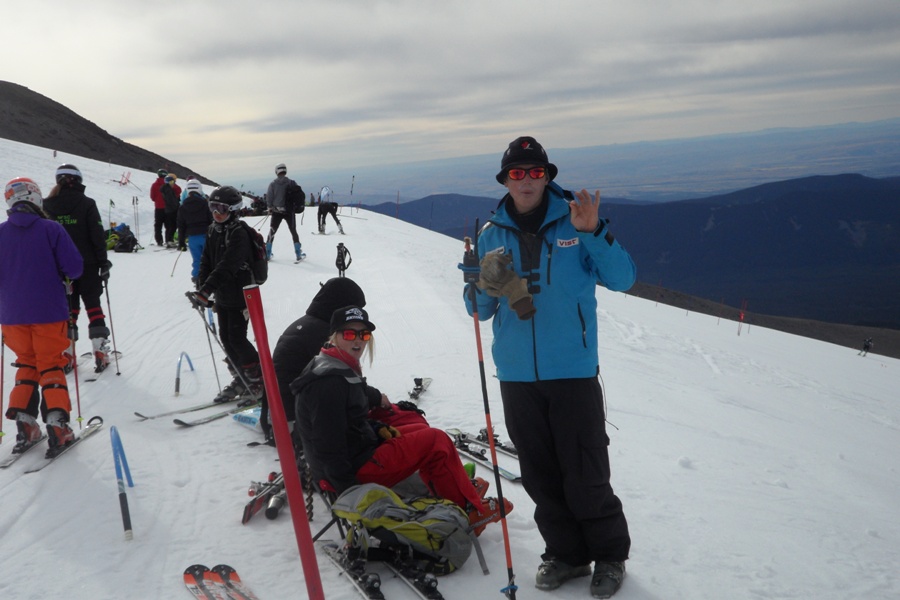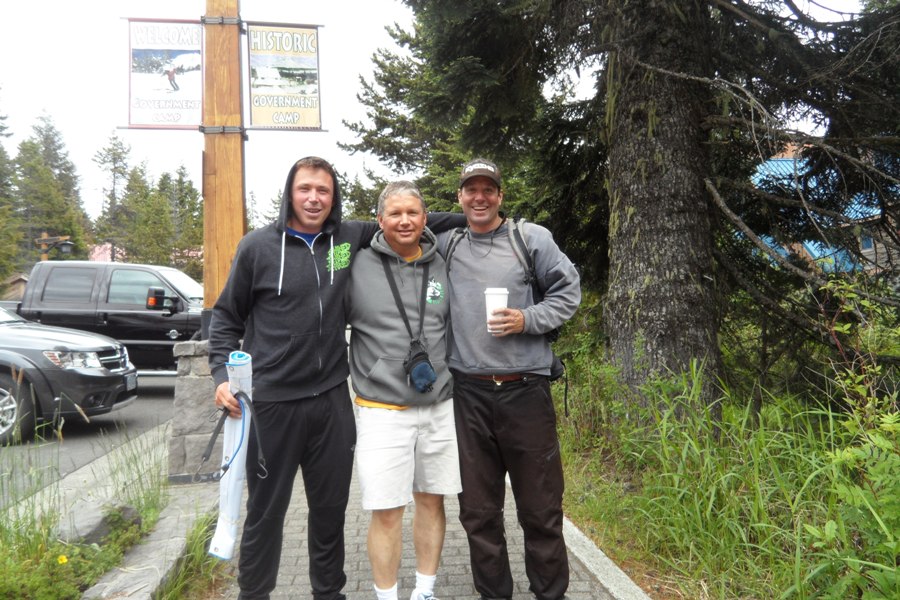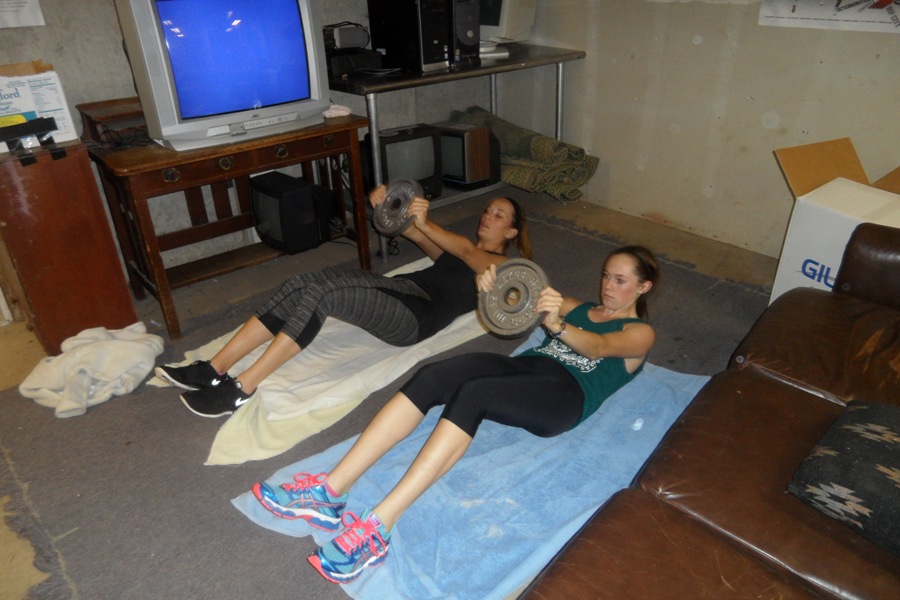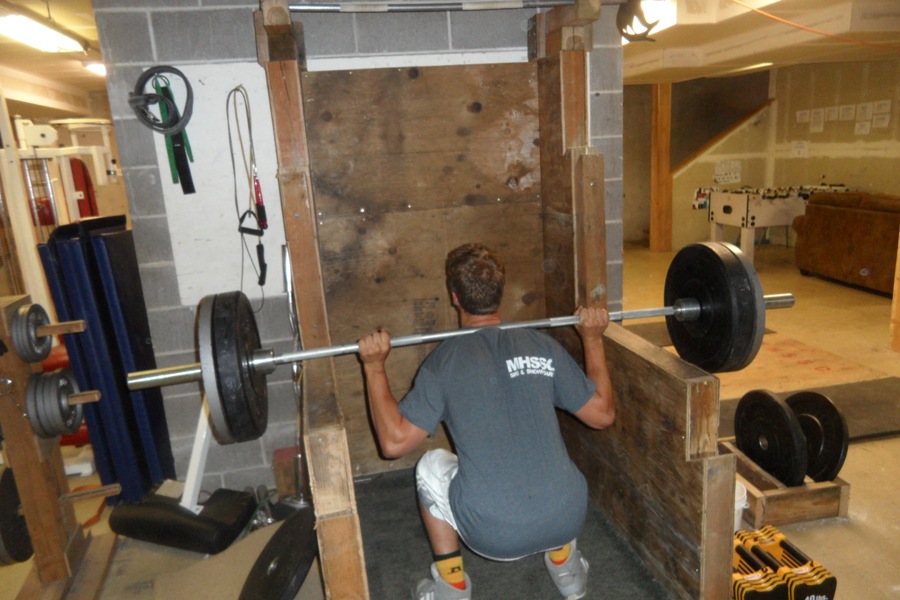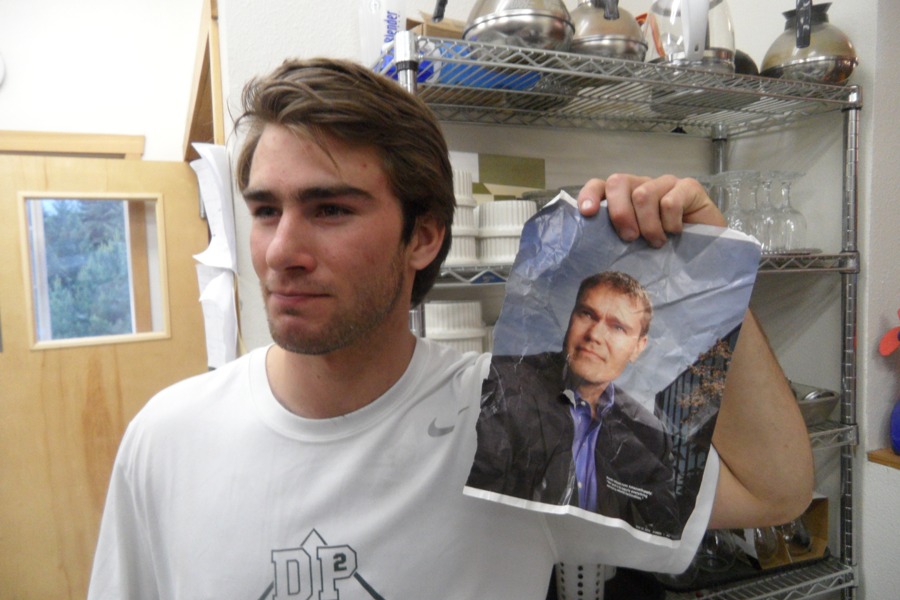 a couple pics from the KISS/Def Leppard show on Friday night...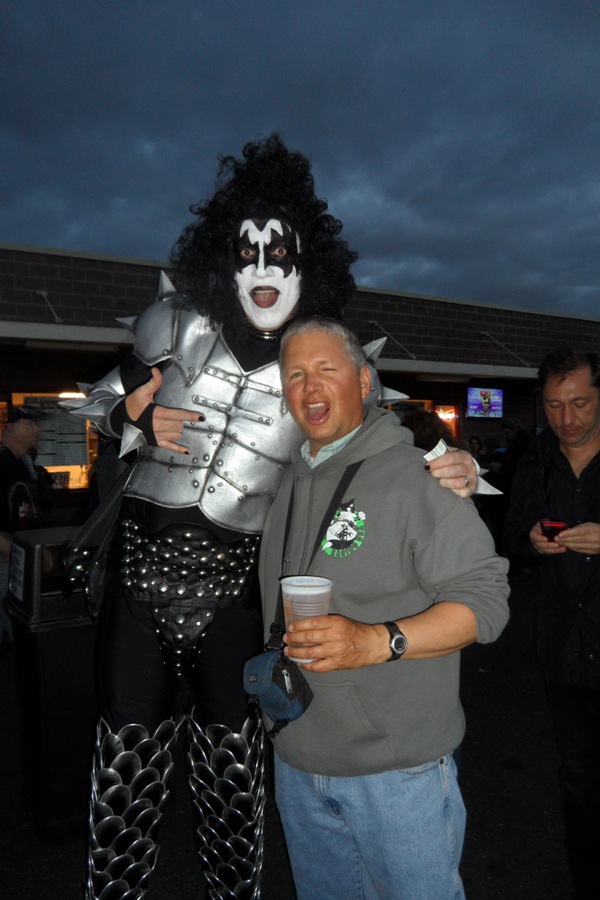 Another 142 session 5 photos here.
Session 6, 2014 staff update.......*followed by Session 7 update below.
Time got the best of me last weekend, so session 6's update is a week late. My apologies. Anyway, here are a few things that happened at camp during session 6...
There's now a live webcam at mid-way palmer, which you can view here. The mhssc water-ski boat that was used in the late 80's/early 90's is for sale. Check it out here. Yep, water-skiing was an afternoon activity back in the day. The boat/trailer are parked at Mike's house. I celebrated my 49th birthday on Wednesday. In leiu of going to Charlie's bar, we did a green smoothie party at Parham....and made vegan/gluten-free banana, peanut-butter, chocolate ice cream for dessert. It rained for about 5 minutes on Wednesday on the hill. It looked like thunderstorm type skies, but that never quite happened. John Rust, came out of mhssc coaching retirement and coached this week. He camped out with his family at Trillium Lake for the week. The last day we could ski over from the Timberline Lodge swimming pool area to get on the magic mile in the morning was July 3. I almost got taken out by a slalom skier. Watch the video here. Mark Syrovatka, Mike Bansmer, Sophie Ostroski, and Max Marno climbed to the top of Mt Hood on Wednesday. Mark & Sophie followed that up with a climb up Mt Rainier last Saturday.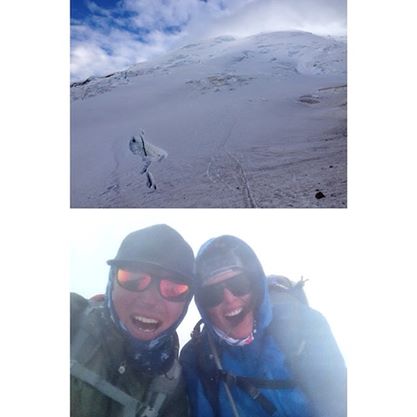 Many of the staff got dressed up in American Flag colors for 4th of July on the hill, as you can see in some of the photos below. There was also the annual 4th of july fireworks on the soccer field on Friday night, but I was not there to witness it. I heard there was one sketchy moment during the presentation.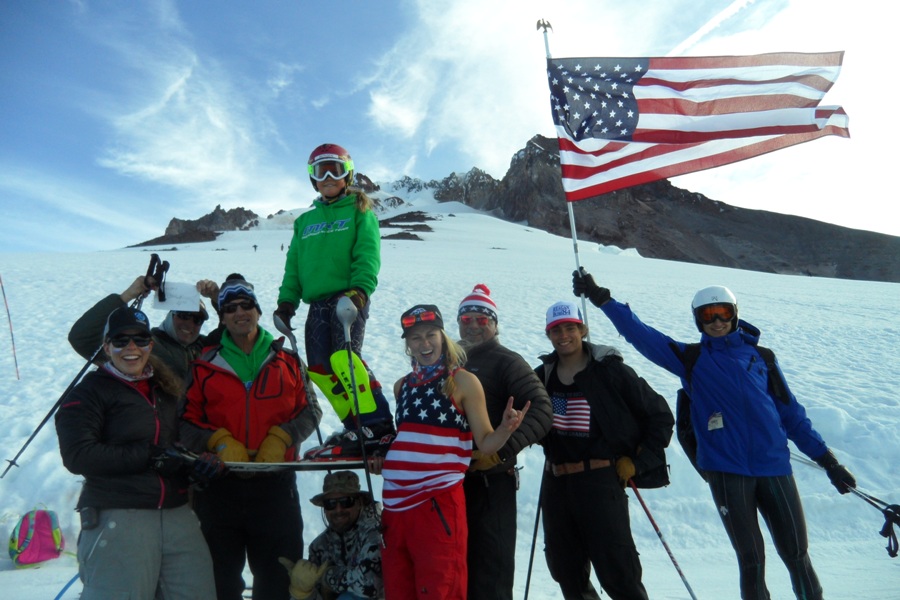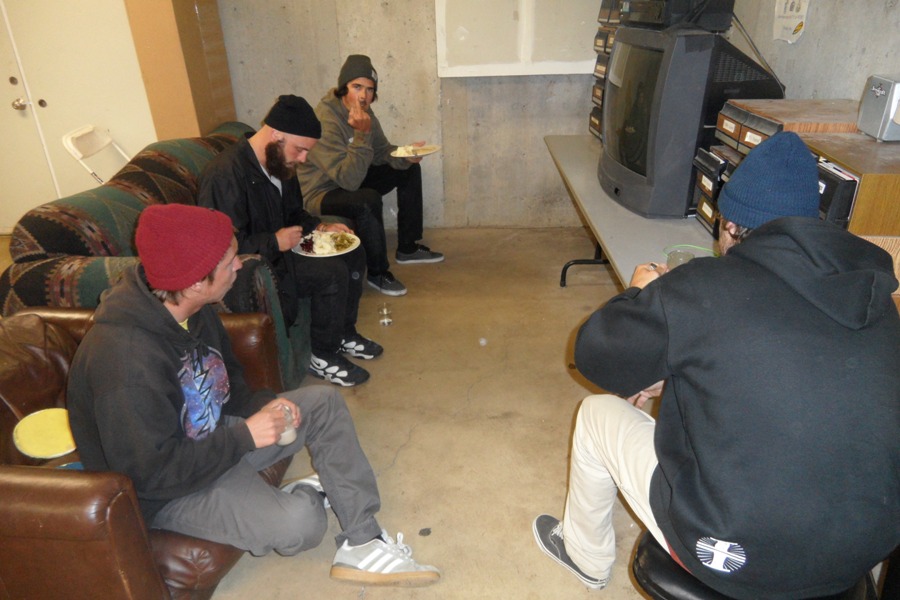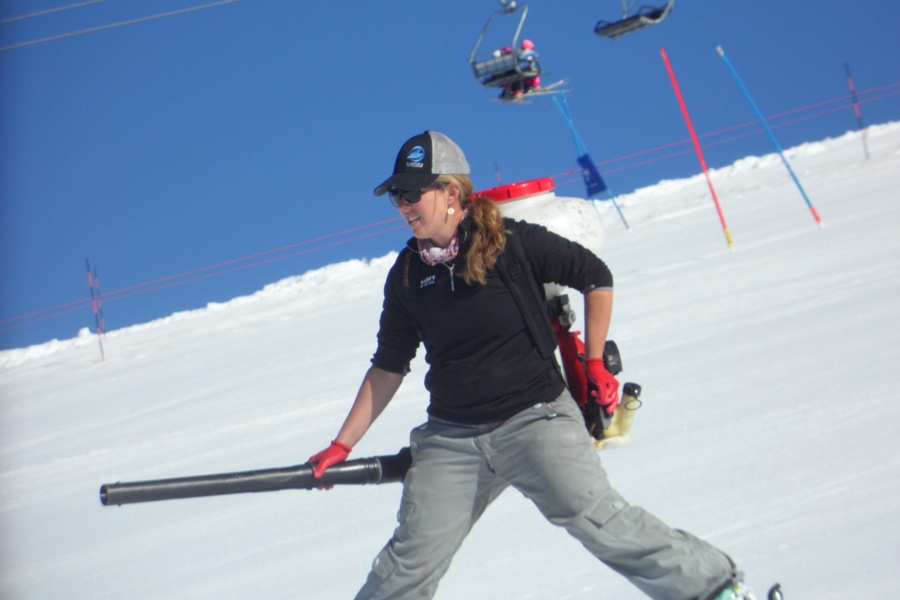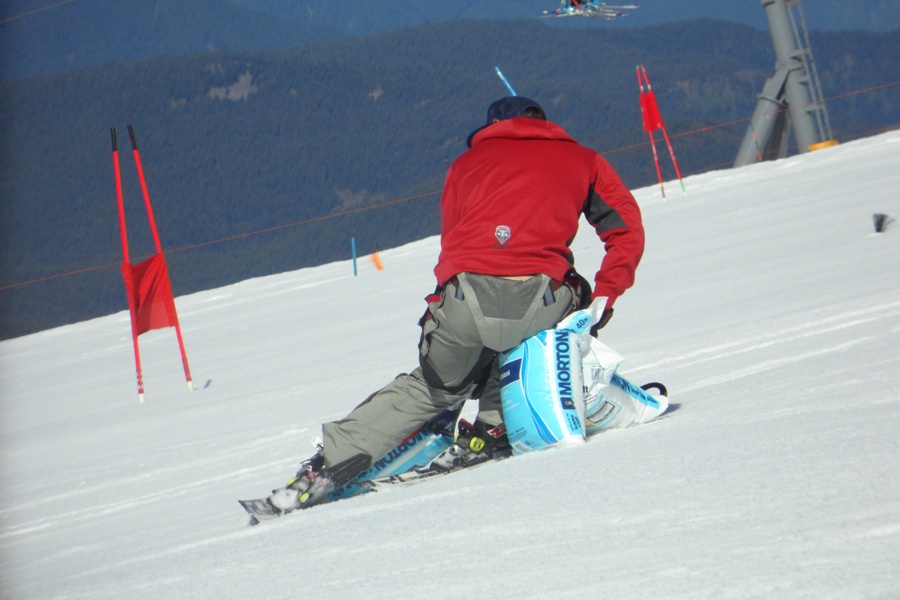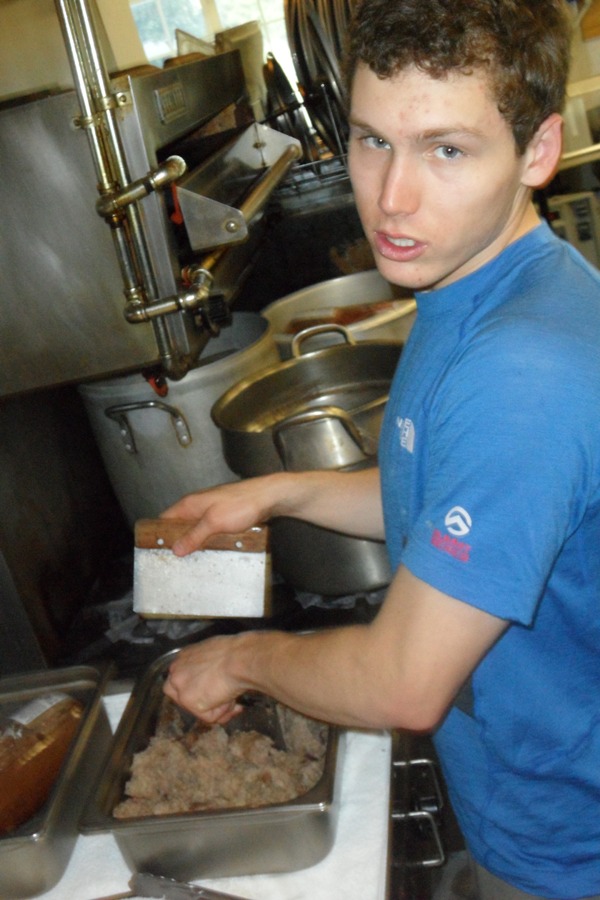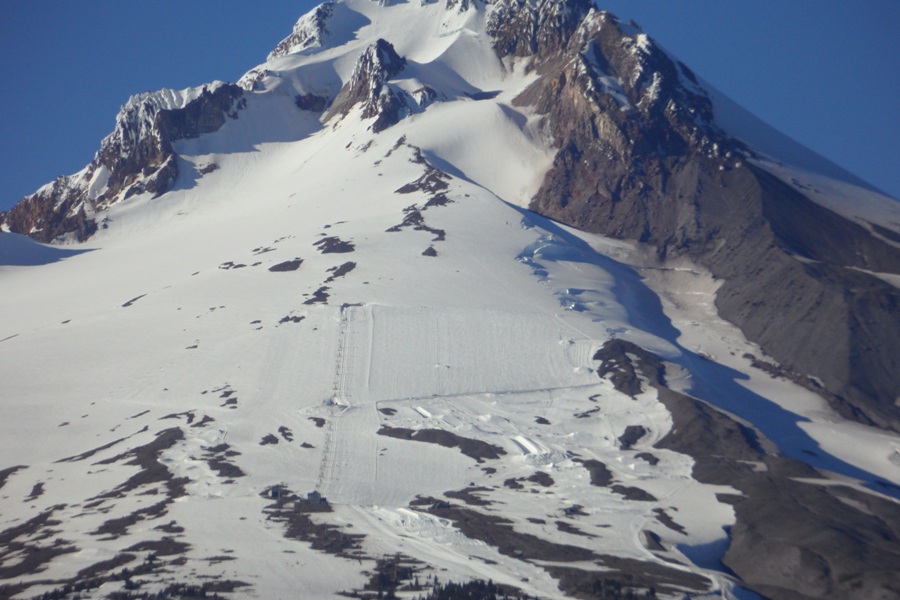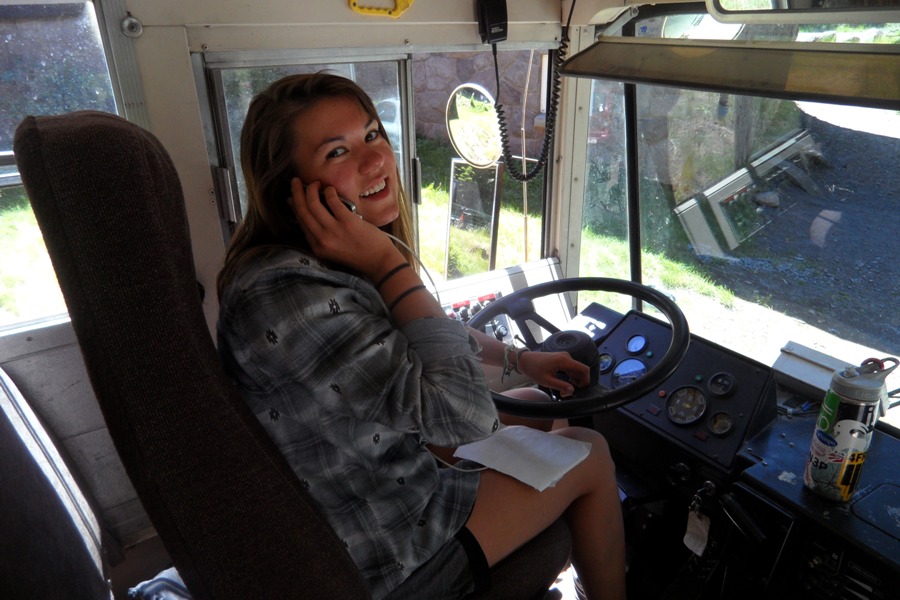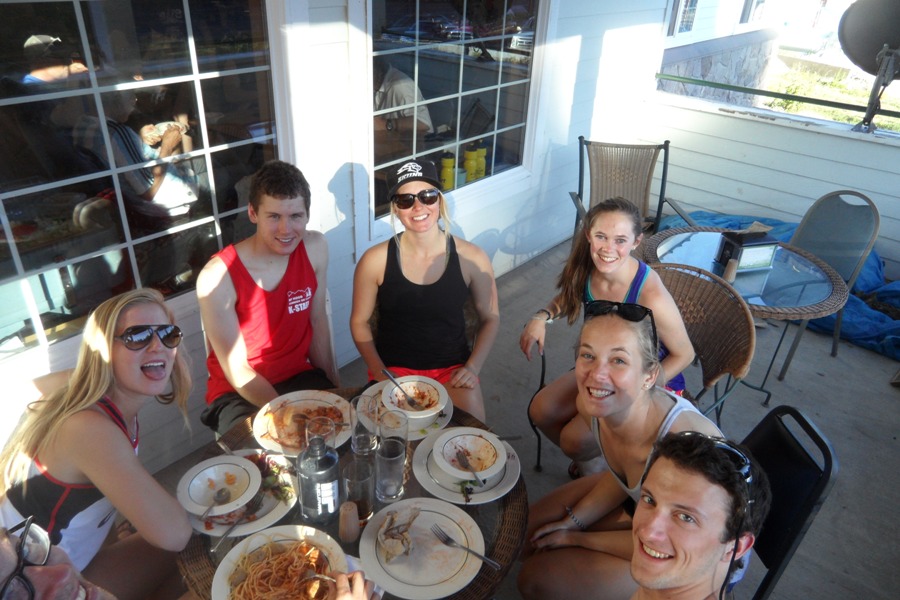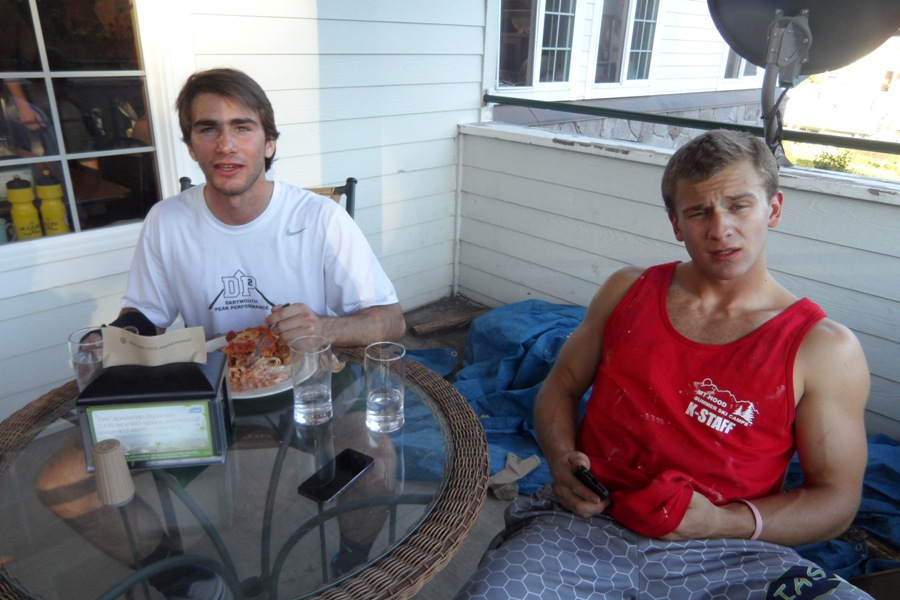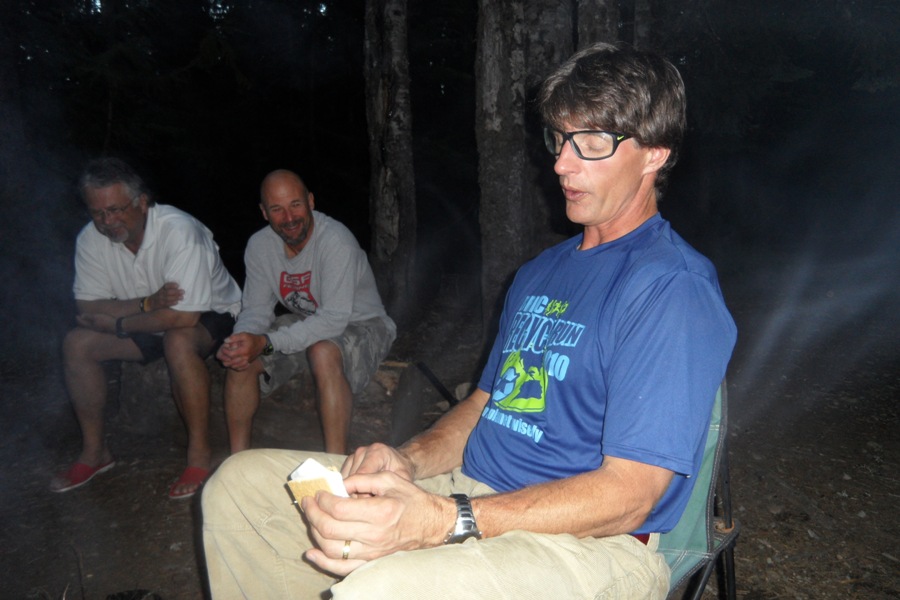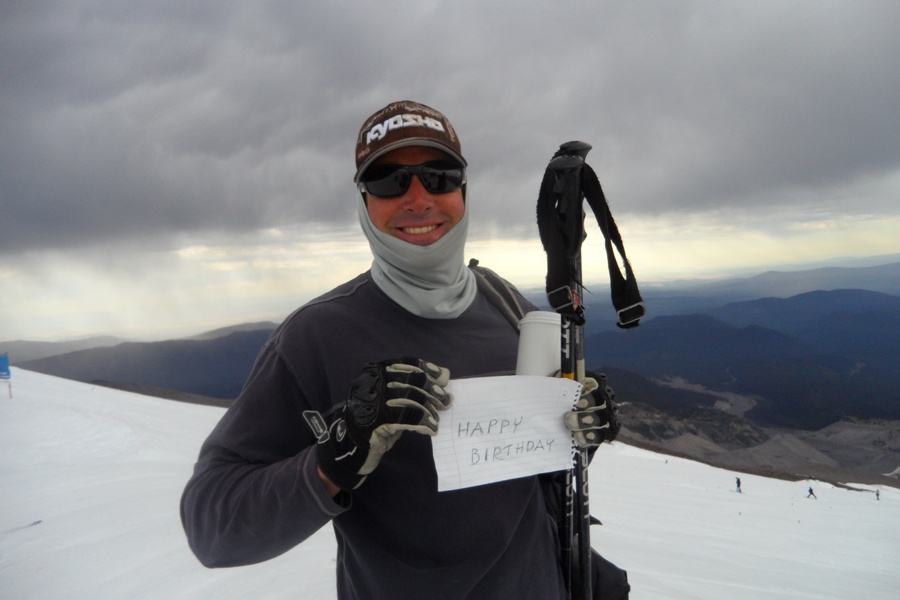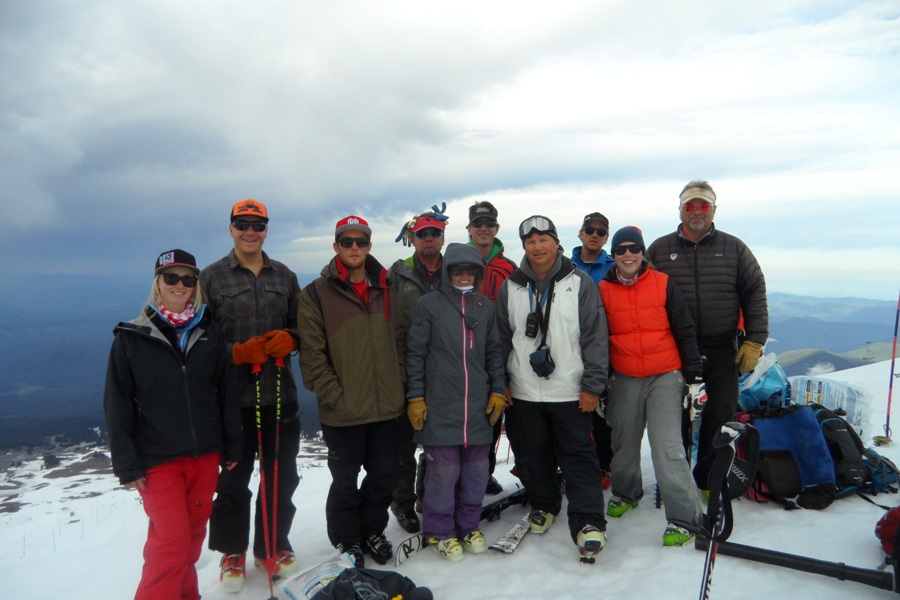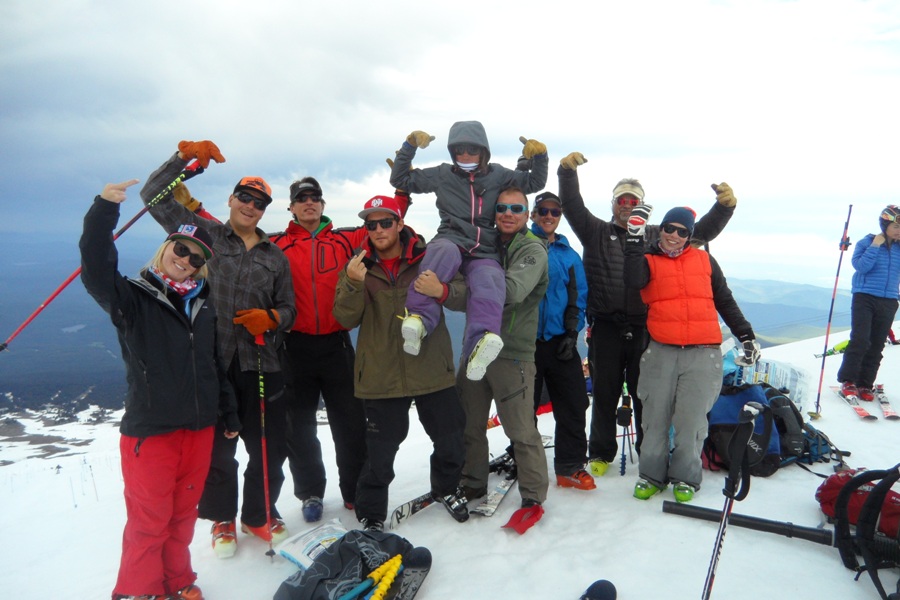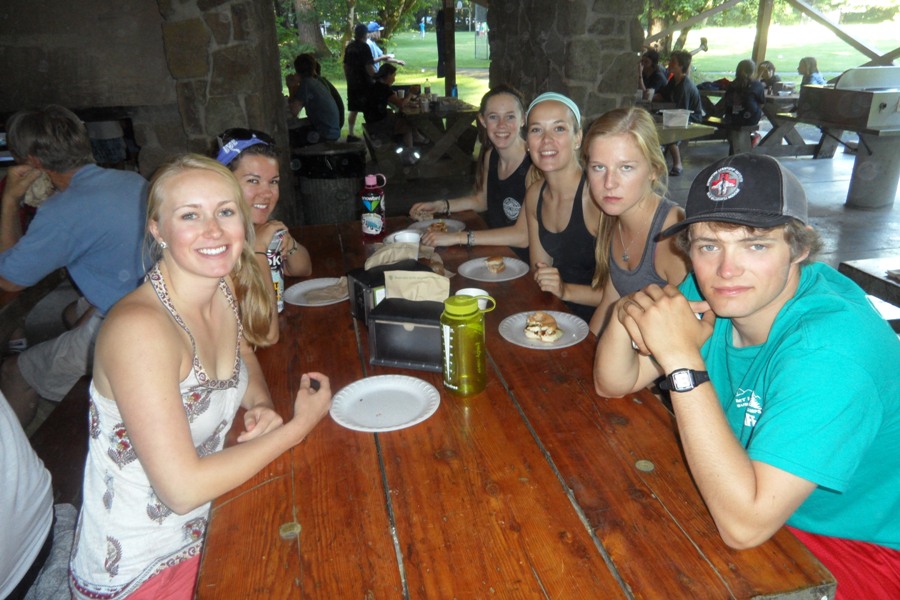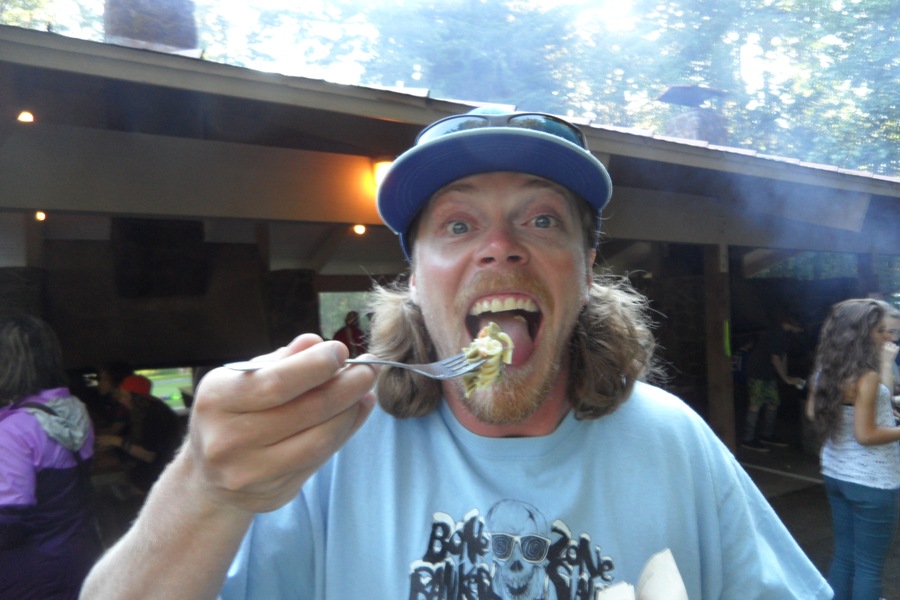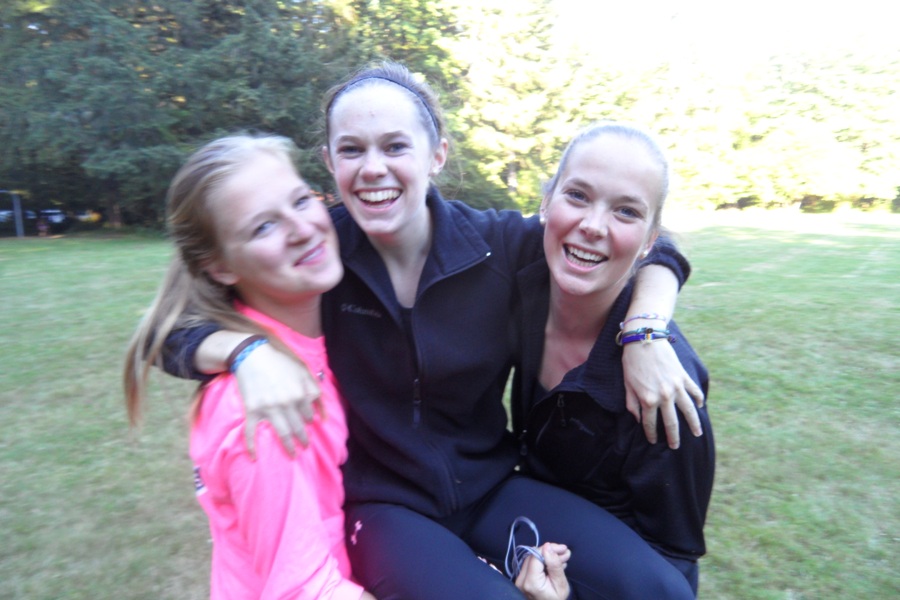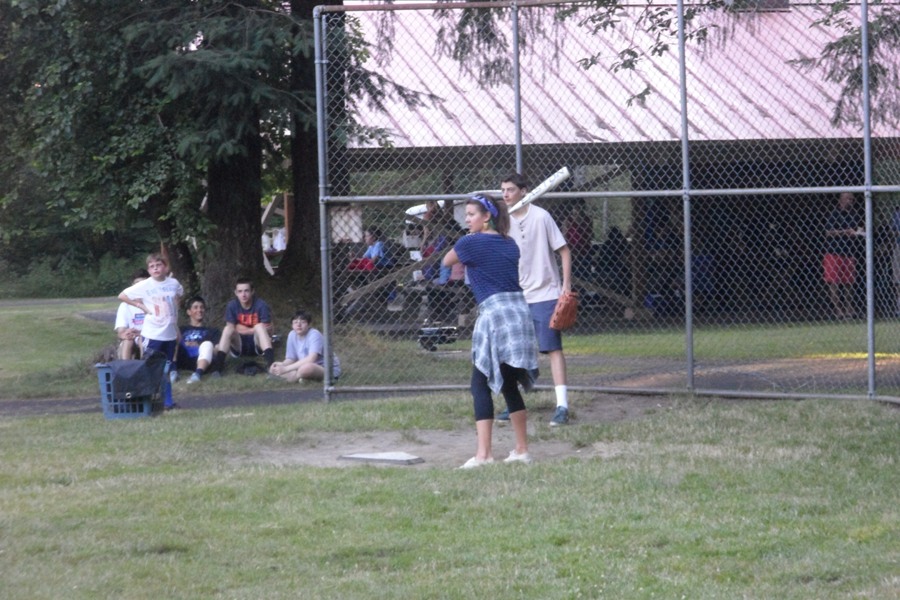 Smoothie party and ice cream....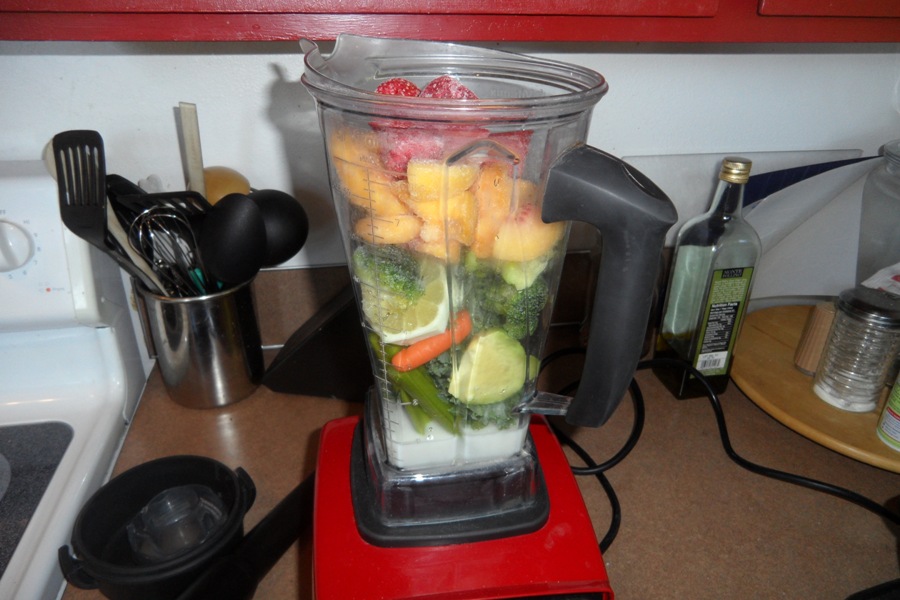 Banana, peanut-butter-chocolate Ice cream recipe: 4 frozen bananas cut up in 1" chunks, 1 heaping tablespoon of homemade peanut butter (only ingredient is peanuts), and a tablespoon of cacao (raw chocolate) powder. Put ingredients in vitamix blender and blend for about 30-40 seconds, using the damper to push the stuff onto the blade. Delish! It was consumed so fast, that I didn't have time to get a photo of the finished product.....only the bowl.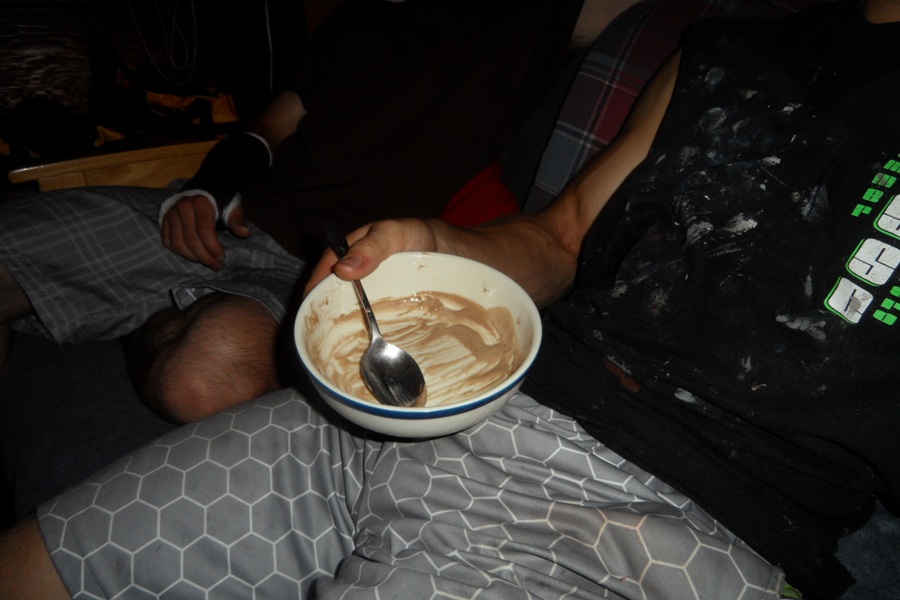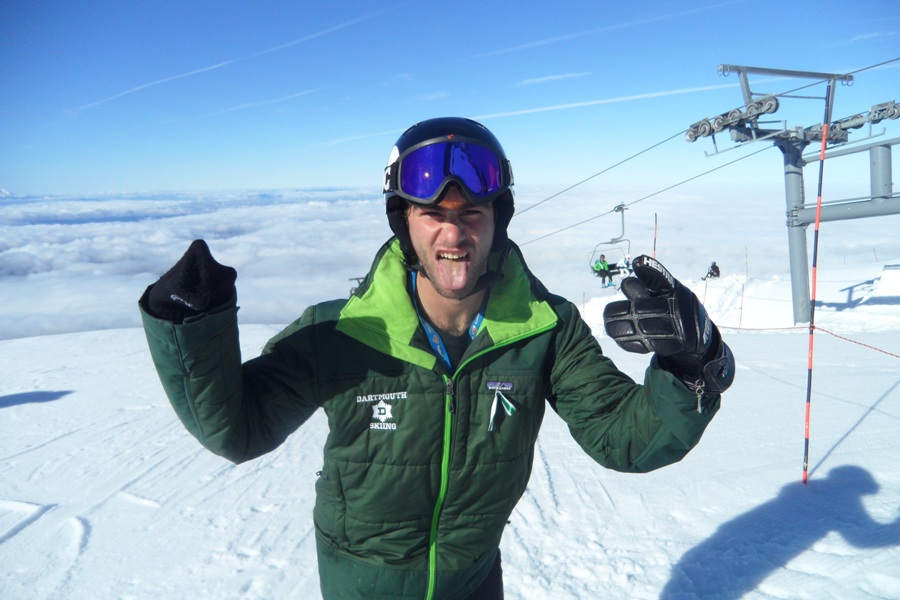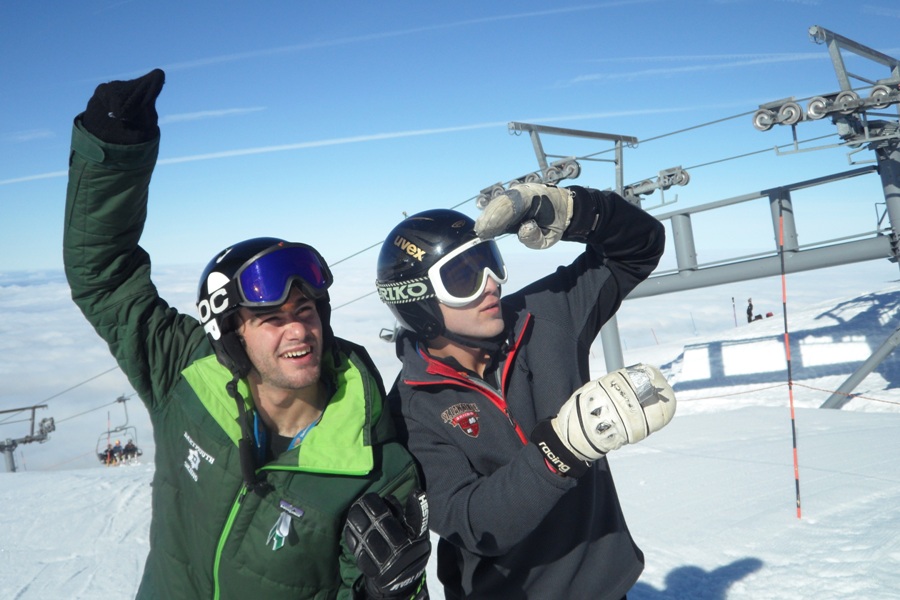 Random camper handed me a lighter and a gummy worm as my reward, after I saved his shin-guard from sliding all the way down the glacier...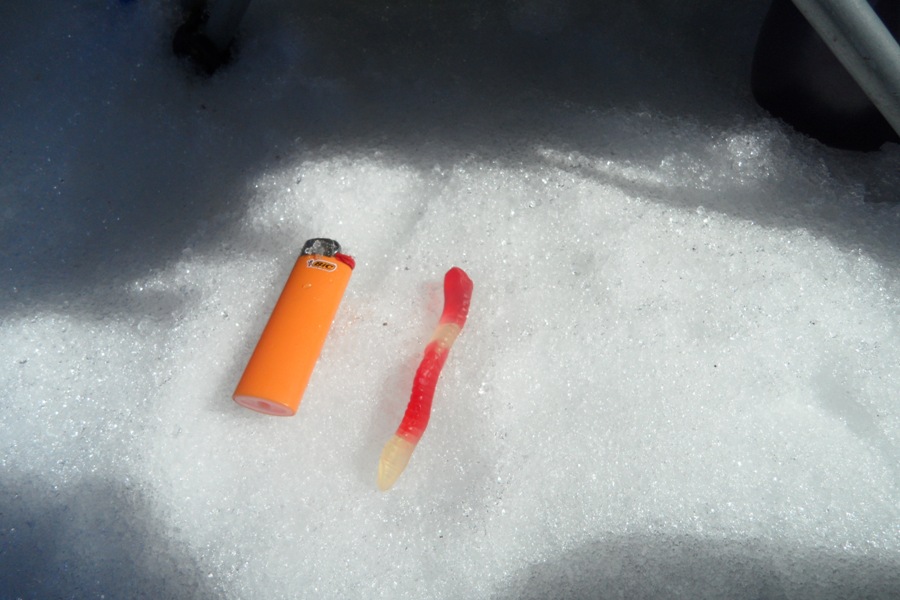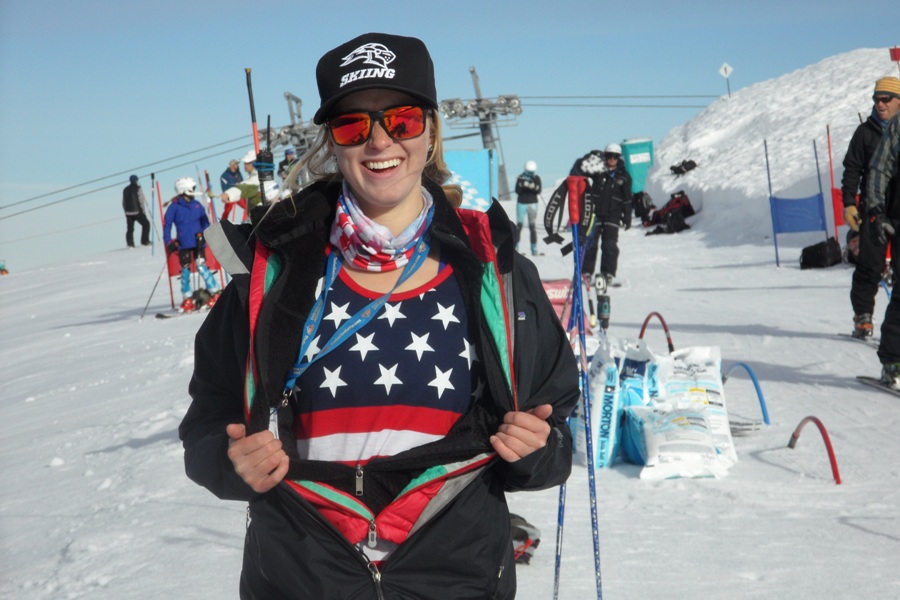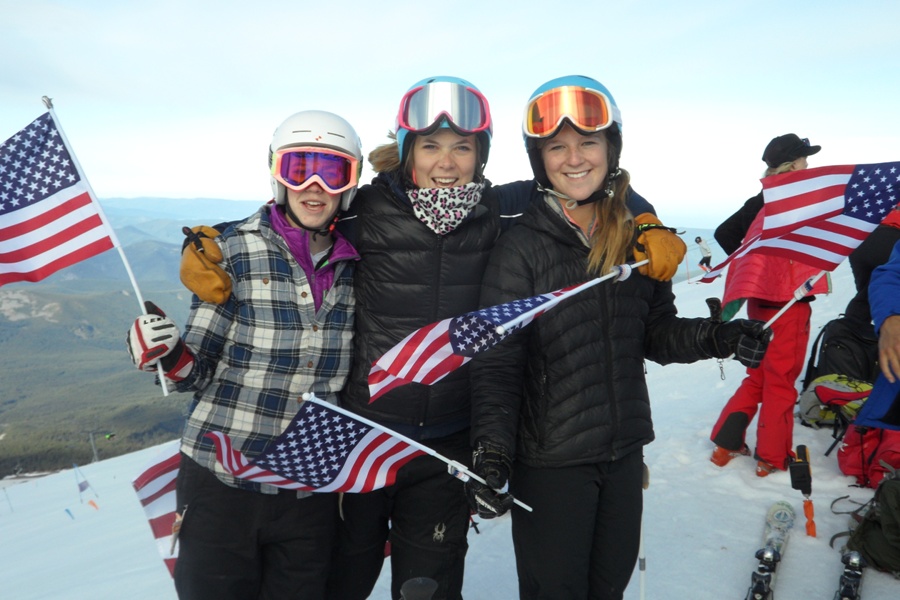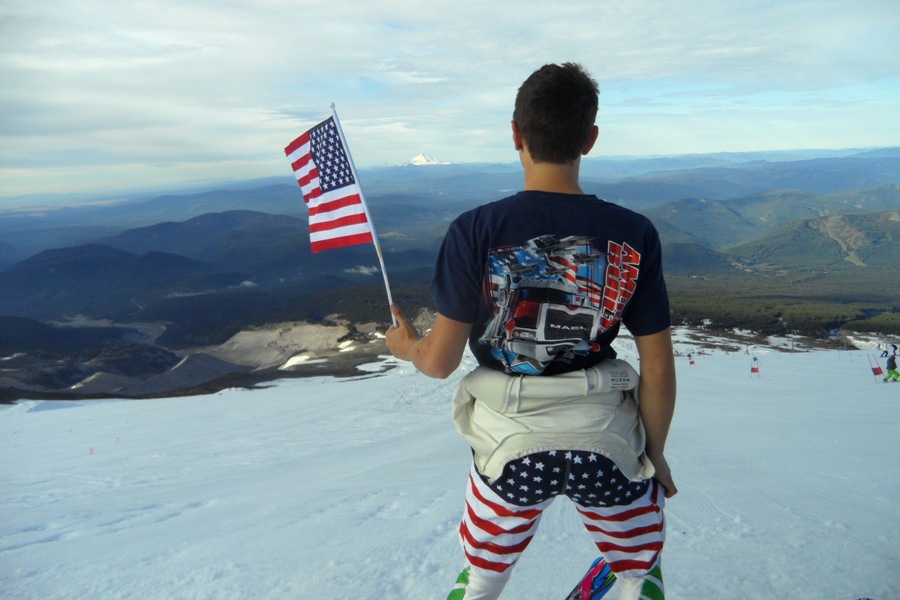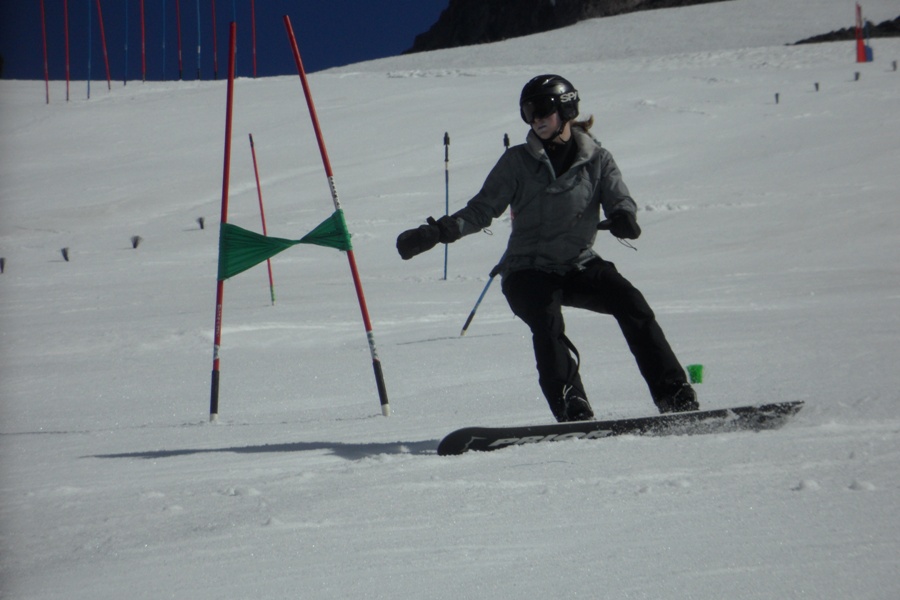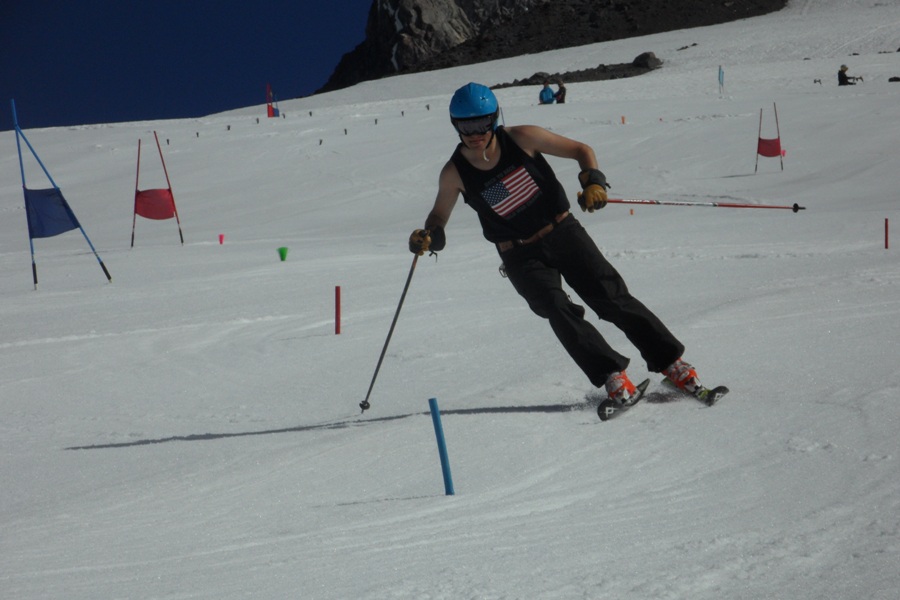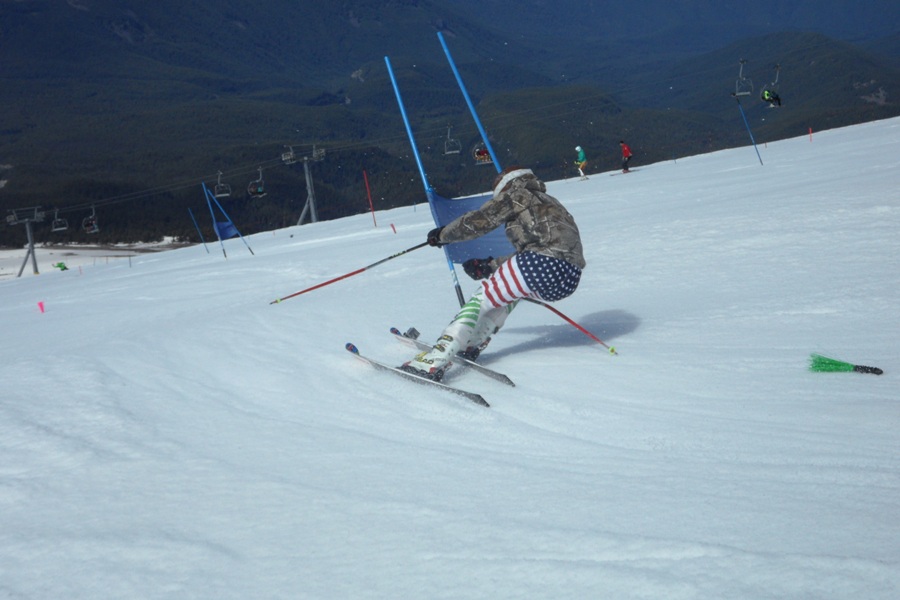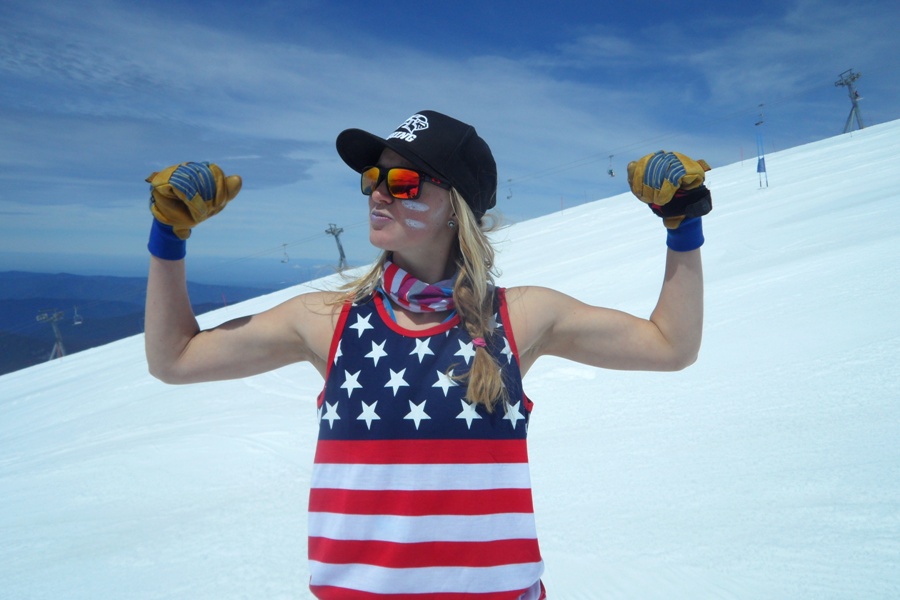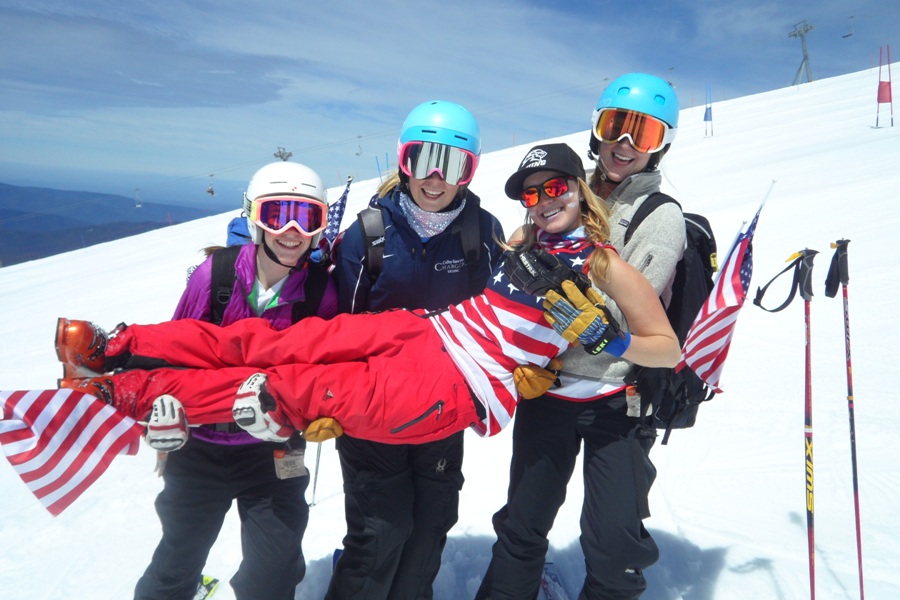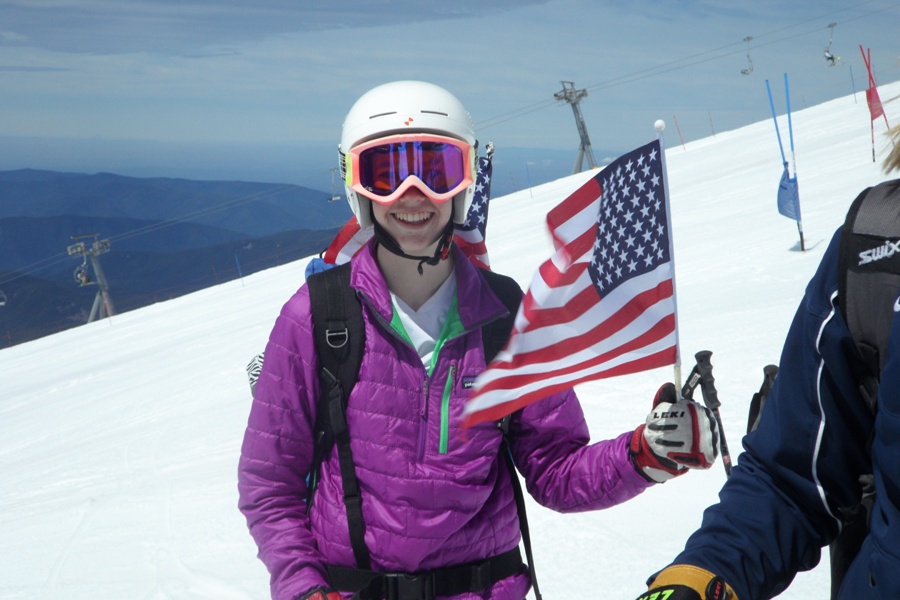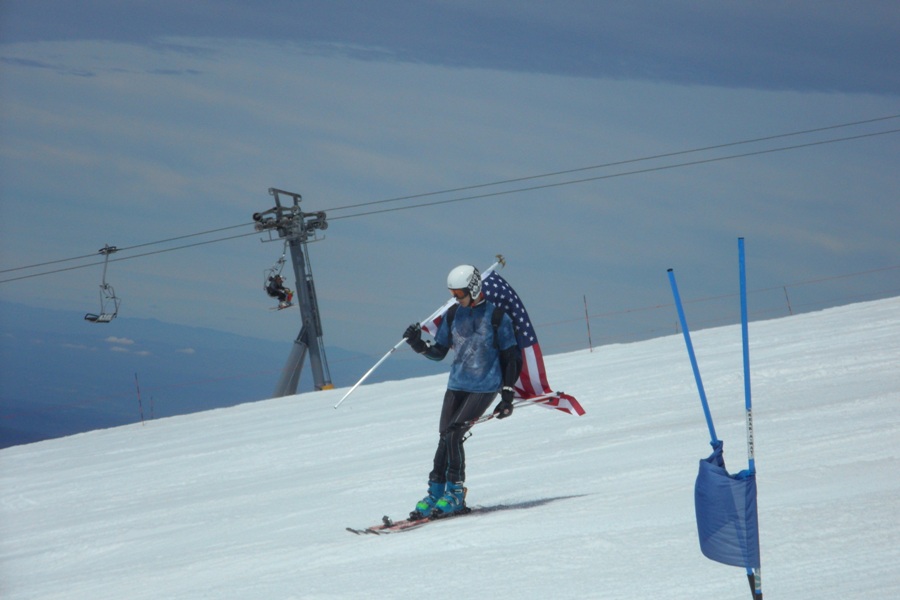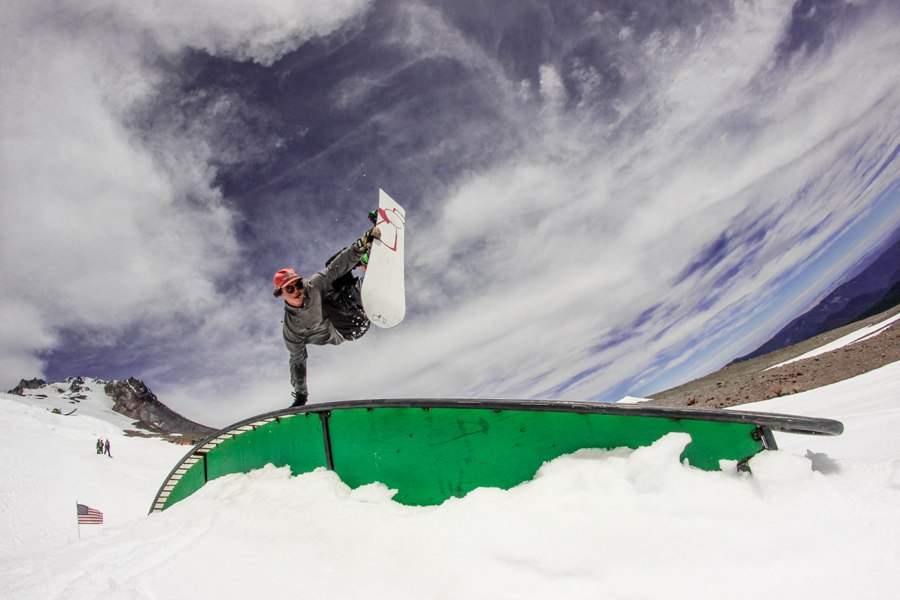 Another 282 session 6 photos here.
Session 7, 2014 staff update:
We are officially half way thru summer '14.....still skiing to the parking lot.
It was HOT this week. Long lift lines too. There was a set of what I think were elk tracks (see pic) going up thru the middle of lanes 5 and 6 on Tuesday. I wonder where it was headed? Andrea Dahl hiked up to the top of the race lanes....she's only about 2 months removed from knee surgery. Darren Owen got a flat tire on his weekly bike ride to the picnic. Somewhere along the route, he also lost his spare tube, so he was stranded and had to be rescued at the Dairy Queen in Rhododendron. John Turbes did a big 360 off the mogul jump on Friday. Timberline has been rationing how much salt they are distributing to each camp. Shredhood.org posted an article about the use of salt on Mt Hood back in late May and you can read it here. After a 5-year hiatus, Spencer Raymond (former counselor) returned to mhssc as an alpine race coach this time. Come have a "ginger-shot" with me. Bring your own apple. Fuxi is back in town after struggling to find a place to rent for his Govi ski shop. Former camp videographer from the late 80's, Steve Heuer, posted a photo on FB of himself wearing the camp t-shirt from 1987. See pic below. Wish I had more to write about, but......I don't. 73.4% of the people only look at the pictures anyway......Or only look for their name in bold.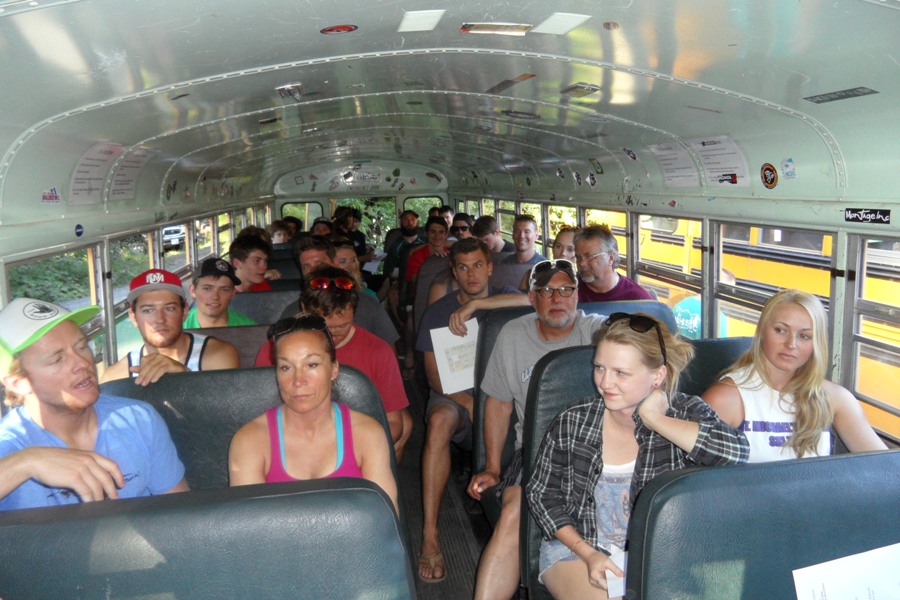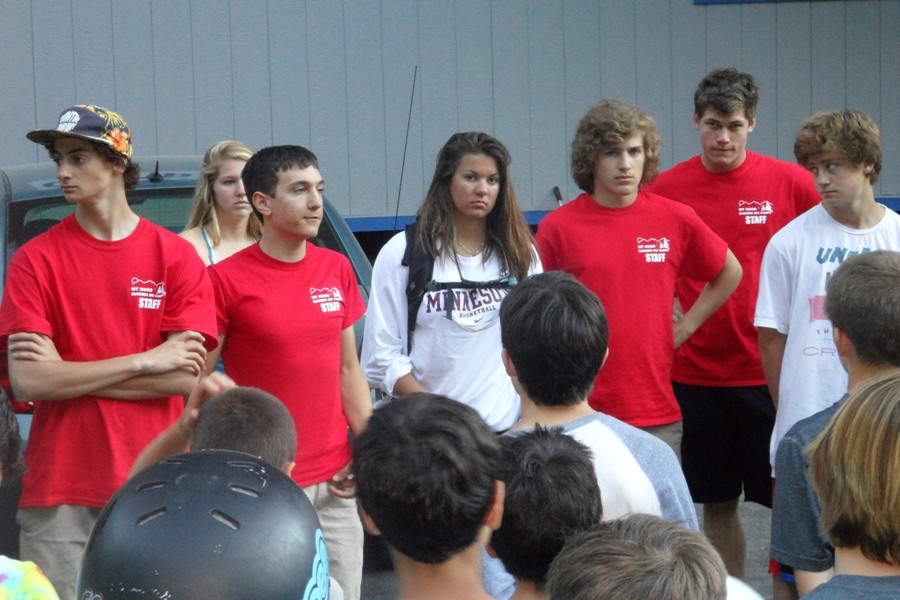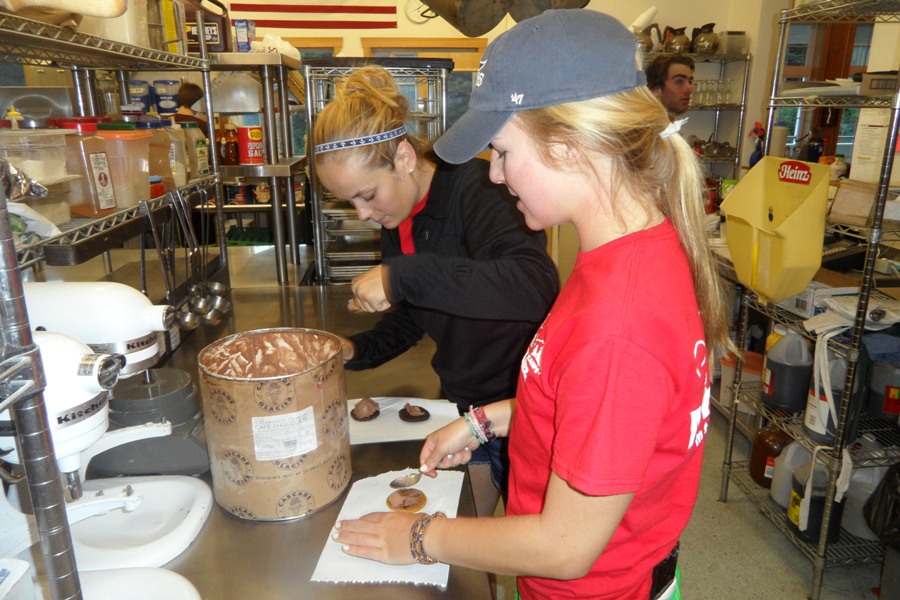 Elk Track!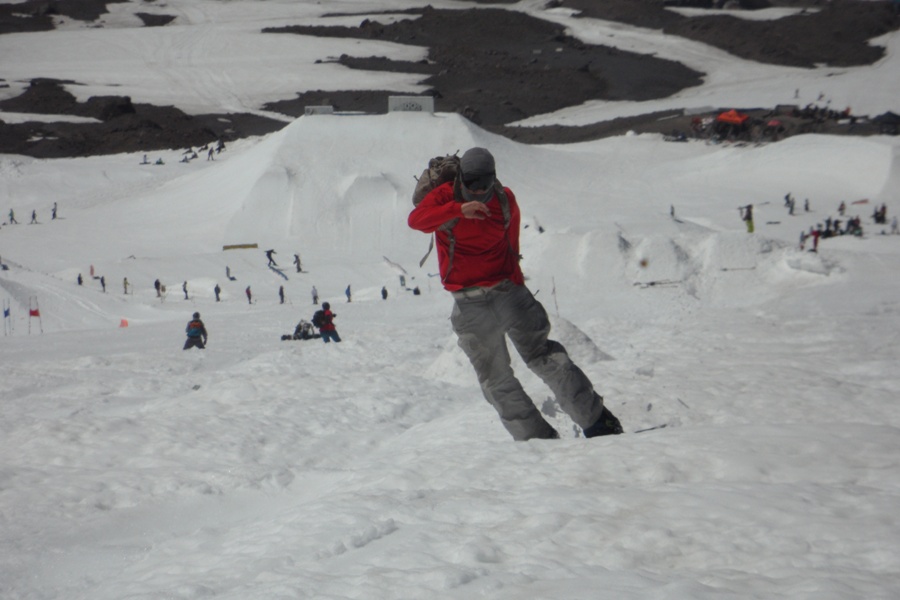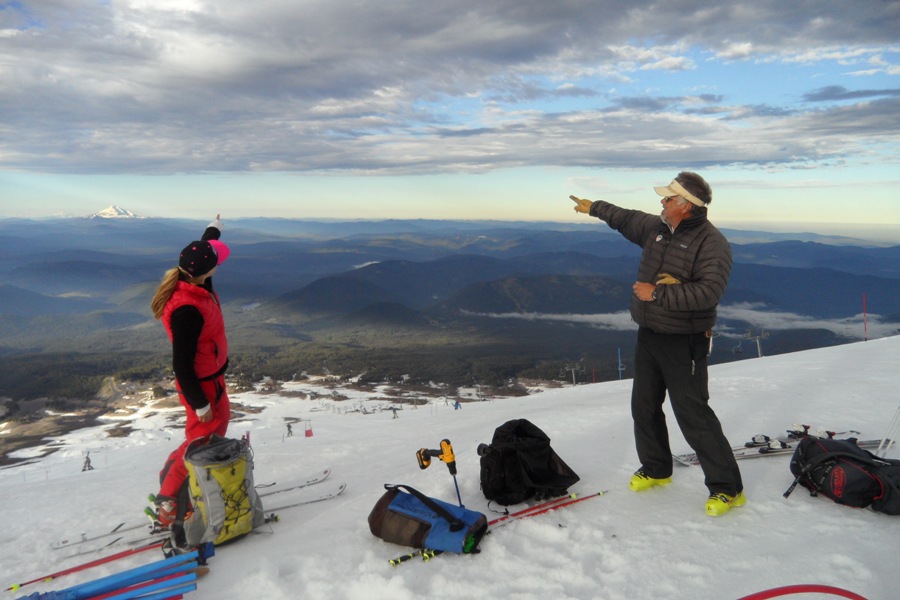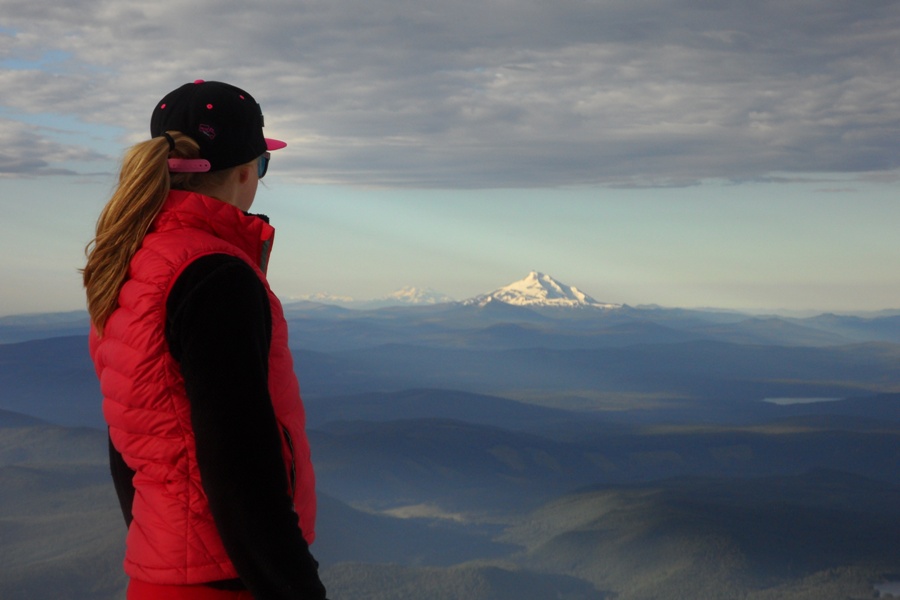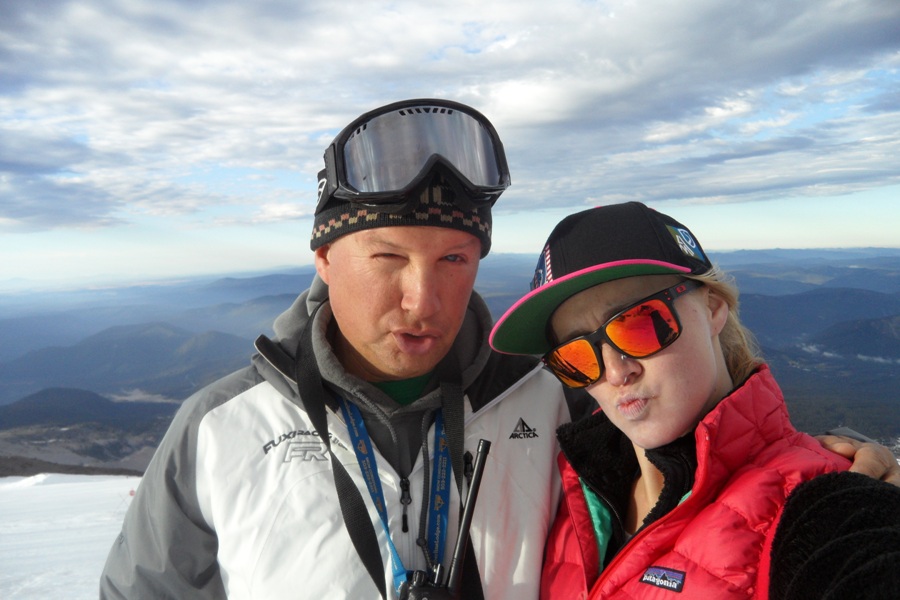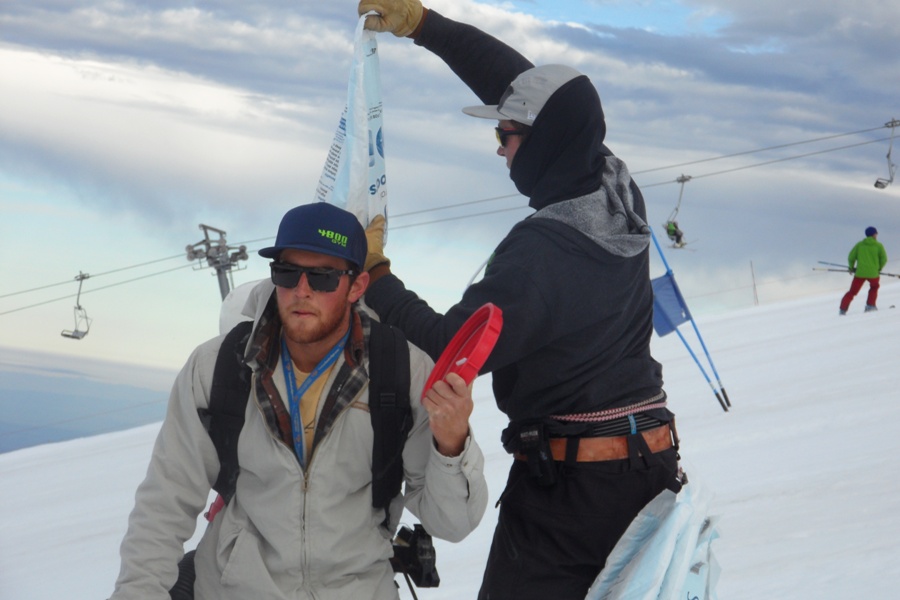 Salt monkey video here.
Another 193 session 7 photos here.
Session 8, 2014 staff update
Sunday, arrival day for session 8, was quite the weather day. Lightning/Thunderstorms rolled thru Portland/Mt Hood with a vengeance. Timberline closed the lifts around 9am that day. The lightning sparked several forest fires that you can see off in the distance from the glacier in the days that followed. (see pics). Some of Becky-Aurora Thompson's campers made up a dating profile for her on "farmersonly.com". Last I heard, she had several people interested in her. MHSSC bus drove a couple of Windells campers to their camp as they got mixed up at the airport and got on the wrong bus. On Wednesday, Chase Kerzel rode his bike from camp to Timberline...skied all day, then rode back to camp. Then Chase ran 3 miles with me, Bill Toney, and Leo Povolotskiy at the picnic on one of the hottest days of the summer. (plus we ran sorta fast). It was quite windy on Thursday and Friday. While filming in the wind, I thought what was paper money blowing right past me, down the hill at a high rate of speed. I wasn't sure if it was actual money or could have been a food wrapper. Anyway, moments later, I saw John Turbes ski over and grab the "money" over in lane 8 (past the moguls)....turns out it was a $5 bill. Andrea Dahl fell out of the raft 3 times on Tuesday's raft trip. The owner of shredhood.org, Ben Jacklet, came for a visit to the hill on Friday. He's currently writing an article about summer ski/snowboard camps and it should be published soon. Watch Jackie Reis, try to deal with putting sunscreen on her face in the wind. And you need to experience ginger shots! The late 80's/early 90's water ski boat was towed up from Mike's house to camp on Friday. Mike hopes to sell it on craigslist. (see pics). As you can see, it needs a little TLC. Last day to ski all the way to the parking lot was Monday (or Tuesday if you didn't really care about the bottom of your skis too much). There was some entertaining pond skimming in the bottom of the mile canyon on Monday. Mike Bansmer's dad came up skiing on Friday. His dad was to race in the summer fun nationals on the weekend. I heard that the 2nd run of the races were cancelled on Sunday due to weather issues. A 12 year old camper suffered a tib/fib spiral fracture in the public terrain park at the end of the day Friday. He was ambulanced down to Welches school, then helicoptered to a Portland hospital along with counselor Courtney Troxell. See pics below. *the kid had surgery that included pins, rods and plates. the end....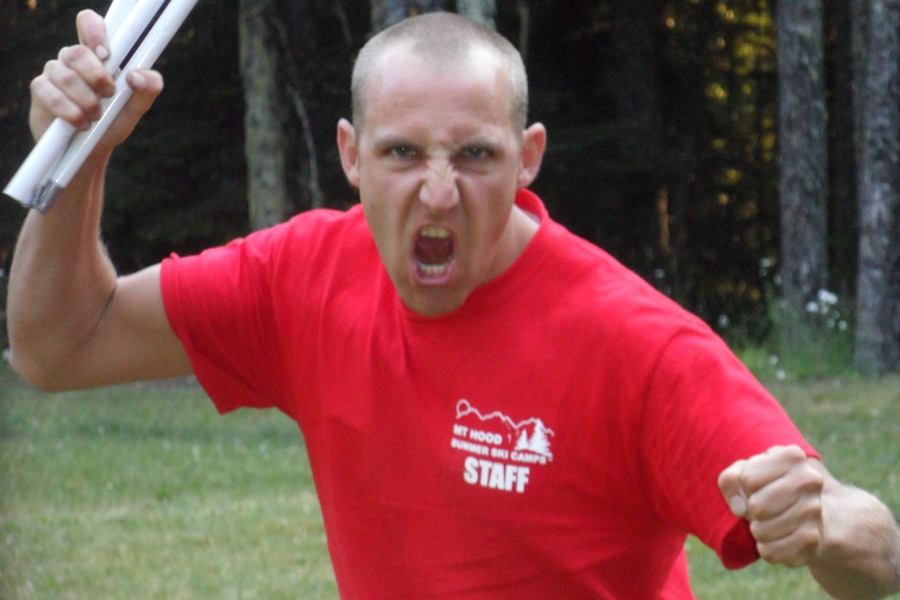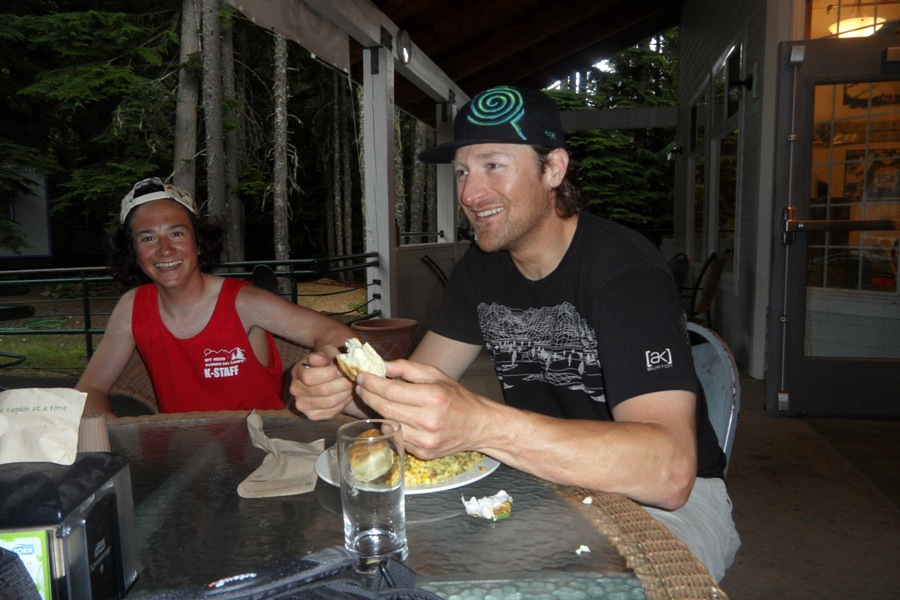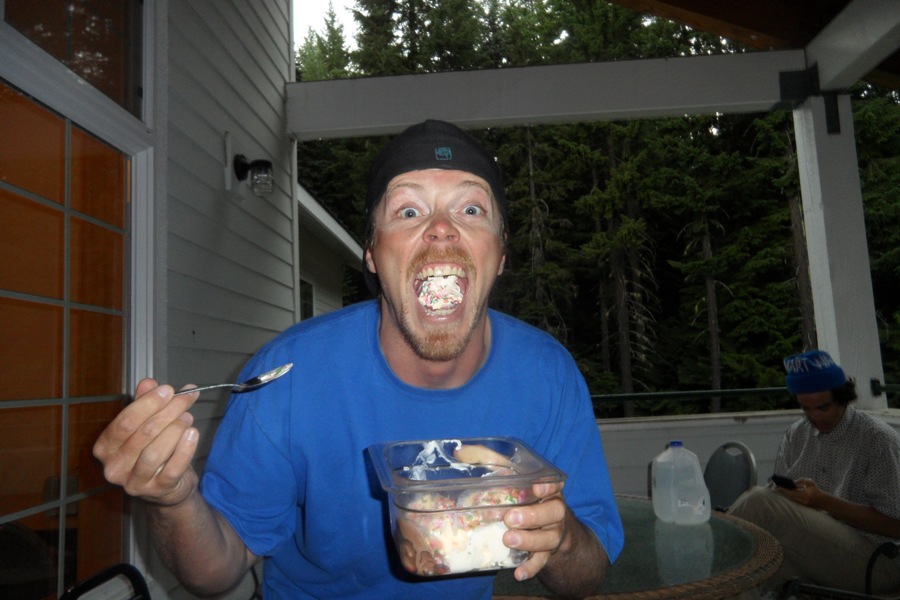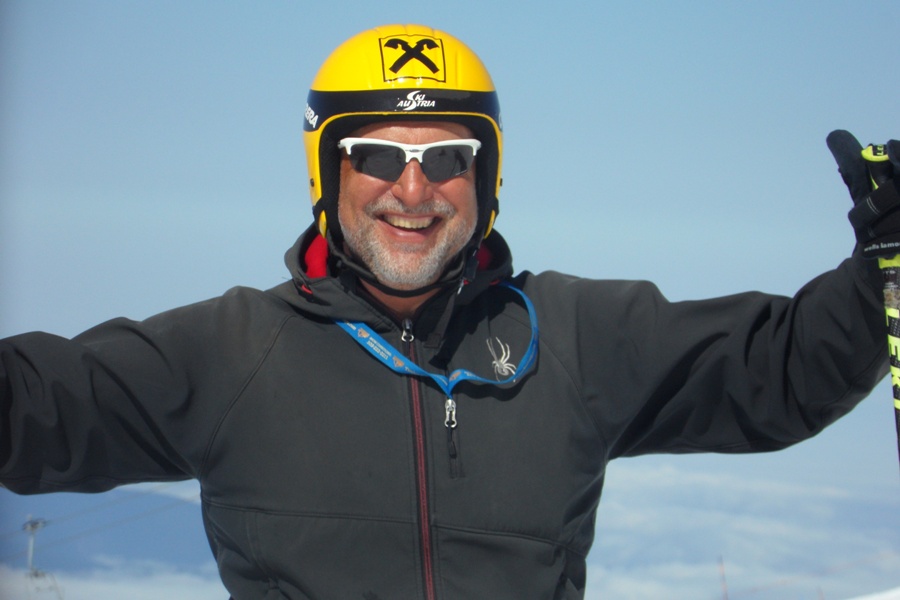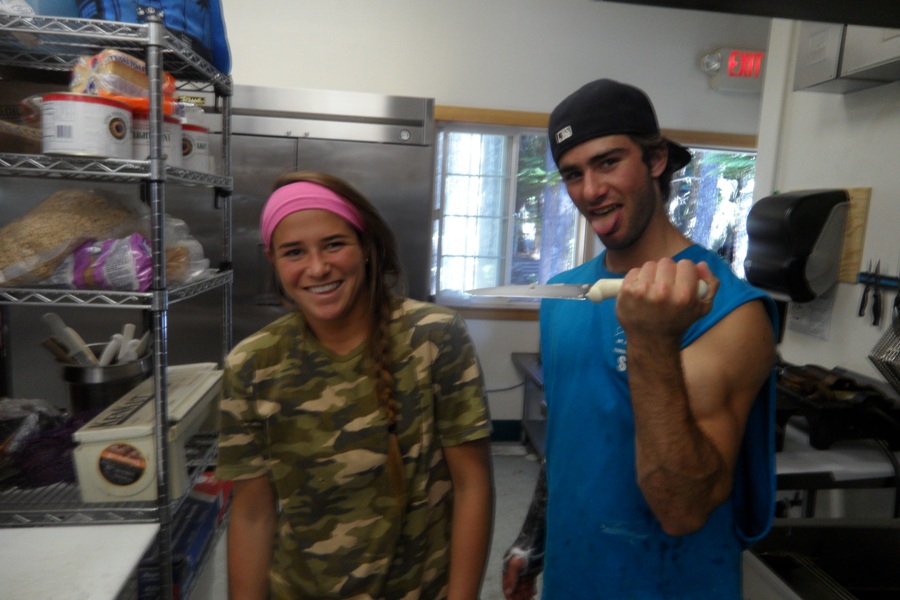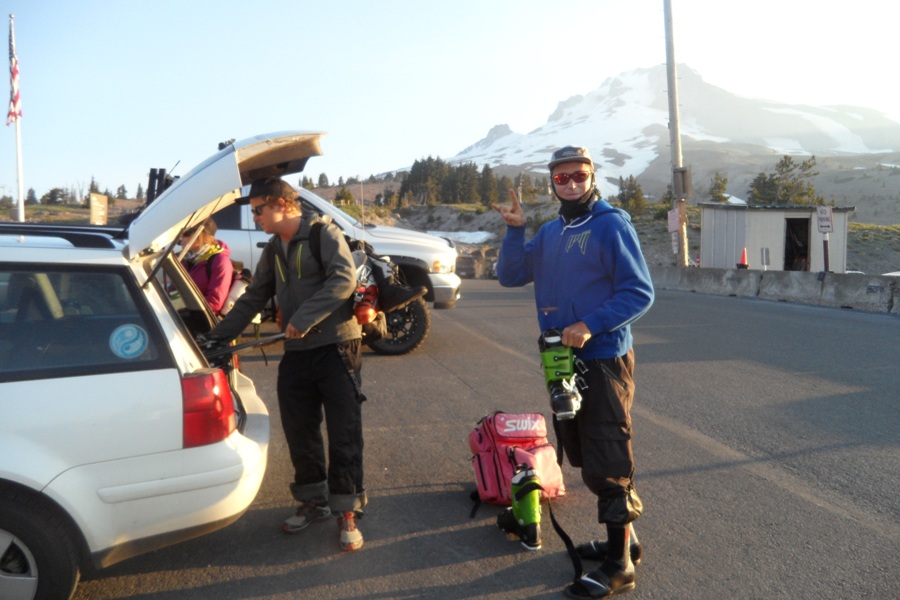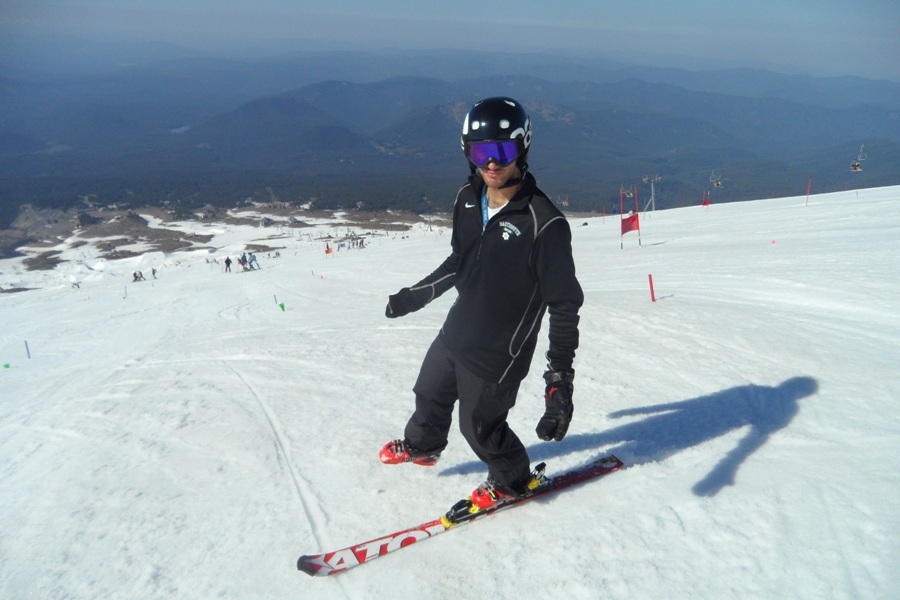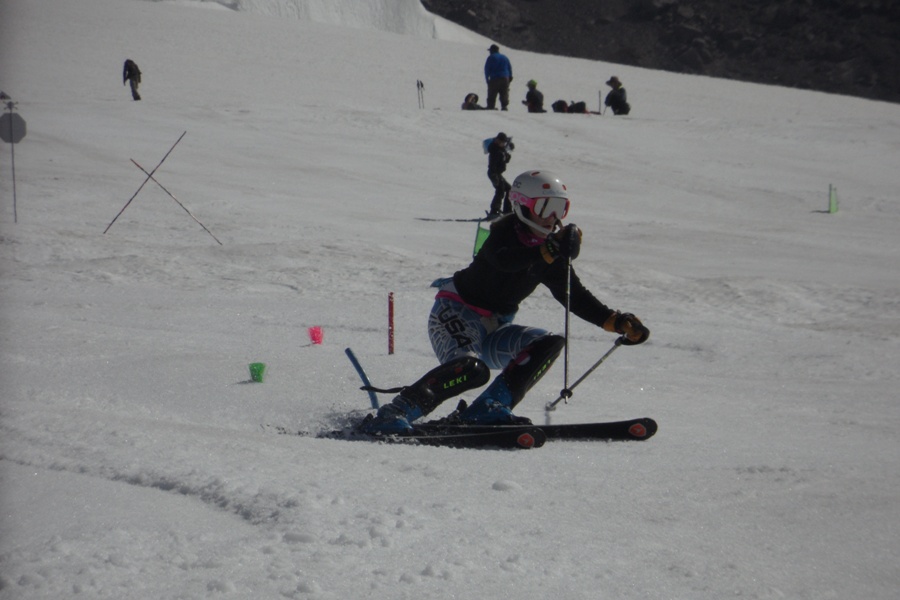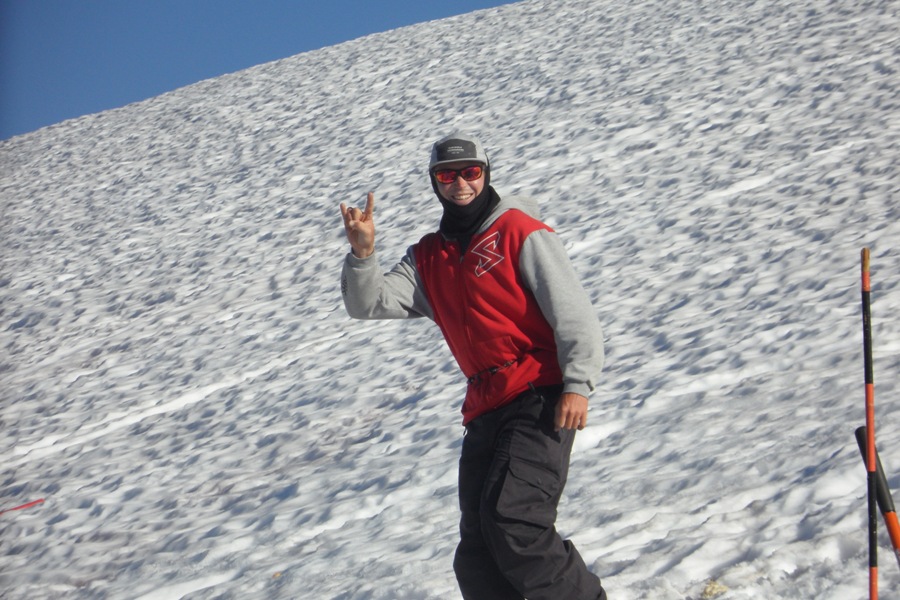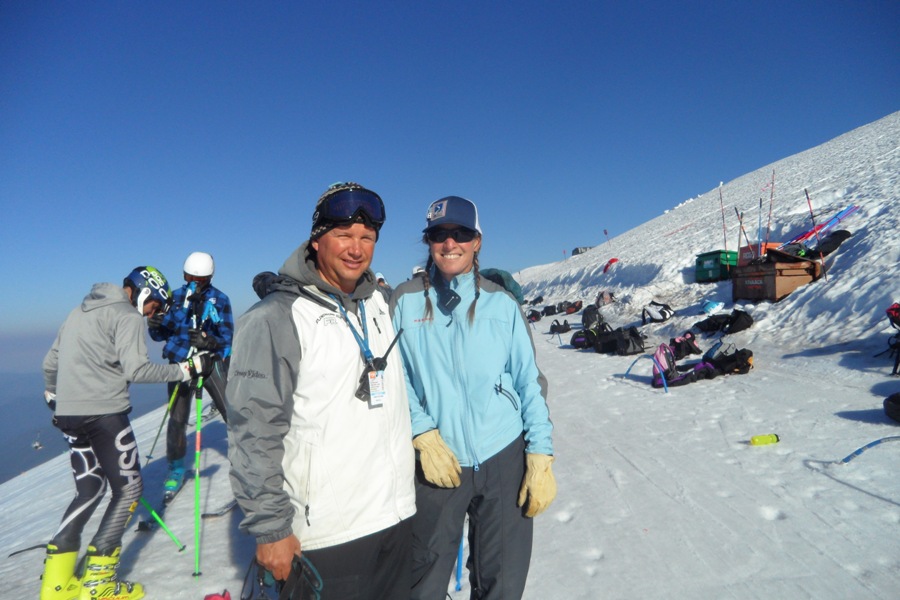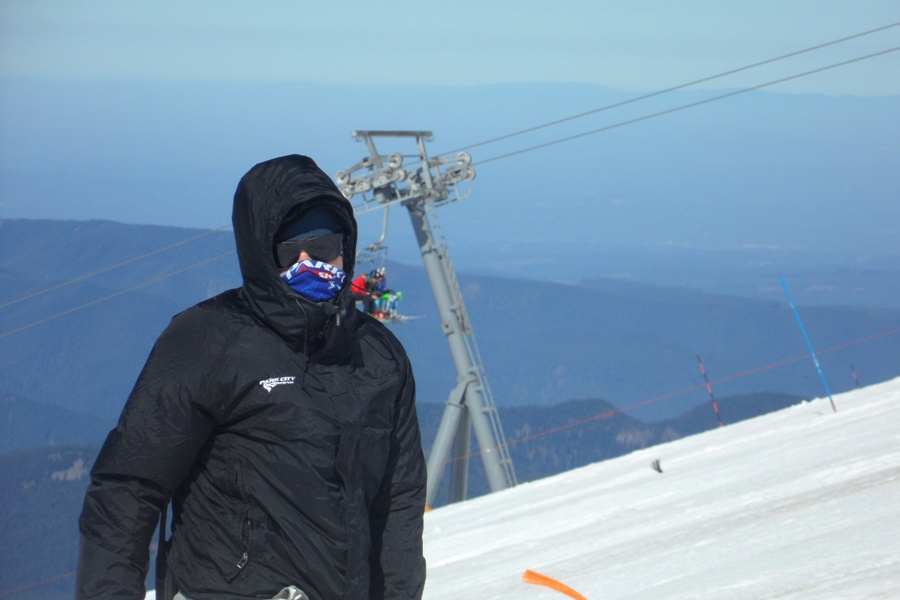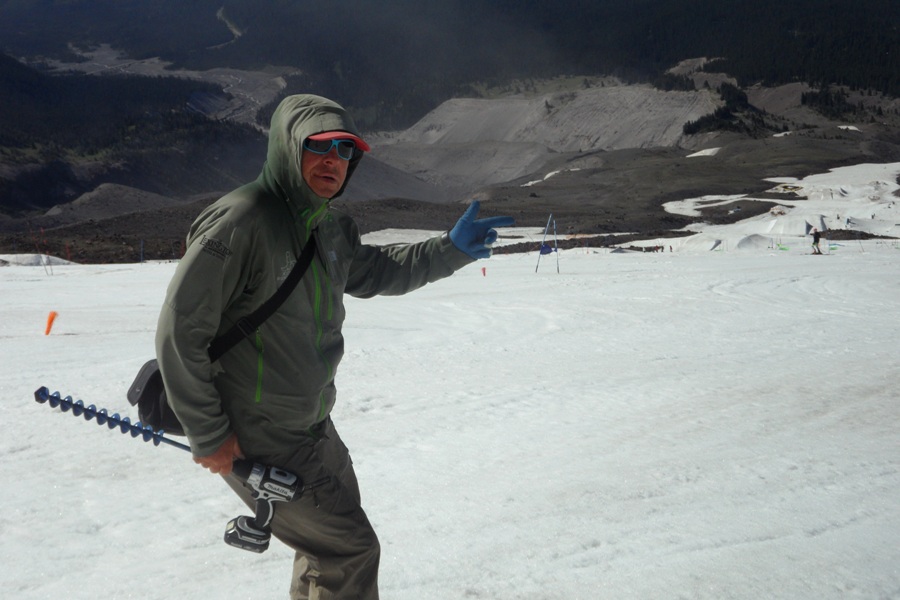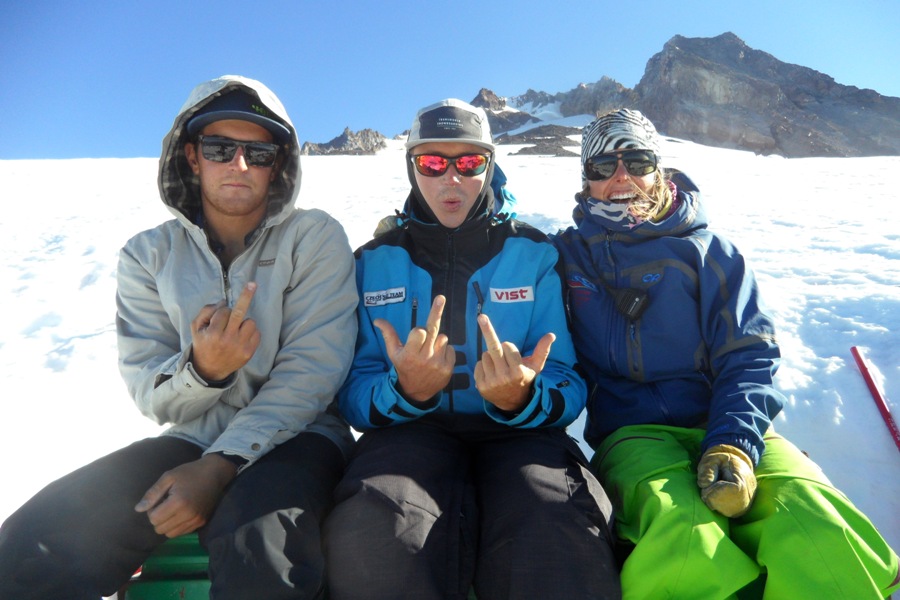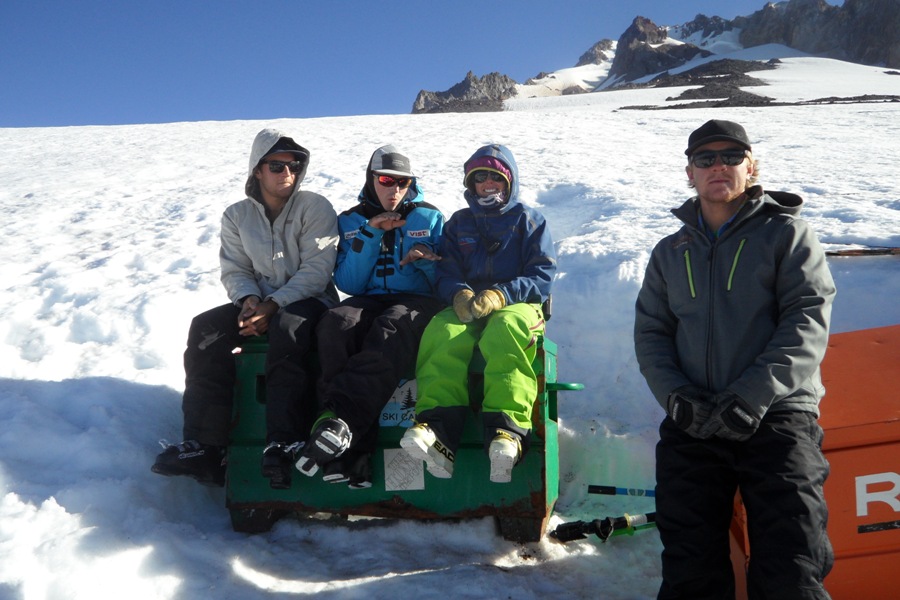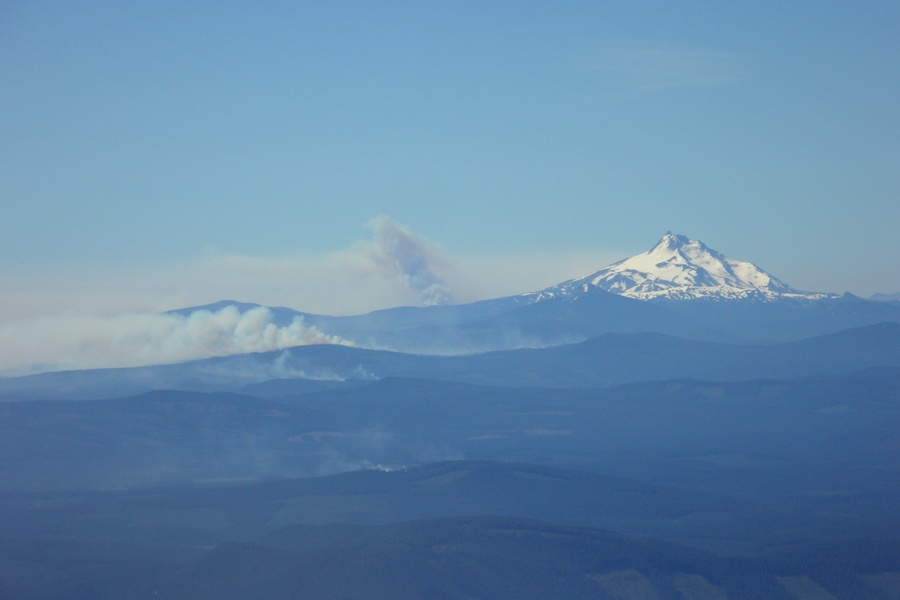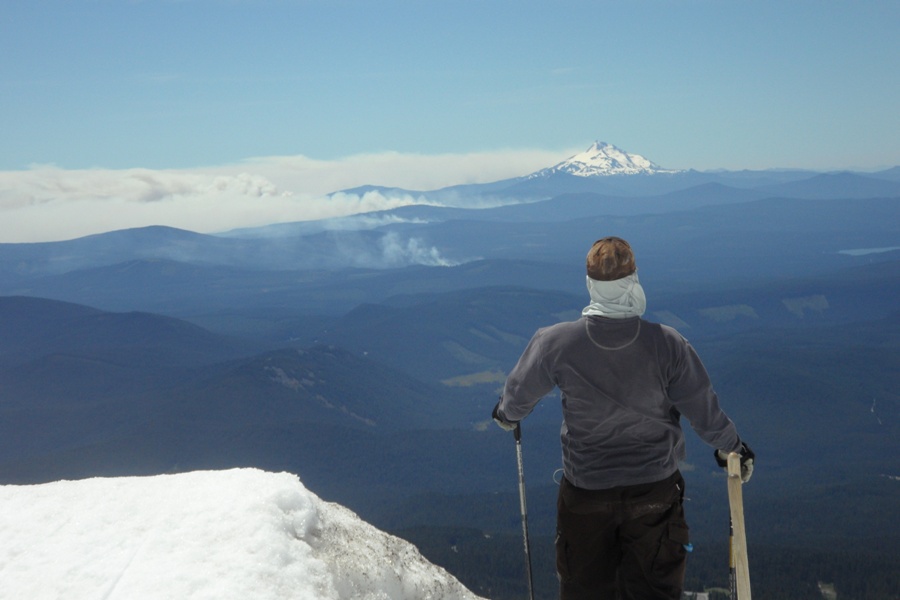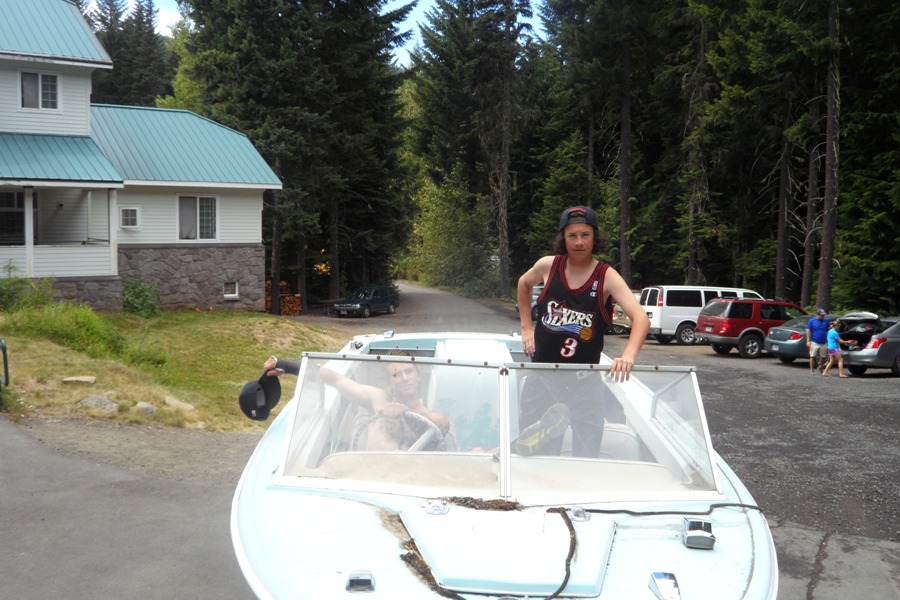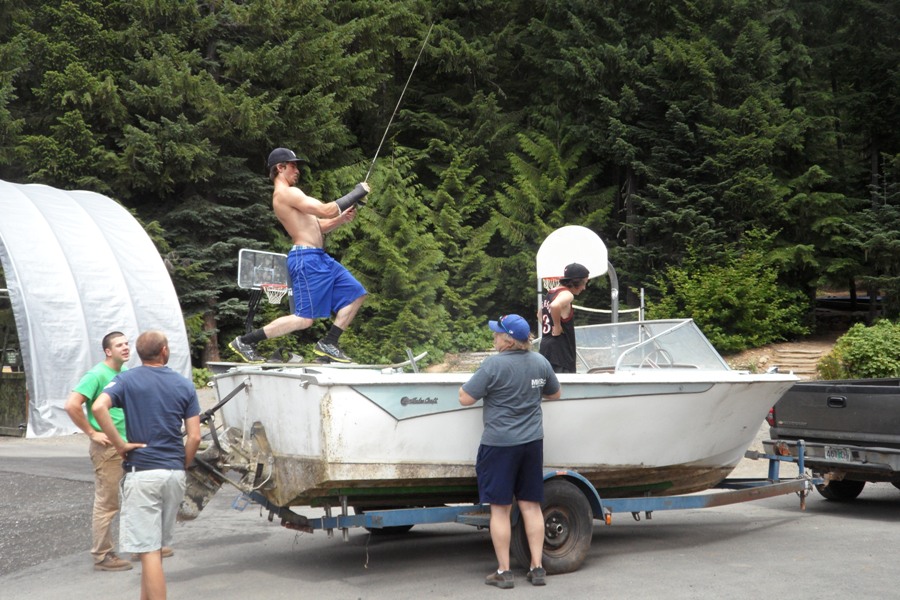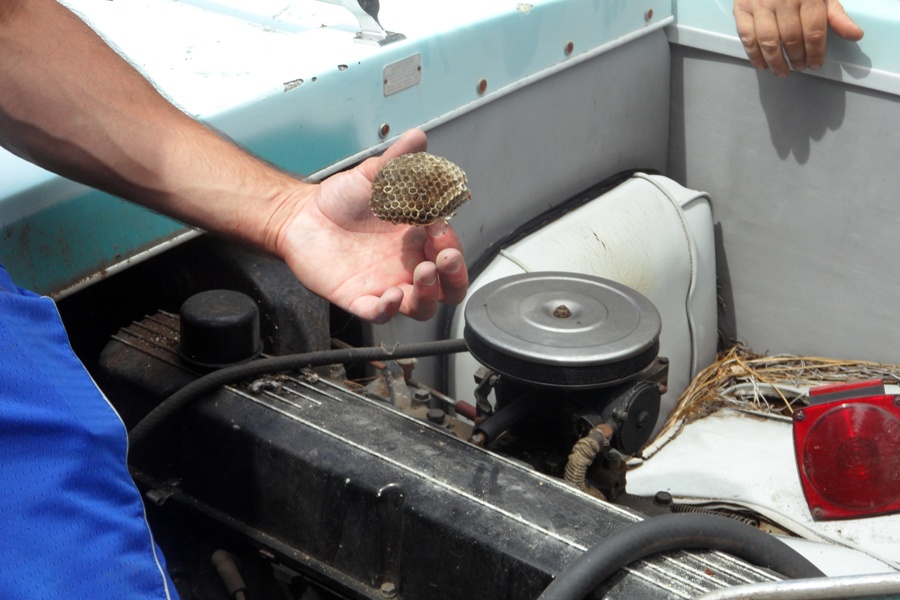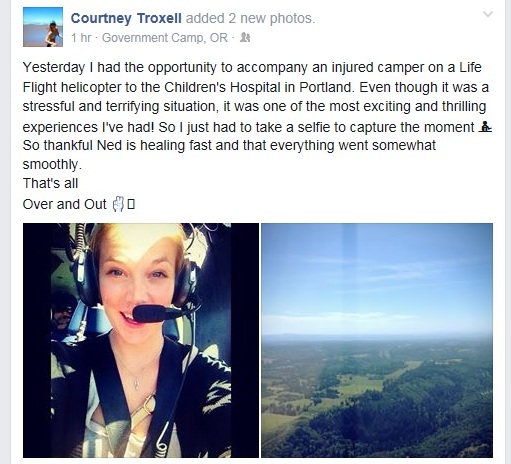 A few late 80's mhssc flashback staff photos, courtesy of Ridgley Reece....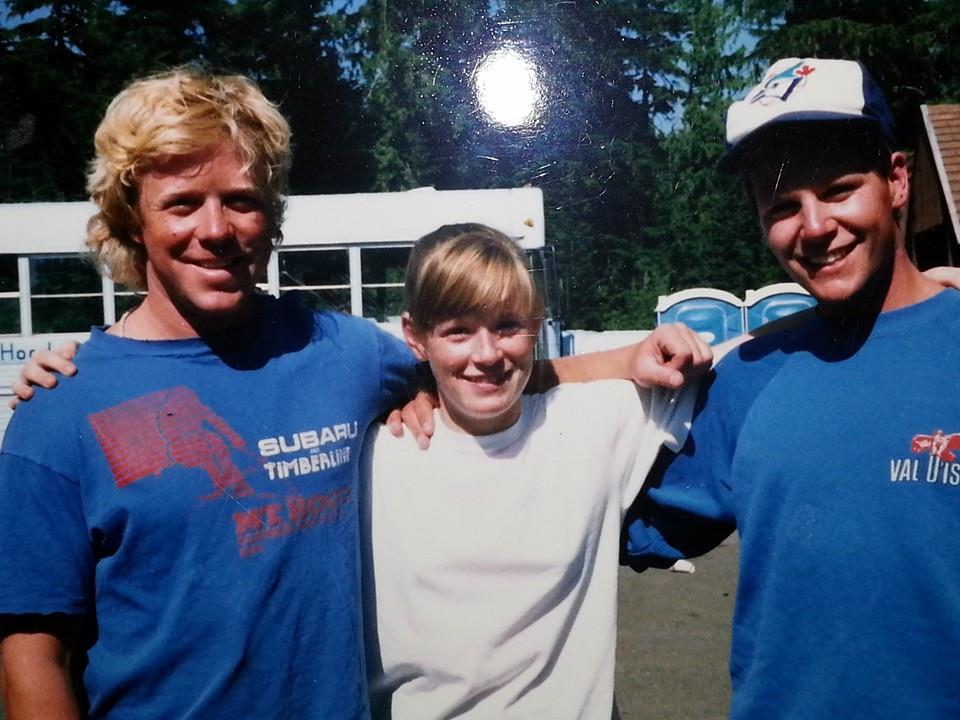 Another 225 session 8 photos here.
Session 9, 2014 staff update
Session 9 was lame! Three days in a row of "lifts closed". You just don't see that happen in July. Monday was nice. Tuesday, the forecast said 30% chance of precipitation......30% means 100% at mt hood. At least that's been the case the last few years. So yeah, it was raining on Tuesday. Wednesday was significant thunderstorms. Once the lightning stopped, we gave the kids the option to go hike up and ski in the pouring rain in the mile canyon. Only about 7-8 kids chose to do so....The lone ski racer that skied had 3 alpine coaches on the hill! (Mike Syrovatka, Sophie Ostroski, and Mike Bansmer). Thursday was shitty too. Lifts closed......AGAIN! This time, we put ourselves on MAJOR standby mode. We negotiated with Timberline to do snowcat skiing on lower palmer after the weather started to clear up. It was quite the ordeal to make it all come together...but it did! We drove kids up the gnarly Silcox dirt road in the various camp 4-wheel drive vehicles. Then a snowcat took the kids up from there and we trained on celebrity lane while the mogul skiers, freeskiers and snowboard made it to our private terrain park. The sun came out for us and it was pretty successful day. Because of the late start to our day, we switched Thursday's regular scheduled afternoon activities with Friday. So kids went rafting and such on Friday instead of Thursday. The sun came back in full force for Friday, although the palmer lift crew messed up on loading the chairs onto the cable in the morning. They put the chairs too close to each other and that left a major gap on the cable with NO chairs! (see pic below). With all the rough weather, Mike Annett opened up the option to train on Saturday for those that didn't have to catch a flight right away. I heard about 20 kids took advantage of this.
Becky Aurora Thompson celebrated her birthday on Friday. They made her a cool banner in the dining room the night before (see pic). There is a major road construction project happening on highway 26 this summer...and it's supposed to take 3 summers to complete. They are adding lanes and putting in a center barrier to prevent head-on crashes. The main part of construction right now is west of Govy. Lots of earth and trees being moved. (see pic).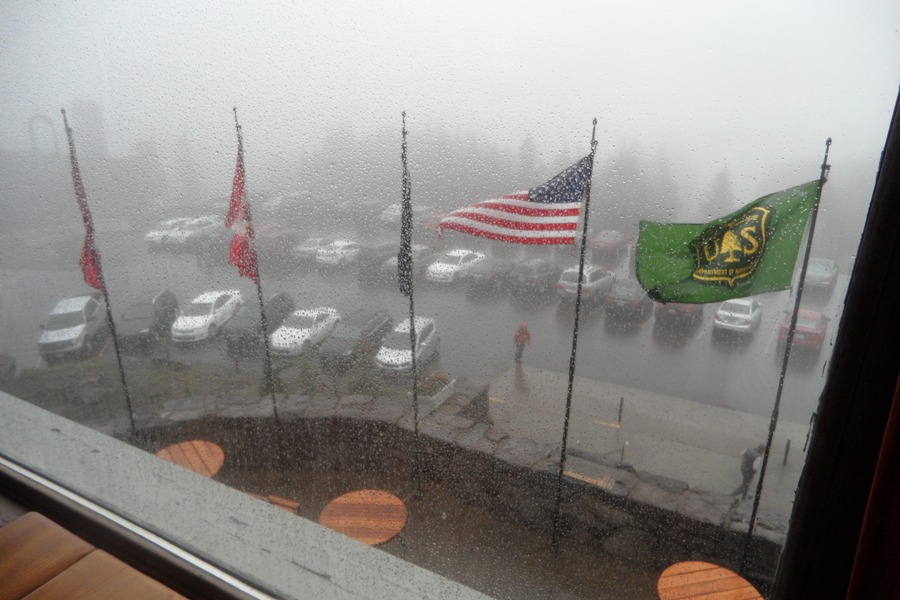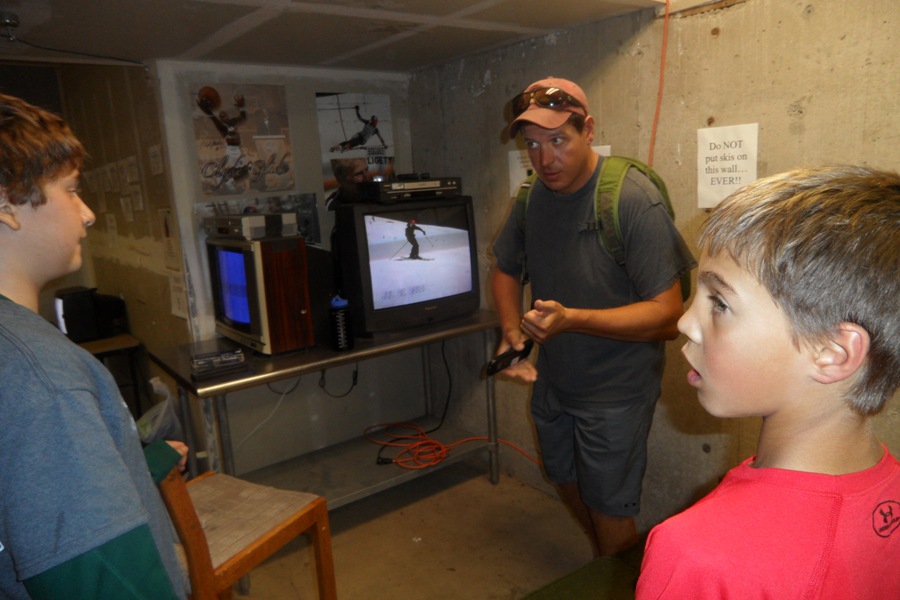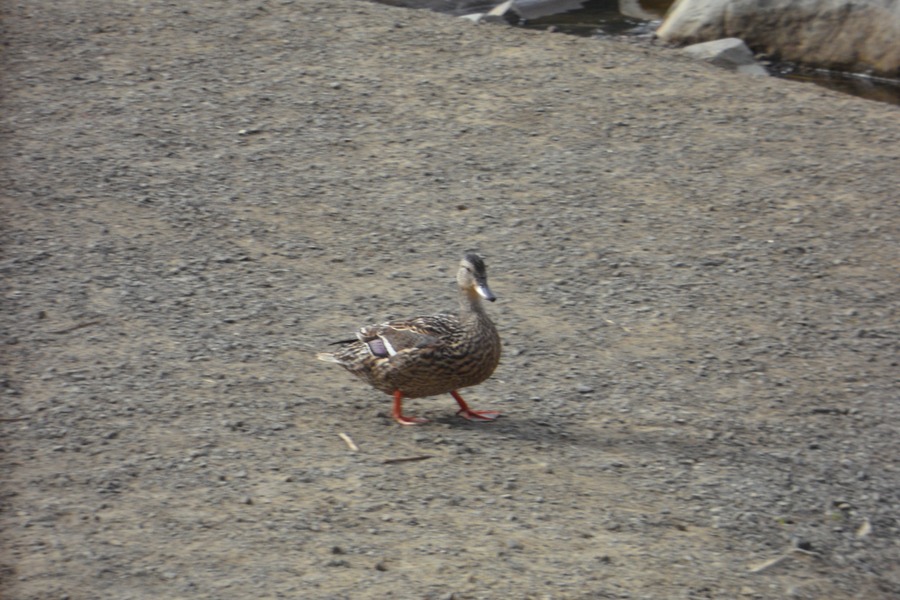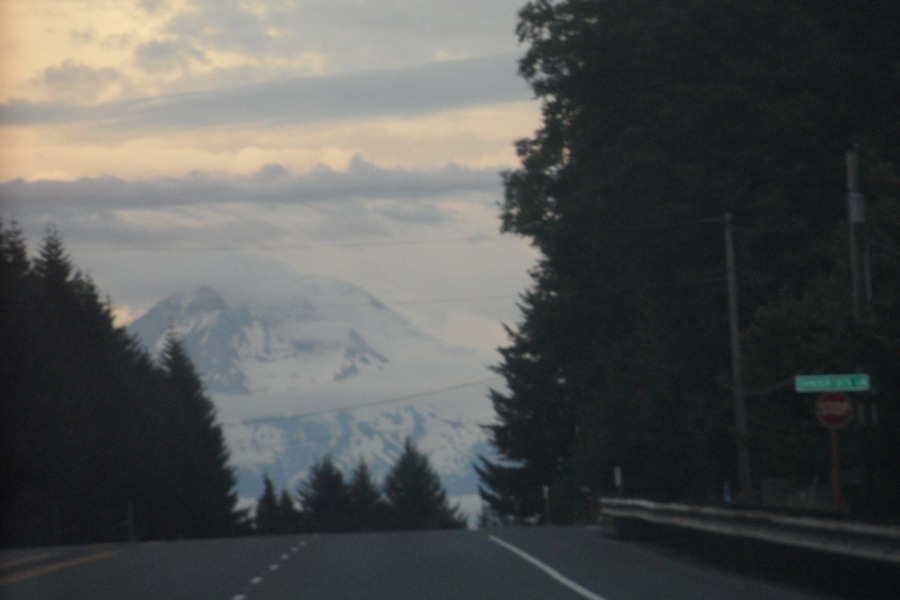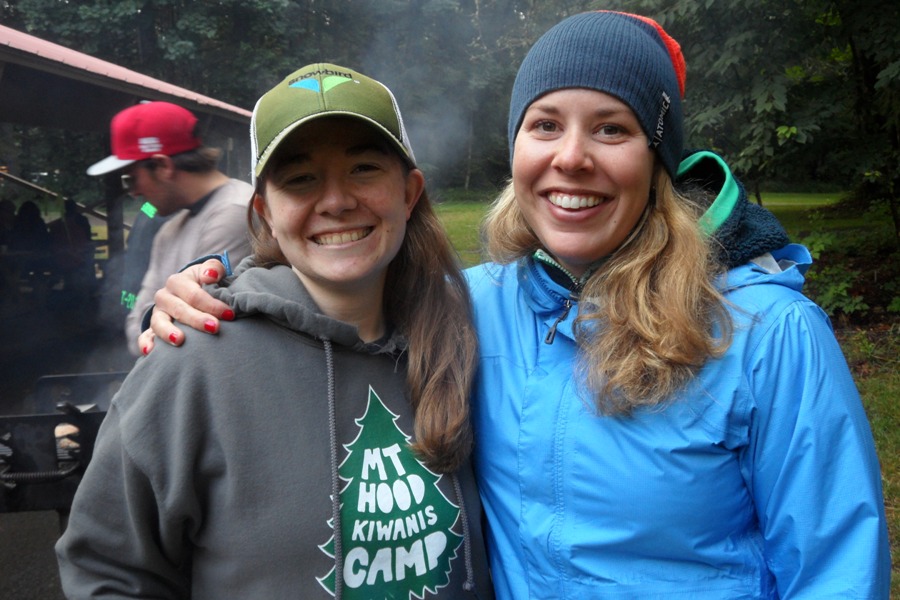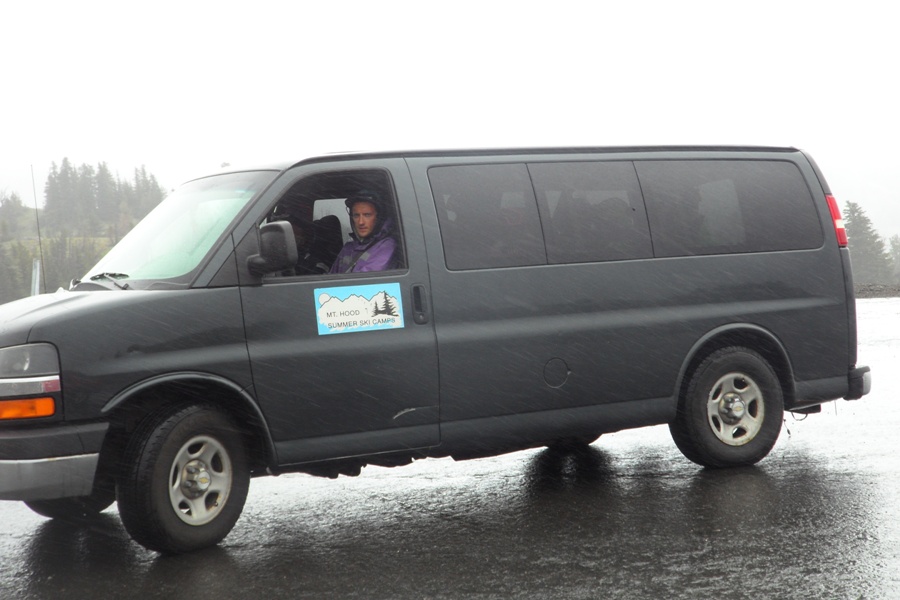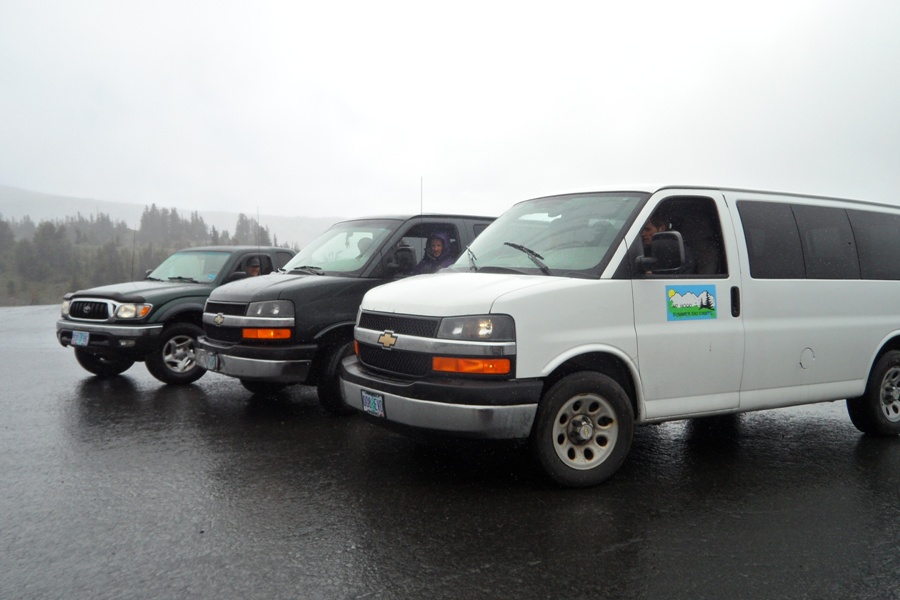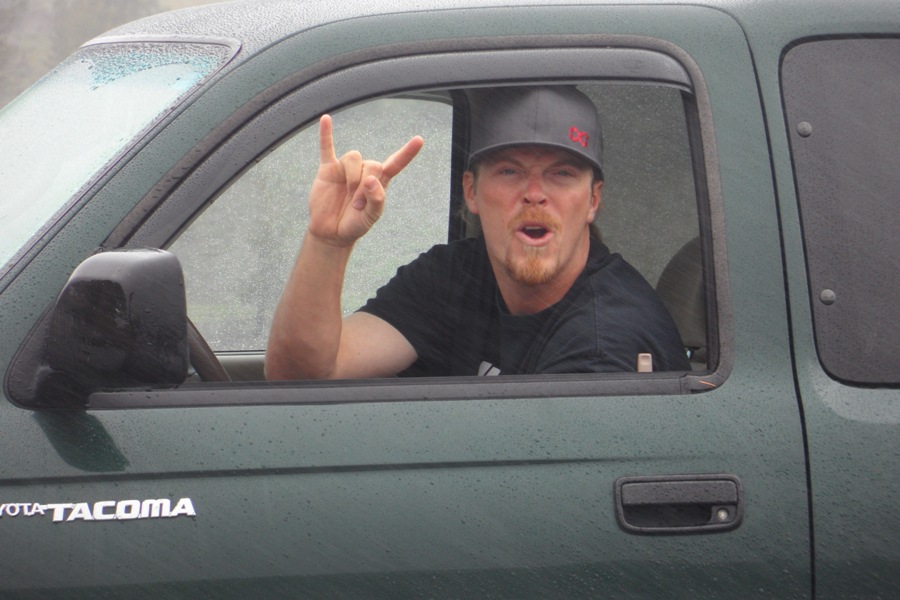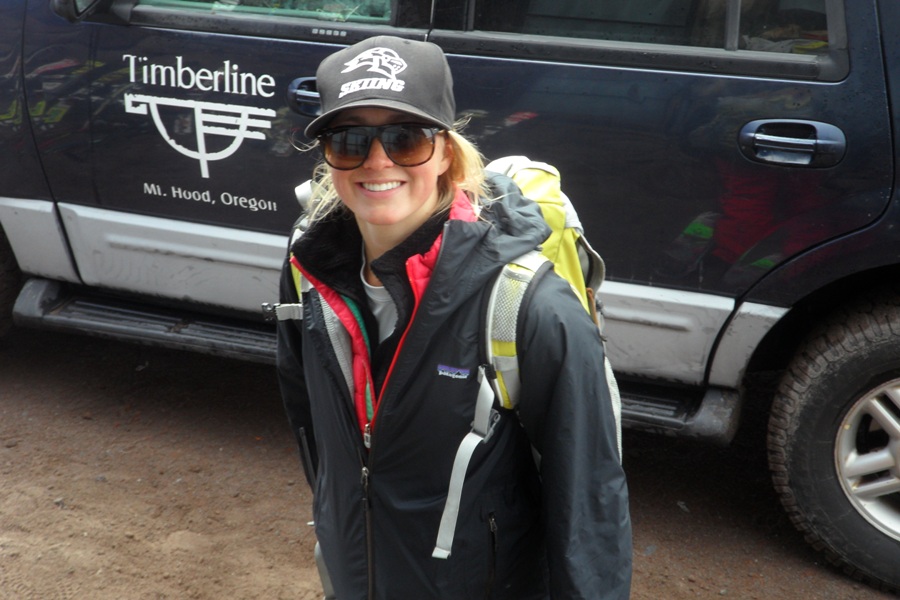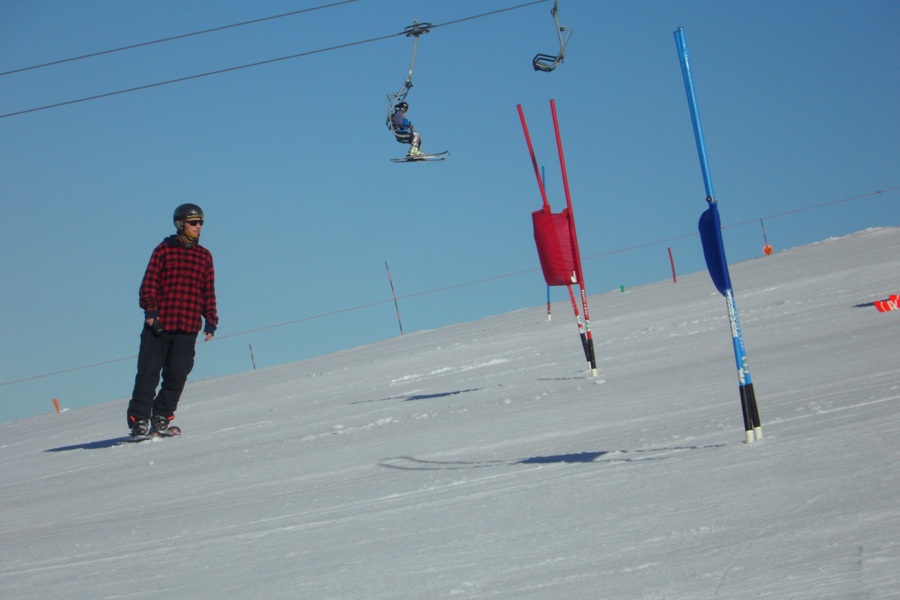 No chairs with people going up! Lift crew messed up the spacing of the chairs....
Another 162 session 9 photos here.
Session 10, 2014 staff update
The calendar says August. It goes by fast, this summer ski camp thingy..........The annual Smith Rocks rockclimbing session took place last week, headed up by John Rust. I imagine it was HOT out there in central Oregon on the rocks, as it was quite warm on the glacier all week. We had a threat of rain/thunderstorms on Friday, but it never quite materialized. It rained for about 5 minutes on Thursday night. Robert Johnson celebrated his 50th birthday at Charlie's on Wednesday night. He kept claiming that he's only 26. There was a significant car wreck just east of Wildwood park on Wednesday afternoon on highway 26. Pretty much everybody headed to the picnic got caught in the traffic jam. One of the drivers in the accident had to be life flighted. A few more details here. It took me approximately 30 minutes to drive that last mile to get to the picnic. Prescott McLaughlin was delivering the silverware to the picnic when he was stuck in the traffic jam. Chase Kerzel jumped on his bicycle at Wildwood park and rode out to Prescott as he sat in traffic, to grab the silverware from him and deliver it to the picnic, while Prescott decided to just turn around and go back to camp. CIT Alex Harrington apparently broke his wrist on Friday on the mountain. Sophie Ostroski and Lucas Matelich saw a naked guy walking down the road near the brew pub in Govy on the way home from the picnic. Some 10-12 years ago (or so), I negotiated with Mike Annett to replace one of the soda machine choices with a sports drink. It never happened....until now: Powerade (mountain berry blast) replaced diet coke this week. Some of the coaches got dressed up on Friday.....dressed up as gapers (or Joey's?).
Oh, almost forgot......session 11 is "NICE CAMP".....so be extra nice this coming week. And dress nice at Sunday dinner too. Nice nice nice! Be nice to one another. Extra super nice. Do it.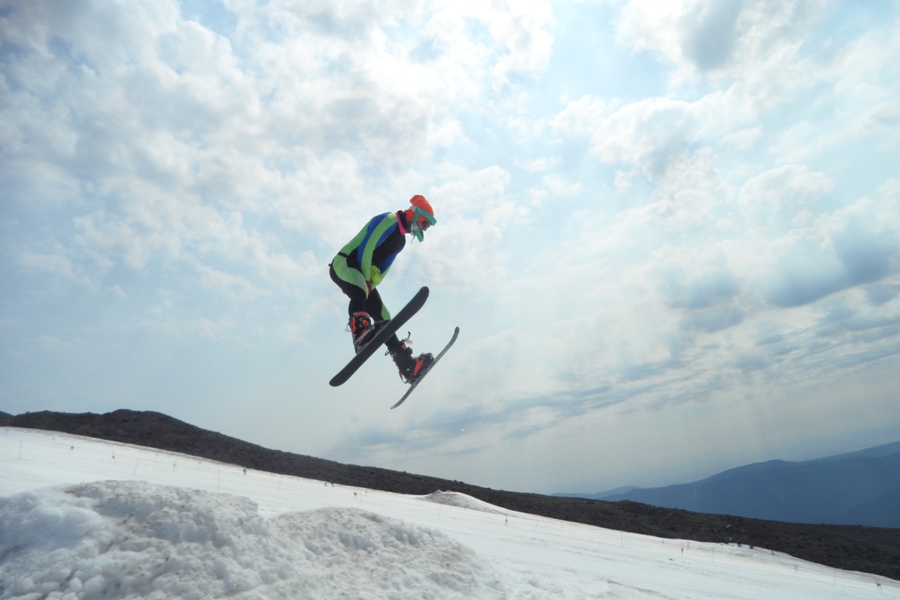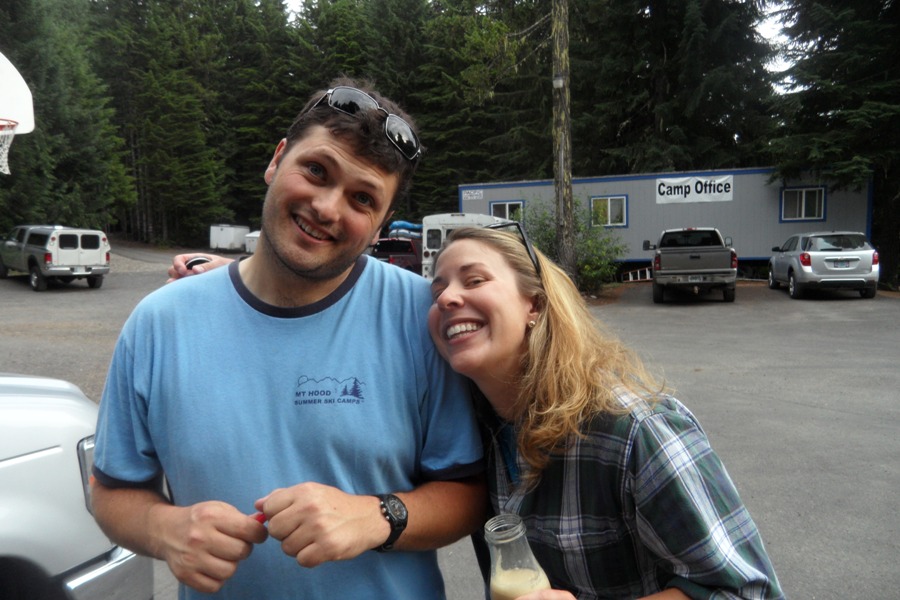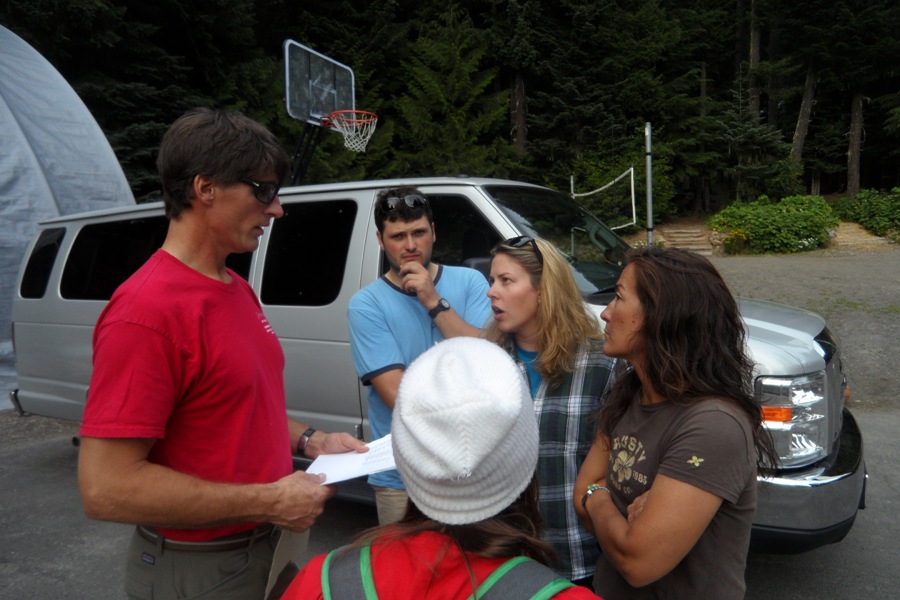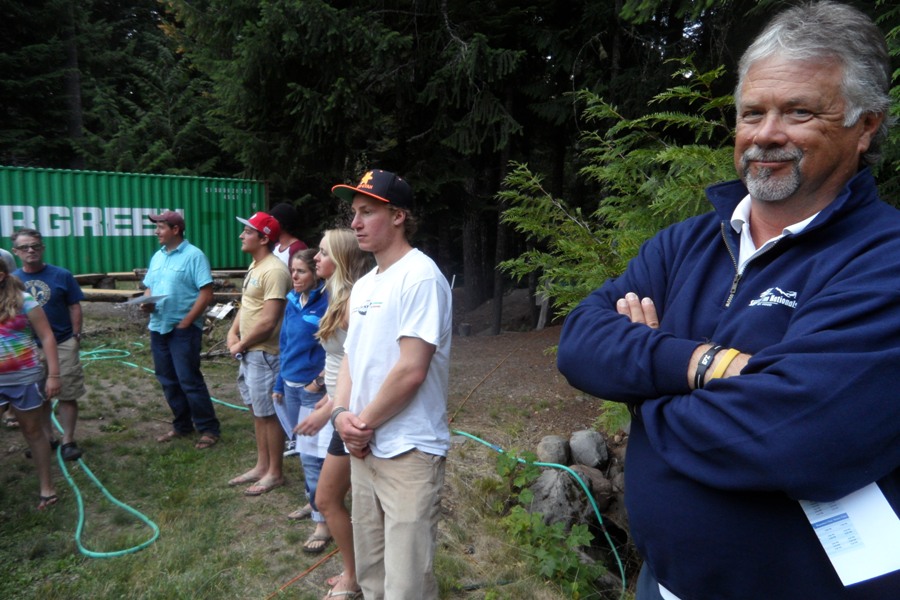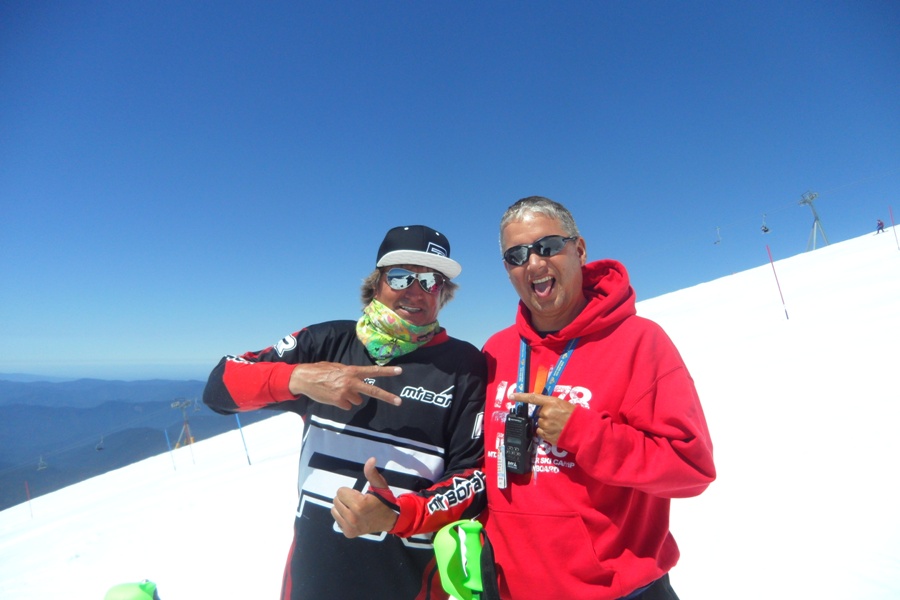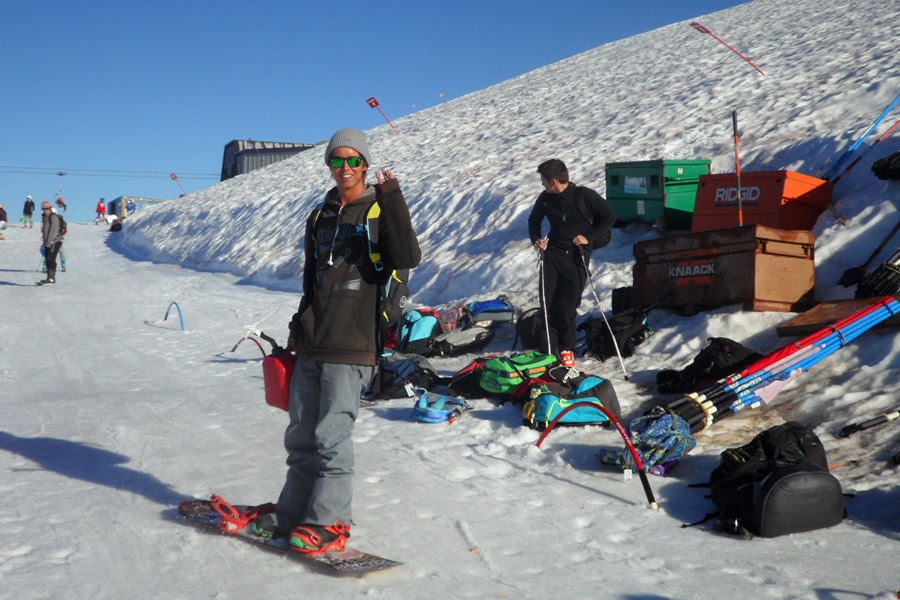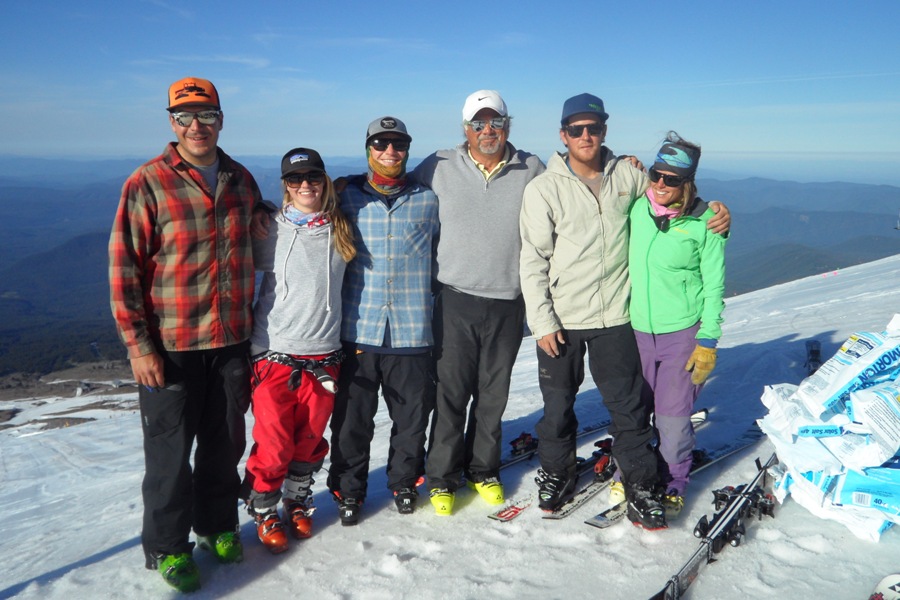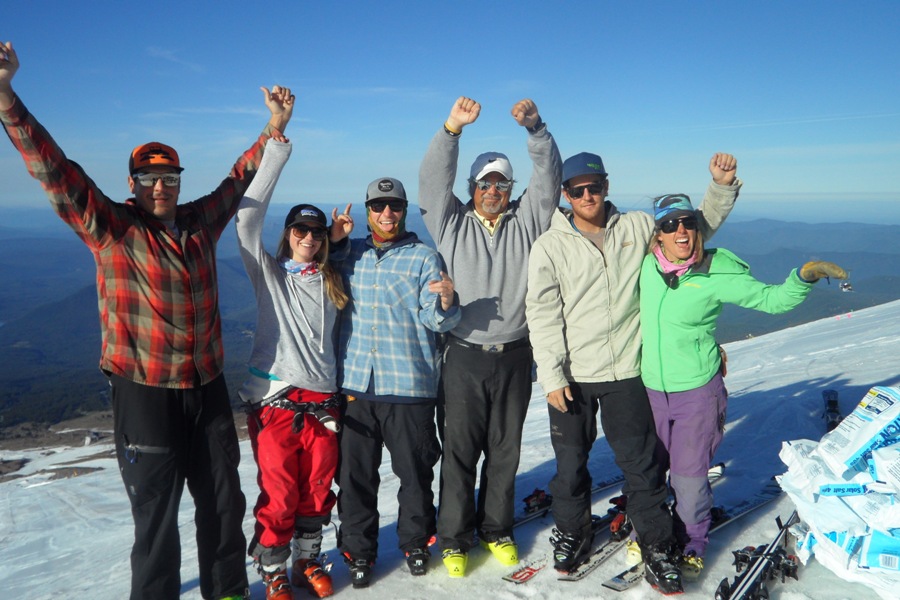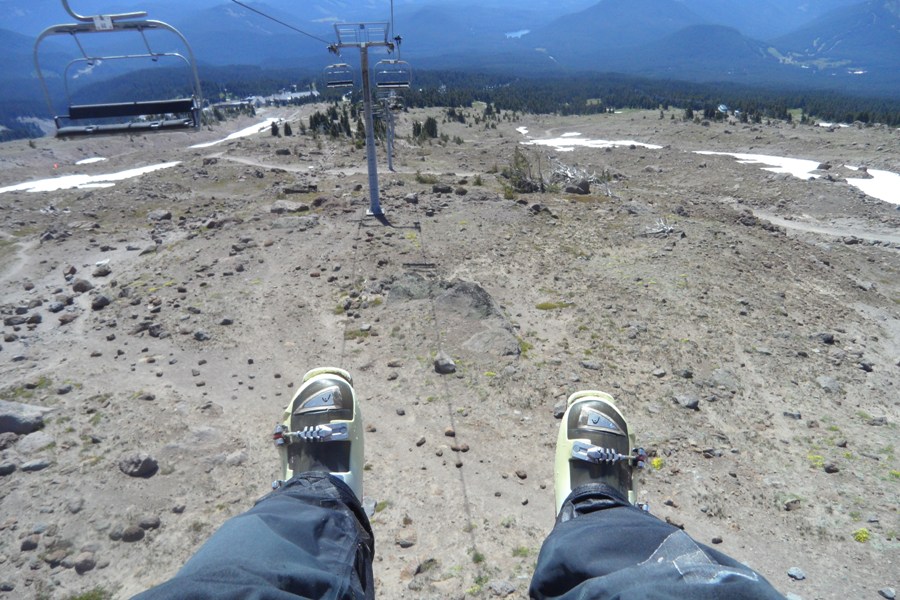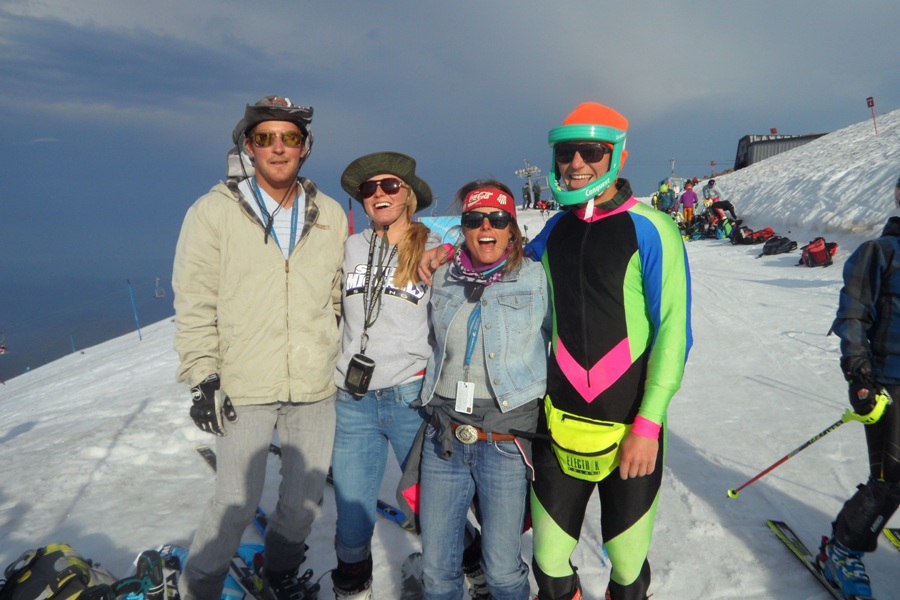 Hey, it's former mhssc staffer, Wink Maslow! Look at his bad-ass beard and stuff.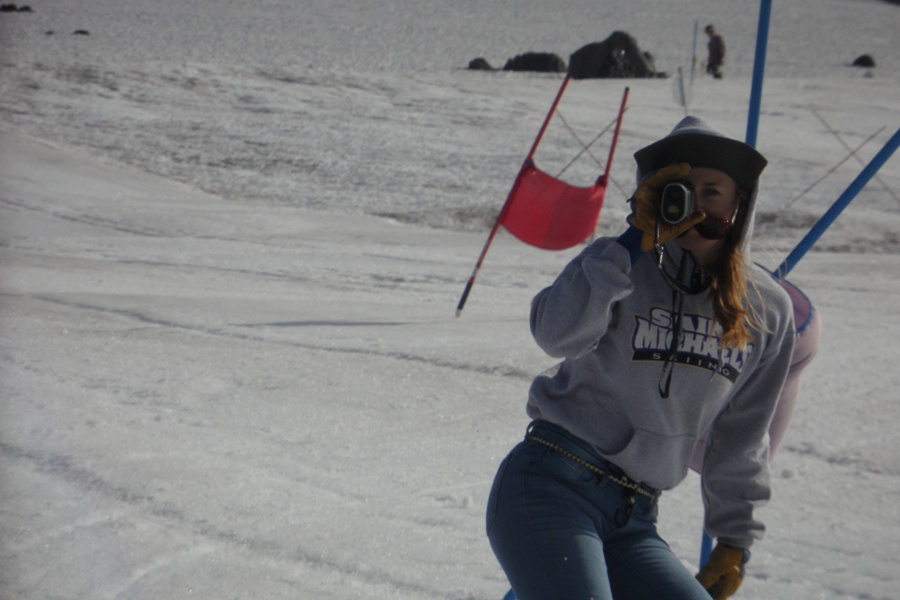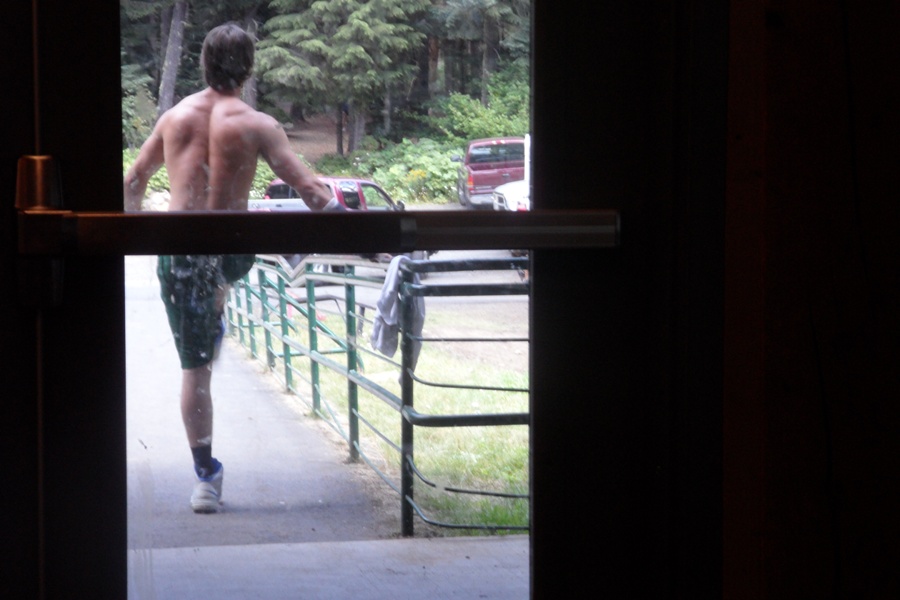 One last thing......I was going thru some old archived mhssc video from 1994 this weekend.....found this short 10 second clip of 4 time Olympic medalist, Julia Mancuso! I think she's 10 years old here.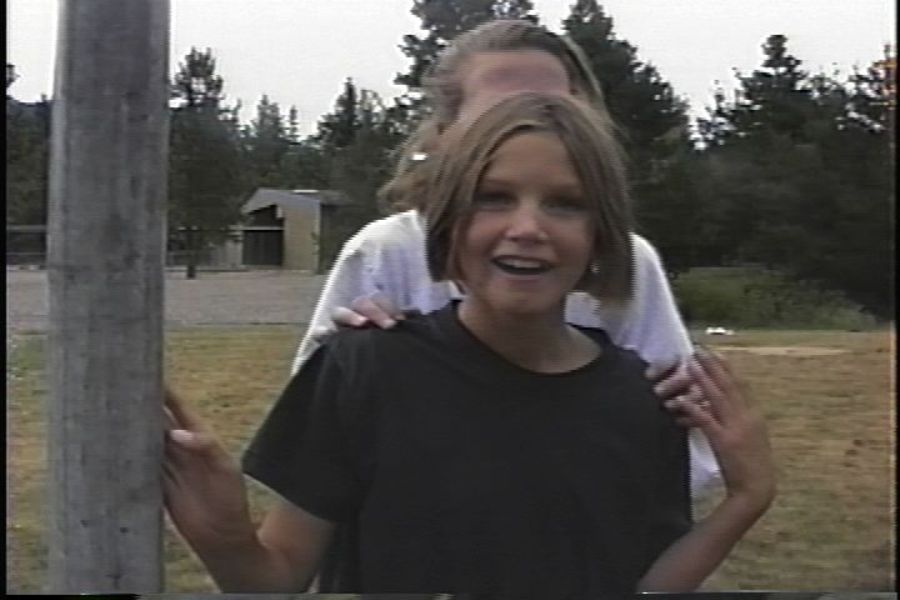 Another 228 session 10 photos here.
Session 11, 2014 staff update
Before I forget, here are some great photos of Smith Rocks Climbing Camp HERE, *posted by Jackie Guy.
Session 11 was "nice camp" (invented by former staffer Terry McLeod a long time ago.) Mike Syrovatka suggested that the trend continues into session 12: "We should do nice week sequel". Lucas Matelich was awarded the "employee of the day" on Monday for his heroic efforts on coaching 3 - 4 Korean kids that had never skied before (or very little). He started with 4 kids.....the one girl in his group crashed and burned on her first run and injured herself. Eyewitness reports that she "packed herself" below the 2nd roller in lane 5. Anyway, check out the photo below of Lucas piggy-backing one kid, while coaching 2 others. Quite a feat to teach ANYONE how to ski on upper palmer with racers zooming by at high speeds all day long. Kudos. Some kids in Jackie Reis' group tossed a snowball at her and hit her in the boob. Jackie responded with "Snowballs lead to tears......and they won't be mine". There were 15 campers in the moguls this week, so Mike Foley helped Darren Owen with the overflow. Also sharing the mogul lane was a group of mogul athletes from Quebec. Rebecca and William Zell sent me a great 'mthood.com' photo next to the Eiffel Tower....see below. Nicole Cordingley had session 11 off and went to Hawaii for the week, where there was a threat of 2 hurricanes hitting the islands during her visit. Check out her 'mthood.com' photo from the beach. Shae Flynn did a big backflip off the mogul jump (see pic). Chase Kerzel had a big Wednesday: biked to and from Timberline, skied all day, biked to the picnic....did some trail running at the picnic. THEN he decided to try to break his own "most burgers eaten at a camp picnic" record, by attempting to eat 13 burgers. He was done at 6 burgers, but an impressive day nonetheless. Former staffer from the super-early 90's, Bristol Sorensen, came thru for a short visit in Portland this weekend on her way back from BC, Canada. She's livin' the dream in San Francisco these days.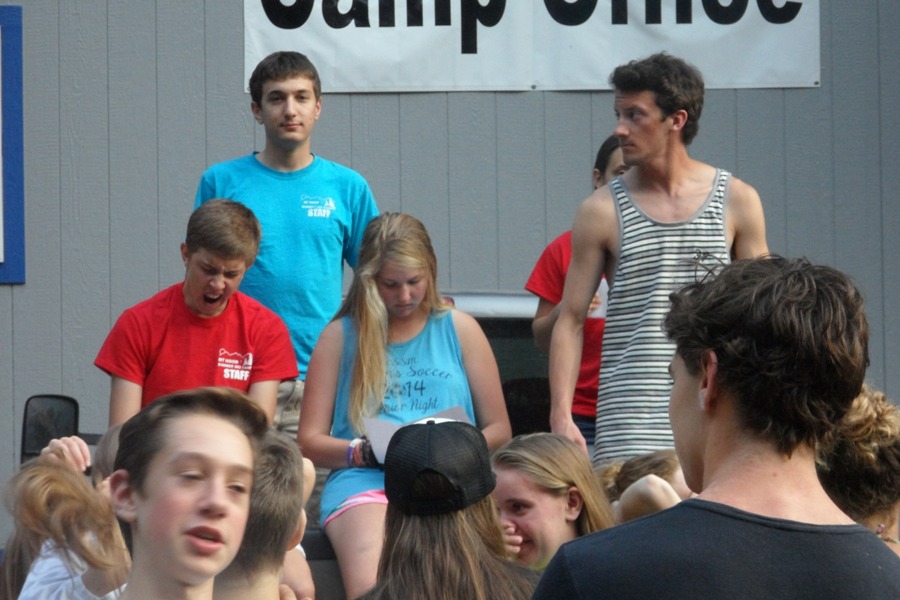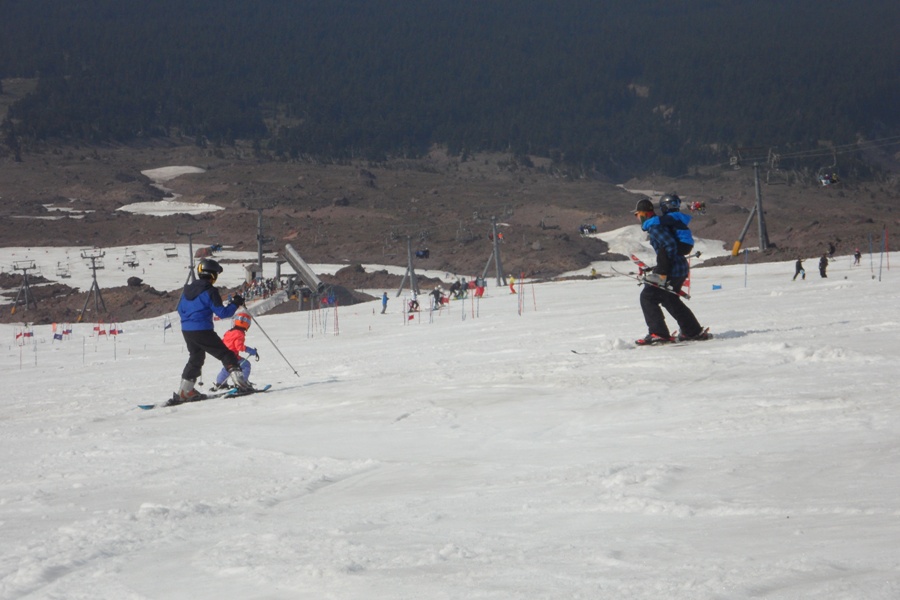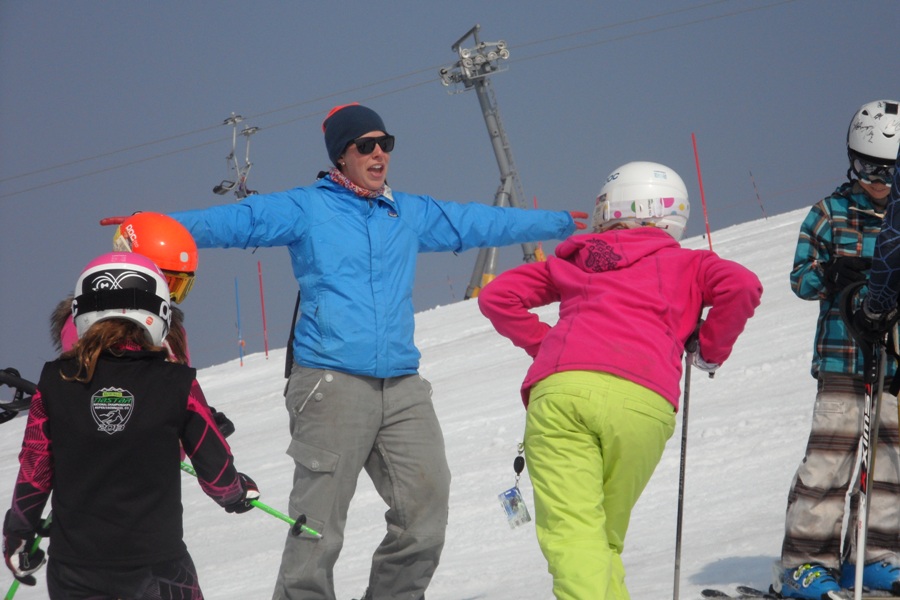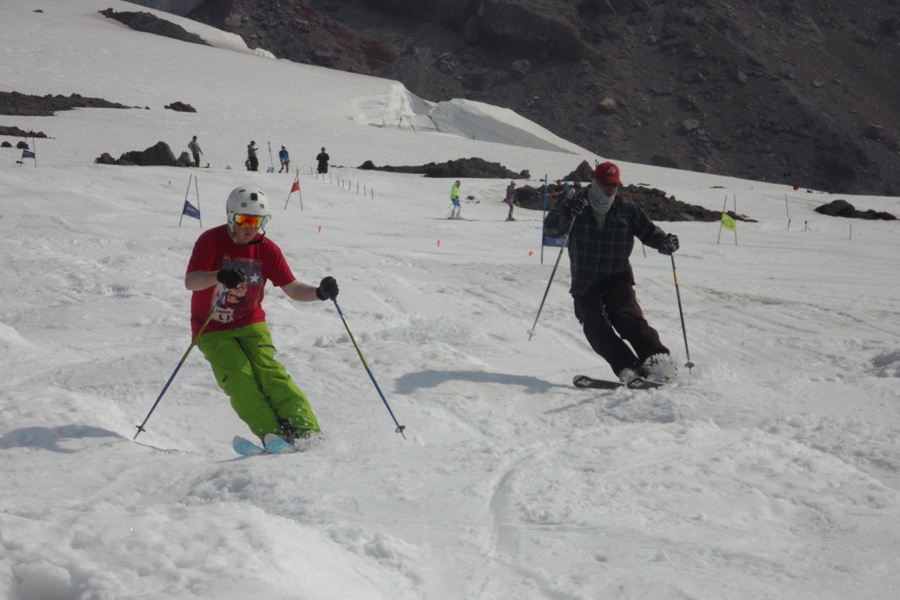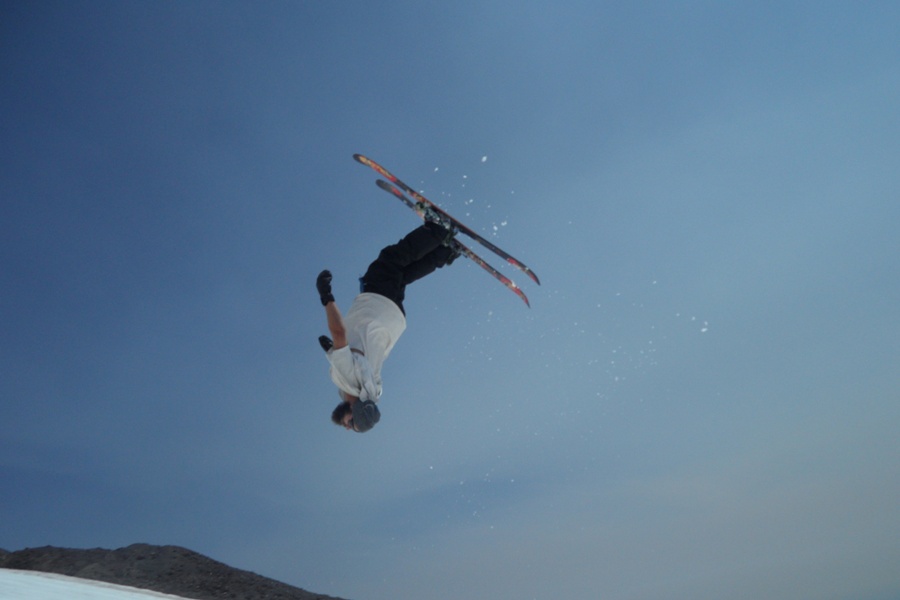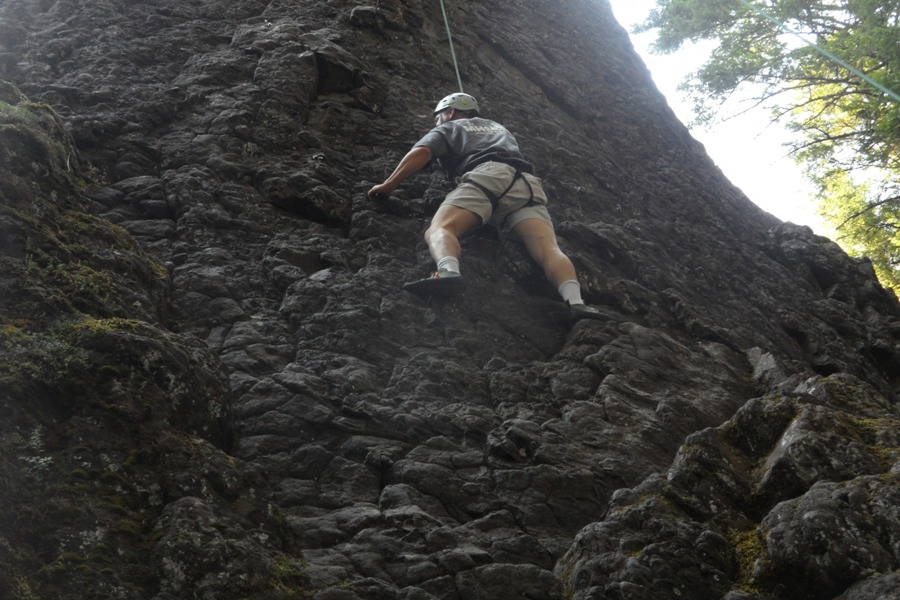 Going along with this theme of "nice camp", Rebecca Rist wrote this nice poem.....about me: (I'm blushing)
Robo is involved at camp, that's without a doubt,
But despite his hard work he never gets a shoutout.
Videoing and photoing everyone else, Robo never gets documentation of himself.

So for this staff update I will attempt to show you,
What's up with Robo, what in his life is new.

On the hill he's athletic and academic,
Reading nutrition books on snow, he's a health addict.

He went rock climbing for the first time in a long while,
Thoroughly scared but for the camera he still smiled.

At the picnic he brought a smoothie in a cooler with ice packs,
A camper got hit in the face hard and Robo had her back.

On Friday I arm wrestled Robo and that was a nono,
He beat me left-handed while taking a photo.
Partying at camp? No way jose, No sire.
Turn down for Robo and he'll bring the party.
He wakes up so early, he could show up at 3!
Always using his full days, 'cause he knows living is free.
Robo's a good guy- but today his honesty lacked.
He tried being stealthy but I caught him the act.
Sneaking out of the basement, he stole a whole spinach sack!
Steal some cookies instead Robo! Your diet is wack.
Thank you Robo, for all that you do.
From your footy to staff updates, Camp is well documented, and for that we thank you.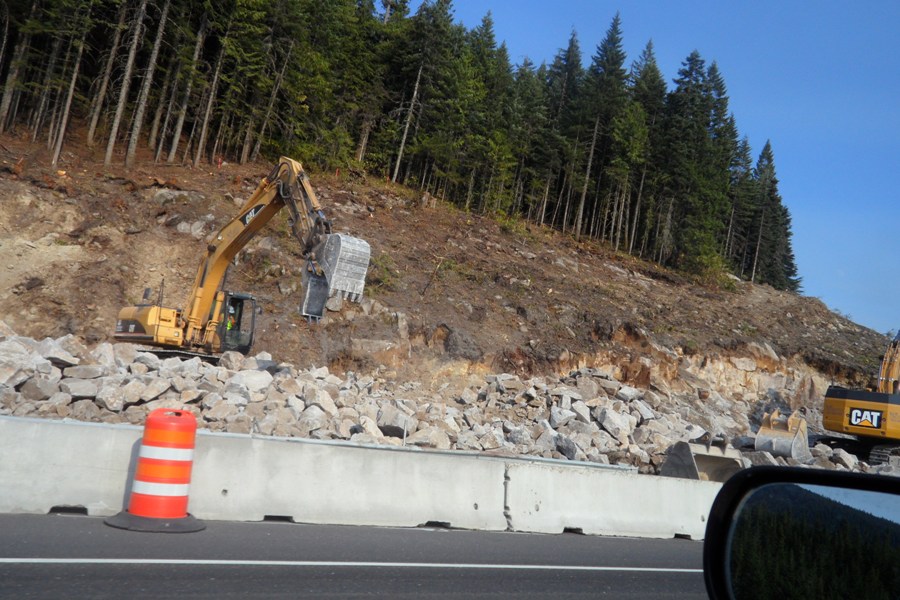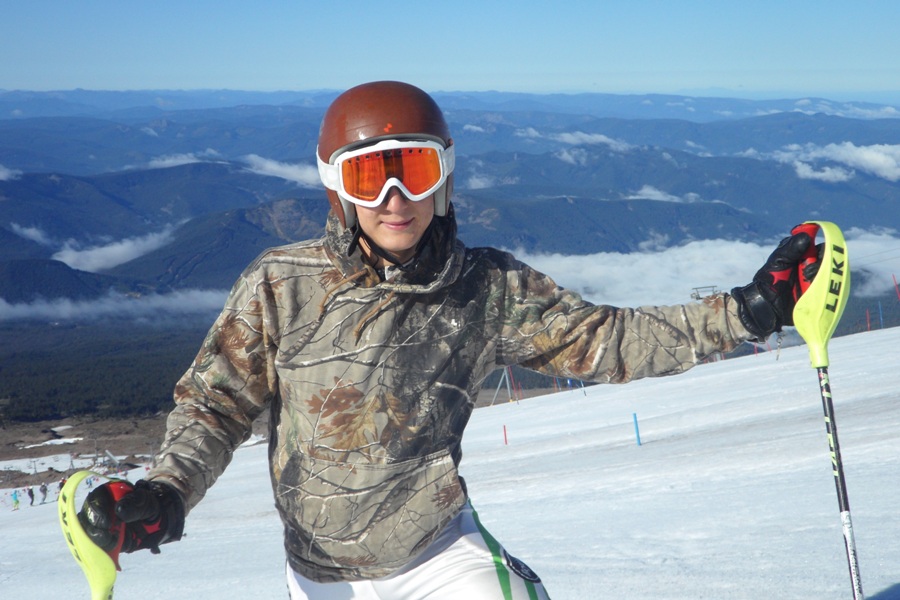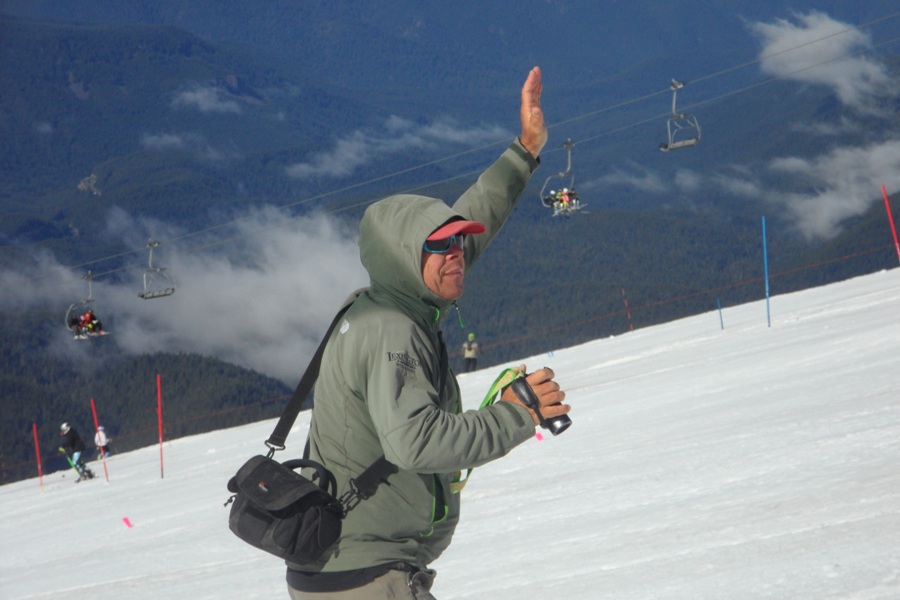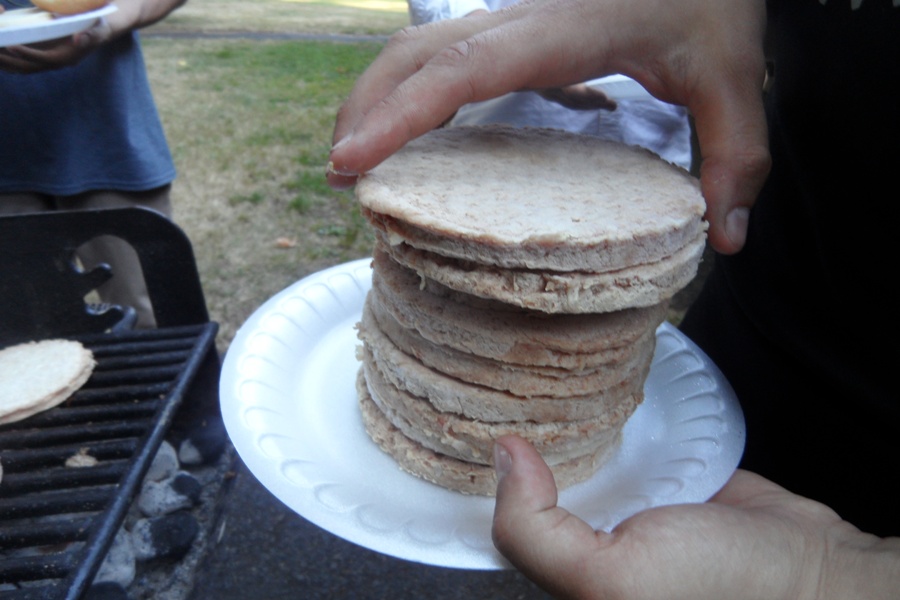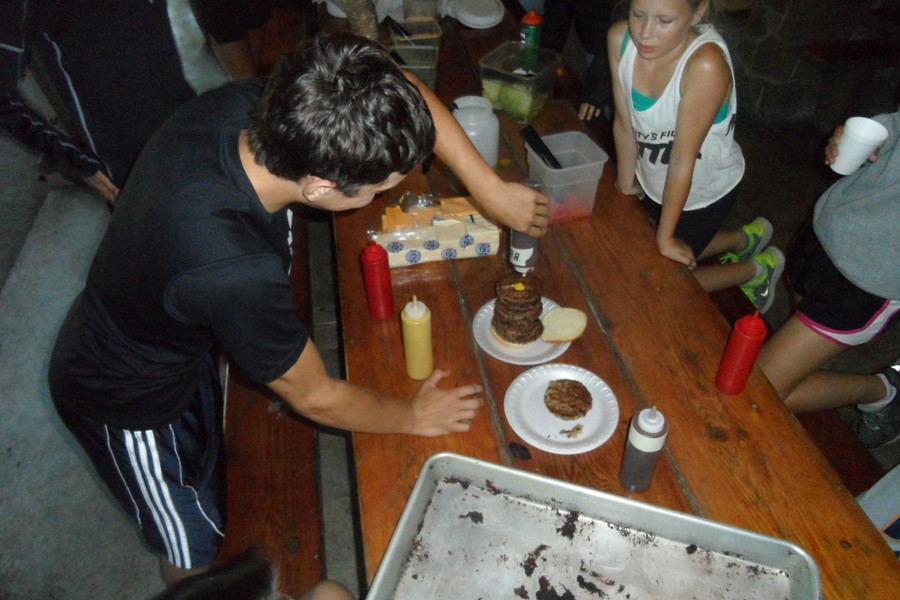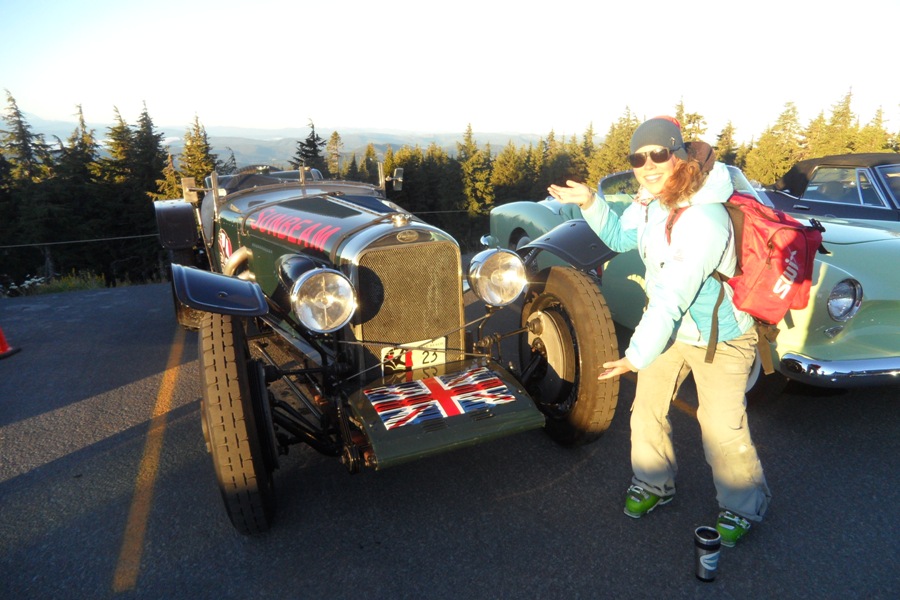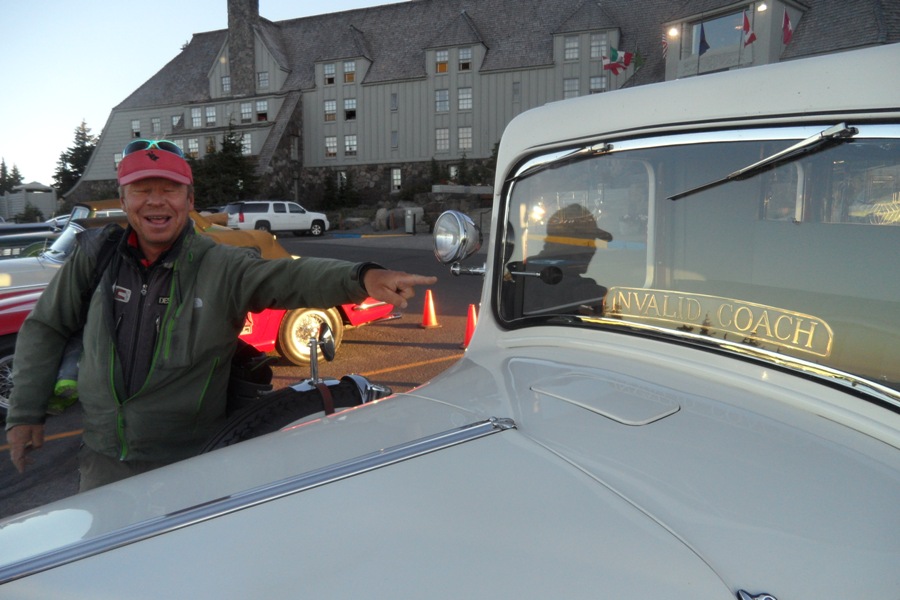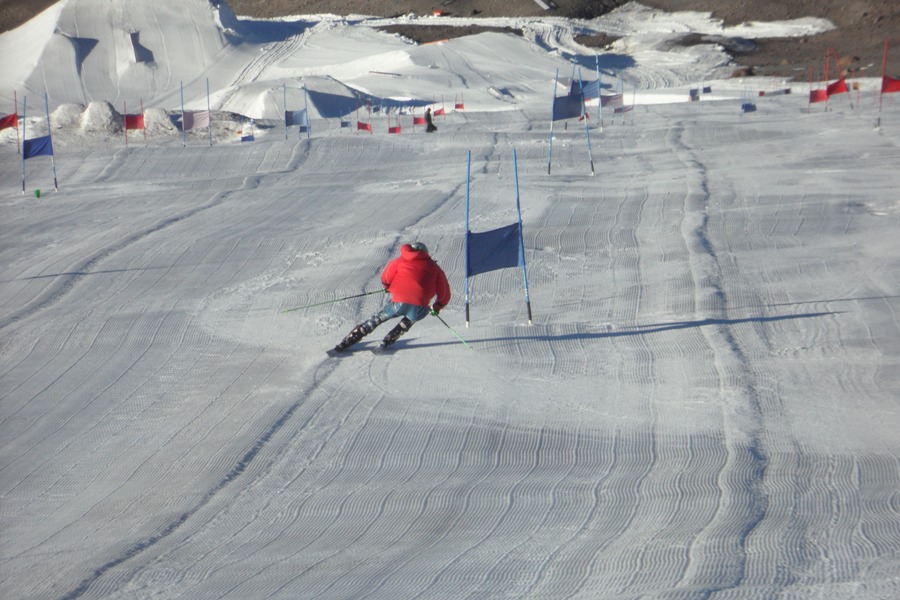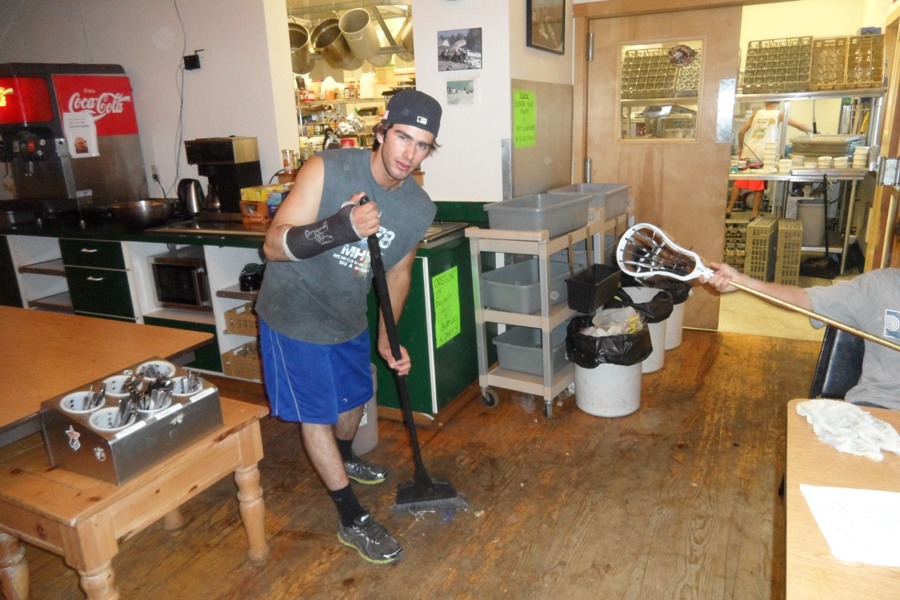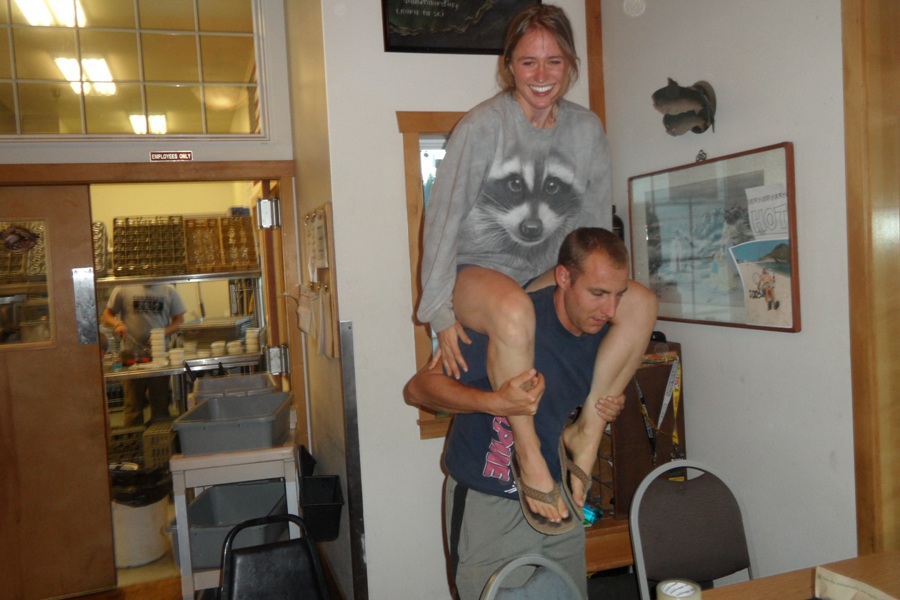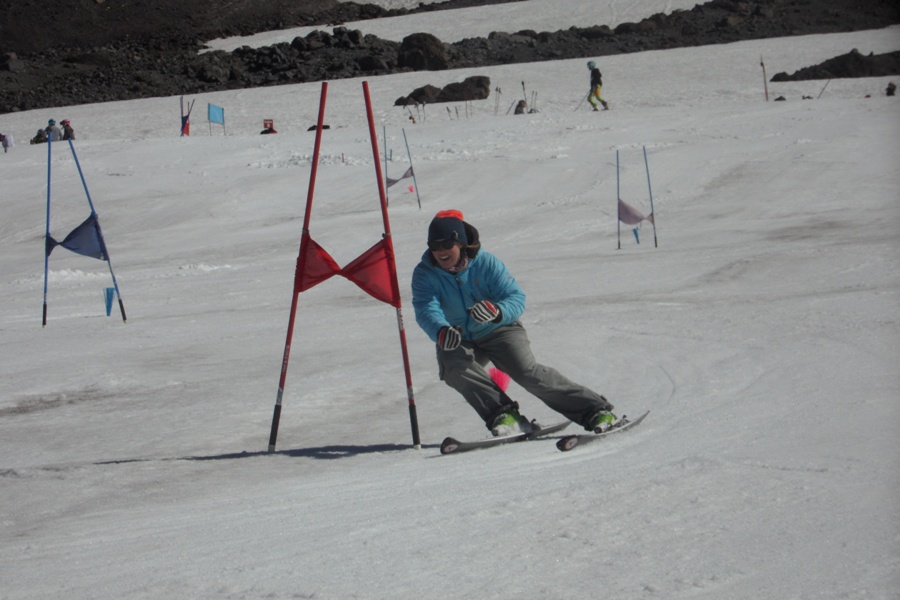 Julia Mancuso finally watched her mhssc 1994 flashback video!


Here's another nugget from 1994:
And if you can't get enough, here's another 270 session 11 photos here.
Session 12, 2014 staff update
Not much to write about this week, but lots of pictures. We had a scary thunderstorm roll in on Wednesday, around 12:30pm. It was scary as SHIT, downloading the magic mile during the storm with lightning to the south, to the north, and right above! And for some reason, the Timberline employees were still allowing foot passengers up the chairlift as the storm blew in. Mike Syrovatka celebrated his 60th birthday on Tuesday. We presented him with a hershey chocolate bar with sprinkles. Timberline went to 7:30am lifts on Friday without telling anyone (normal time was 7am)....So we get an extra half hour of sleep for the final 2 sessions, which will be nice. Roger Bay drove his little white bus up to the mountain a couple times last week, picking up the other alpine coaches in Govy on Friday morning (see pics). A 12-year old camper played the roll of camper-staff at the picnic on Wednesday. He helped Prescott McLaughlin with the salad. Makai Bradley was leading some CDL bus training prep with Paul Richter and Nolan Trouve at the picnic. Jackie Reis and Nicole Cordingley found a big green slug at the picnic. Makai licked it (see pic). We had a power outage at camp and Govy on Thursday afternoon. It was short lived and there was no report of damage or injuries.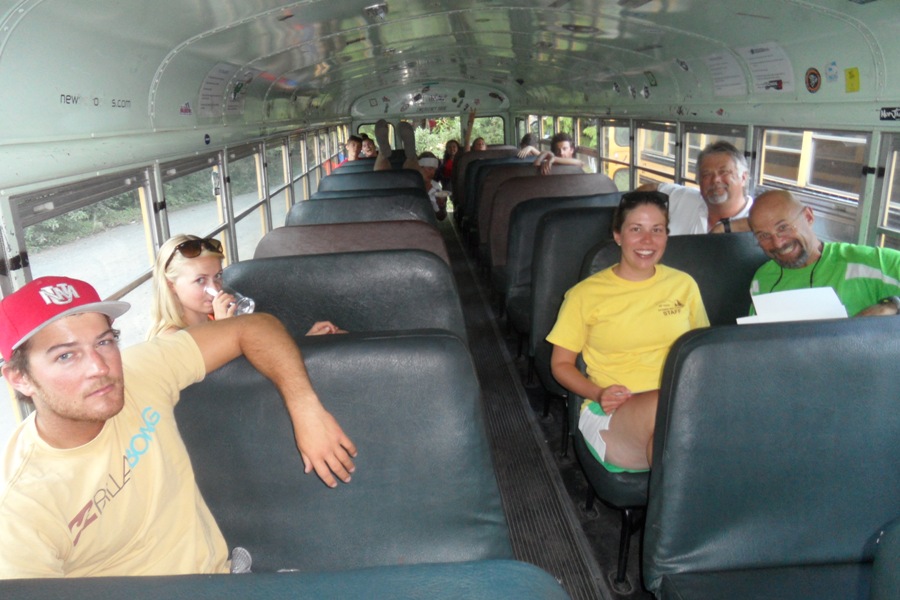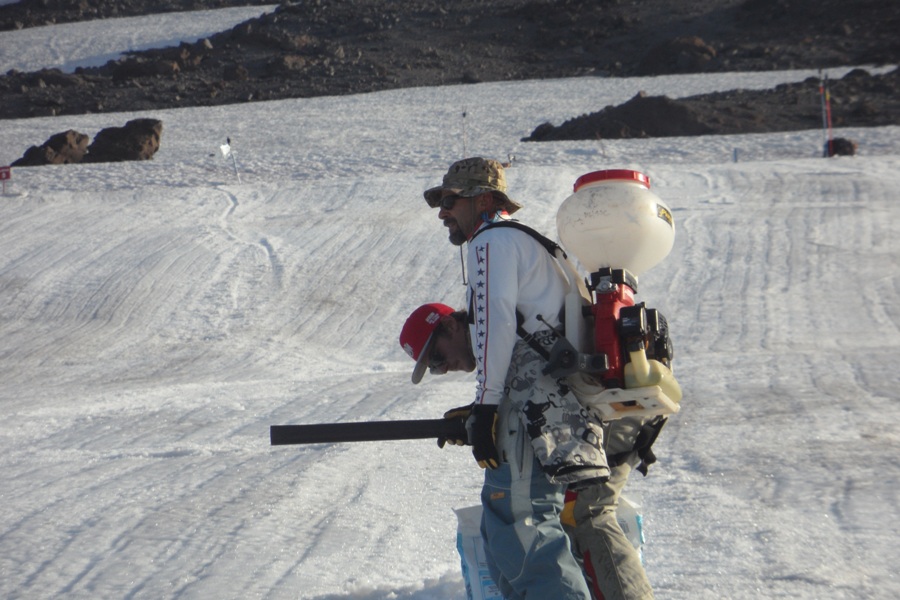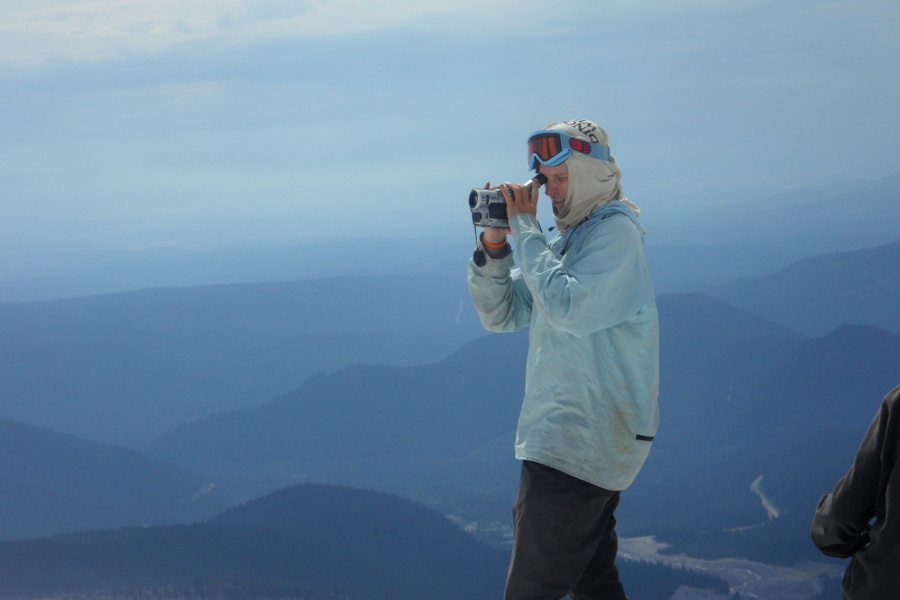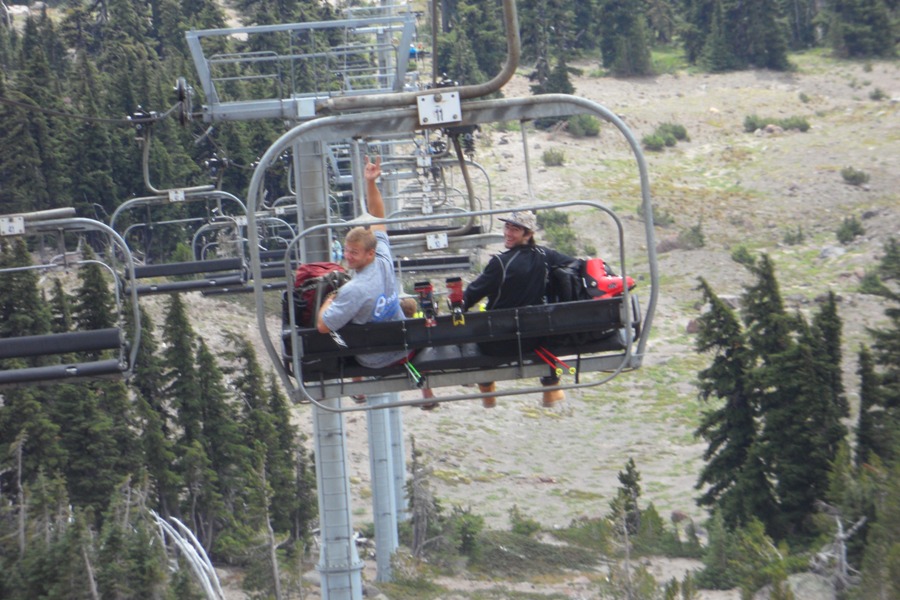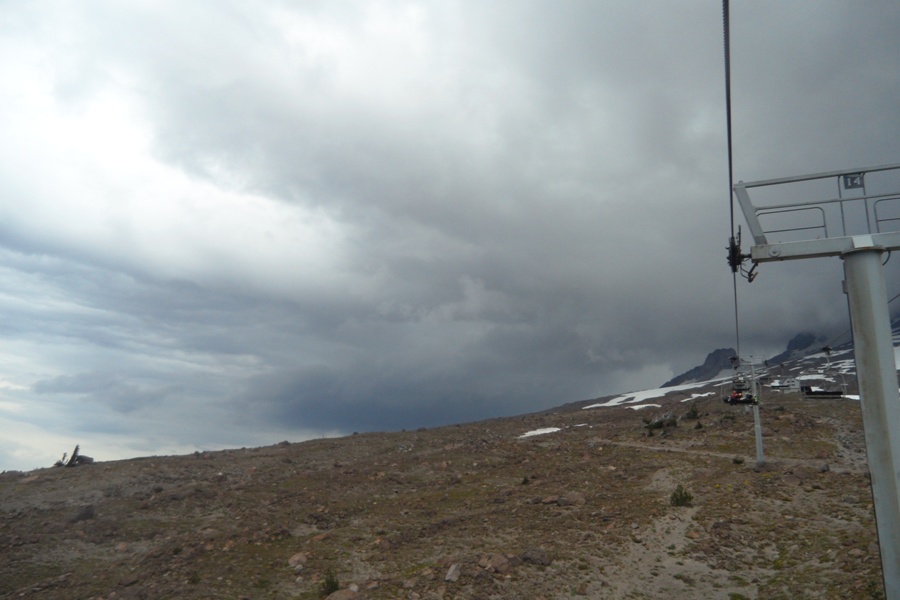 *Lightning photo by Nolan Willard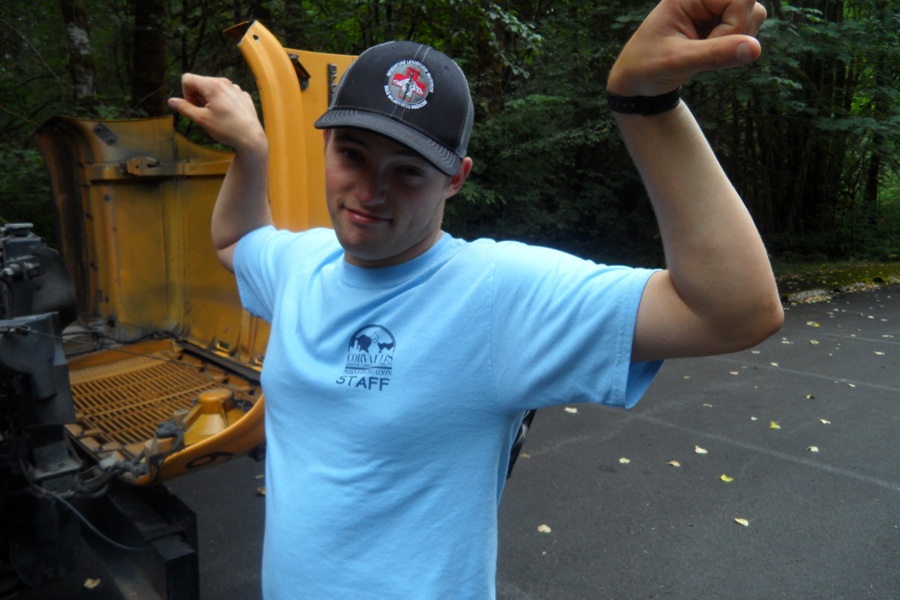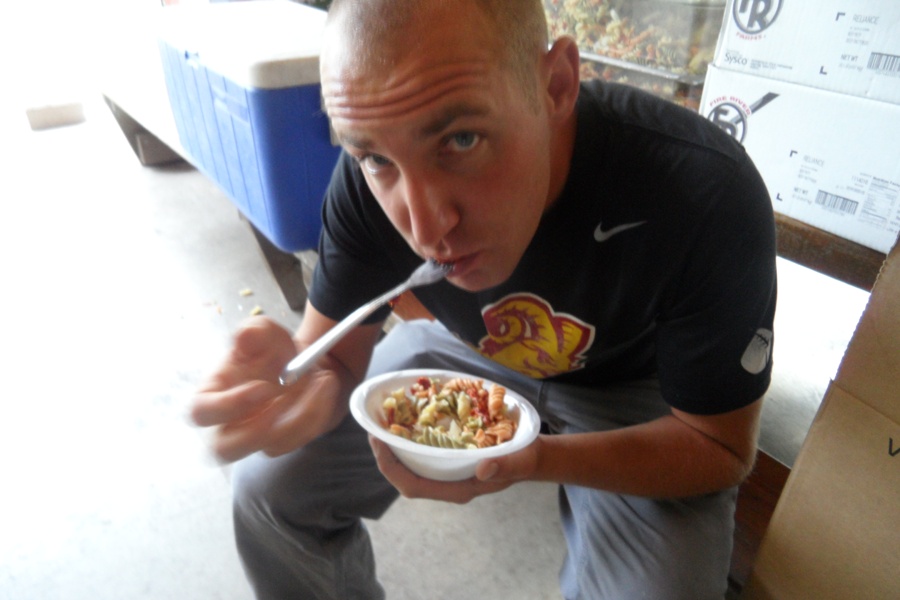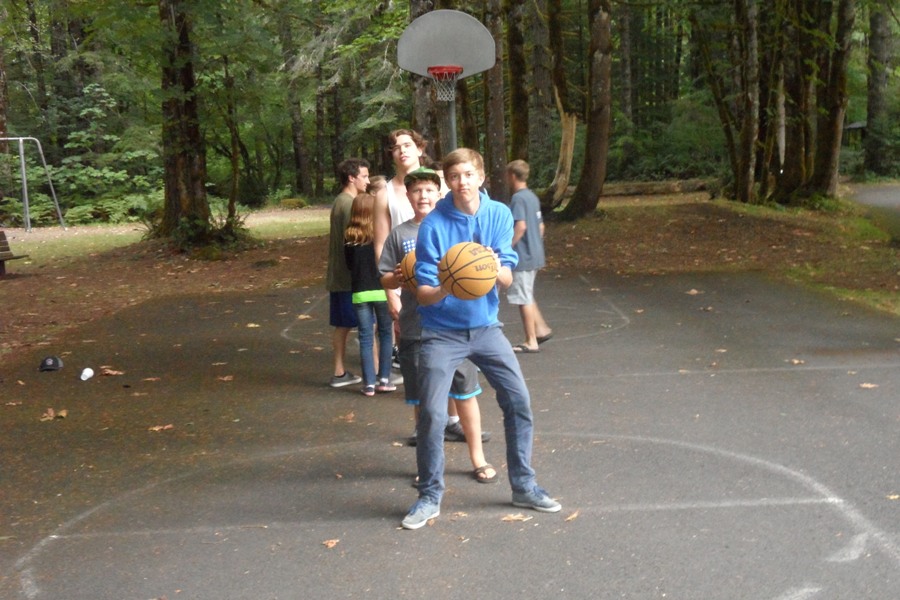 *photo by Nicole Cordingley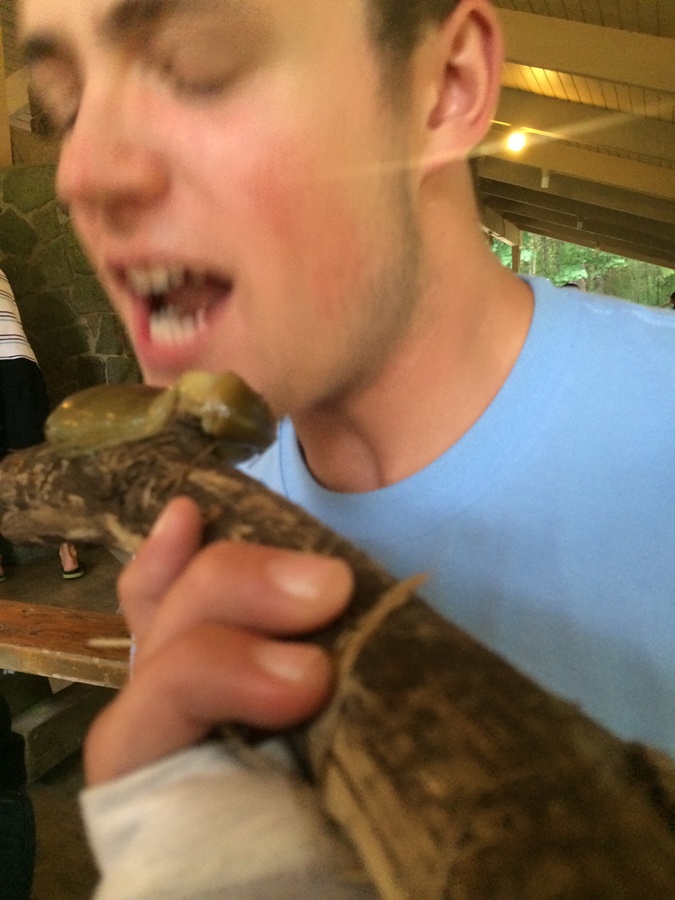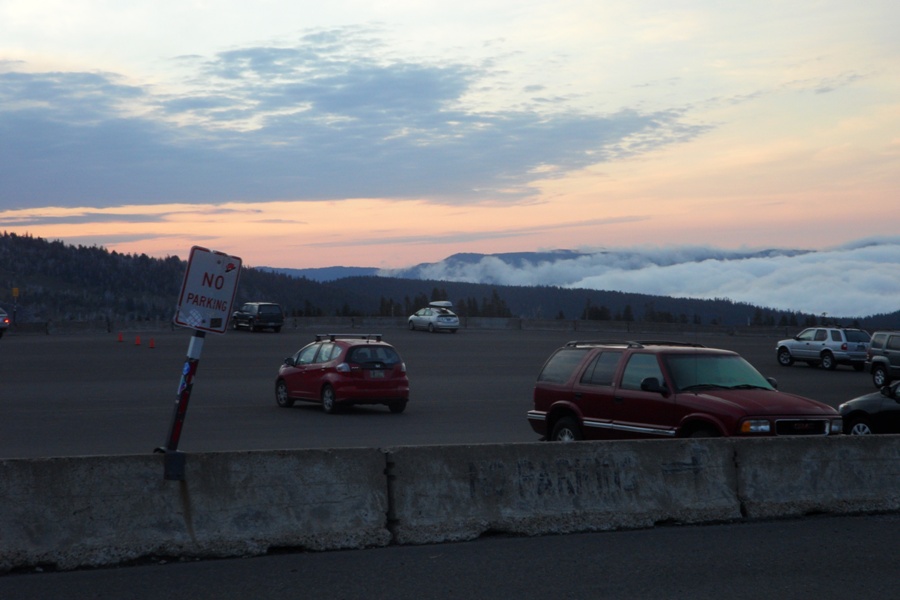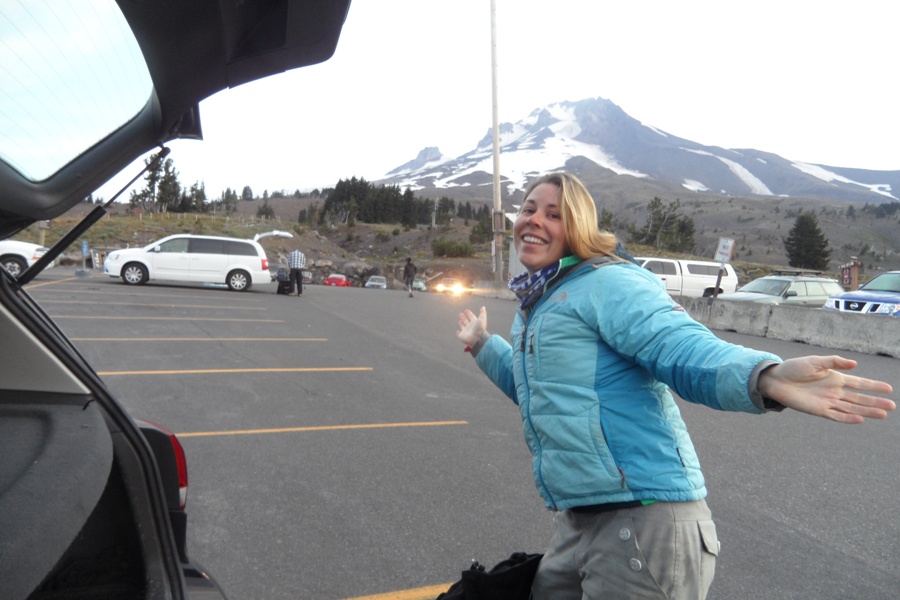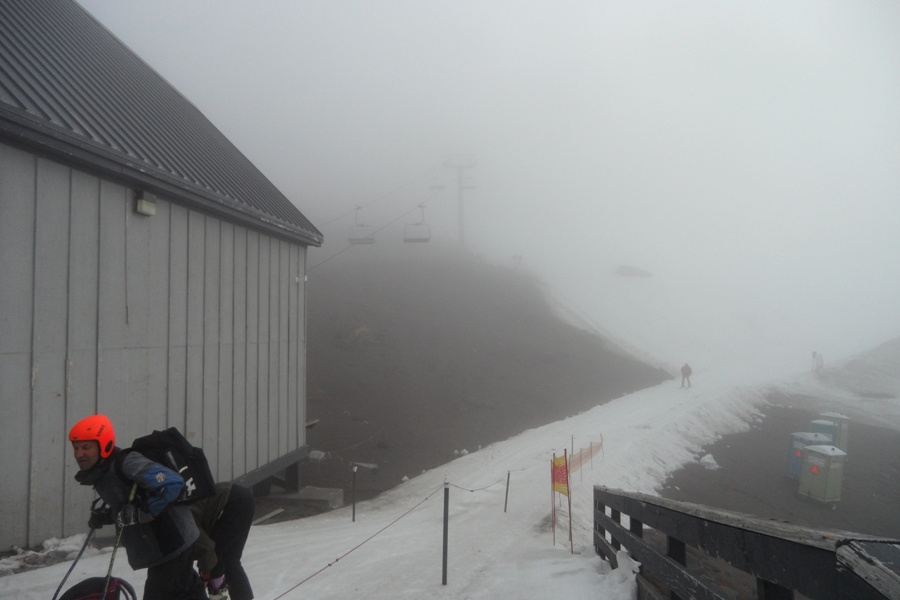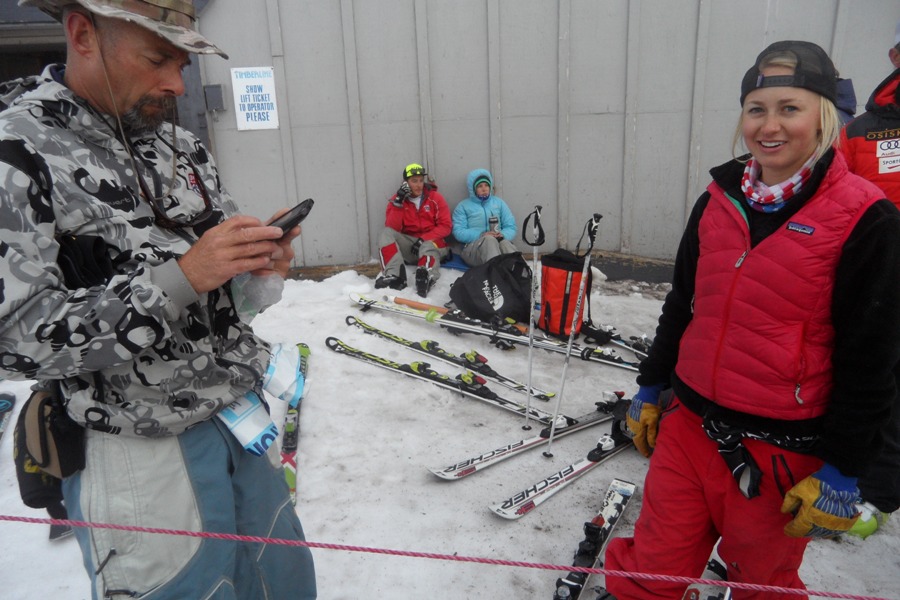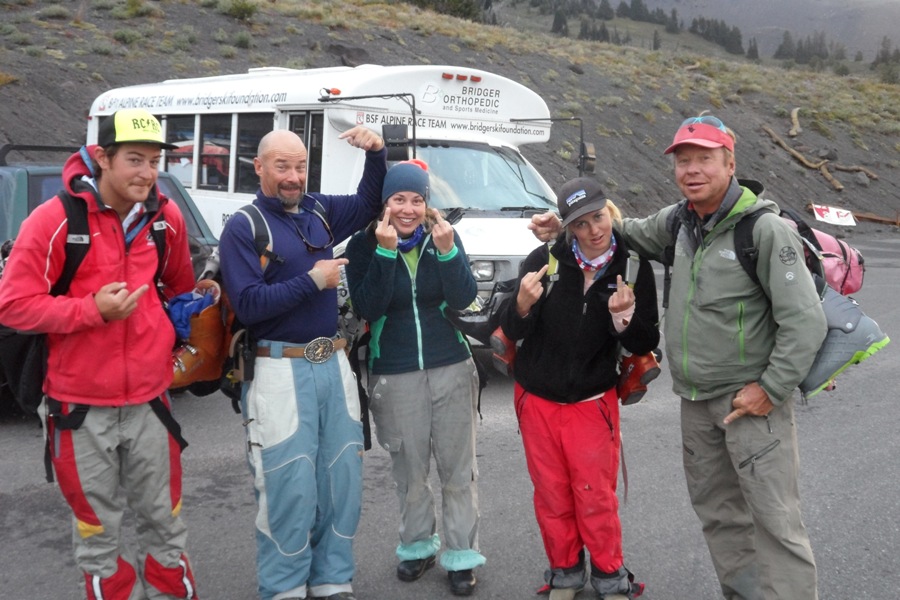 It's been 12 years since Kees Nederhand passed away.....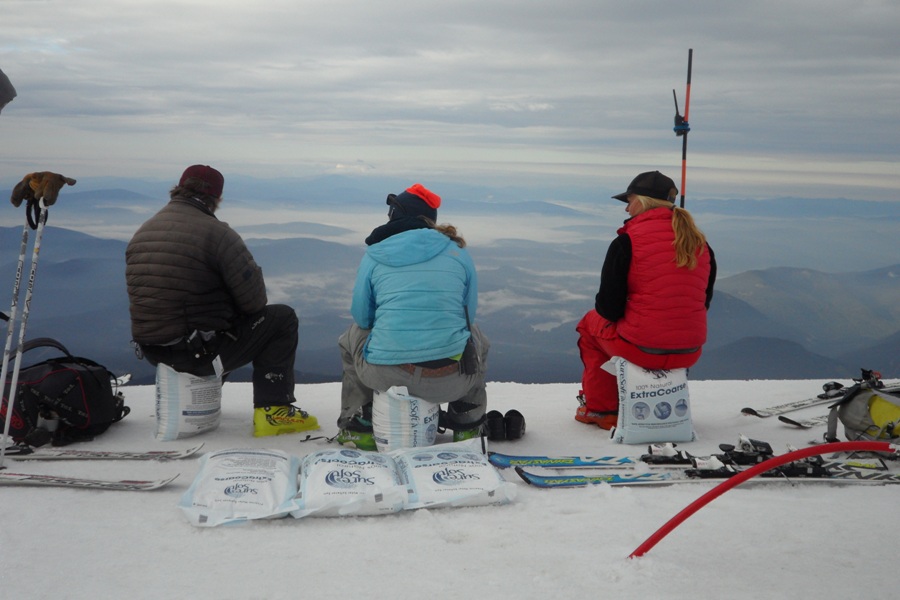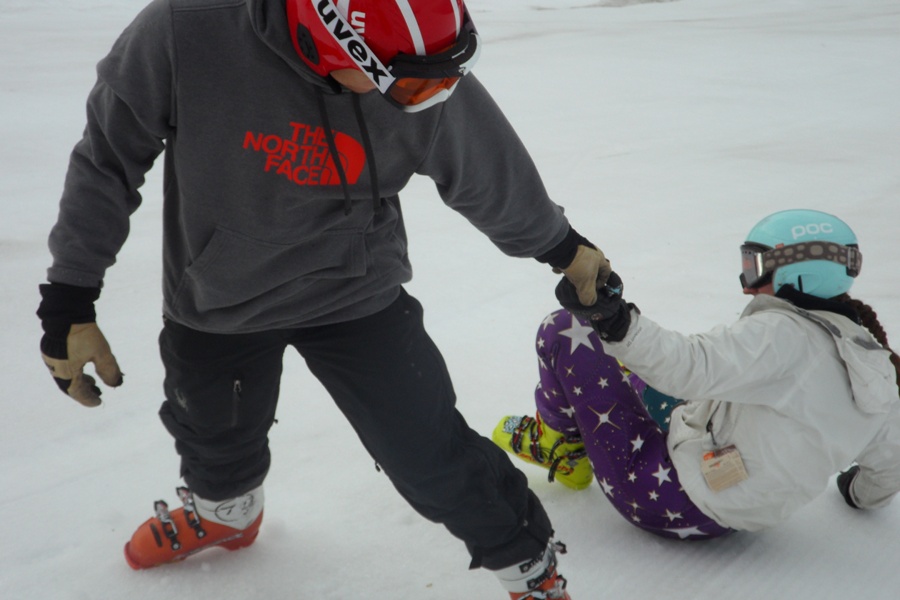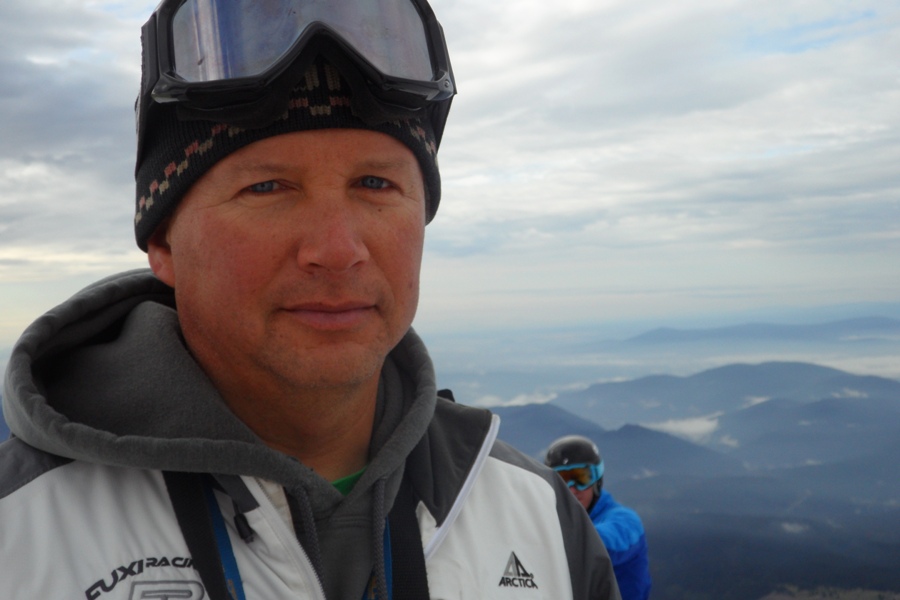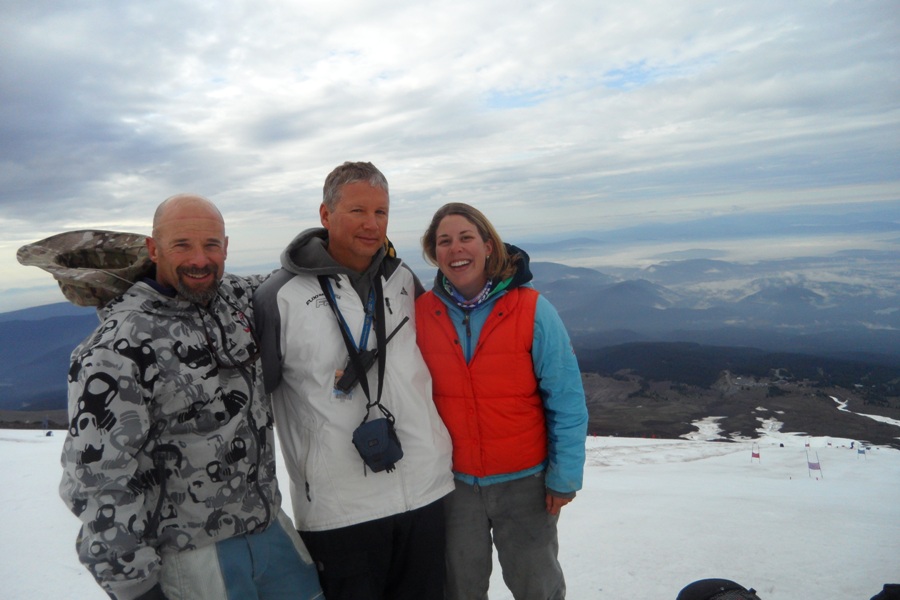 *photo by Fuxi...
Here's another 171 session 12 photos here.
Session 13, 2014 staff update
Only 1 week left. So very sad.
Like last week, session 13 was light on the highlights. There was a 3-day Macy's photo shoot near the bottom of Palmer early in the week. The Quebec mogul/freestyle group left a huge mess in Coho when they left town on Tuesday. Robert Johnson said it was the "worst mess a group has left behind ever". We had a smoothie party on Wednesday after the picnic. Even Mike Annett showed up for this one. Lots of people contributed fruits/veggies/coconut milk, flaxseed, etc. We did some ginger shots too. (ginger, apple, NO booze!) The annual "Hood-to-Coast" relay running event took place on Friday. Nicole Cordingley rode the chairlift with a random guy from Vermont, wearing jeans who was to run in the Hood to Coast start time around 3:30pm......Apparently this guy had no idea that there was such thing as summer skiing at Mt Hood, but he noticed all the people with skis and decided he wanted to take advantage...so he went to the timberline rental shop and got himself some boots and skis and headed up. We had a little bit of fog roll in on Friday for about an hour up on Palmer. It's a ghost town this time of year up on the hill. Lift lines are minimal. The snow was the hardest it's been all summer on Friday. That's all I got......21 adults have signed up for the final session of the summer.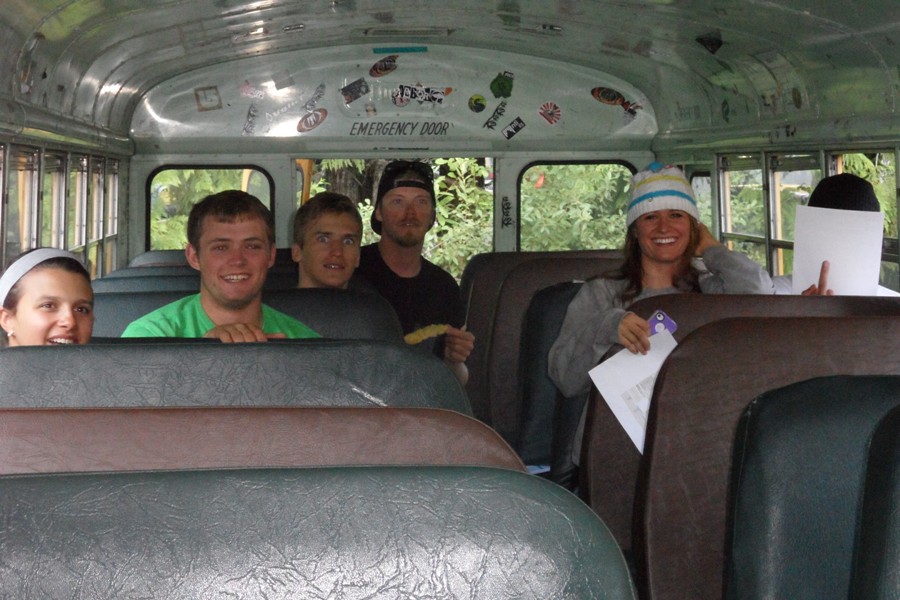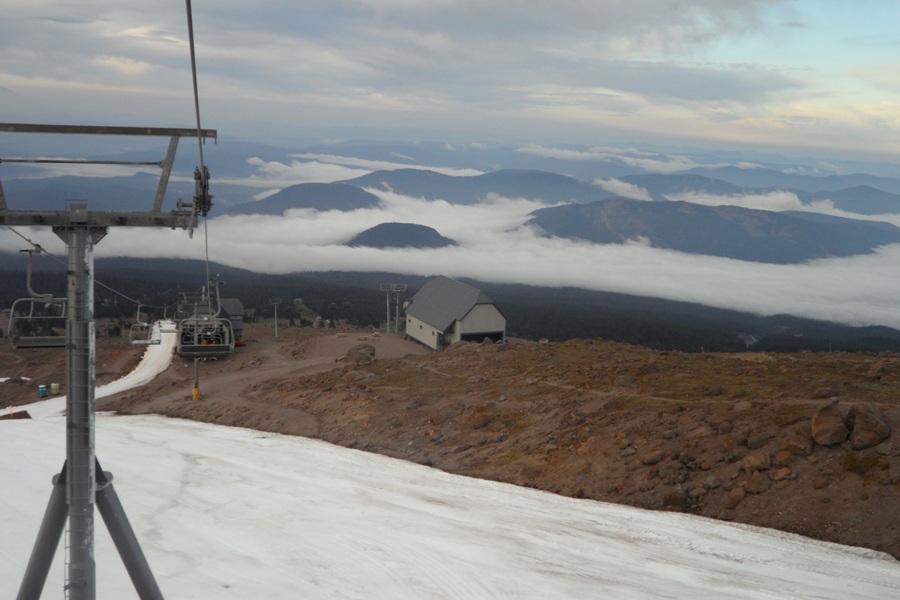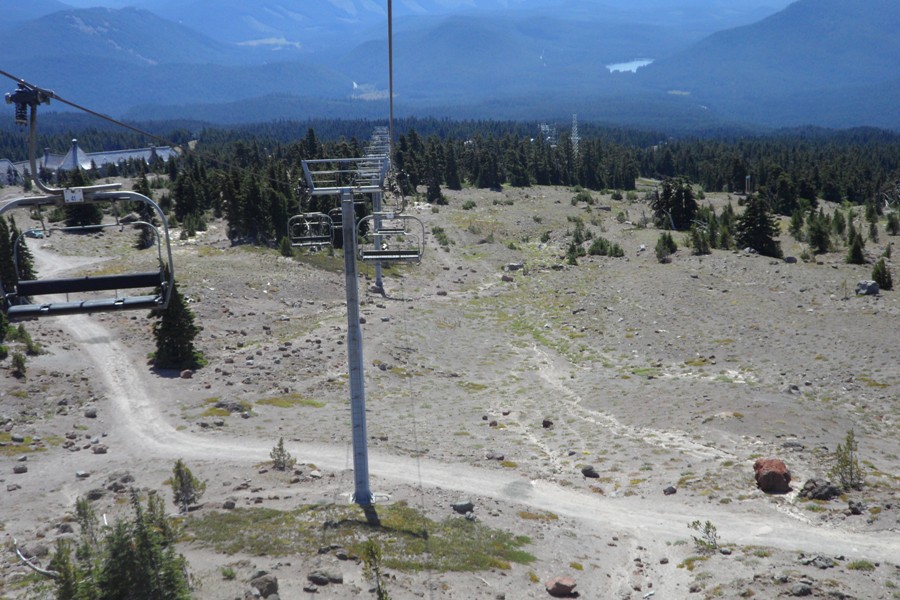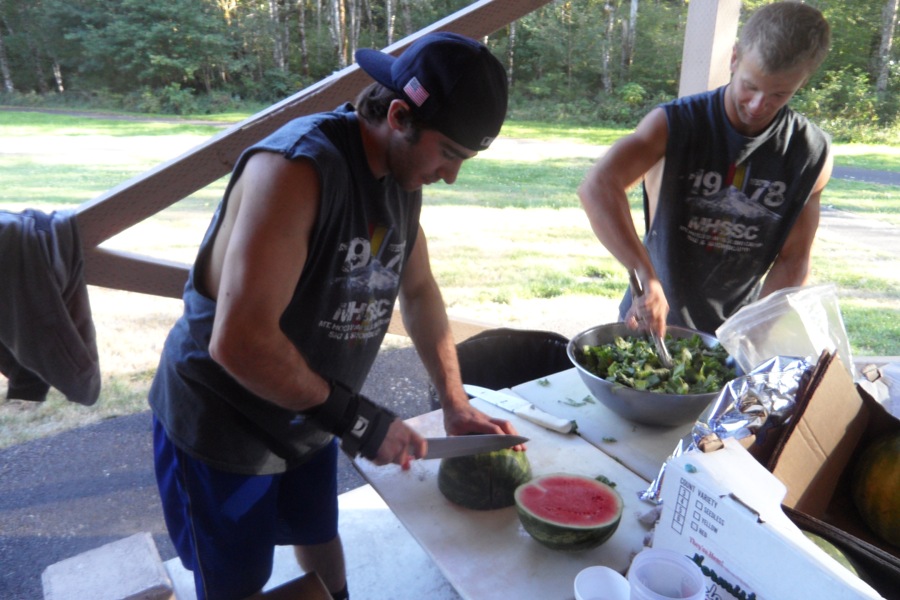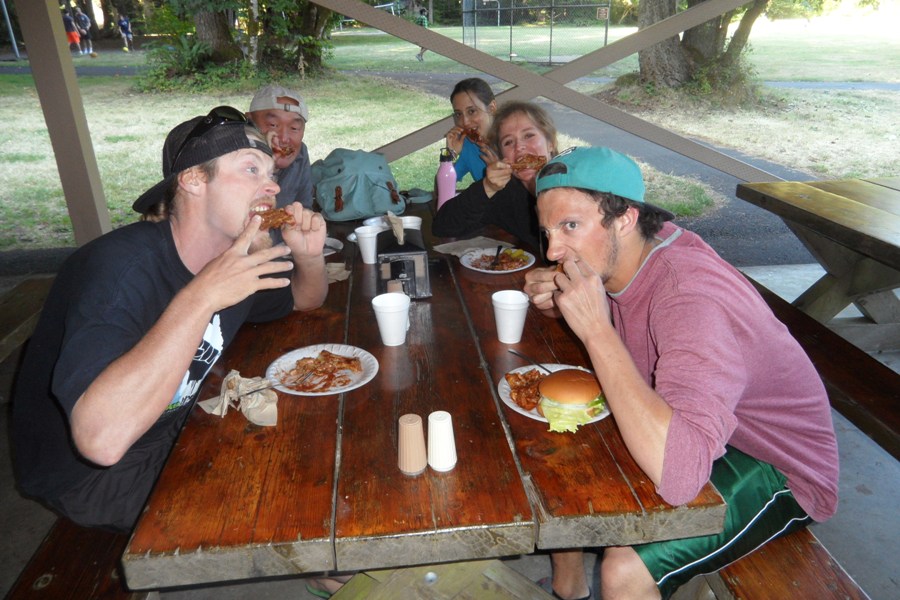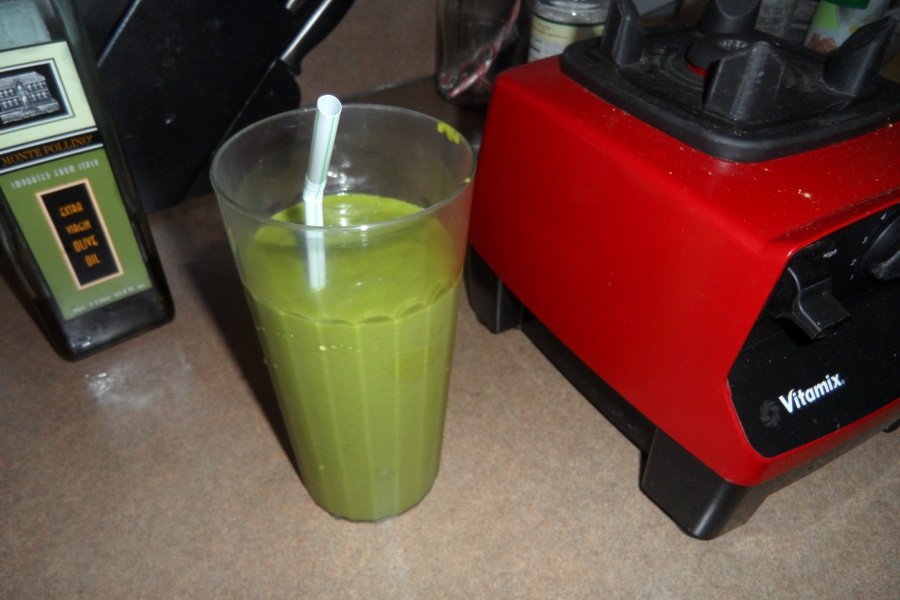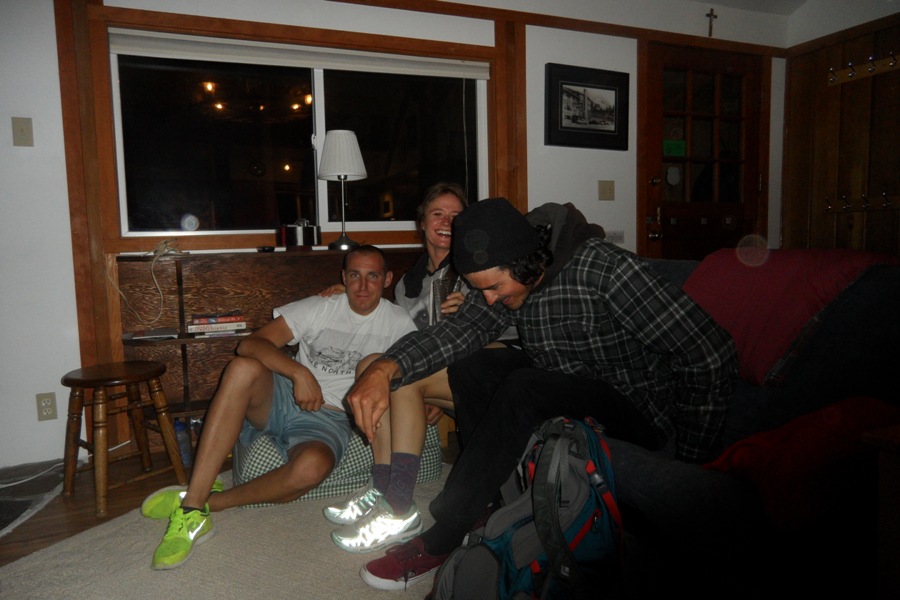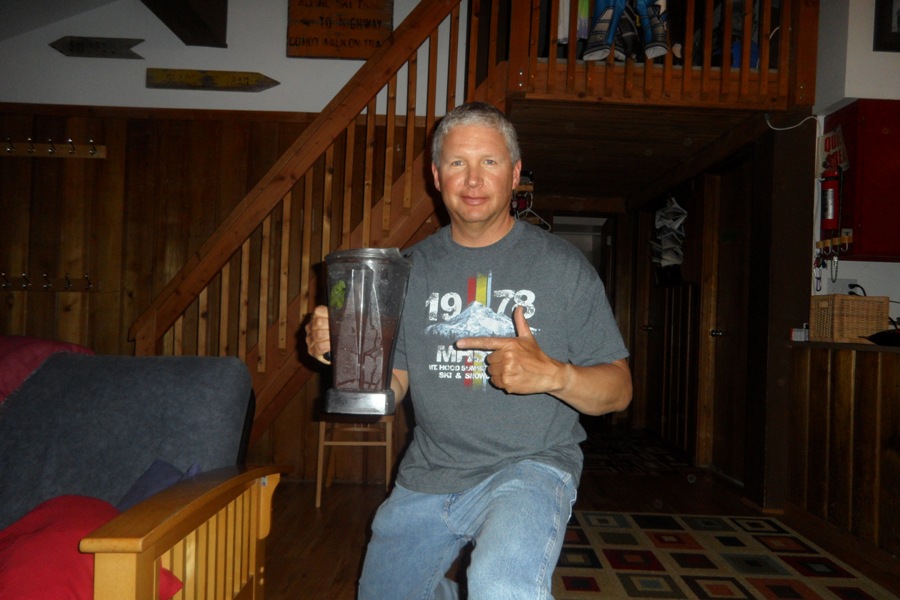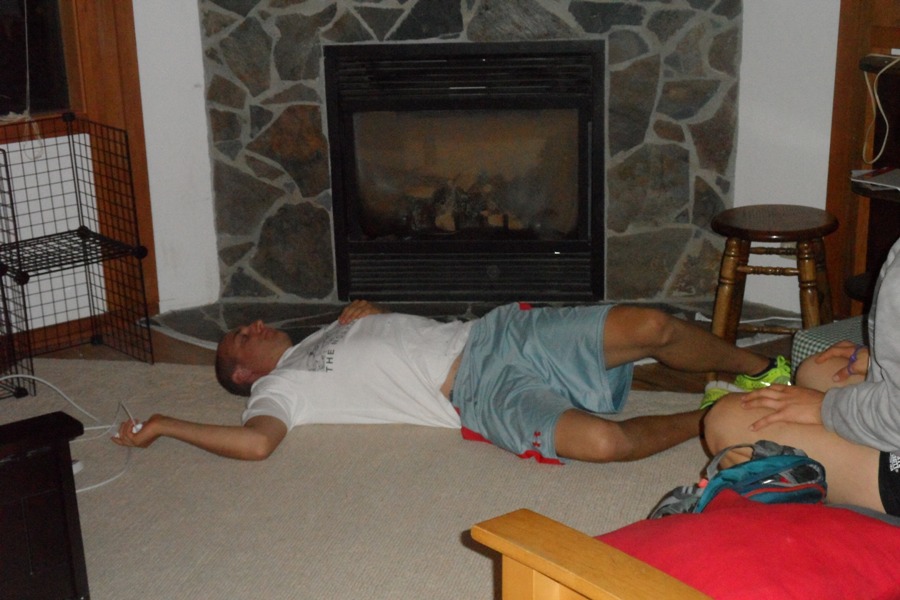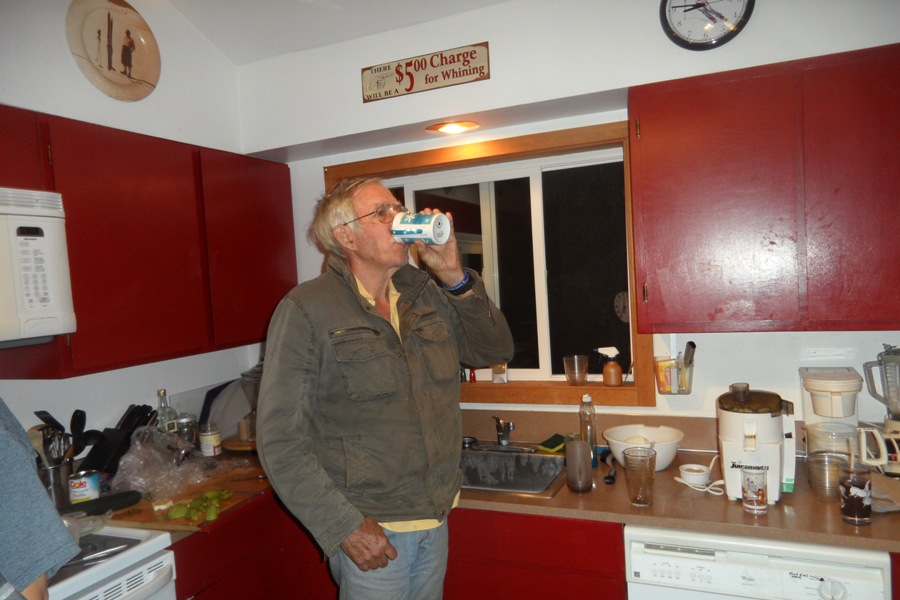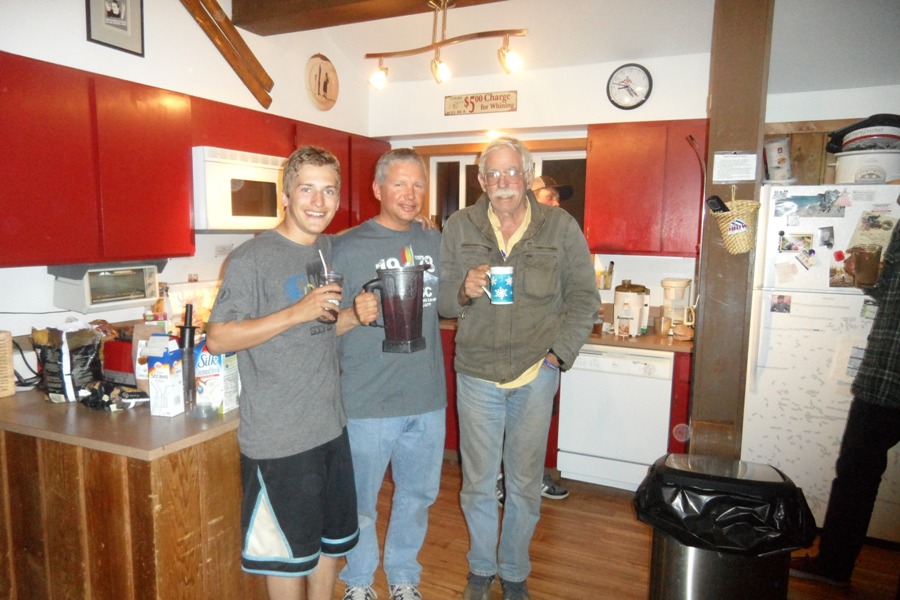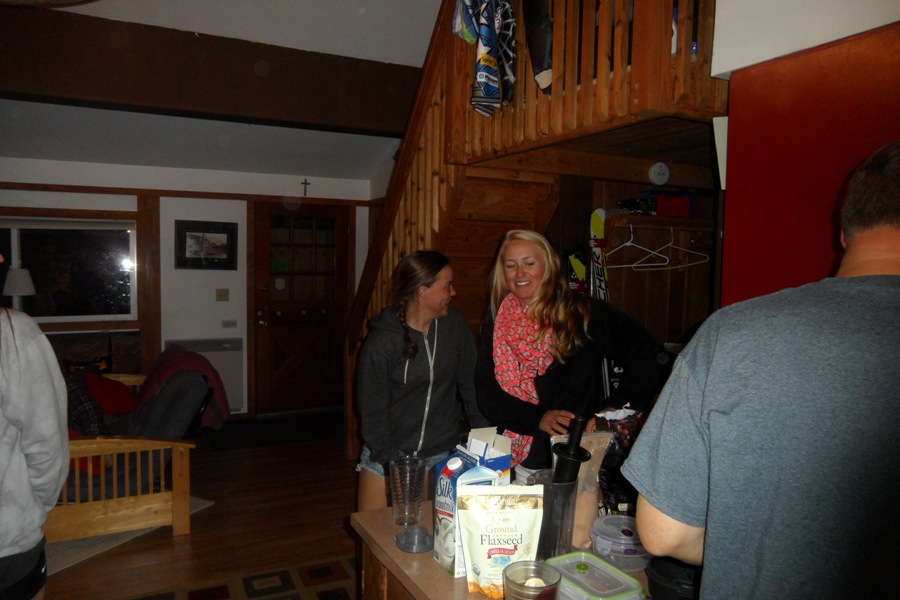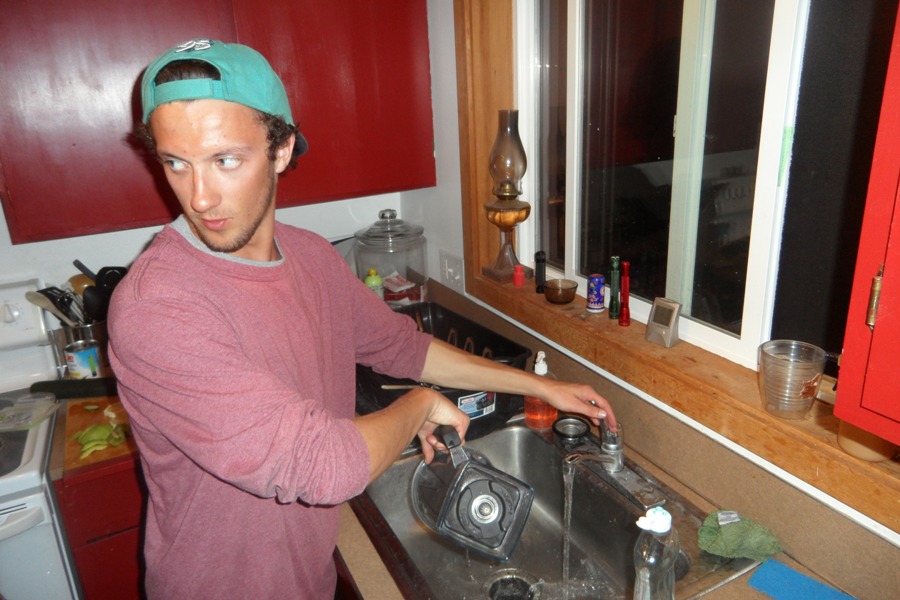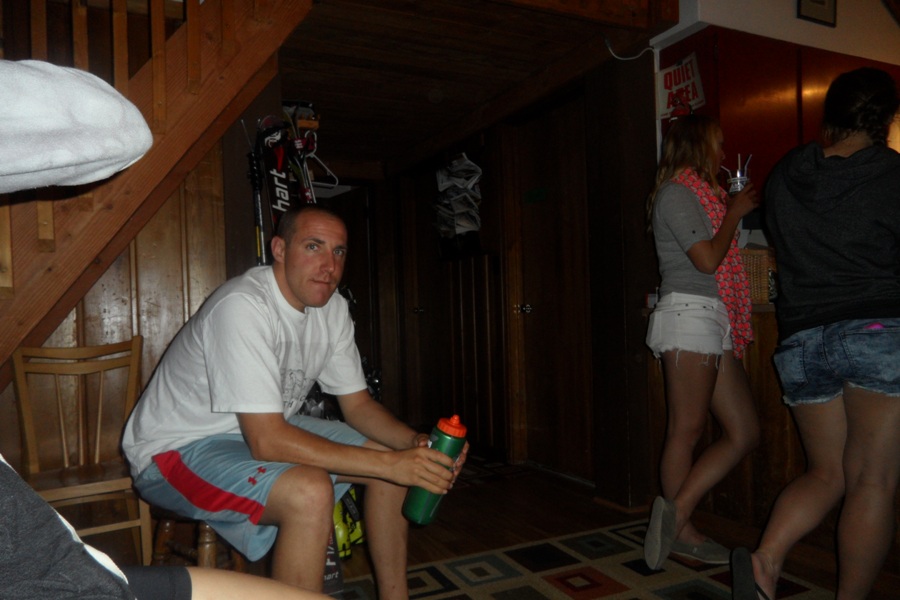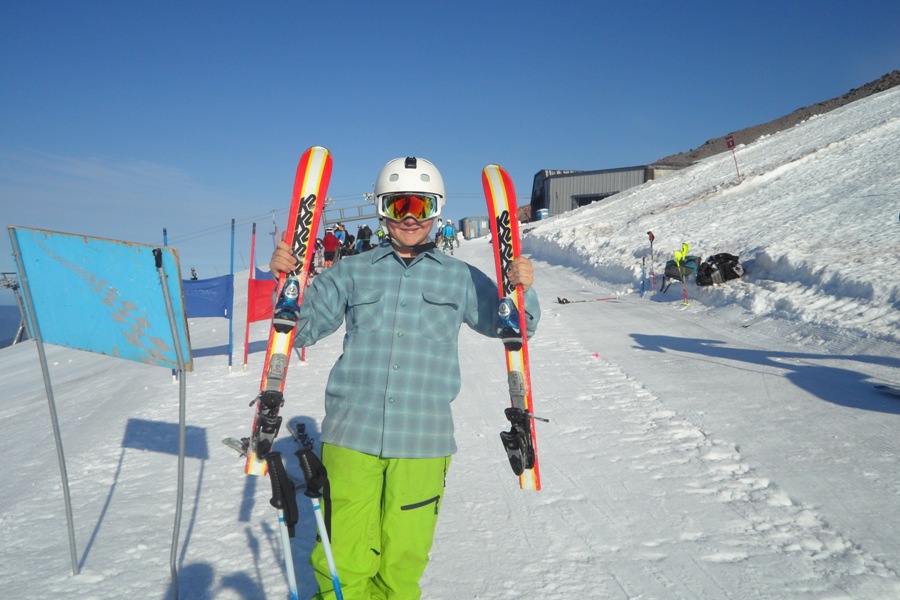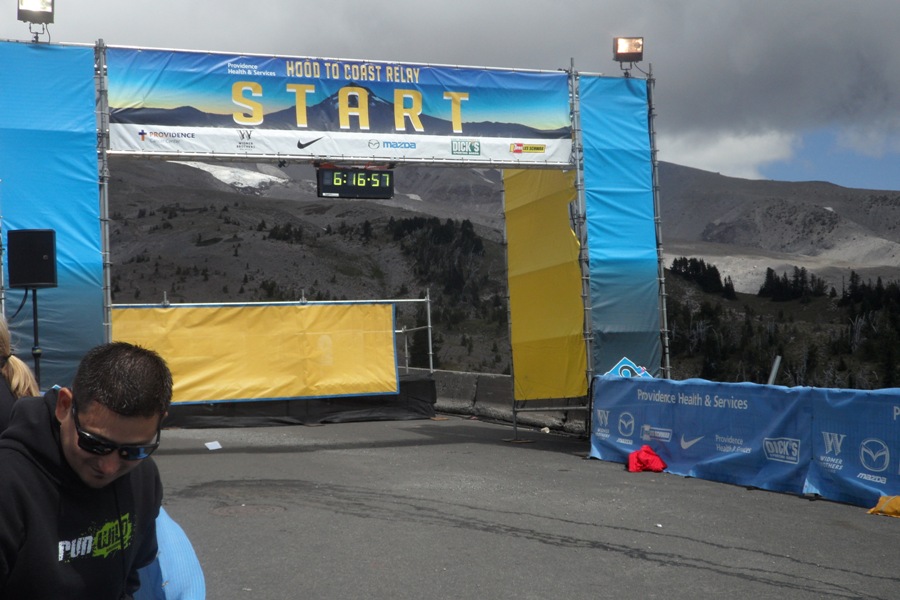 Drawing by CIT Jessie Kuzmicki
Here's another 190 session 13 photos here.
Session 14, 2014 staff update
It's over.....just like that.
Prescott McLaughlin got stung on his hand by a bee when he grabbed the dishwasher squirter thing and the bee was on it at the same time. Although Timberline "closed" the mile canyon (roped off with closed signs), Darren Owen still continued to ski down to the bottom each day instead of downloading the magic mile chairlift. He said the snow was creamy soft and only a couple sets of tracks on it. Former staffers Christian Fritz and Polly Hopkins were seen at Charlie's this week. Nolan Willard started to drive back to Mammoth Mountain on Tuesday....made it as far as Grants Pass, Oregon when he got a call from his employer that he wasn't needed for another couple of weeks. So he decided to drive back to Hood to ski and hang out. (10 hour round trip). Rick Millett brought the frisbee golf basket to the picnic on Wednesday. One of the adult campers gave his coach some boner pills (cialis?) as part of his tip. Yep, that really happened. Nicole Cordingley was to be part of Fuxi's photo shoot on Friday, but she crashed in a GS training run and hurt her knee (don't know the extent of her injury, but she was able to ski down). Jeff Holce and Makai Bradley helped out the short handed Kitchen staff during the final week of camp. And Mike Annett washed the dinner dishes on Tuesday night. One of the adult mogul lady campers was wicked good on the unicycle. She could ride backwards and hop up and down on it. We had a pretty decent summer ending party on Friday night at Charlie's. One of the adult campers did some wildly entertaining dance moves.
Tomorrow, I'm headed to the Oregon coast to relax for a few days....take care everybody!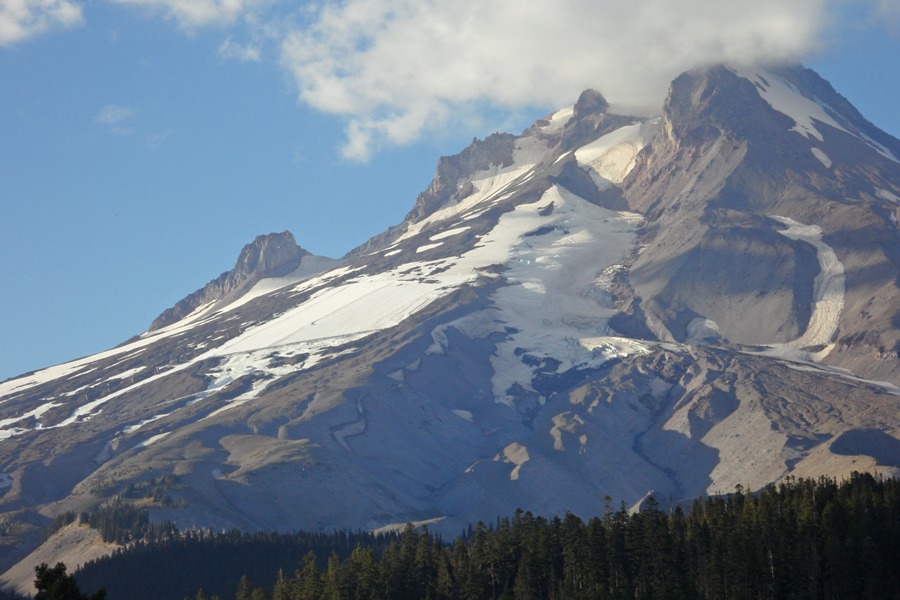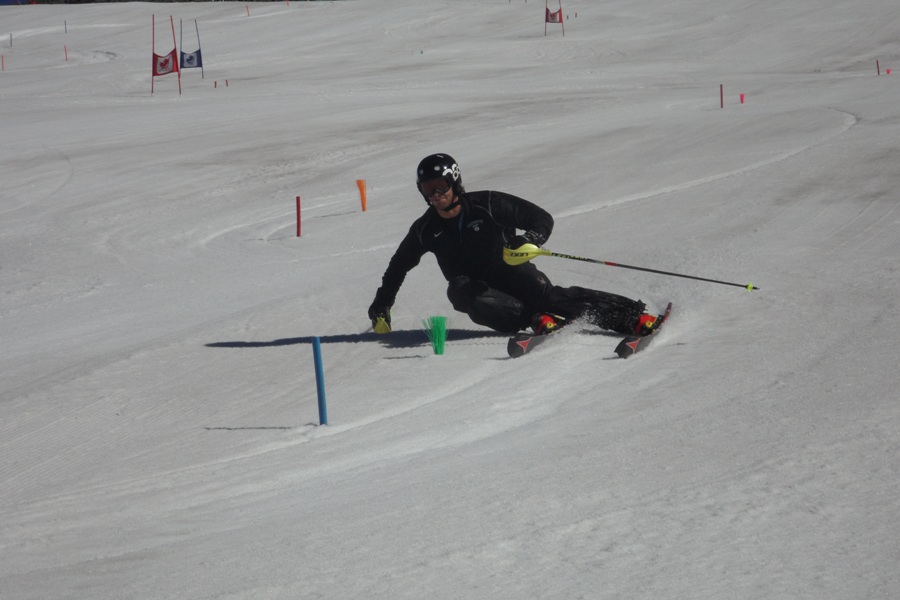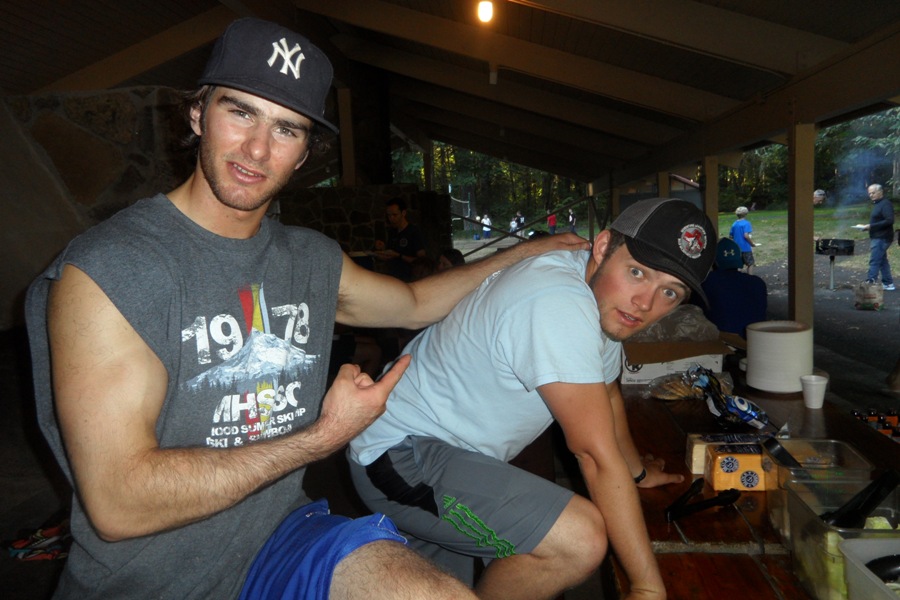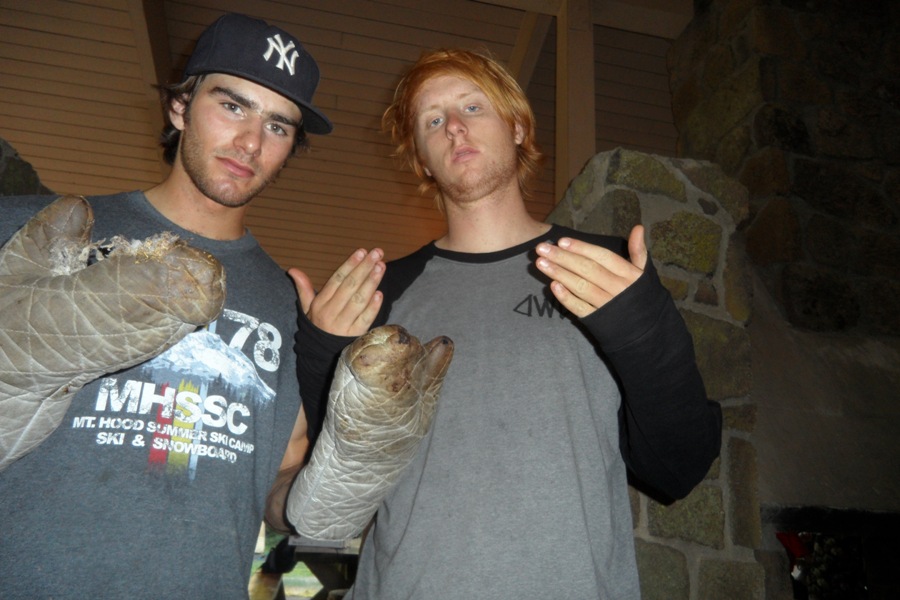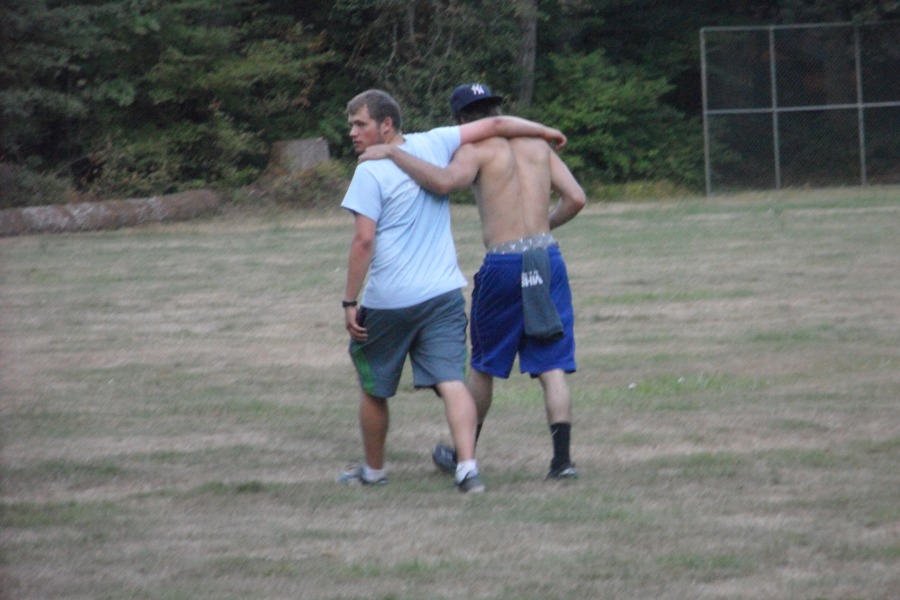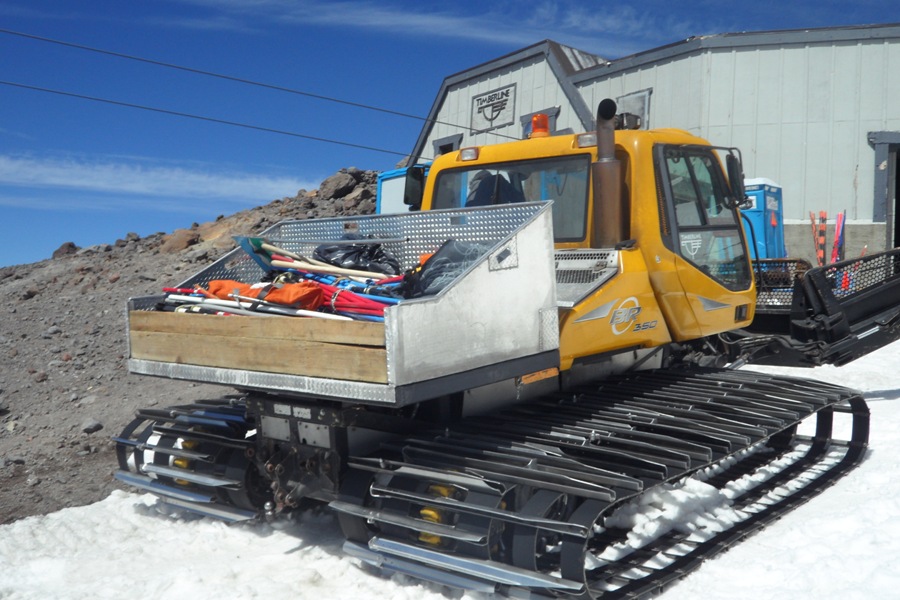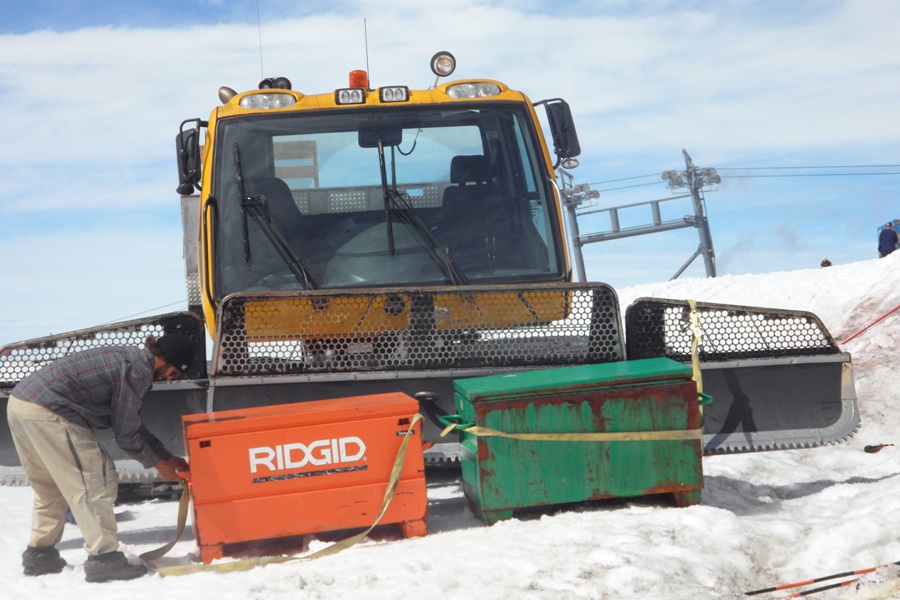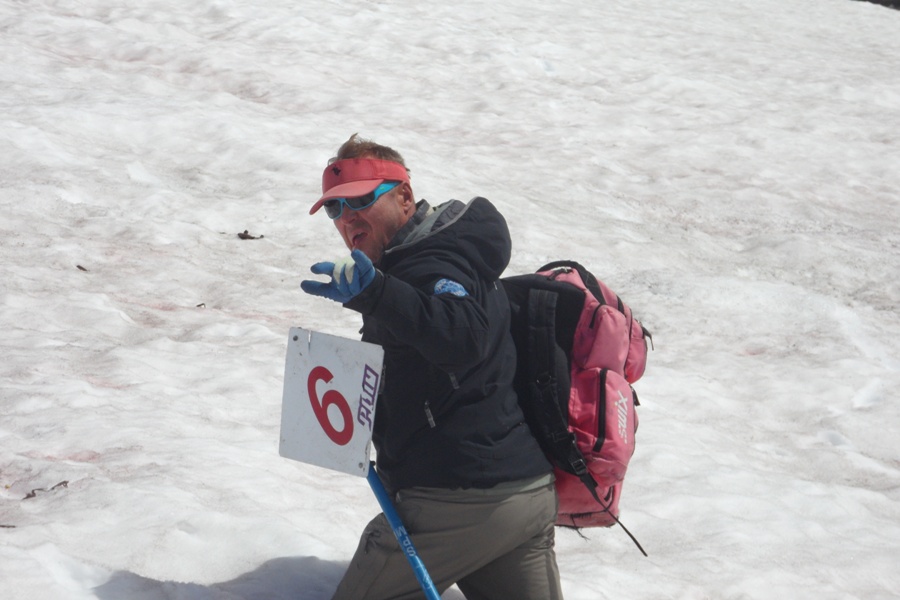 Another 248 session 14 photos here.