2016
Session 1, 2016 update
Before we dive into session 1, 2016, let's take a look back at the end of the lowest snow year in Palmer chairlift history, summer 2015. On October 4, 2015, a buddy of mine and me hiked up to the top of Palmer. I've never seen it quite like this.
Fast forward to Session 1, 2016. We had a somewhat "normal" winter as far as snowfall. The snow is a little thin on the magic mile, but looking solid on Palmer as of now. We are skiing all the way to the parking lot, which NEVER happened last summer. I would imagine we'll be skiing all the way to the parking lot thru June. Depends on the temps these next few weeks.
Ok enough snow report, here's what went down session 1: There was INSANE traffic headed west on Hwy 26 on Memorial Day (Monday). Traffic was backed up from beyond camp thru Govy and beyond in the afternoon. Virtually no traffic going the other direction......so we could easily drive from tline back to camp after skiing, but trying to get back to Govy was a whole different story. Rick Millett took a "short cut" driving down the Trillium Lake road and coming back up the Still Creek Campground road to save a near 2-mile chunk of that traffic jam. Parking lot was also full at Timberline on Monday with the holiday crowd and people taking advantage of their timberline spring pass before they expire. Reid Lambres made Leo Povolotskiy a red birthday cake (see pic) on Monday, even though his birthday was on May 11. Mike Annett's truck was towed away on Tuesday from camp for repair (fuel line I think?). Speaking of Mike, he had hip replacement surgery a few weeks back. He was confined to using a walker for a bit, but has since upgraded to using just a cane to get around. And he can drive again too after 2 weeks of rehab. A car hit a deer on hwy 26 a week or so before session 1, right near camp. The guy that hit the deer dragged it off the road and into the ditch. Went back to look at the dead deer a couple days ago, and there was nothing but bones left....and some fur. One of the freeski campers had a grade 3 shoulder separation injury after landing wrong off a terrain park box on Wednesday. And speaking of campers, we had 8 of them for sesson 1. A good mix of kids and adults.....3 freeskiers, 3 snowboarders and 2 ski racers. We got rained out on Thursday, so they took the campers to OMSI and the Lloyd Center Mall in Portland for the day. There was a Sophie Ostroski sighting on the hill this week. She's was coaching her Alaska team kids. Also saw former counselor Paul Richter ripping thru the public park a couple days. Palmer was closed Wedneday thru Friday so they could lower the cable and put in the palmer mid-station loading area. Too much snow to do that earlier in the spring. It was very much buried. (see pics). We did picnic in Hood River, as per usual for the early sessions. But when we got to the marina, our usual HR picnic spot, another group had already claimed it, so we regrouped and went to Jackson Park in the middle of town. We've gone there before. On the way back from the picnic, we stopped at "Panorma View" off of highway 35 to get a great view of Mt Hood from the NE side. The gate was closed, but that didn't stop us, because we are rebels. Bill Toney tried almond milk for the first time on Friday. He said it tasted "a little nutty". We now have an official camp instagram account. BeckyAurora Thompson is maintaining it. Here's the link. Be sure to "follow" it. Terrain park videoman Peter Cimmino gave digger Jack Reid a new haircut (see below).
11 year old Korean skier, Ashton and his interesting helmet. Hard to put into words.
BeckyAurora Thompson doing her instagram thing.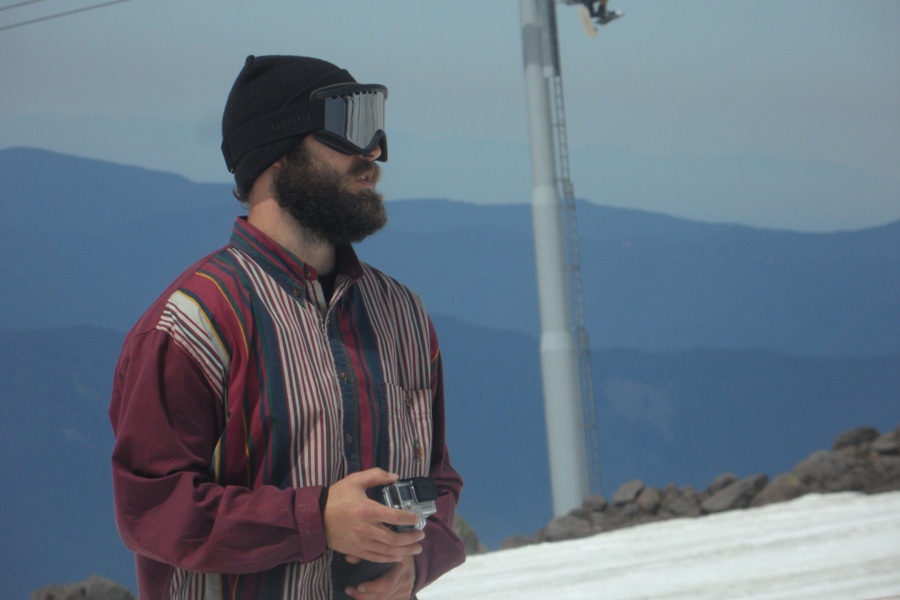 Rain day thursday....
Darren Owen sent me this photo of some of the past camp t-shirt designs: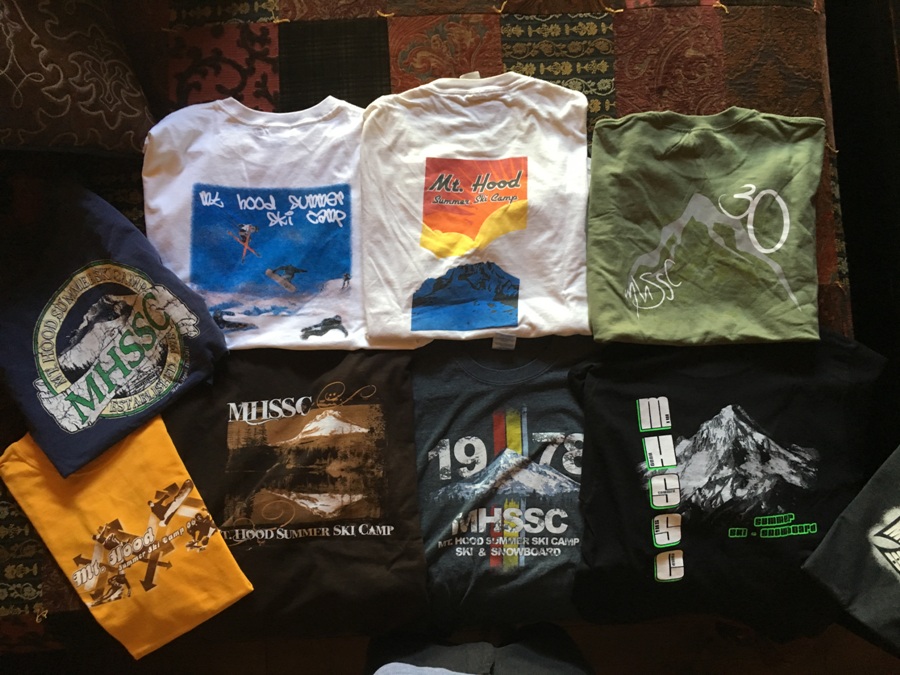 And Darren's niece came up with this possible 2017 design......LOVE IT!
Former (long time ago!) camper and staffer, Peter Bowden (Craig's twin brother) got married. I stole this pic off his Facebook. He was at camp late 80's early 90's.
And on a sad note, former MHSSC camper and staffer, Timmy Johnson passed away on October 16, 2015. Timmy had been a lift operator and lift maitenance employee at Timberline in recent years.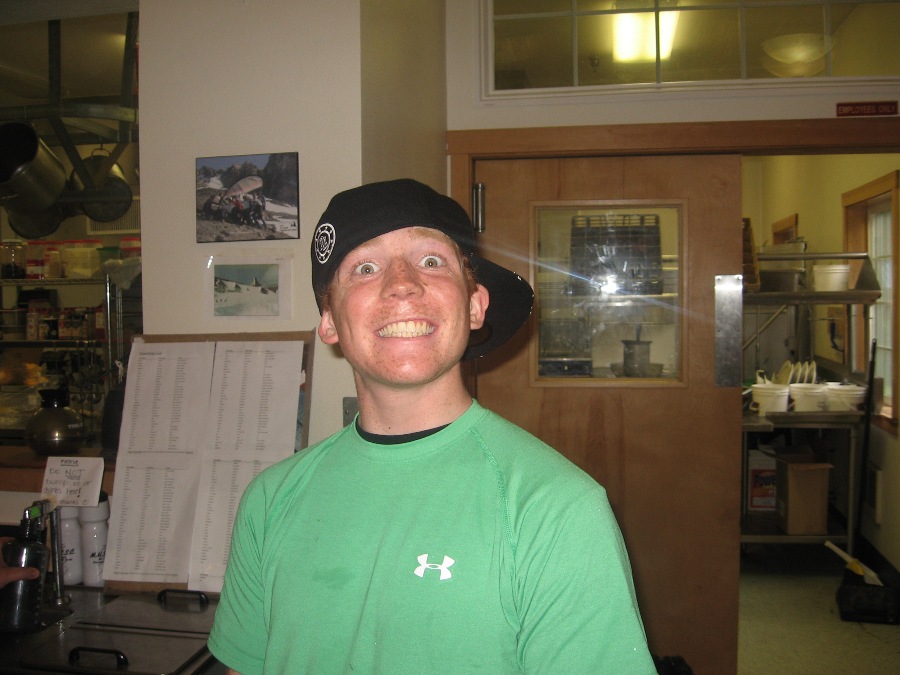 and hundred and 1 more session 1 pics can be seen -->> here
Session 2, 2016 update
Monday morning, super early......like 5:30am.....14 year old camper boy already has his ski boots on and is stomping around the lodge and yelling like a mad man. He ducks his head into the kitchen and yells "WAFFLES!!!"........a few minutes later, as he waits for 6am breakfast, he sees the sprinkles on the shelf in the kitchen and yells "can we put sprinkles on the pancakes?".......and later he yells into the Kitchen at K-staffer Taber Engelken "the pancakes are just sitting there and we can't eat them yet!!". It was quite the scene. I didn't think this kid would survive the week, but he did. Picnic was in Hood River again, this time back at the usual marina. It was snowing on Thursday and Friday. Palmer closed on Friday, so kids lapped it up on the magic mile. On Thursday afternoon (during afternoon activities), a camper comes running into the camp lodge in a panic......he runs over to the kitchen to find someone on staff and yells "Where's Mike?".......I'm thinking someone is injured on the soccer field or trampoline......turns out this kid just wanted to put some personal money into the camp safe. Rick Millett got some cool looking tan lines while up in our terrain park last Sunday. See pics (photo credit Darren Owen) Of course, Mike Annett used Ricky as a good example to explain the concept on the use of sunscreen at the camp orientation meeting. Mike Foley forgot one of his ski boot footbeds on Thursday, so one foot was floating around all loose like in his ski boot. Becky Thompson (counselor) got lost while attempting to take the kids rockclimbing to Bullo (sp?). They ended up doing some sight-seeing instead. An episode of "The Librarians" was shot up at Timberline Lodge on Monday. There was a signifcant tv crew and lots of equipment for this. This snow is melting someone fast. Most noticably on the magic mile. Don't hit the panic button, there's still lots of snow left! Yesterday was Prescott McLaughlin's birthday. Today is Reid Lambres birthday. On Friday, I had a long chat with legendary camp director Erich Sailer (age 90) in the day lodge during bad weather hurry-up-and-wait time. Not sure he even knows my name, but he recognizes me from all the years up at Hood. He was running camps up by Crater Rock in the 60's via snowcat. His most famous alumni include Lindsay Vonn and Kristina Koznick. *see photo of him and Mike Annett below. I asked Erich about when he might retire and he said something like this: "when you retire, you die shortly thereafter". He still goes on the glacier almost everyday. I was attacked by a little puppy on a jog around Trillium Lake on Wednesday. He tried to lick me to death. *It probably added 30-40 seconds to my time.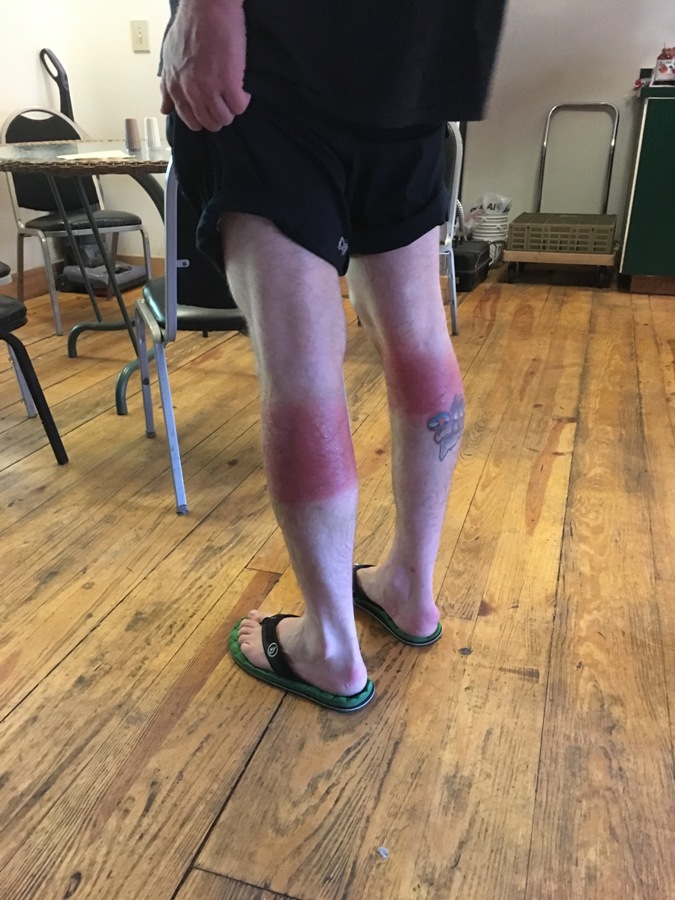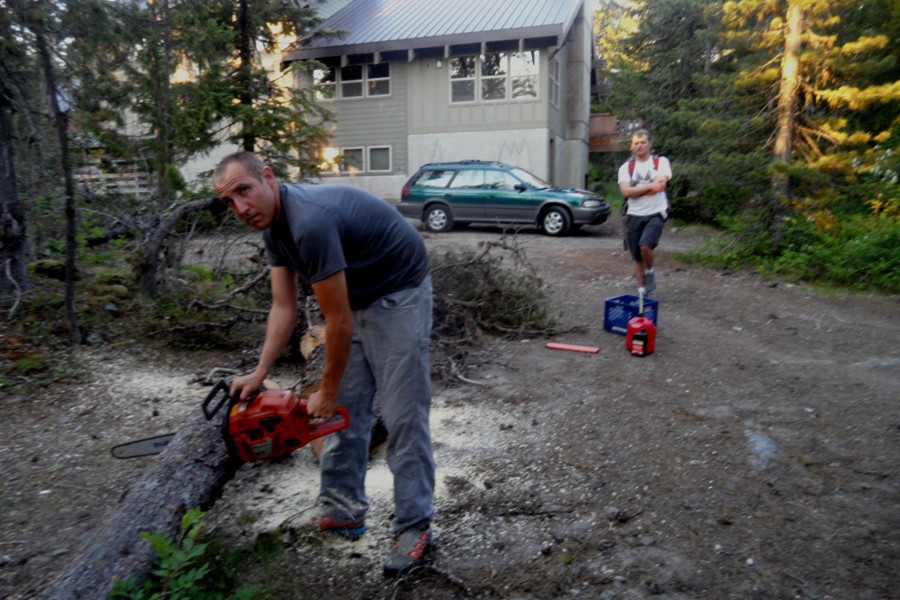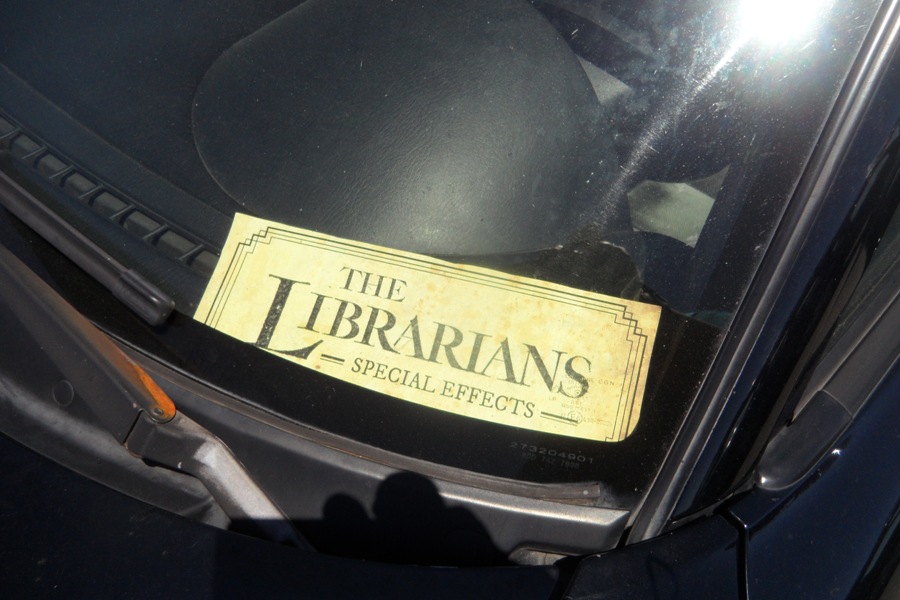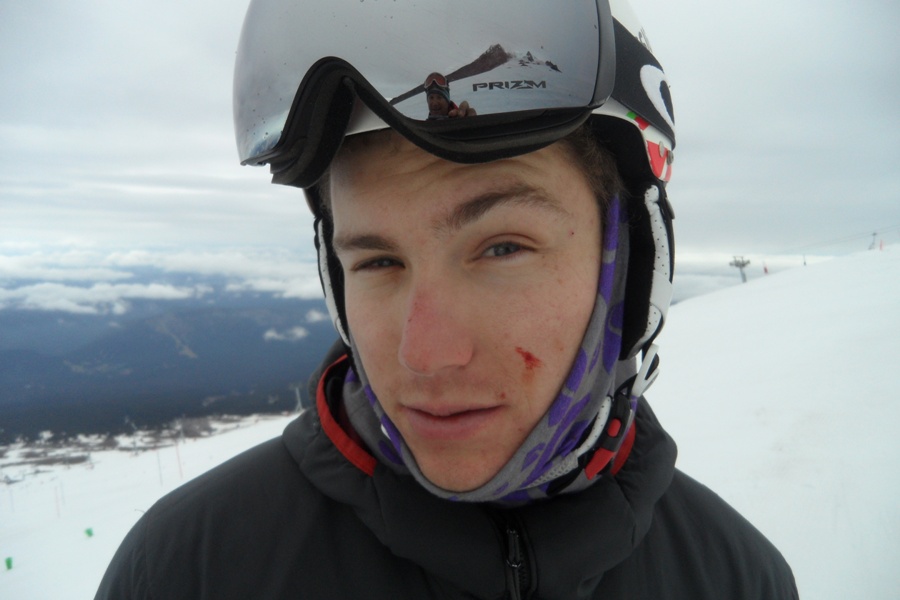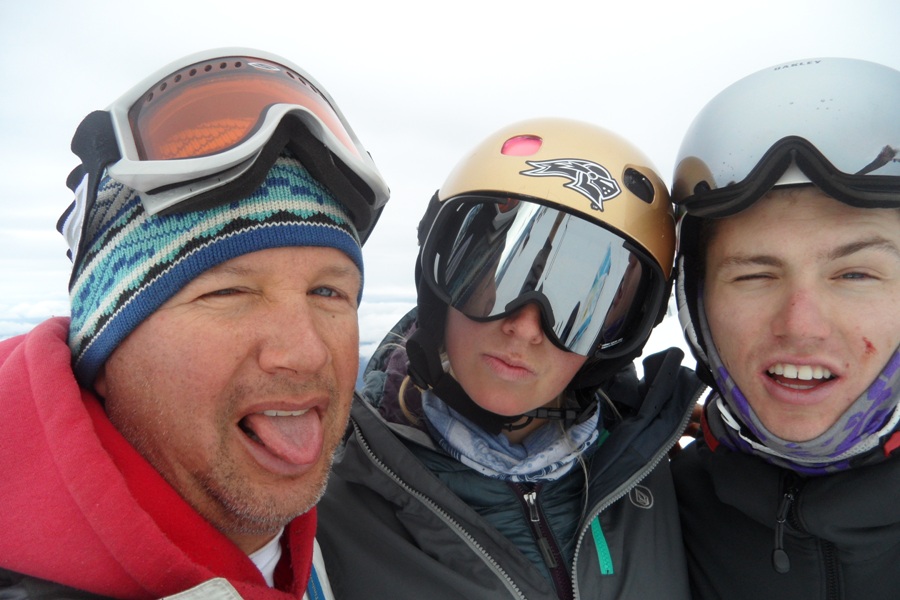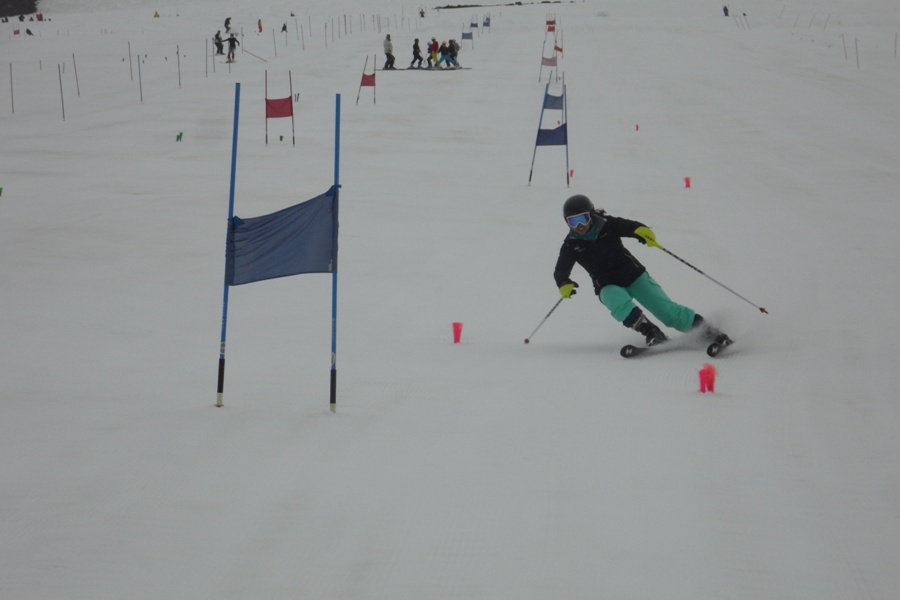 In case you never saw the MHSSC 30-second anti-bullying campaign commercial, here it is. This has played in a few markets, including the Bay area in CA.
and hundred and 3 more session 2 pics can be seen -->> here
Session 3, 2016 update
This is going to be a rush-job staff update.....trying to get my shit done, drive to govy to catch game 7 of the NBA finals. Don't really care who wins because my Portland Trail Blazers aren't playing.....but it better be a close exciting game! .........Sports!
Monday at tline.....both chairlifts were running....about an hour later, "they" decide to close Palmer due to thick fog, but they didn't let any kids back up the chairlift to get their backpacks....only coaches could go back up one last time to grab bags and pull courses. It was a little messy. Then there was a battle for hill space on the magic mile to set courses and such. We ended up setting some gates about half way down on mile west. It was about 3 or 4 slalom gate visibililty. Tuesday, lifts closed altogether. New snow, fog, wind, etc. Not even the option to hike up and set some gates or build a jump.....As Mike Annett likes to say on a day like this: "punt". Kids went to Smith Rocks, the Lumberyard (indoor mountain biking) or a trip to Portland. I heard a camper got super seat-belted into his seat by other campers on the trip to Portland and had to be "cut out" to release him. 7" of new snow overnight for us on Wednesday. It was a winter wonderland as you can see in some pics below. Took some 90 minutes to de-ice Palmer and get it going. A 10 year old camper bought condoms at the gas station next door.....then sold them to other 10 year old campers for $60. Yep.....that happened according to my sources. A camper got sunburned face, but Aloe on his face.....had an allergic reaction and his face puffed out....he said it felt like his skin was about to fall off. Reid Lambres did a "wheelie" on his bike, his feet were clipped in and he fell awkwardly onto his hip. Nicole Cordingley got a double flat tire on her bike on the attemped ride to the picnic on Wednesday. Insane thick fog on upper palmer on Friday. Luckily it was mostly clear on "celebrity" lane on lower half of palmer for some quality GS. Got to chat it up with 1984 Olympic champion (women's GS) Debbie Armstrong for a few minutes on Friday, while the Palmer chairlift broke down. Nice lady. We are still skiing to the parking lot in case you were wondering. A snowcat broke down in the middle of lane 7. (see pic) . It rained a bit at the picnic. Robert Johnson played softball (see pic).
For you newbies, we have a mhssc staff past-and-present facebook group page. Here's the link if you are interested.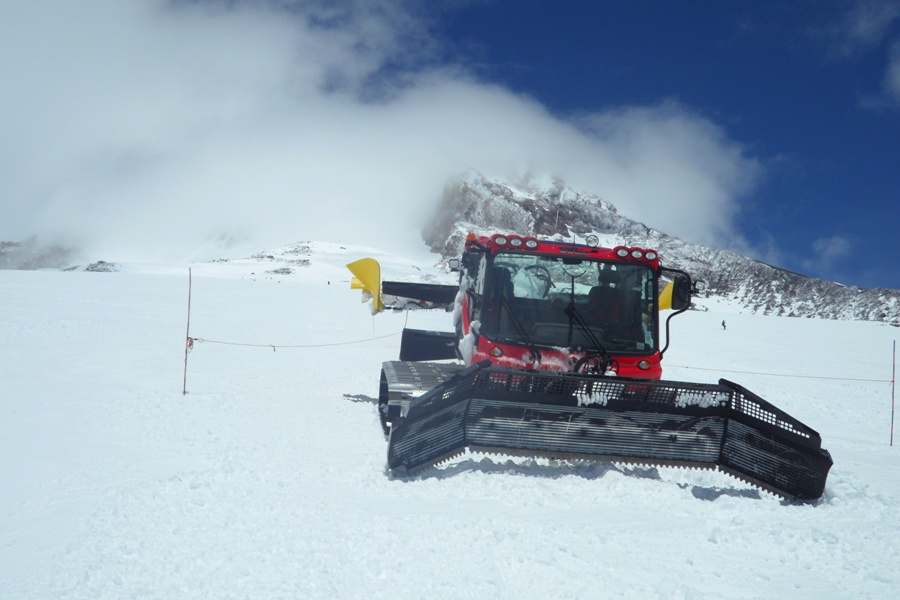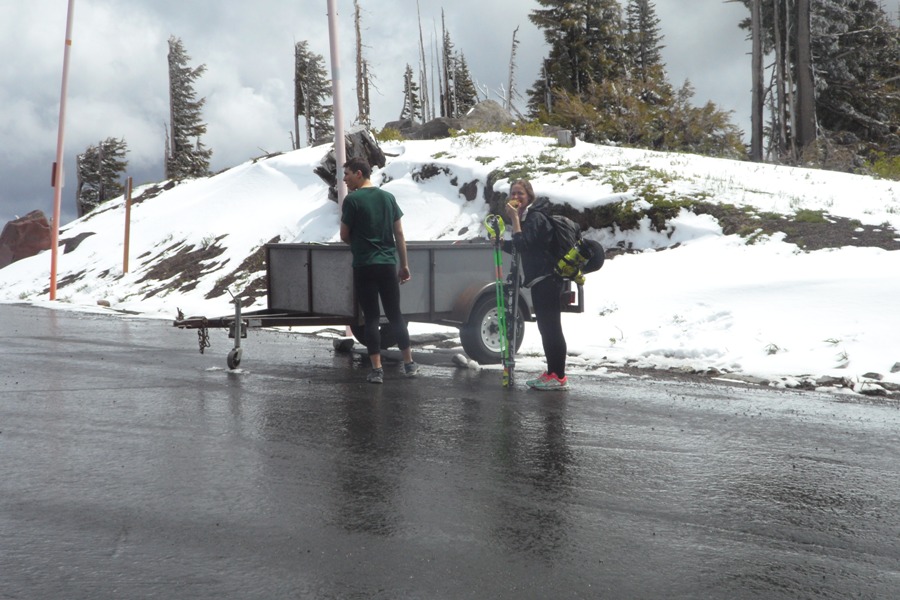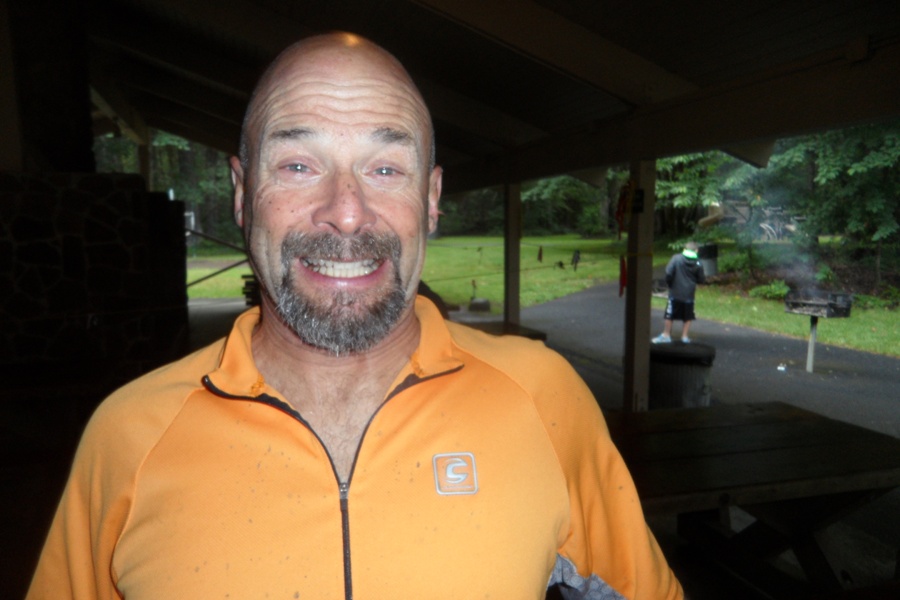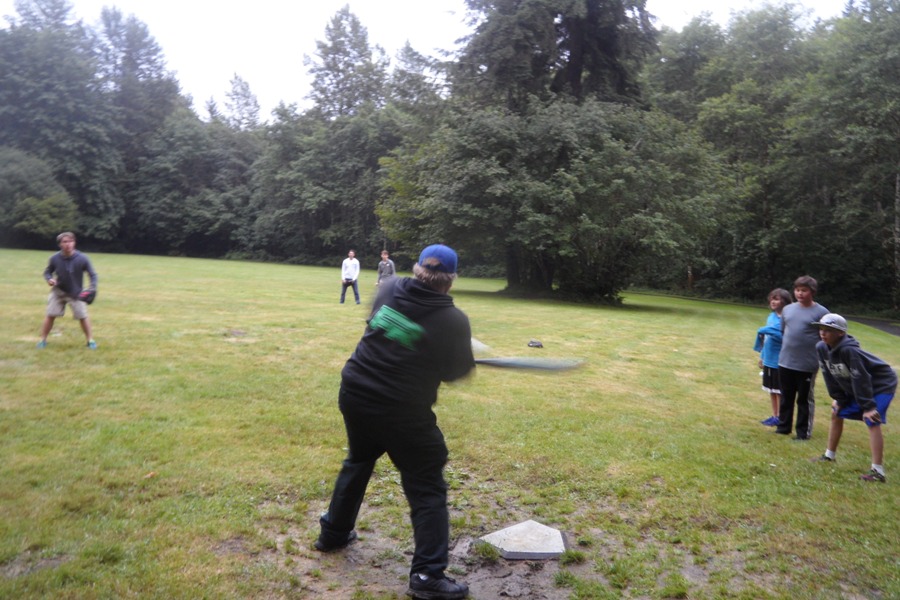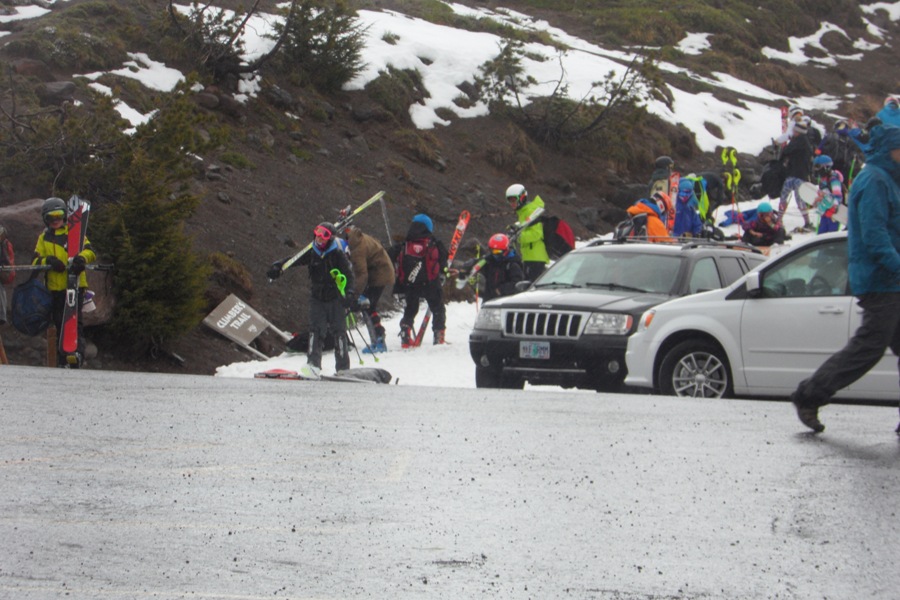 OK, one last thing. THIS GUY! This was Friday. Photo by Darren Owen......Darren said he was sleeping up by the TV's at the top of Palmer, but that's not really the whole story. In Nicole Cordingley's words: "There I was, in the terminal of Palmer, watching video. Between the TVs was a dad and an approximately 8 year old son. They were trying to get the kid's boots back on but he was crying because it hurt. The dad starting yelling at him and the kid started crying louder. Then the dad got really mad, called the kid an asshole, and threw the boot. I figured I needed to intervene so I went over to the kid and asked if I could help him get his boots on. Makai saw the situation and came to help too. The dad didn't say anything but eventually calmed down and said thank you."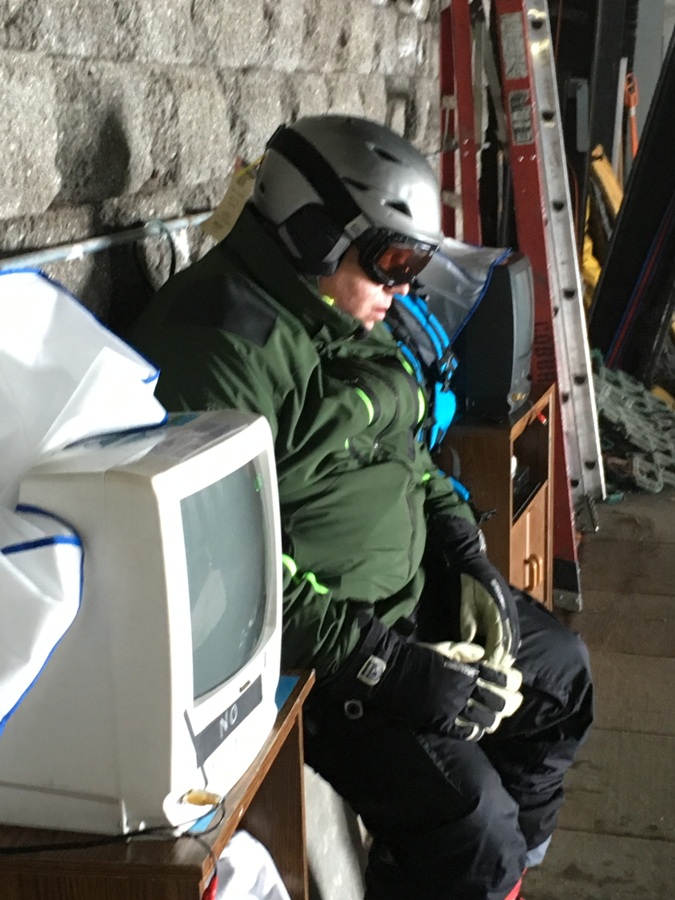 and 132 more session 3 pics can be seen -->> here
Session 4, 2016 update
Summer is in full force now with all the race lanes filled, high cascade and Windells are both up and running too. Lift lines exist. The chairlift seems to be malfunctioning more than normal, so that adds to the lift lines as well. Reid Lambres and Nigel Stein climbed to the summit on Monday. see pics below. Also summiting in another adventure on the same day was former staffer Elliot Halverson along with a buddy of his. In Elliots words: "We hiked from Palmer Tuesday 2 hrs and saw a line that looked to run clean on the north side. We skied the standard route. We camped a cloud cap and hiked an skied a line that drops to snow dome and then across Elliot glacier back to cloud cap. 5hrs up. Skiing was perfect conditions on the steep exposed parts. Lots of crevasses up there." Former staffer Scotty Veenis was on the hill, coaching the Ligety camp, as per usual. Ski race legends Phil and Steve Mahre were also up there (see pic). We had a 12 year old girl camper from Austin, Texas. She could barely ski and had to deal with steep icy upper palmer. It was too much for her. After a couple crashes into the mogul lane, she walked down to a flat spot near me. CIT (counselor in training) Keegan Hoose ended up carrying her down the mountain to the magic mile with Bill Toney carrying all her ski stuff in tow. Nicole Cordingley celebrated her birthday on Tuesday at Charlie's. It was supposed to be a surprise birthday party, but she already knew about it. The bartender gave her a free drink.....after checking her ID to see if was her actual birthday. Former staffer John Rust was also at camp early in the week, as he was coaching a camp within a camp with the mt hood meadows race team. The picnic on thursday was crowded! We shared the usual wildwood shelter with Timberline ski camp. They took up 2 of the 4 grills, so it was a battle to get your burger on one of the two remaining grills. Lifts were closed both Thursday (rain/fog) and Friday (snow/fog). Thursday, the kids went to smith rocks, lumberyard (indoor mountain biking) and BeckyAurora's magic mystery tour in portland/Washington state. On Friday we hiked up and did the shit-weather-day-closed-lifts-short-GS-hike-course in the mile canyon thing while the freestyler's hiked up even further to the bottom of the public terrain park to hit jumps and rails. See photo below of Mike Annett in negotiations with Timberline's Logan Stewart for rain-day hill space. And as you can see in some of the photos, it keeps snowing here! June has had it's share of winter storms. We had 3 new alpine coaches last week. Other stuff happened at camp, but I'm out of time......oh yeah, former staffer from the 80's Steve Heuer got married! He was video guy at mhssc before me. And "forever" stamps went down in value to 47 cents from 49 cents. Who knew?
Reid Lambres 2 photos from their climb to the summit. Awesome sunrise colors! They left the timberine parking lot around 2am to start their journey up.
Mike Syrovatka captured this photo during session 3......wonder if he rode down tline road on that thing....
Former staffer Elliot Halverson atop of mt hood.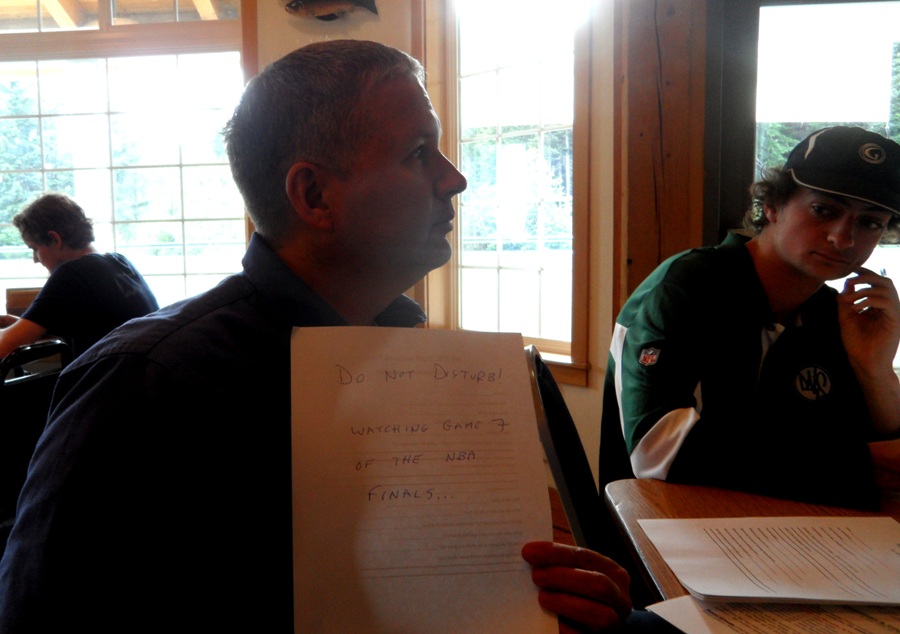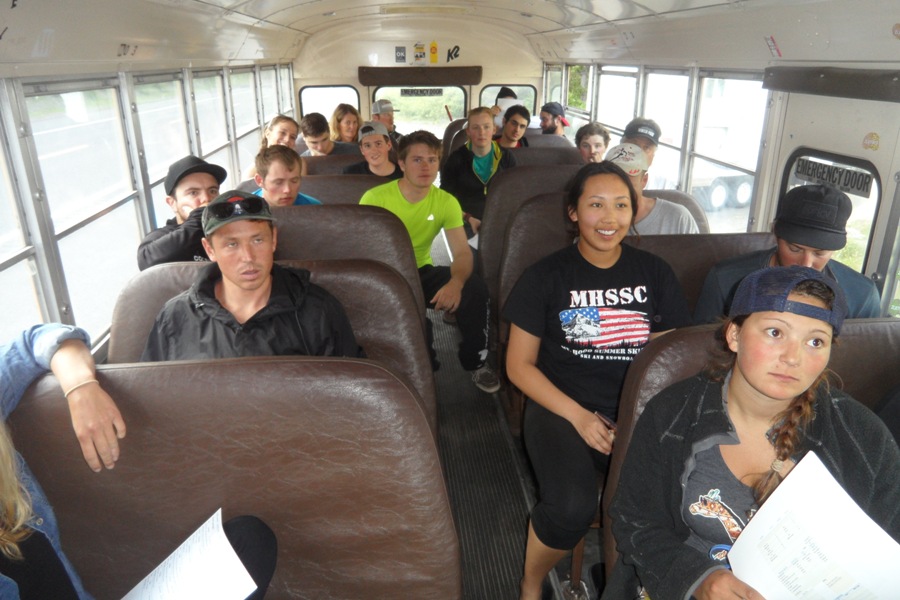 That's the 12 year old camper from Austin, TX. (below)
Phil Mahre..(red jacket)...won the overall world up 3 times in the early 80's, silver medal in slalom in 1980 olympics, gold in the same event 4 years later. His twin Steve won the silver medal in the men's slalom in 1984. LEGENDS!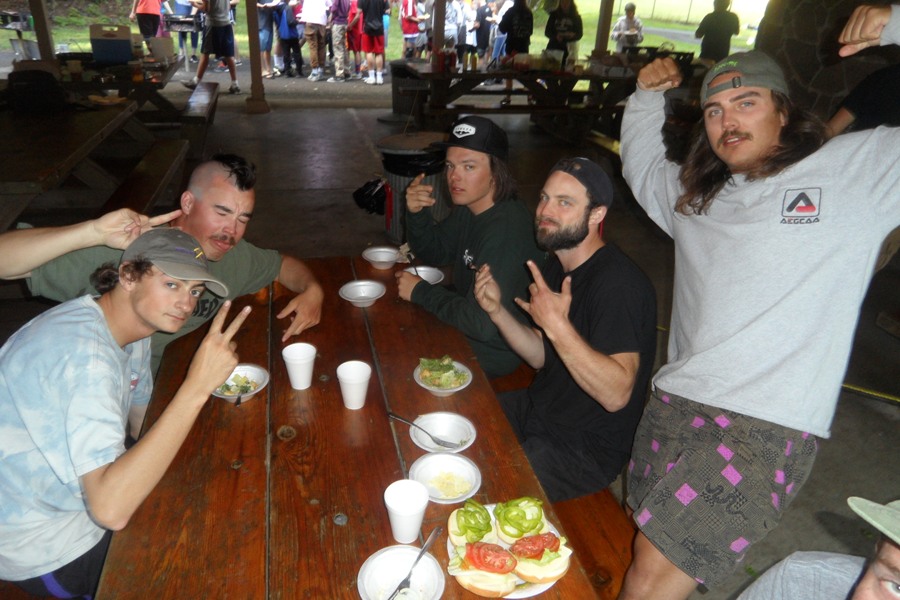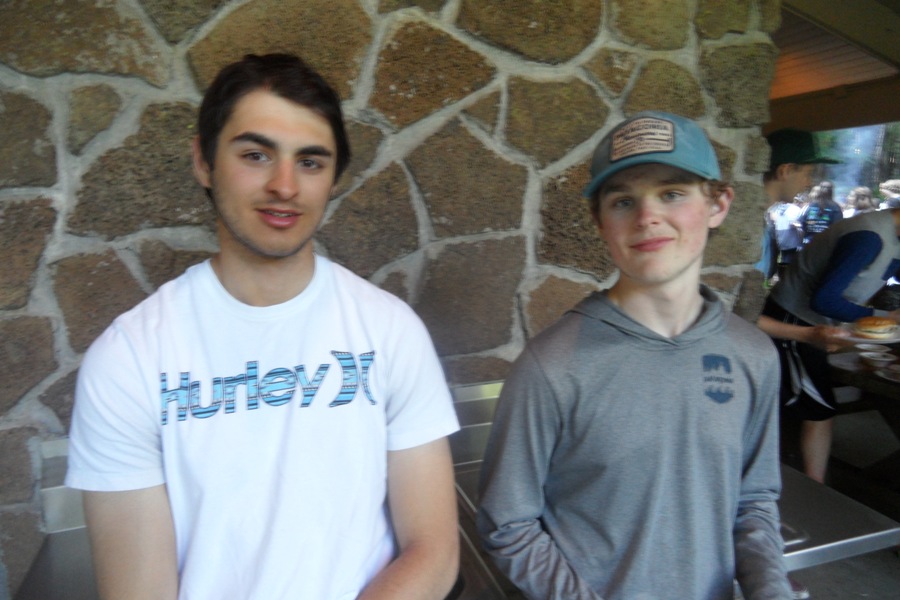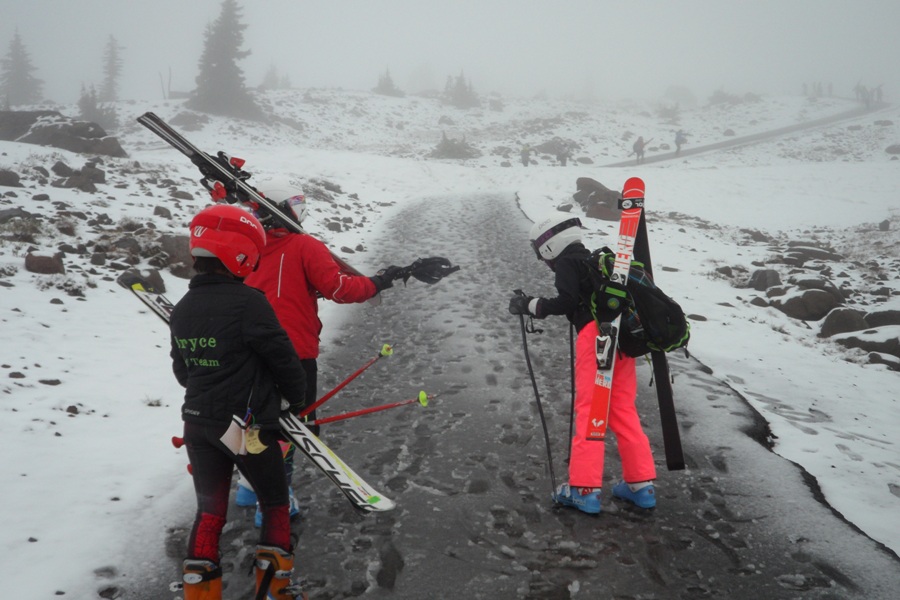 and a bunch more session 4 pics can be seen -->> here
Session 5, 2016 update
New afternoon activity, Acro Yoga, made it's mhssc debut this week, lead by BeckyAurora Thompson. Long time ago mhssc mogul coach, Will Wasson was at camp this week! He signed his two kids signed up for camp. (see pic below). Will worked at camp some 20 or so years ago. Monday night at 12:30am (so technically Tuesday morning) I woke up to a small earthquake in Govy. I could feel my bed shaking for around 10-15 seconds. Nobody else said they felt it, so there's the possibility I dreamed the whole thing, although there were reports of several mt hood earthquakes reported back in May of this year. There were also major fireworks going off in the middle of the night several different times on that same evening. (no relation to the earthquake) Wondering if govy will burn down tomorrow night on the actual 4th of July. Monday morning at 4:25am, two campers were just hanging out by the coke machine in the camp dining room in the pitch dark. One of them told me that they had a "snowboard race meeting" scheduled in the basement at 5am. I asked him who his coach was and he said "I'm not good with names". It was just a little weird. A camper tipped over a big heavy TV by accident in the basement. I never did get all the details of this, but the glass tube shattered into a bunch of pieces. Prescott McLaughlin hiked up to the top of Palmer two different times last week. He's recoverying from a knee injury, so this was part of his rehab. He hopes to start skiing for real around the end of July. Counselor Nigel Stein got the camp van stuck in some soft gravel/dirt on Thursday when he tried to turn the van around somewhere near snowbunny on highway 26. There was a big time semi-truck accident on highway 26 on Thursday afternoon. (see pics) near the highway 35 intersection. Session 5 was our biggest session of the summer. We had perfect weather all week.
that's all I got. Happy 4th of July!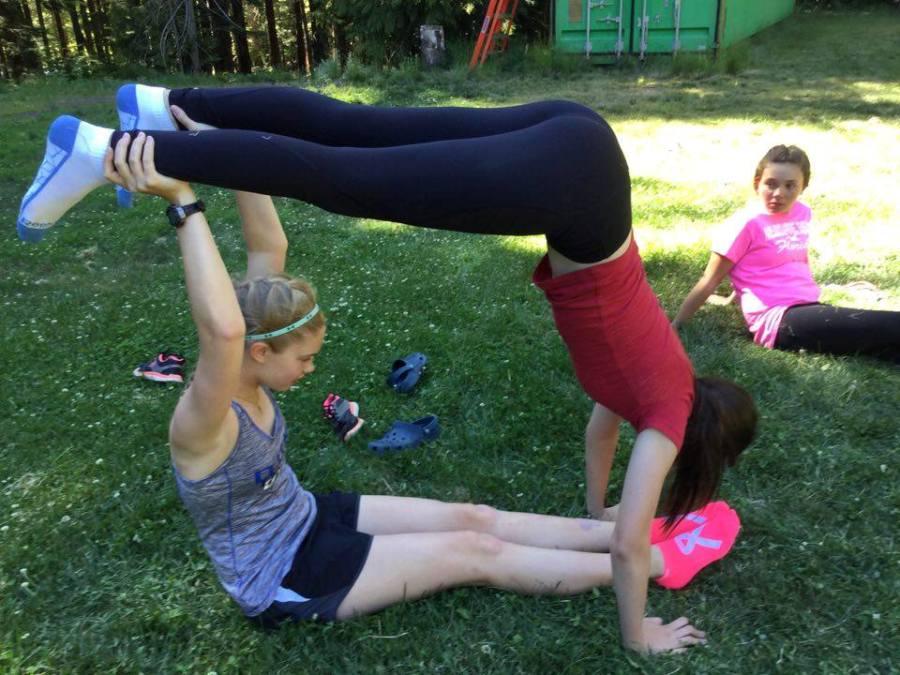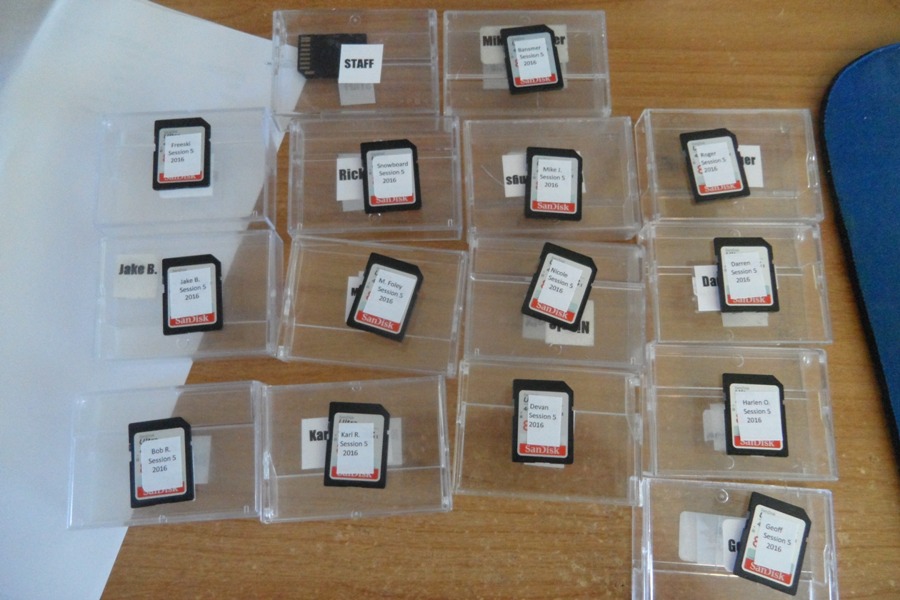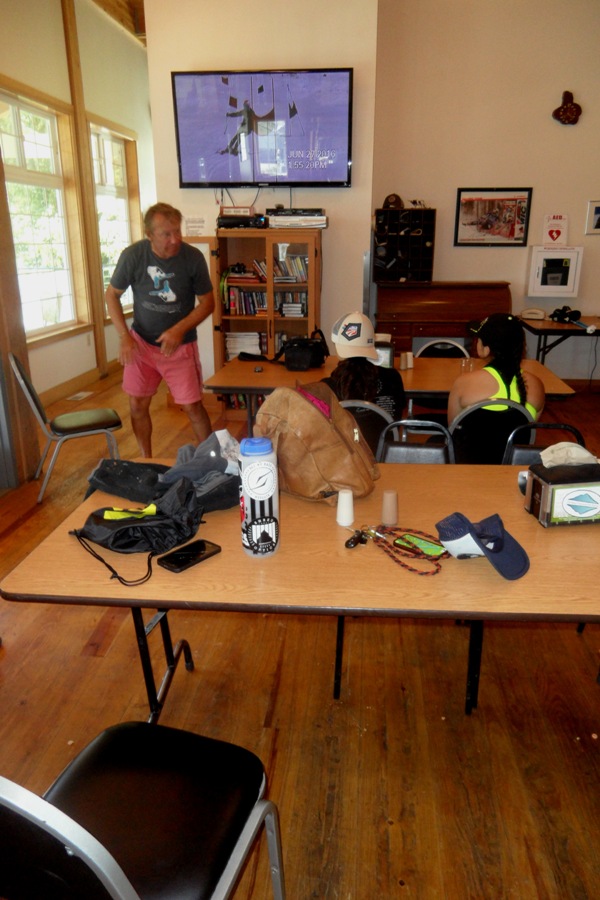 Looks like an album cover......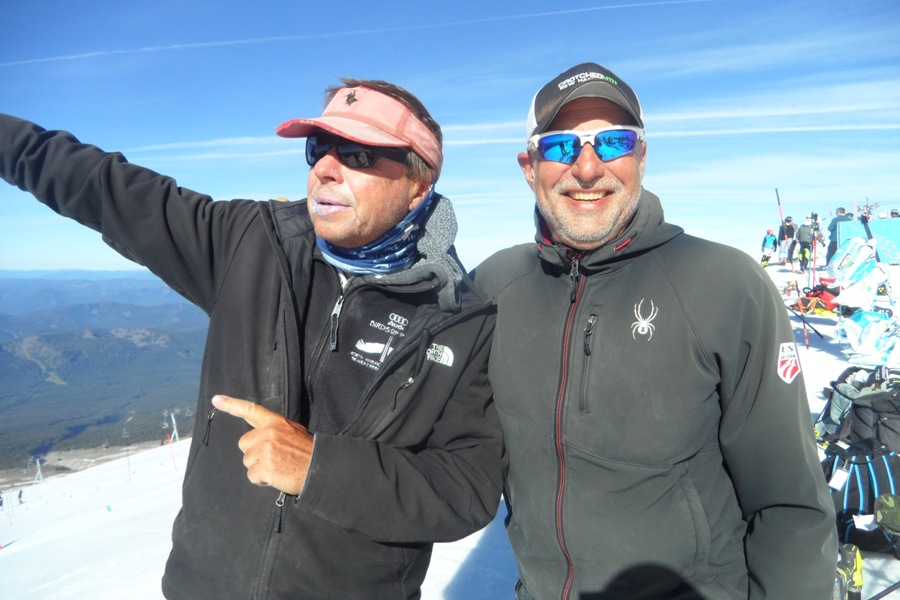 and a bunch more session 5 pics can be seen -->> here
Session 6, 2016 update
Before I dive into session 6, here are a few leftovers from session 5: Mike Syrovatka coached the largest "age spread" in camp history (he thinks). He had an adult camper and his grandson in his ski group, 70 years apart in age. Also, former mhssc staffers Lyndsay Strange and Marcus Caston debuted their new "beach party ski camp" last week. I was lucky enough to witness their opening ceremony with the lighting of a tiki torch at the top of lane 3. Last day skiing all the way to the parking lot was Monday, June 27.....and technically that was about 20 feet short of the actual pavement of the parking lot. We started carrying our skis up the magic mile on Friday of session 5.
Now onto Session 6 stuff: 4th of July landed on Monday this year. Bill Toney was sent over to Washington State to buy some fancy fireworks for our annual camp soccer field firework show. The firework display lasted 23 minutes and was kept relatively safe......only one time did the firework crew have to jump from the scaffolding to run for cover. Fuxi had a Shrimp/Mimosa "party" at the top of Palmer on the 4th of July....he does this every year. Mike Foley killed a bird......hitting it in the van on the way to afternoon activities on Monday. Makai Bradley came across a medium sized rattlesnake during Tuesday rafting trip. BeckyAurora Thompson yelled at a chipmunk that was eating a campers lunch out of his backpack on the front porch at camp. Prescott McLaughlin played $30 worth of "big buck hunter" at Charlie's on the 4th of July. We had a juice party aftet the picnic at Parham. We made some juices, some smoothies and ended with some delicious banana/raspberry ice cream for dessert. Jackie Reis made a guest appearance at the juice party. Friday, lifts were on 'standby' until around 9am, at which point they opened the chairlifts and we got in a couple hours of semi-good quality training before calling it quits. Rocks have started to pop out near the top on lane 9 (see pic). Lift lines were very short this week as High Cascade and Windells camps had some off days. A camper took an "upper decker" in room 204 toilet on Friday, part of a "poop war" going on. Lifts were closed both yesterday (Saturday) and today (Sunday) due to sketch weather. Hopefully tomorrow things turn around.
Ben Beavon on the 4th of July! (photo credit Darren Owen)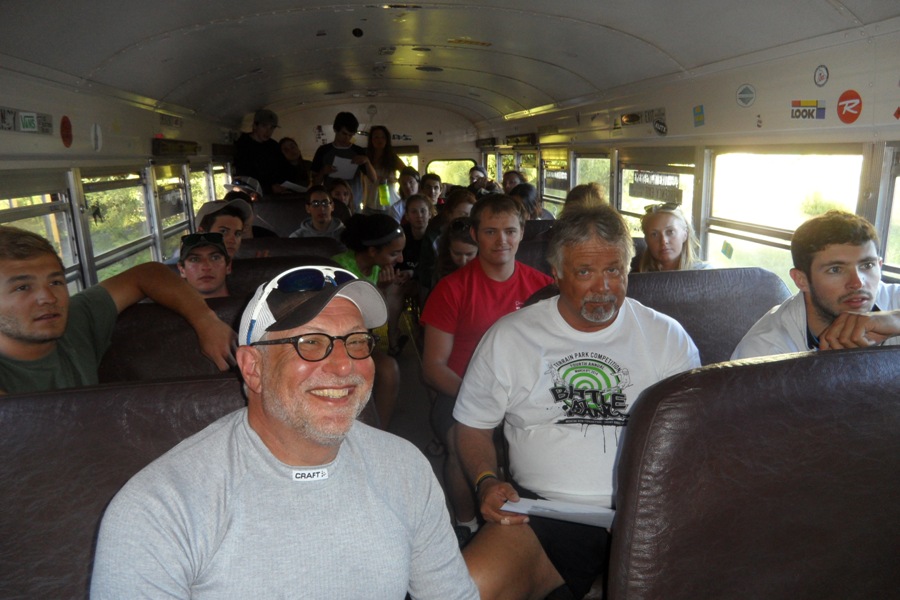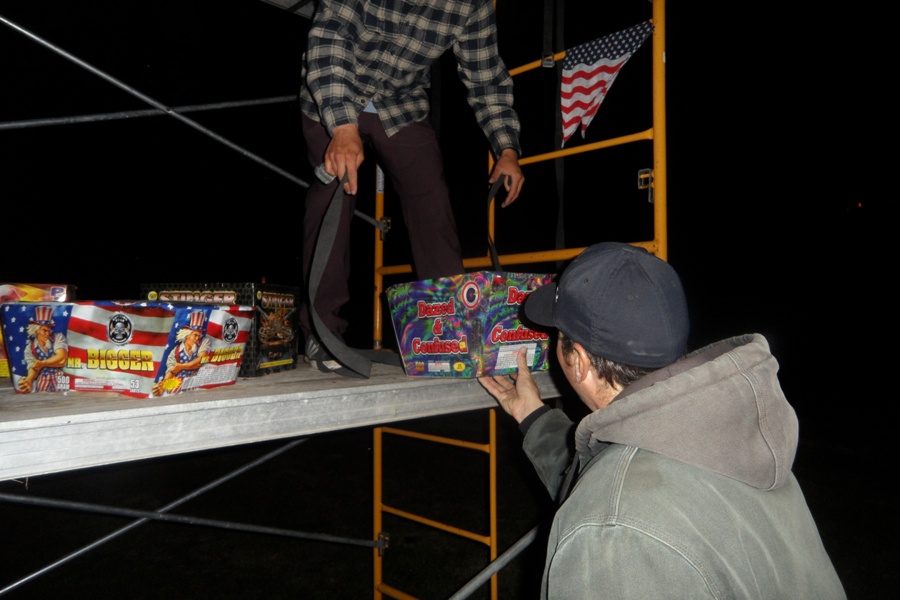 Beach Party ski camp coaches Lindsay Strange and Marcus Caston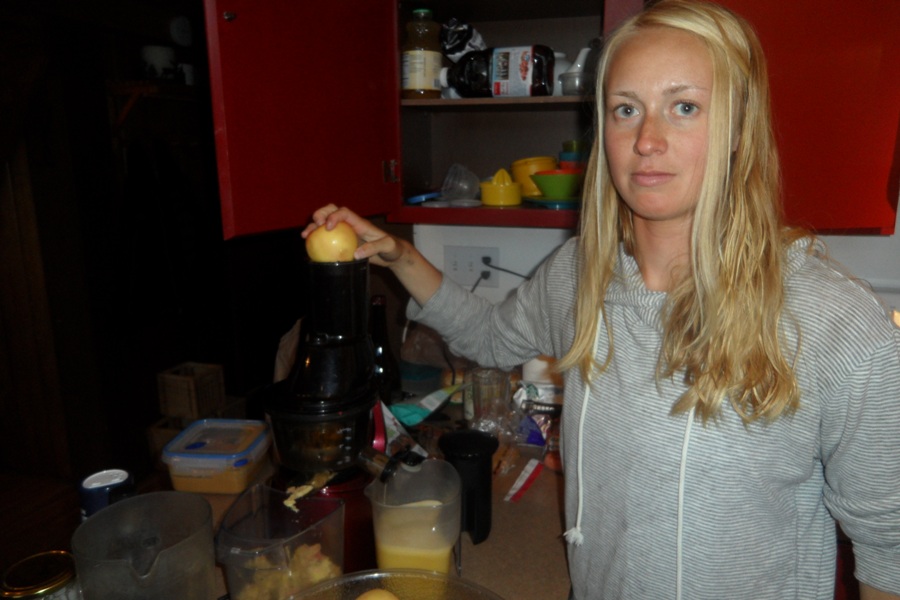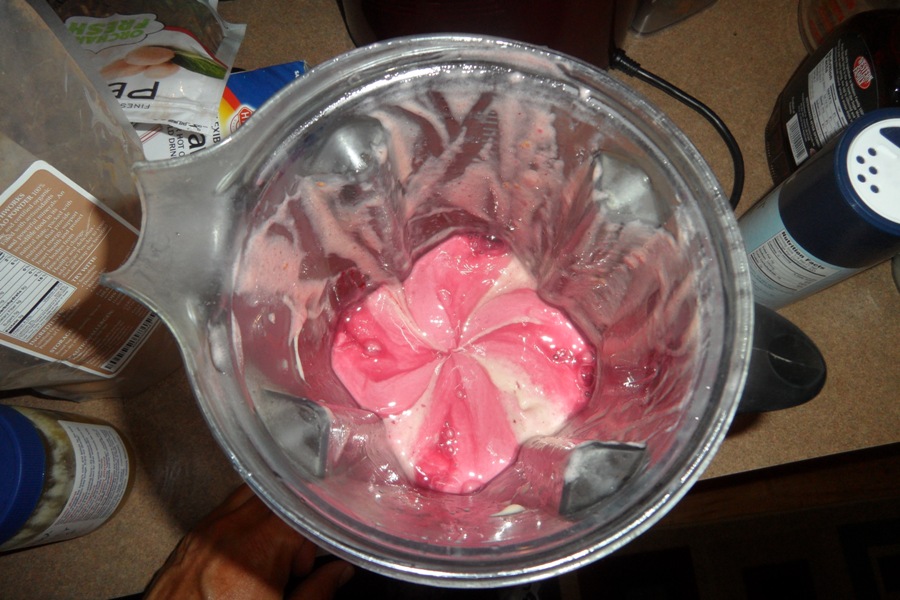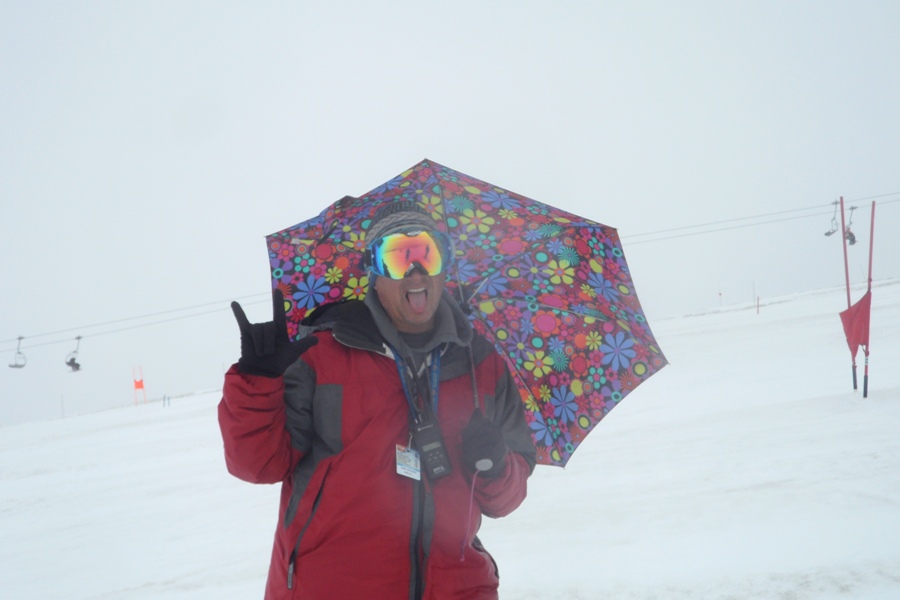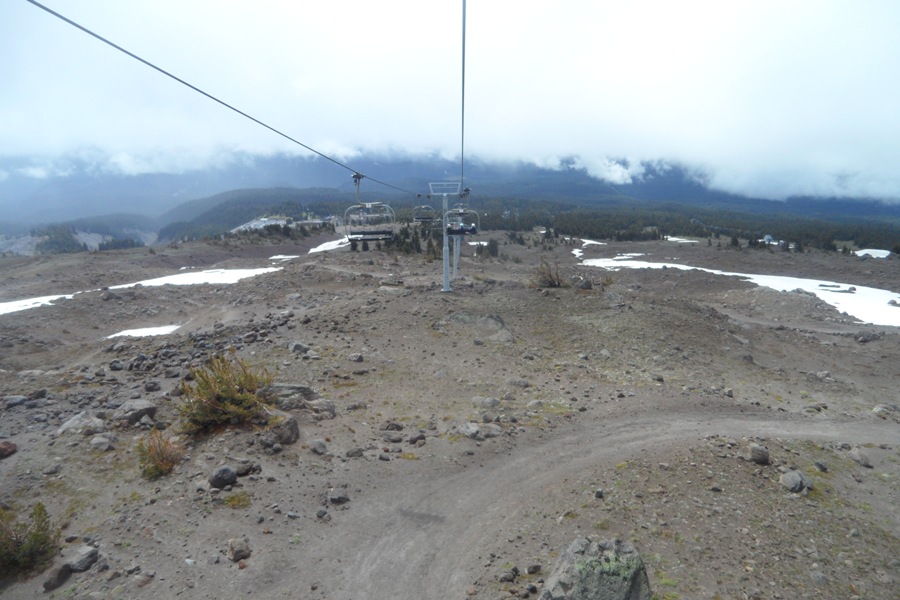 and a bunch more session 6 pics can be seen -->> here
Session 7, 2016 update
This update is going to be short and sweet. We got fogged out mid-day on Tuesday. We were above the clouds in the morning and out of nowhere a big cloud came in and ate us up. At first, the ski patrol put palmer on "30-minute standby"......then they decided to shut it all down around 11am. Late 80's MHSSC staffer, Chip Simkins, made a return to camp this week. He and his son Jack did some race training. *See photos below. He was a counselor back in the day, staying at Baumgardners in Govy. 10-15 campers got stung by bees on the walk into the cliff jumping place. Apparently somebody kicked up a bees nest by mistake. Mike Annett drove the kids on a magical mystery tour on Tuesday afternoon. After dropping off the frisbee golfers in Estacada, he took the rest of the kids to Bagbee hot springs. They were running late, so Mike bought them all McDonalds for dinner. When stopping for gas, the gas attendant put 6 gallons of gas where the sand goes (the bus has a built in sander). Doh! The camp has a new favorite cereal "Dynobites"......It's basically a generic version of Cocoa Pepples. Apparently the food truck delivered us High Cascade Snowboard Camp's food order by mistake and that included these Dynobites.....Which are now a regular part of the breakfast program. We finally retired the old coffee machine (see pic) and got a new one. I heard Mike wants to keep the old one "for parts". We had some banana ice cream on Thursday. Banana's were only half frozen, so it came out a little gooey. Former MHSSC staffer, Josee Lacasse hit a deer in her car near ski bowl on highway 26 and did big time damage to her car......nobody hurt, except the deer. We're half way done with summer. 7 weeks to go. Still tons of snow on Palmer. That's all I got this week....kind of a weak update, I know!
oh wait.....just for fun, a couple of "Emily Questions".....*thought provoking questions in honor or former staffer Emily Longfield.
1. If you were at a friend's house for Thanksgiving dinner and you found a dead cockroad in your salad, what would you do?
2. If you could take a one-month trip anywhere in the world and money were not a consideration, where would you go and what would you do?
3. If you had to give up internet or television for 5 years, which would you choose. *If you gave up TV, you could NOT watch tv shows or movies on the internet.
4. Would you rather be deaf or blind? Arm amputed or leg?
5. If you could have lunch with a famous person (dead or alive) who would it be with?
Follow MHSSC on instagram! And the MHSSC staff facebook group. And on twitter.....no twitter. MySpace?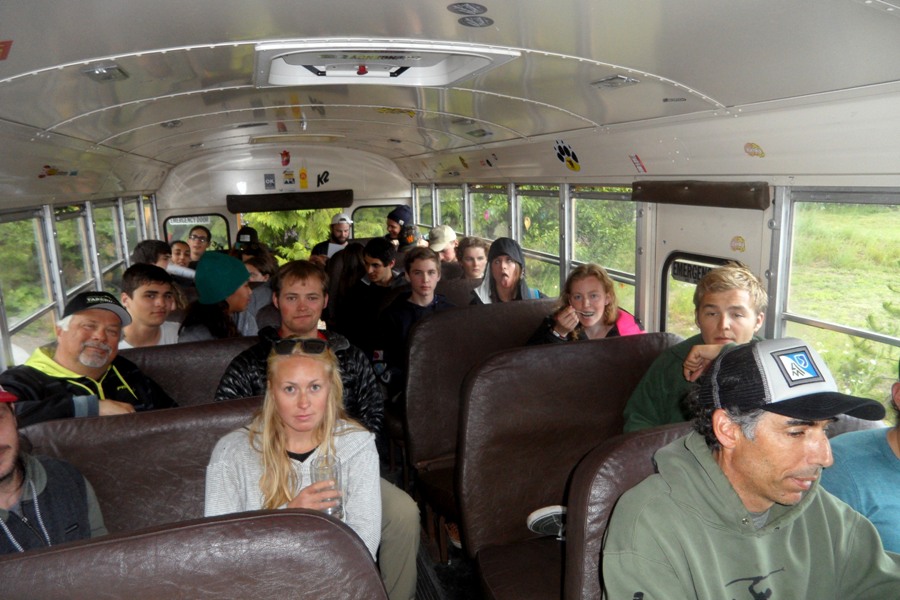 Makai Bradley, in his ski patrol role.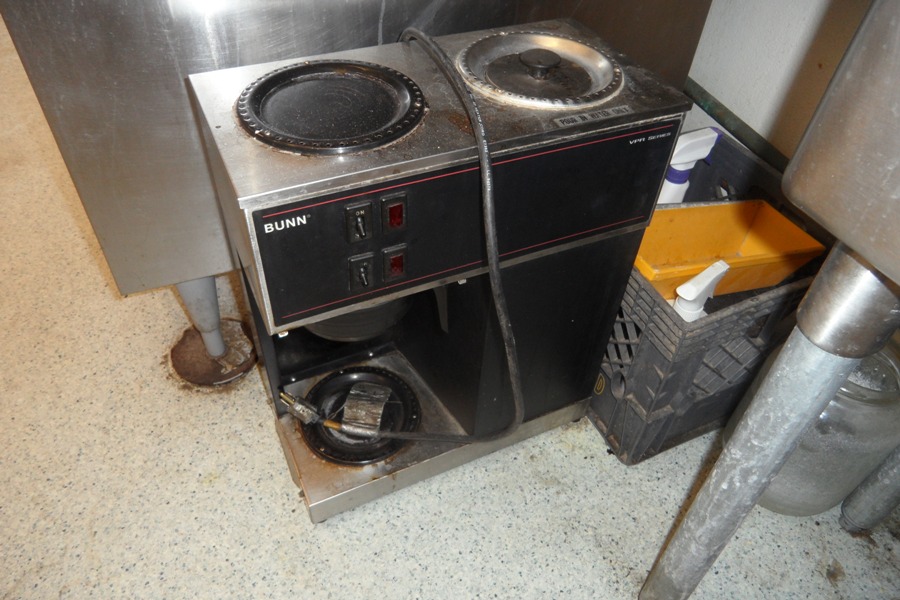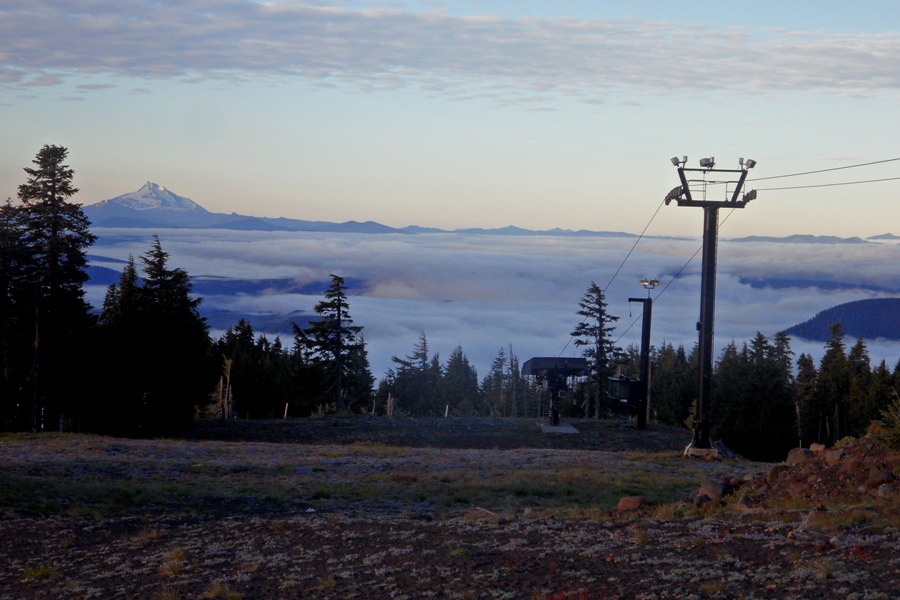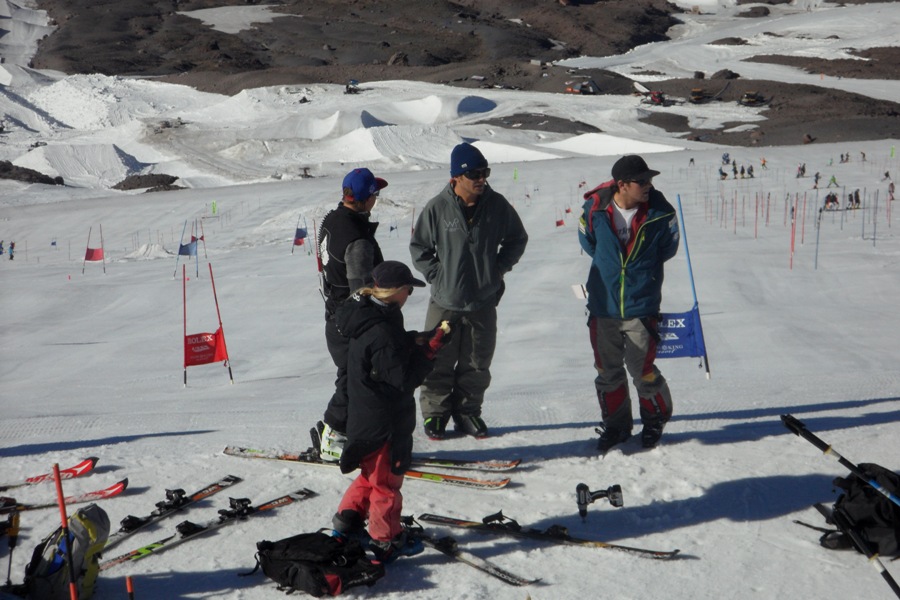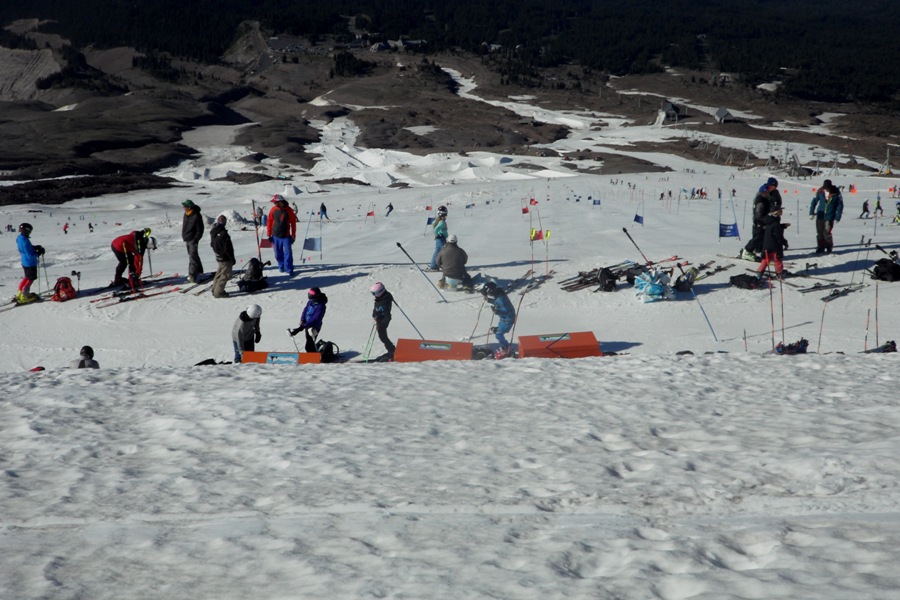 Photo by Reid Lambres
7 video stations in the basement.....a new record!
and a bunch more session 7 pics can be seen -->> here
Session 8, 2016 update
BeckyAurora Thompson ran the camp orientation meeting on Sunday night on the soccer field as Mike was gone. Speaking of Mike Annett, he's back to playing tennis again, just 2+ short months post hip replacement surgery. We skied in biggest "sucker hole" of the summer on Monday. Clouds/fog were surrounding us all day long. Clouds above us, below us, and to the east and west of us too. We managed to get a full day of skiing in without the cloud eating us on the snowfield. A young camper girl in Terry McLeod's timberline ski camps (lane 8) was doing high speed windshield wiper turns down icy palmer in the morning and couldn't stop at the bottom. She slid past the midway road, off a 12-foot snow-cliff and landed on the flats in Windell's terrain park, where she was discovered by good samaritan mhssc coaches Jake Benda and Mike Bansmer. They put her back to together and helped her back to the chairlift. There were thunderstorms in Govy on Thursday night. On only his 3rd day as a newbie CIT, Sam Burgess crashed off a rail in the mhssc terrain park and broke BOTH his wrists on Wednesday. People were feeding him by hand at the picnic later that day. (see first photo below). I know you are all thinking "how does he go to the bathroom?". Mike Foley took kids to play miniature golf, in Sandy. Prescott McLaughlin ordered new large spoons! (see pic). Dynobite cereal continues to be a big hit at camp. Someone (or someones) is stealing too many cookies from the kitchen. Lift lines were short this week......even on the days high cascade and windells camps were up there. Where are the people? Almost all the race lanes are in use.....just fewer campers per camp. Some rock islands are popping up in the lanes 8 thru 15 near the top, but overall the palmer glacier is looking pretty good for it being the last week of July. An original 1979 camper/kstaffer, Joe Boucher, showed up on Thursday on the mountain to say "hi". He'll be a camper this coming week. He said he worked in the MHSSC kitchen with Tom Sell. Joe was 19 years old, now 56.
Session 9 (coming up) is the 14th annual "nice camp" or "nice week". Be Nice! all week long, yo. Dress nice for dinner on Thursday leftovers night. Nice camp was invented by Terry McLeod.
oh, the humanity!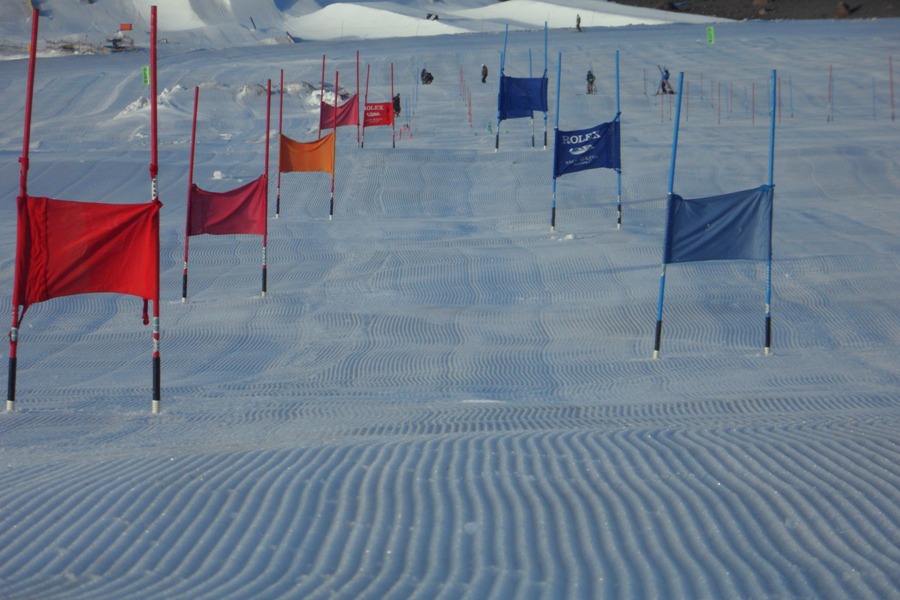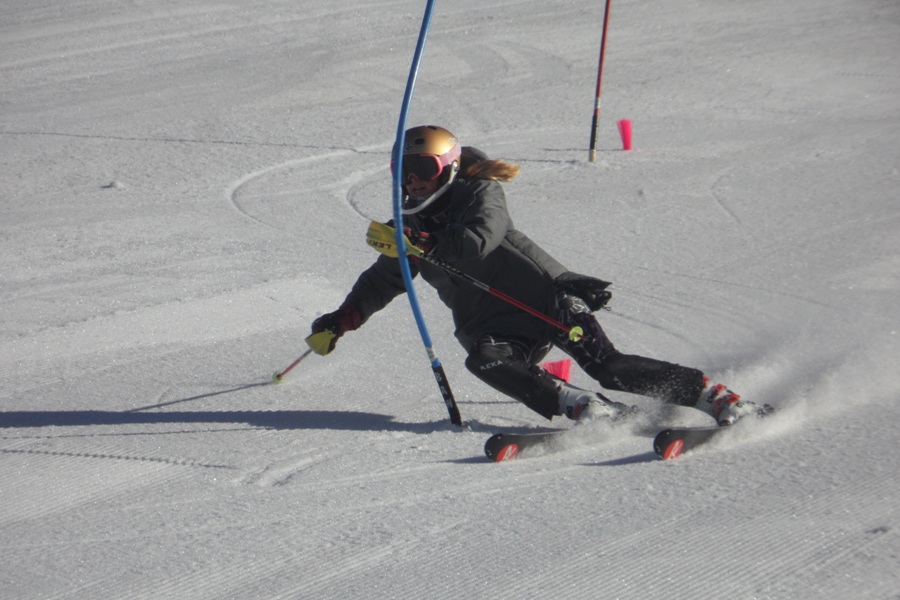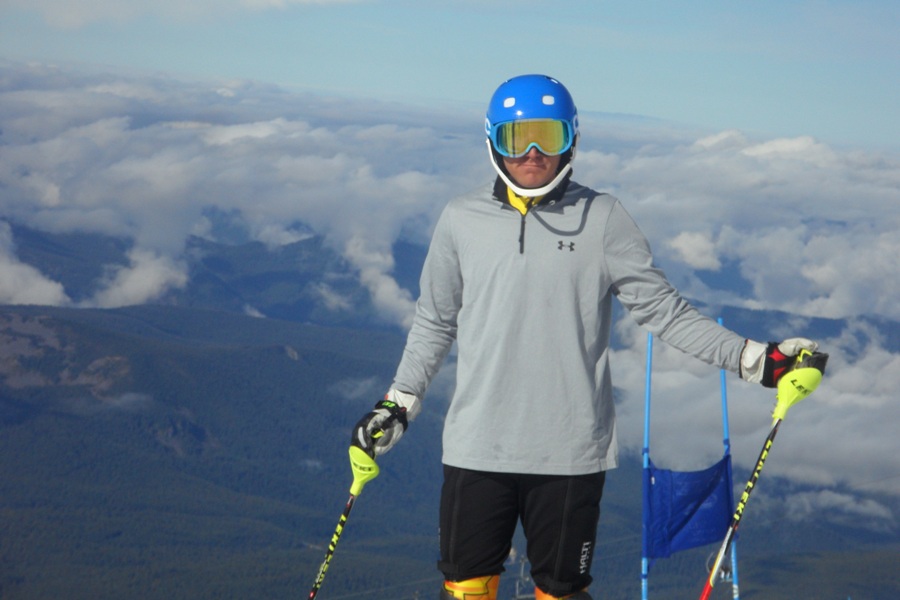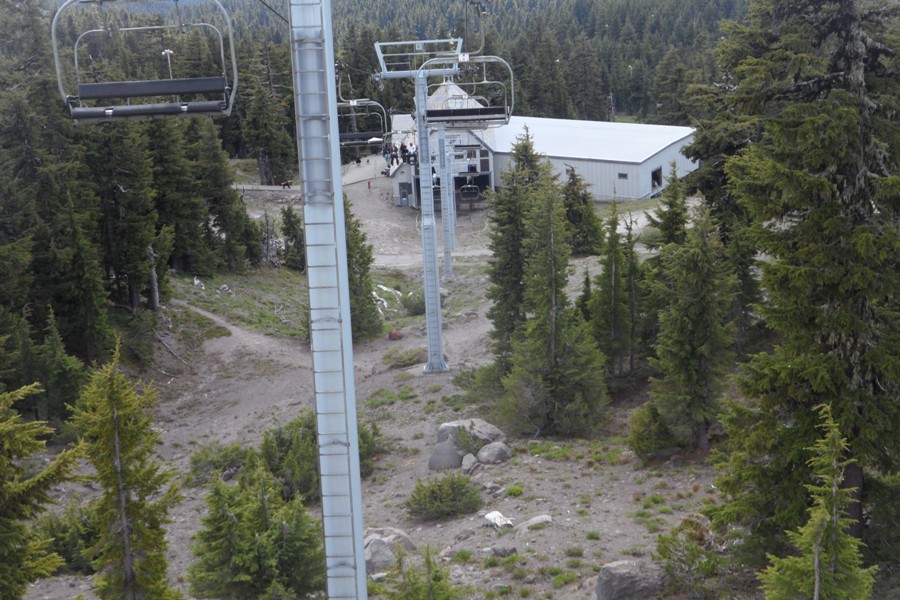 Notice the short lift line!
Emily Ballon successfully parked the bus.
CIT Keegan Hoose, crashing in the GS.....no gloves.
5 salt bags carried by Mike Bansmer!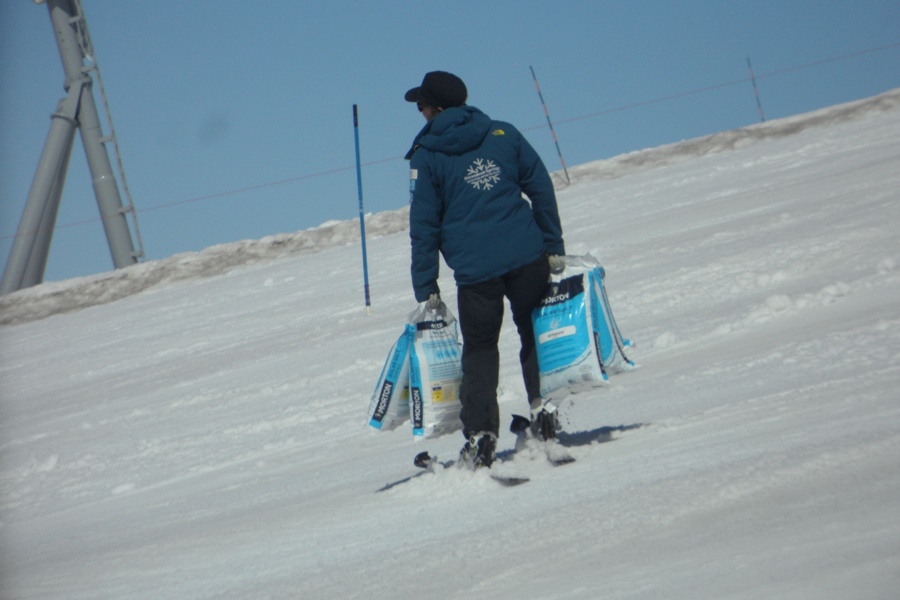 and a bunch more session 8 pics can be seen -->> here
Session 9, 2016 update
Darren Owen ran the orientation meeting this week up at the soccer field on Sunday night....a very enthusiastic rendition getting the campers fired up for the week ahead. Counselor Paul Gatti ran over one of the camp basketballs in the camp bus.....the ball did not survive. This session was this years' annual "nice camp".....invented by former mhssc coach, Terry McLeod a bunch of years ago. The purpose of nice camp is to be......nice to each other, nice to the campers, etc. We had some "nice" banana/raspberry homemade ice cream on leftovers night on Thursday. Mike Annett gave the 2-ingredient dessert a "9" out of 10 taste score. BeckyAurora Thompson celebrated her 26th birthday early in the week. Makai Bradley celebrated his 21st birthday on Friday at Charlie's. Sasha Karapetrova made a camp visit at the picnic on Wednesday. She's recovering from a broken leg. Hiking to Crater Rock was offered as an afternoon activity on Thursday. I heard only a few kids attempted it....one turned around right away......a few more went "most" of the way, and 1 camper actually touched crater rock and called it good, before heading back. One of the Japanese campers crashed in a GS rut in lane 6, his ski went flying over my head about 15 feet in the air as I was standing in the "safe zone" in lane 5......not as safe of a zone as I thought. His ski was very bent. Lift lines very short this week. Overall it's been a relatively cool summer, but temps were hot this week. John Rust and wife Lisa were at camp for the annual Smith Rocks climbing camp in central Oregon. We had an original 1979 camper at camp this week. His name is Joe Boucher. He was 19 then, and now 56. After his camper years' he joined the k-staff at camp.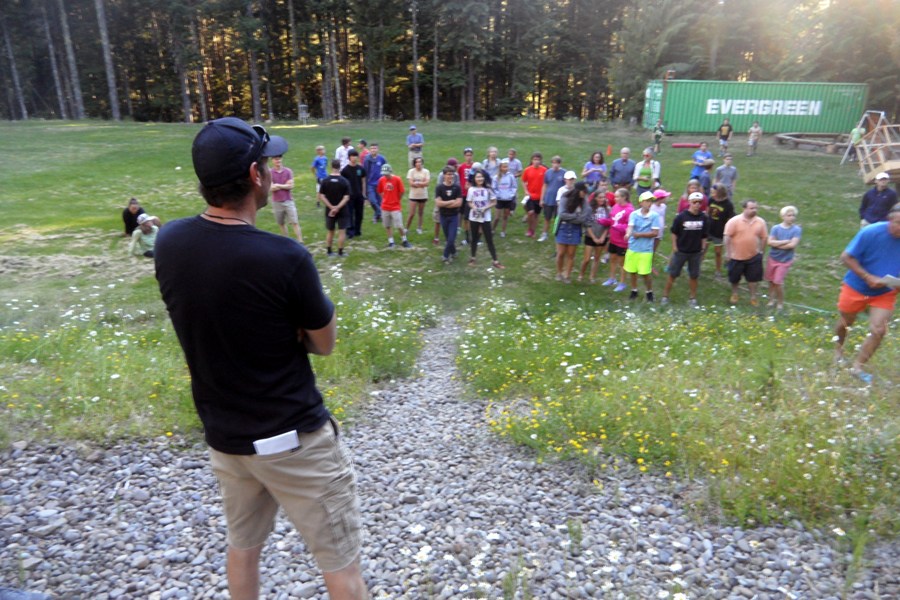 Check out this old school, late 80's mhssc baseball cap! This hat is older than Nicole Cordingley, the person modeling it. It came in hot pink and blue back in the day. They sold like hotcakes.
I'm half way thru reading "the exploding whale".....watch the video below to get the video version (3+ minutes). Yes, an actual whale exploded at the Oregon Coast in 1970.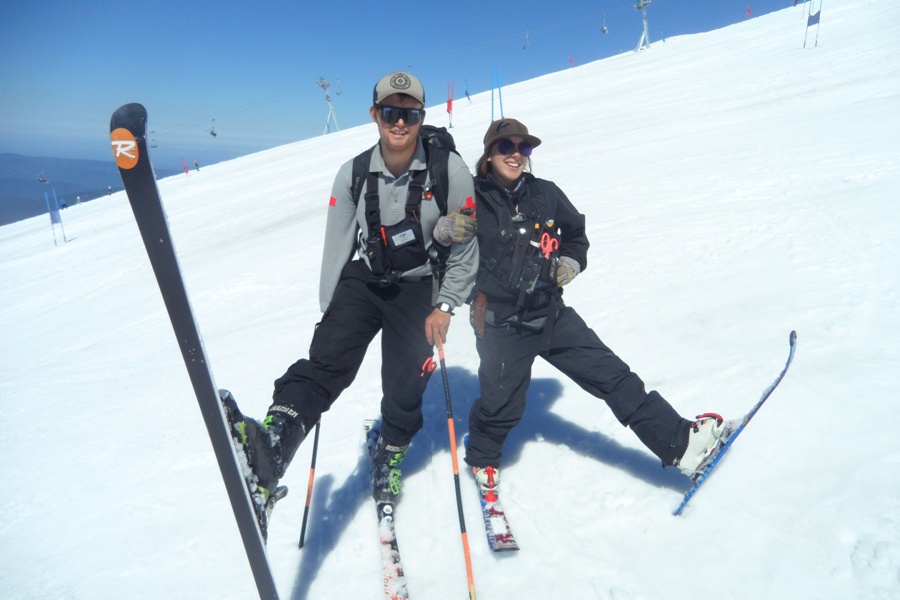 The guy on the right is 1979 original mhssc camper, Joe Boucher. Actually the camp was called "Eastern Downhill Camps" from 1979-1983.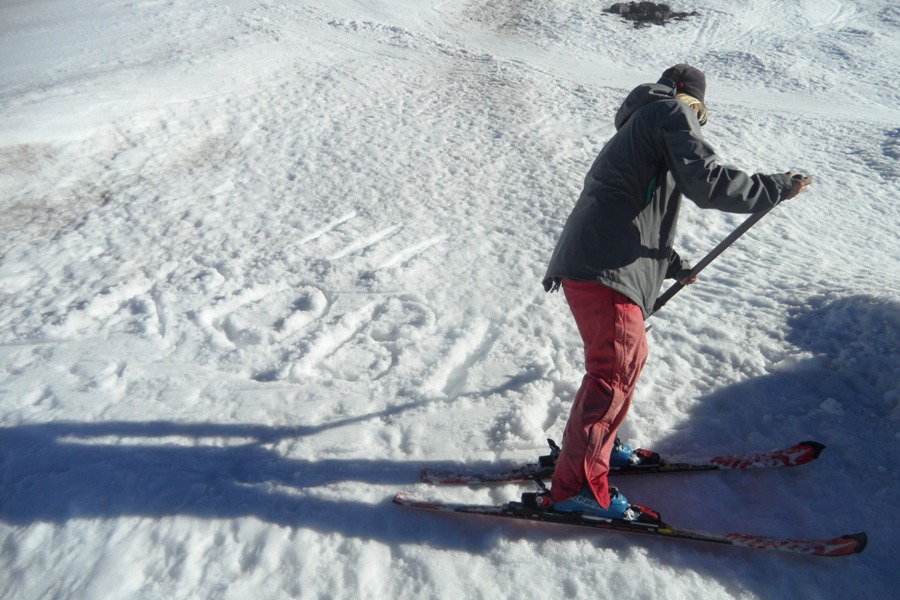 Former staffer and current Warren Miller movie star, Marcus Caston, ripping thru the lane 7 mogul lane.
Where is everybody? Ghost town up here.
The tline groomers pushed some snow from above the upper palmer road down to the road. They do a pretty good job pushing snow and keeping things going as we get later in the summer season.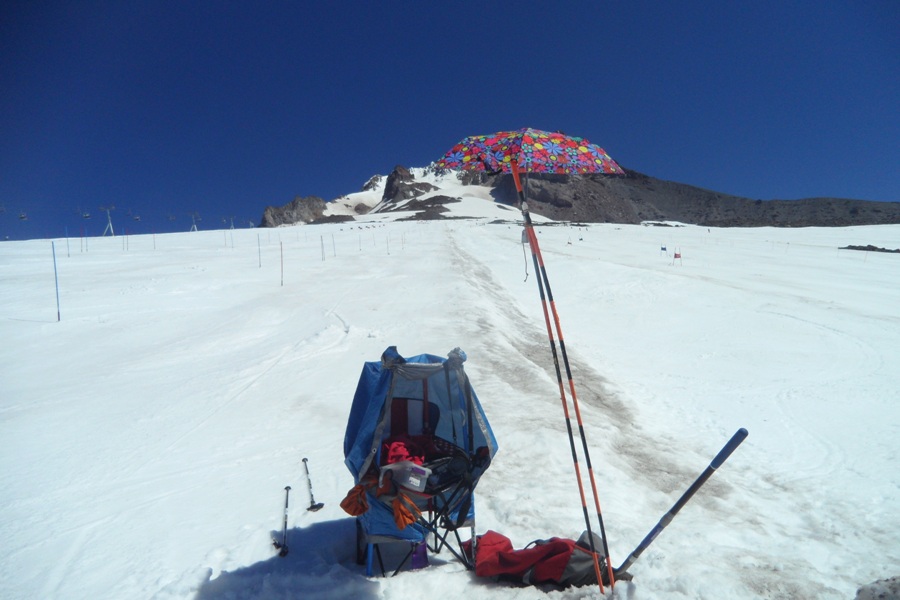 The makings of banana ice cream. Takes about 20 seconds with a powerful blender. Dairy free, gluten free, high fructose corn syrup free!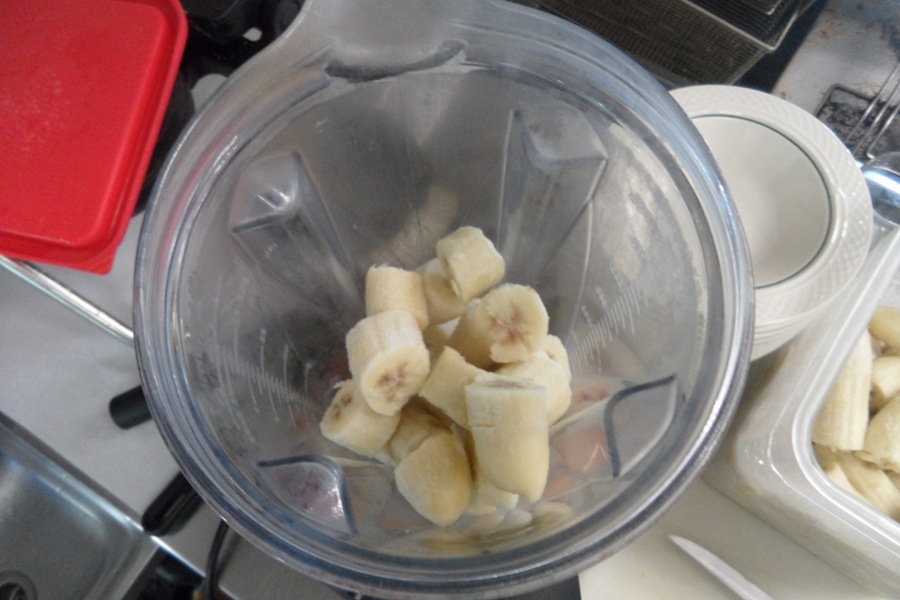 Tline let the bottom palmer ramp melt out....no big whoop.
Camps are still training on lower west palmer.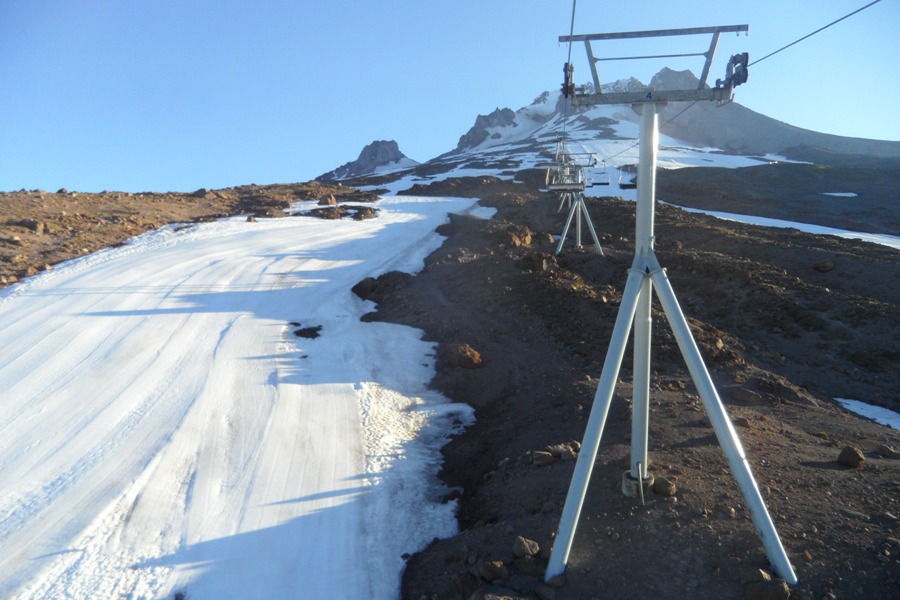 and a bunch more session 9 pics can be seen -->> here
Session 10, 2016 update
Former staffer, Bill Whalley came for a 2-day visit this week. He skied on Monday. Bill once skied 70+ runs to midway on Palmer in ONE DAY about a dozen years ago. He did it during the adults only week, when lift lines were nill. There's debate on how many runs he actually skied that day. We'll have to check the staff update archives to find the correct answer. Bill is an optomitrist these days, living and surfing in Hawaii. Prescott McLaughlin went skiing this week, first "real" skiing since his ACL injury he suffered last winter. It was windy and cold on Tuesday......first time it's been cold in a couple weeks. We had an 80 year old camper this week, Dick Shawkey. He's been coming to MHSSC for 25+ years. His son and grandson also come to camp too. 3 generations at camp at the same time! Mike Foley got stung by a bee on his leg on Thursday at cliff jumping activity.
Jon O'Brien is on the glacier this week.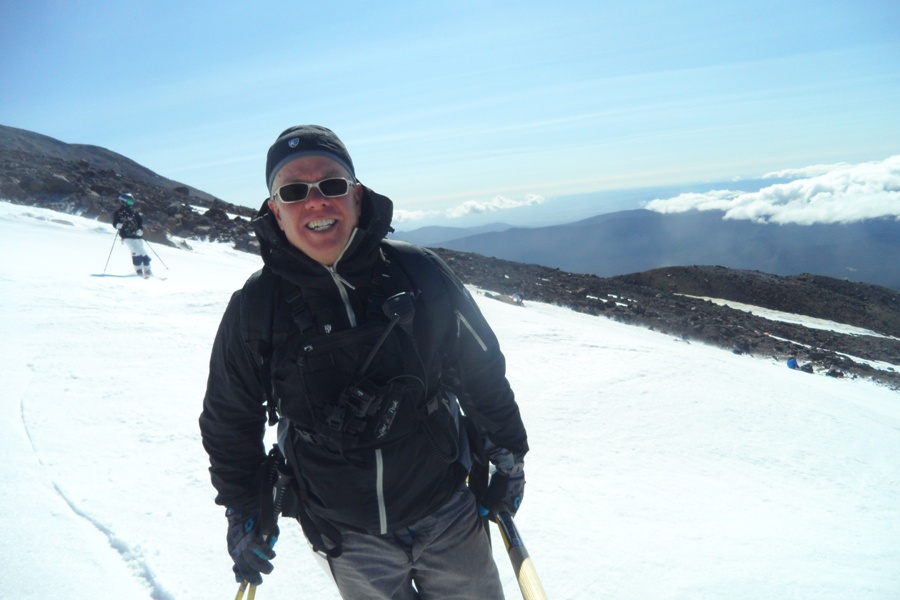 stage 1 of big crash.......
GIANT dog at the picnic.
The tline groomers left a bit of a mess for us Thursday morning. rough rode! This photo really doesn't tell the story. It was nearly impossible to ski thru it, especially if you were carrying a bundle of gates or some heavy salt bags.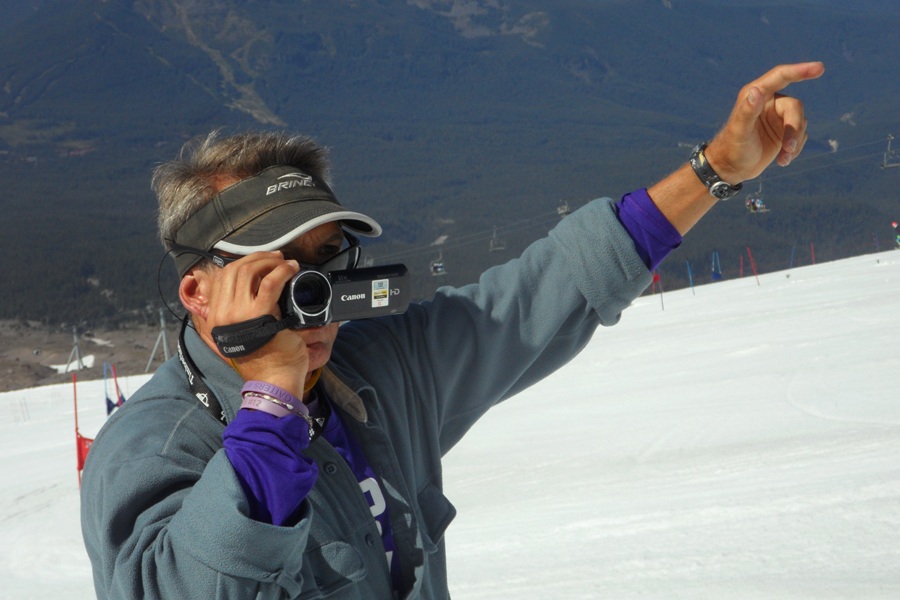 Last 3 photos courtesy of Bill Whalley. Follow him in instagram
and a bunch more session 10 pics can be seen -->> here
Session 11, 2016 update
Mike Annett went skiing on Friday. His first time on skis since December 2015. Remember he's just 3 months removed from hip replacement surgery. Look at him go! (pic 1). It snowed on Monday. Actual snow falling from the sky and sticking to the ground. Windy and cold too that day, plus a bit foggy. Tuesday rain, fog, etc. We skied until around 11am on Tuesday. Timberline closed the lifts a little early that day too. Probably a good decision with the thick fog. The rest of the week was beautiful. Former staffer, Jeff Holce made a guest appearance at the picnic on Wednesday. Ricky Millett brought up a bbq to the camp terrain park in his giant backpack. Heard they cooked up some nice bbq the last 3 days of the week. High Cascade and Windells camps are done now, and they have converted the High Cascade park into the new public park. The MHSSC park is done now too for the summer. Roger Bay wrecked bad on his mountain bike on Thursday. Hurt his neck and didn't coach on Friday. Mark Syrovatka filled in as substitute coach for a day.
MHSSC Instragram message from Nicole Cordingley: Please send any and all camp photos you may have to MHSSCphotos@gmail.com so we can Instagram them!  We're trying to start posting more often and more real time, so photos from everywhere on the hill and every activity will be much appreciated.  Thank you!
Nicole is teaming up with BeckyAurora Thompson to generate more attention/followers to the camp instagram page!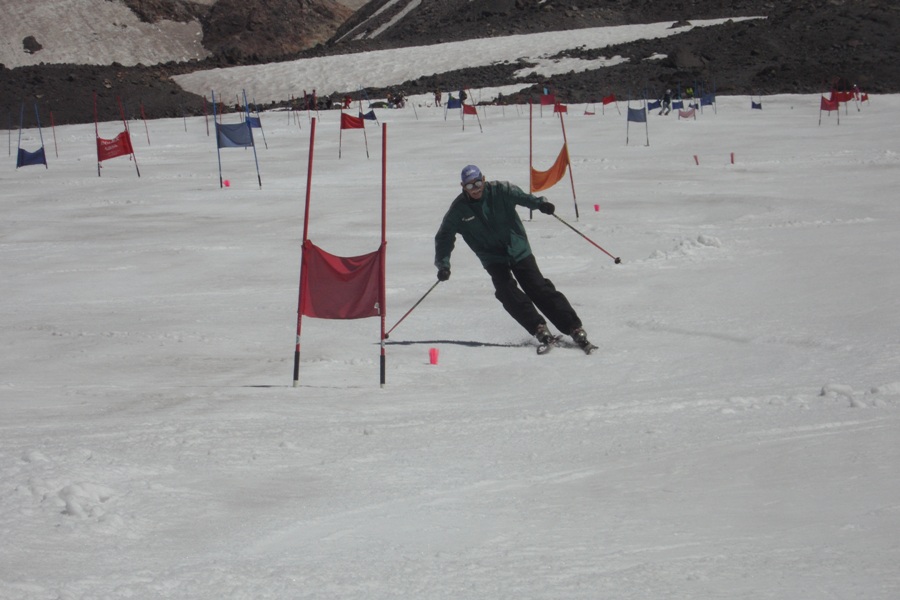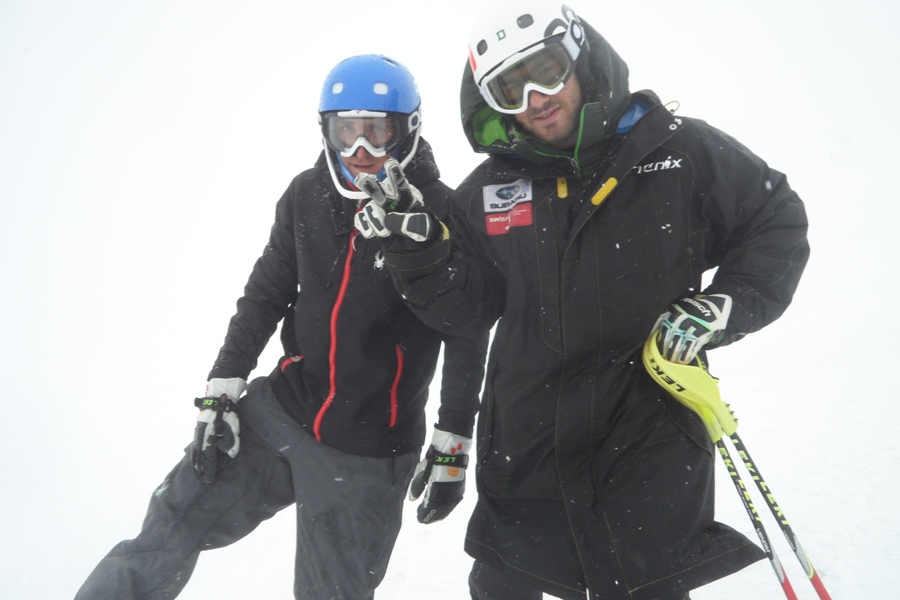 Father to son gate toss.....that's Taber Engleken tossing a stubby to dad Rob on Monday in the fog.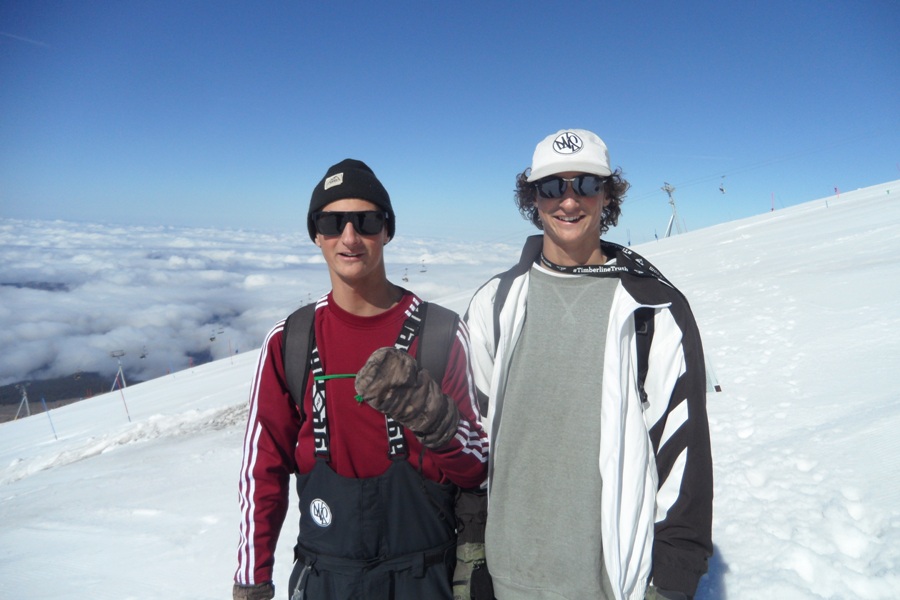 Classic cars day at timberline lodge, an annual event.
Jackie Reis was on the hill this week!! Coaching for Park City. Check out those jeans!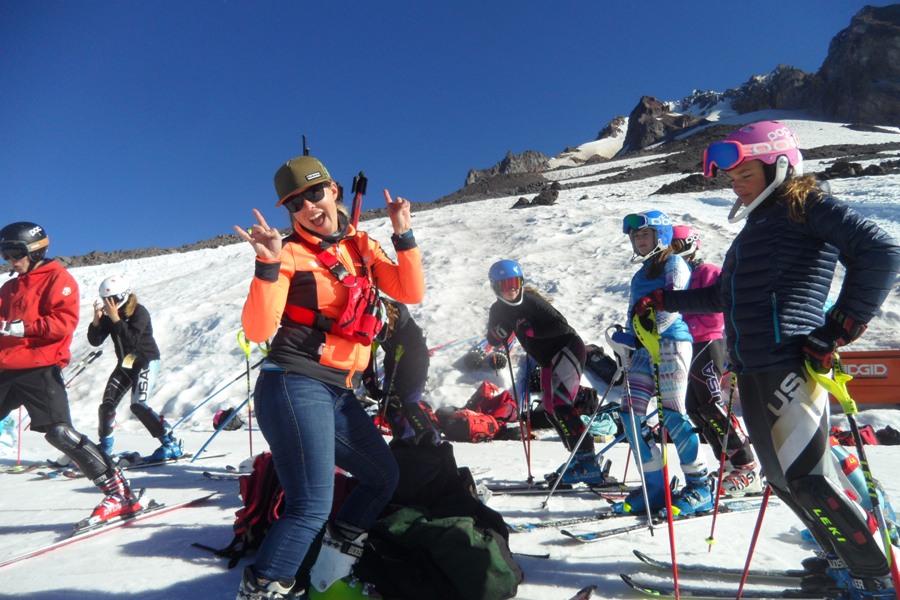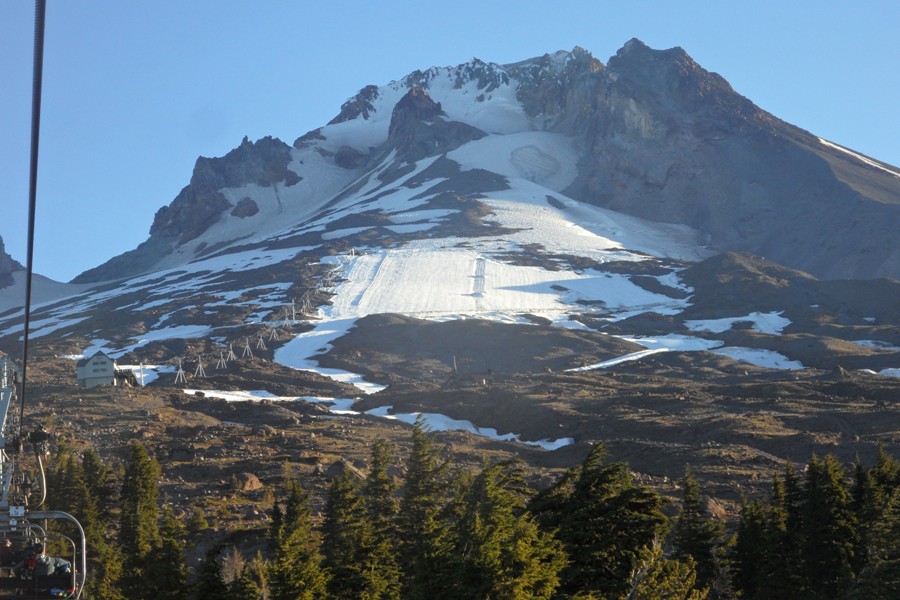 What what a difference a year makes. LAST YEAR, the lifts closed on August 12. Here's what it looked like then: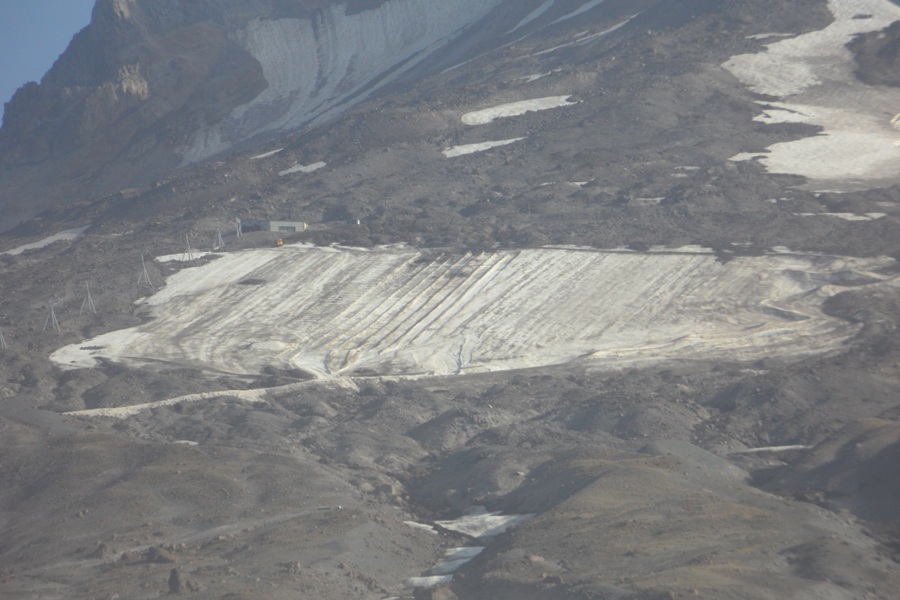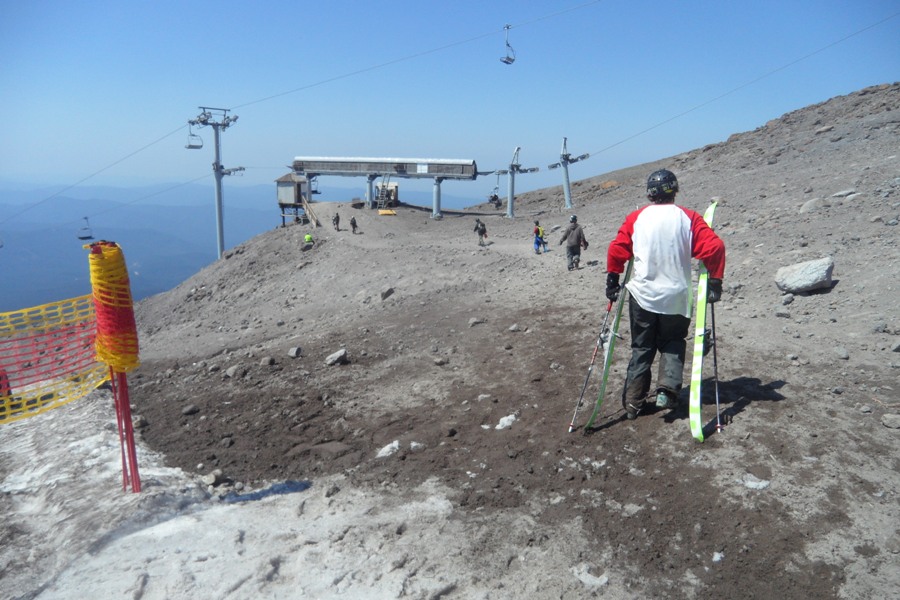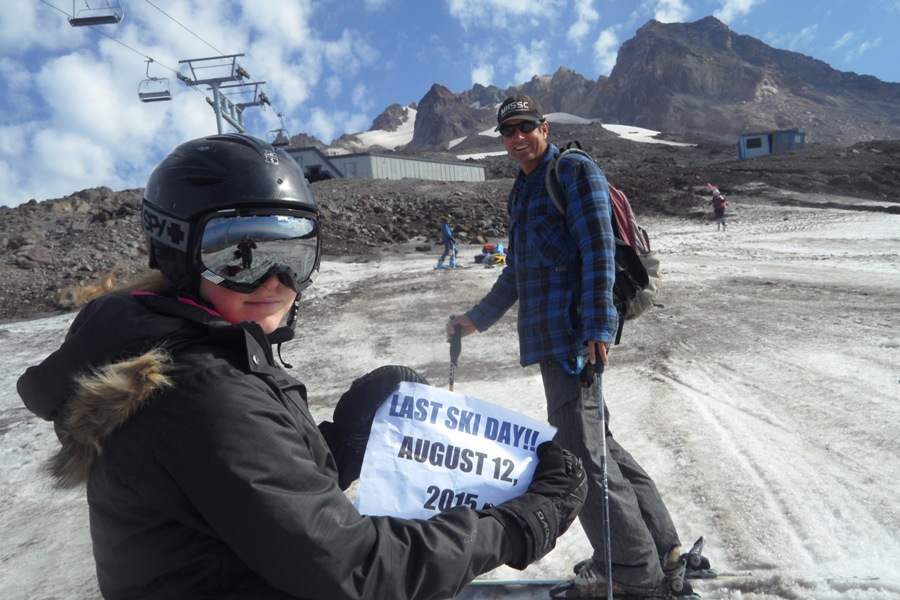 And here's how it looked on October 4, 2015
and a bunch more session 11 pics can be seen -->> here
Session 12, 2016 update
Palmer glacier is a ghost town. We are the lone commercial ski/snowboard camp still going. There are a small handful of team camps too and the rest of the people riding the chairlift are shredding the public terrain park on lower palmer. Camp picnic was in Hood River at the marina. There were lots of yellow jackets gunning for the food. HOT weather Thursday and Friday. Strong east wind at lodge elevation both days, but pretty much calm up on Palmer. There was a partial power outtage at camp on Thursday. Dabbing is trending at camp. The Tichy ski camp (lane 4) was handing out big chunks of milk chocolate on their last day of camp on Tuesday. Quinn Bestwick was the only remaining k-staff at camp this week. And now he's gone for the summer leaving us with zero cooks. I heard some of the counselors will be pulling kstaff duties these next 2 weeks. Ben Jacklet, from Shredhood.org, came up to the mountain on Thursday to do an article about the end of the summer snowpack and happenings, which you can read here. BeckyAurora's mom came to the camp picnic. Canadian para-alpine skier, Kurt Oatway, trained with us the last 2 days of the week. That's all I got.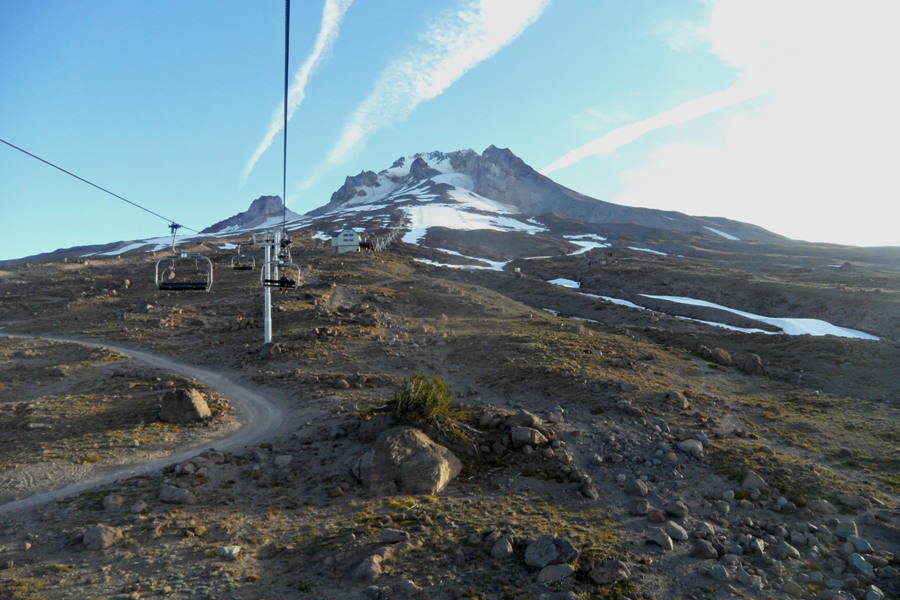 So we wondered what would happen if we added some water to some chia seeds.......is it just like the cha-cha-cha-chia pets we see advertised on TV around Christmas time each year? The answer is a resounding "yes". Took a few days before the initial sprouting.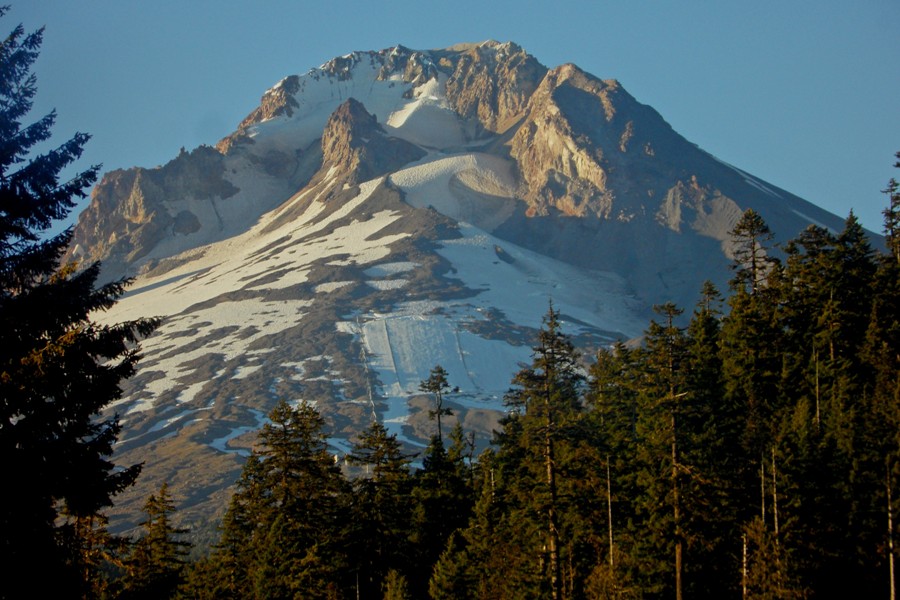 Yep, me again, goofing around with the salt shack crew at the top of palmer.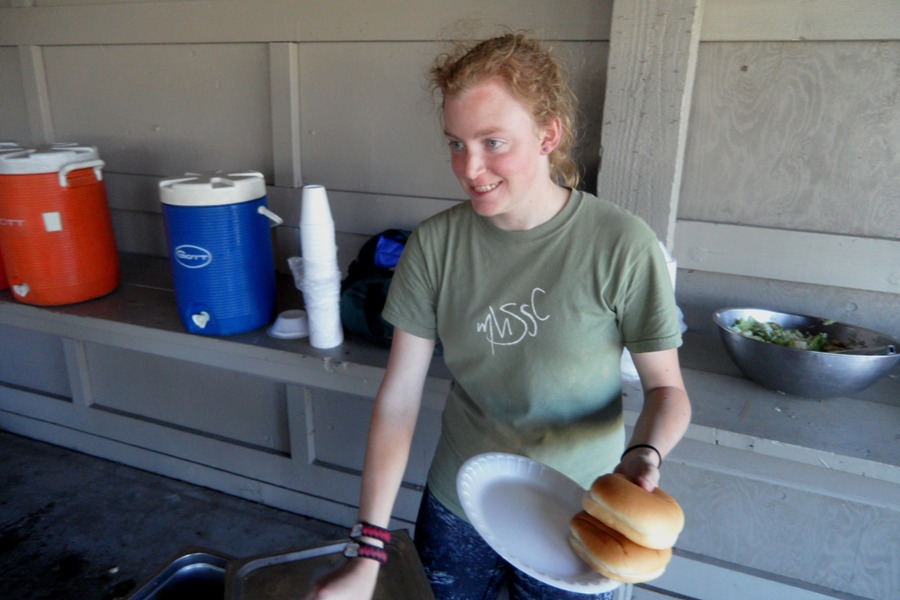 ice bucket challenge?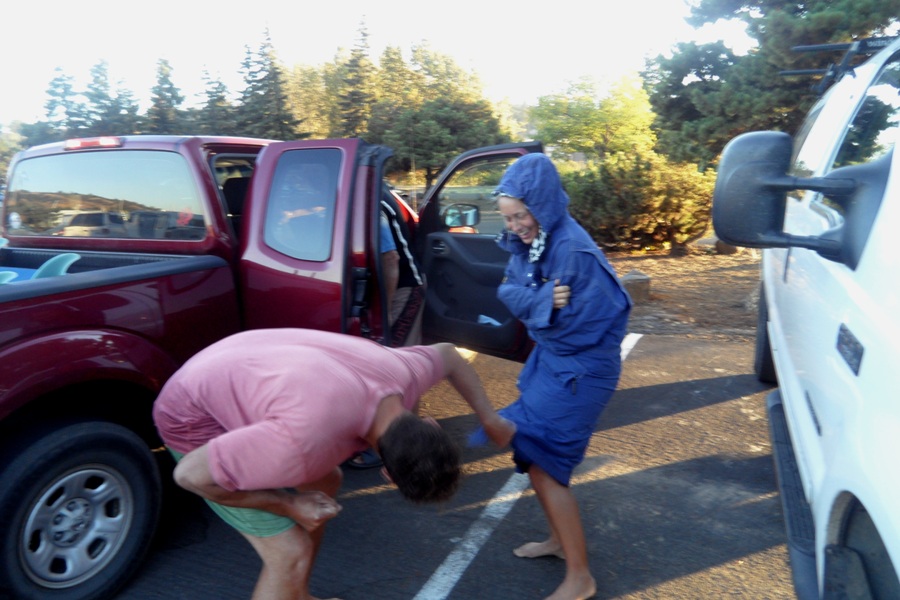 Former staffer Rogan Connell sent me this photo of him and Scotty Veenis, both coaching in Chile.
mhssc16_ from Lord Farquaad on Vimeo.
Mike Heffernan passed away on Friday morning after succumbing to injuries he suffered in a motorcycle accident near mt hood on highway 26 three days prior. Mike and his family own "Bloomquist", one of the cabins mhssc has rented for 3+ decades. Mike was a big part of the Mt Hood Community and was featured in this shredhood article last fall. Funeral services are tentatively planned for this coming Thursday morning in Portland.
and a bunch more session 12 pics can be seen -->> here
Session 13, 2016 update
I got stuck on the magic mile chairlift early Monday morning......for 38 minutes. Some kind of computer malfunction I was later told. A few days alter, the lift operator told me that the Timberline policy is to begin the evacuation process if a chairlift is shut down for 20 minutes. It was windy and cold too! I mostly felt bad for the tline employee one chair in front of me...he only had a hooded sweatshirt to keep warm. Nicole Cordingley dropped her ski boot getting on the magic mile to download at the end of the ski day on Wednesday. The snow is really excellent for late August. Because all the old snow/ice layers much melted away to nothing last summer, all the current palmer snowfield is made up of snow that fell from the sky last winter. So ti's clean, white, no weird icy dirty chunk layers leftover from the 90's. The counselors plus Robert Johnson and Mike Annett have taken over the Kstaff duties these last couple of sessions as the regular Kitchen staff have all gone home for the year. Picnic was again in Hood River at the marina for the second week in a row. We only had 9 campers at camp, 8 kids, 1 adult. The snow was a bit dirty at the unloading area inside the upper palmer terminal on both Wednesday and Friday. "They" were going to have us carry out skis up the lift those days, but we shoveled some snow on top to cover up the dirt and keep the ramp skiable. The annual Hood-to-Coast relay took place on Friday. Parking lot was jam packed full of runners for this 198 mile relay running event. They were handing out free samples of new flavor clif bars and mini cow-bells. The official Mt Hood Summer Ski Camps instagram page has grown to 1,093 followers! The hill continued to be super empty of people. There was us, a dozen or racers from Rowmark, and 2 girls from Stratton. This coming week, we have about 20 adult campers coming for out annual adults-only session. Should be fun....possibly 2 wine tours are being planned.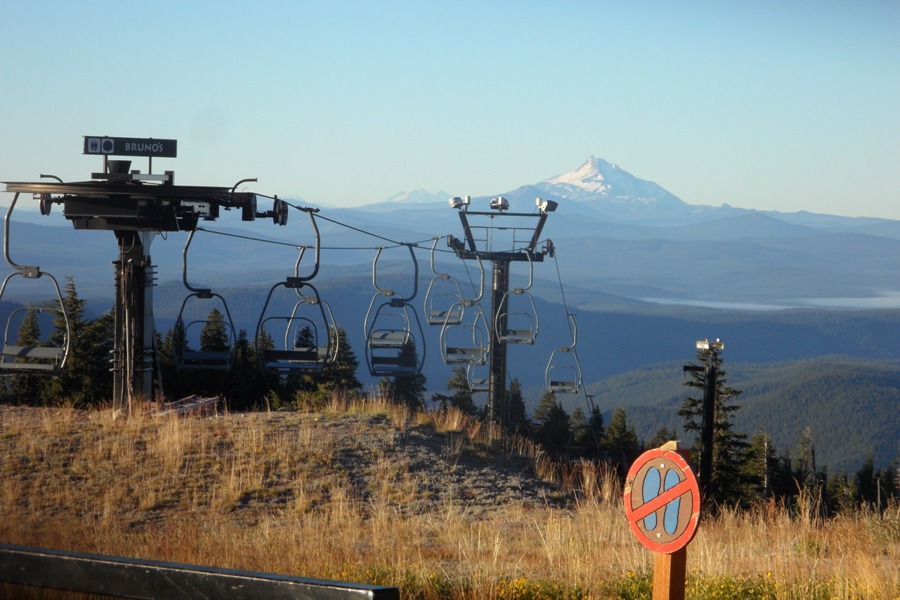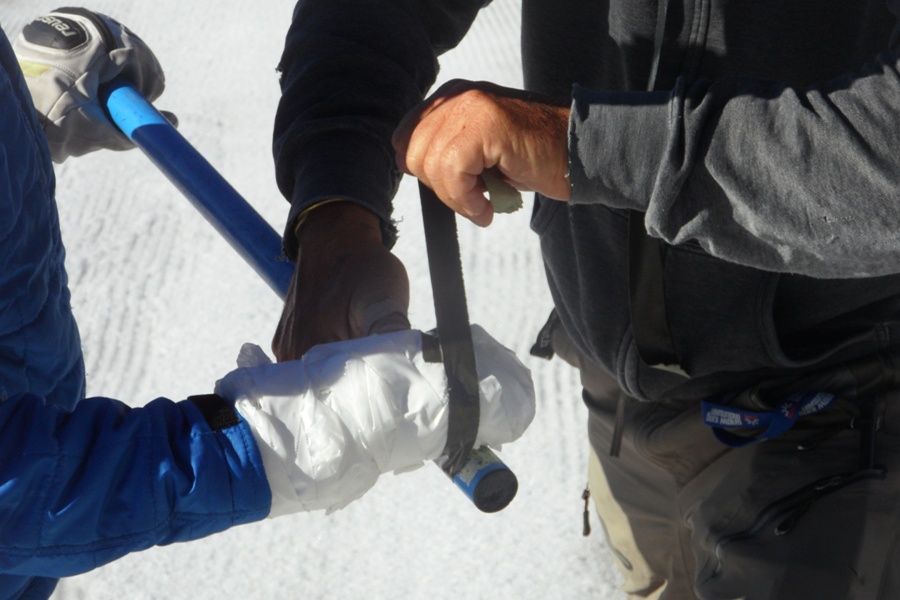 The memorial for Bloomquist cabin owner Mike Heffernan continues to grow. His funeral was Thursday morning in Portland. The chuch was packed. Read about Mike Heffernan's life here.
A snowcat broke down above our lane on Wednesday. I think the tracks broke on the right side.
Half way between Hood River and Portland.
This 8 year old girl always ripped harder when the cameras were present.
Video game chair?
Weird dirt cave formed at the bottom of lanes 11-12 area.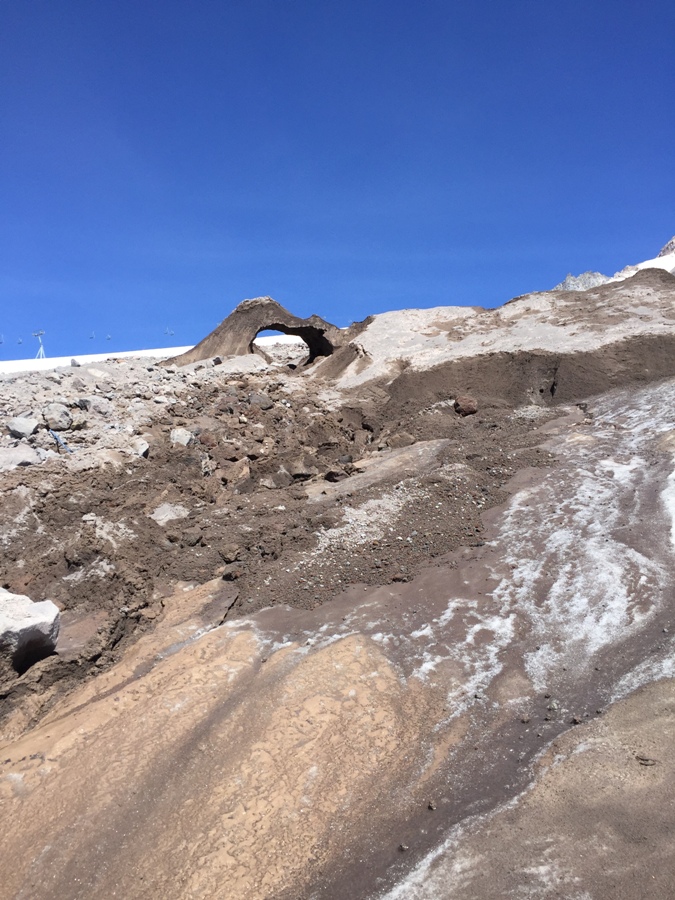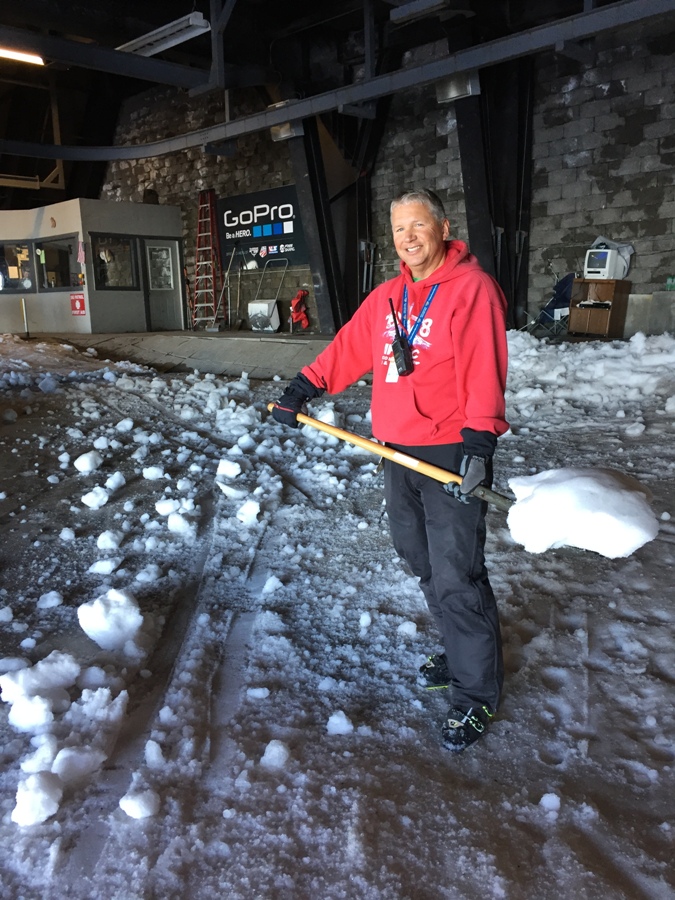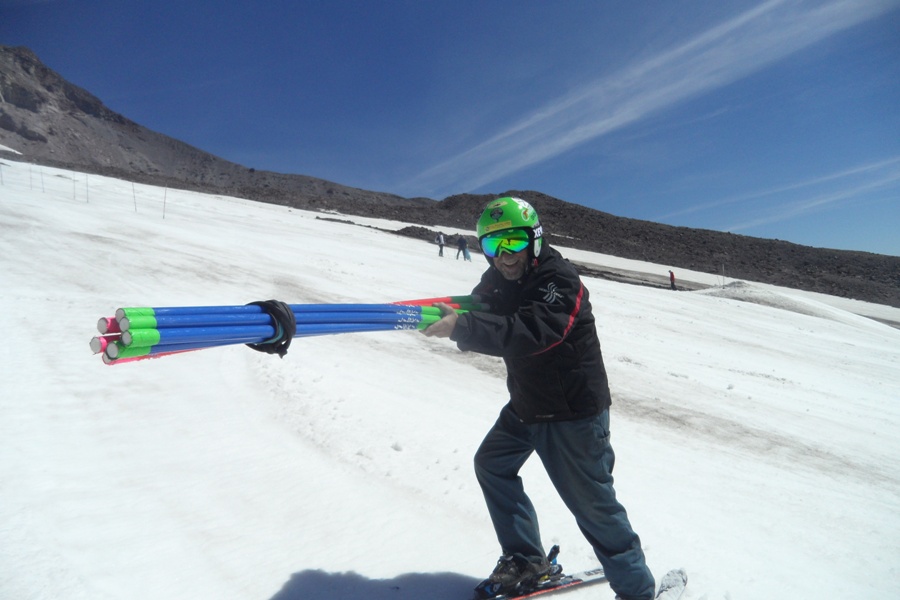 Comedian/Actor Kevin Hart competed in the Hood-to-Coast.......check out his pre-race press conference.
and Kevin Hart's post race video:
and a bunch more session 13 pics can be seen -->> here
Session 14, 2016 update
Another summer of ski camp is now over. It went by fast. We had 20 or so campers for our adult session, 2 of which only were there for 1 day. Grant Wilson made his triumphant return to MHSSC after a 6-7 year hiatus. Terry McLeod came out to ski with him for a couple days too. Rafting was cancelled on Tuesday due to a lack of participants. QVC/Home shopping Network sent a video crew and models up to the top of palmer to shoot some product demos of a winter clothing line (see photos). Not sure when they would air that stuff...probably in late Fall/early winter. Like last week, it was a ghost town on Palmer. There was one other small camp on Monday and then just us the rest of the week...unless you count this one old guy "Wayne", who sometimes came up to train on his own personal brush course. It was super icy on Thursday. Lots of people were filing their skis at the top. Friday.....last day on the hill.......CANCELLED! It was thick fog, raining and a bit windy too. Kind of a bummer to end camp that way. Luckily we got most of our gates and stuff off the hill the day before. Only 5-6 adult campers stayed on campus, the rest were "coaching only". We had camp picnic in Hood River for the 3rd week in a row. Robert Johnson and Mike Foley cooked steaks at the picnic. There was also 2 wine tours and 1 beer tour (with Rick Millett leading that one) this past week. One of the adult mogul skiers brought 4 unicyles with her to mt hood (see photo). We had a small end-of-the-year party at Charlie's on Friday night. There were about 10 of us there including Rick's 3 snowboard adult campers.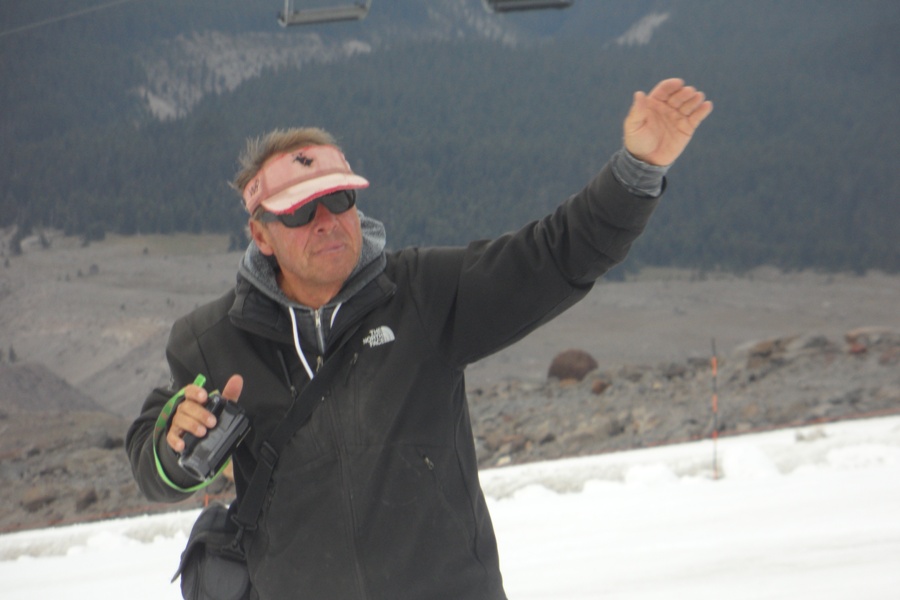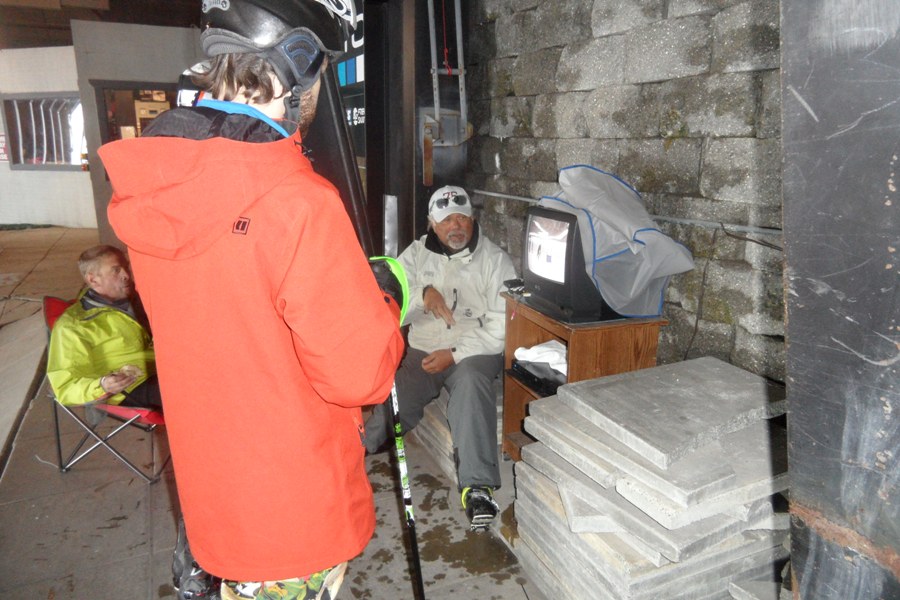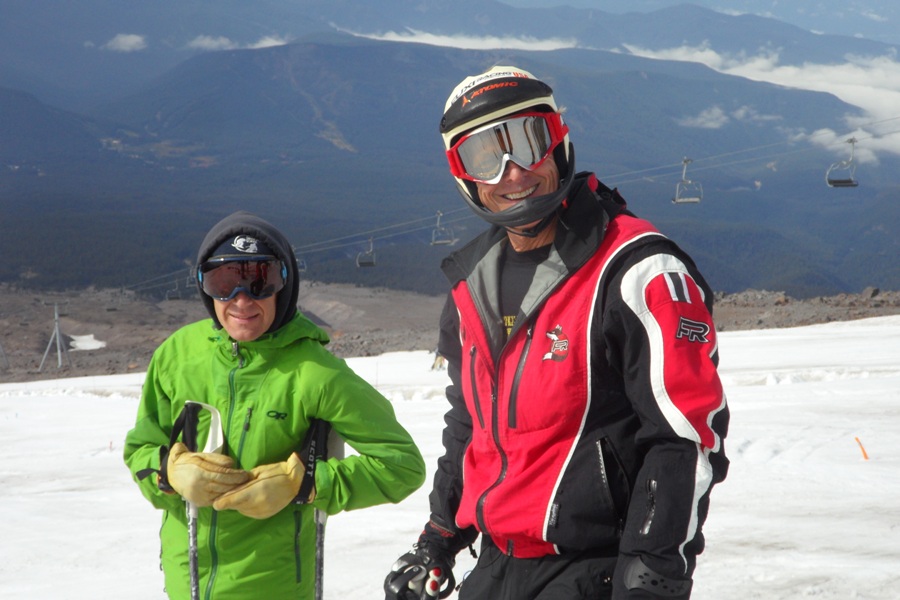 The QVC - Home Shopping Network crew and models.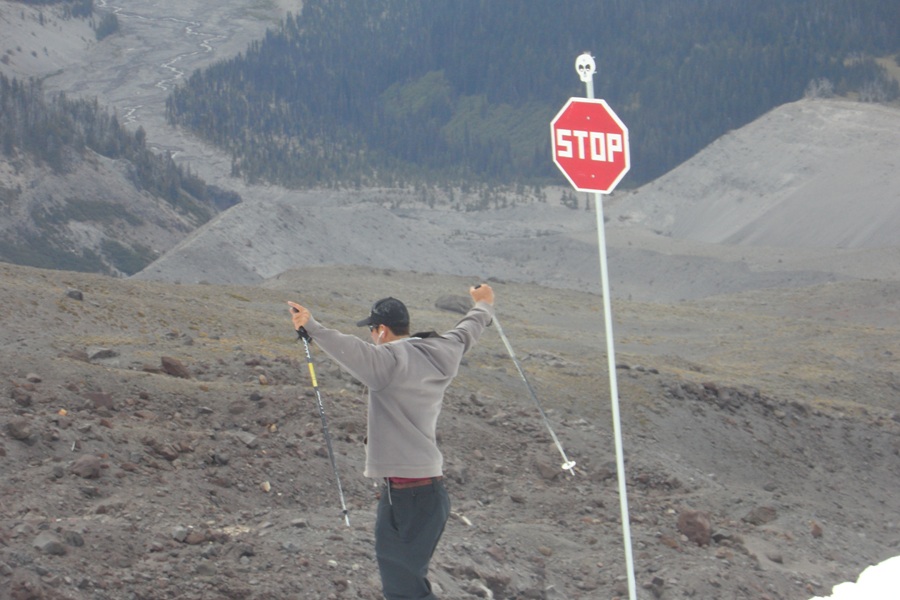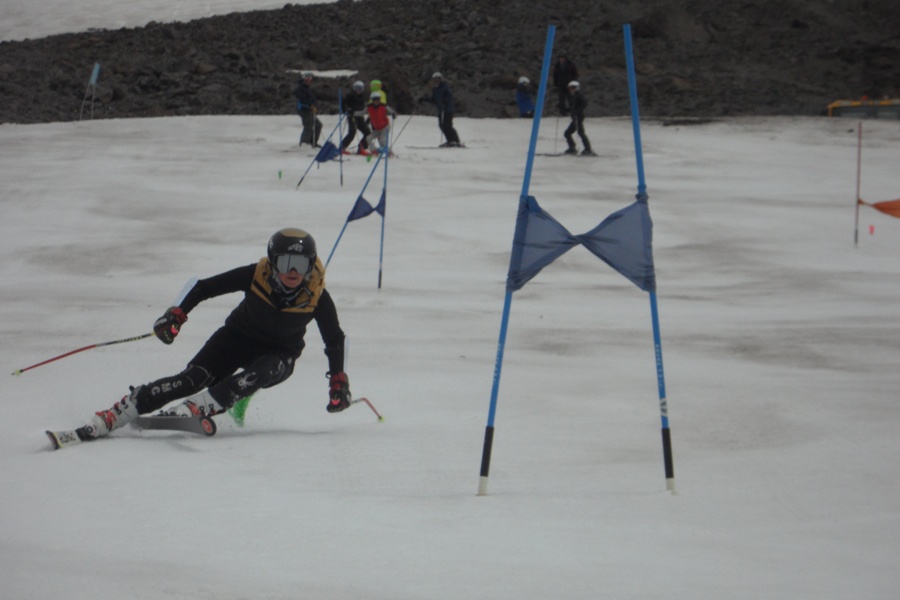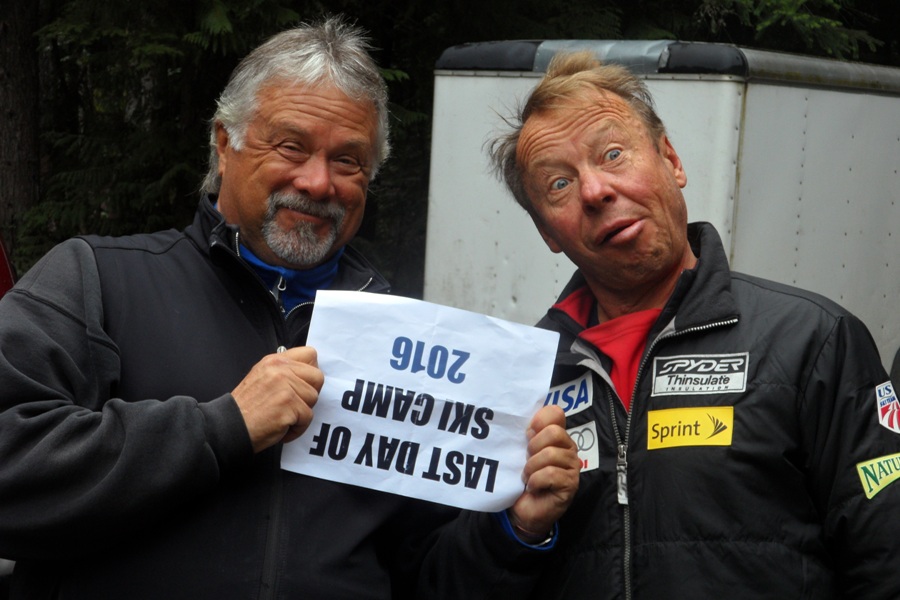 On Saturday morning I noticed that pinecones were falling from one particular tree at camp at a rapid rate, one even hit my car. It was the work of this chipmunk. He later climbed down the tree and started hoarding the little pinecone seeds.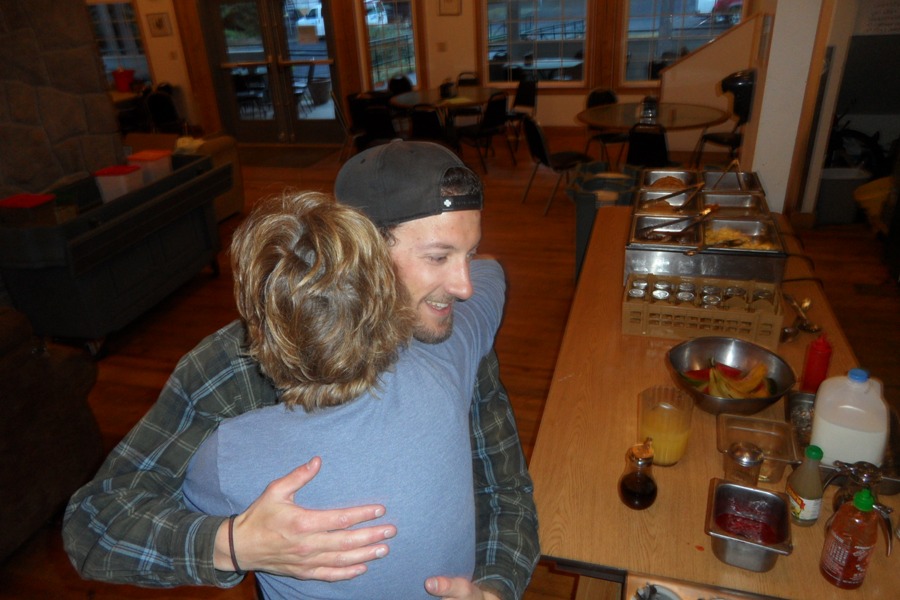 and a bunch more session 14 pics can be seen -->> here
I'm personally headed to the Oregon coast for some post camp relaxation time sept. 5-7. Seaside, Oregon. Come on down! bring your rain jacket though.
On a sad note, former mhssc staffer, Kyle Dempter, went missing in Pakistan on a climbing expetition in late August with his friend and climbing partner Scott Adamson. The 2 families finally called off the search and rescue efforts on September 3. Kyle worked at camp in the early 2000's. He was a mogul skier and would get huge air off the big jumps in the terrain park back in the day. I remember him doing "lincoln loops" with ease.
I know I shared this Kyle Dempster video a couple years ago in a staff update, but if you've never seen it, I highly recommend you take a look. It's really well done.